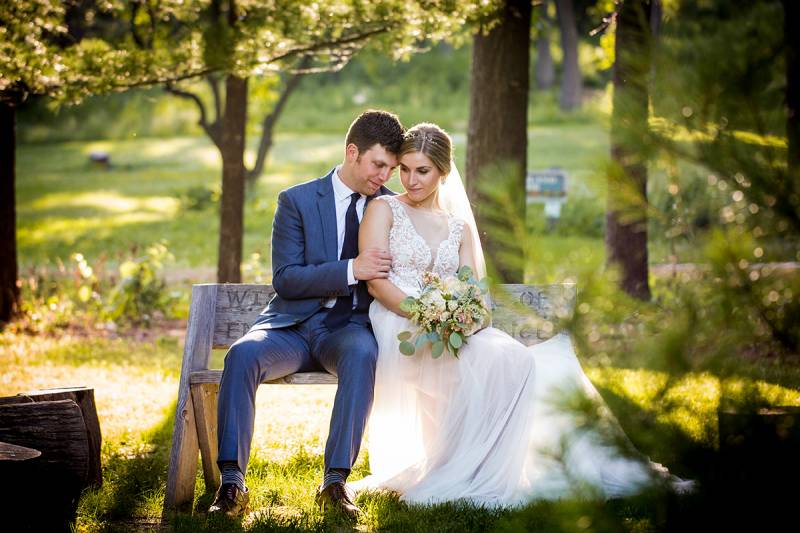 Soft shades of sea glass and blushes with accents of eucalyptus, succulents and dusty miller made for John and Stephanie's whimsical, romantic celebration absolutely beautiful. Held at the scenic Aldo Leopold Nature Center, their outdoor ceremony had stunning backdrops boasting of prairies, oak savanna and woodlands.
WEDDING DATE: 06/25/2016
HOW DID YOU MEET? John and I met at the University of Wisconsin-Madison. We were both in the elementary education program - John a couple of years ahead of me. John will claim we met at a bar (I was hosting a fundraiser for an education student org). I say we met at the education library (he worked there). He was finishing up school when we met and I had another 2 years left in the program. Needless to say, he was not looking for a relationship and was looking for teaching jobs all over the country. He happened to land a long-term maternity leave substitute job for MMSD. Knowing he would be sticking around for a few months, he finally decided I could officially be his girlfriend.
HOW DID YOU KNOW HE WAS "THE ONE?" I had a good feeling about John from the beginning. On our first date he managed to take me to 3 places I had never been in Madison (lunch at Jac's, a stop into Strictly Discs, and a cocktail at Tornado Room). Spending time with him was spontaneous and exciting. I felt comfortable from the get-go.
TELL US ABOUT YOUR PROPOSAL: At this point, we had been dating for about 5 years and had moved in together in Chicago (where we live now). It was Thanksgiving weekend and I had given up hope for a fall engagement - John would not be the type to combine a holiday with the proposal. We spent Thanksgiving morning/early afternoon with my family in Green Bay and then headed to Madison. His sister and brother-in-law were hosting the holiday for the first time and his parents would be joining us. I remember so many details of the weekend. I suggested getting a manicure with his sister (intuitive?). We had a beautiful dinner on Friday night and his mother suggested we go around the table and say what we are thankful for. I recall saying that I was thankful for my 'second family'. I honestly remember getting a little teary-eyed telling them that I love spending time with John's family just as much as my own. His sister later claims she thought I knew the proposal was coming based on this.
Saturday we had plans to go to the Badger game. I was excited! My little brother was in his final year at UW and lived near the stadium. I was ready to give the old college try at his tailgate: flip-cup, beer pong, the works. I later found out that my brother knew about the proposal - and had told all of his friends at the tailgate. One tipsy friend nearly greeted me with a "congratulations."
About 1 quarter into the game, John told me that we had to leave. His parents had decided to go home early and they wanted us to say goodbye. I was furious. This was the one thing we were doing alone all weekend. I reluctantly agreed to leave at half-time, but I was adamant about the fact that his parents knew about the game time. It was at this point that John was at his peak of nervousness. He knew I was really mad.
He said that we were meeting them at a new restaurant on Monroe Street. When we got near the arboretum, John pulled over. It was pitch-dark out. I think this is when I realized something was up. He insisted on going for a 'walk' and led me into the woods where we had taken a walk on our first date. In the dark and the snow, he proposed and I said yes. He then brought me to Jac's (again, first date). Both of our families were waiting for our arrival. This was the icing on the cake. I was so overwhelmed with happiness that I could share the special day with my family, too.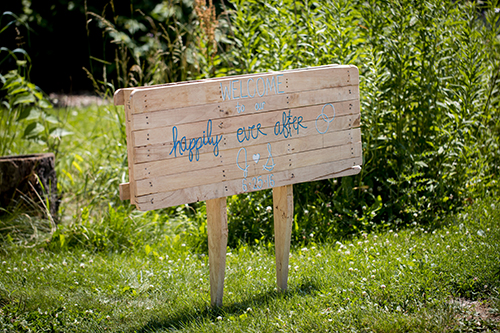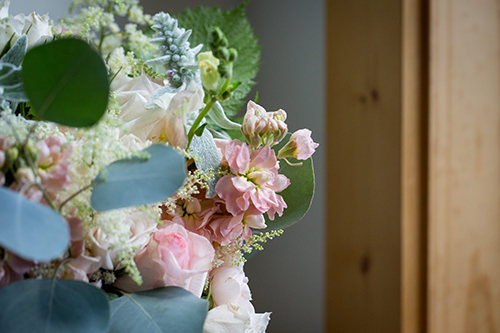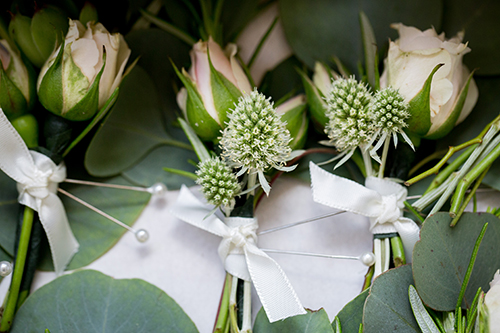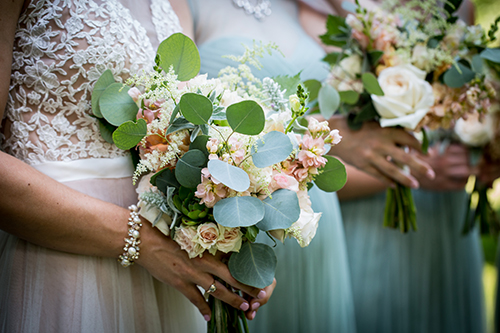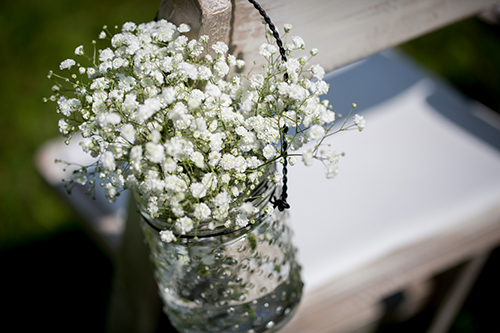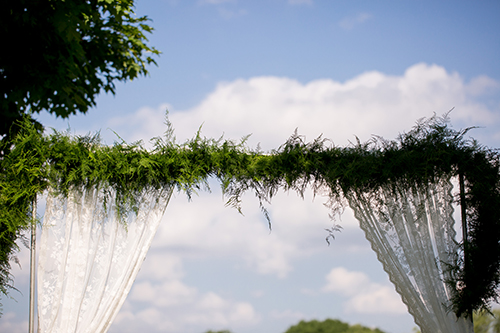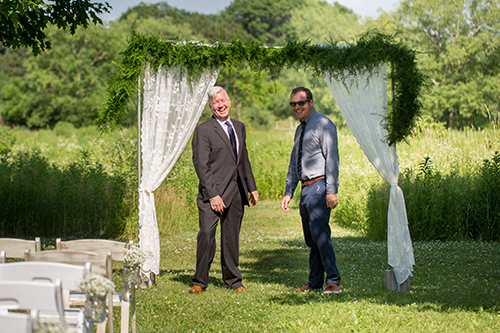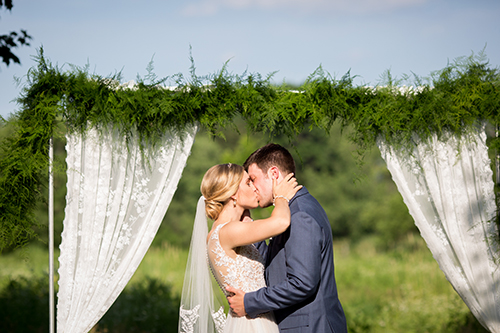 TELL US ABOUT YOUR DRESS: I love my dress! I found it at Miss Ruby bridal boutique in Milwaukee. I brought my sister, sister-in-law, mom, mother-in-law, and best friend shopping with me. I had quite the entourage. I knew I wanted something with lace that was easy to wear but had something interesting about it. When I put on my dress I immediately had a good feeling about it. It was delicate, whimsy, light, romantic. I love the lace applique and the plunging v detail in the front and open back. It felt like a dress that not just anyone were to choose. It was special.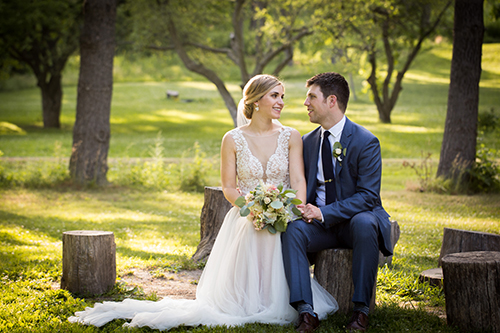 DESCRIBE YOUR WEDDING FLOWERS: I gave color suggestions to my florist and she chose blooms that were in season and local. She used unique fillers, such as eucalyptus, succulents, and dusty miller that added the sea-glass and grayed-jade tones I was looking for. She used English garden roses, hydrangeas, allium, and larkspur to add the softer, muted tones of blush and coral.
WERE THERE ANY PERSONAL TOUCHES OR DIY ELEMENTS? I was quite ambitious with the DIY. My dad built 2 wooden palette signs that I hand-painted for the venue entrance and ceremony site. I printed, embossed, assembled, and hand-addressed all invitations. I created several chalkboard signs (photo booth, mason jar sign, bar menu). I labeled mason jar mugs for all guests with a chalkboard sticker as a favor. Table numbers were hand-stamped onto wooden slabs. I printed and framed wedding photos of parents and grandparents for display with a special message. I created the wedding backdrop with lace curtains on a metal frame and my florist added a green garland. Rolls of lace were ordered and hand-cut for all table runners.
Bridesmaid's jewelry was chosen by me and groomsmen gifts included a tie clip with a map of the place where John met each guy. My bouquet included borrowed charms with wedding photos of both grandparents and my parents that I had given to my sister on her wedding day. I also carried a blue lace applique handkerchief that belonged to my maternal grandmother that every woman in the family has carried on her wedding day.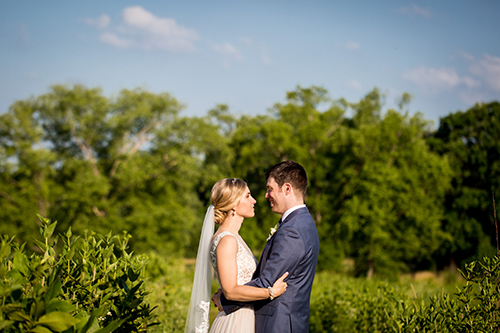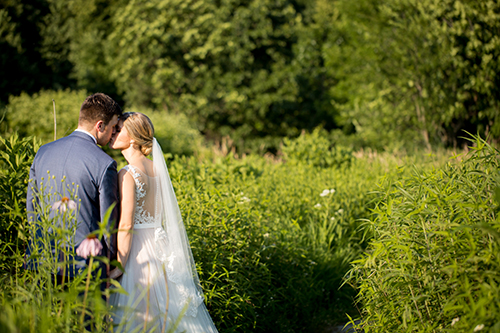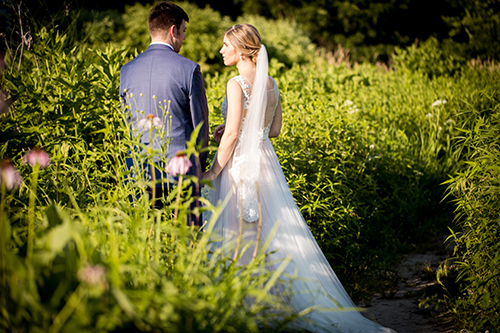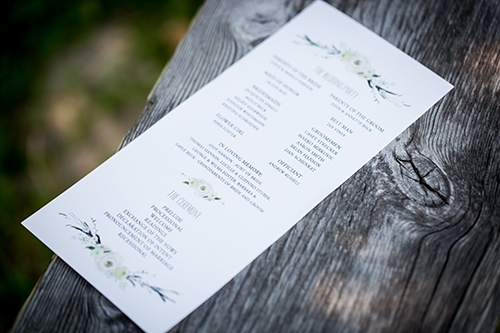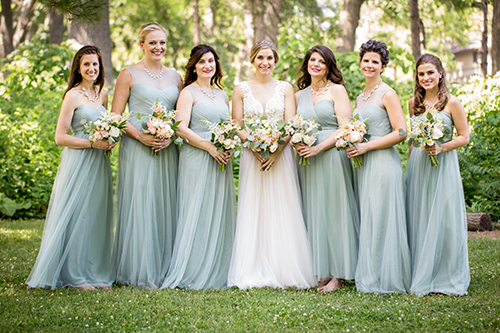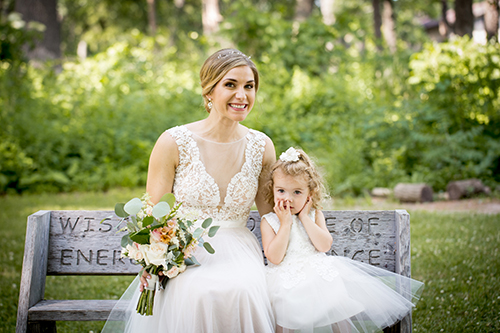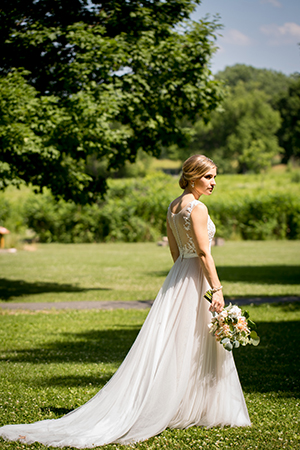 WHAT WAS YOUR FAVORITE MOMENT FROM YOUR WEDDING? My favorite moment from the wedding was hearing John's vows. We both decided to write our own. I had spent so much time and energy on mine. It was so special to hear what he had written for me.
DID YOU USE ANY SPECIALTY CHAIRS, LINENS, CHARGERS, GLASSWARE OR DINNERWARE? We ordered some unique antique pieces from A la Crate that really added character to the event: antique wooden sewing drawers were used for table centerpieces, a bar cart and steel-basins for beverages, a small folding table for the cake-display, a metal archway for the ceremony.