Blooming with breathtaking floral, one of a kind touches and love sincere and passionate, today we share the real wedding of Brittany and Adam. Planning and creating unique floral, Evoke Chancy created a day that they would never forget. With a menu created by the bride and a lively walk down the aisle by the groom looking dapper, dressed from Men's Warehouse, the day came together to inspire all of our floral dreams. Read more about their proposal in the air, and their tips for your own special affair down below!
WEDDING DATE: 8/18/18

HOW DID YOU MEET? We met at the local frozen yogurt shop, Sweet Frog, in Plover, WI.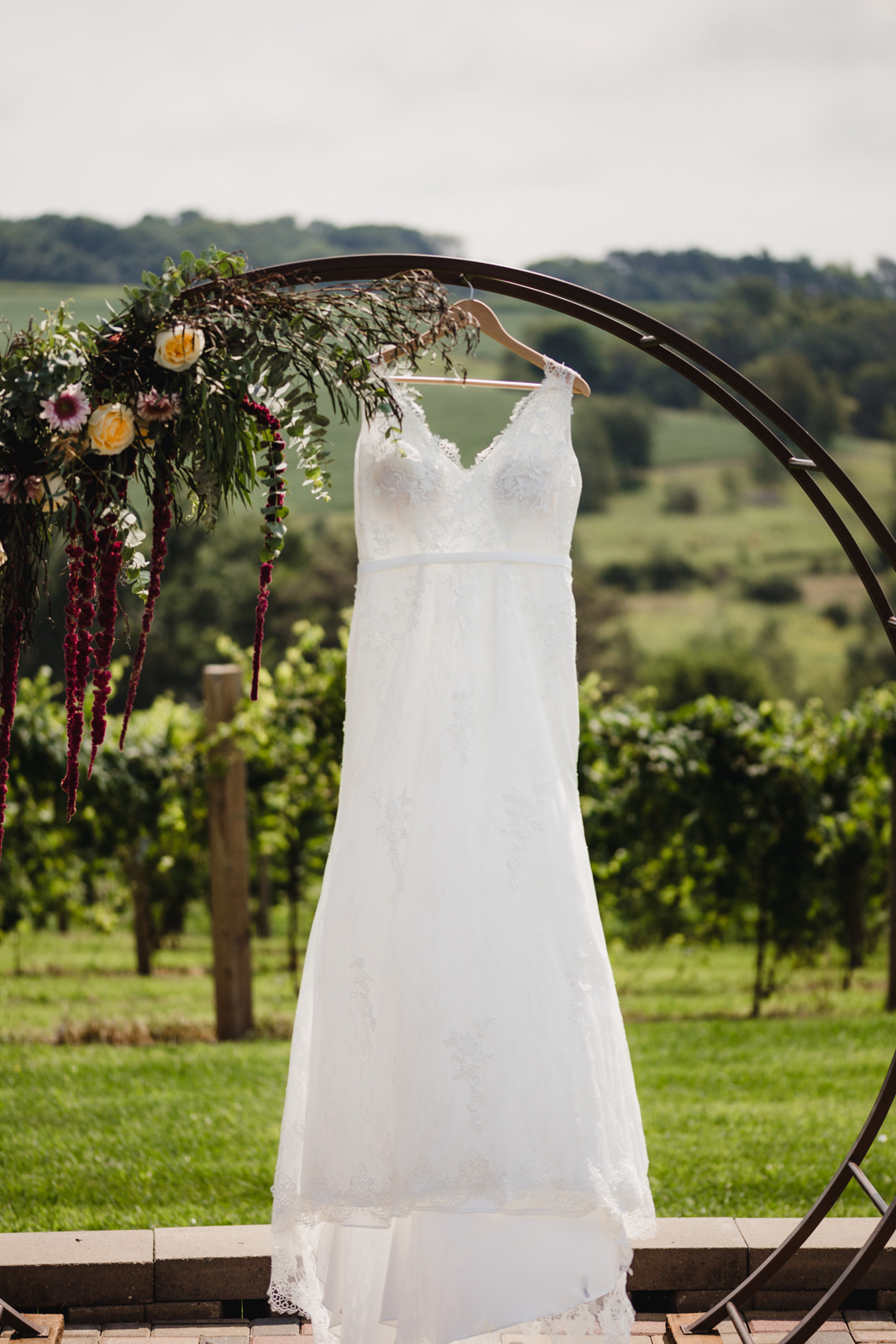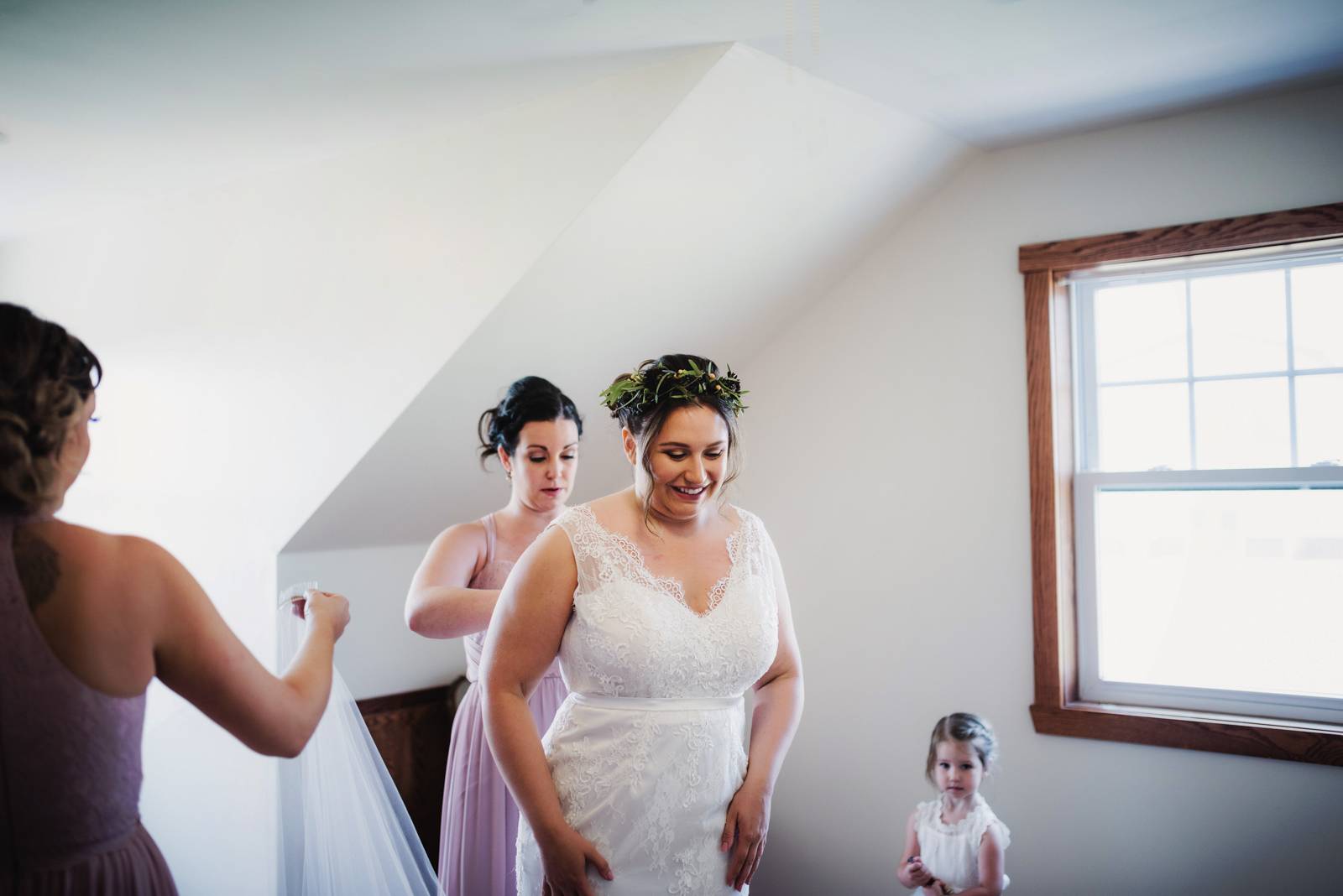 HOW DID YOU KNOW YOU HAD FOUND "THE ONE"? I knew I found the one because he made me laugh all the time and had the most amazing baby blue eyes and annoyingly perfect eyelashes. I was utterly jealous of them. We also both had the same sarcastic personality and could joke around about anything.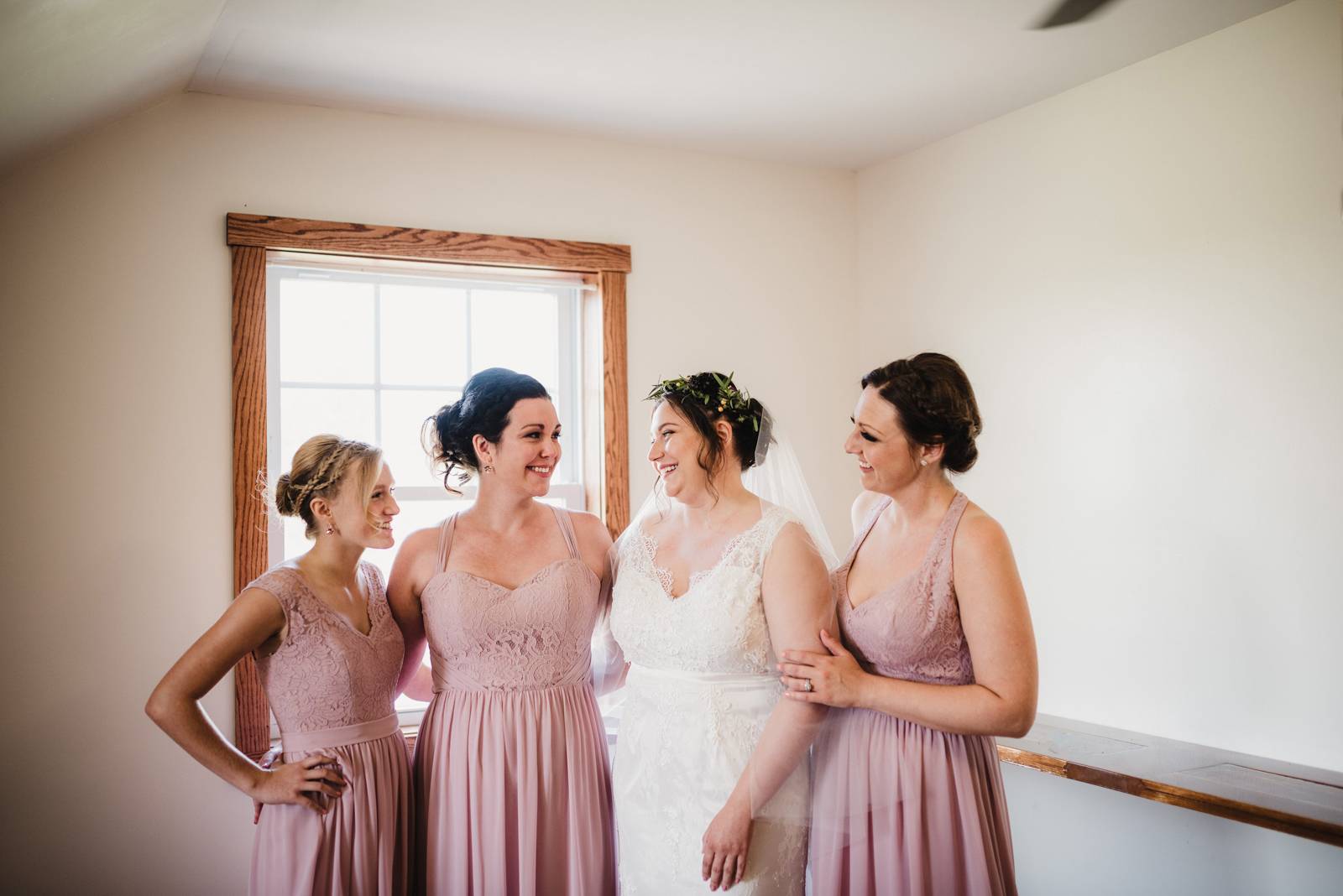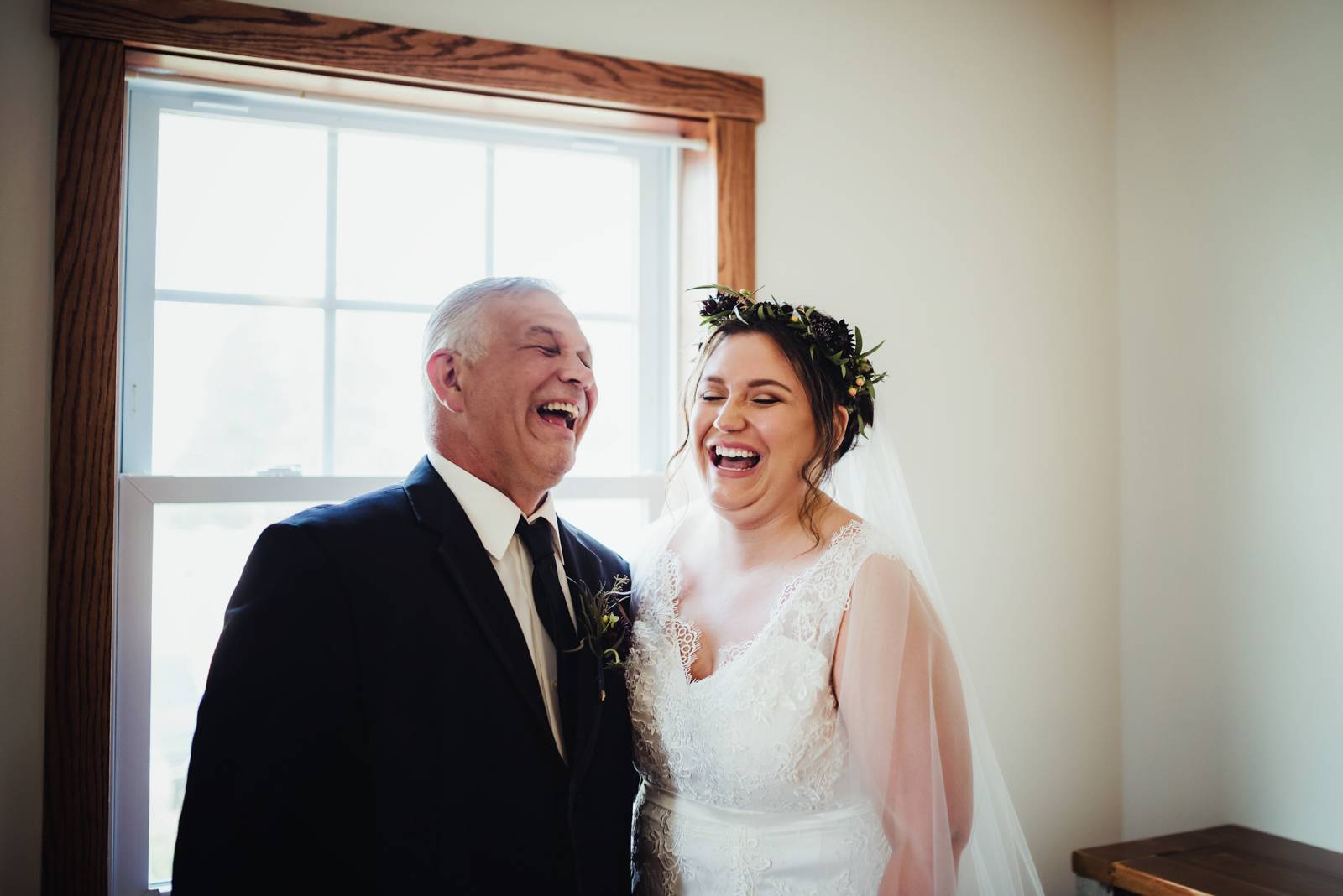 TELL US ABOUT YOUR PROPOSAL: The day before, Adam had my mom take me to the nail salon to get a manicure and pedicure. I just thought my mom was being nice to offer to take me. Then Adam let me know that we were going on a road trip the next morning and we had to leave early. I asked what the dress attire was and he said to dress as though we are going to a decent restaurant, a great response lol. That didn't narrow down my options very well, but I tried to dress accordingly. So the morning of it's 5:00 am, and I am doing my hair and makeup. I put on some nice comfy clothes because I thought we would be in the car for a while and I didn't want to be uncomfortable. We head out on our trip and only go a few miles from our house and turn off the highway. I was very confused until I saw the open field with all the hot air balloons. I was so nervous, excited, and scared all at once. Adam had booked us our own private hot air balloon that would take us up in the air to overlook the beautiful Rocky Mountains near Boulder, CO at sunrise. As we are rising in the hot air balloon, I was nervous because I don't do well with flying, but this experience was so peaceful, we were gliding through the air. He asked the hot air balloon operator to take our picture, and that is when he got down on one knee and asked me to marry him. I, of course, said yes! Then the operator uncovered a chilled bottle of champagne and glasses, and we celebrated. The operator landed the balloon near our house. Waiting for us was all of our family, even his parents who traveled from Wisconsin. It was a magical day.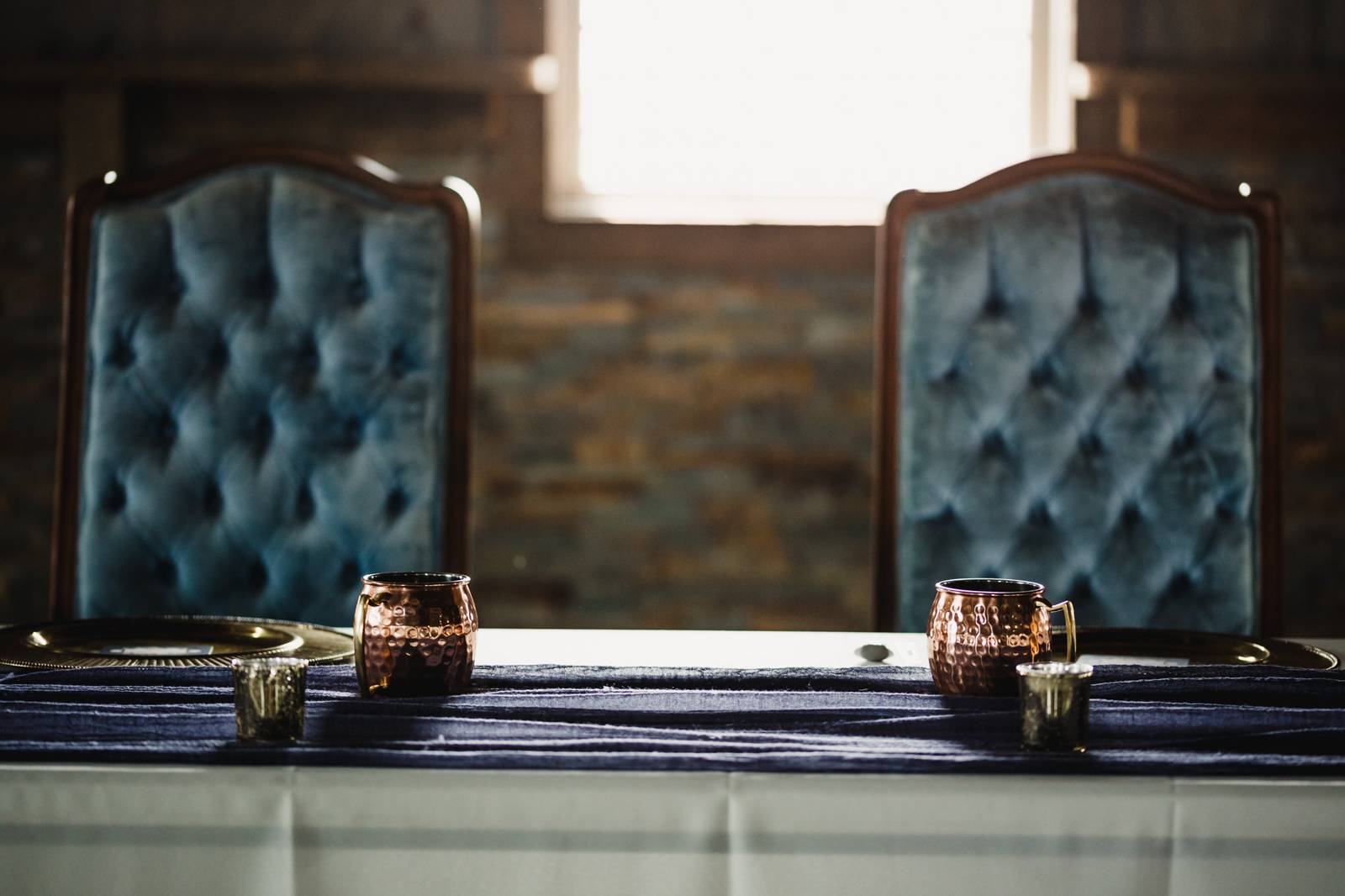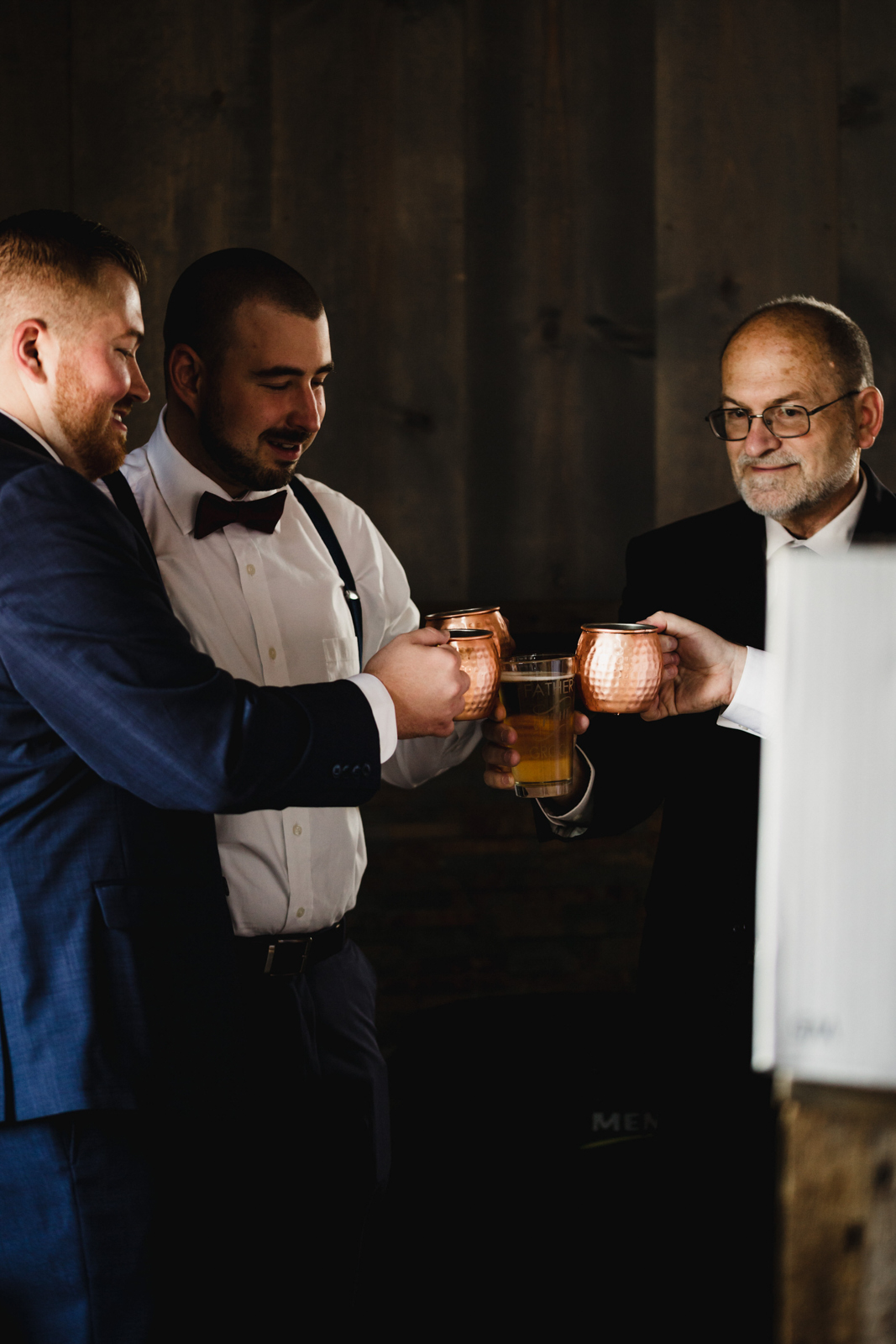 TELL US ABOUT FINDING YOUR DRESS: I found my dress at Luv Bridal in Denver, CO while shopping with my mother. It was a smaller boutique and more personable than the big brand stores. I knew I did not want a big poofy dress and wanted a lot of lace. The first dress I tried on was "the one." I tried on many other dresses and nothing compared. I knew that dress was mine and I felt so comfortable in it.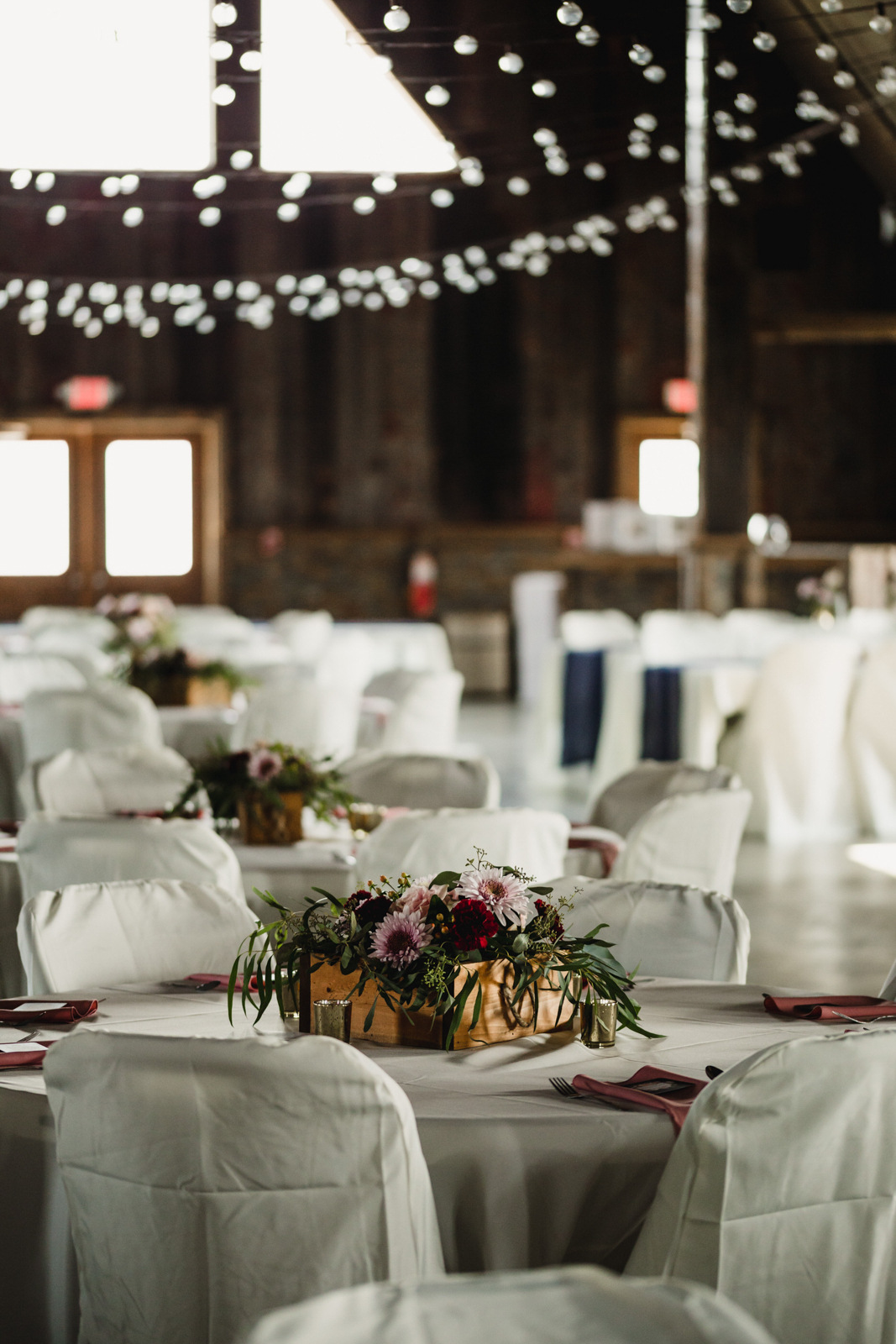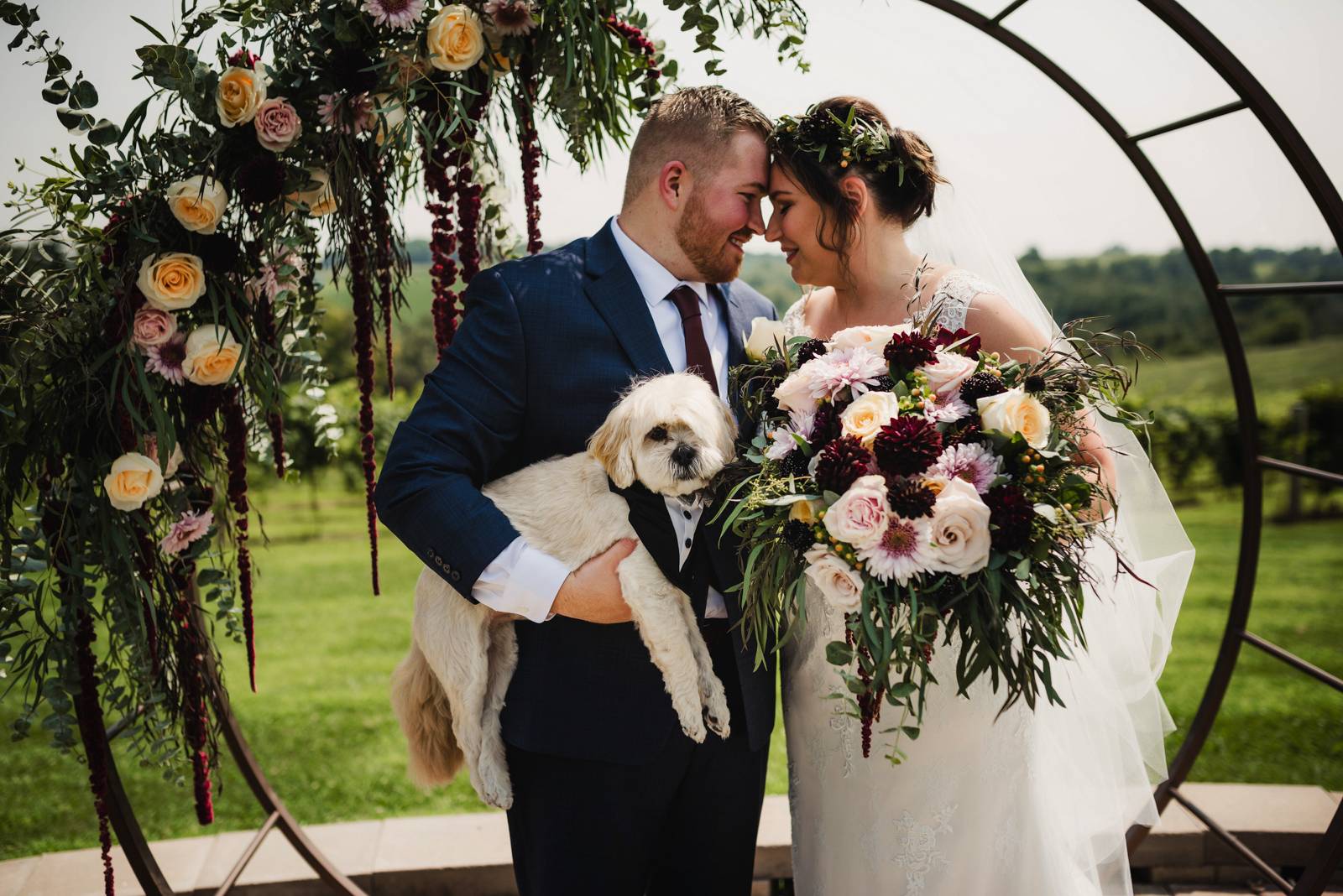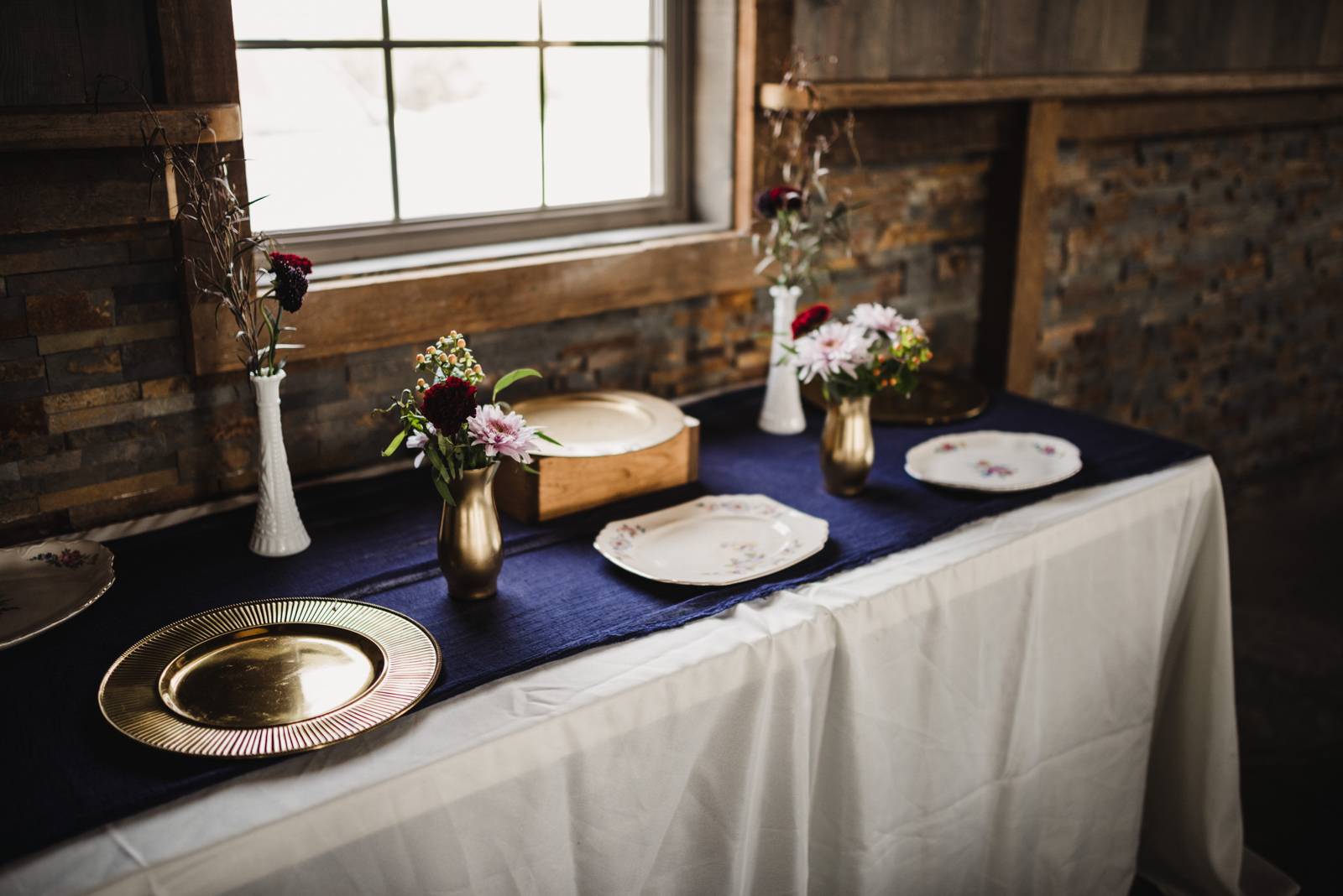 WERE THERE ANY PERSONAL TOUCHES OR DIY ELEMENTS? On my bouquet, I had my grandmothers necklace wrapped around it over the satin ribbon. I wore a flower crown made by my florist. I wanted to do something special with Adam's ring. His ring was made out of Santos Rosewood and Grey birds eye maple in honor of his degree in forestry.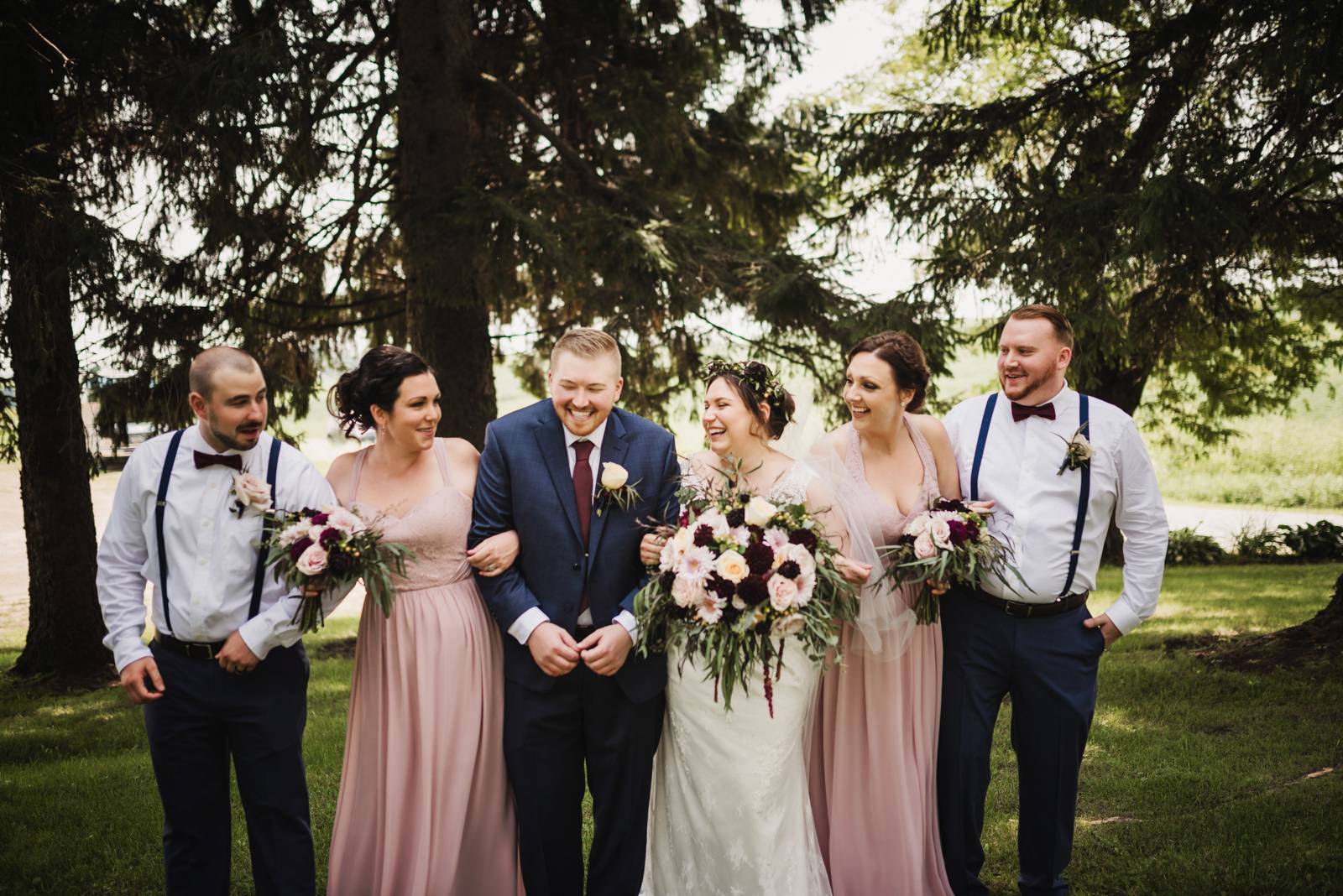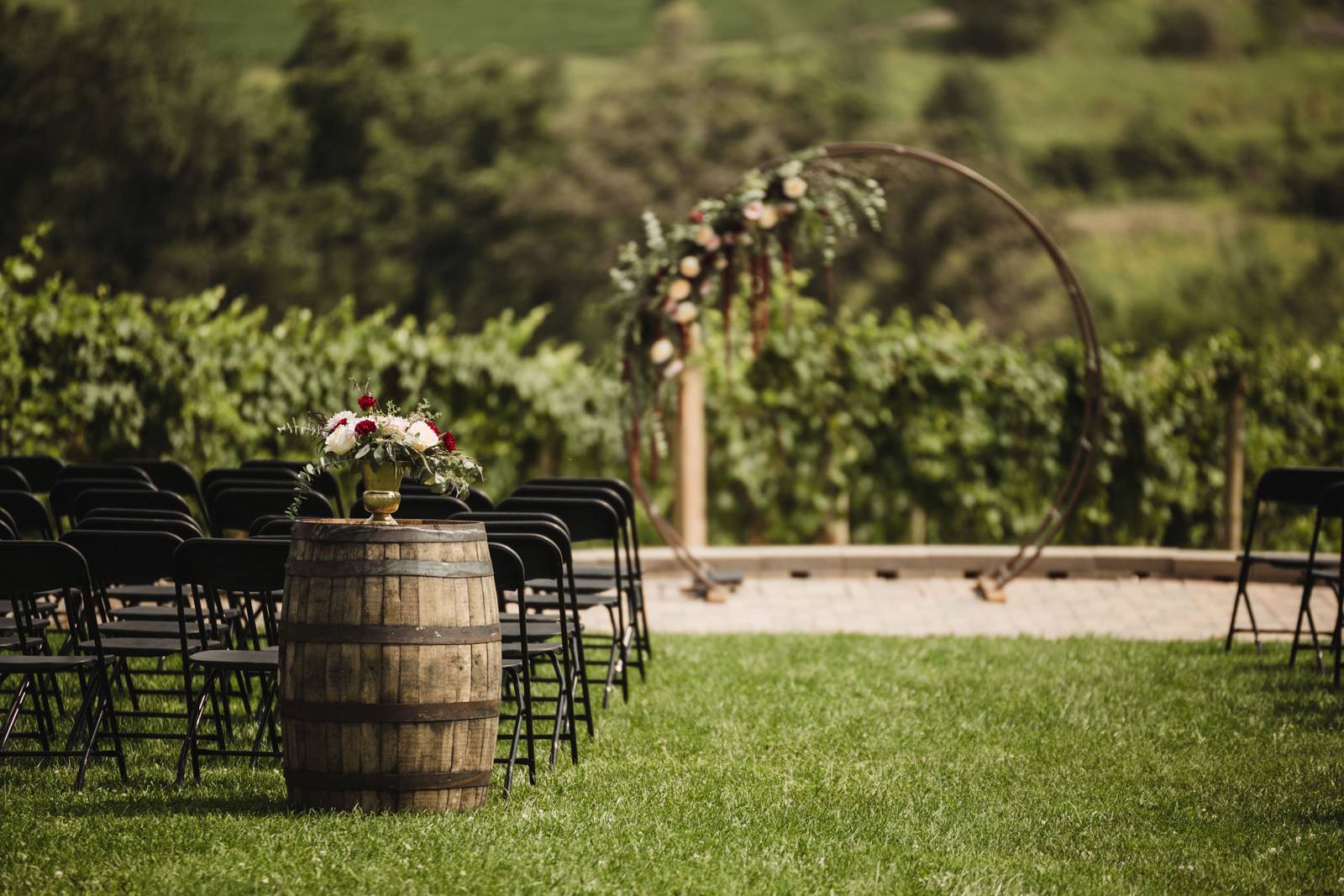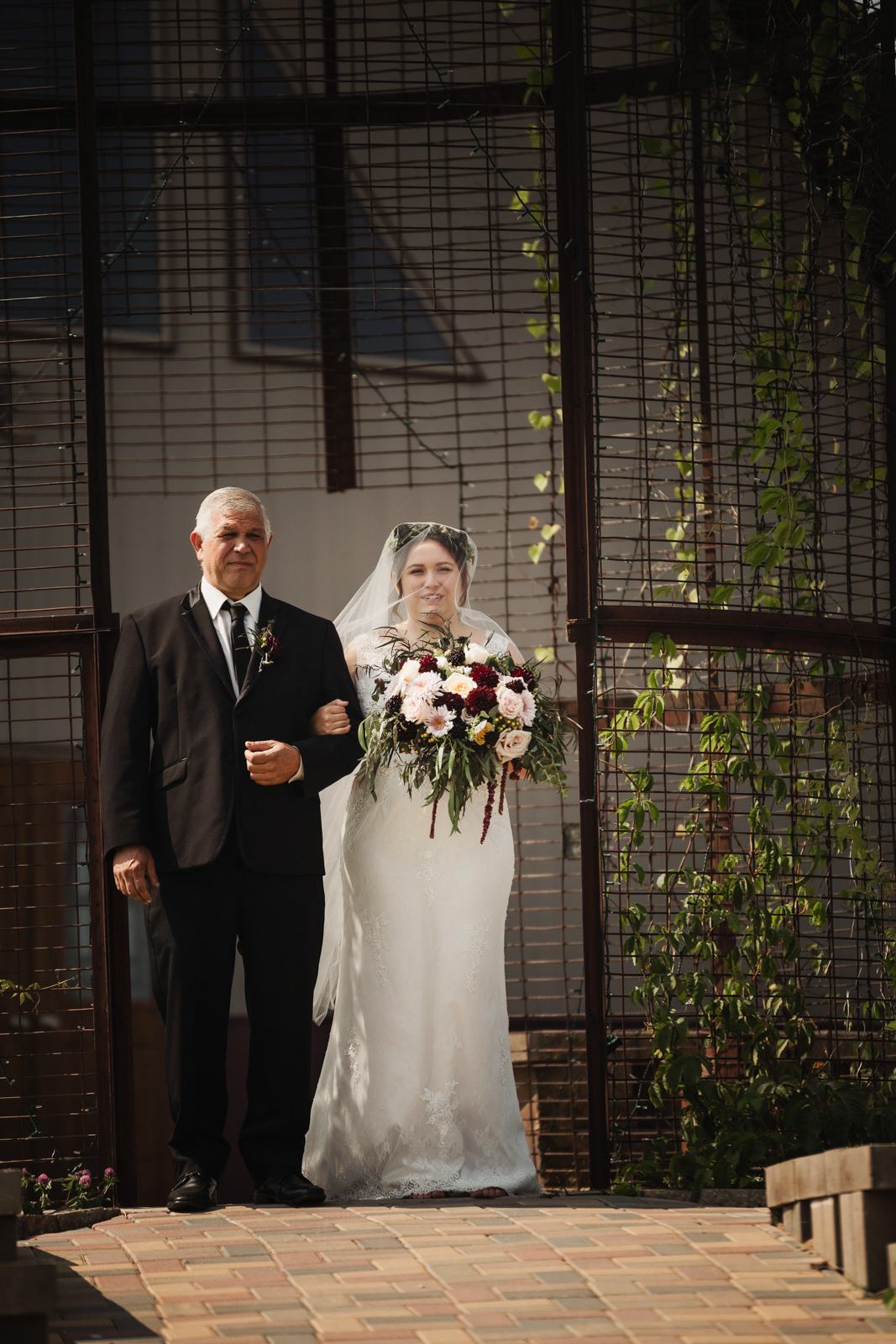 WHAT WAS YOUR WEDDING COLOR PALETTE? Burgundy, dusty rose, gold, and navy blue with pops of yellow from crème de la crème roses.

DESCRIBE YOUR WEDDING FLOWERS: My flowers were the most beautiful flowers I have ever seen. I had red hanging amaranthus, burgundy-black dahlias, quicksand roses, blackberry scaboisa, yellow peach hypericum berries, true-blue eucalyptus, and misty mauve cremon.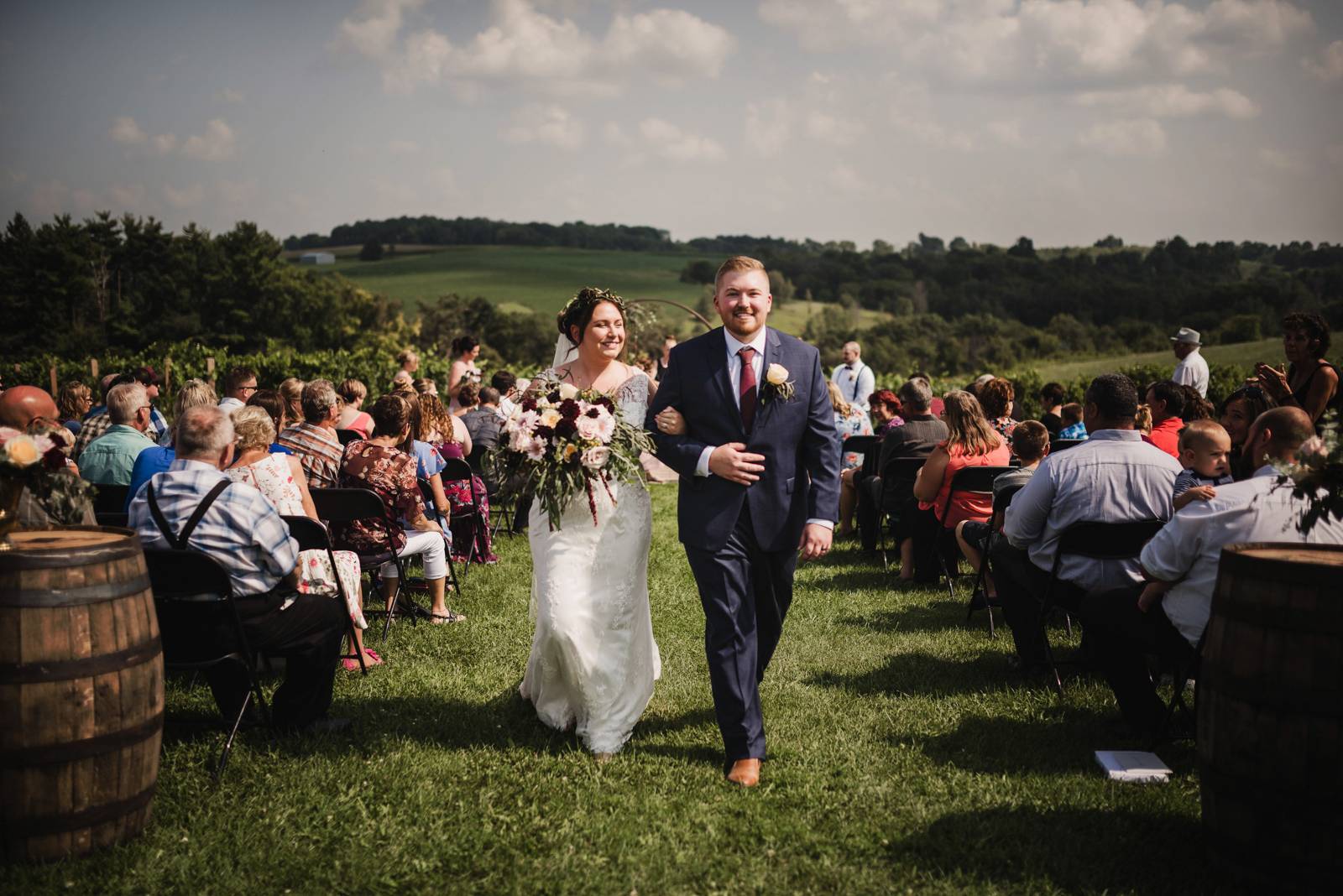 WHAT WAS YOUR INSPIRATION/DESIGN CONCEPT FOR YOUR OVERALL CEREMONY AND RECEPTION DECOR? I wanted a lot of flowers in wooden flower boxes along with gold accents, very woodsy and flowing. My florist captured it perfectly and went above and beyond anything I could have imagined.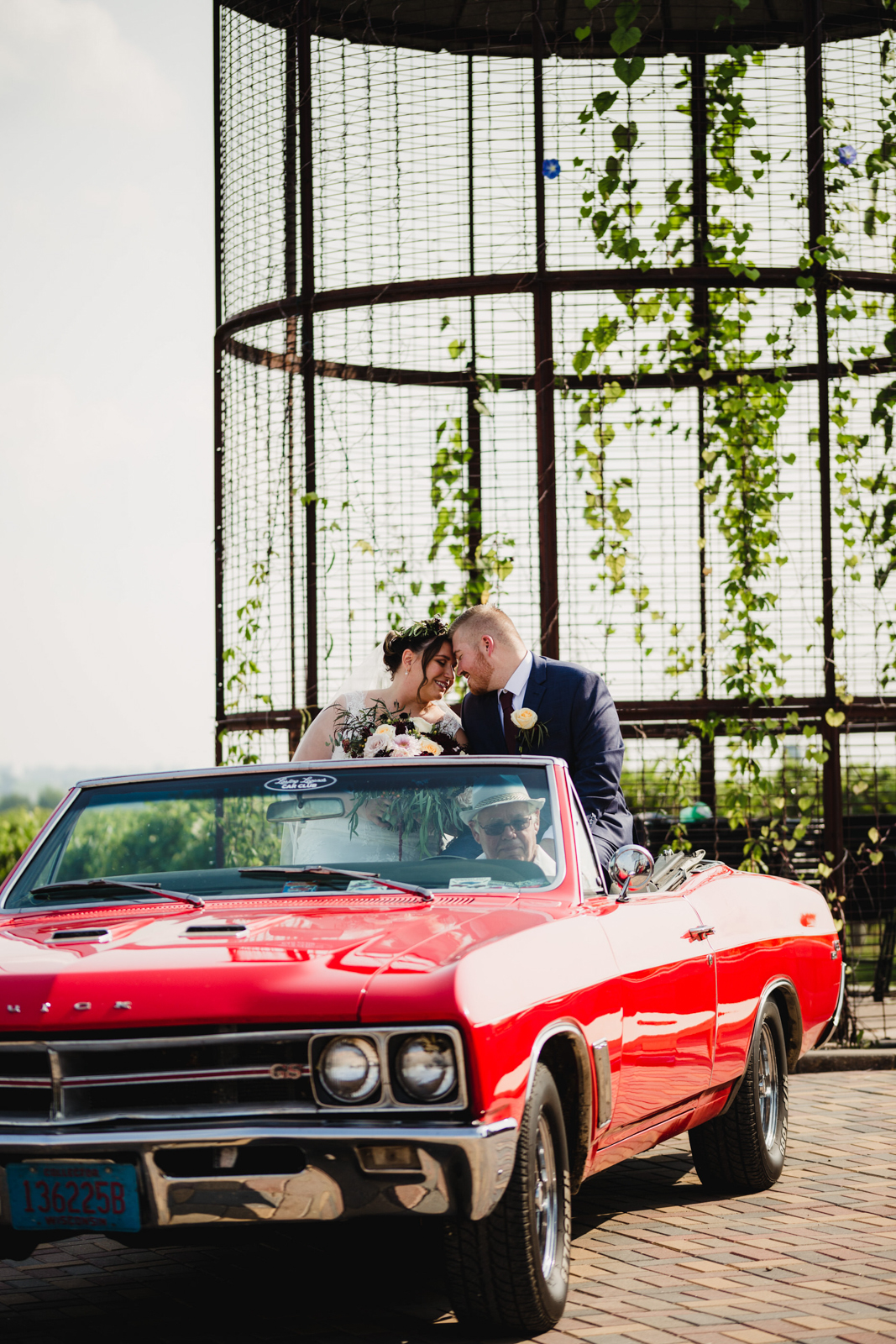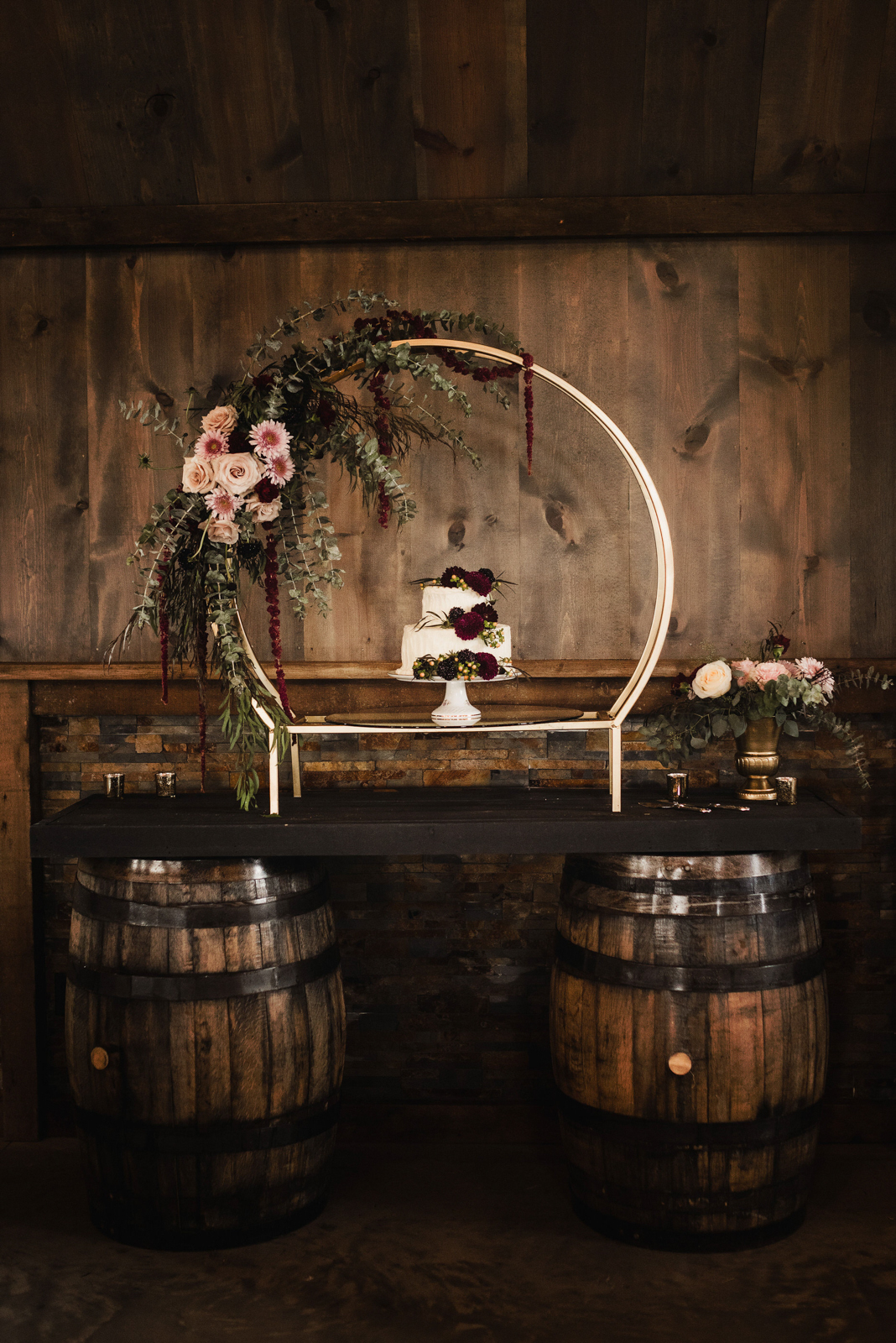 DID YOU USE ANY SPECIALTY CHAIRS, LINENS, CHARGERS, GLASSWARE OR DINNERWARE? We rented two blue velvet wingback chairs for the head table, a white vintage sofa that we took pictures on in the vineyard, and copper mugs for the wedding party for beverages. We purchased crystal and gold platters for the food. Our cake was atop an antique cake stand I found on Etsy. It was beautiful and white with flowers.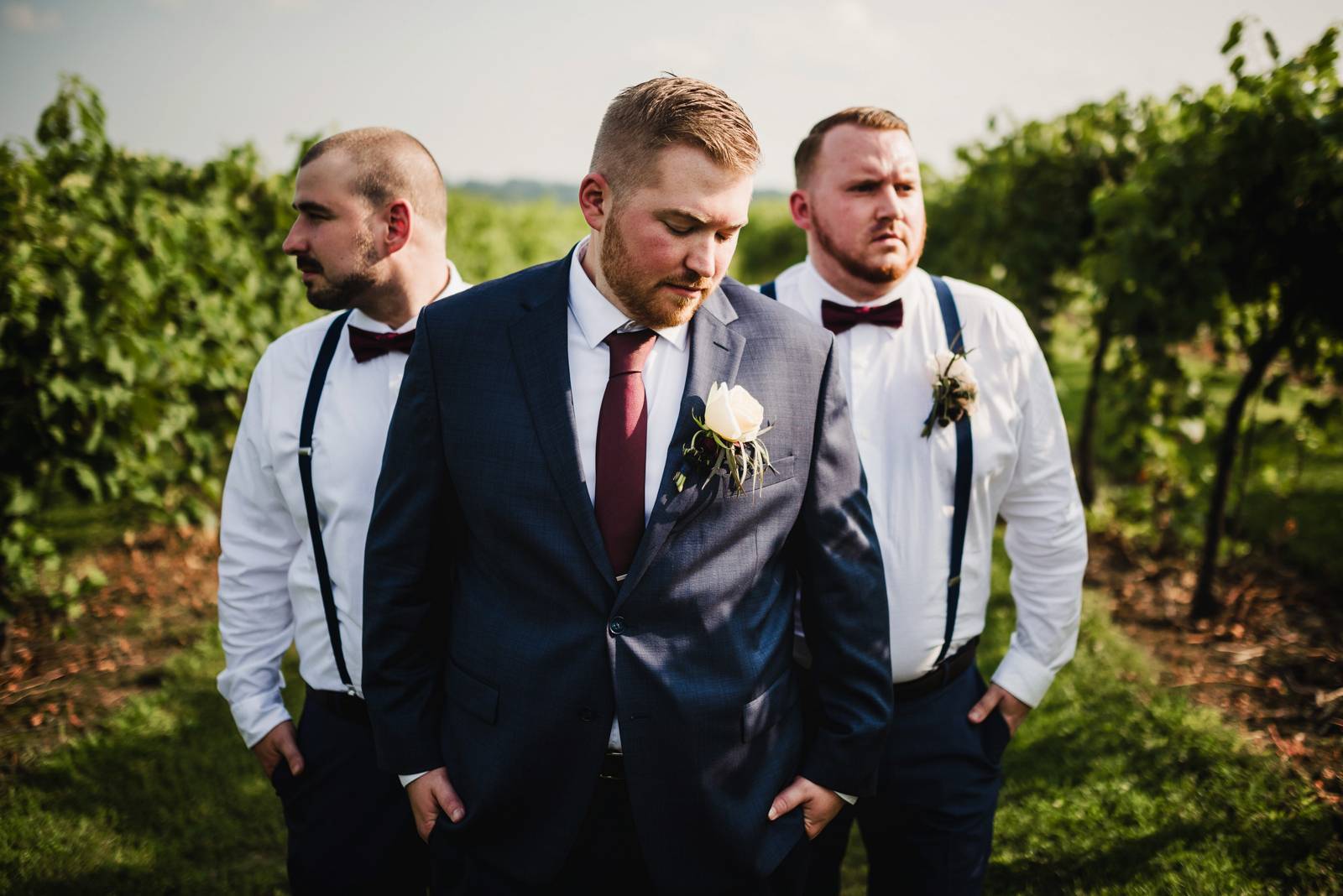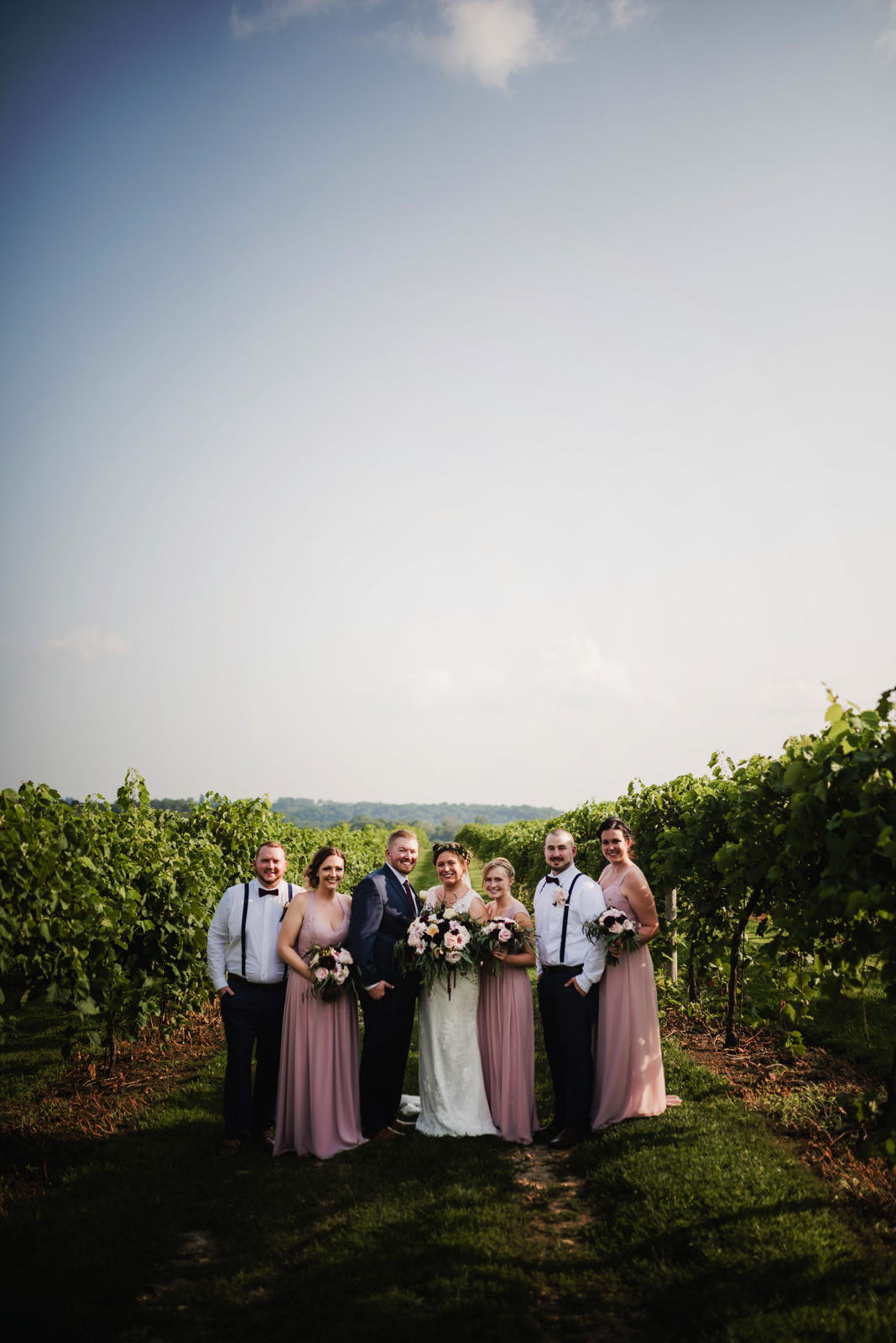 TELL US ABOUT THE FOOD, DESSERT, AND ANY SPECIALTY BEVERAGES ON THE MENU: All the recipes were mine, allowing me to illustrate my culinary arts degree and because I am very passionate about food. They were all very personal to me and some of our family favorites. Our pre-dinner food was bruschetta with parmesan garlic toast, spinach dip, and an assortment of Italian meats and cheeses to go with the wine theme. The main meal was baseball-themed because my husband is a huge sports fanatic. My uncle made smoked brisket and pulled pork, and our caterer grilled mini hot dogs served on mini hot dog buns. We also had pretzel bites with beer cheese dip, broccoli salad, and loaded baked potato salad. For dessert, we had multiple desserts bars including, lemon squares, strawberry crumble, and turtle bars. Our wedding cake was maple with a cream cheese frosting. We served the wine from the vineyard and had an open bar of mixed drinks. And of course, since the wedding was in Wisconsin, my uncle made some homemade peach pie liquor that we all got to enjoy.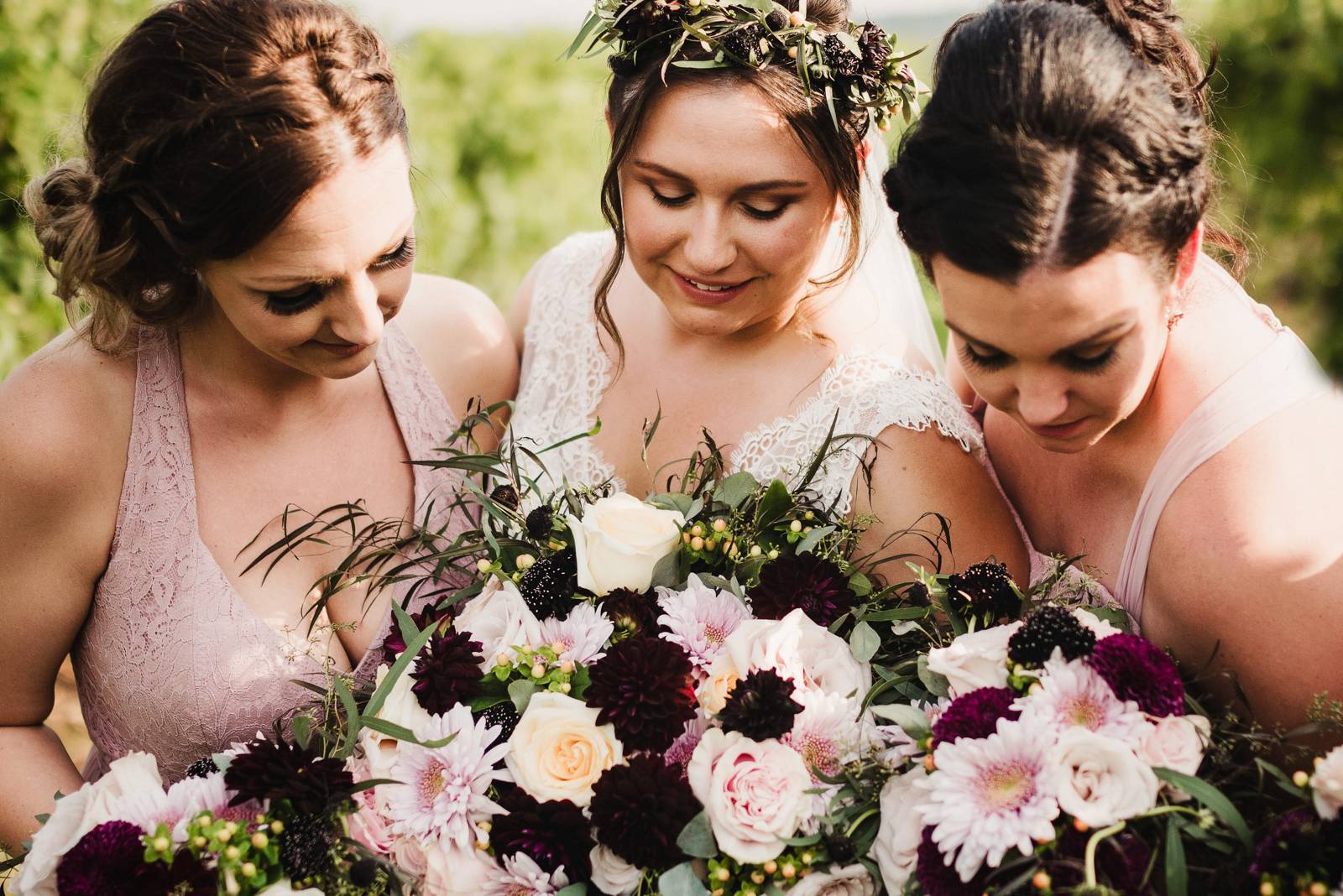 WHAT WAS YOUR FAVORITE MOMENT FROM YOUR WEDDING? My favorite moment was the ceremony. I got to watch my future husband walk down to "Here comes the hot stepper" by Ini Kamoze with our ring bearer Ashton, and puppy dog Buddy. It helped relieve the nerves because it was so cute and funny. It was great to be able to tell each other our vows in front of all our family. It was perfect.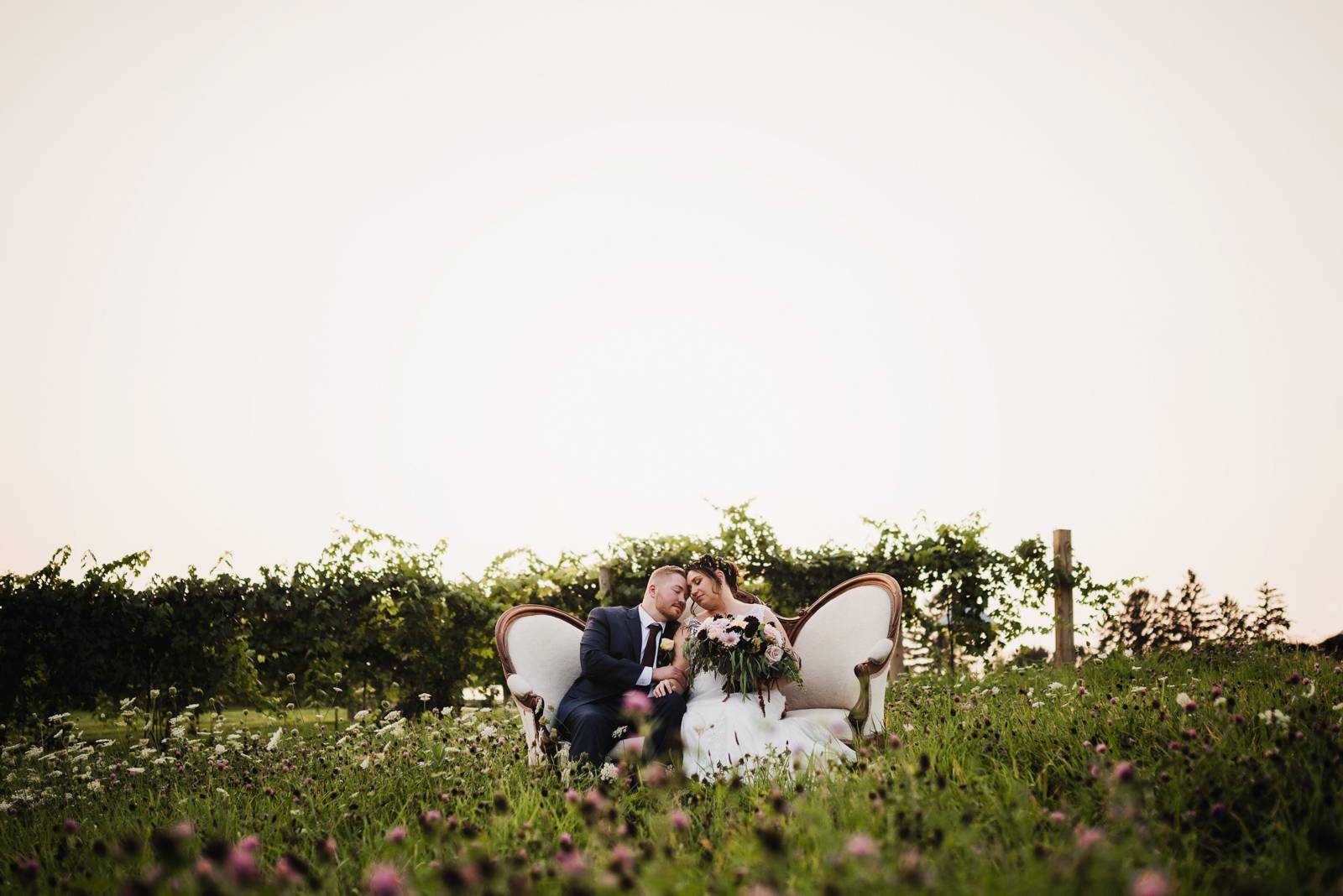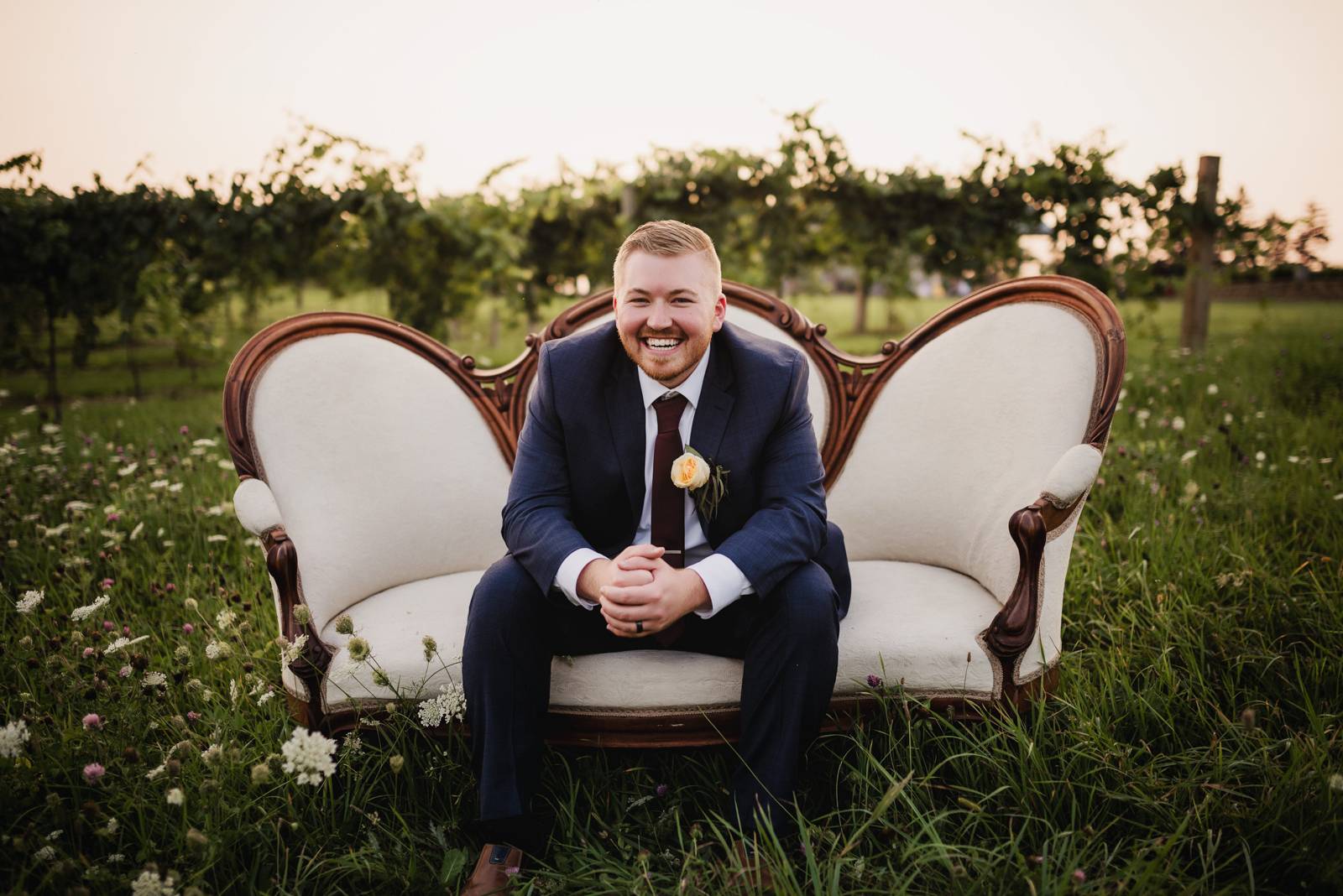 TELL US ABOUT YOUR HONEYMOON PLANS: For our honeymoon, we went on a cruise to the Bahamas, St. Thomas and St. Marteen. We also spent a few days in Florida to experience Disney.

WHAT DOES LIFE LOOK LIKE AFTER THE WEDDING? Life has been great after the wedding. We have settled in quite well and have all our gifts out in our house with the wedding pictures.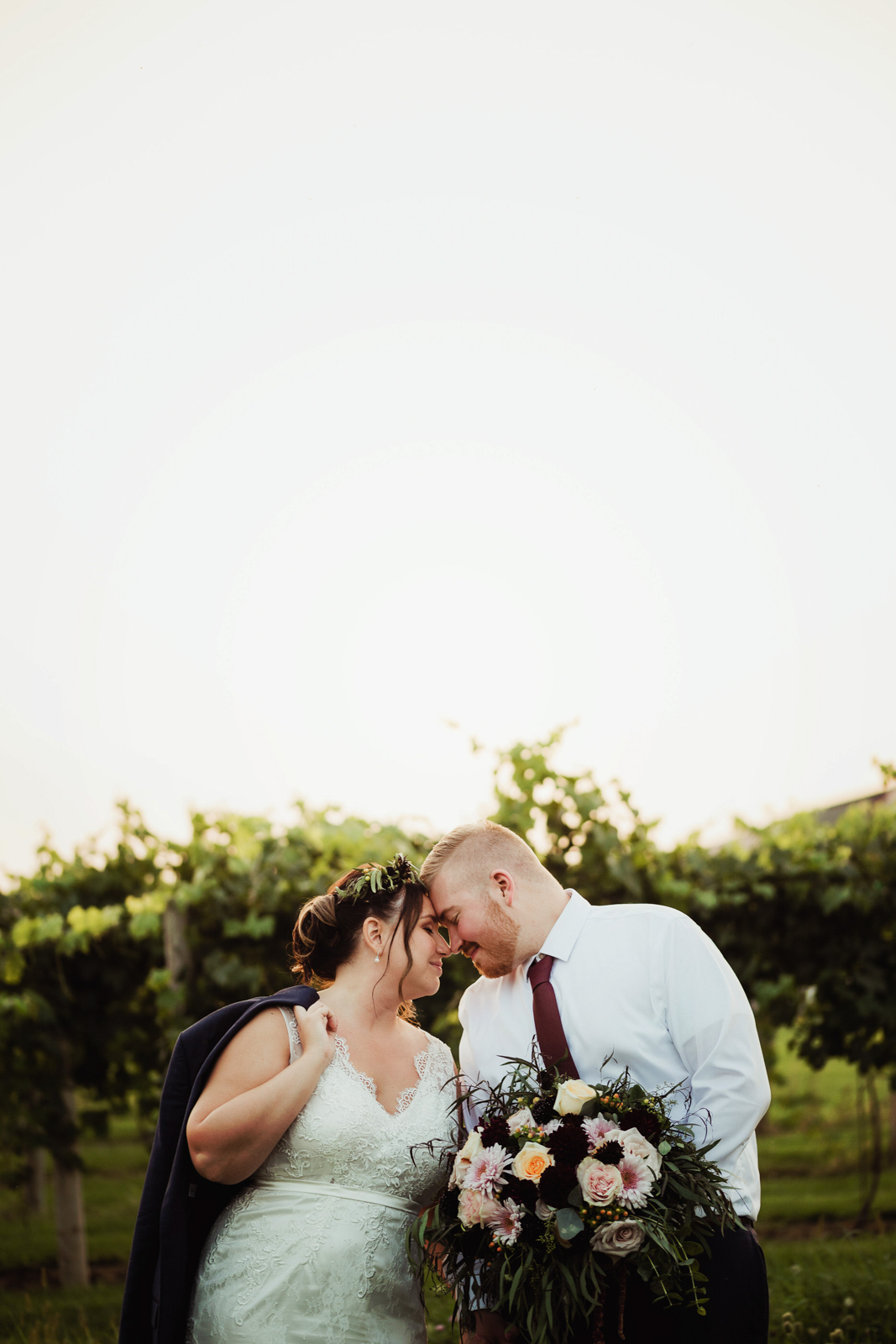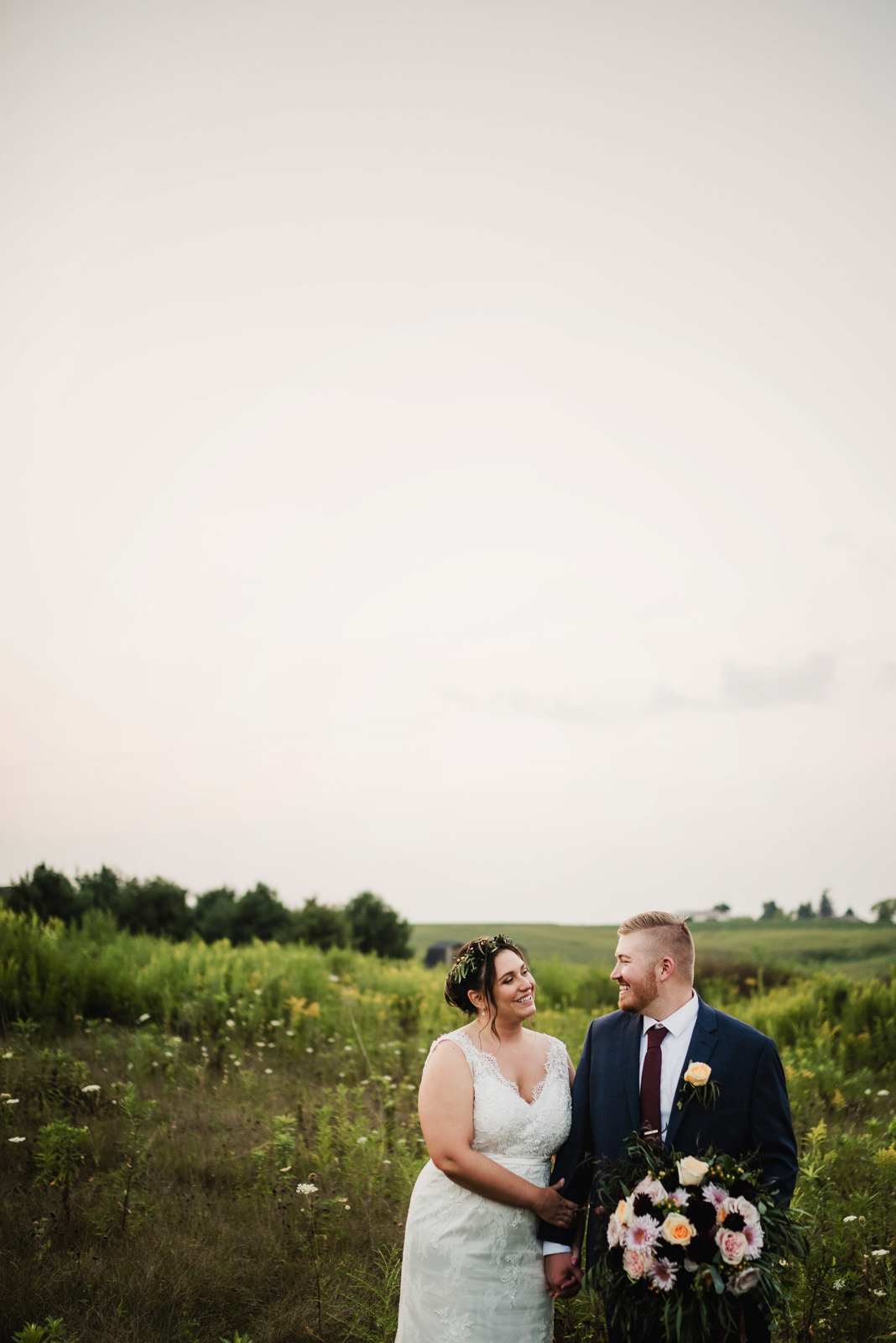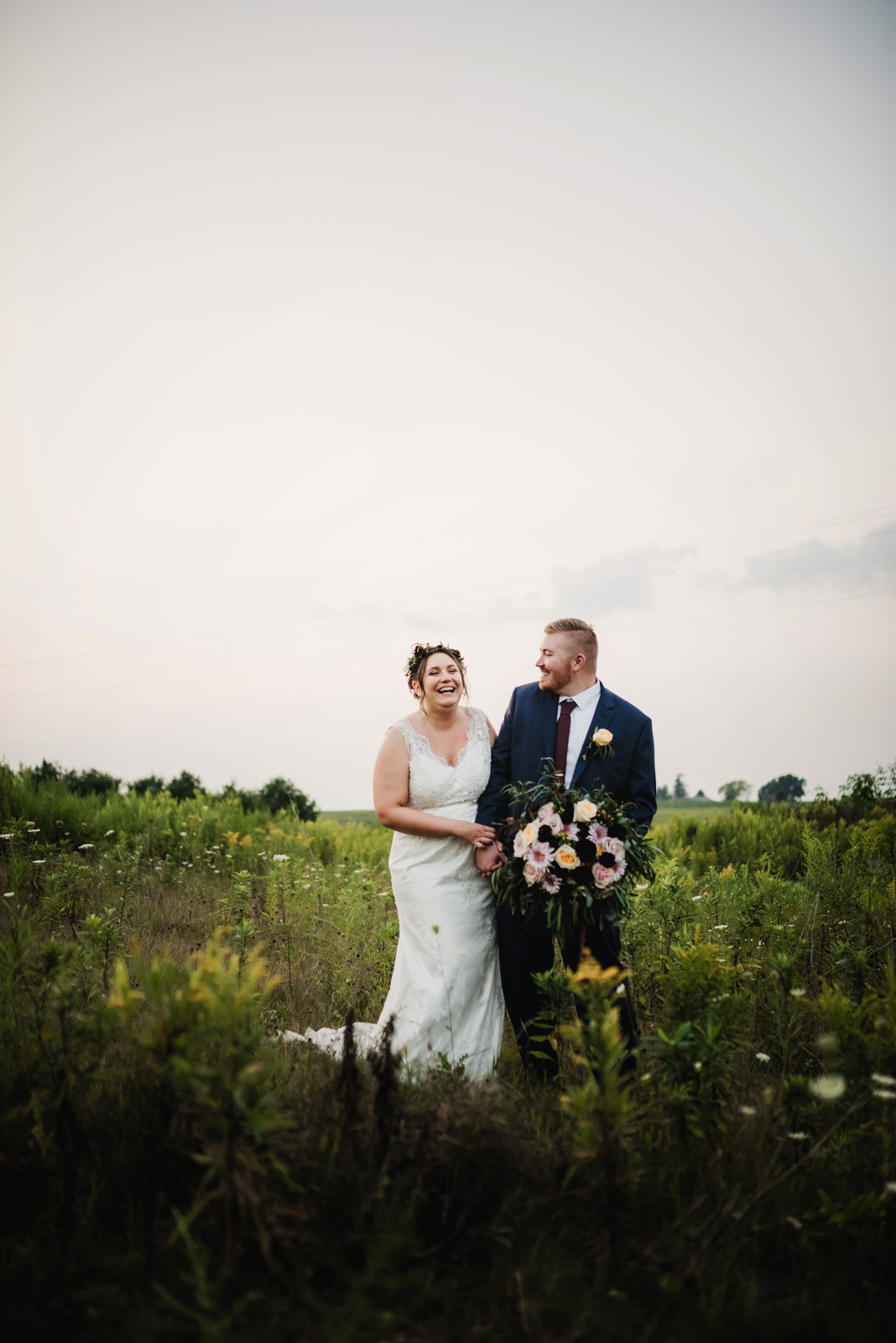 ANY WEDDING PLANNING REGRETS OR SOMETHING YOU WOULD DO DIFFERENTLY? I would have maybe started the day sooner. It went by way too fast!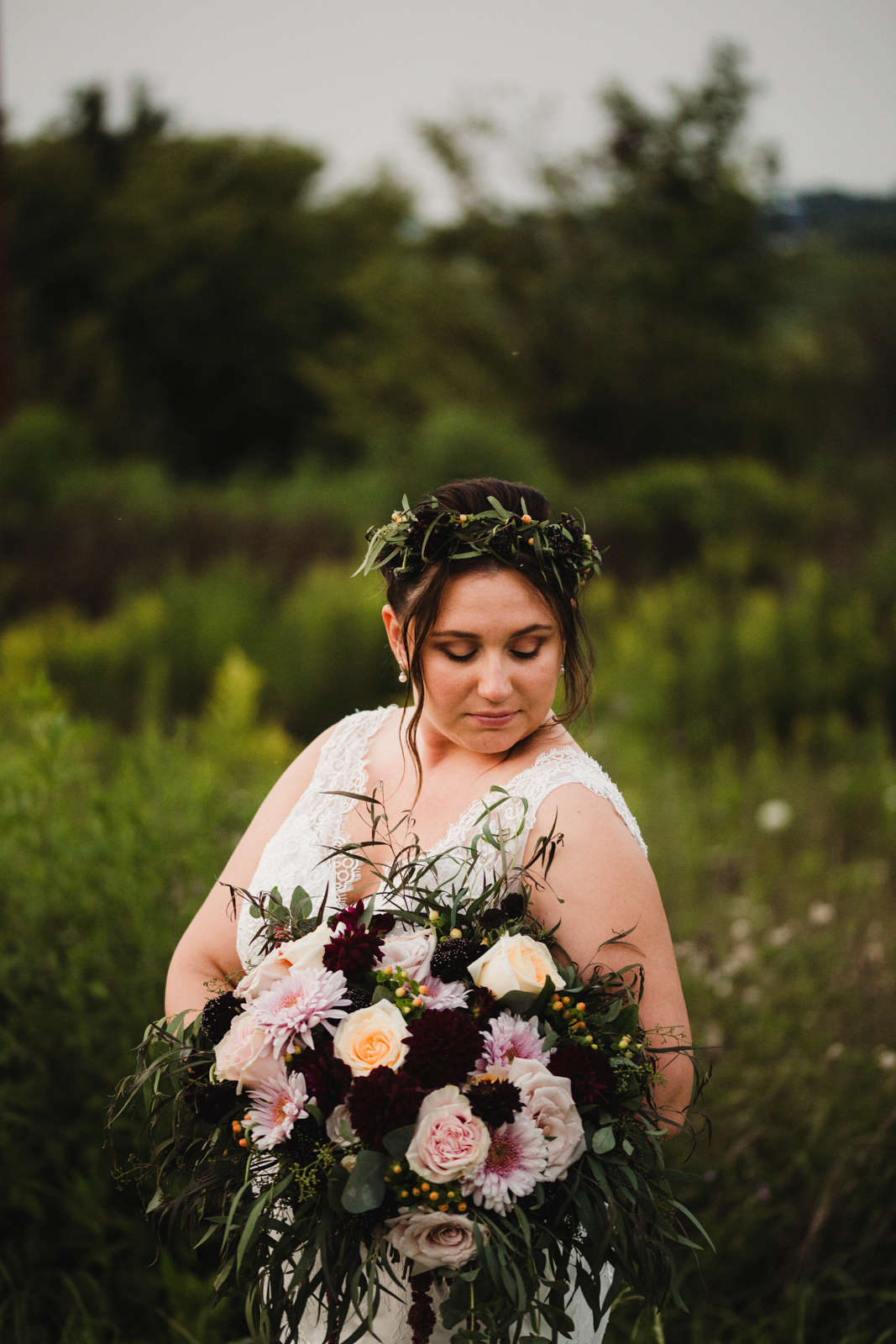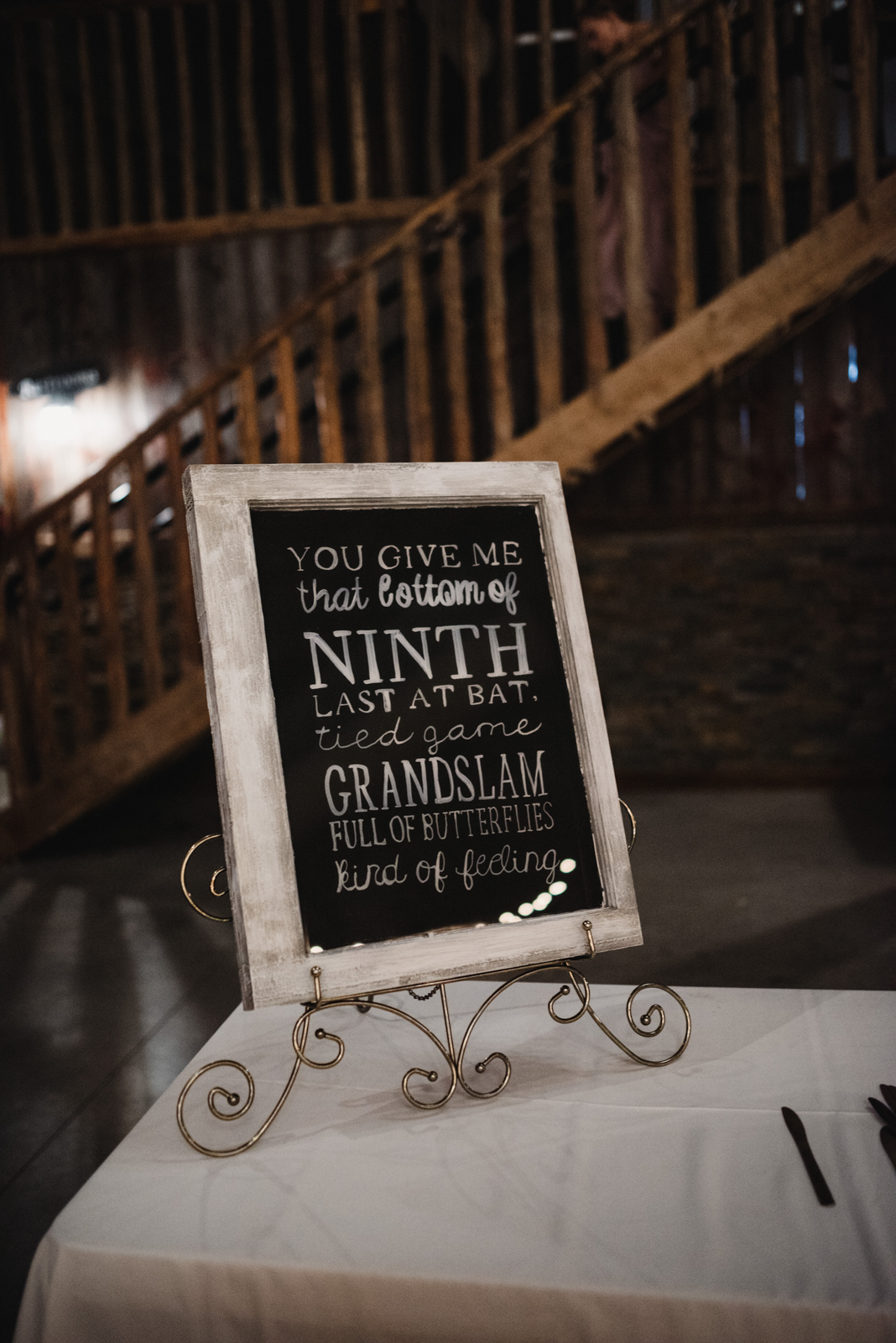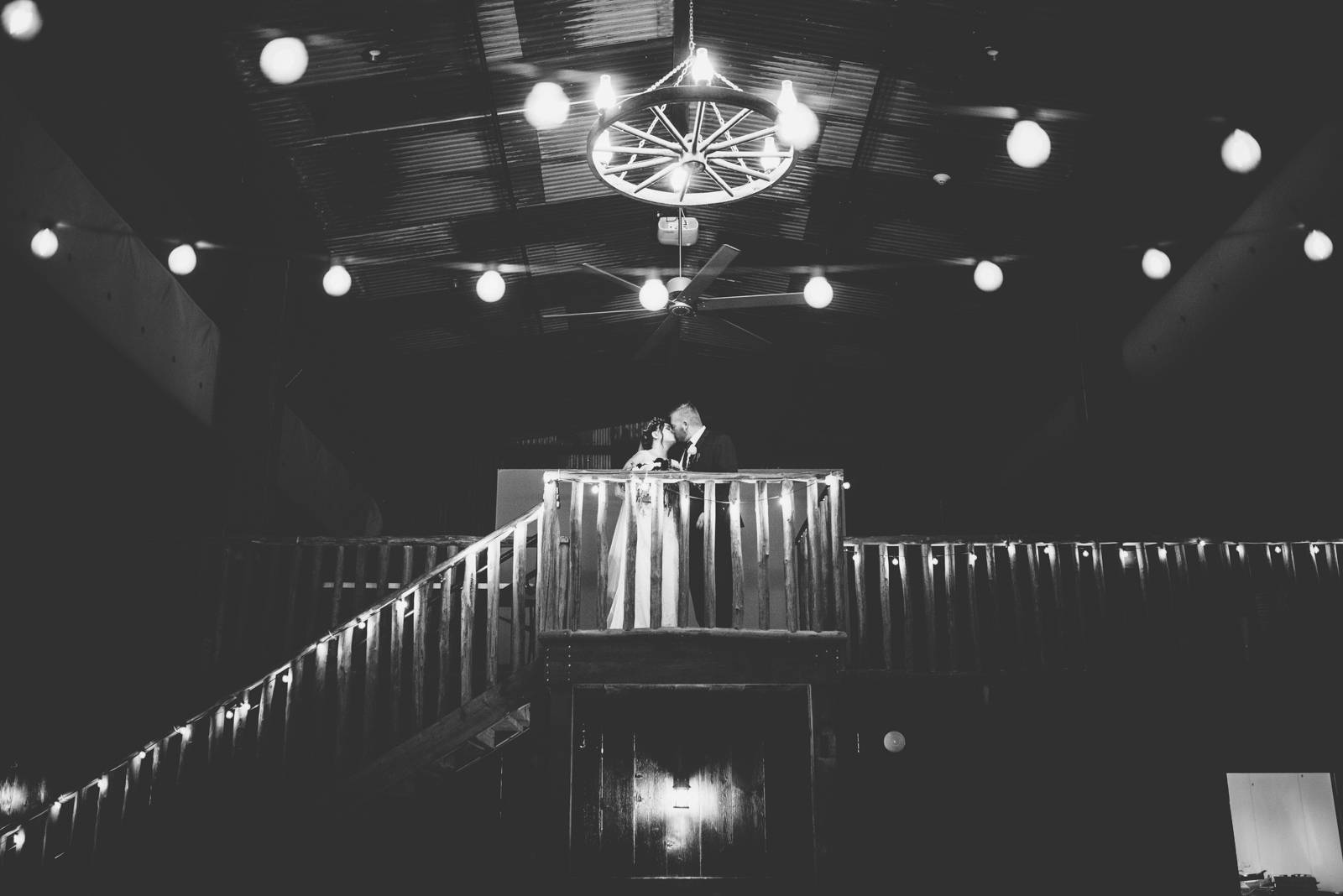 IS THERE ANY ADVICE YOU'D GIVE TO OTHER COUPLES PLANNING THEIR WEDDING?
 Take time out of the day, preferably after the ceremony to have a moment between just the two of you. And have an extended cocktail hour so you can visit with everyone and you don't have to do the dreaded receiving line.