WEDDING DATE: 08/10/18
HOW DID YOU MEET? We met in Peoria, Illinois, during our college winter break. We started dating on January 3, 2010, when Jason was attending Eastern Illinois University for his undergrad studies, and Victoria was attending Midwestern University for her doctorate.
TELL US ABOUT YOUR PROPOSAL: Jason and I went to Capital Brewery, on a chilly day in December, to try one of the cherry wheat beers available. Jason asked me if I had ever been ice fishing or walked on a frozen lake, and I responded no. So he asked if I wanted to go to Lake Mendota (even though it was 3 degrees outside and felt more like -13 with the wind-chill.) I've always wanted to see the boats do ice sailing, so we went. We drove out to the lake and saw people ice fishing, cross country skiing, and ice skating. Jason asked if I wanted to go out on the ice, and I agreed. We walked out onto the ice, and Jason dropped down to one knee and proposed.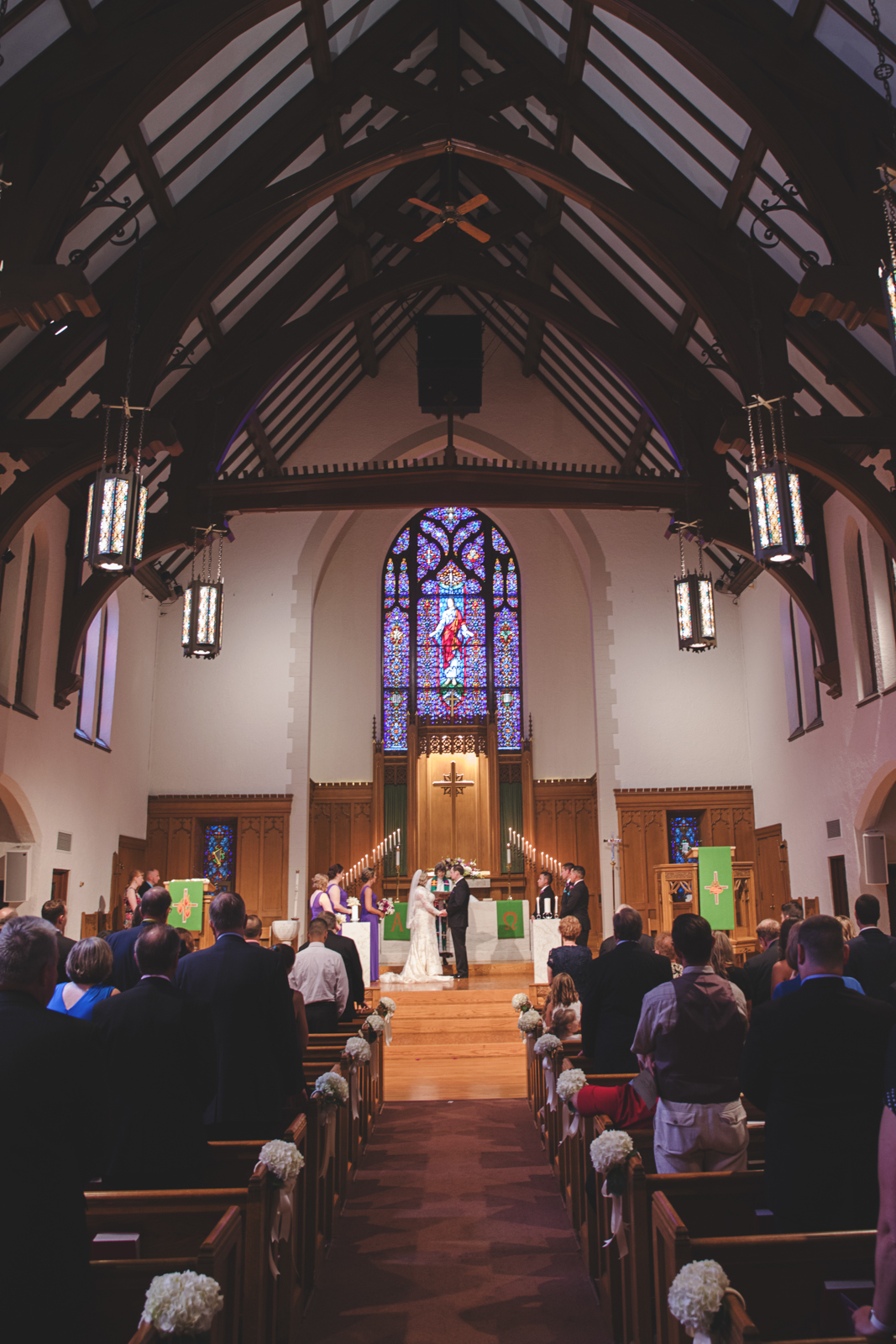 TELL US ABOUT FINDING YOUR DRESS: I'm a heavier bride, so I was very self-conscious. I didn't want to do a tube top dress and have to worry about my boobs spilling out on top or have my back revealed, so I was looking for something that had a V-neck, straps or sleeves. The tube top dresses also remind me of my high school days - which I wanted to avoid. I wanted something classy, elegant, and romantic. I've seen plenty of brides who wore the wrong dress for their body shape. The first place we went to was Vera's Bridal. I liked it there for privacy reasons. I could try on a dress my private fitting room, take a look in the mirror provided, and didn't have to step "outside" to show everyone what I looked like if I didn't like the fit. I described to Tami (one of the workers at Vera's) about my dream dress, and she went back and pulled a couple out. The first dress I tried on was the one. I wanted to try a few others on just in case because it was too good to be true. I went to David's Bridal also but didn't find anything I like, so I went back to Vera's and tried on that dream dress one more time and bought it.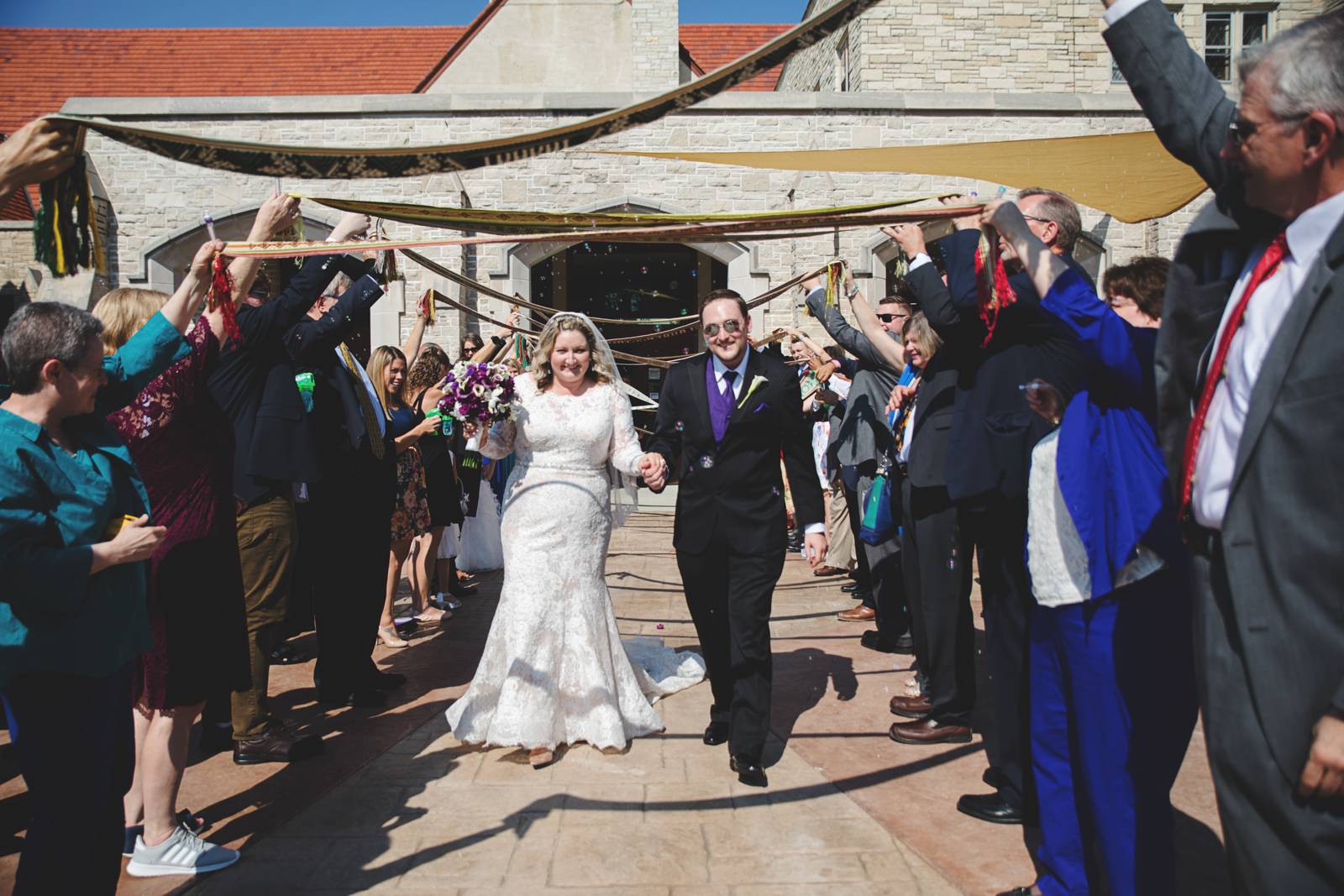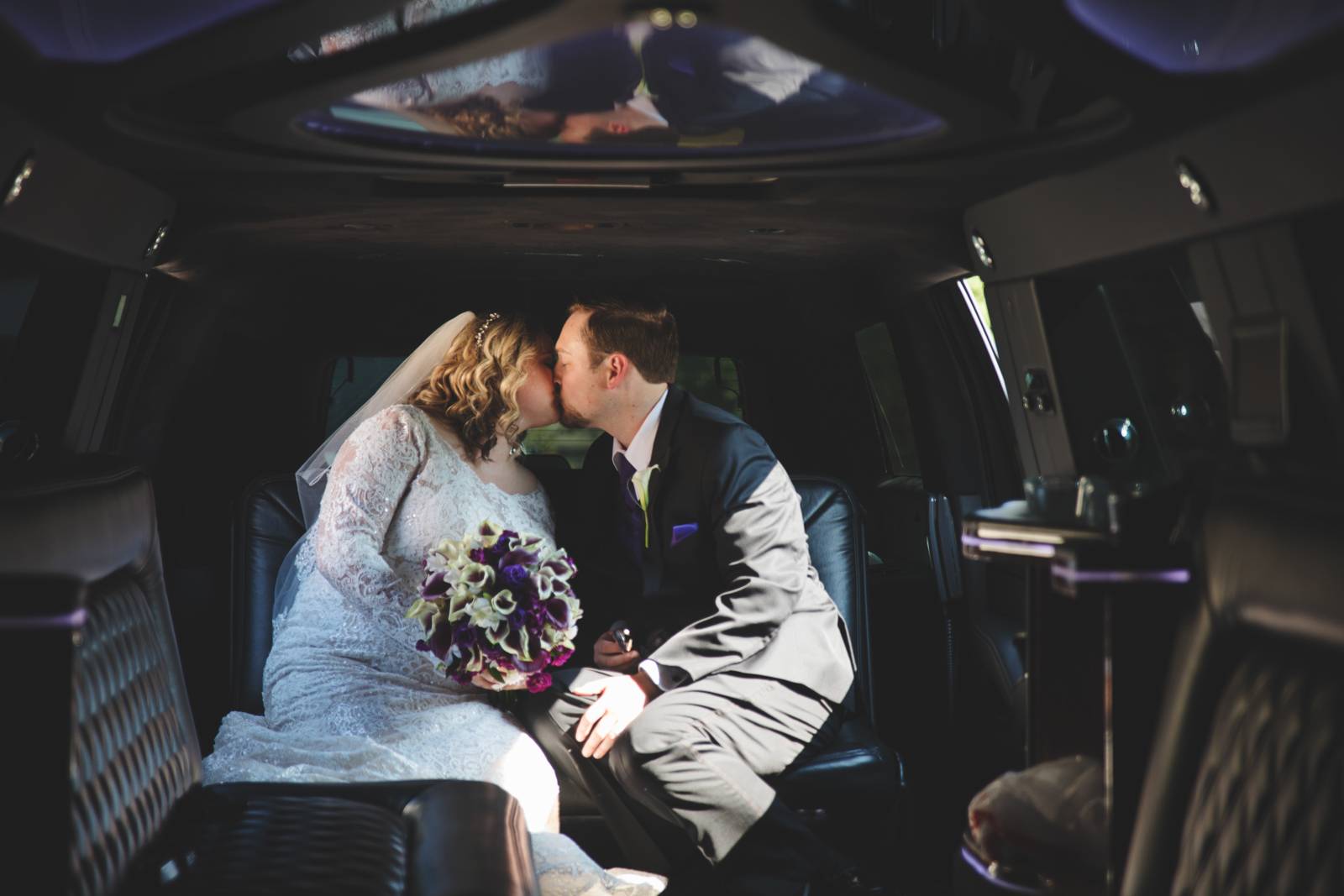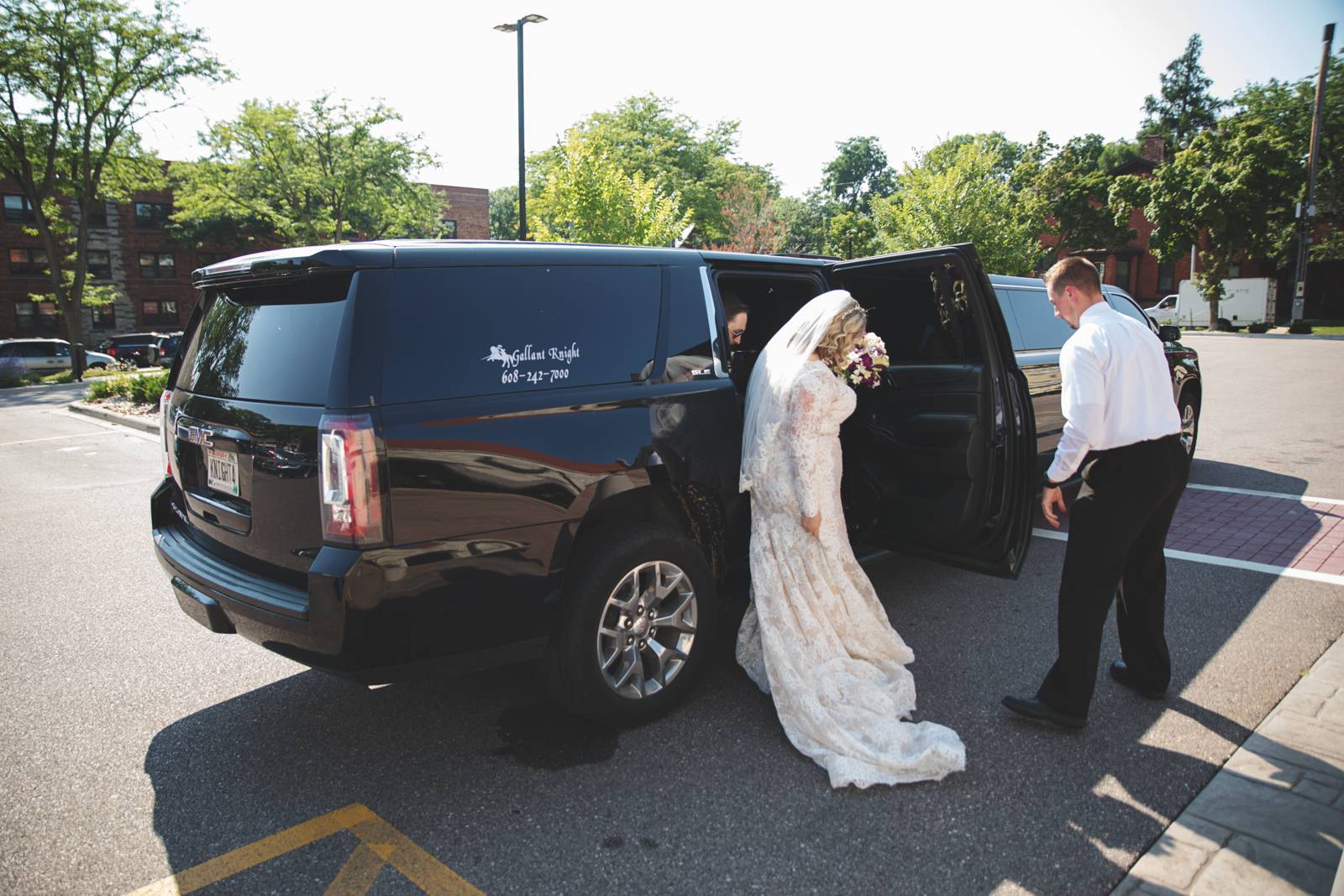 WERE THERE ANY PERSONAL TOUCHES OR DIY ELEMENTS? For my something old, we sewed a part of my mother's lace wedding dress into the bottom of my wedding dress, underneath. For my something blue, we had our names and wedding date sewn underneath the dress. I also wore my late grandmother's ring.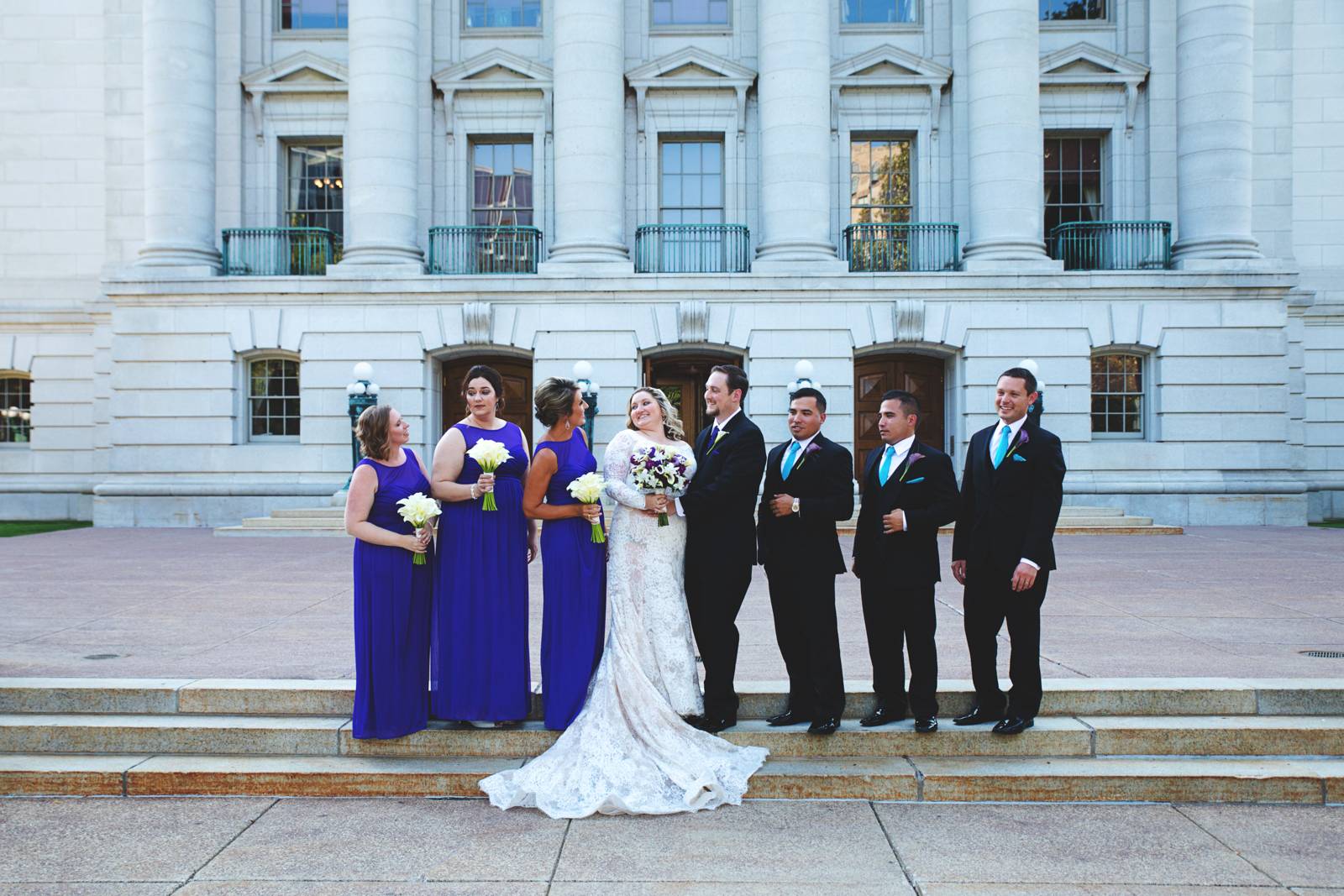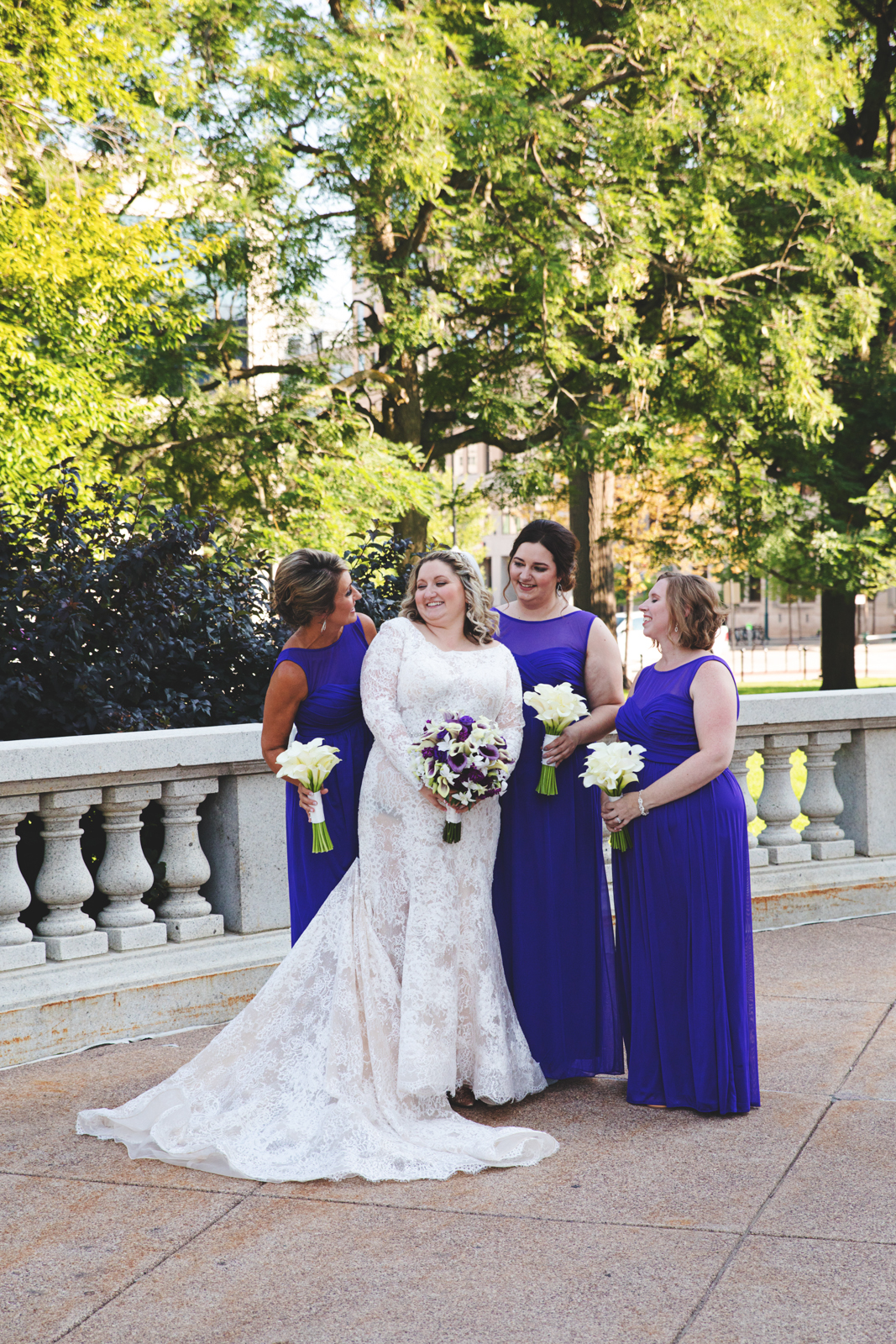 WHAT WAS YOUR WEDDING COLOR PALETTE? Regent purple and Malibu Blue

DESCRIBE YOUR WEDDING FLOWERS: My bridesmaids carried white calla lilies and I carried a mix of white and purple calla lilies.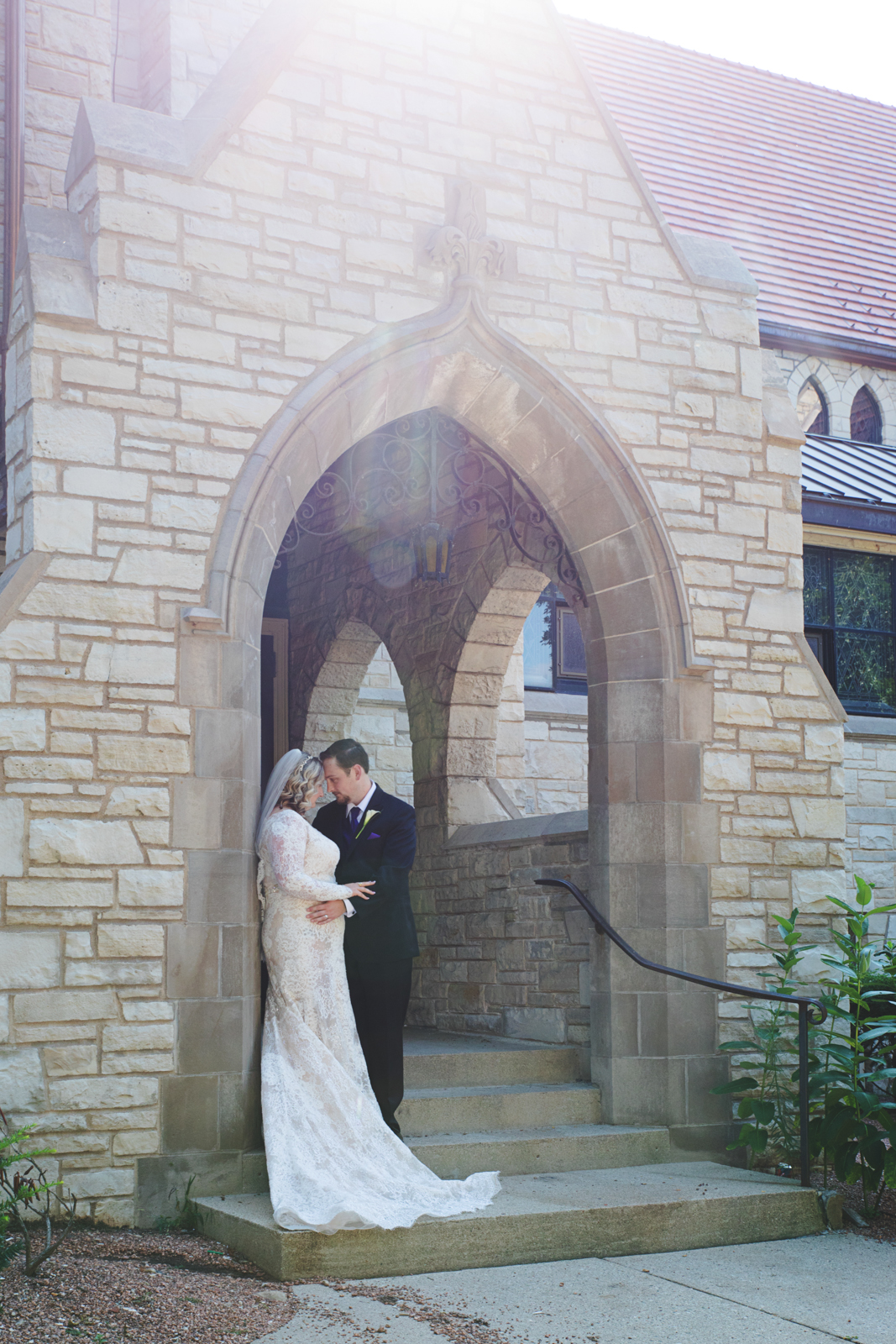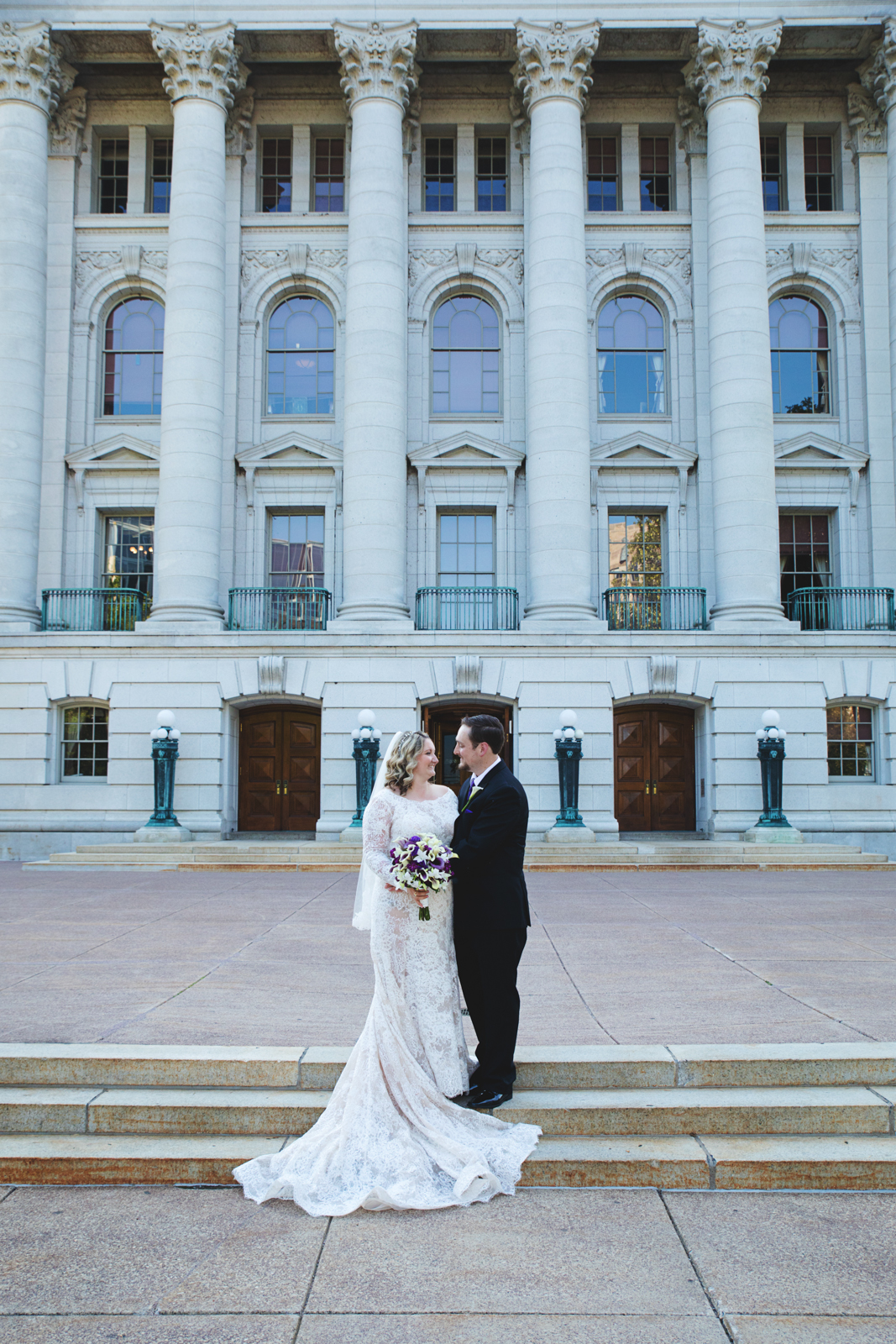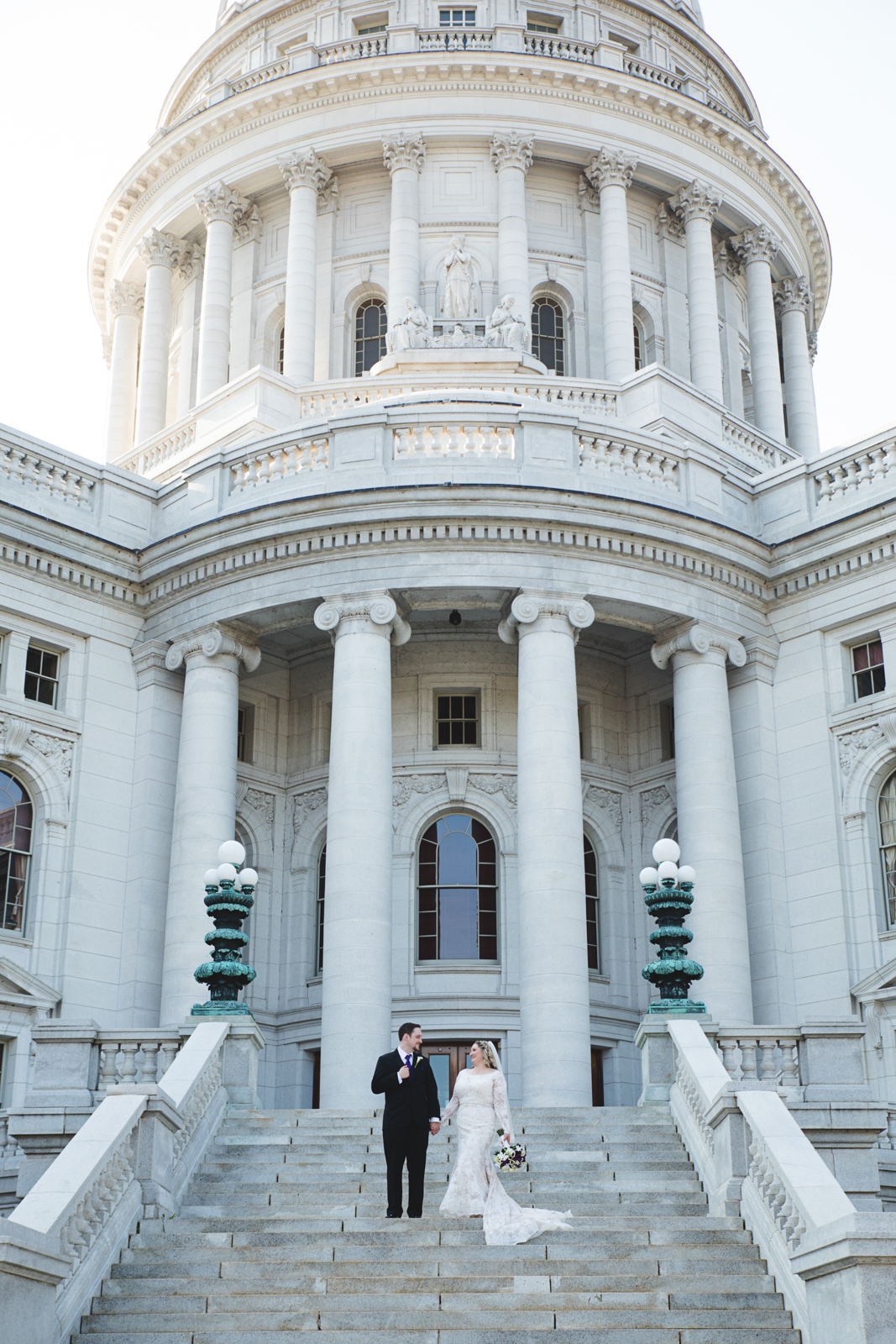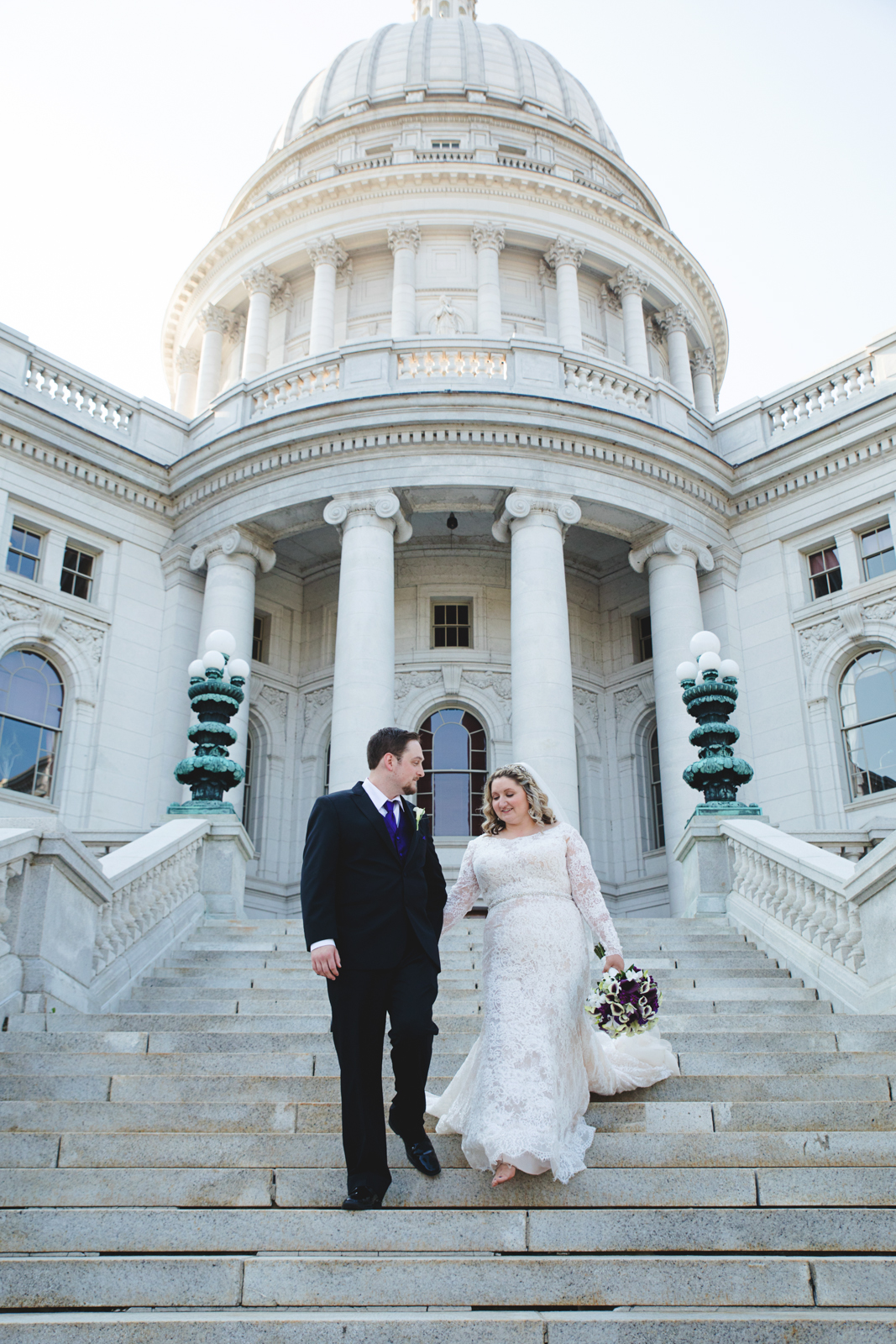 TELL US ABOUT THE FOOD, DESSERTS AND ANY SPECIALTY BEVERAGES ON THE MENU: I wanted to incorporate my Lithuanian heritage, and that seemed a perfect element to share. We had a family friend bring Raguolis, a Lithuanian wedding cake as a surprise. It's a very tall, traditional, spit cake. We also joined a Lithuanian dancing group here in Madison, who also came to our wedding and danced with us.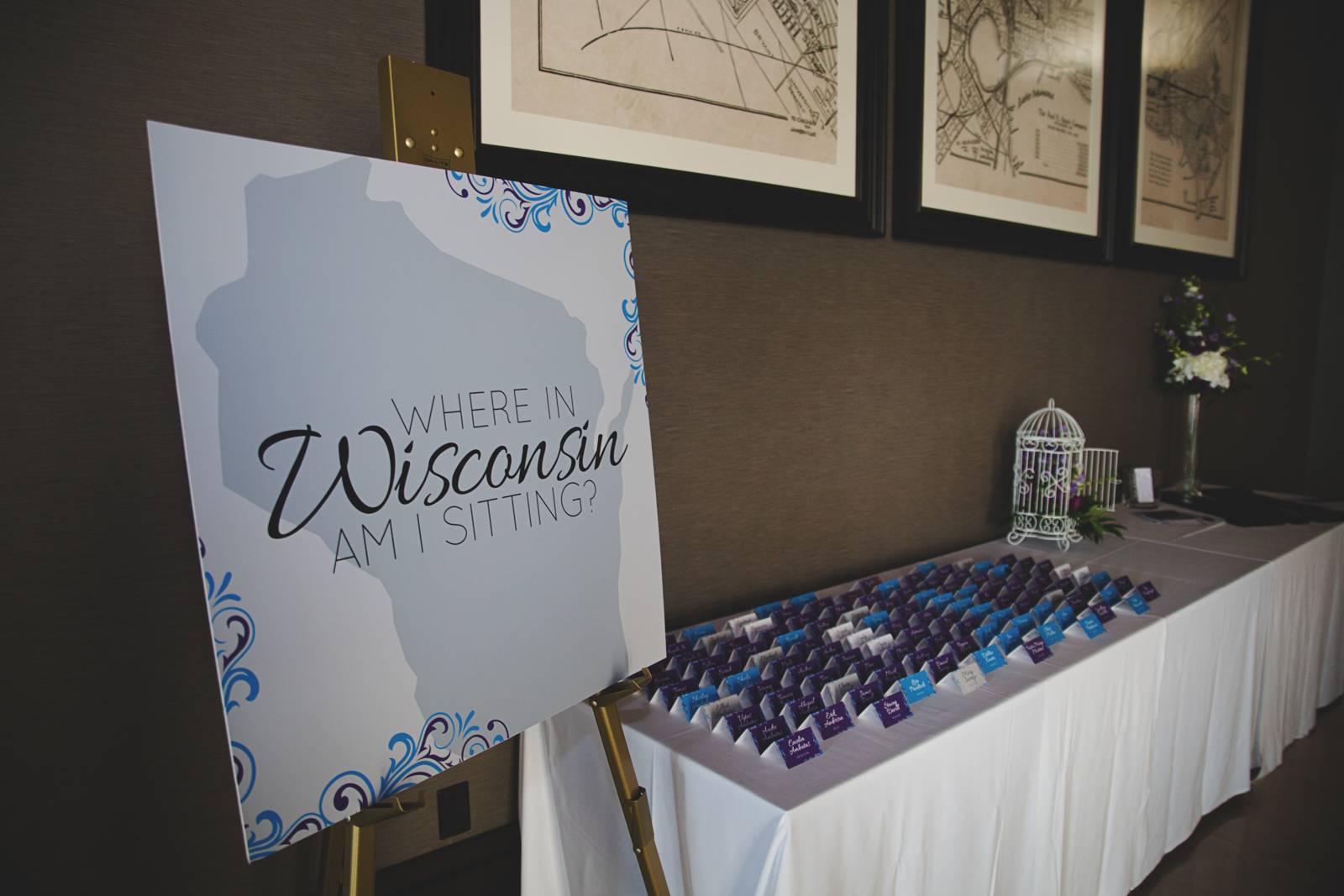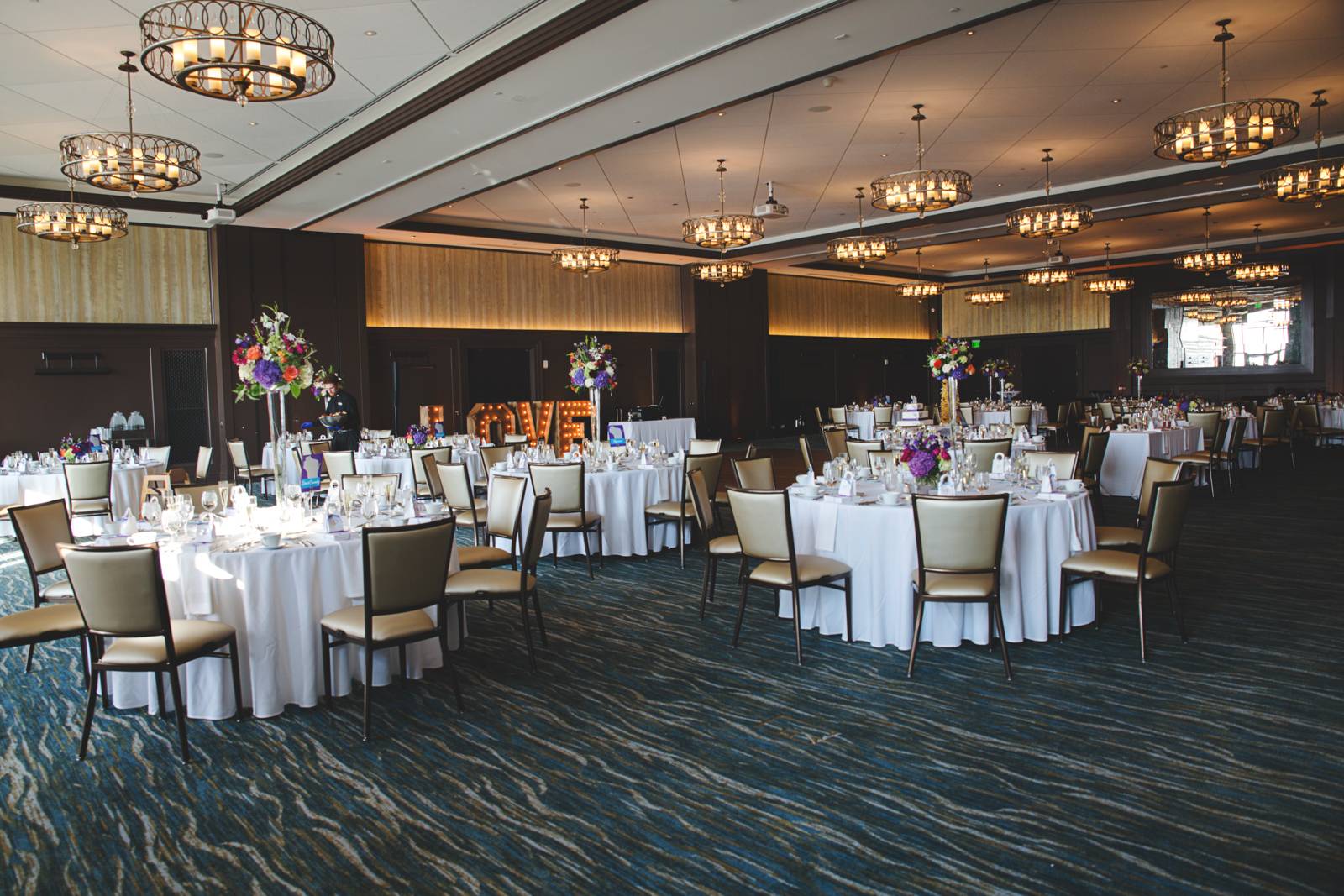 WHAT WAS YOUR FAVORITE MOMENT FROM YOUR WEDDING? Everything, I can't narrow it down to one moment. I'm not very religious, but I would probably say my favorite memory was walking down the church aisle up to Jason and seeing his reaction at the altar.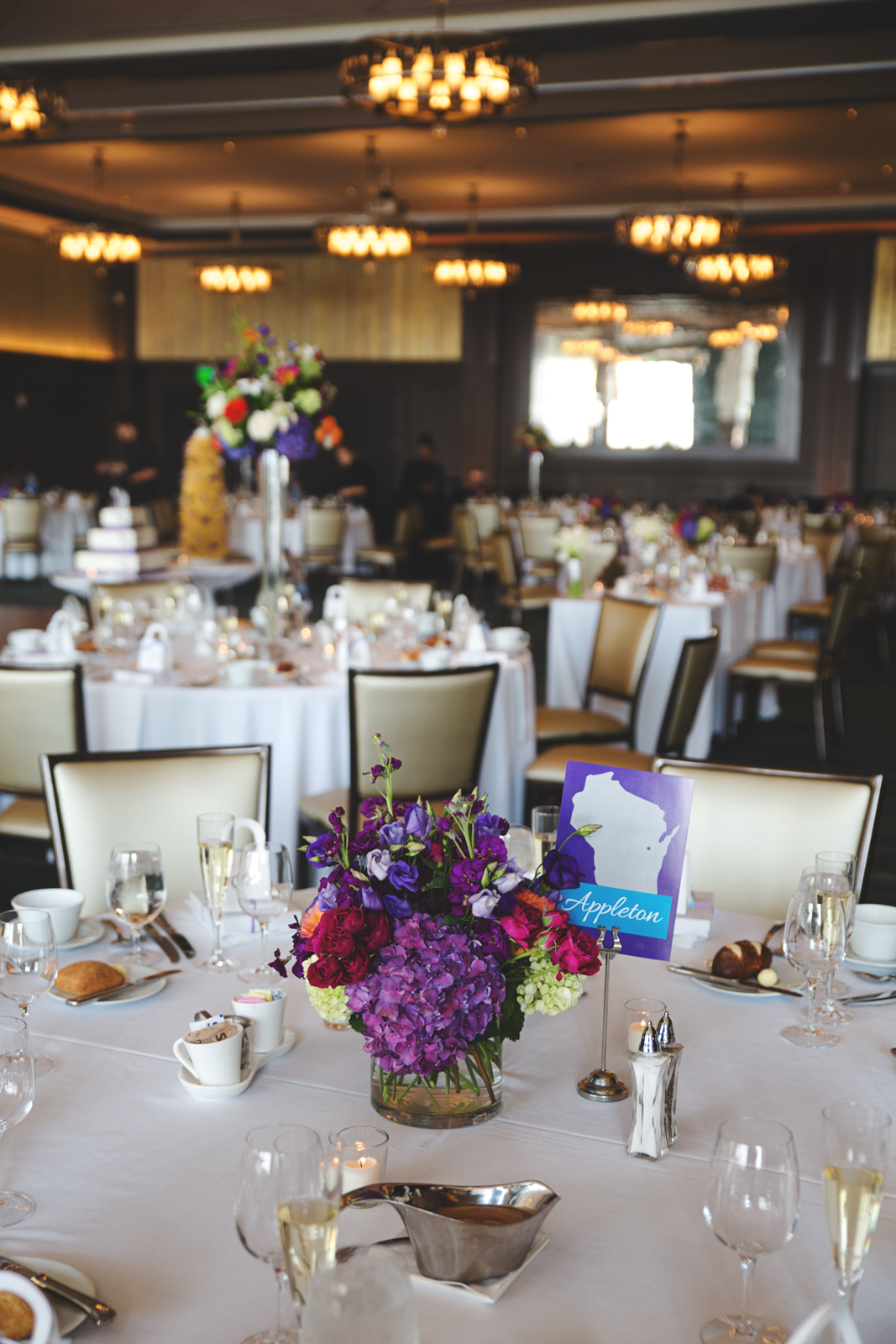 TELL US ABOUT YOUR HONEYMOON PLANS: We went to the Apostle Islands for a week immediately after the wedding. We did a ghost tour, went kayaking in the sea caves, did a couple of boat tours including the Wrecks, Rocks, and Lighthouses Tour. We stayed at the Old Rittenhouse Inn in Bayfield, which was pretty cool.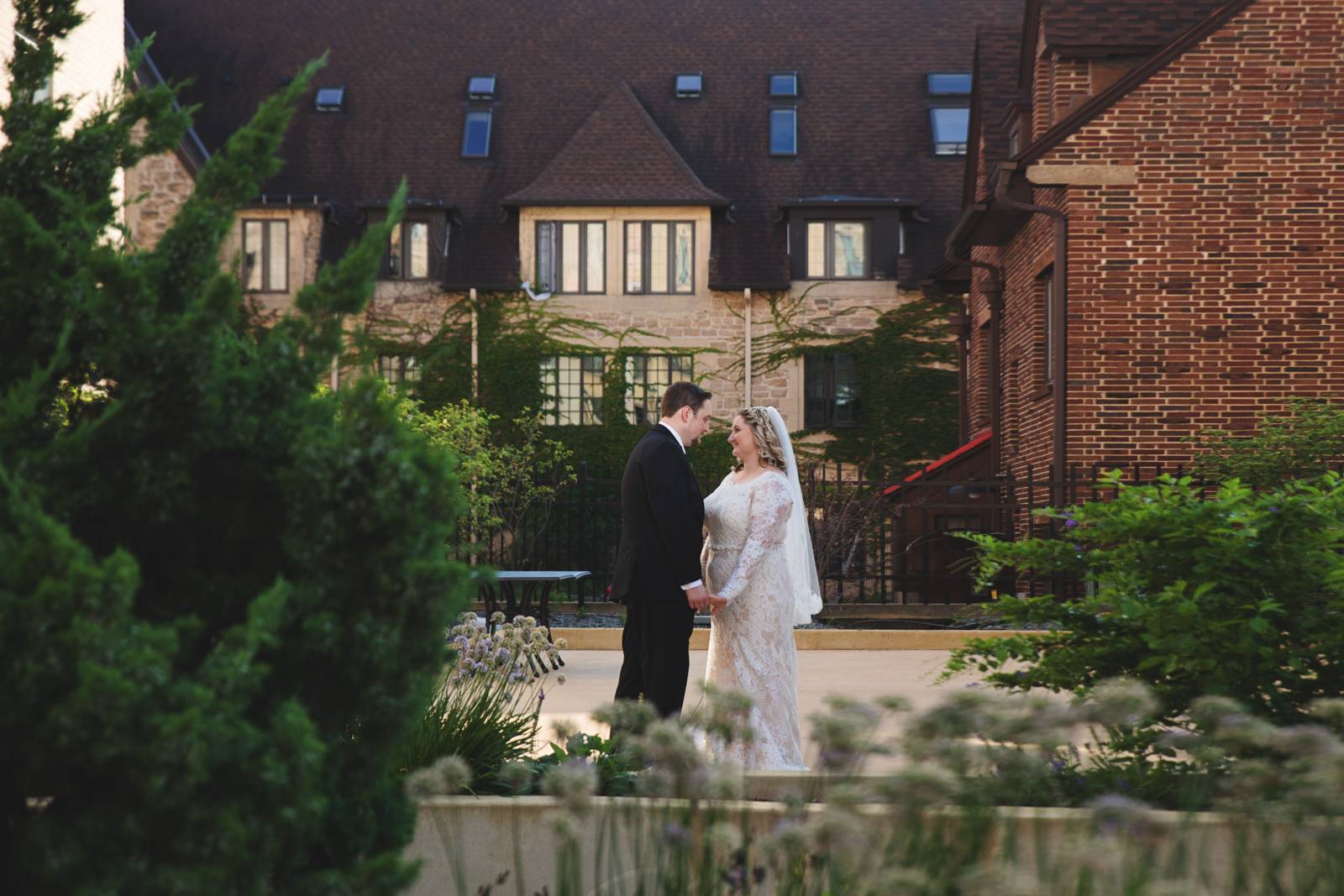 WHAT DOES LIFE LOOK LIKE AFTER THE WEDDING? We got pregnant right after the wedding and found out we were miscarrying. But then, to our surprise, we became pregnant again and are now expecting our first child!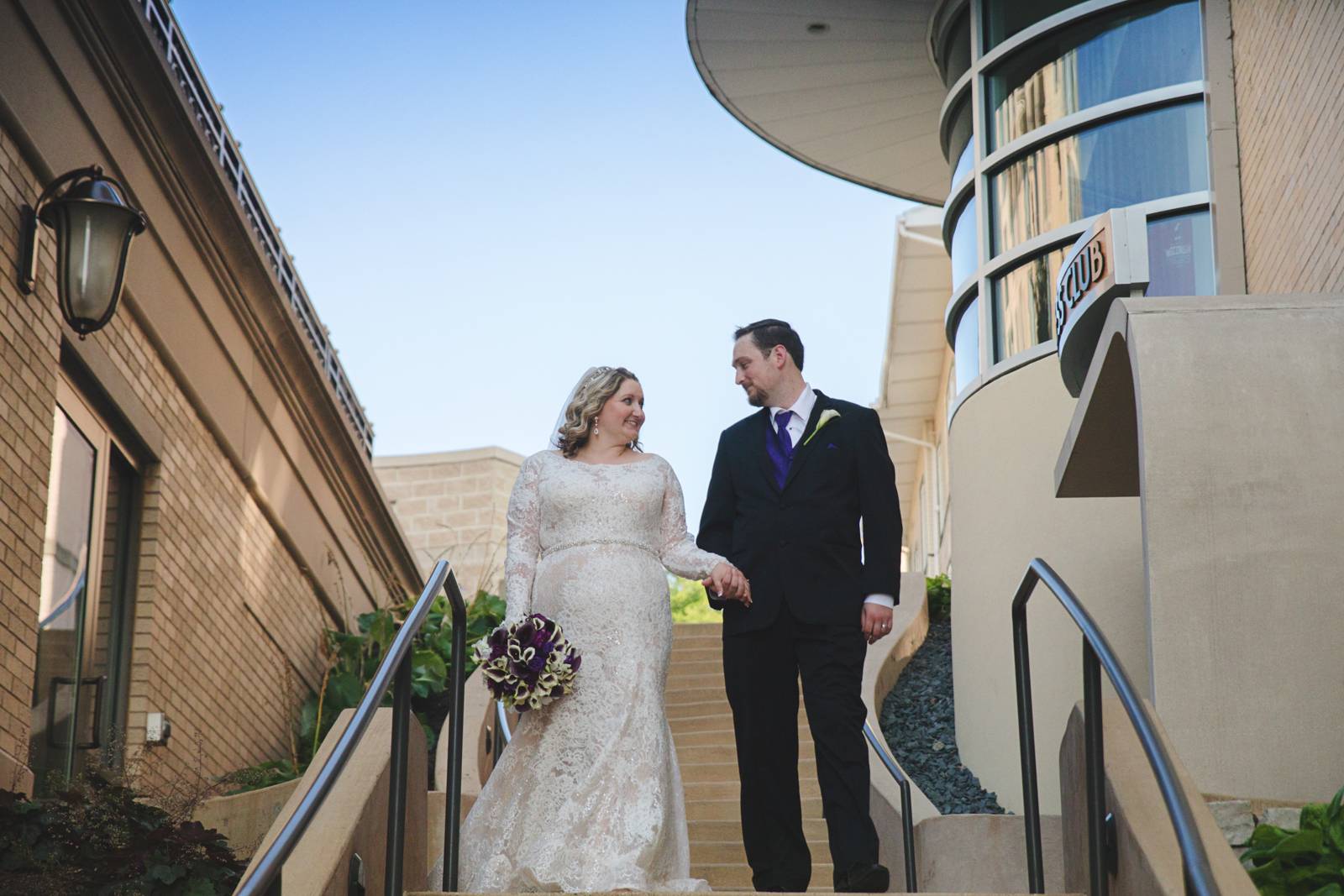 ANY WEDDING PLANNING REGRETS YOU'D DO DIFFERENT? None - the only thing I wish is that we could have more time in a day to continue the celebration.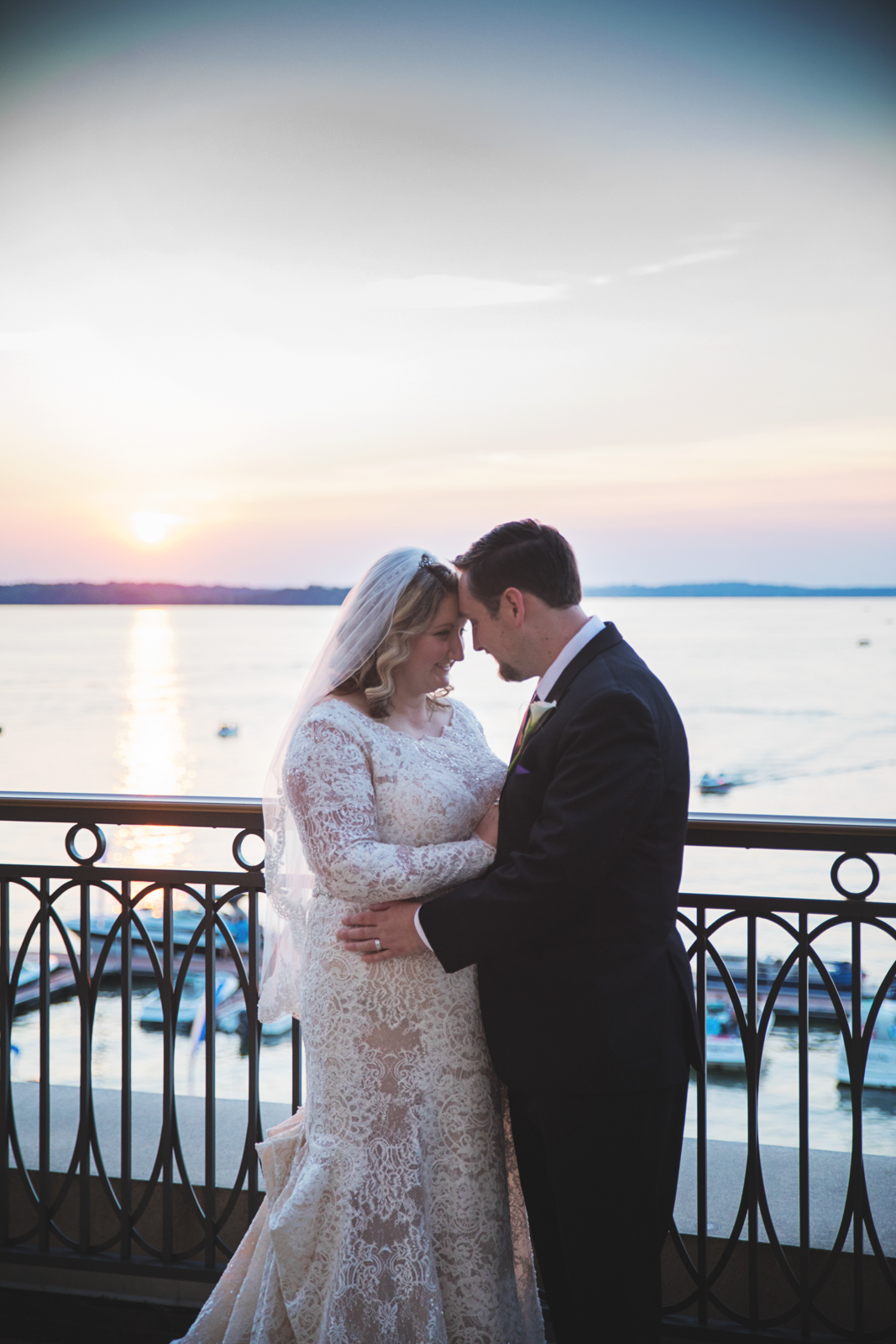 IS THERE ANY ADVICE YOU'D GIVE TO OTHER COUPLES PLANNING THEIR WEDDING? The day of the wedding flew by. Make sure you spend time with your husband or significant other since the day is about you two. A lot of our married friends said they barely saw their spouse on the day of the wedding, so we took note and made sure to spend the entire reception together. And when preparing your day, you can plan all you want, but nothing goes as planned - someone will be late, you might be late, your mother might be late, the list goes on.