Filled with gorgeous colors, textures, florals, boho style, and precious adventurous love, we're absolutely OBSESSED with Ammie and Eric's real Wisconsin elopement, and we know you will be too! Featuring some of our incredible vendors such as Simply Glamorous Designs at Oregon Floral, Craig's Cake Shop, Vintage Brewing Company, and LK Bridal Studio, enjoy every bit of today's stunning sweetness below!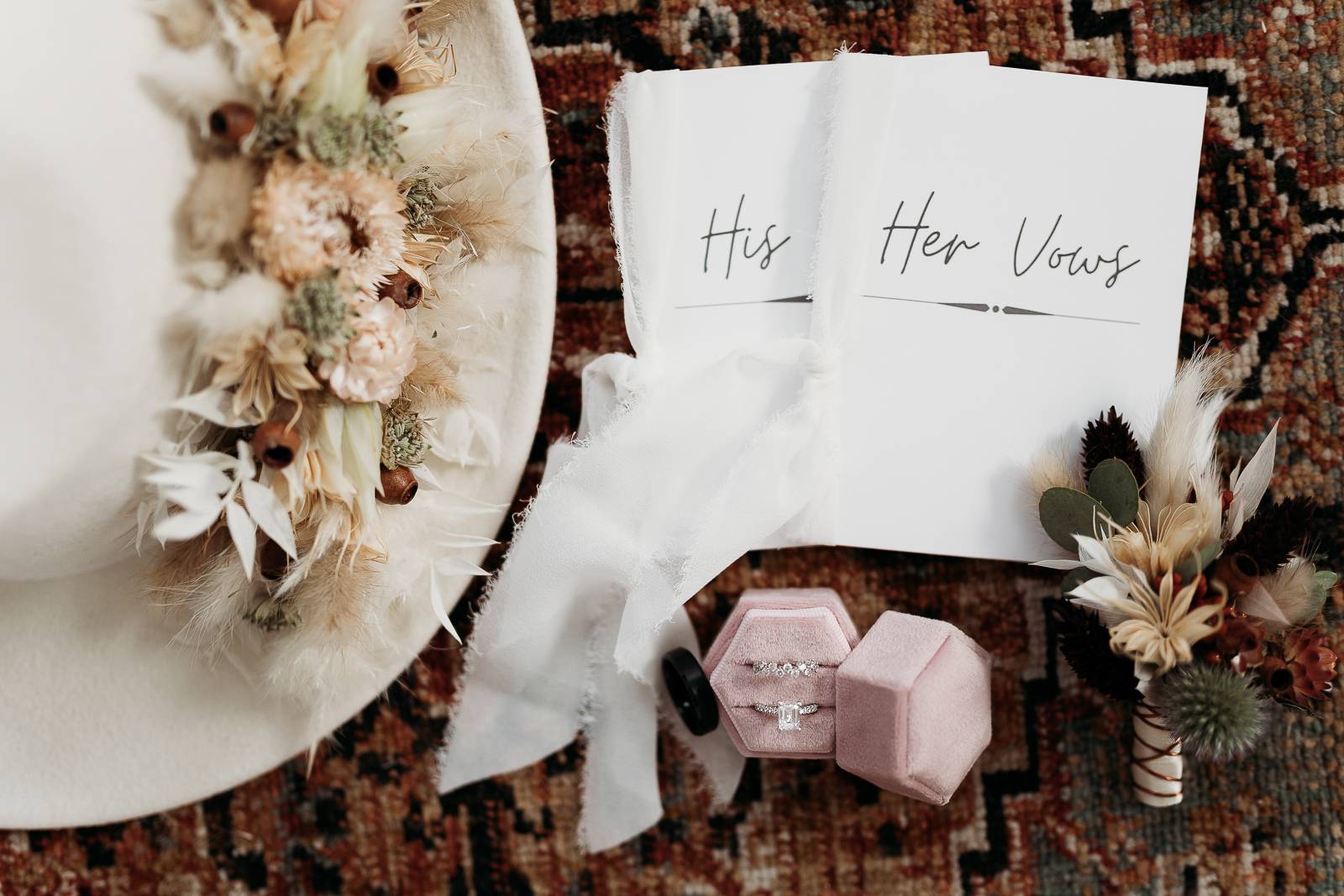 NAMES OF COUPLE: Ammie + Eric
WEDDING DATE: 09/17/2020
HOW DID YOU MEET? Eric and I met through friends and have been friends for 10+ years!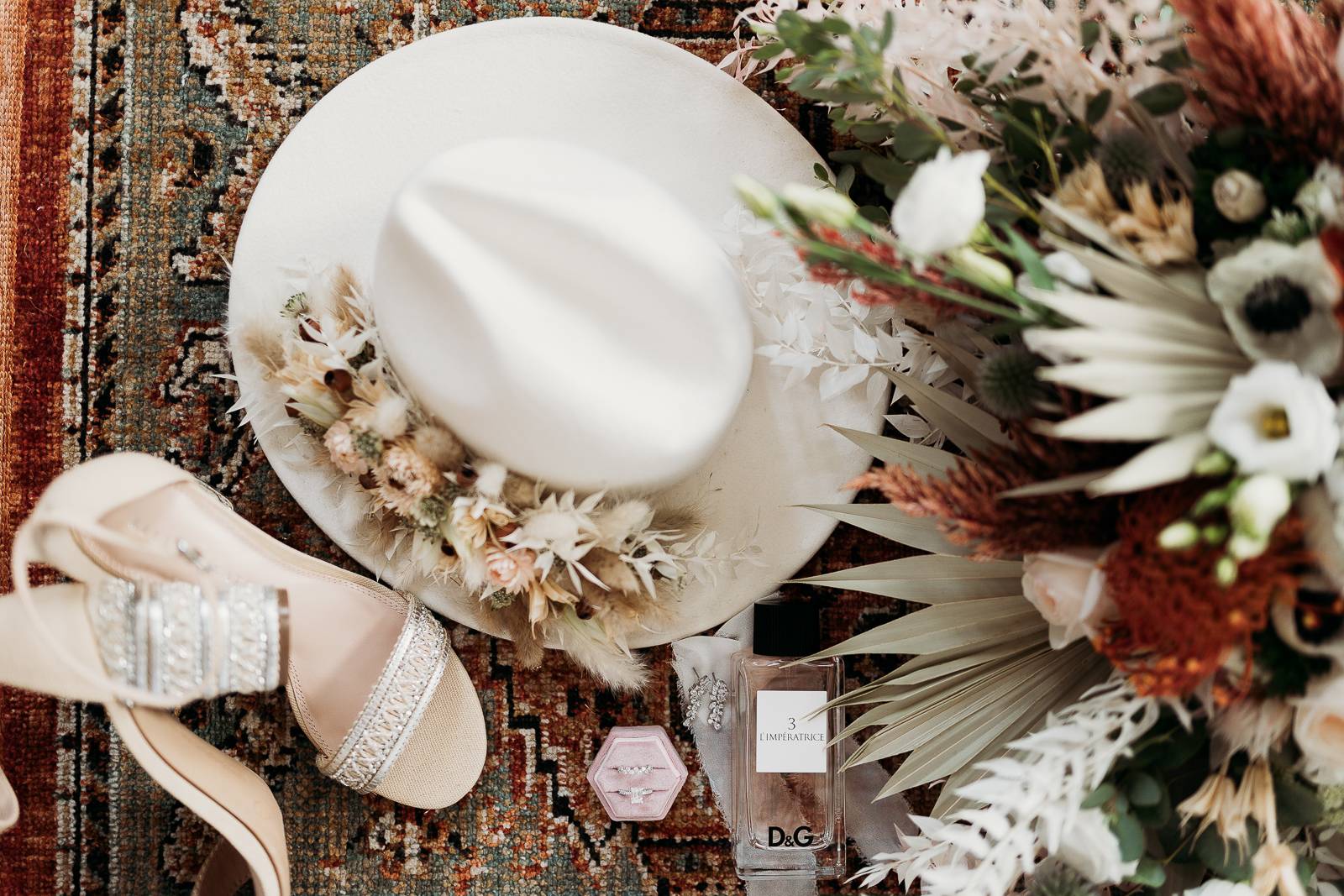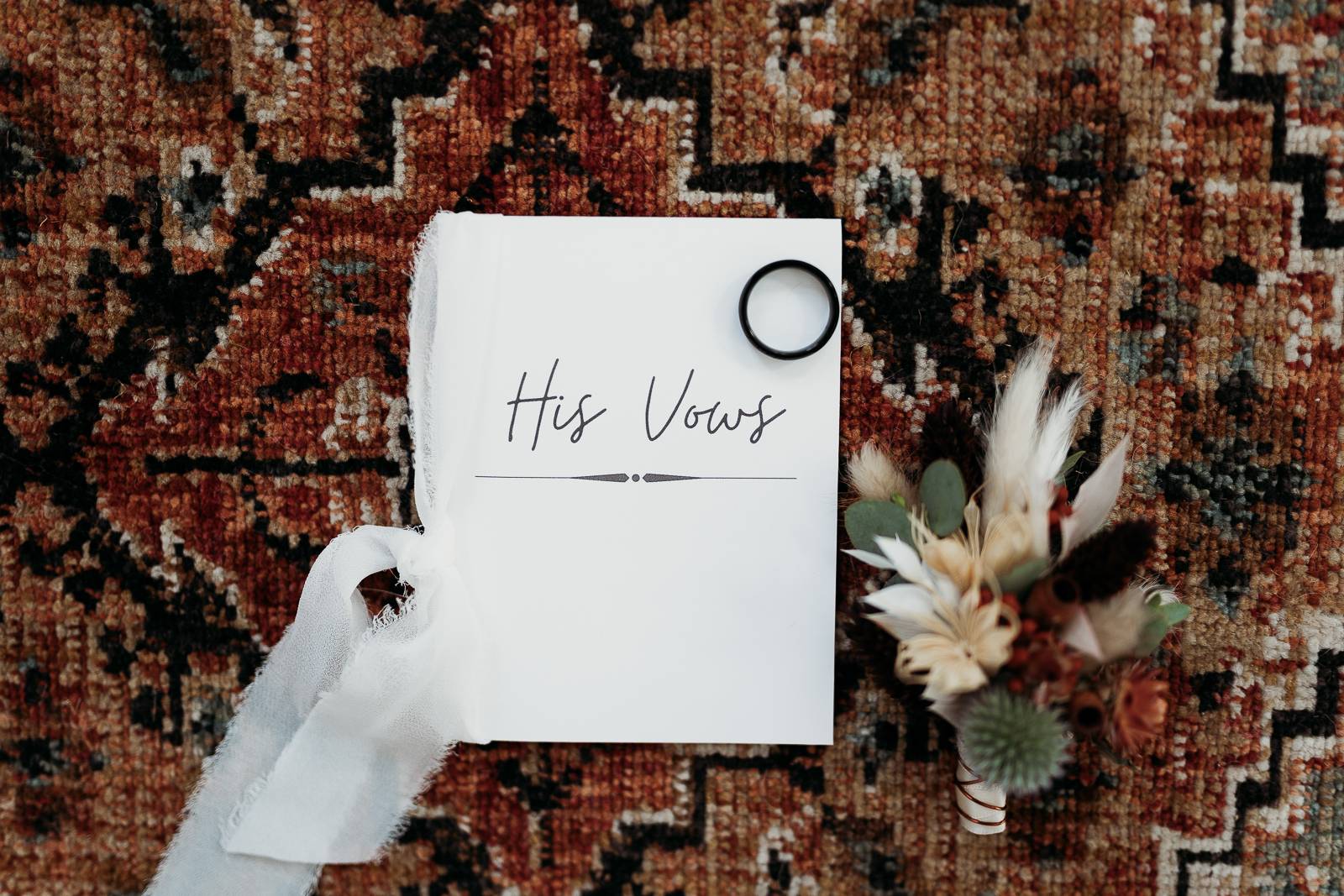 TELL US ABOUT YOUR PROPOSAL: Eric proposed to me the morning of my 32nd birthday over breakfast in bed, which consisted of coffee and my favorite kind of donut. It was so simple, so us, and so perfect. We had picked out the ring together a month prior. I knew it was coming; I just didn't know when exactly. As soon as we were engaged, I went into full elopement planning mode as we knew we wanted to elope in the fall of 2020.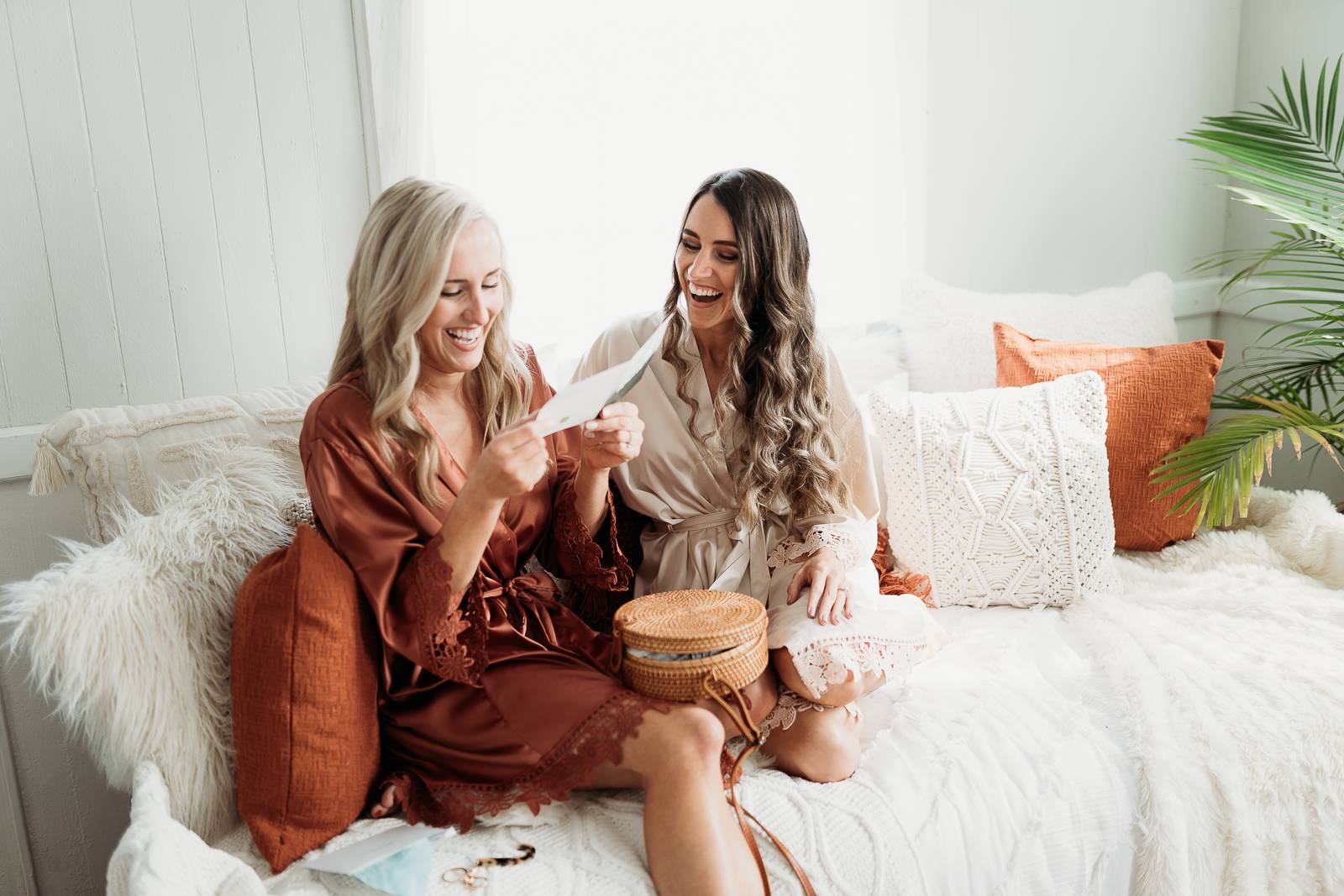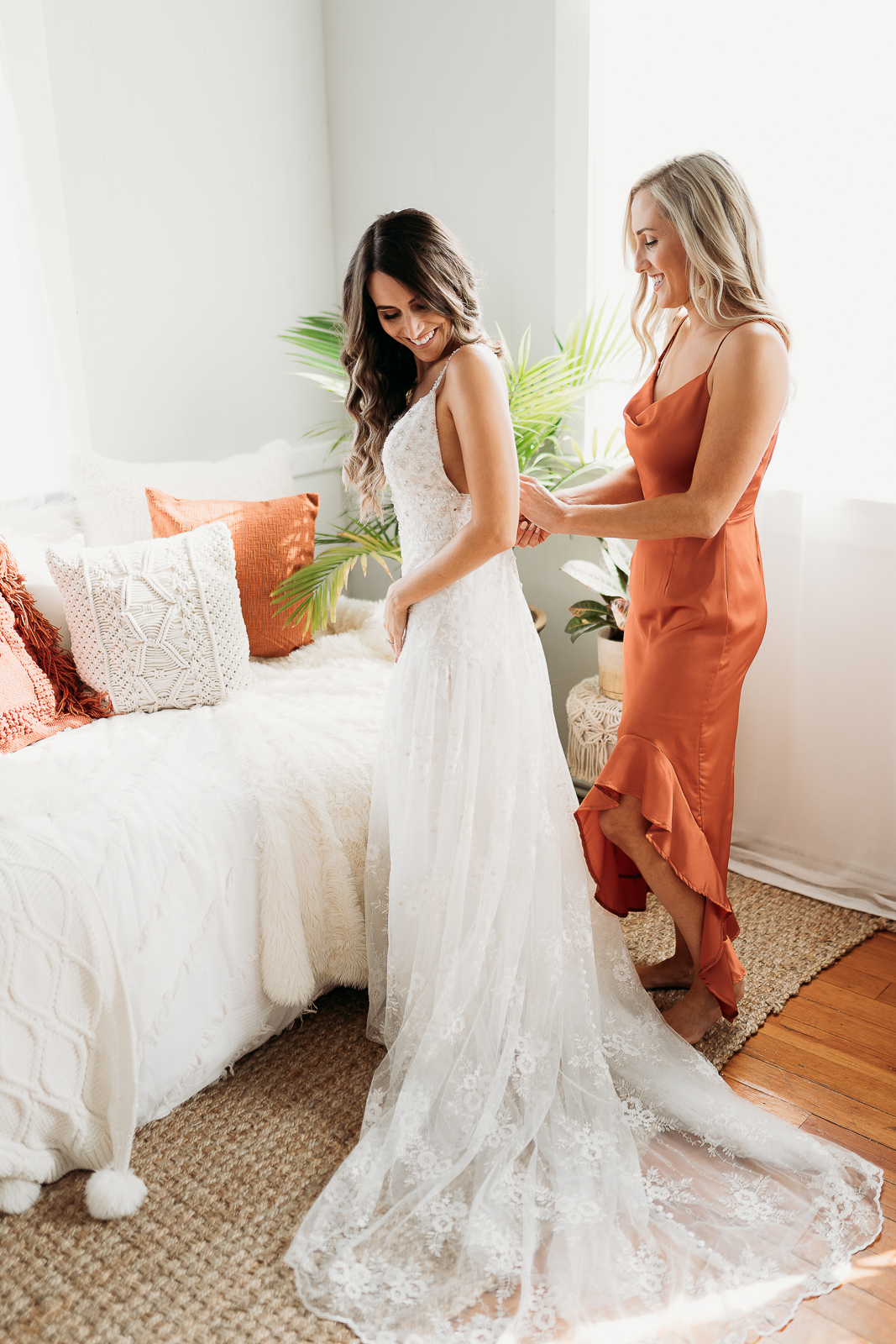 TELL US ABOUT FINDING YOUR BRIDAL GOWN, SUIT/TUX OR OTHER WEDDING DAY ATTIRE: My friend had suggested the store where she had purchased her wedding dress from. I called the store to make an appointment the day they opened back up after the shutdown and made the trip to Wausau a few days later on a Saturday. I was her first appointment since she opened back up! Eric actually came with me to pick out my dress, as we were planning to elope and wanted to continue to keep things as simple as possible.
It was the first dress I tried on, and I purchased it for a great price! My alterations lady did a wonderful job and made sure it fit like a glove for my wedding day. Eric bought his suit from Men's Wearhouse, as well as his best man and our officiant. Eric loves gray, so we knew gray suits were a must. Eric was in a shade darker while Zach (officiant) and Seth (best man) was in a shade lighter. My sister/MOH, Cathy, purchased her dress online. I sent her a few links of rust satin dresses and told her to purchase her favorite. She paid about $30 for her dress, and we couldn't be happier with how pretty and elegant it was.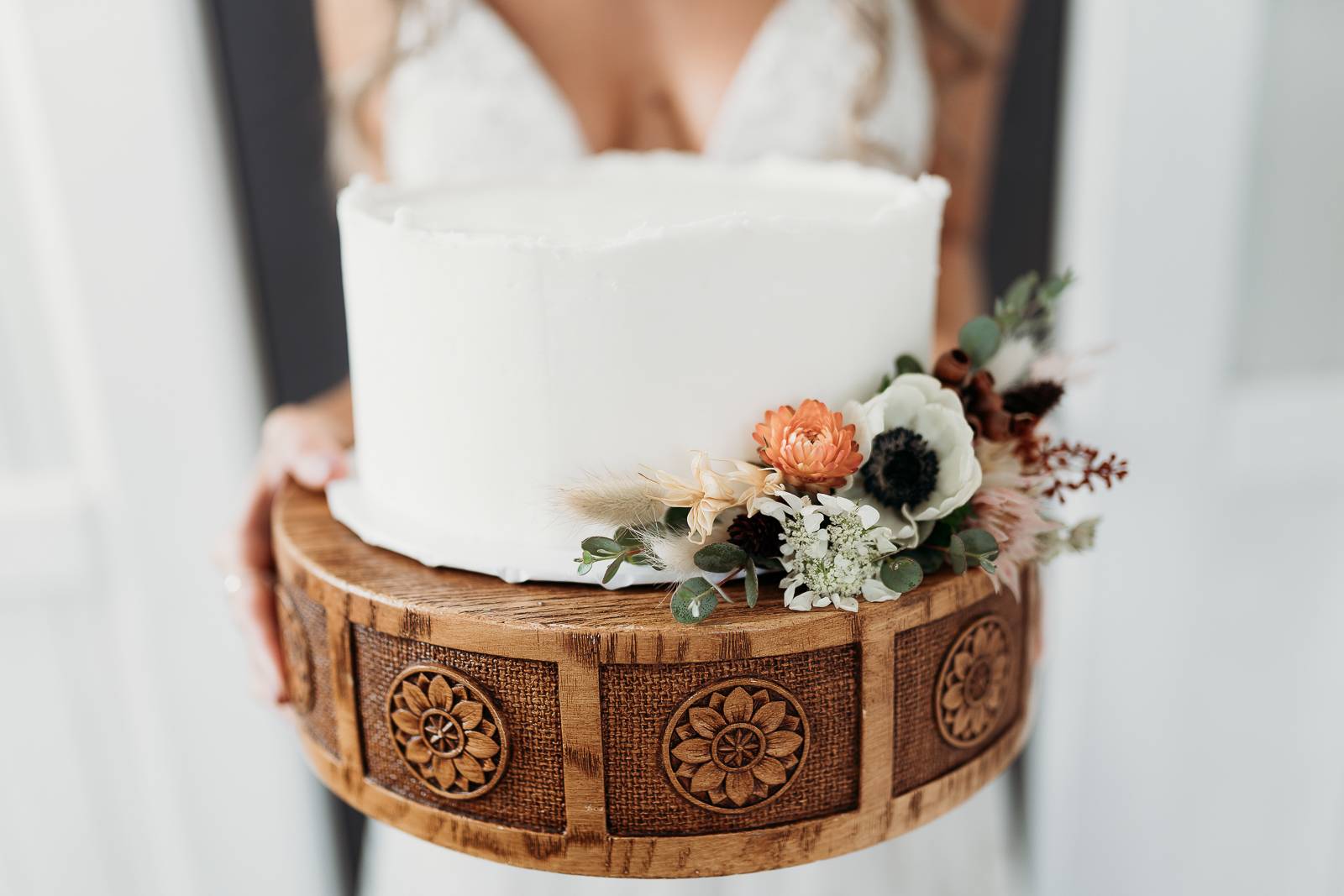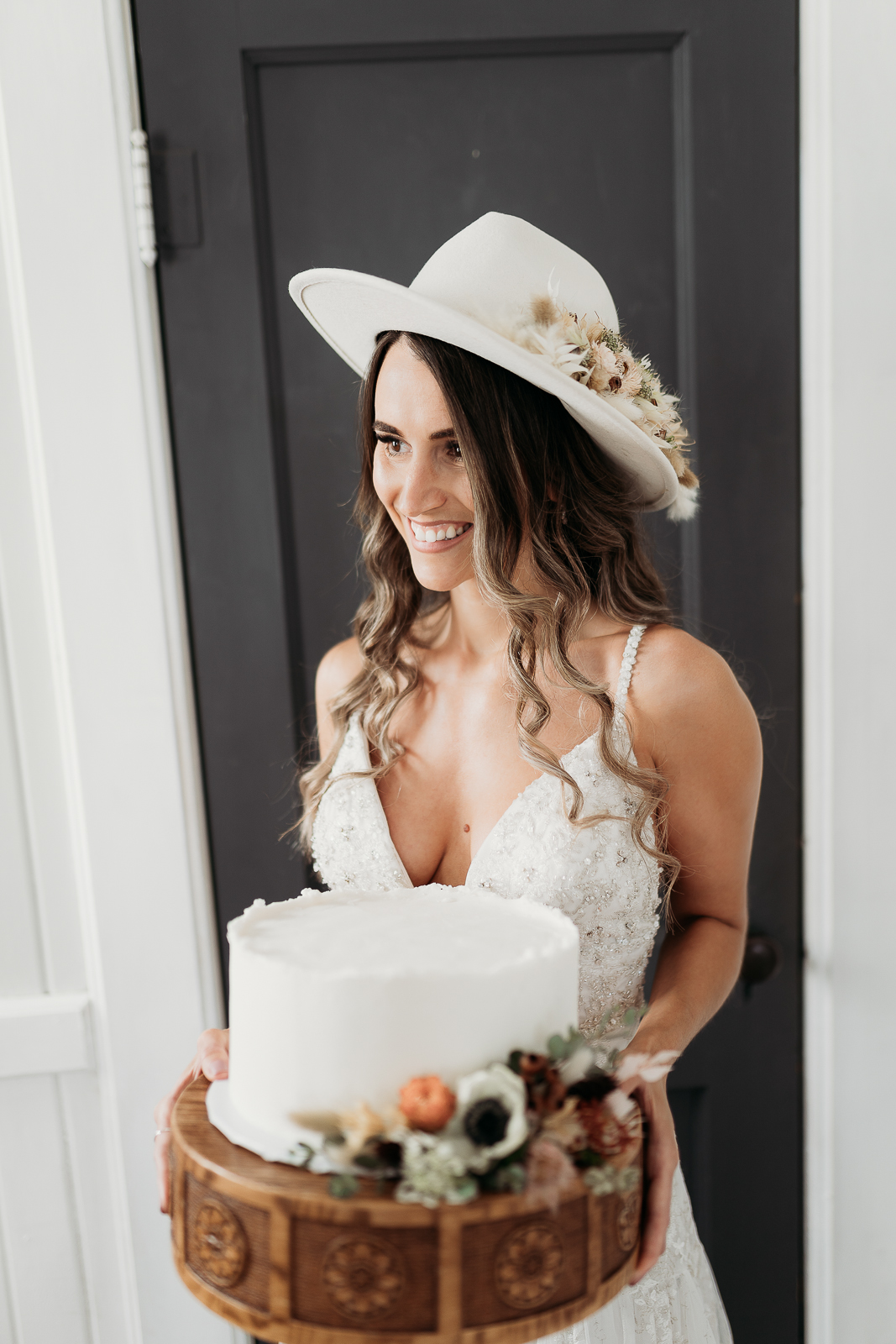 WERE THERE ANY PERSONAL TOUCHES OR DIY ELEMENTS? Yes, even though we kept things small, I knew I still wanted pretty details and sentimental touches. I made my own "programs" for ourselves, mainly, and for photos and memories as well. I included touches from both of my grandmas: a ring/button from my grandma's dress sewed onto my floral bouquet wrap, as well as a pin and handkerchief for photos. On the back of my jean jacket, a friend of mine added, "Mrs. Kohl," and I also had a hat with florals on it. We included our fur baby, Isla, in our special day as well, decked out in a beautiful floral piece to tie in with the vibe of the day.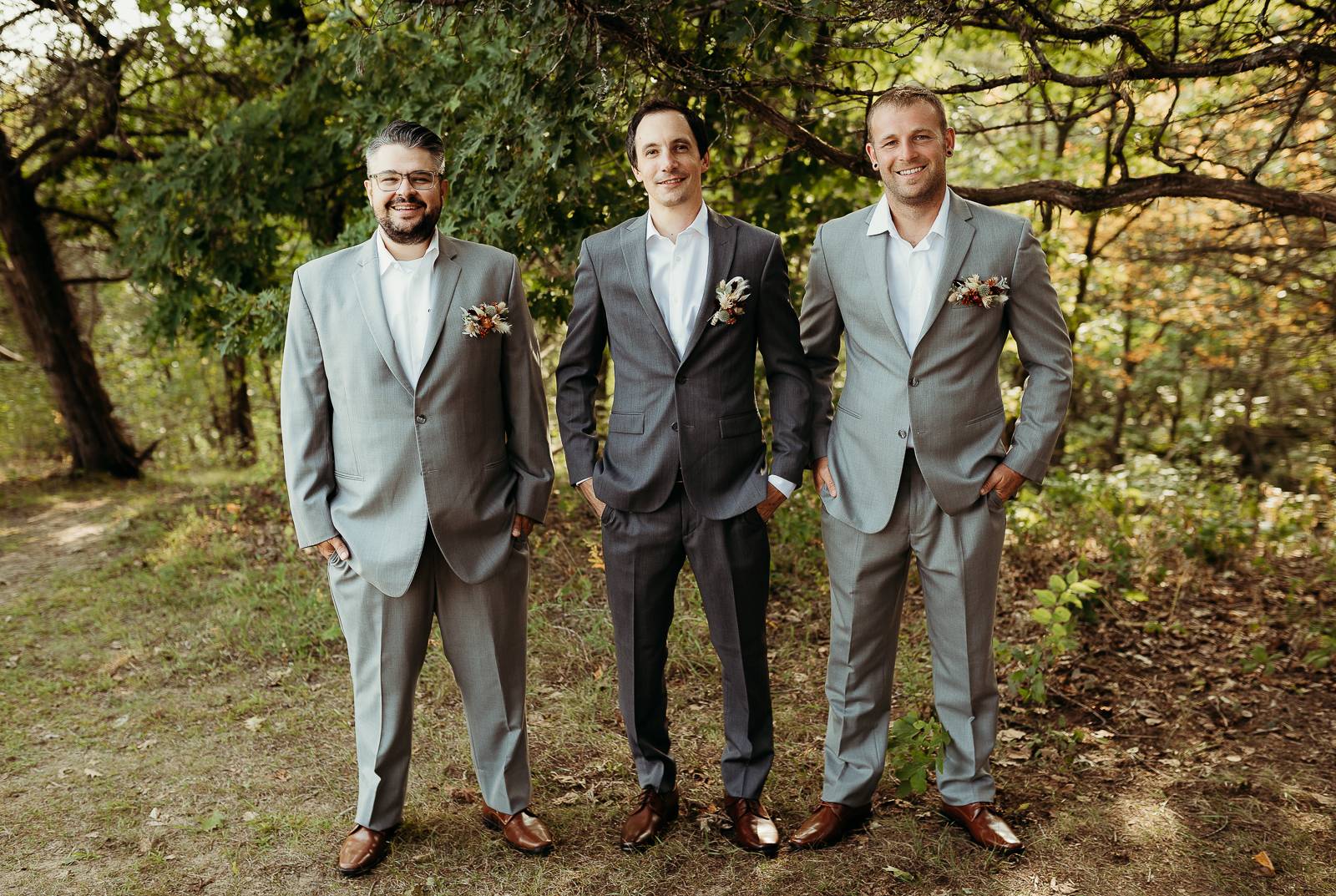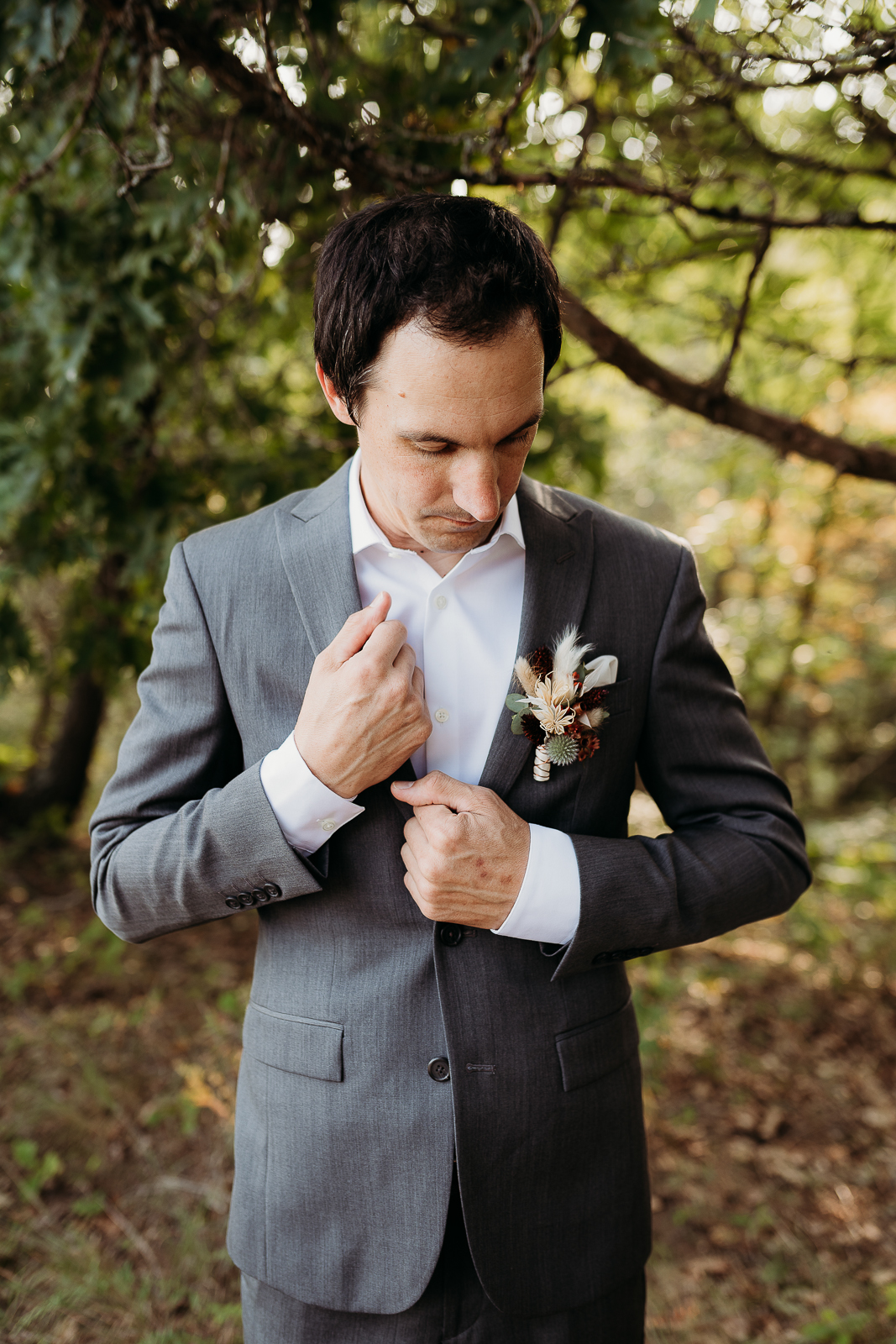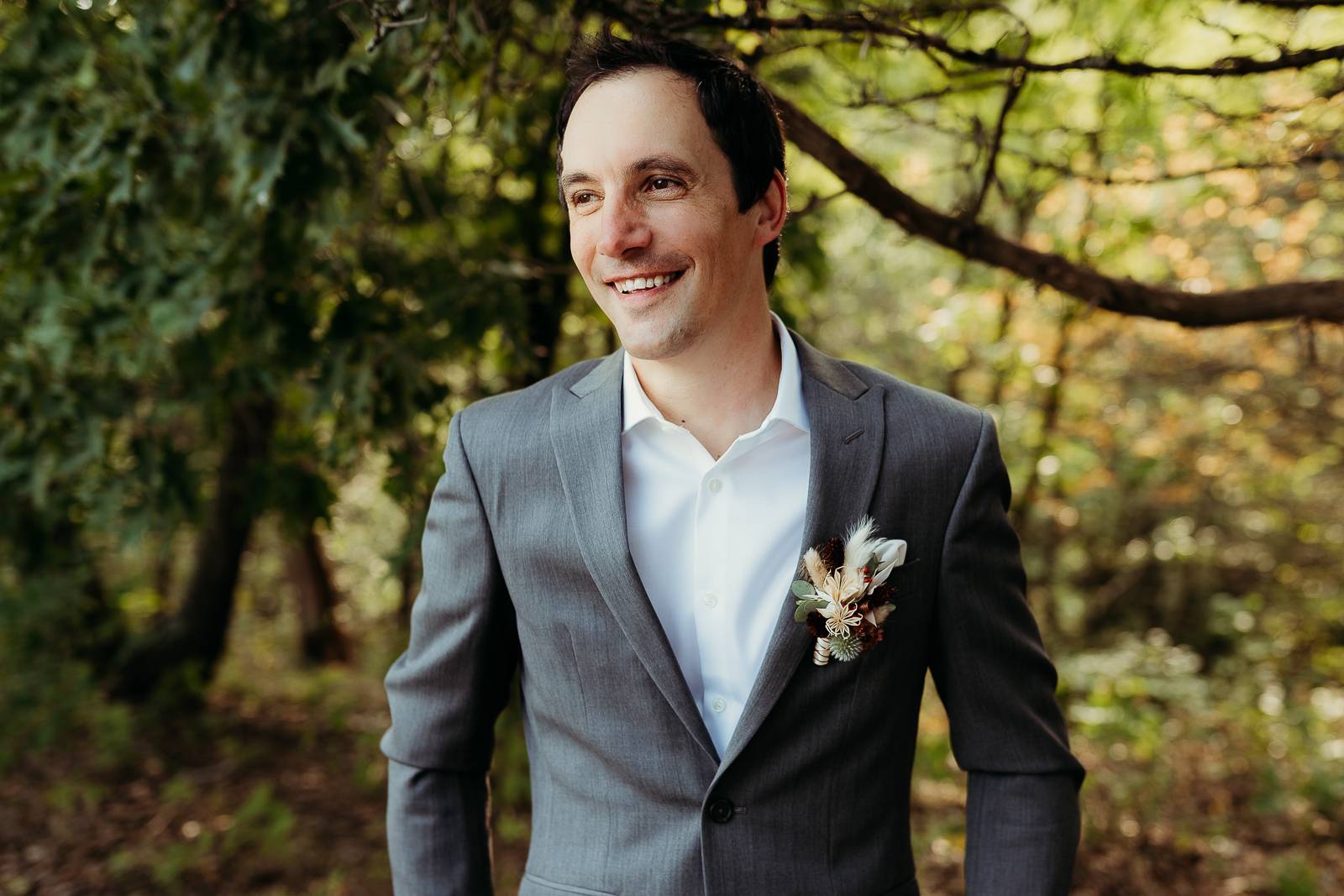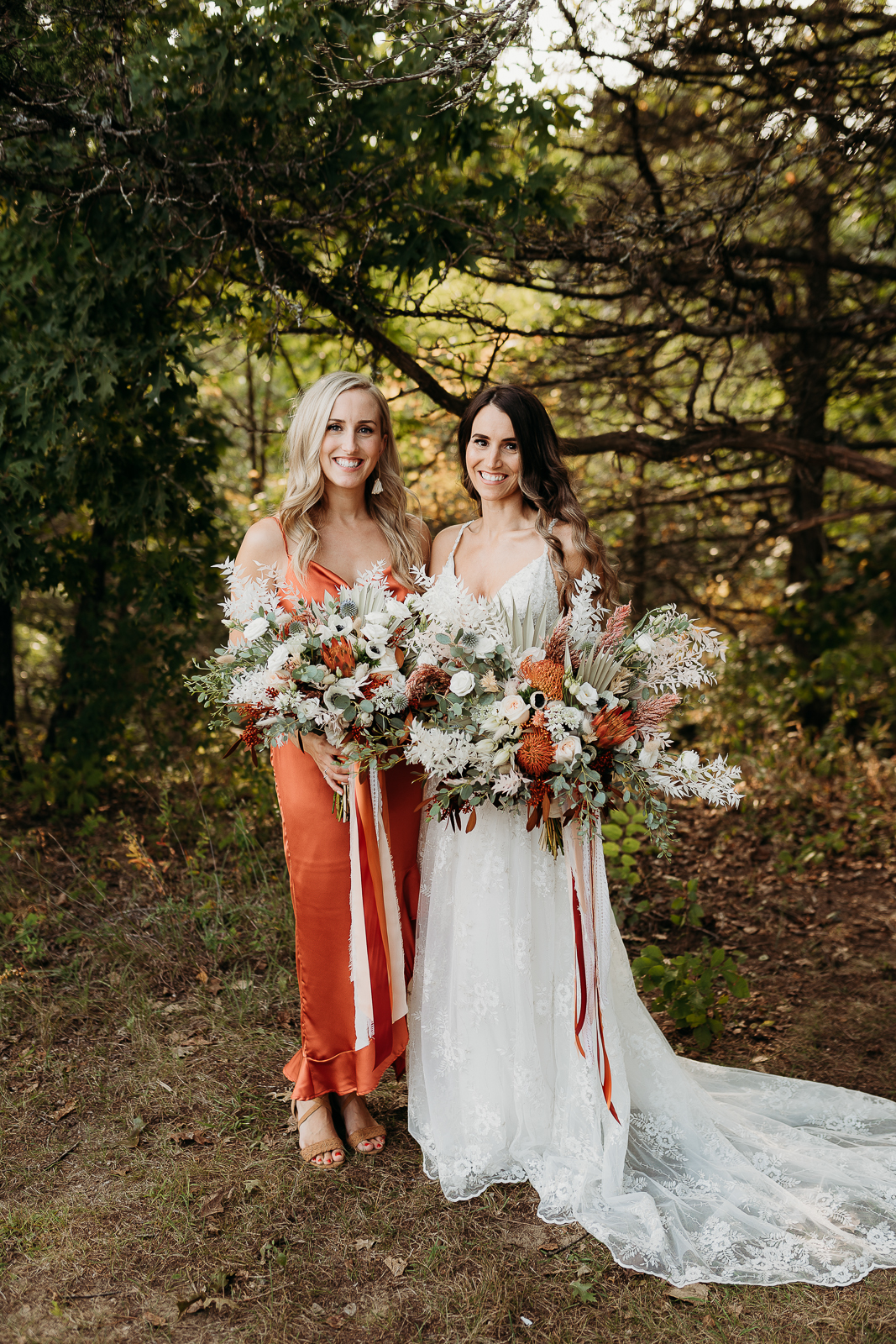 HOW WOULD YOU DESCRIBE YOUR WEDDING THEME/STYLE IN FIVE WORDS OR LESS? Timeless, boho, adventurous, modest, and serene.
WHAT WAS YOUR WEDDING COLOR PALETTE? Burnt orange, ivory, slate blue, and blush pink.
DESCRIBE YOUR WEDDING FLOWERS: Our floral designs were a mix of fresh and dried floral arranging in various textures and shades. They were very whimsical and trendy yet classic.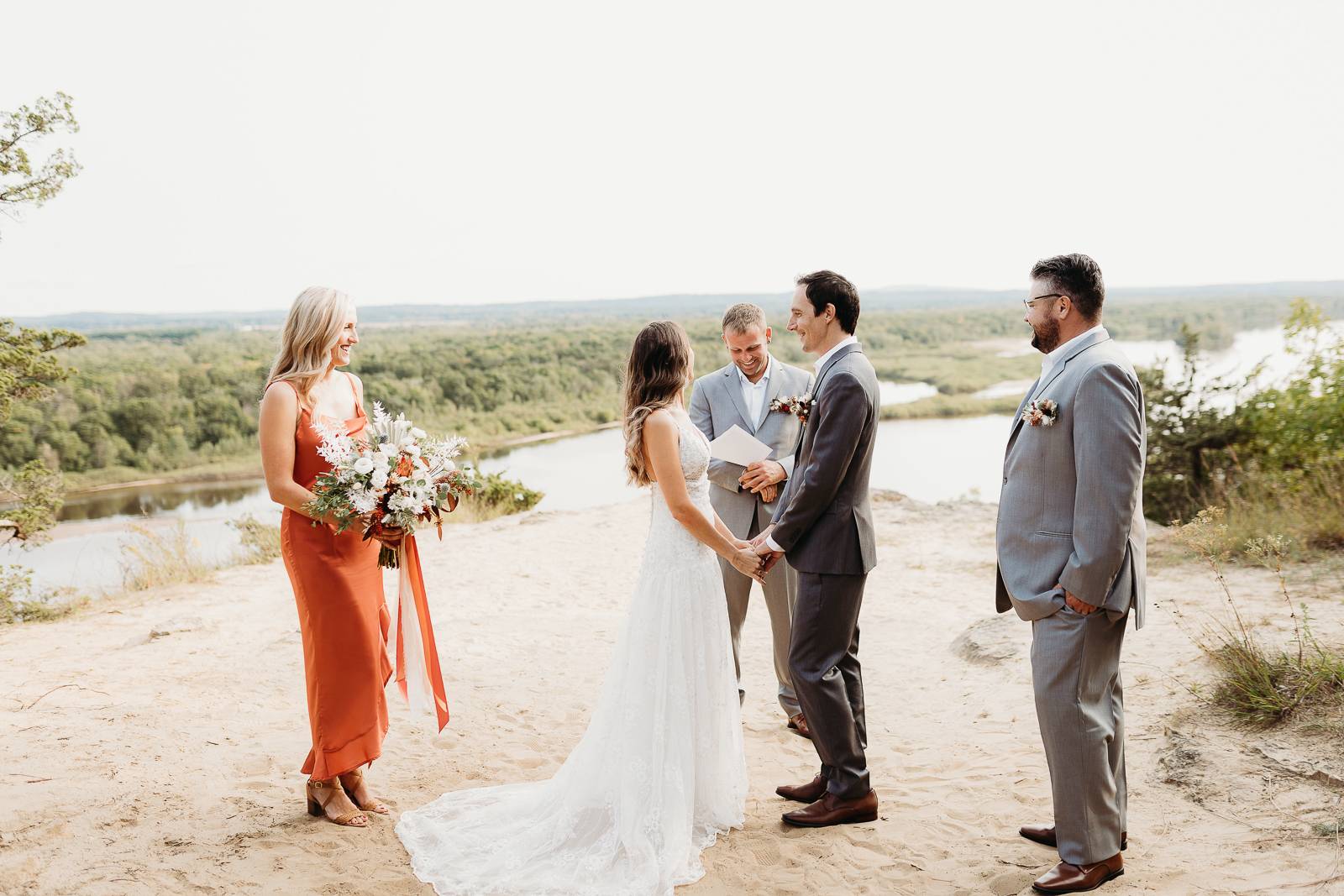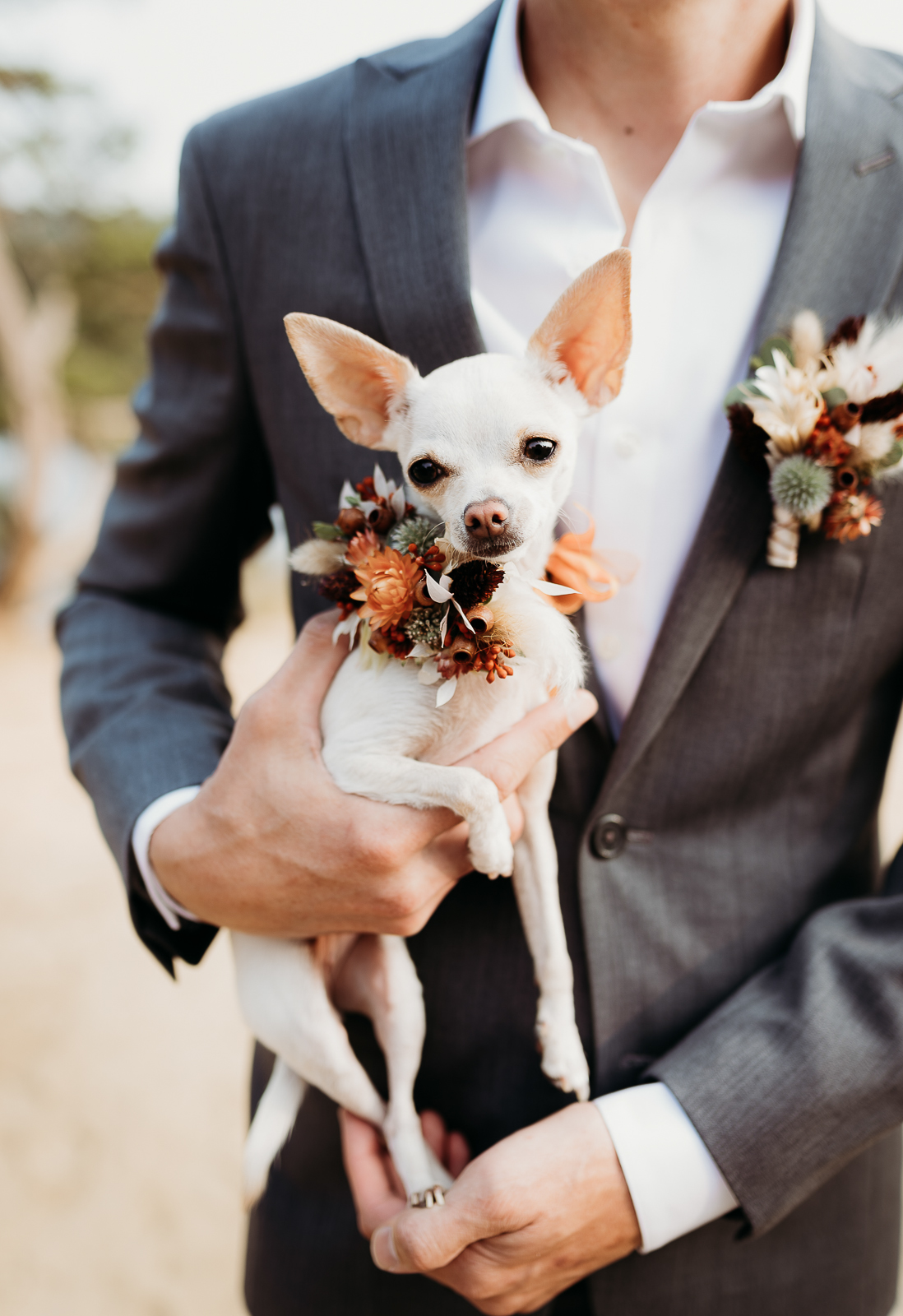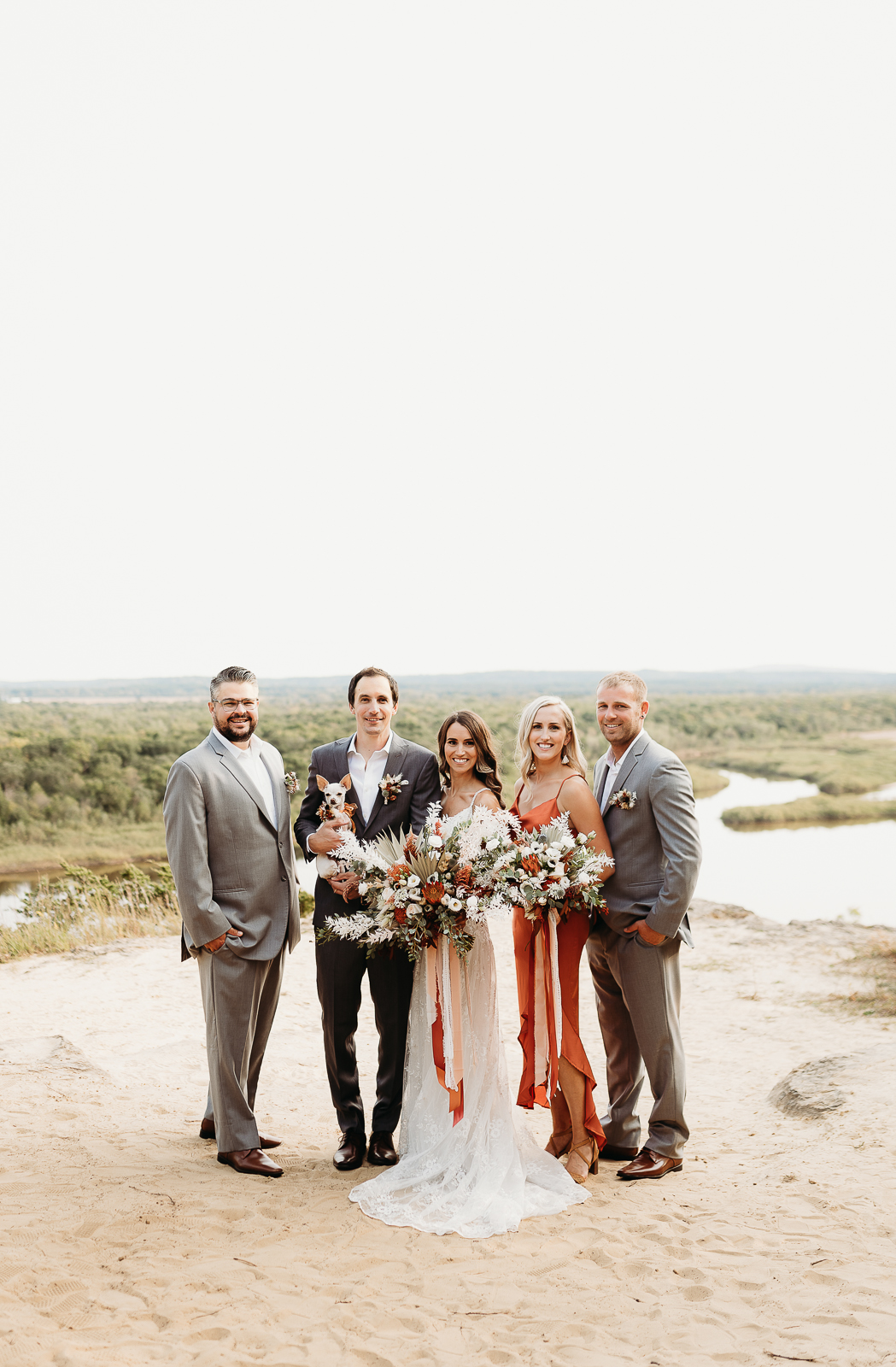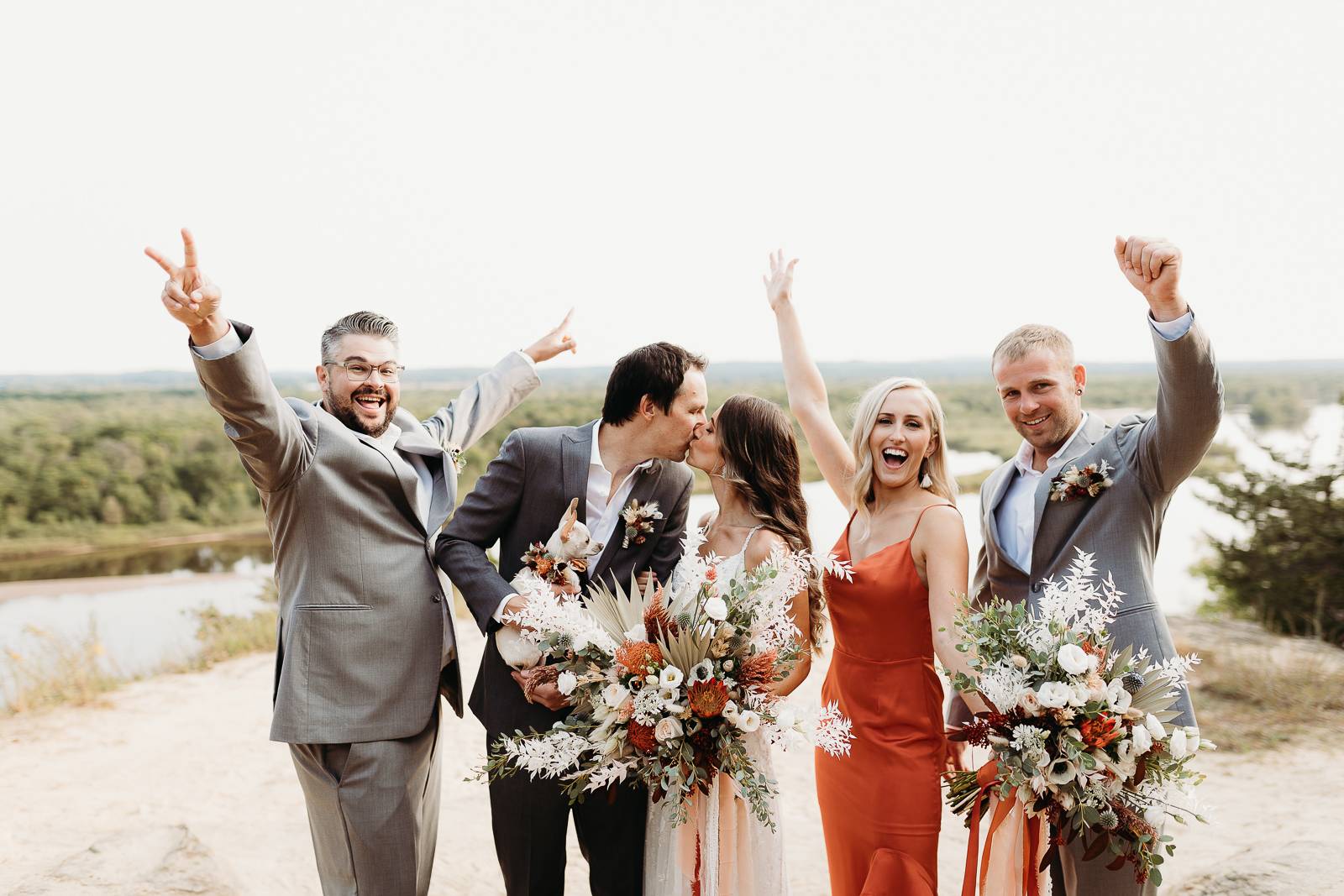 WHAT WAS YOUR INSPIRATION/DESIGN CONCEPT FOR YOUR OVERALL CEREMONY AND RECEPTION DECOR? We wanted to keep things very simple and down to earth. Eloping was the best way to achieve precisely what we both envisioned for our day. The floral and other details were inspired by color, season, today's trends, and personal taste.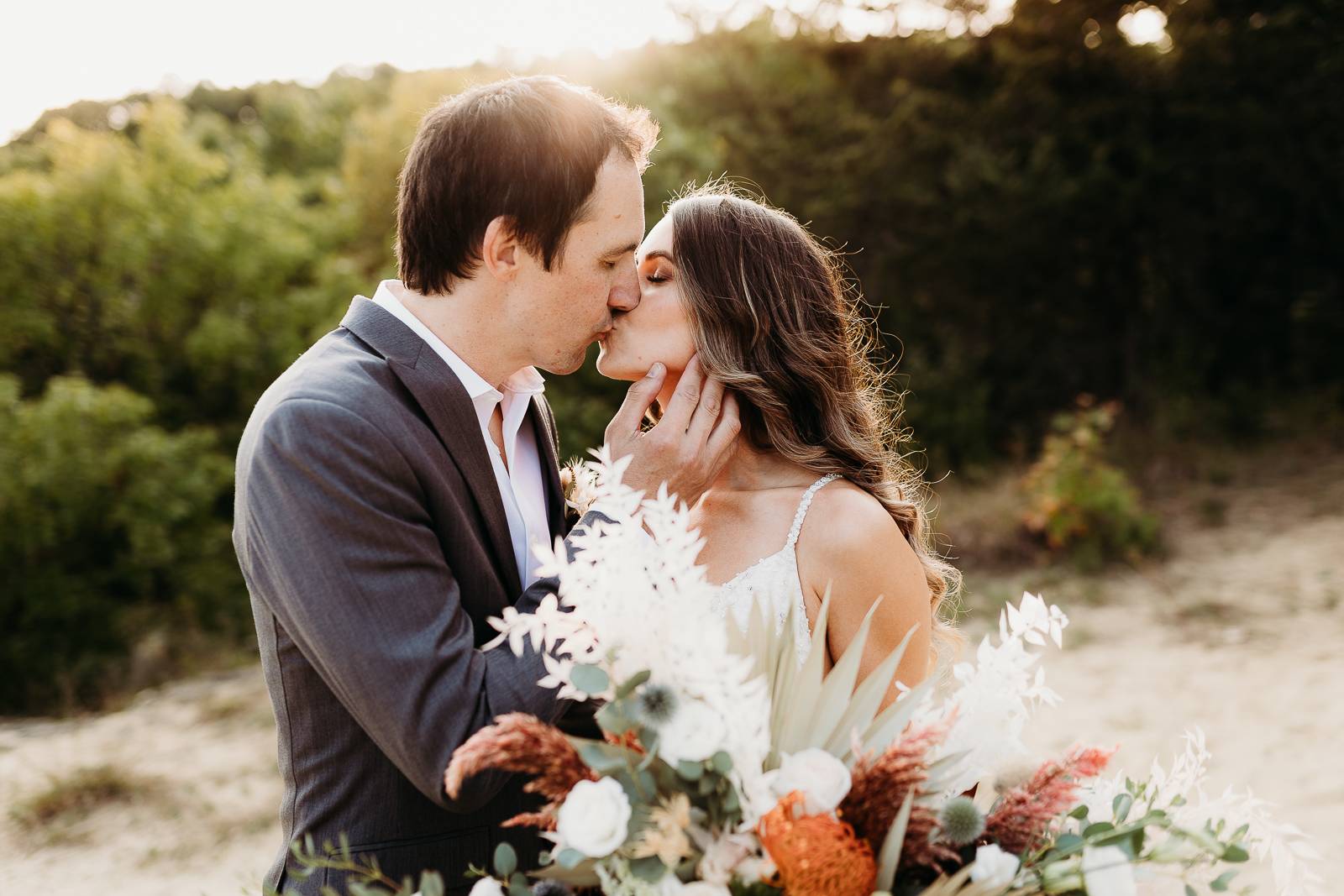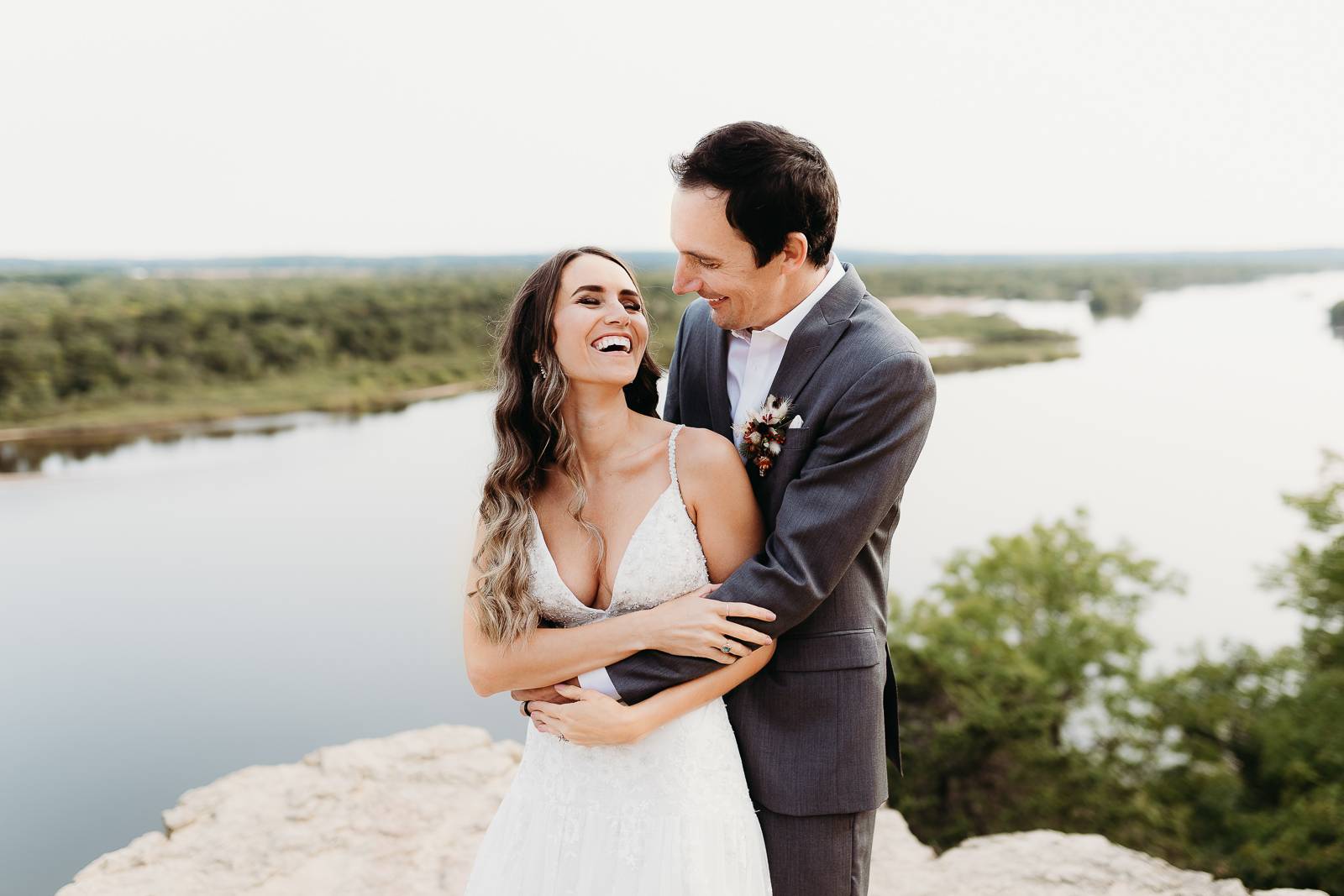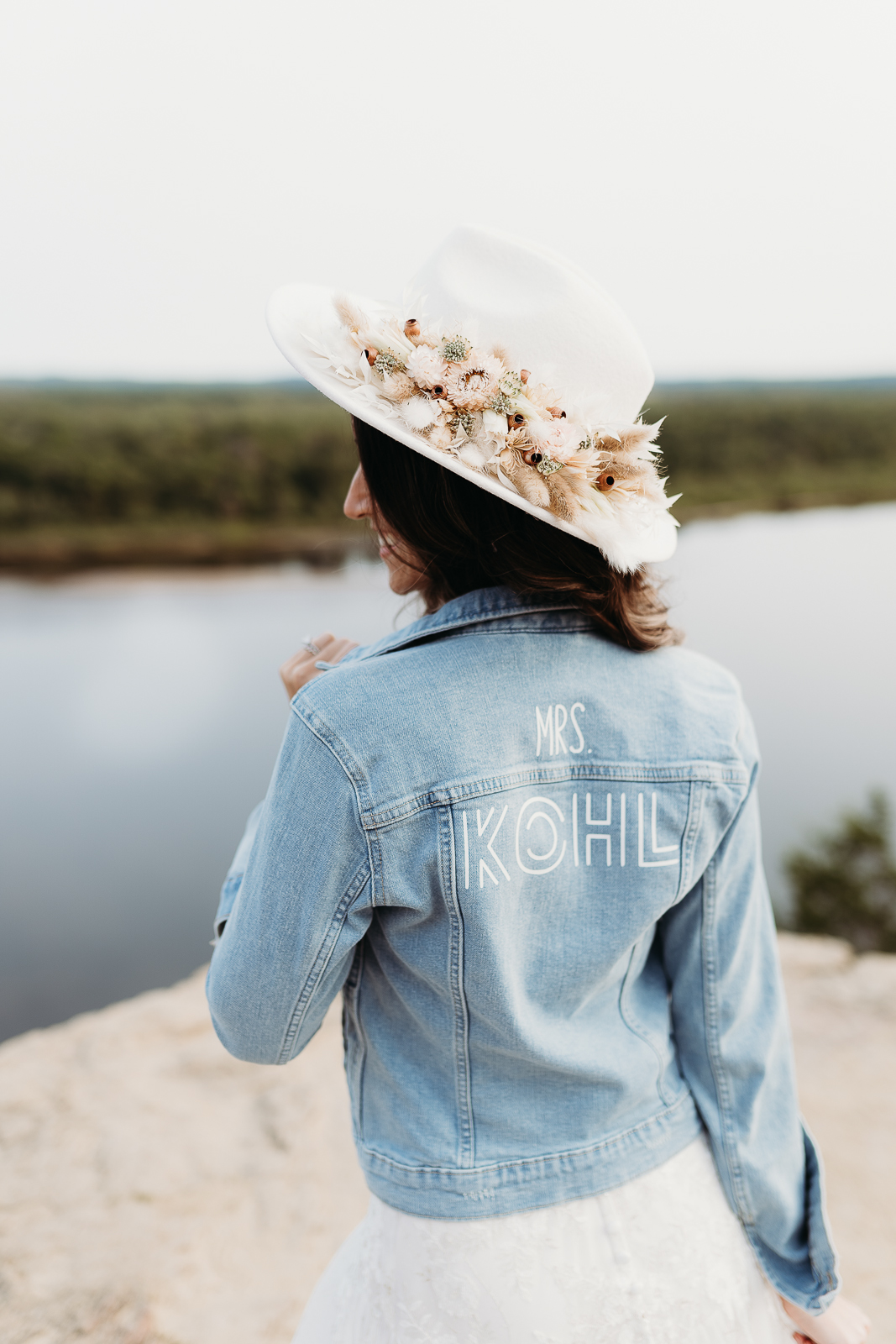 TELL US ABOUT THE FOOD, DESSERT, AND ANY SPECIALTY BEVERAGES ON THE MENU: We made dinner reservations at The Vintage Brewing Company for our small group. We ordered several appetizers for the table, and everyone had the choice of choosing whatever they wanted to eat or drink off the menu. We ordered a small 8" cake from Craig's Cake Shop that we cut after dinner and enjoyed for our dessert!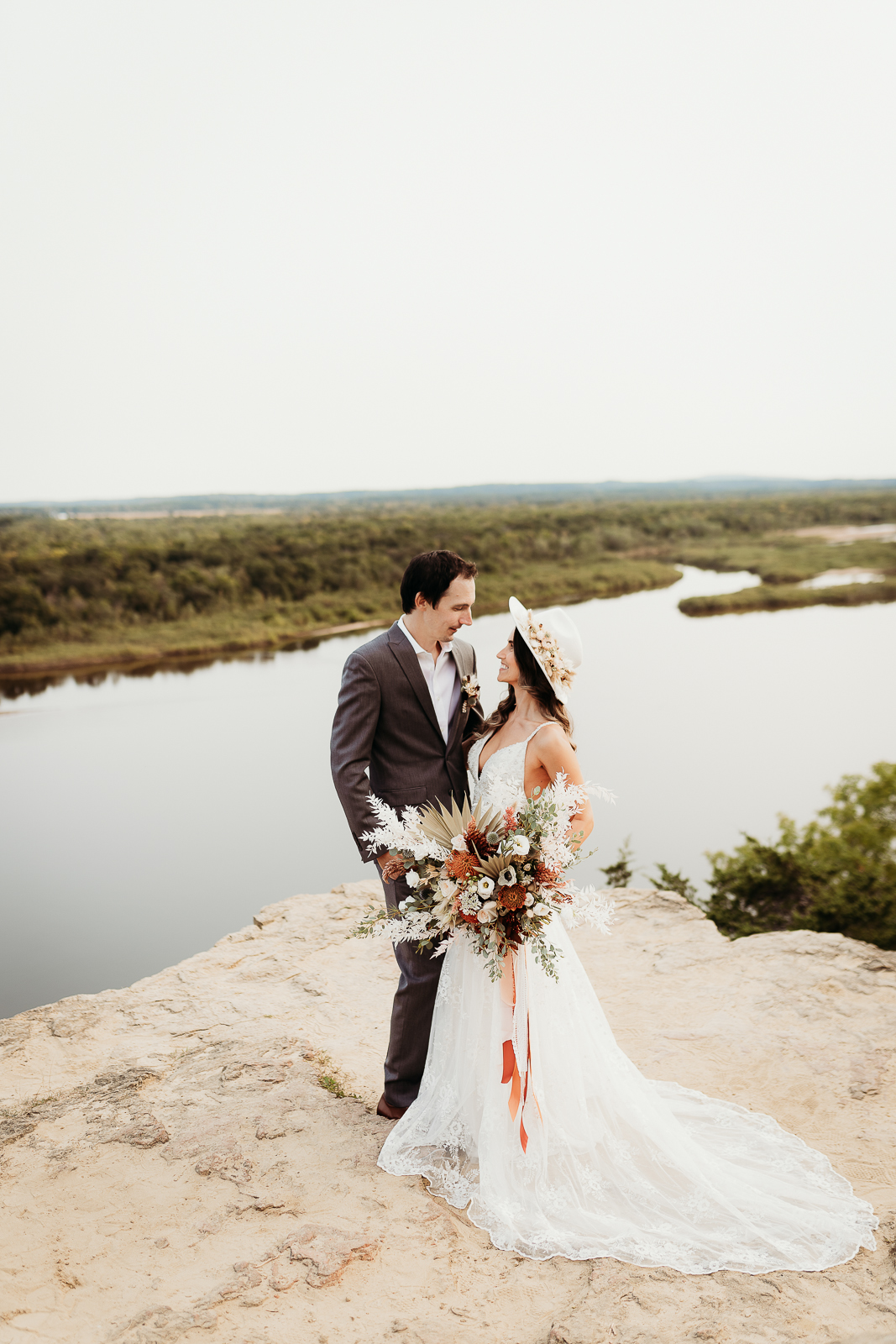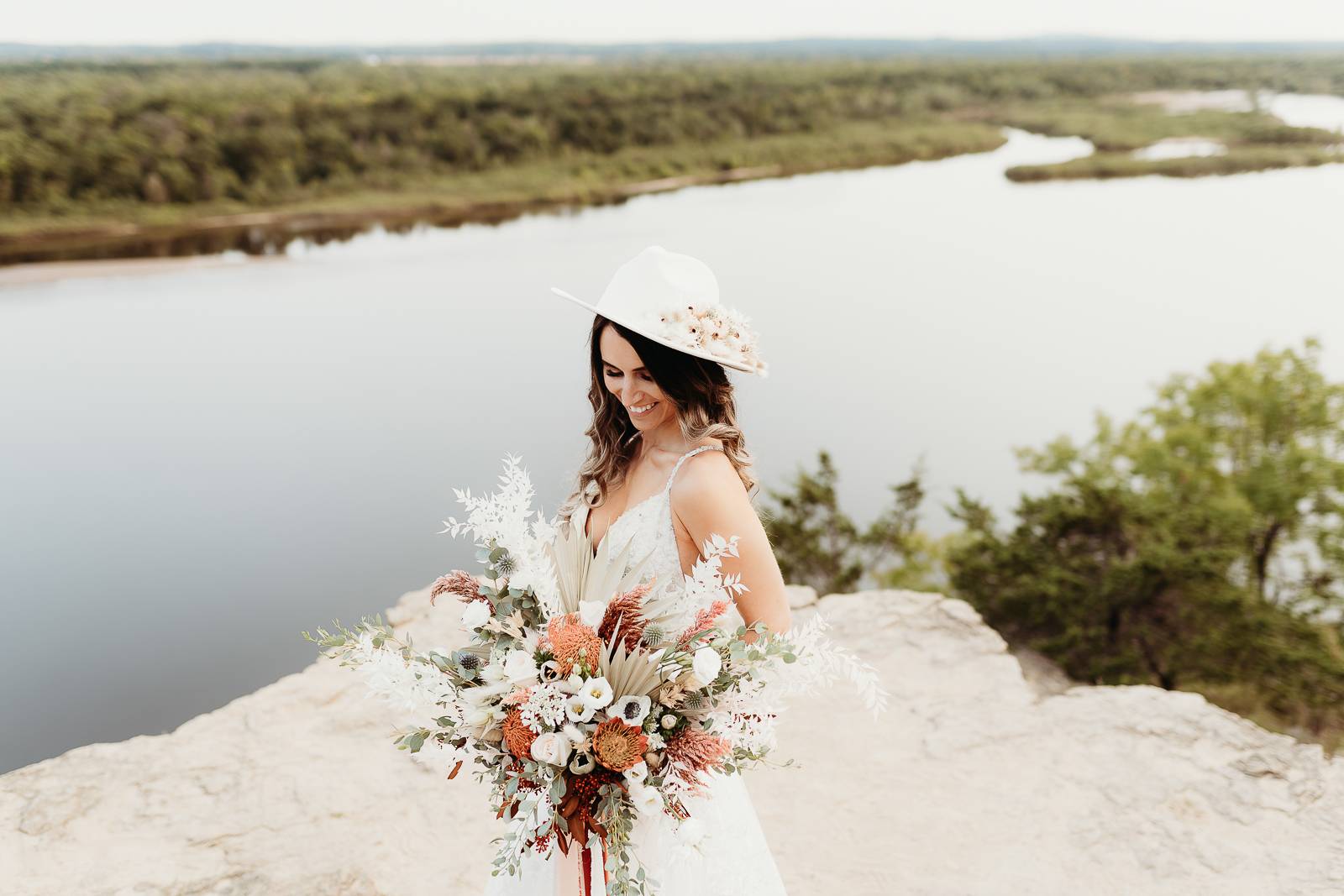 WHAT WAS YOUR FAVORITE MOMENT FROM YOUR WEDDING?
Ammie - The ceremony. It was so laid back and full of laughs. We wrote our own vows, and my future brother in law married us. It was perfect.
Eric - Reaching the top of the bluff with everyone. The day came together, and the weather was perfect.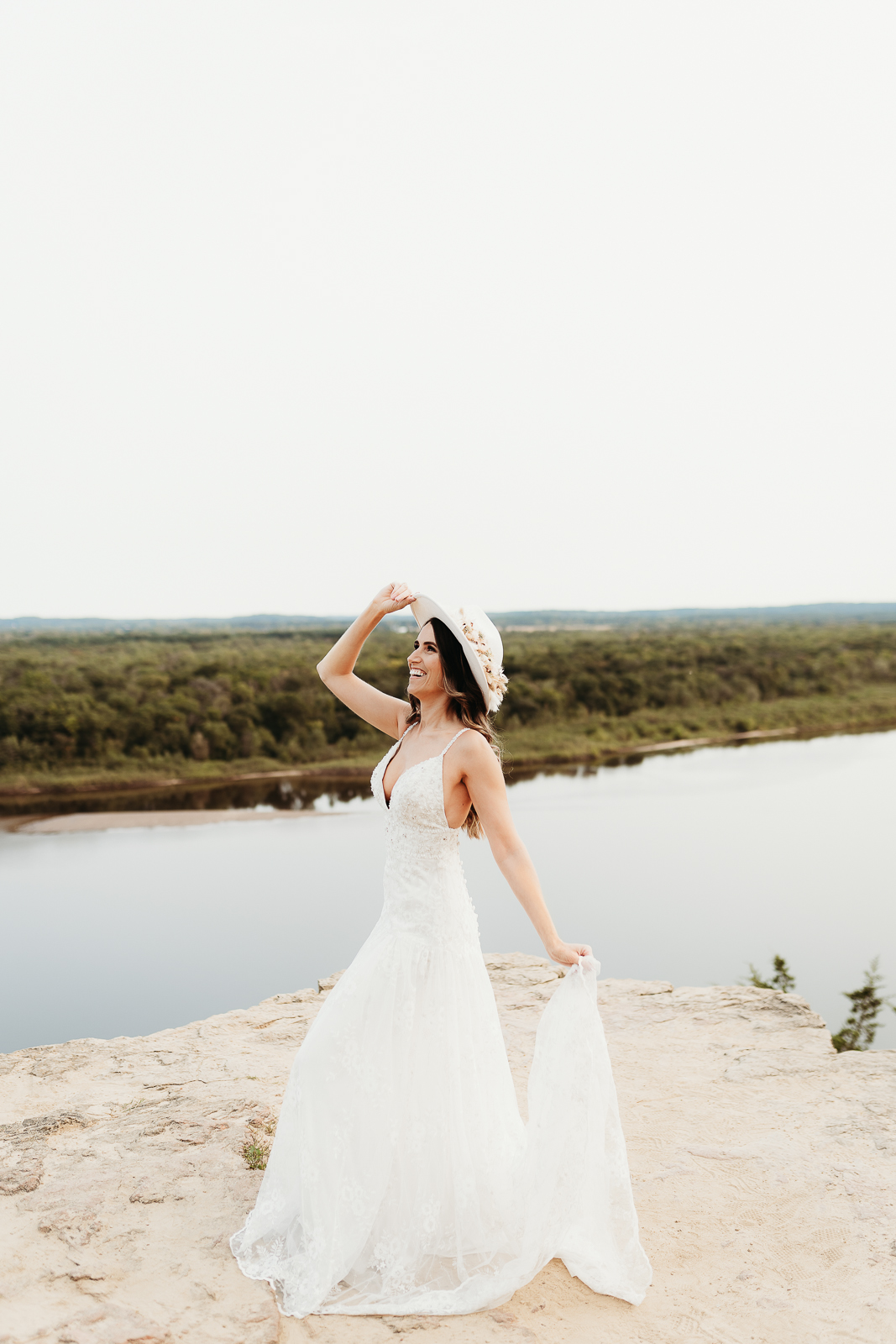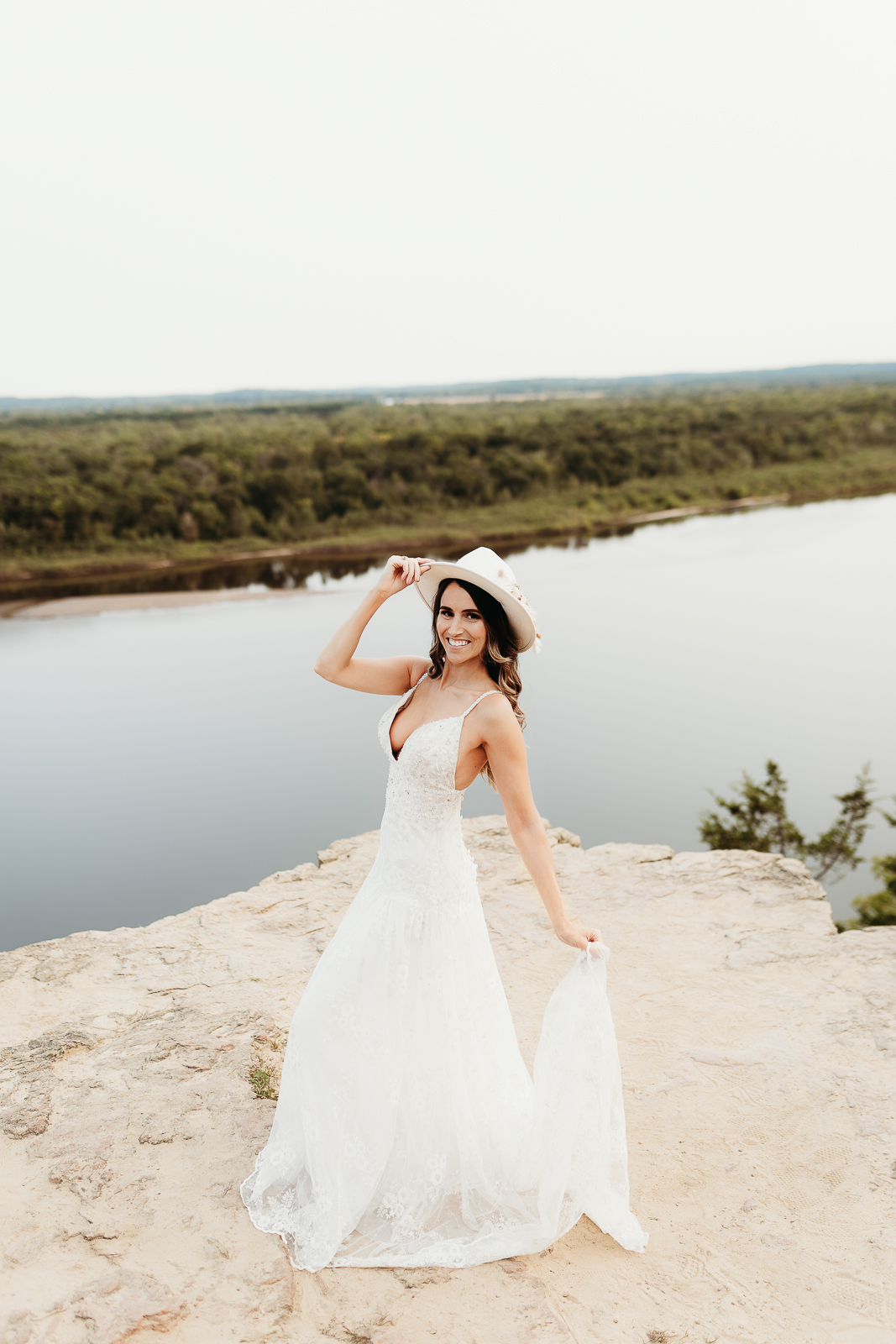 TELL US ABOUT YOUR HONEYMOON PLANS: We plan to honeymoon in 2022 if it is safe to do so. We are unsure of where we'd like to go but have a few options in mind.
WHAT DOES LIFE LOOK LIKE AFTER THE WEDDING? The same. We are happy to finally and officially be Mr. and Mrs. Kohl.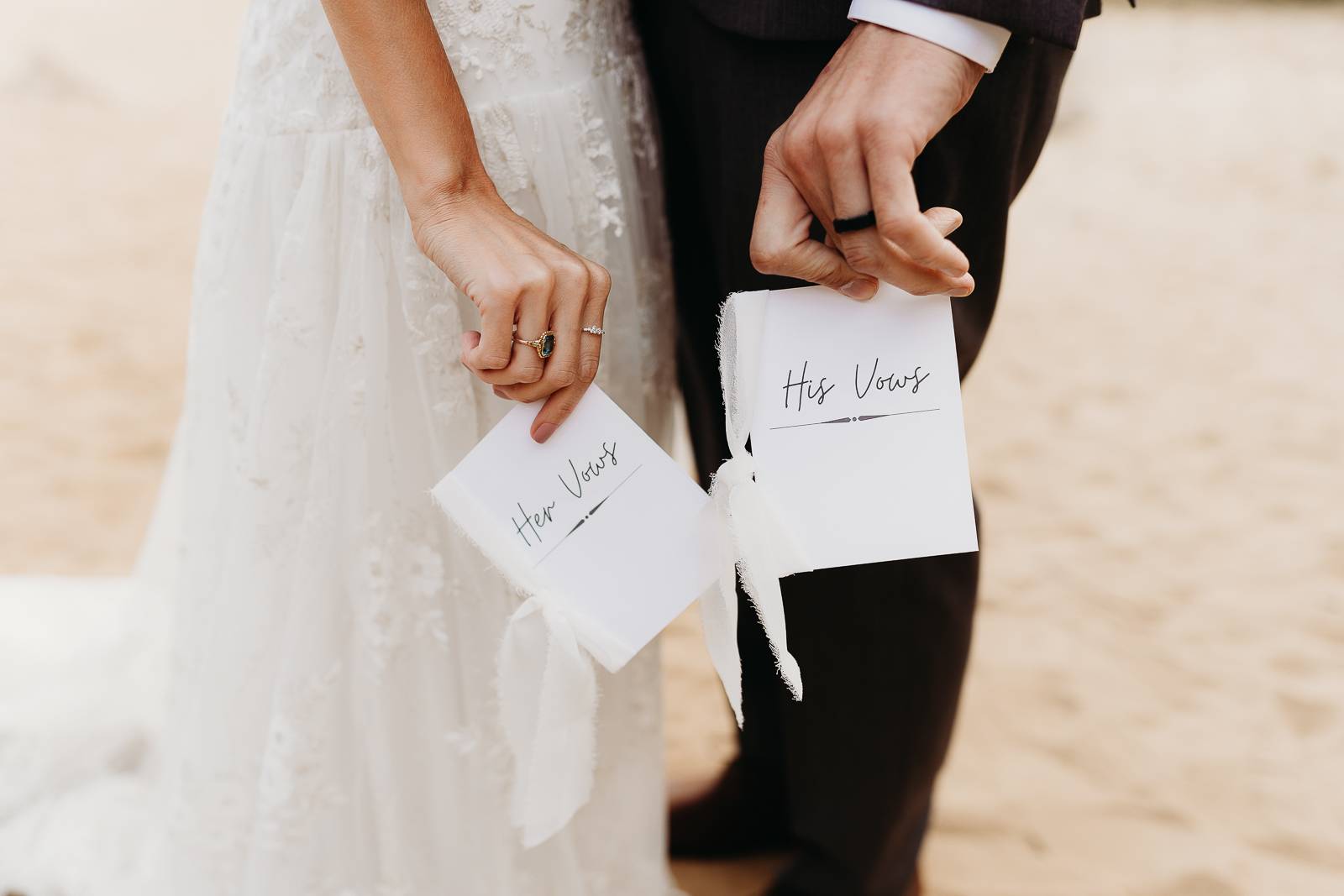 ANY WEDDING PLANNING REGRETS OR SOMETHING YOU WOULD DO DIFFERENTLY? Nope! We enjoyed our laid back day. The company was great, the details were beautiful, the location was stunning, and the weather was perfect.
IS THERE ANY ADVICE YOU'D GIVE TO OTHER COUPLES PLANNING THEIR WEDDING? Focus on what really matters, and don't stress over the things that don't make your heart happy. Do things your way, and don't feel like you have to do things over the top. There is no right or wrong way to plan a wedding. If you're married at the end of the day, it was a successful day!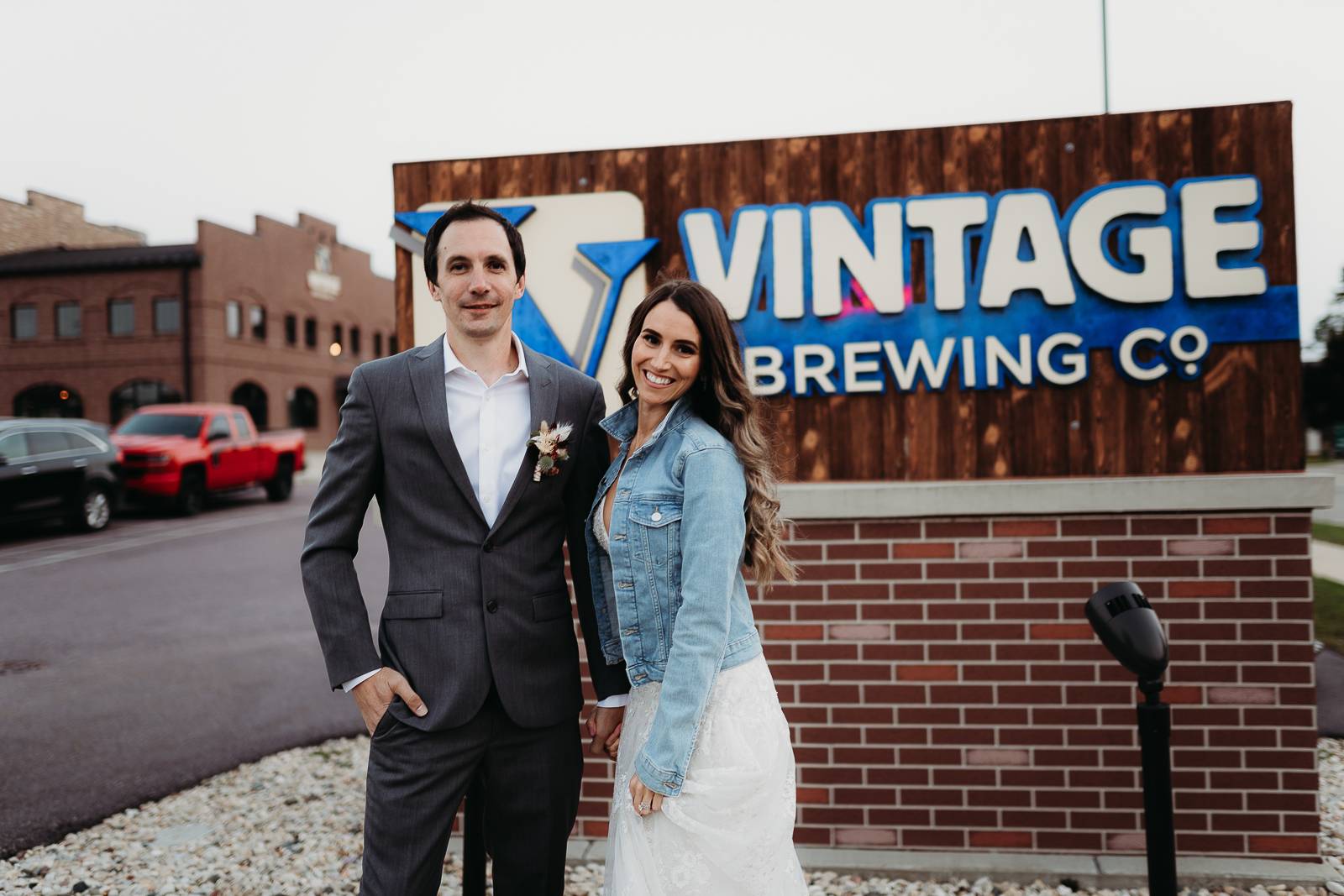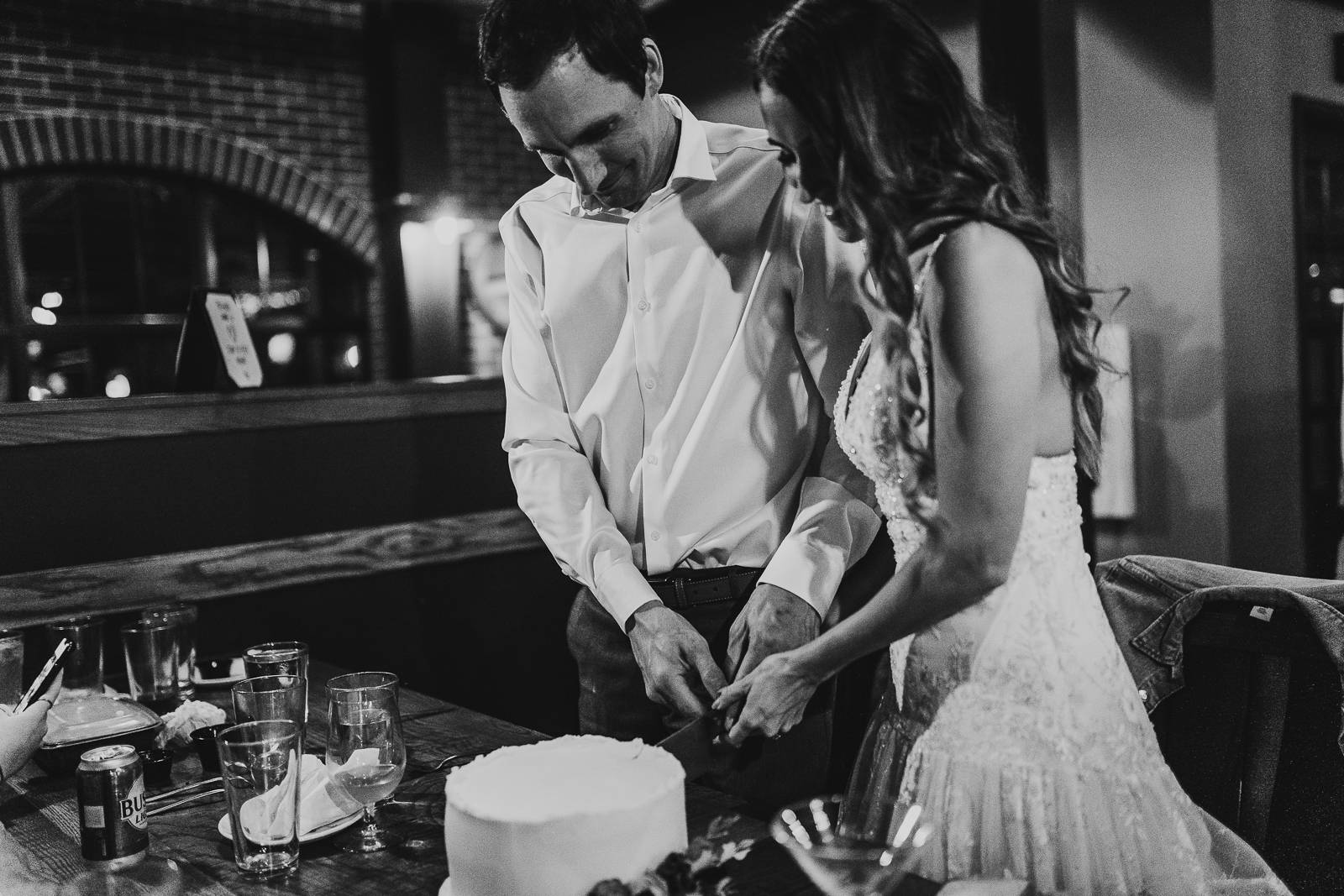 Get in touch with the vendors from this gorgeous day below! For more Wisconsin wedding inspiration, enjoy visiting our other blog features HERE.