NAME OF COUPLE: Benjamin and Nik
WEDDING DATE: 05/10/2019
HOW DID YOU MEET? Growing up as millennials means that we grew up in the era of technology. The traditional way of meeting people at a bar or a party isn't as common anymore. The new way to connect with someone: swipe right. And that's exactly what we did! We met through a dating app called Tinder, and after matching, we exchanged the corny lines, "Hey, you know you have the sweetest smile?" and "You know you have the prettiest eyes?" As corny as they were, those two lines launched a relationship that neither of us could have anticipated.
HOW DID YOU KNOW YOU HAD FOUND "THE ONE"? Early in our relationship, a big decision presented itself: to bring another life into this world. Nik was asked by another couple of longtime friends to be a donor. We had only begun dating less than six months but knew that this decision would greatly impact our relationship. We moved forward with the decision, and it truly allowed us to grow strong in our relationship and communication. When Ewan was born, it cemented the idea of marriage and creating one big happy family.
TELL US ABOUT YOUR PROPOSAL: We knew that we would marry someday; the question now became how was Nik going to propose? On November 17th, 2017, we went to Chicago to enjoy a weekend getaway, see Mariah Carey's concert, and the tree lighting in Millennial Park. Of course, no matter how hard you plan something, things can go wrong. Mariah Carey ended up canceling her concert due to an upper respiratory infection, it began to freezing rain and sleet that night, and we ended up getting stuck in traffic and missed the tree lighting.
Little to my knowledge, Nik had friends following us all night to catch the moment he was to propose, but he had to readjust his plans as the tree lighting was already over. We went to a couple of different bars to get some drinks, each one an opportunity to propose, but with the encouragement of Nik's friends, we moved to the park to still look at the tree. As we posed for a picture in front of the Christmas tree towering over us in colorful lights, Nik nervously gave his speech of how we were meant to be together and knelt to his knee, asking, "Will you marry me?" He was so nervous he didn't even wait for the answer before standing back up. I grabbed his face and looked him in the eyes and told him, "Yes."
DESCRIBE YOUR WEDDING ATTIRE: We wore different colored suits with a fun, printed patterned shirt underneath. My side all wore burgundy, while Nik's side all wore Navy blue.
WERE THERE ANY PERSONAL TOUCHES OR DIY ELEMENTS? Given that we were getting married in Wisconsin and Nik was from New Mexico, we wanted a touch of the southwest. We made our own centerpieces that consisted of succulent plants in painted PVC piping. We also had several artist friends of ours create different styles of photos of us!
HOW WOULD YOU DESCRIBE YOUR WEDDING THEME/STYLE IN FIVE WORDS OR LESS? Modern, Industrial, Cozy
WHAT WAS YOUR WEDDING COLOR PALETTE? We went with Burgundy and Navy as our wedding colors with an accent of rose gold.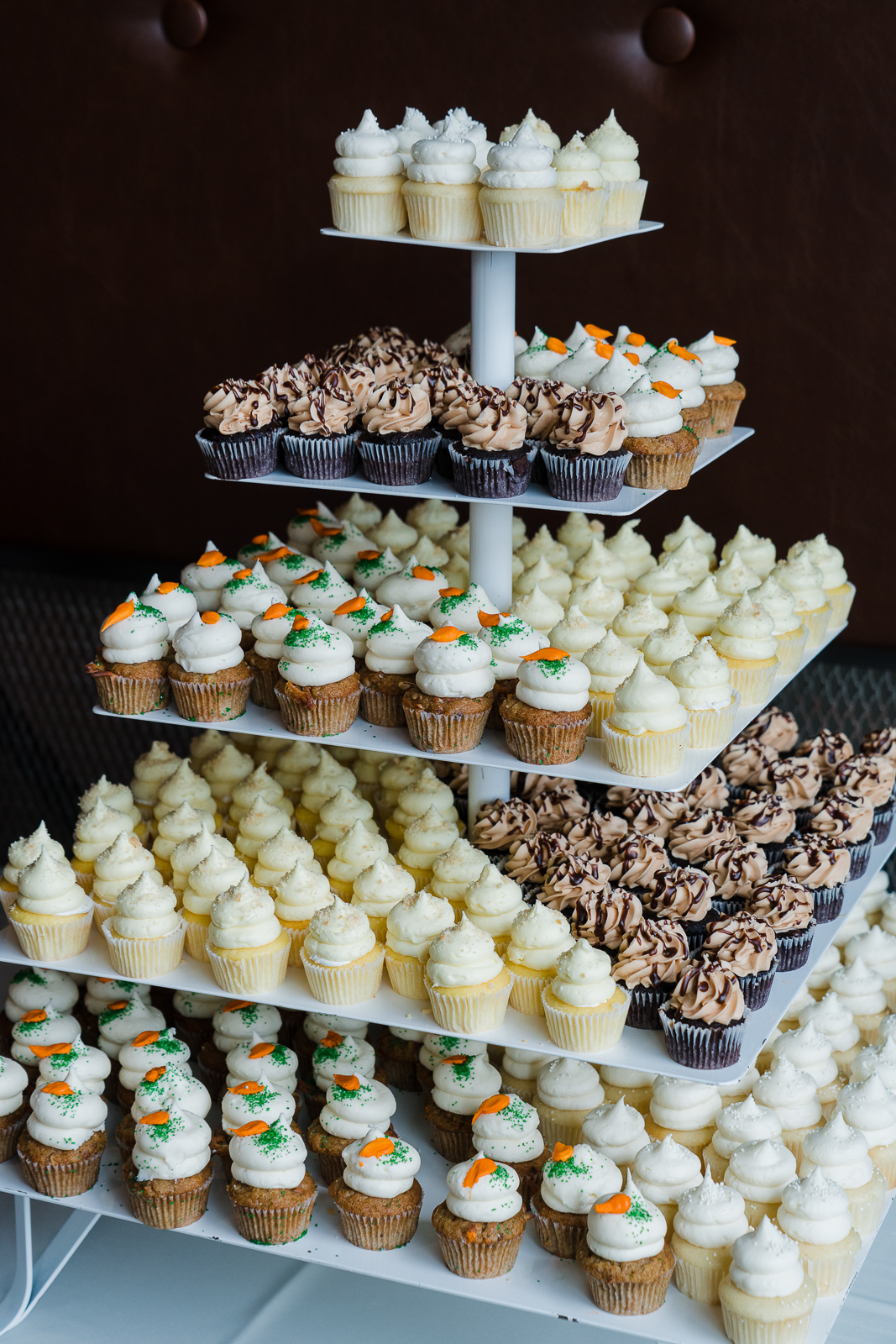 DESCRIBE YOUR WEDDING FLOWERS: We decided to go with succulents and white tulips. Tulips are Nik's favorite flower, while the succulents added a bit of New Mexico into our ceremony!
WHAT WAS YOUR INSPIRATION/DESIGN CONCEPT FOR YOUR OVERALL CEREMONY AND RECEPTION DECOR? We wanted to have a modern venue but fill the space with things that were personal to us. One example of this was using photos and paintings created of us around! We also wanted our guests to participate in creating the décor, so we had polaroid cameras around the venue that our guests could take photos with and hang them up on strings placed in different reception hall areas.
TELL US ABOUT THE FOOD, DESSERT, AND ANY SPECIALTY BEVERAGES ON THE MENU: We chose the menu carefully, making sure the food was amazing and memorable! Appetizers included hand passed Caprese bruschetta and crab cakes. Dinner began with a table-served Boston bibb salad with a ruby onion compote, candied bacon, apricot English stilton, and zinfandel vinaigrette. Our main meal consisted of chef carved roasted beef sirloin with tarragon horseradish cream, a vegetarian porcini mushroom, and truffle ravioli, apple ale braised short ribs with apple ale demi and frizzled leeks, and Walker's point chicken with Roma tomatoes, sweet onions, shallots, and vodka cream sauce.
WHAT WAS YOUR FAVORITE MOMENT FROM YOUR WEDDING? Our favorite moment from our wedding was right after we finished the ceremony. We had a private room that we were able to relax in and enjoy our first few moments as husbands together. We had a bottle of champagne waiting for us and cheered to a happy future together!
TELL US ABOUT YOUR HONEYMOON: We had not had much time to travel together during our relationship. We wanted to take advantage of this time to truly relax and be pampered! We enjoyed an all-inclusive resort at Punta Cana, Dominican Republic. There, we were able to enjoy drinks, massages, dinner on the beach, and endless sun. It was the perfect way to start our marriage!
ANY WEDDING PLANNING REGRETS OR SOMETHING YOU WOULD DO DIFFERENTLY? I wouldn't say we regret anything; however, if we were to do it again, I think we wouldn't stress so much over our guest count and whether everyone could make it. There were a number of last-minute cancels and additions out of our control, and in the end, it had little to no impact on the day overall.
IS THERE ANY ADVICE YOU'D GIVE TO OTHER COUPLES PLANNING THEIR WEDDING? We had a wedding planner from Wishful Weddings and could not have been more thankful for her! We are both horrible procrastinators, and thus knew we would need someone to keep us on our toes and get things booked. The most significant help was day-of planning. My husband and I fully enjoyed our day because our planner set up the venue for us, organized all our vendors, and coordinated where everyone needed to be and when. If you can't get a wedding planner, we would suggest looking into having a day-of planner at the least!