Summer and airy, with blush pinks and muted greens, this timeless affair inspires all of our summer wedding dreams. The Lake Windsor Country Club offered a lush outdoor backdrop for an event filled with love and special touches. Heartfelt moments, friends and family, and a delicious meal followed by the Bride's favorite cake and treats from Hyvee made this day one to remember. Read about Hannah and Spencer's elegant Madison affair down below!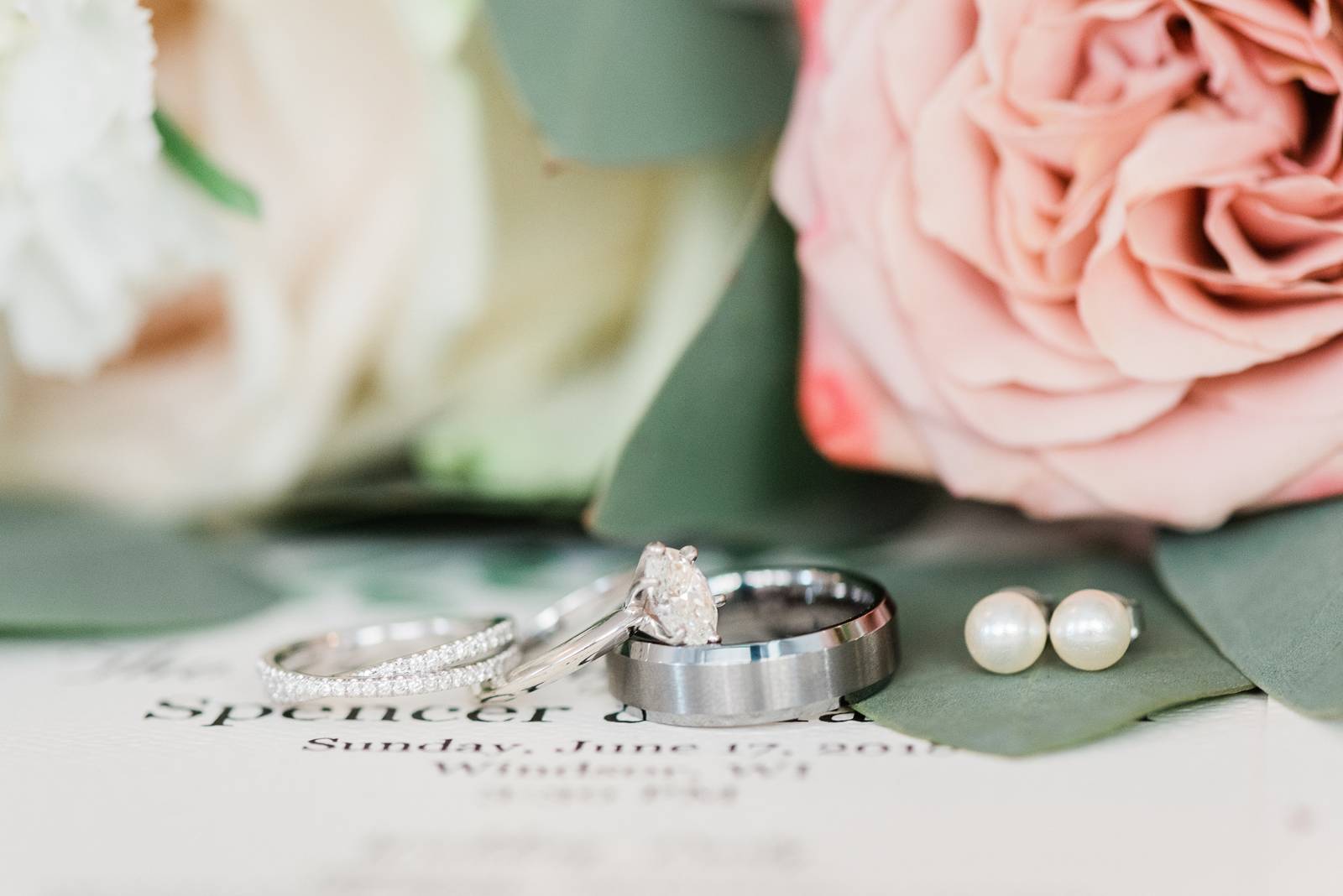 Wedding Date: 06/17/18

HOW DID YOU MEET? We actually met in a dark cornfield maze filled with screaming high school students. Before this, we had seen each other on two occasions, and we had some mutual friends do some name dropping. On this particular night, we were both hanging out with a group of high school students that we mentor and work with as a part of a ministry of high school students through our local church. I was leading a group with a flashlight and no map, and Spencer was leading his group. Needless to say, I got lost with my group of hilarious students, Spencer found us, we all started talking and with is help our students made it out. Afterward, we started talking over chicken wings with friends and found we had a lot in common. This lead to a bold email, many texts, phone calls, and many adventures later - the rest is history.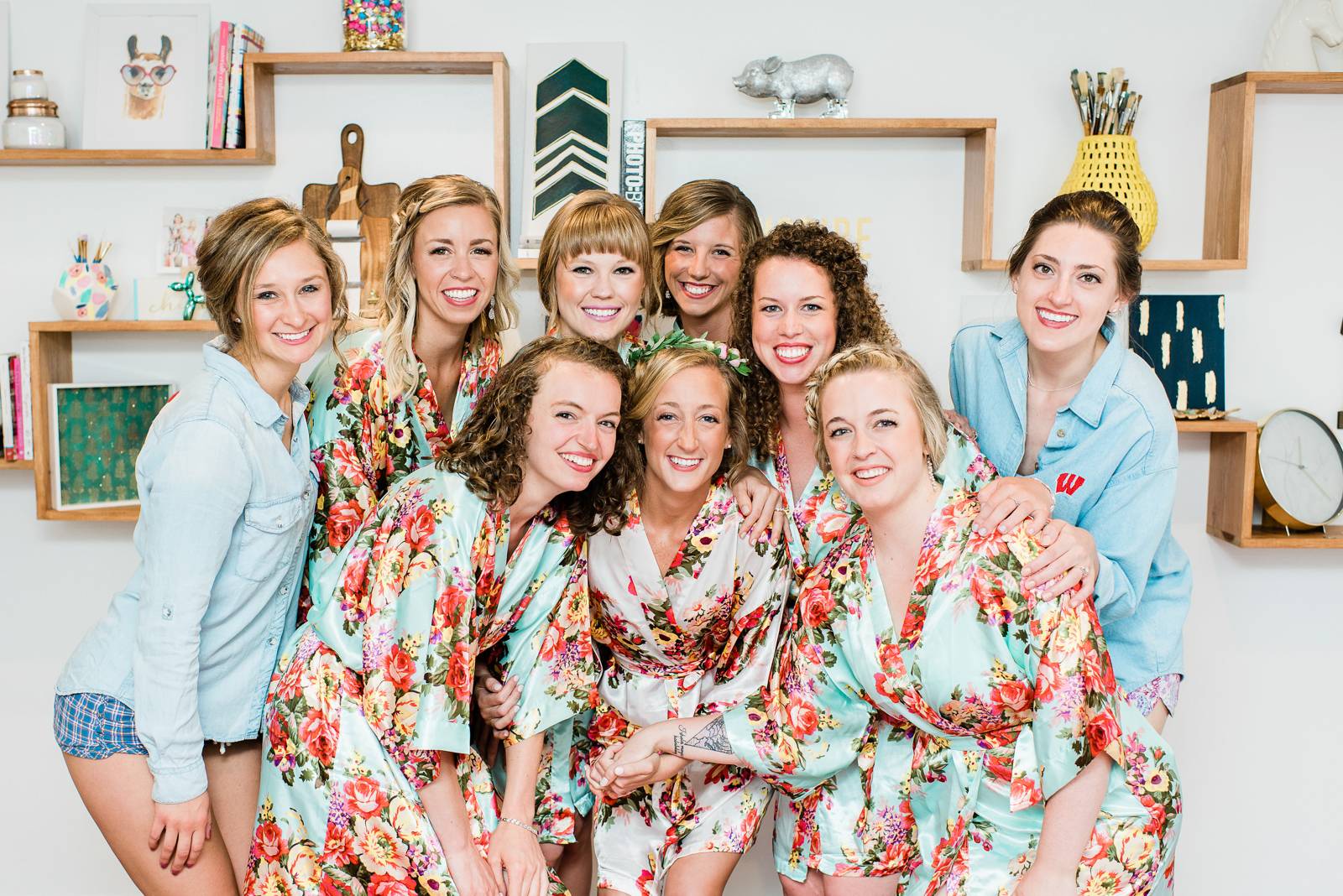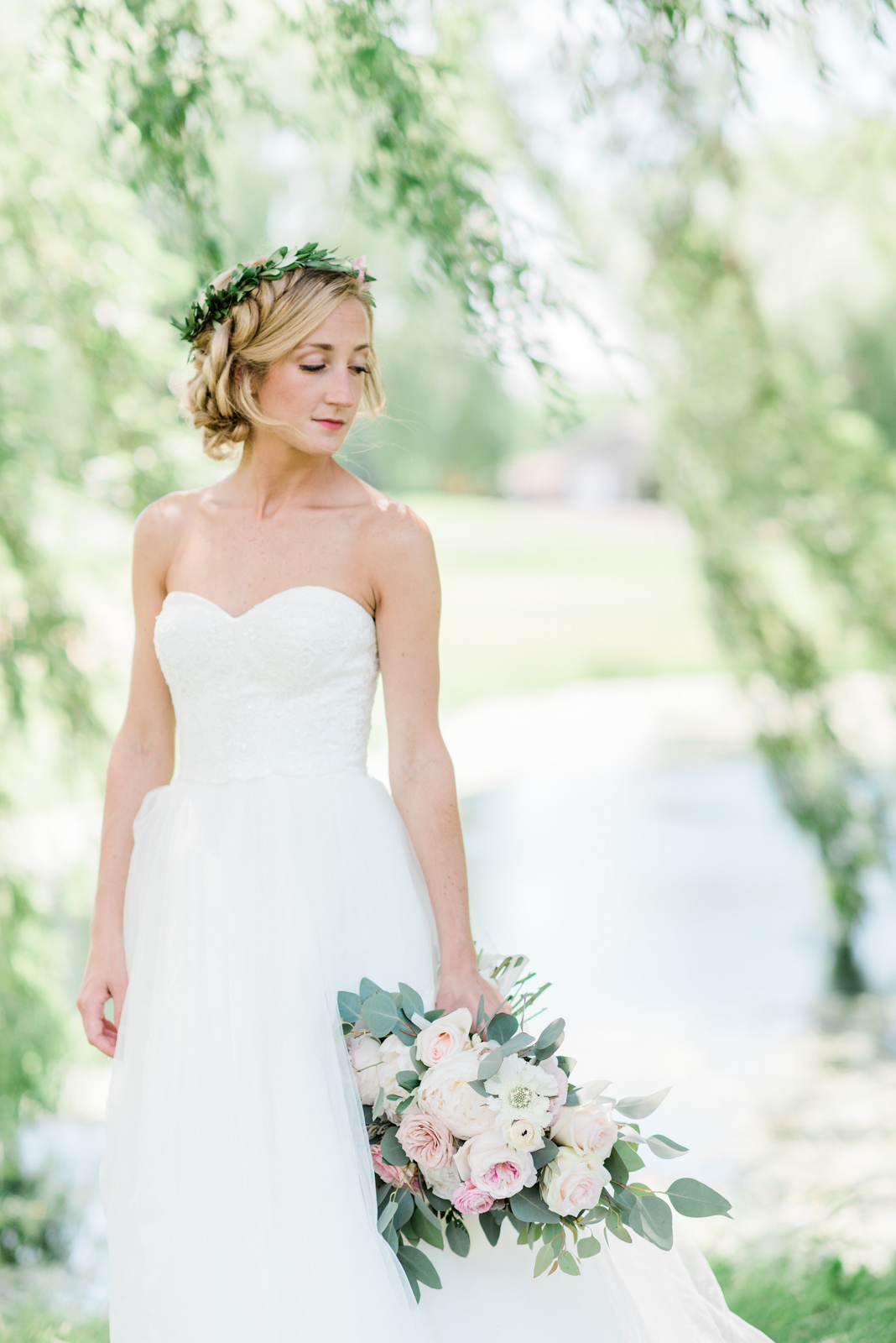 HOW DID YOU KNOW YOU'D FOUND "THE ONE"?

Spencer: Just being around Hannah with other people and seeing how much she always cares for everyone else's needs and puts others before herself made me know that I wanted to be around her for the rest of my life. I wanted to get the chance to care for her, adventure with her, and live life with her.

Hannah: There wasn't just one moment, but one example showing who Spencer is was on one of our intense backpacking trips before he proposed. I was getting super tired during a fast-paced adventure, and Spencer eventually took all of my supplies from my pack and placed them in his in the middle of an intense rain/snow/wind storm that lasted for hours. While I complained, he told jokes and stories, gave me the last of the snacks and encouraged me the ENTIRE time while we ascended from a canyon. It just goes to show Spencer is always able to help others out, likes to crack a joke or two, always follows through with his plans, keeps life in perspective, and is super hyped about serving others. He really seemed like someone I wanted to partner with, journey with, and enjoy life with.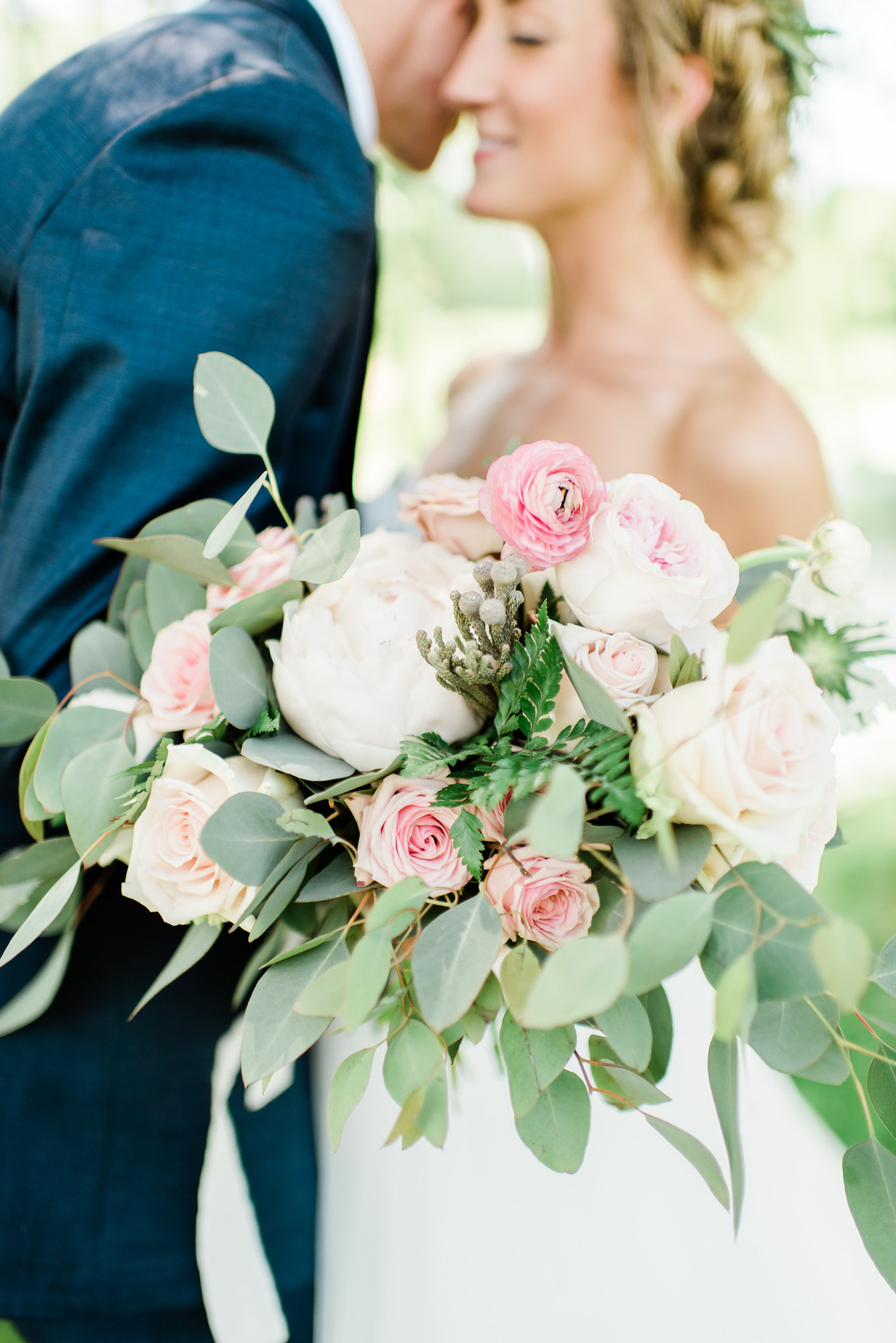 TELL US ABOUT YOUR PROPOSAL: We both really enjoy the outdoors, so Spencer wanted to have the proposal happen at one of my favorite spots around Madison at Devil's Lake. We took a small hike in late September to one of our favorite lookouts, where Spencer popped the question. He had my sister and cousin there to take pictures, break out a picnic, and pop some champagne. We enjoyed our time finishing up a walk around the lake and later celebrated with a get together with friends at the Memorial Union Terrace.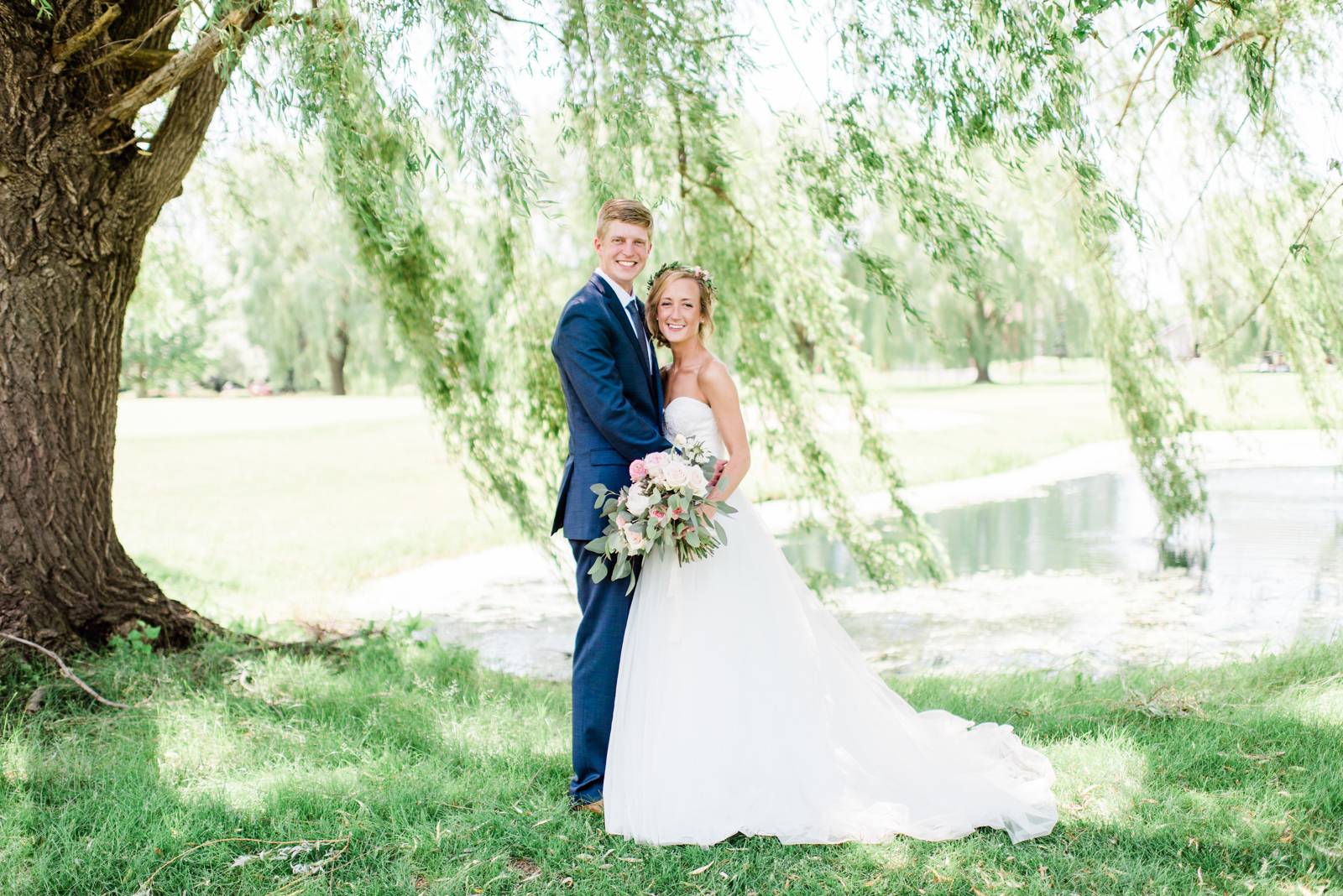 TELL US ABOUT FINDING YOUR DRESS: On a bit of a whim I was able to take my mom and sister with me to pick out a dress over the Thanksgiving weekend! I went in with the idea of a sleek, sleeved lace sheath dress, and actually ended up with almost the exact opposite. It was a blast having family there - they were the most relaxing and supportive group of people for the job!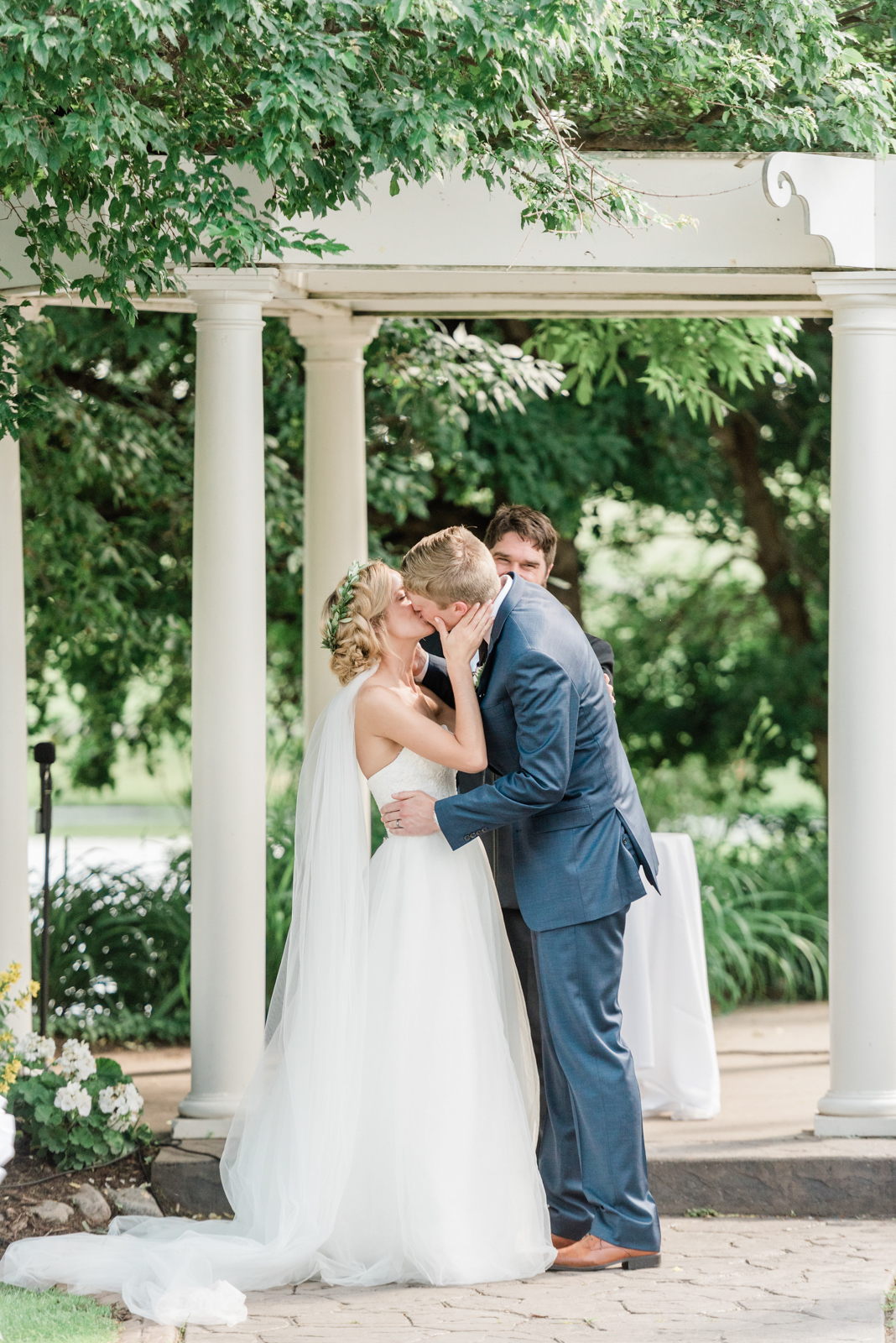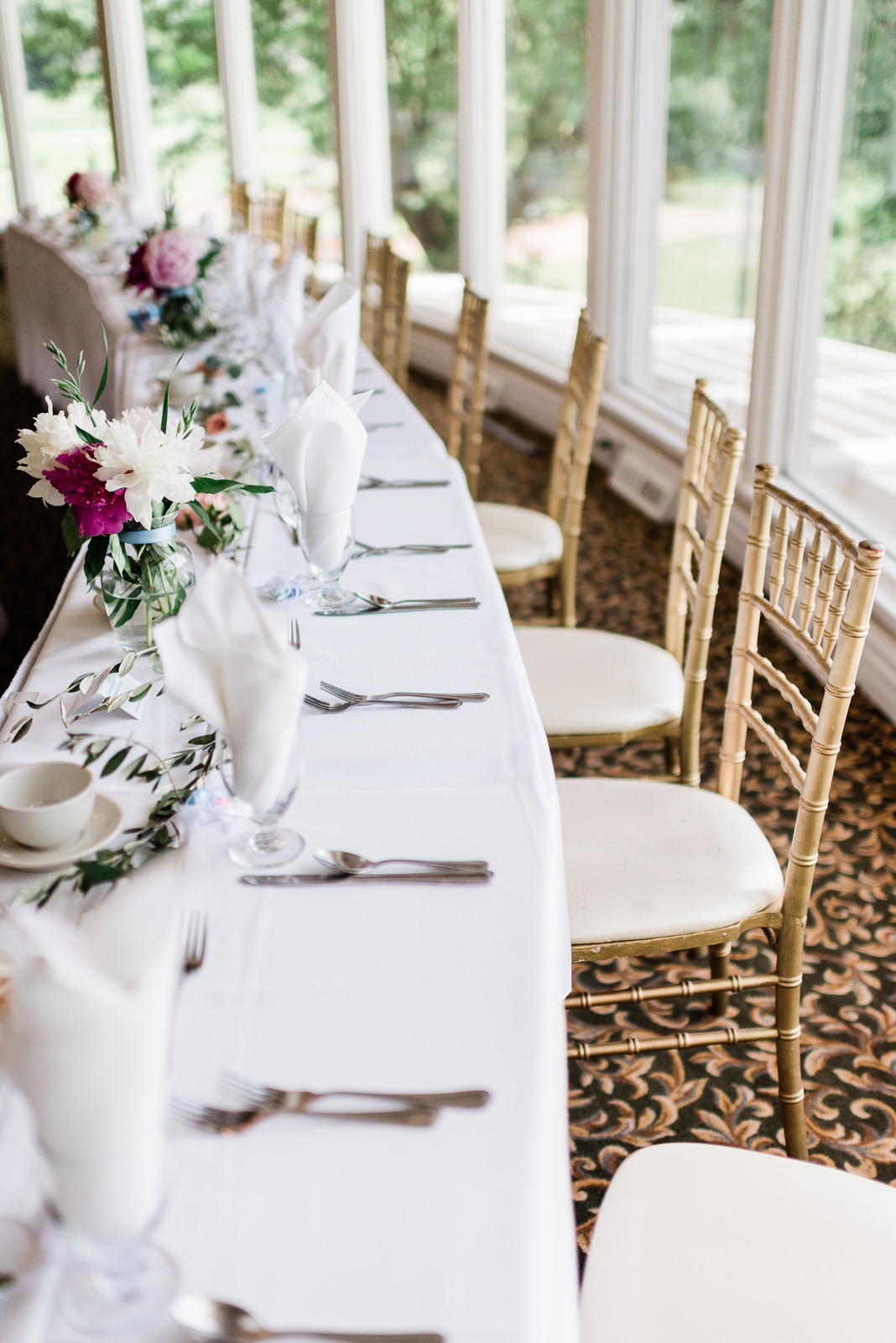 WERE THERE ANY PERSONAL TOUCHES OR DIY ELEMENTS? My dad and I created all of the signs. I wore earrings that were given to her mom on her wedding day from her grandma, something significant to me.

WHAT WAS YOUR WEDDING COLOR PALETTE? Light Muted Blue, Eucalyptus Green, and Blush Pink

DESCRIBE YOUR WEDDING FLOWERS: Blush and white peonies, white and pink muted rose, fresh greens

DID YOU USE ANY SPECIALTY CHAIRS, LINENS, CHARGERS, GLASSWARE OR DINNERWARE? We did not use anything for table settings that were not provided by Lake Windsor Country Club.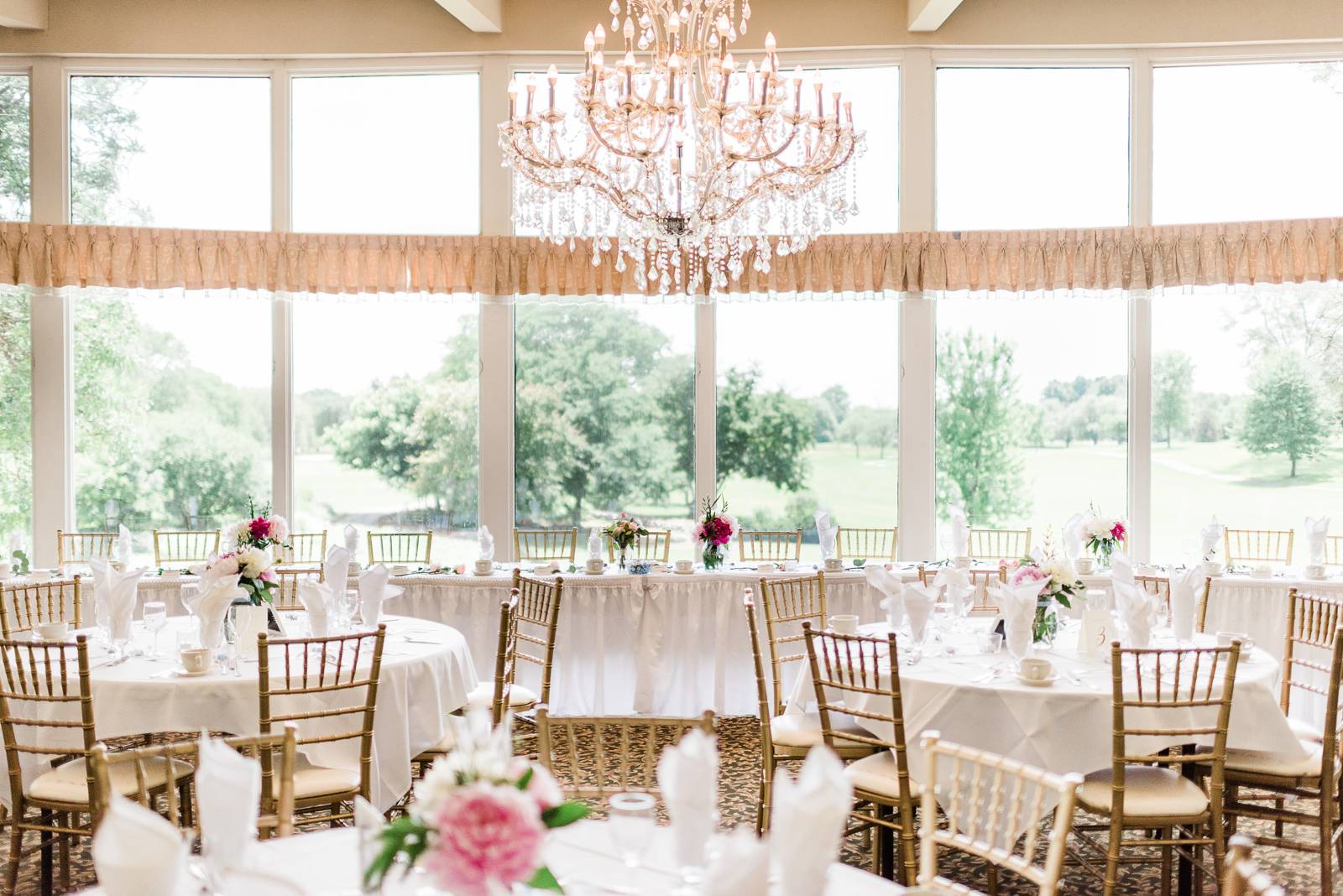 HOW WOULD YOU DESCRIBE YOUR WEDDING STYLE IN FIVE WORDS OR LESS? Timeless Warm Summer Wedding
We both really enjoy the outdoors, and Hannah really wanted an outdoor ceremony with a reception area that would capture the natural light.

TELL US ABOUT THE FOOD, DESSERTS AND ANY SPECIALTY BEVERAGES ON THE MENU: We enjoyed a hearty meal of savory steak and fresh bruschetta chicken, creamy mashed potatoes (to die for) and fresh salad and vegetables. Our cake was Lemon Silk Buttercream (my favorite flavor), and we gave our guests the option of Lemon Buttercream, Red Velvet, and Vanilla Chocolate Cake.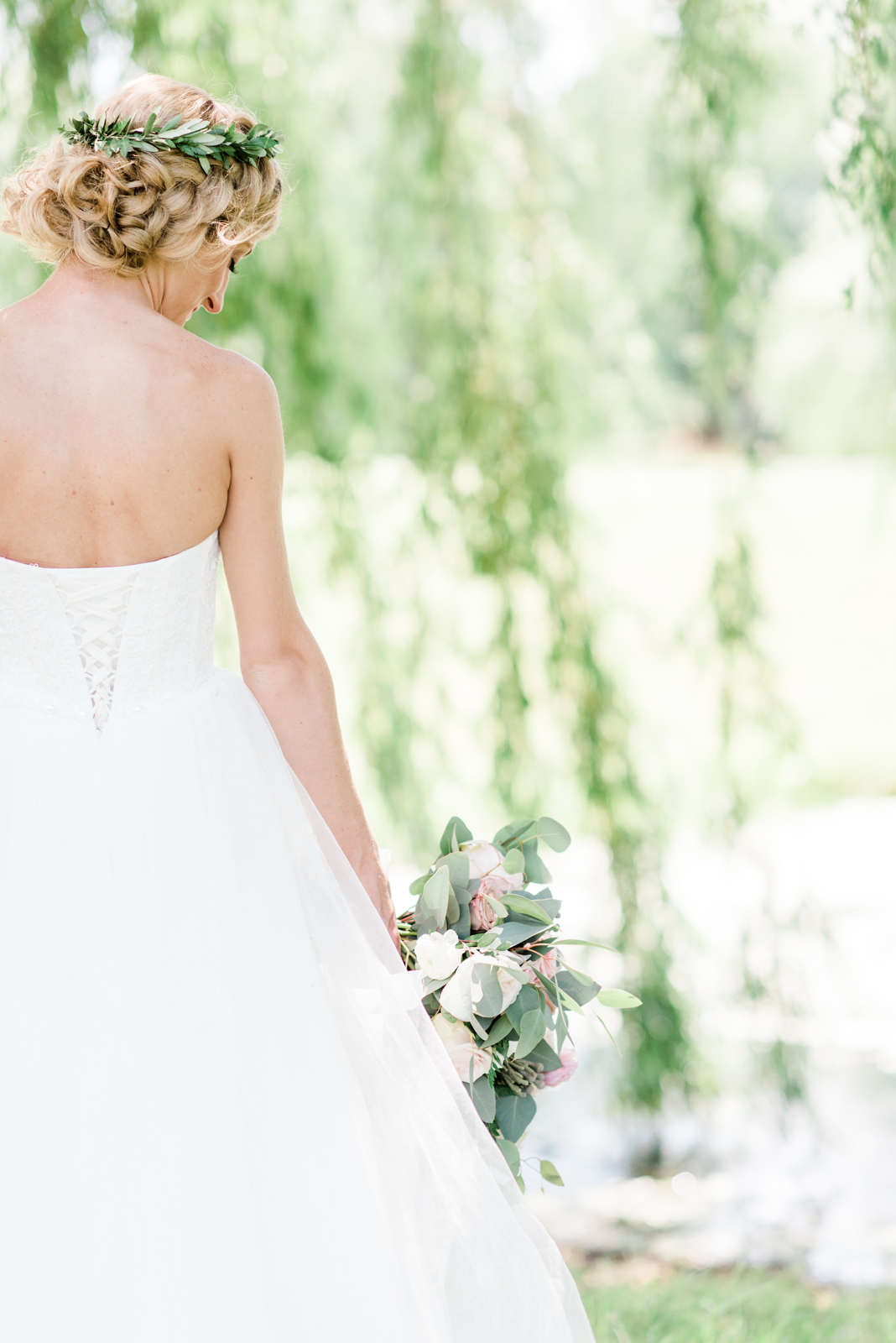 WHAT WAS YOUR FAVORITE MOMENT FROM YOUR WEDDING? Seeing friends and family there to celebrate our marriage was incredibly special. All of those people and more have readily invested so much time and energy into our separate lives and relationship, and it was just an amazing experience having them all together to be able to celebrate how much they mean to each of us!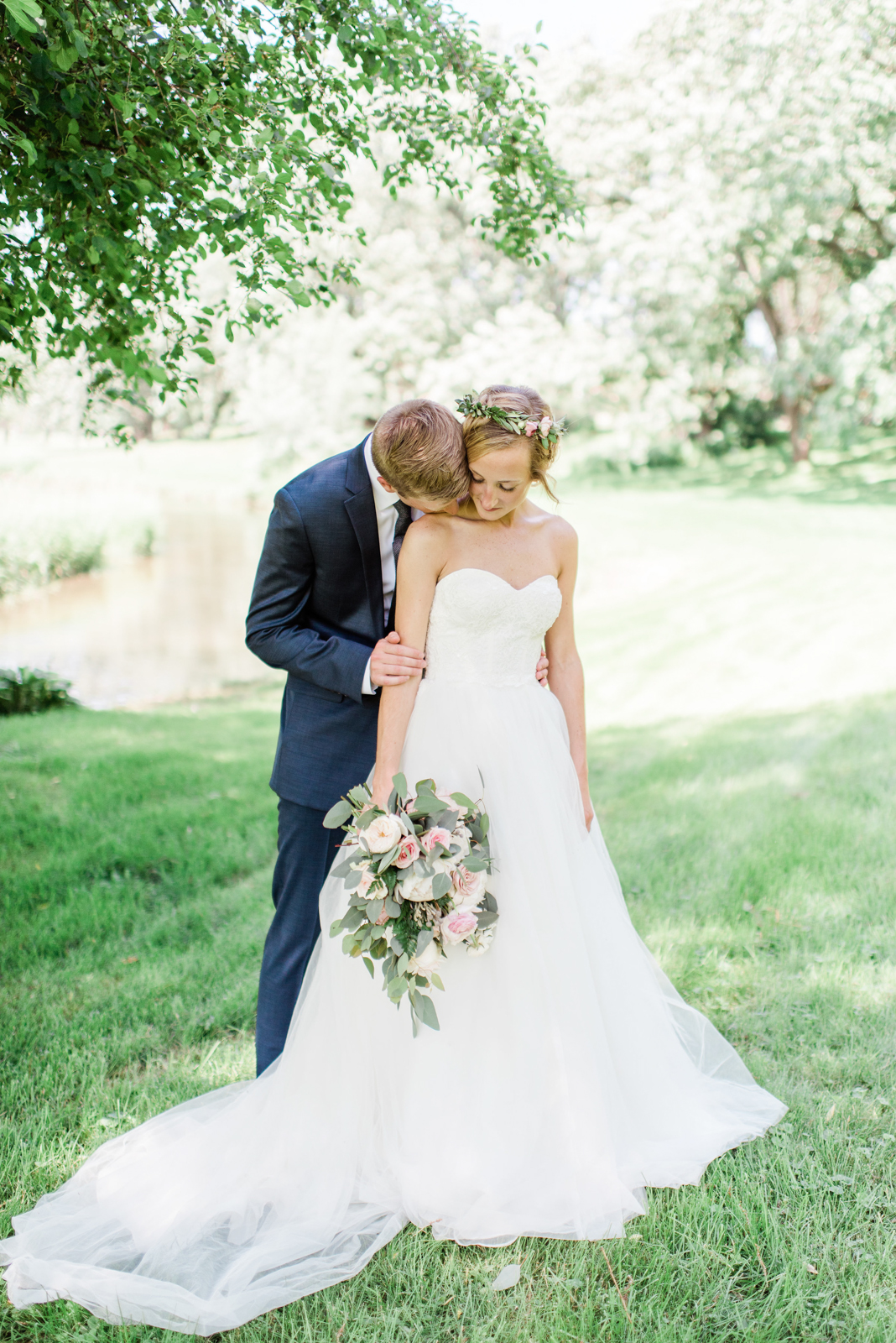 ANY WEDDING PLANNING REGRETS YOU'D DO DIFFERENTLY? I would definitely be more willing to take advantage of the help from friends and family. For the most part, people would love to be a part of helping your day be as great as it can be and would love to be a part of the process. This, I heard from others, takes more of the stress off of the planning.
TELL US ABOUT YOUR HONEYMOON PLANS: We were very fortunate to spend time in Kauai, Maui, and the Big Island with incredible Coast and Mt. Haleakala hikes, ocean views, and days of relaxation swimming with sea turtles.

WHAT DOES LIFE LOOK LIKE AFTER THE WEDDING? We are having a blast in Madison with our friends, enjoy spending quality time with both of our families and little nephews, and looking forward to the time when Hannah finishes up school. We are eagerly looking at the calendar to set up our next backpacking adventure and trip abroad!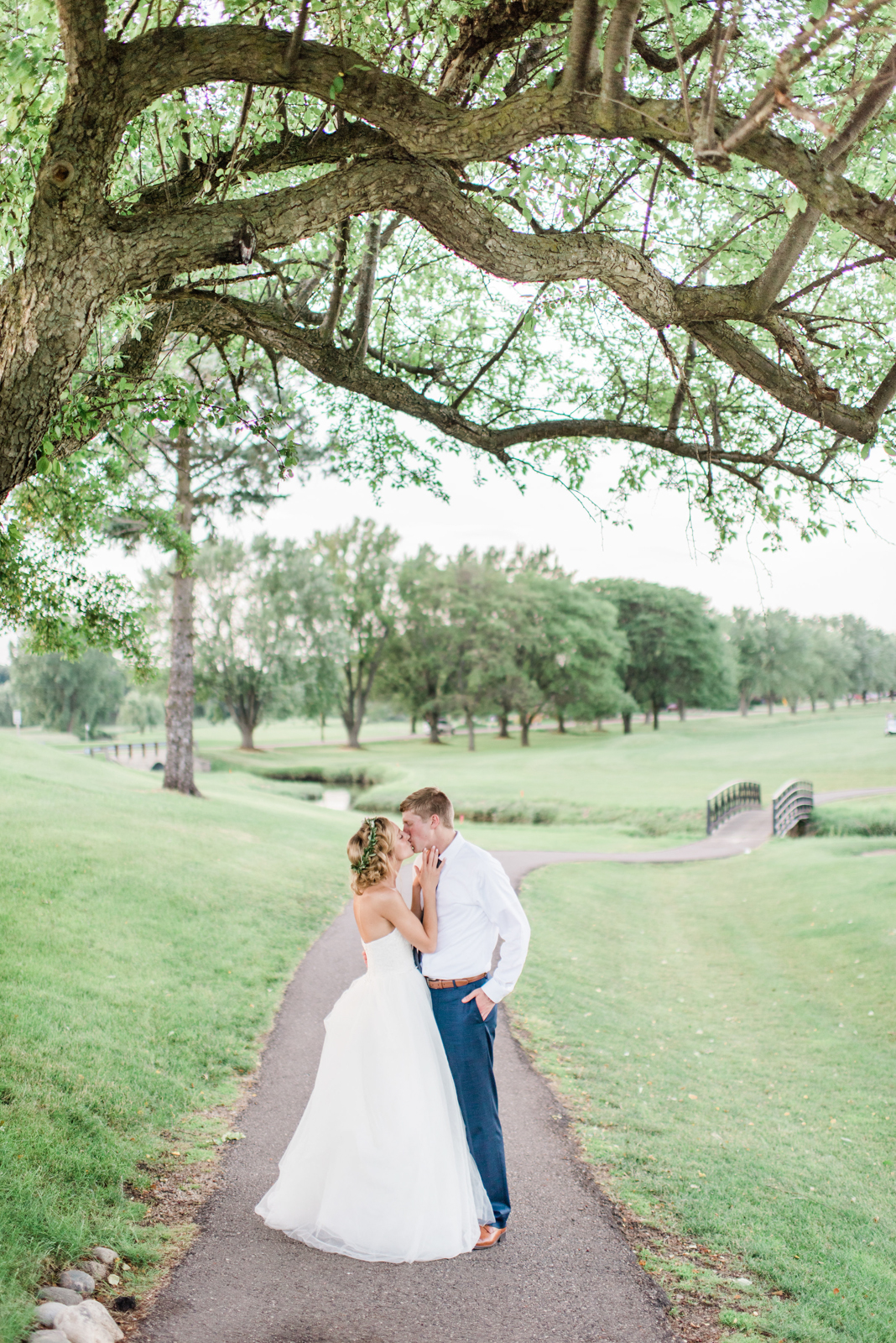 We would like to thank Hannah and Spencer for sharing their gorgeous wedding! To see more Madison wedding inspiration be sure to visit our other blog features!