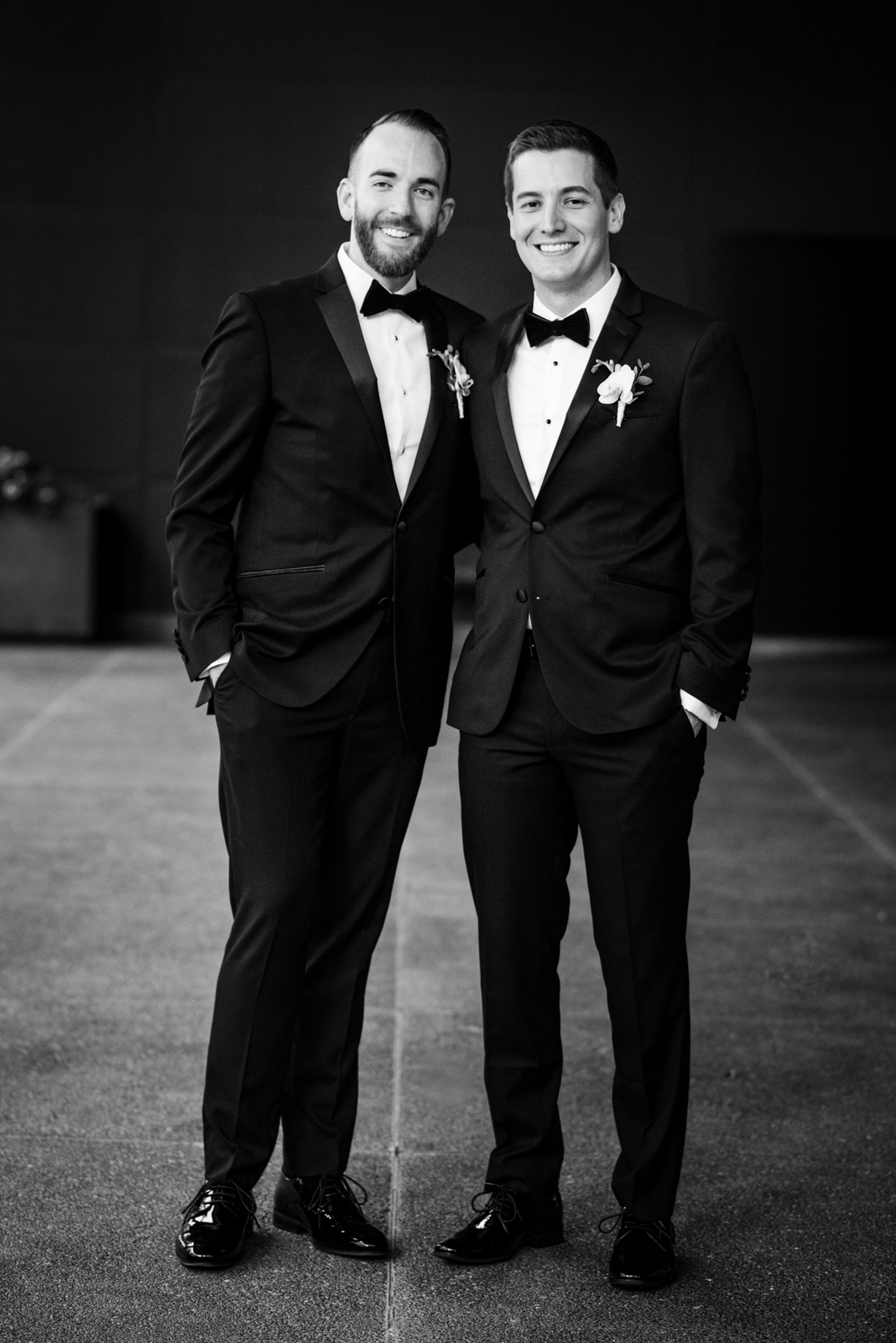 HOW DID YOU MEET? We met the old fashioned way; through two friends. They both invited Dan to my birthday party at Maduro, the cigar bar in downtown Madison.
HOW DID YOU KNOW YOU HAD FOUND "THE ONE"? We'd been together a little over five years before we started talking about getting married. We didn't feel any pressure to rush anything and wanted to enjoy every step in our relationship. By the time we started looking at venues, prior to even being engaged, we knew that we had found the right person.
TELL US ABOUT YOUR PROPOSAL: Dan travels a lot for work and had been considering proposing for a while. During a long work trip, he decided he'd propose once he returned home that weekend. In the mornings, we try to have coffee together every day. Over coffee on a Saturday, Dan proposed while we enjoyed our coffee with a card he had written while on the work trip. It was the sweetest and nicest thing ever. I also had a proposal planned but was two weeks away yet, so Dan beat me to the punch.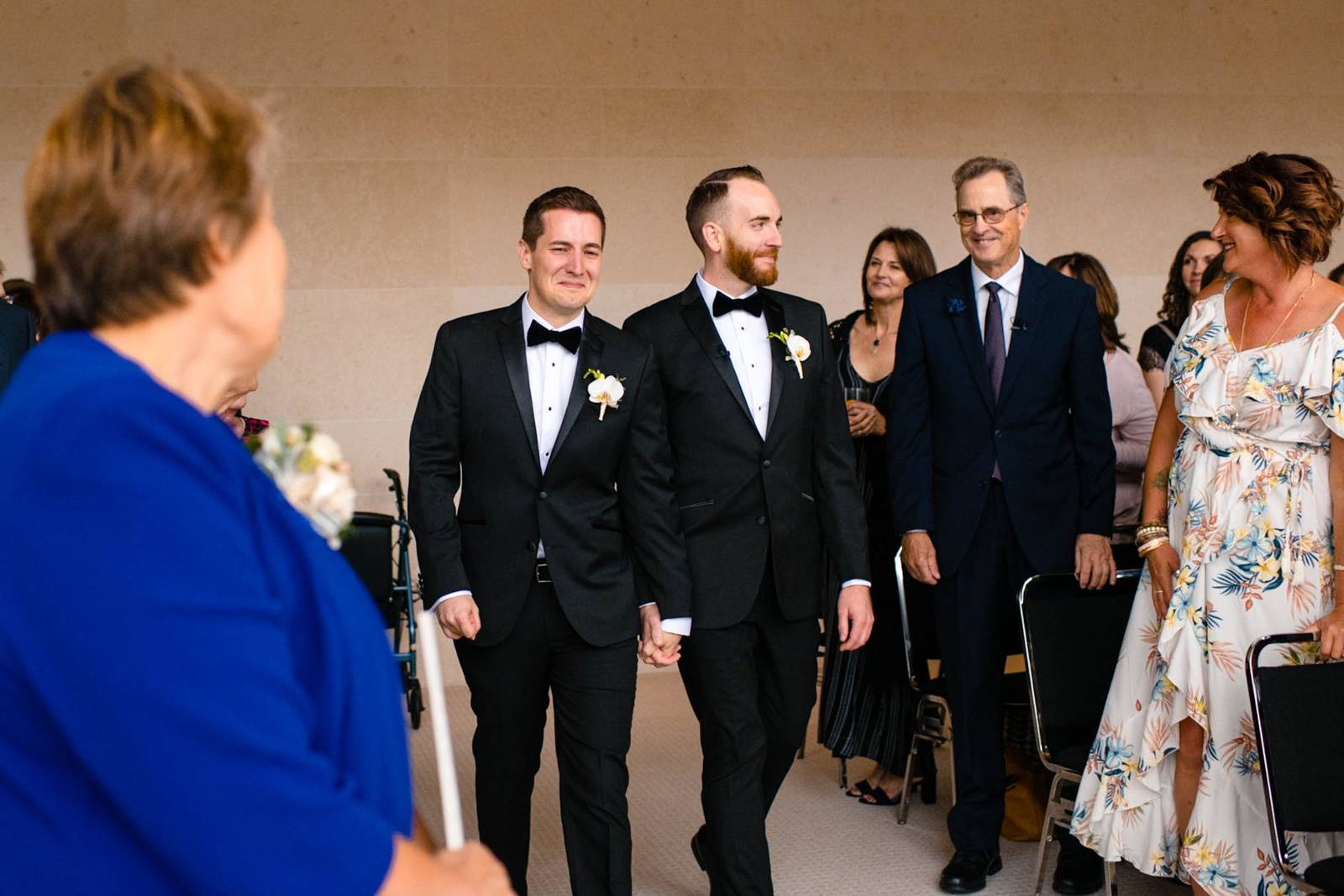 TELL US ABOUT FINDING YOUR WEDDING ATTIRE: We knew we wanted to do tuxes, but wanted to "spruce" up the standard tux. We were traveling in Thailand earlier in the year and decided to get two custom blue tuxes. After getting home and trying them on, neither the color nor the fit seemed quite "us," so we decided to go with a more classic look and purchased a black tux instead.
WERE THERE ANY PERSONAL TOUCHES OR DIY ELEMENTS? We wanted the day to be fun for us and knew having to manage bins of DIY elements would stress us out. So we selected a venue with details and décor that wouldn't require us to bring much in. On our part, we only added about 150 gold mercury votives with candles which looked great in the space.
HOW WOULD YOU DESCRIBE YOUR WEDDING THEME/STYLE IN FIVE WORDS OR LESS? Classic, Elegant, stunning venue.
WHAT WAS YOUR WEDDING COLOR PALETTE? Classic gold, black, and white.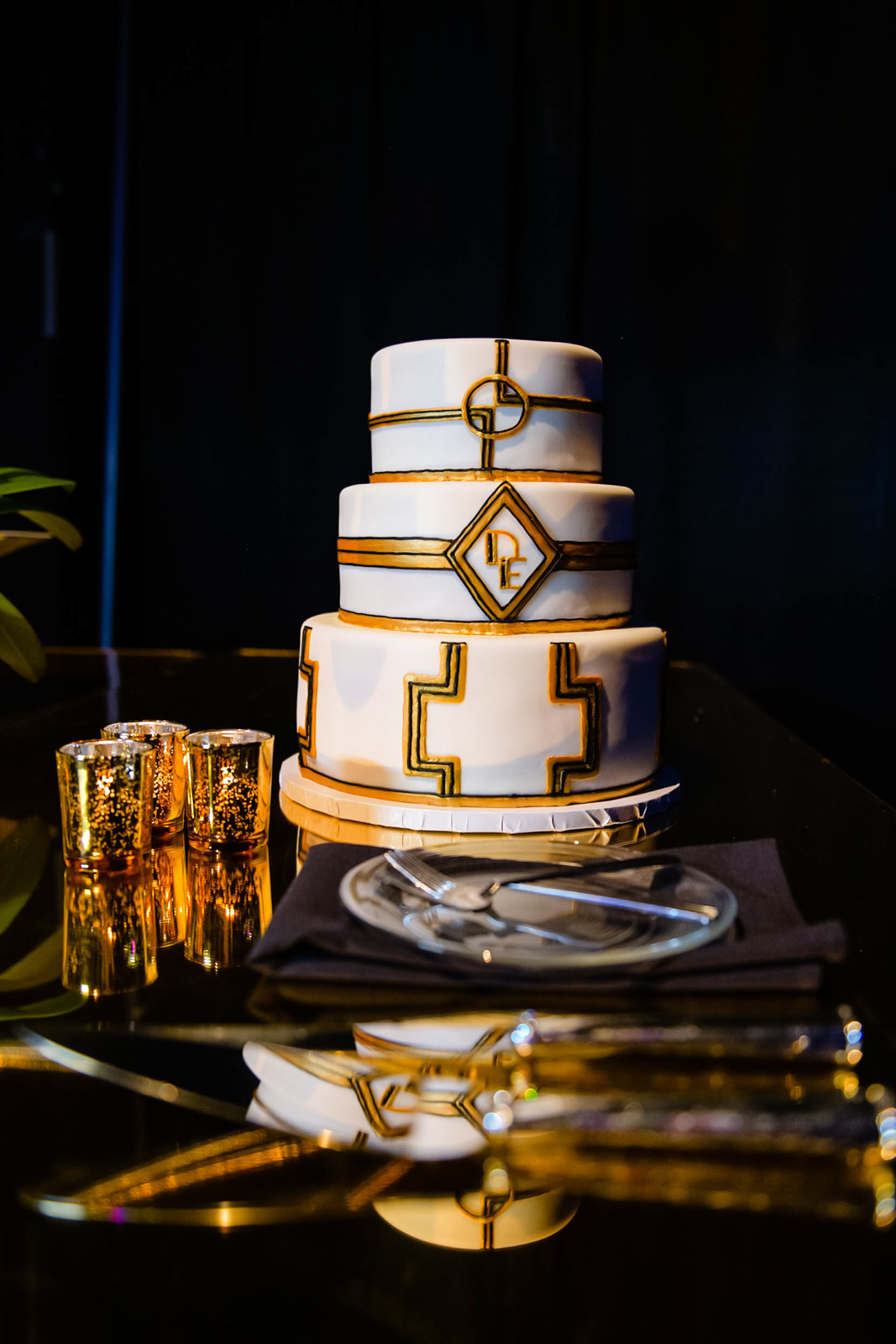 DESCRIBE YOUR WEDDING FLOWERS: We wanted our flowers to complement our wedding space and not compete with the gorgeous areas we had selected. So we decided to go with white Trader Joe's orchids in white pots. We worked with a wonderful Trader Joe's employee Marta who hand-selected the plants, repotted them all, and packed them to us. They were simple and elegant and perfectly us as we usually have an orchid in our home. Seriously this was the best decision ever and much less expensive than a florist. Plus, our guests got to take one home as a favor.
WHAT WAS YOUR INSPIRATION/DESIGN CONCEPT FOR YOUR OVERALL CEREMONY AND RECEPTION DECOR? We worked with the Overture Center to select a gorgeous progression of spaces: Upper Lobby for the ceremony, Capitol Theater Lobby for the cocktail hour, and Capitol Theater Stage for the reception. We wanted to showcase the different styling of each area and keep everything elegant and sophisticated. Plus, who doesn't want to party on the stage in a super cool space? In addition to being stunning, it was an absolute blast.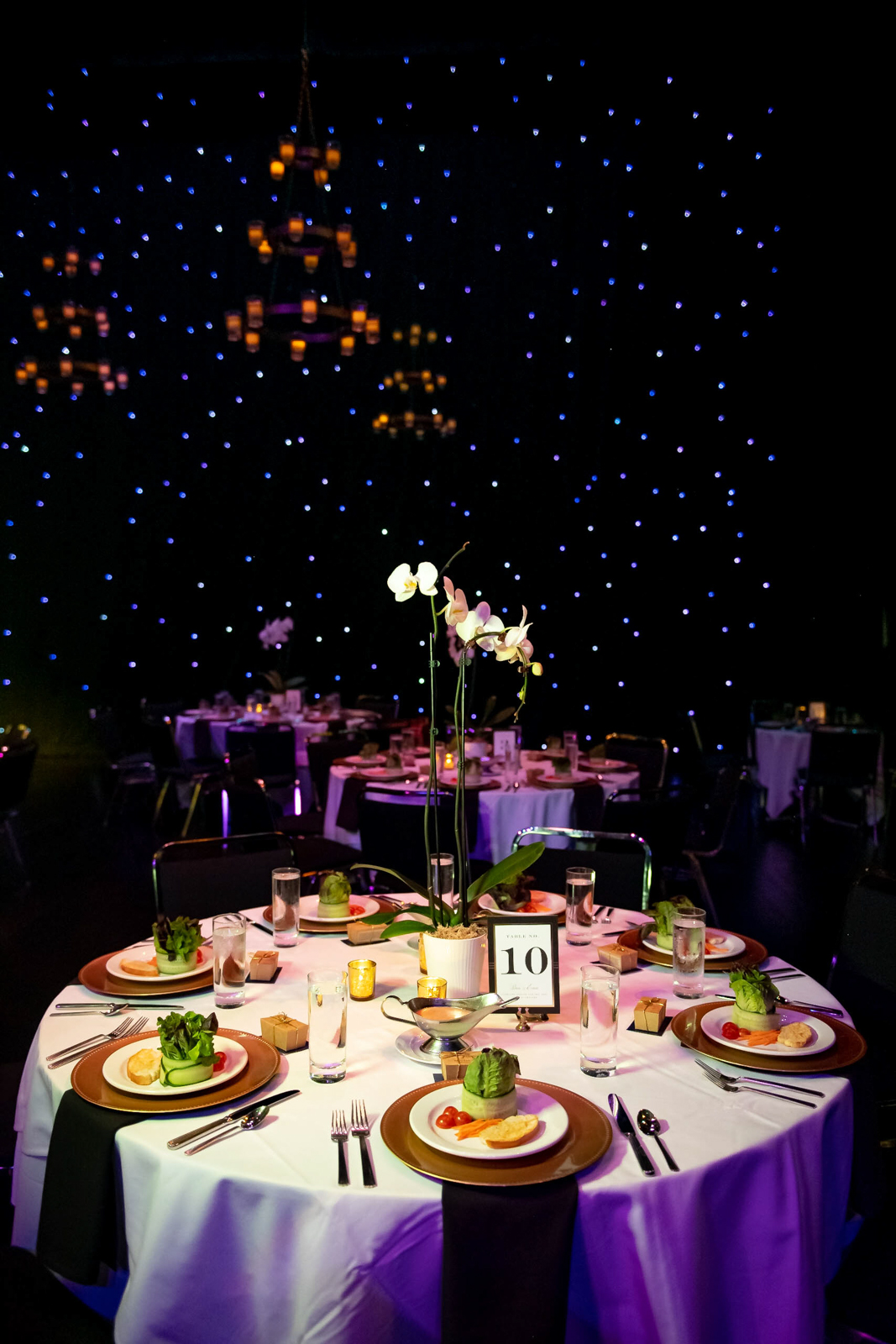 DID YOU USE ANY SPECIALTY CHAIRS, LINENS, CHARGERS, GLASSWARE OR DINNERWARE? We selected the Overture for our venue for a lot of reasons, but one of them is that they supply almost everything, and the standard wares are high quality and nice. We did buy a few separate items from the fantastic Facebook Market Place. Seriously that's where it's at--pro tip. We purchased over 100 gold chargers from someone who just got married and gave us a great deal on them.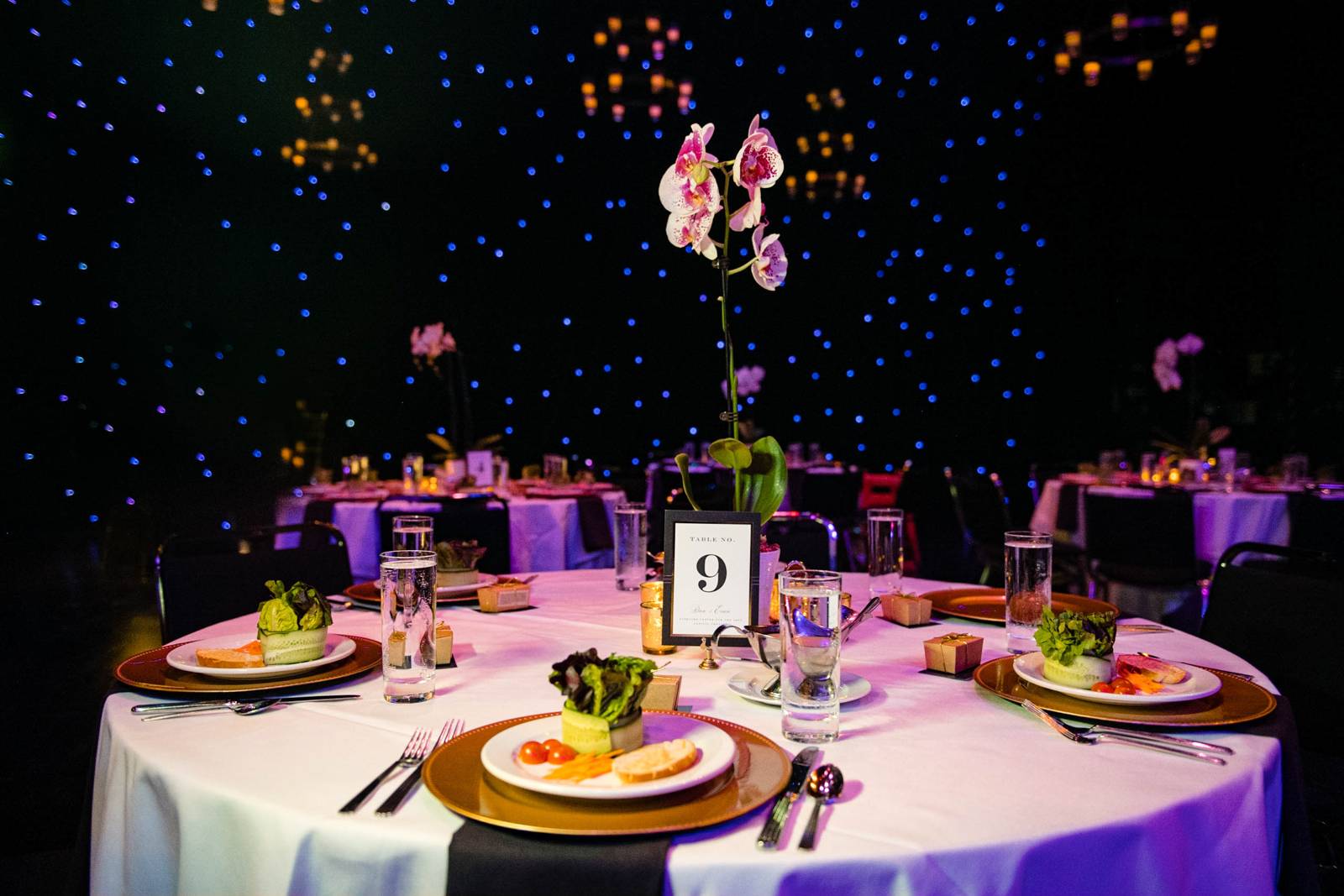 TELL US ABOUT THE FOOD, DESSERT, AND ANY SPECIALTY BEVERAGES ON THE MENU: Craig's Cakes in Verona is amazing. We both LOVE dessert and sweets, like so bad. Here's another pro tip and secret; you can do a cake tasting with Craig's Cakes where you both get your own plate of every cake and frosting combo they make. So imagine us being the frosting loving guys we are, both entirely eating all the options they let us try! It's heaven and almost the best part of wedding planning. In the end, we selected a standard vanilla and chocolate cake but also a carrot cake that genuinely changed our lives. It had the thickest frosting you've ever had and delicious cake. We're tearing up just thinking about it.
We also had our personal favorite drink: Brandy Old Fashioned Sweet served at the ceremony. We wanted all our family and friends to enjoy a little part of our world in Wisconsin. They were a hit! We also had an individual box of chocolates from Madison Chocolates displayed for everyone at the table. Megan from Madison Chocolates was great to work with, and the variety was a lot of fun for guests to compare and see what each other got. Chocolate trading at a table ended up helping as an ice breaker for guests at a table to introduce themselves to one another. We had a really high bar overall for the night, and Fresco's food delivered. The presentation was incredible, and the salads received lots of guest compliments (who even compliments a salad!?)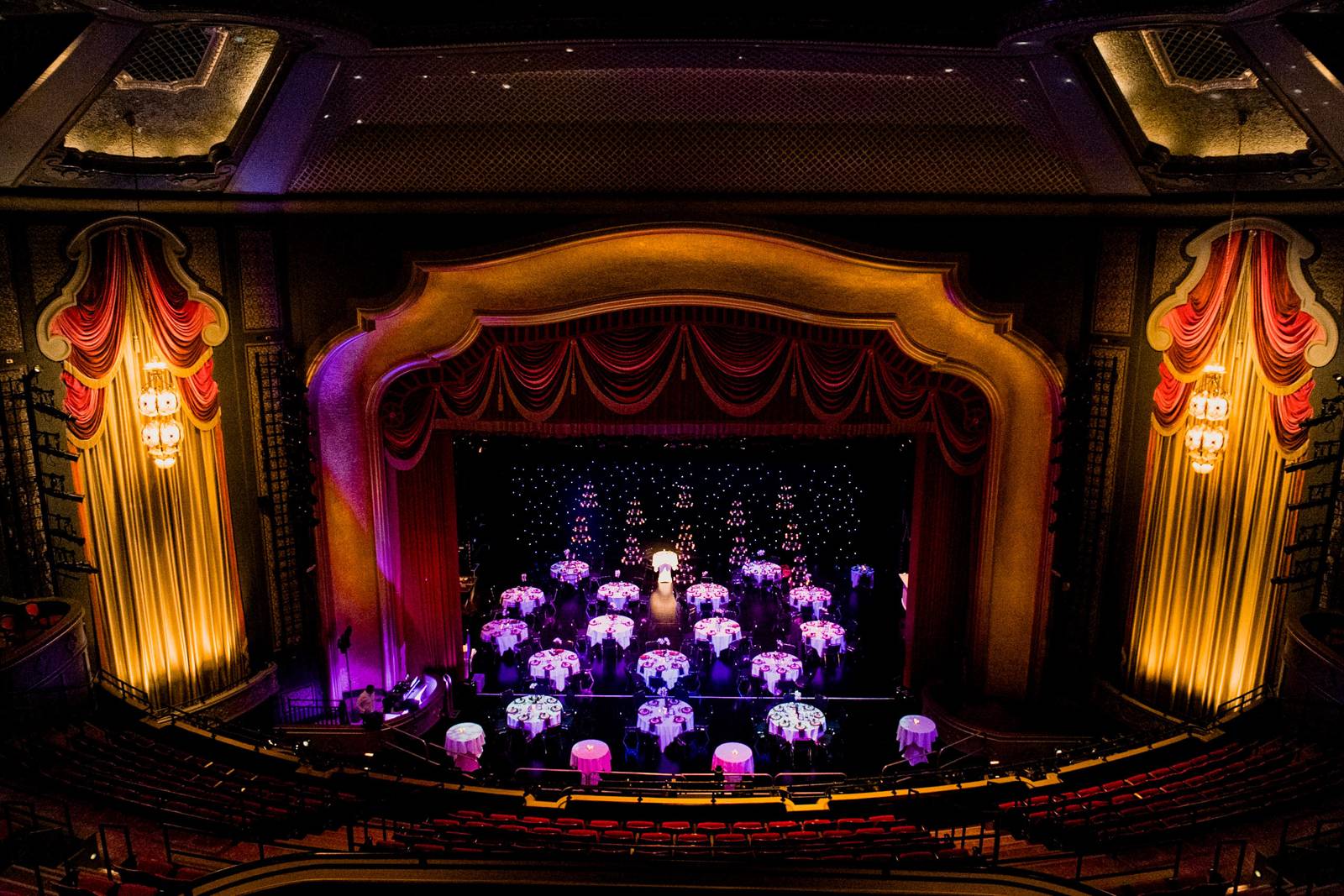 WHAT WAS YOUR FAVORITE MOMENT FROM YOUR WEDDING? Dan and I got our first look of the reception venue on the Capitol Theatre stage, all set up. It was absolutely stunning, like seriously jaw-dropping. During our first look, Dan noticed the cake (which we had a spotlight on lol) and he lost it! He squawked "THE CAKE!" with happiness and tears! It was such a fun and special moment. Another special moment was when we were taking a moment together before the ceremony. When we walked out together, it was truly touching to see so many people who loved us in one space. P.s. We (meaning Dan) bawled, walking in.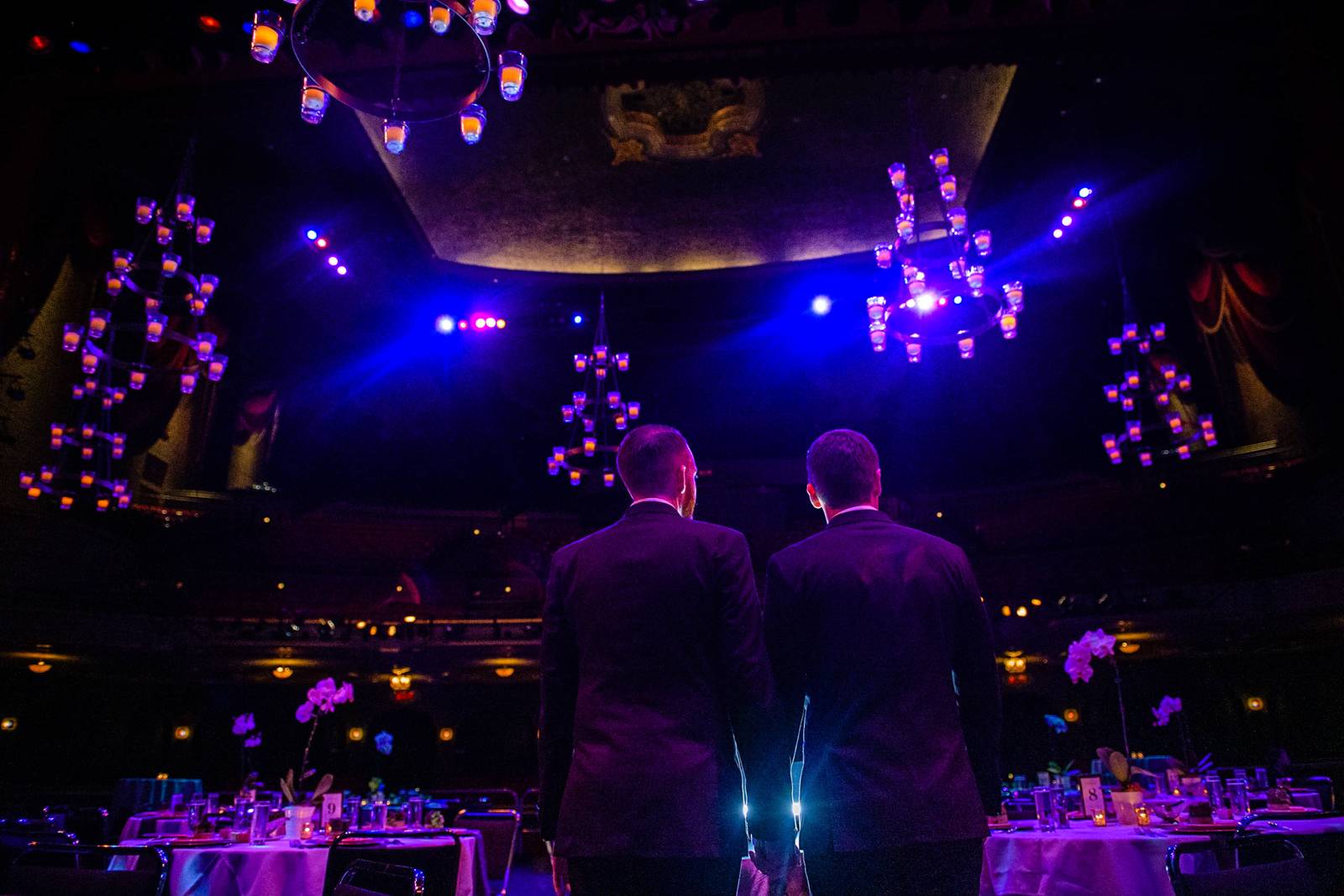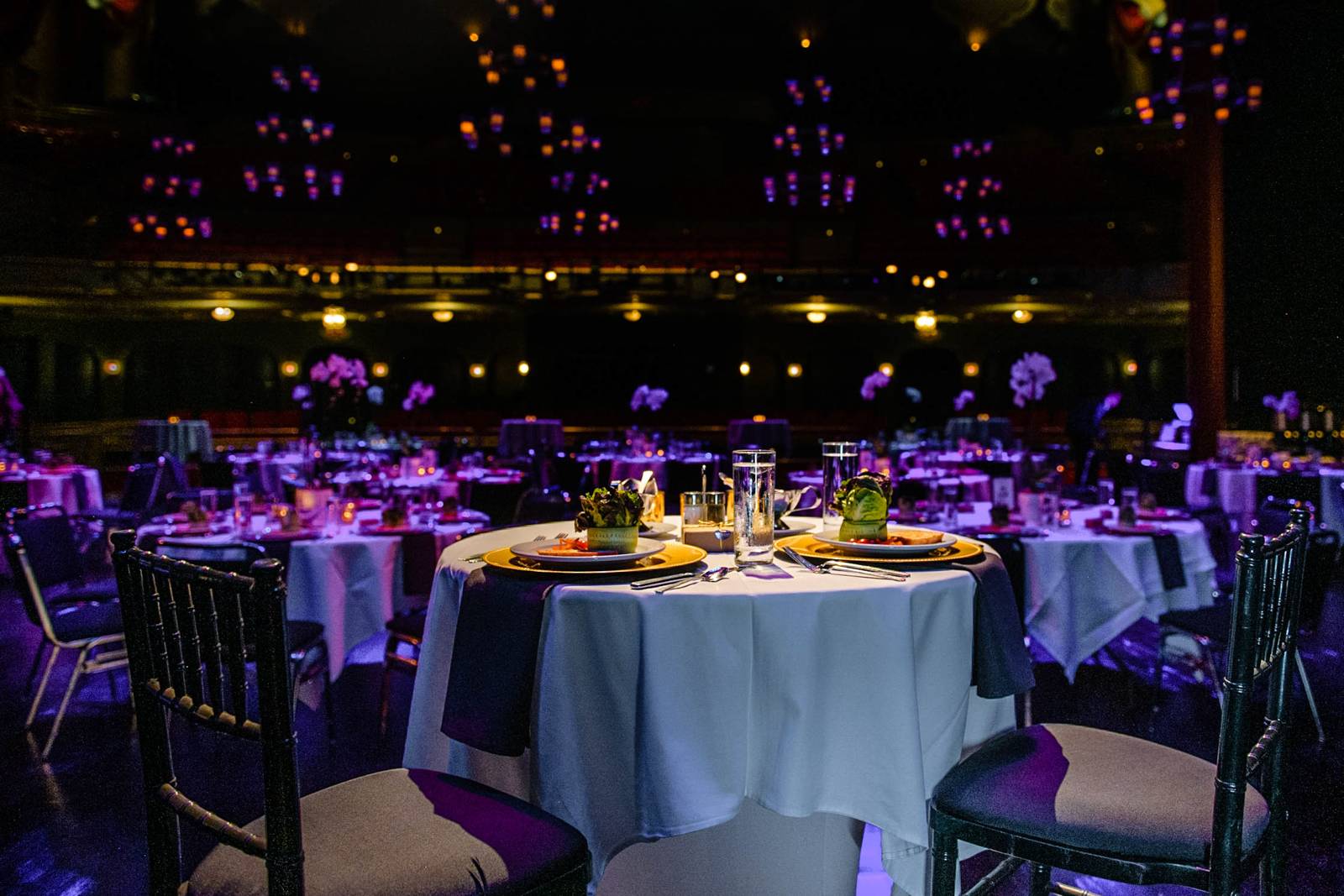 TELL US ABOUT YOUR HONEYMOON PLANS: We took a mini-moon the week after our wedding and went to Quebec City for a few days. It was the perfect trip to get away and relax - everything was just like a Hallmark movie.
WHAT DOES LIFE LOOK LIKE AFTER THE WEDDING? We started fostering dogs this fall through Fetch (we'd previously fostered cats through Angel's Wish).
ANY WEDDING PLANNING REGRETS OR SOMETHING YOU WOULD DO DIFFERENTLY? Start following up on RSVPs early - we tried going all online instead of requiring paper returns, but that didn't work for everybody. The earlier you have information, the easier it makes it to finalize numbers and seating charts.
IS THERE ANY ADVICE YOU'D GIVE TO OTHER COUPLES PLANNING THEIR WEDDING? We both love planning and parties, so planning for the wedding was right up our alley. We loved working with the Overture staff (shout out to Tara!), our amazing club-style DJ Shaun Shouldeen (you should hire this guy), and all the vendors. A tip we both recommend, is in the wedding timeline, schedule time together on your wedding. We had a private table for dinner for our wedding, we took 15 minutes for just the two of us immediately following our ceremony, and we took another 15 minutes during the reception to sit down and soak it all in as a married couple. We really appreciated making small moments for us since the rest of the day, we were running and round and talking to everyone.
Evan's planning tip: After the wedding, you'll be wedding'd out, which is what people said. I wish we would have addressed and stamped all the Thank You cards in advance. Then all we would have had to do is write the thank you and pop it in the mail. Instead, it felt like a large hurdle to again address and stamp everything after the event was over.
Dan's planning tip: Try to schedule as much time with your guests as possible. We had cocktails the Friday evening before and hosted brunch at our home the day after. That gave us a significant amount of time to enjoy conversations with our close family and friends we didn't get time to talk to much at the actual wedding.
For more real Wisconsin wedding inspiration, see our other blog features.