All of the circumstances surrounding them didn't stop Savana and Sam from having a beautiful wedding and pledging their love to one another! In today's real destination wedding, enjoy all of the intimate moments, elegant details, and love surrounding these two soul mates. Featuring many of our own talented Madison vendors such as The Wedding Flashers, Simply Glamorous Florals & Event Design, LK Bridal Studio, Vera's House of Bridals, Kesslers Diamonds, Middleton Jewelers, AB Onsite Beauty, Dickey's BBQ Pit, Simply Glamorous Rentals & Event Design, and Event Essentials, scroll to see Savana + Sam's memorable day below!
Name of Couple: Savana + Sam
WEDDING DATE: 07/04/2020
HOW DID YOU MEET? We met in middle school, and by high school, we were best friends. We enjoyed so many things together and have so many memories to share, like trips to Culvers, T-Bell, dog sitting, FFA trips, school dances, class projects, and hanging out with the same friend group. All the while, we just stayed true to our friendship, as neither of us wanted to "ruin" what we had.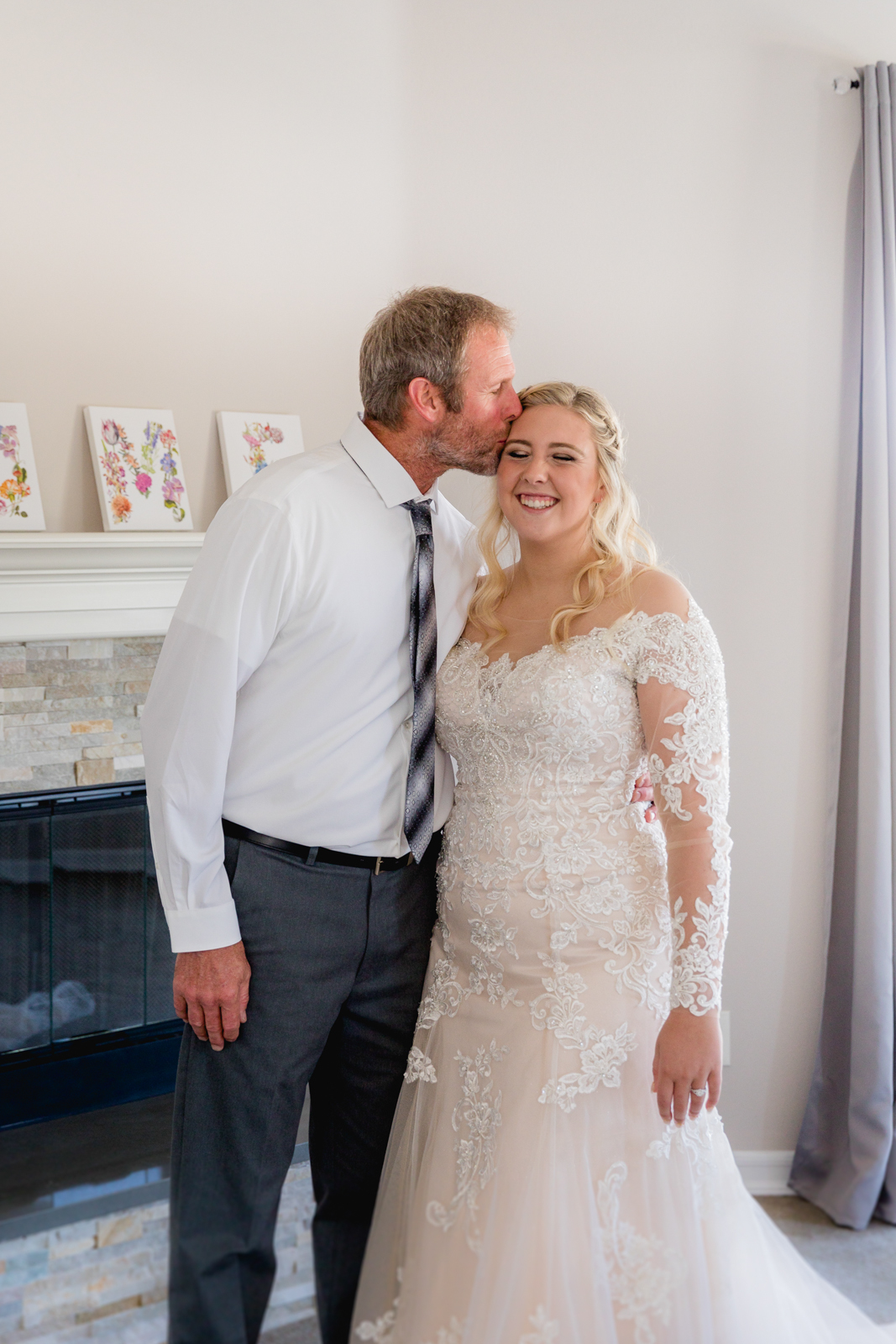 HOW DID YOU KNOW YOU HAD FOUND "THE ONE?" It definitely took us a while to admit our feelings and move past the friend zone. After high school, Sam decided to join the United States Marine Corps. Following graduation, Sam left for boot camp out in California. We kept in touch, and Sam invited me to his boot camp graduation, and then the Marine's Ball. (Hmmm, you think this guy likes me?) Indeed, after I accepted his invite to the Marine's Ball, he finally asked how I truly felt about him. After years of being best friends, we both admitted to each other that there was love brewing, even though we were pretty sure it was brewing the entire time.
TELL US ABOUT YOUR PROPOSAL: Both of us were going back and forth to visit each other between California and Wisconsin, and just before going on deployment, Sam came home for a leave. He first asked my parents while I was at work, then we met up for dinner, followed by a visit to Cold Stone Creamery, where he got on one knee with a ring in hand. He definitely knew the way to my heart: ice cream and diamonds!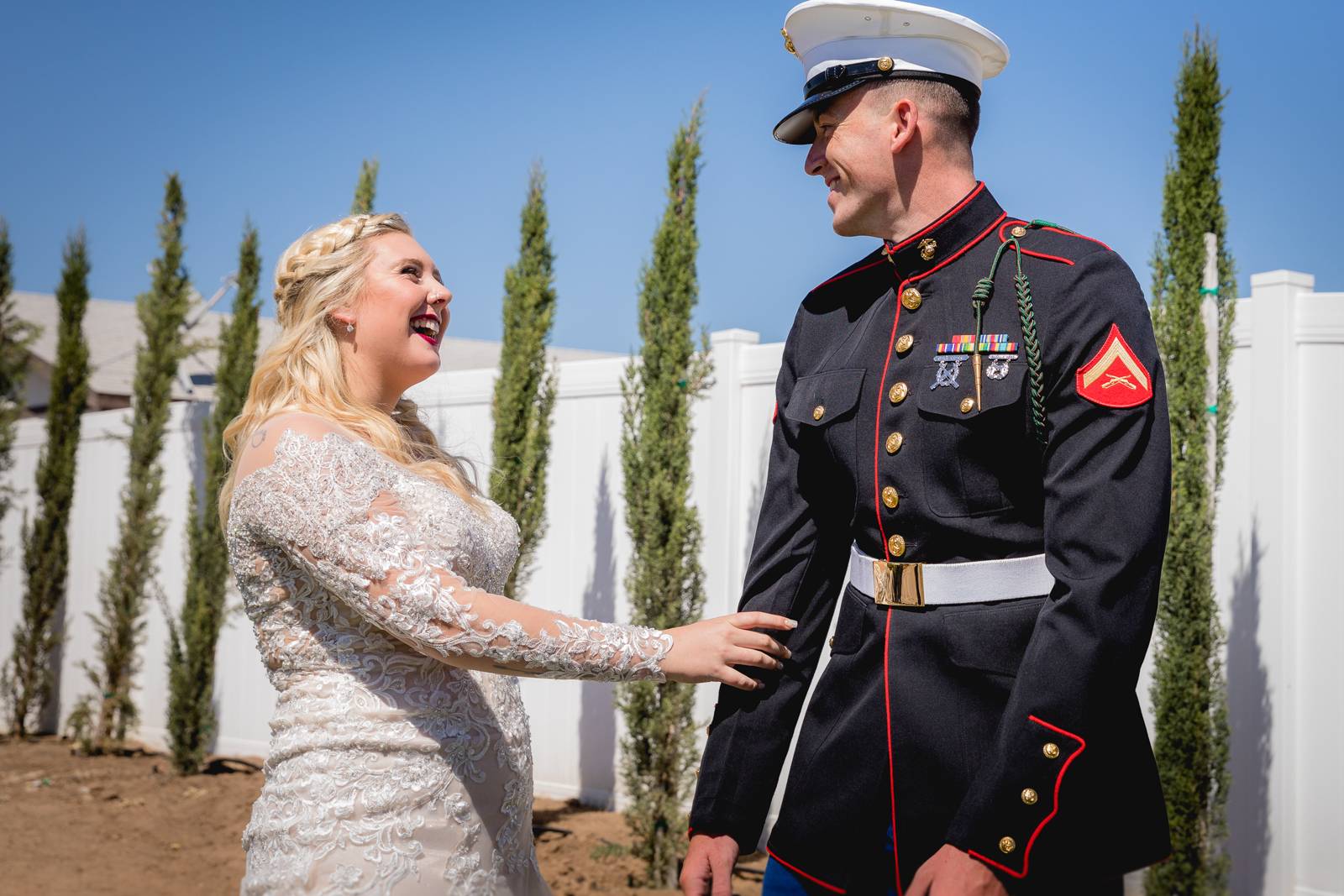 TELL US ABOUT FINDING YOUR BRIDAL GOWN, SUIT/TUX, OR OTHER WEDDING DAY ATTIRE: One day, my mom and I both had the same day off of work as we had another appointment in Madison. On a whim, we decided to see if Vera's House of Bridals had any openings to try on some dresses. I really wasn't sure if I should go because I was hoping for a day with both moms and my bride tribe, but I thought I'd just "start looking" and check out some other shops later. After trying on a few dresses, I kept going back to one in particular. I loved the look, the fit, and it just felt like me. I didn't look any further and bought it that day!
WERE THERE ANY PERSONAL TOUCHES OR DIY ELEMENTS? We had our wedding party enter the ceremony to the instrumental version of "You're My Best Friend" by Queen. Also, since the wedding was in the middle of the pandemic, in addition to the pastor's live message, we had our former teacher, and now friend, give a personal video message about us and our relationship. She knew us for years, so it personalized the ceremony so much for us. She sent it to my mom, so we didn't see it until the ceremony. We loved it!
We also did a sand ceremony, but instead of just the two of us, we invited our moms to join us. They poured sand from the Wisconsin River while we poured sand from the California beaches, signifying our foundation of where we came from, our friends' and families' support back home, and our new life and home in California. We left room to add more sand later on, as I'm sure we'll have many adventures to new places as a military couple.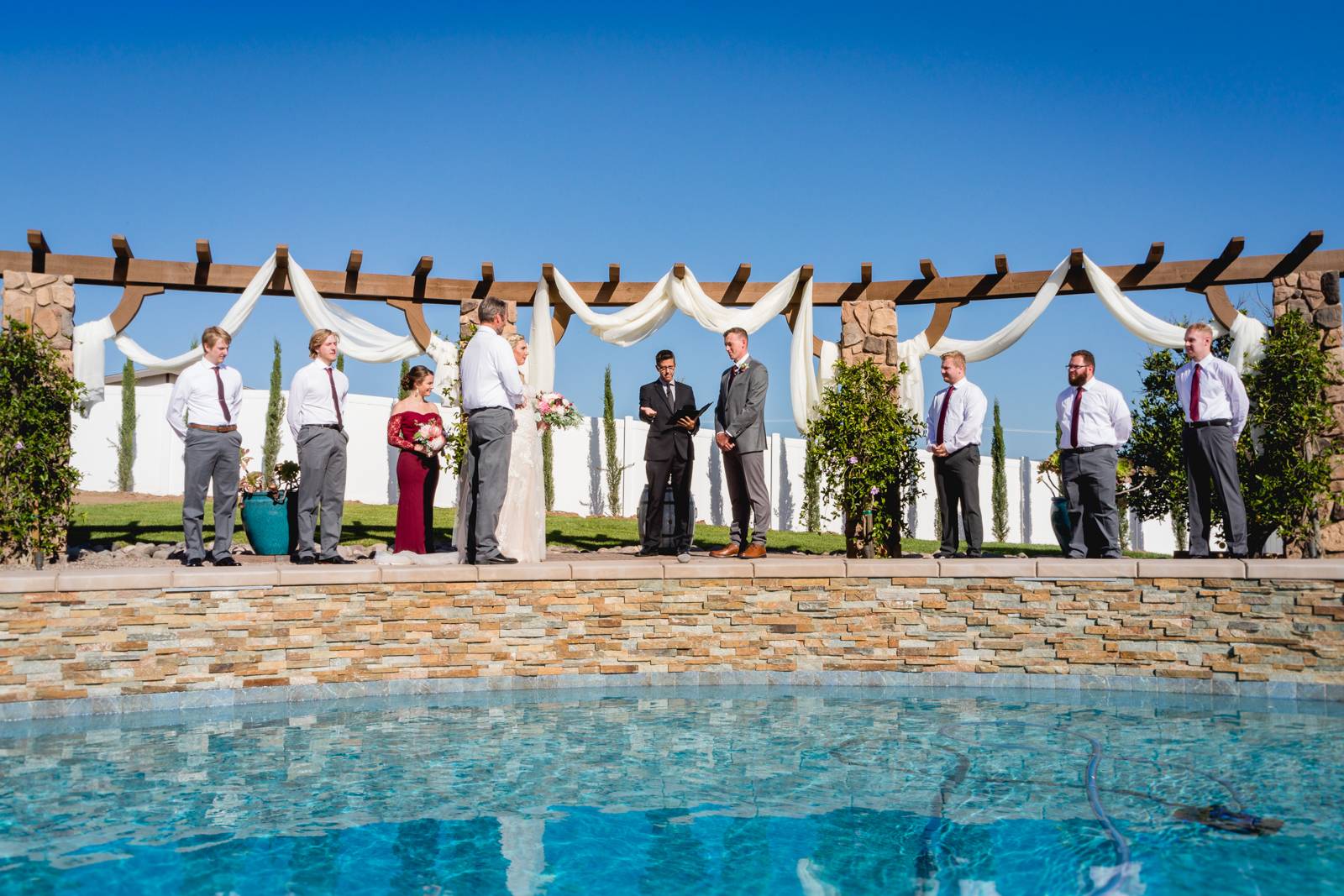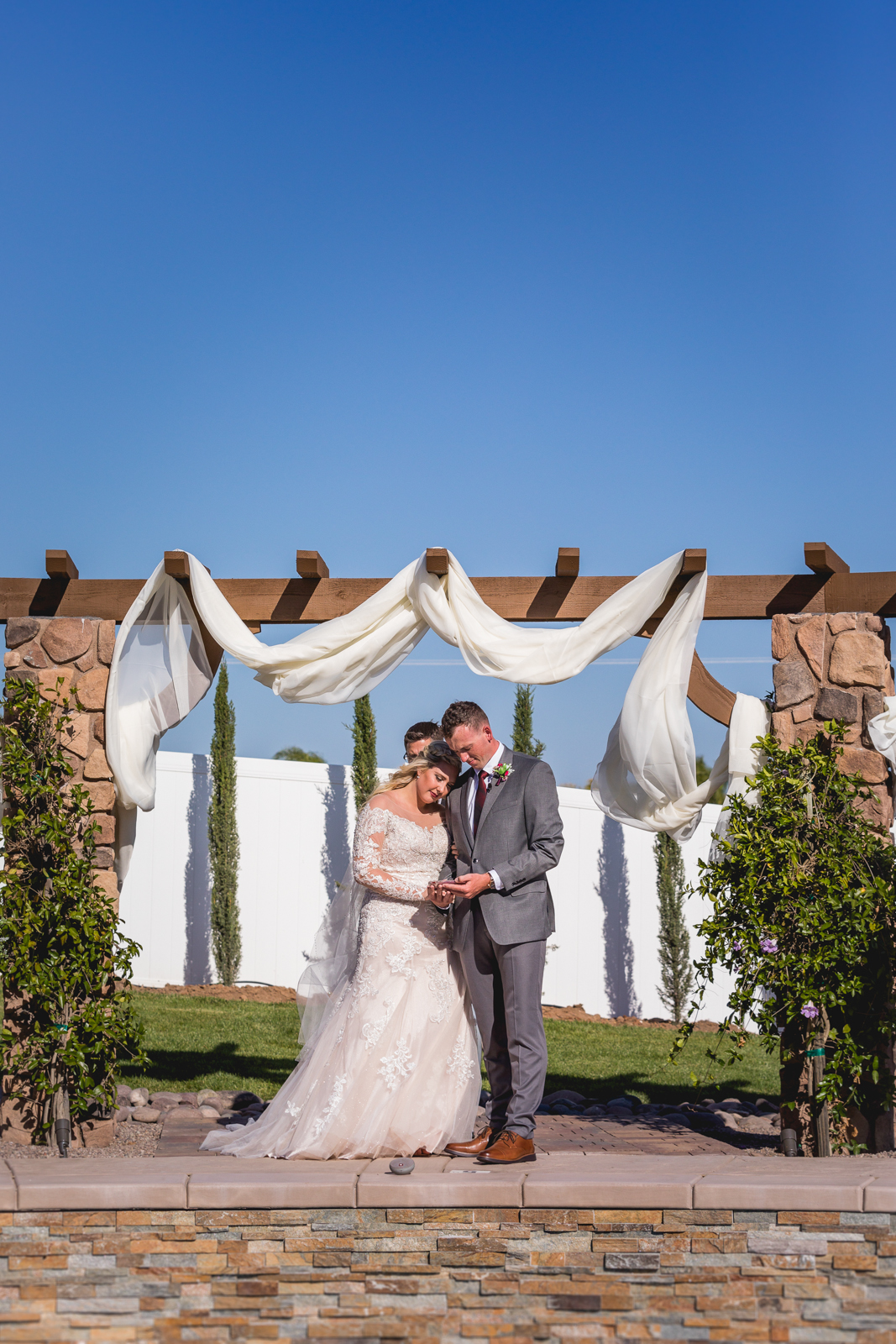 HOW WOULD YOU DESCRIBE YOUR WEDDING STYLE IN FIVE WORDS OR LESS? Elegant and Modern.
WHAT WAS YOUR WEDDING COLOR PALETTE? Burgundy, Blush Pink, and Gold.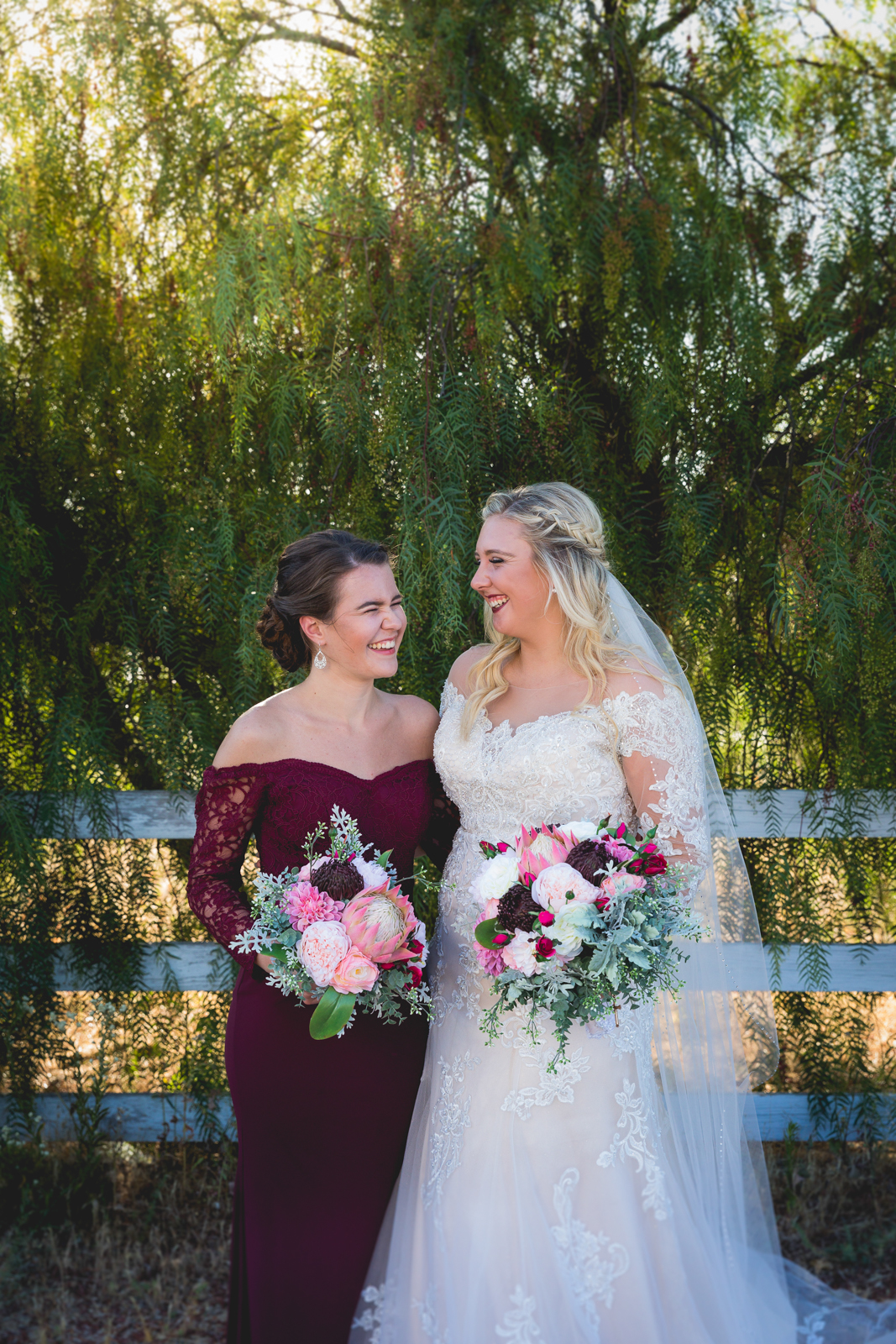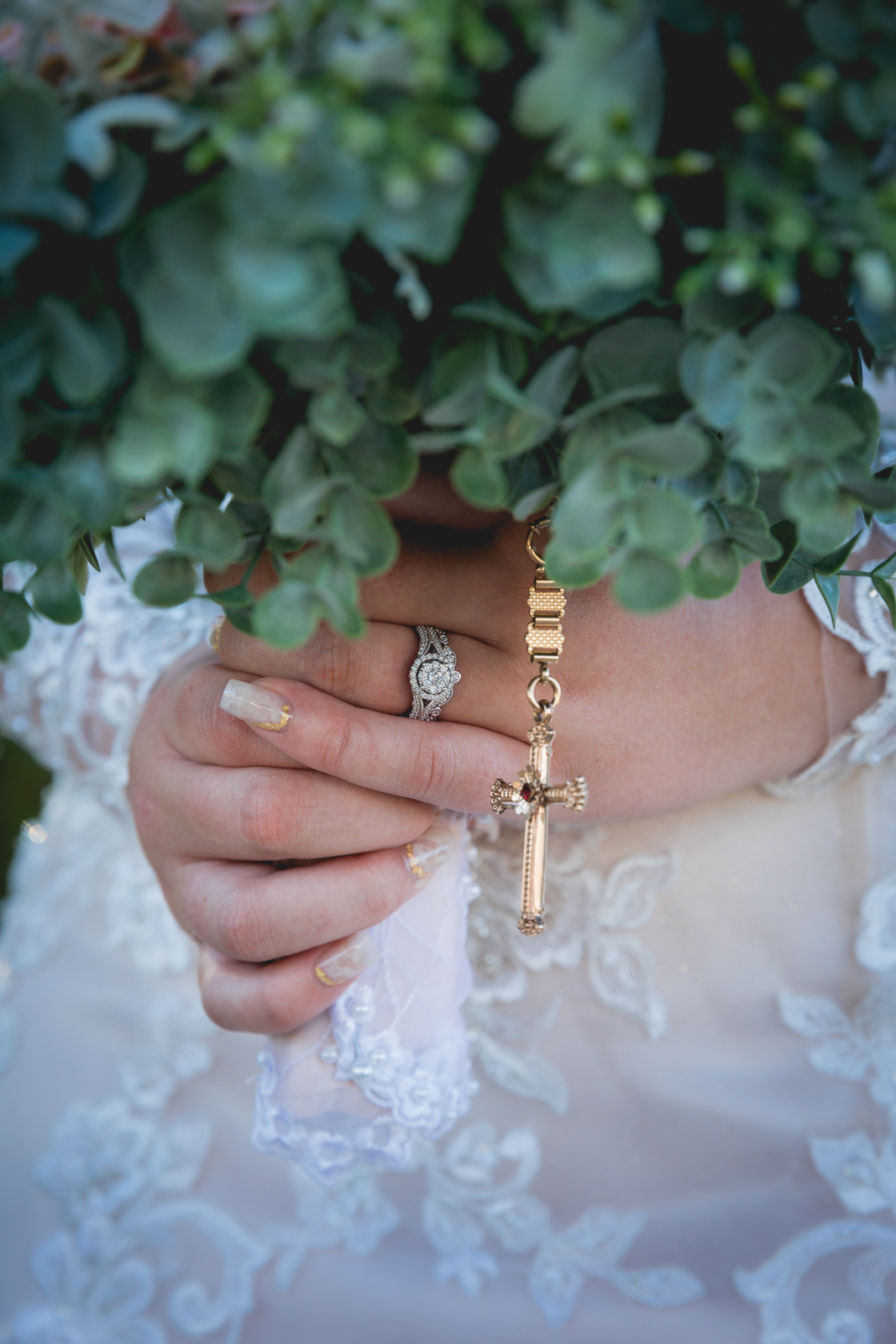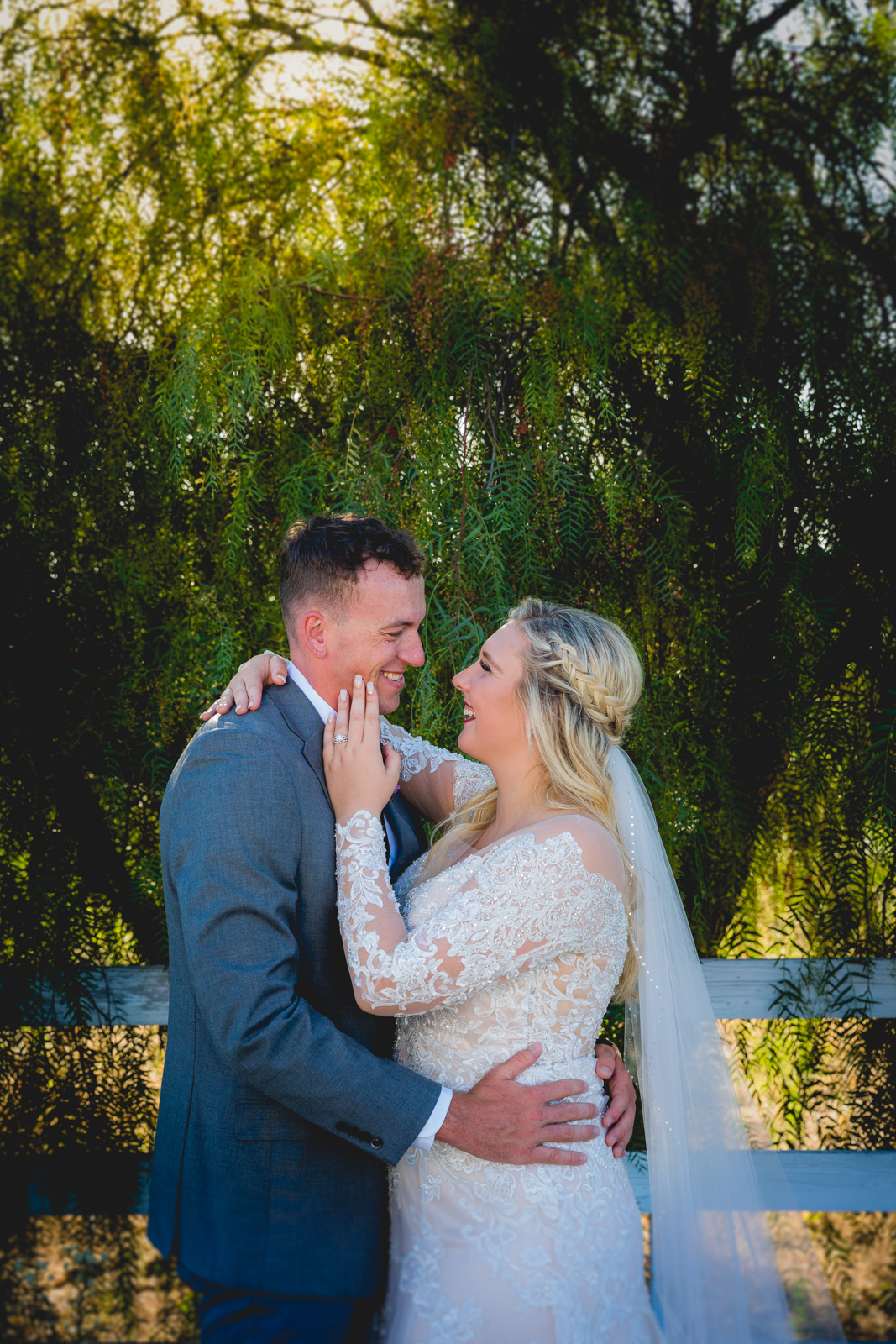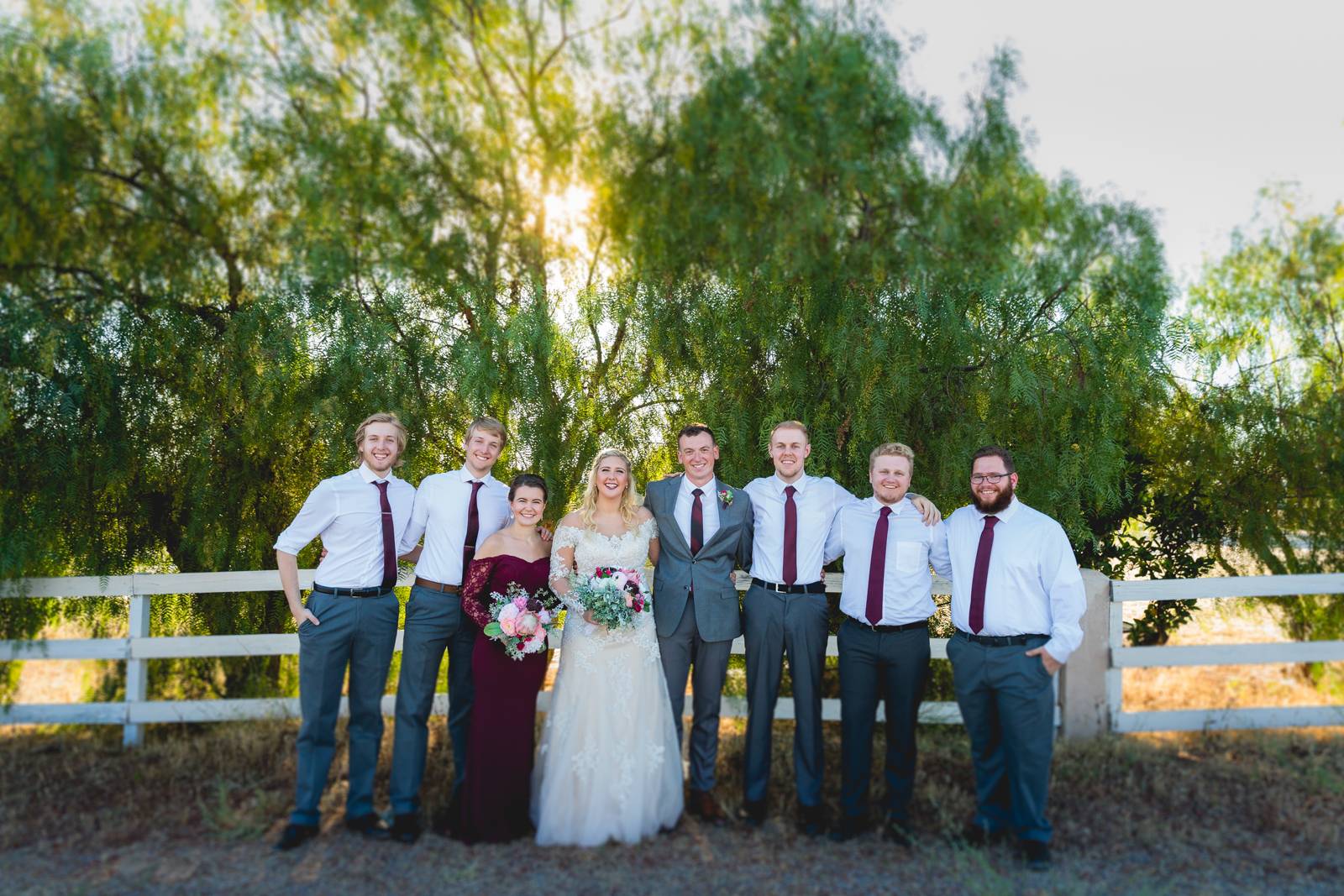 DESCRIBE YOUR WEDDING FLOWERS: COVID-19 changed our wedding plans drastically, so we had to cancel our original plans and go to a private residence near Sam's base. Thankfully, Sarah, from Simply Glamorous Florals & Event Design, created a couple of gorgeous silk bouquets, some gold geometric terrariums with flowers, and strands of greenery for centerpieces that we were able to ship to our destination! I loved working with her and wanted her to keep our business, so I was thrilled she was willing to work outside the norm to do this for us. She typically works with fresh floral, but the silks looked amazing! I was very happy with how it all turned out. To add a funny note, my twin brothers stood up for me, along with my best friend, who was my maid of honor. My friend didn't want to hold both of our bouquets, so she turned and gave one to my brother, who graciously held it through the entire ceremony.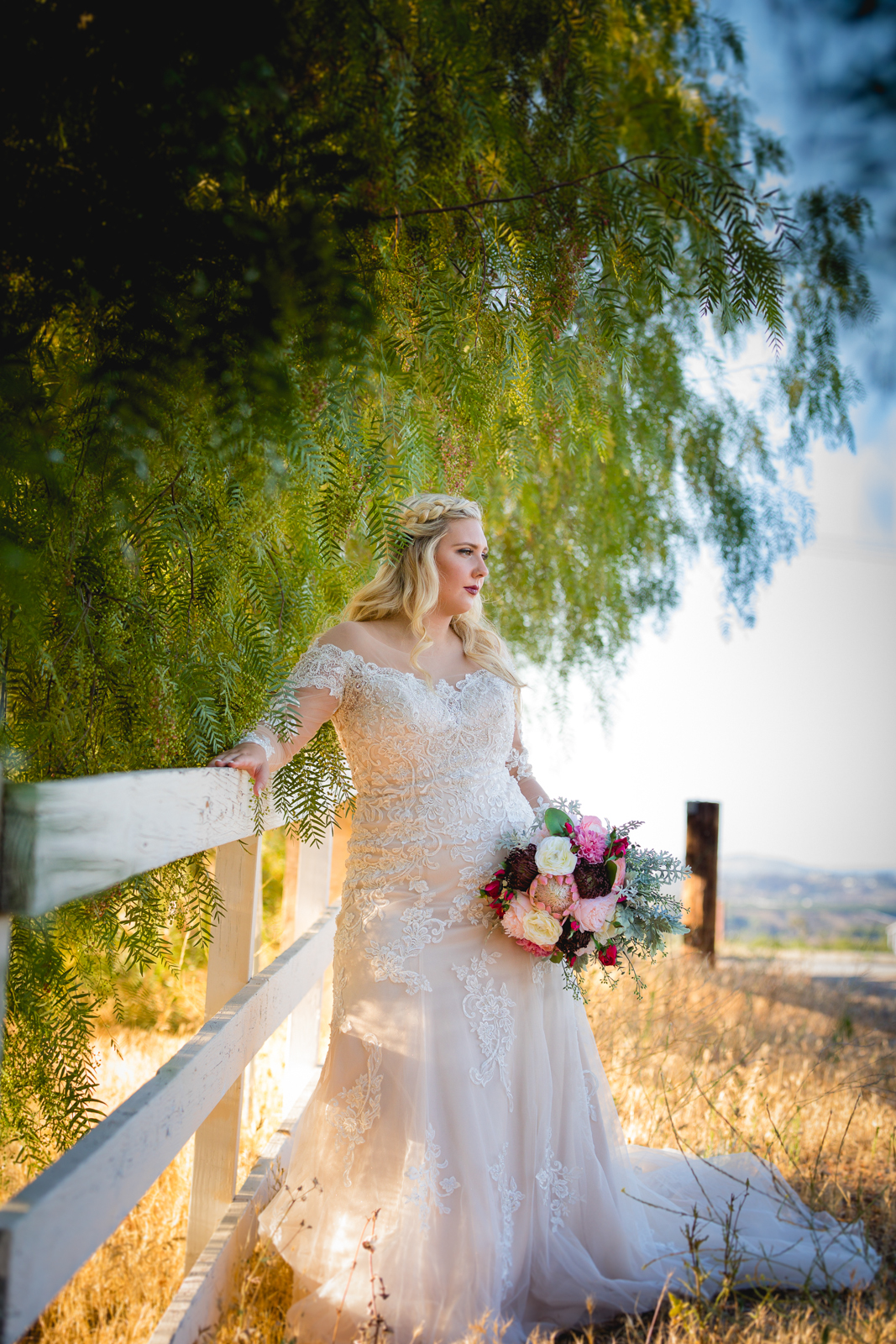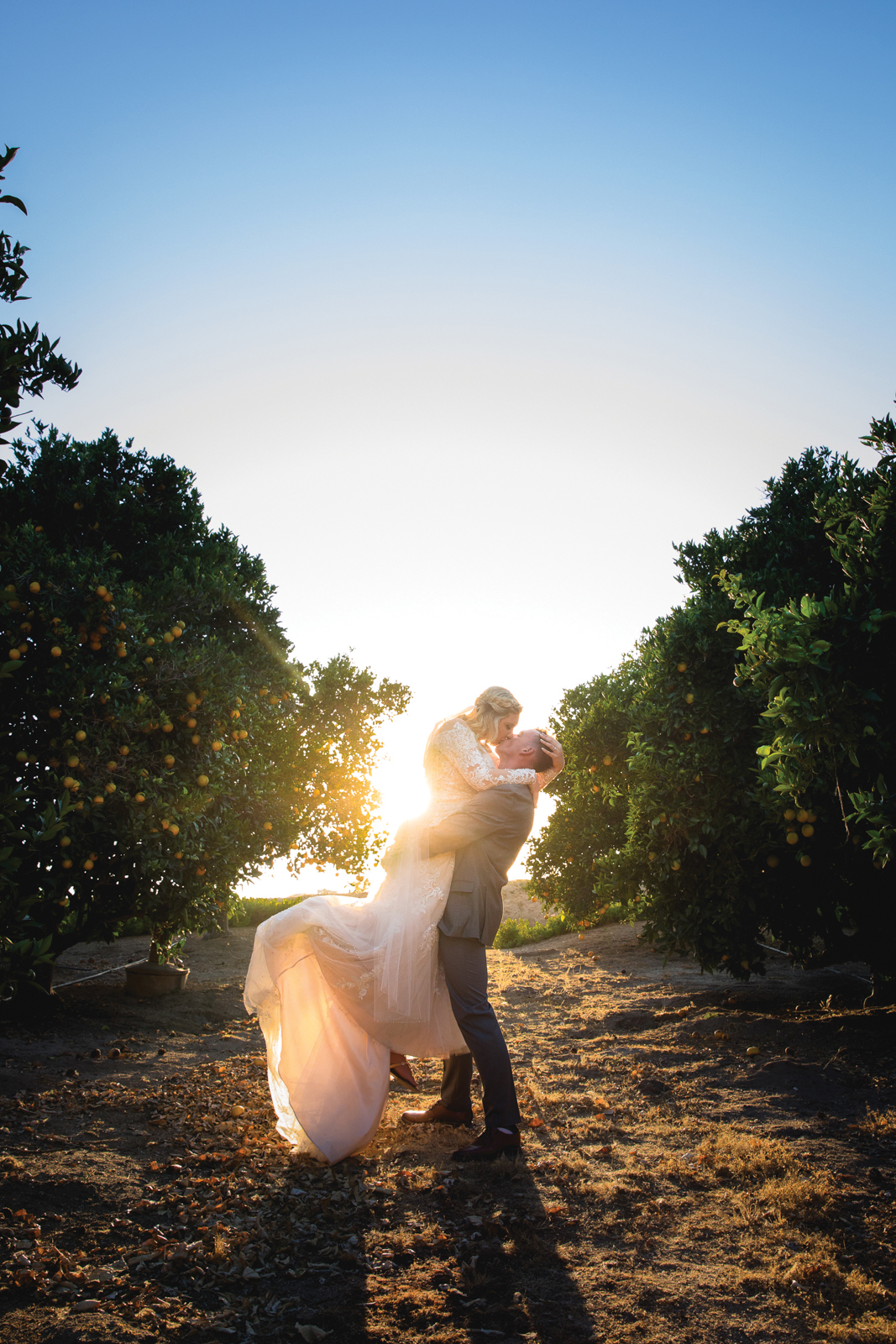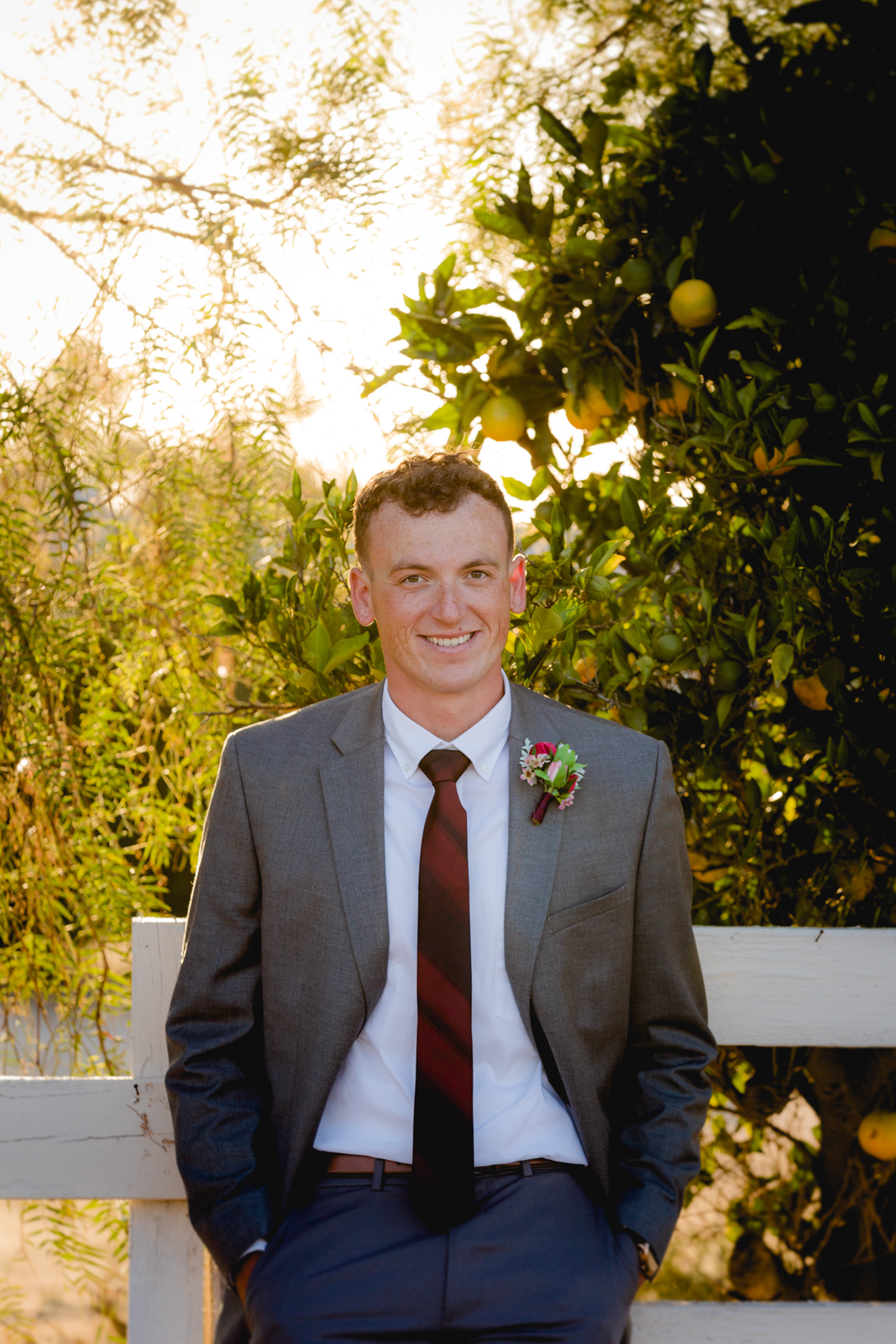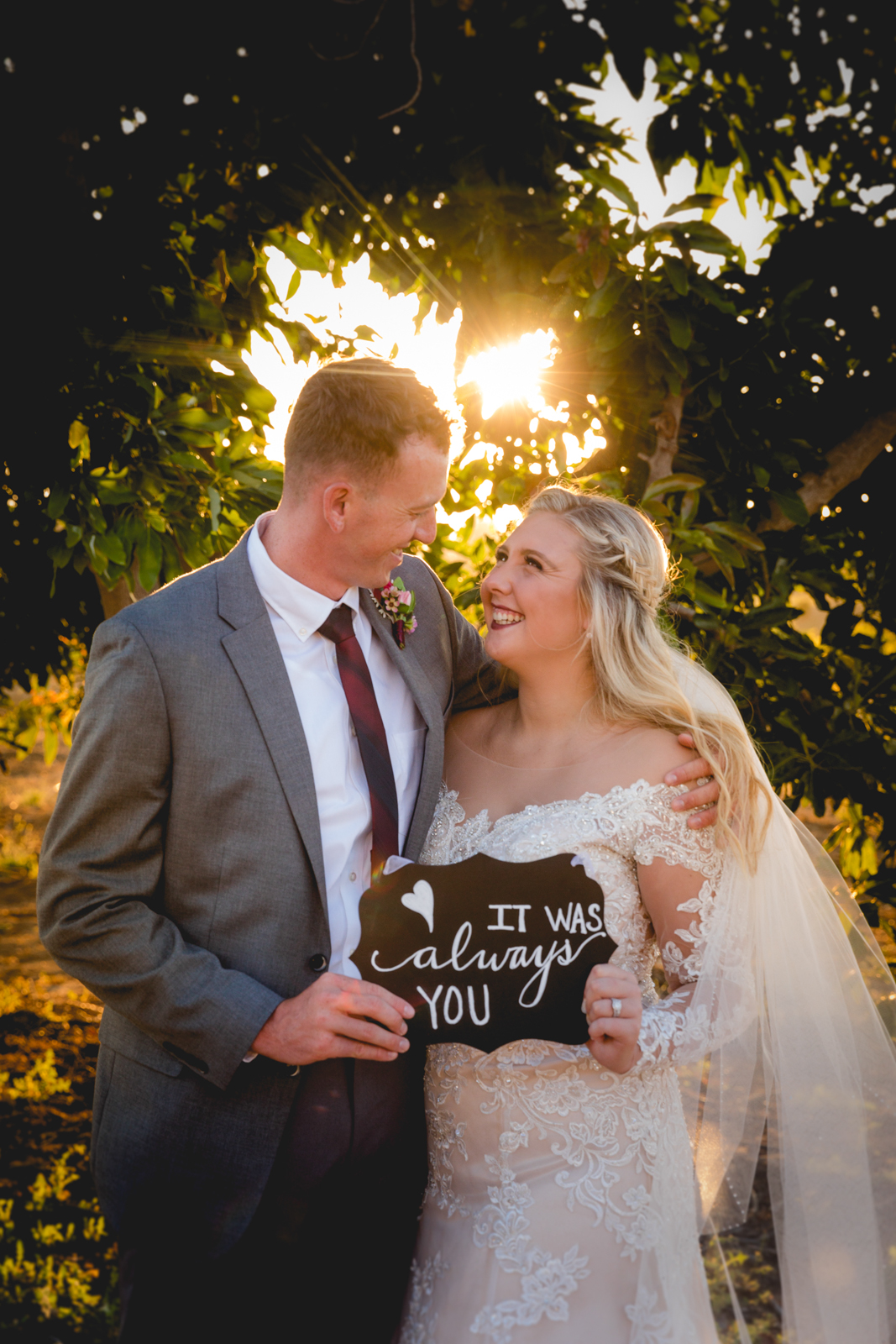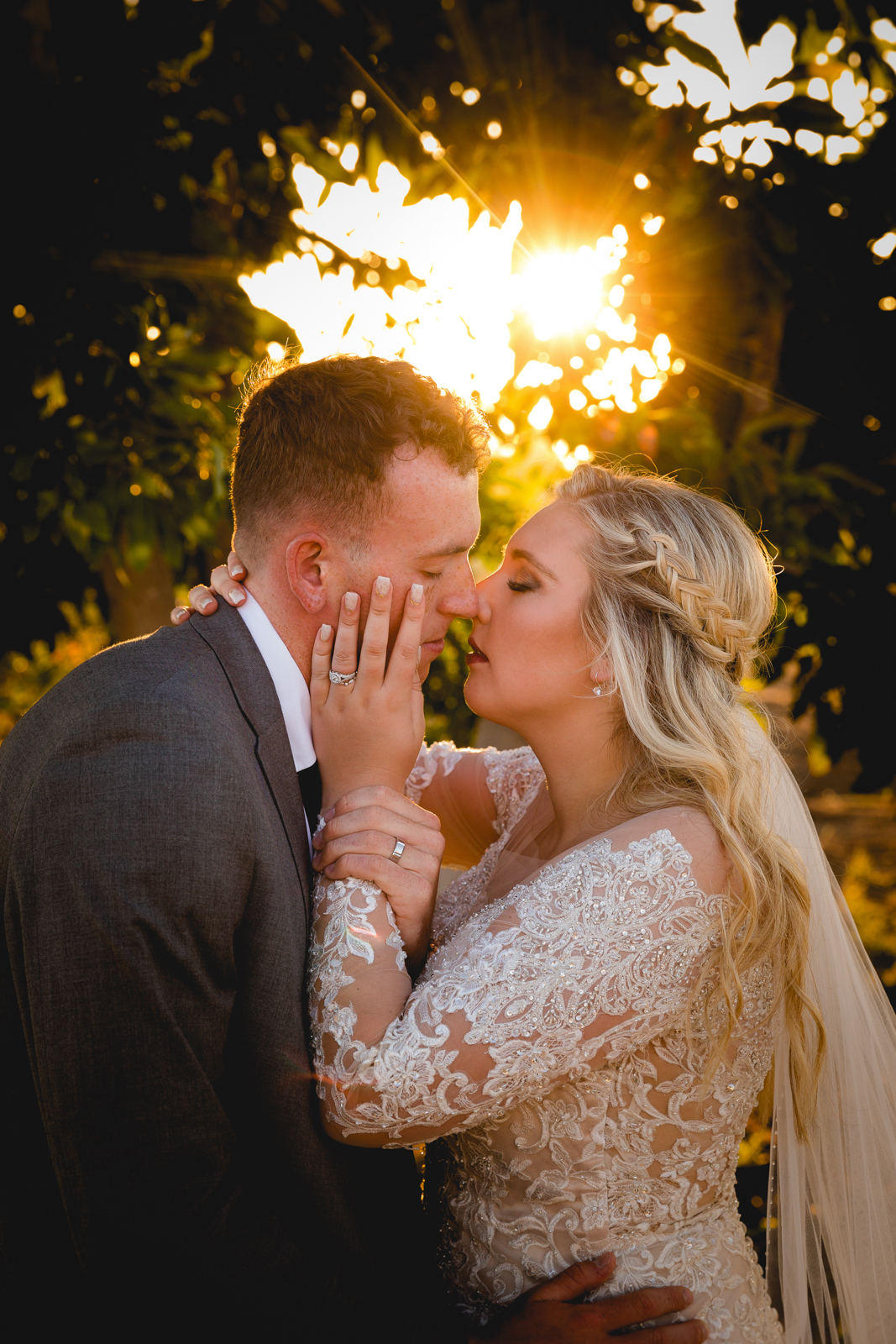 WHAT WAS YOUR INSPIRATION/DESIGN CONCEPT FOR YOUR OVERALL CEREMONY AND RECEPTION DECOR? With a two week turn around due to COVID-19 complications, we went from a modern meets rustic vibe at a local barn to a small, backyard, poolside destination wedding. I stuck with my color palette but had a small, elegant ceremony with chiffon drapery and gold Chiavari chairs. I also had a long chic reception table, poolside, for our small gathering of parents and the wedding party.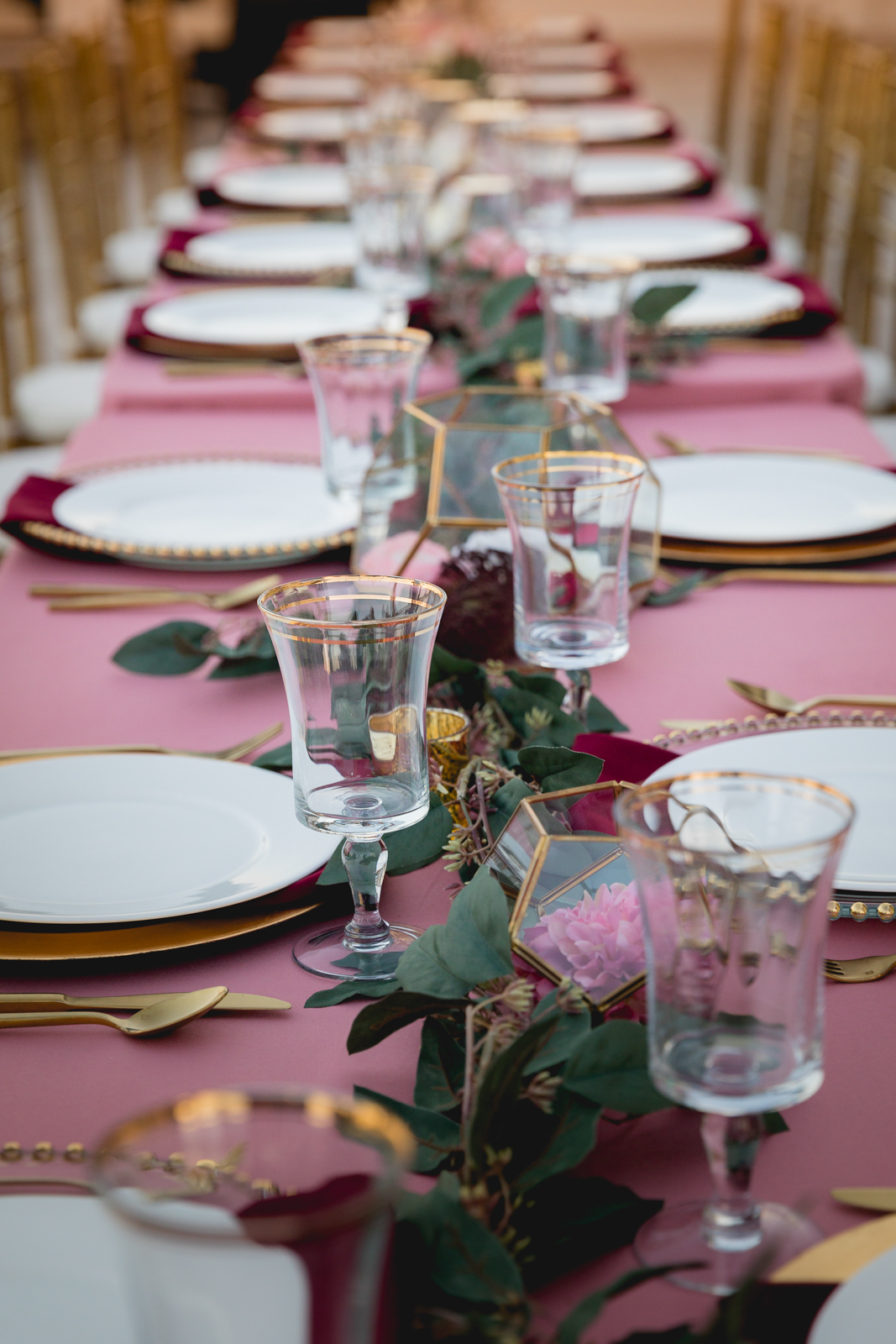 DID YOU USE ANY SPECIALTY CHAIRS, LINENS, CHARGERS, GLASSWARE, OR DINNERWARE? We rented the linens and drapery from Event Essentials, and they graciously allowed us to ship them to our destination due to the circumstances. Some of the more oversized and fragile items, such as tables, chairs, tableware, and glassware, were rented from a company near our wedding destination. Simply Glamorous Rentals & Event Design had some gold chargers that we shipped, we rented glass chargers with gold details and alternated the place settings. I had my heart set on the glass and gold chargers, as I was initially supposed to get those from Event Essentials but didn't want to ship all that glass.
TELL US ABOUT THE FOOD, DESSERT, AND ANY SPECIALTY BEVERAGES ON THE MENU: Dinner for 20 was all we needed, due to slimming down our guest count; however, it was the 4th of July, as that's when Sam could get leave, and we were in the middle of a pandemic, so that was somewhat of a challenge. We found Dickey's BBQ, willing to accommodate our needs with pulled pork, brisket, and some sides; mac and cheese being my fave! And for the dessert, going back to the engagement story, yup, Cold Stone Creamery! Guests had cake batter ice cream (their pick), with various toppings, while Sam and I had a small ice cream cake dripped in chocolate, as I still wanted to do the whole cake cutting and feeding each other tradition.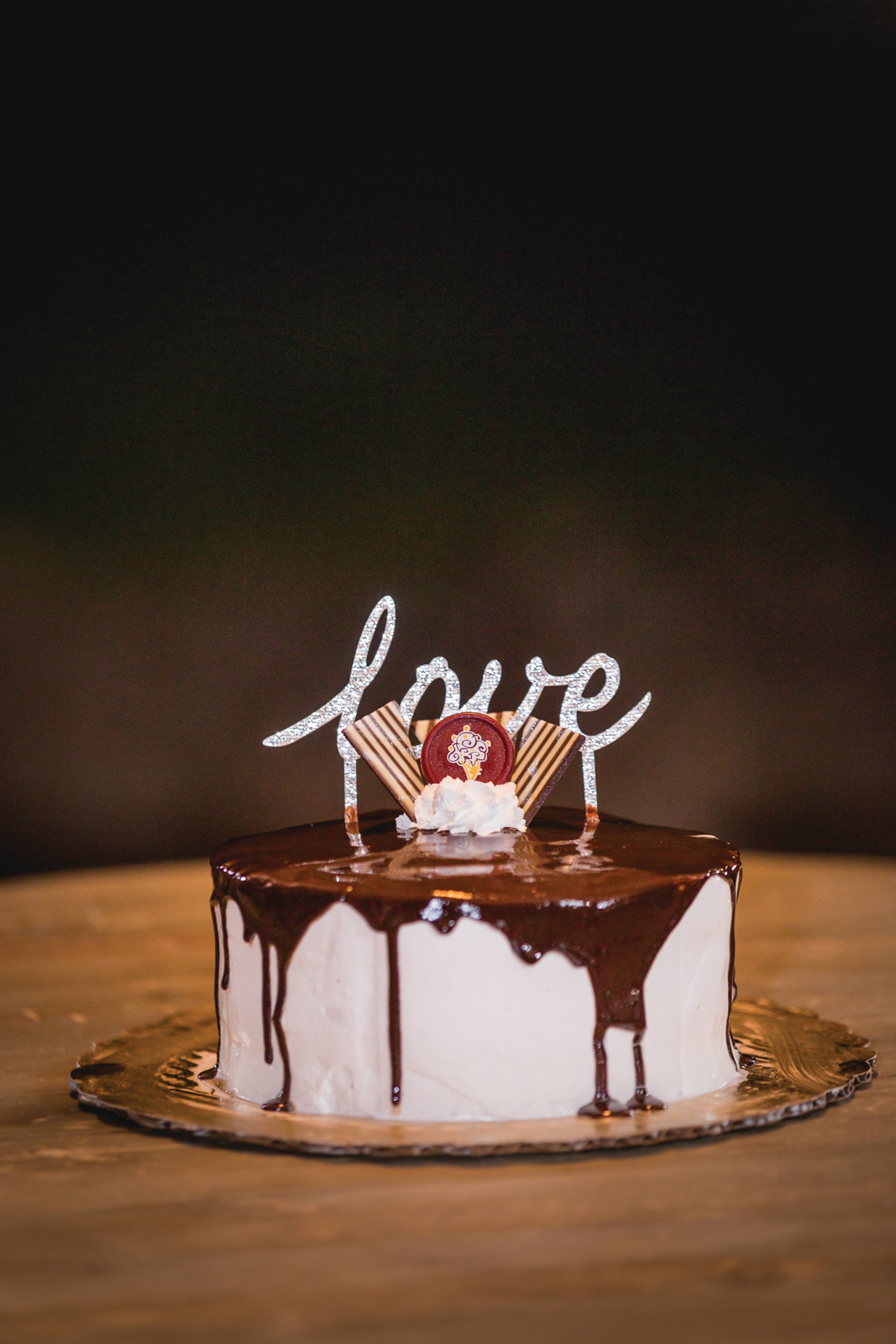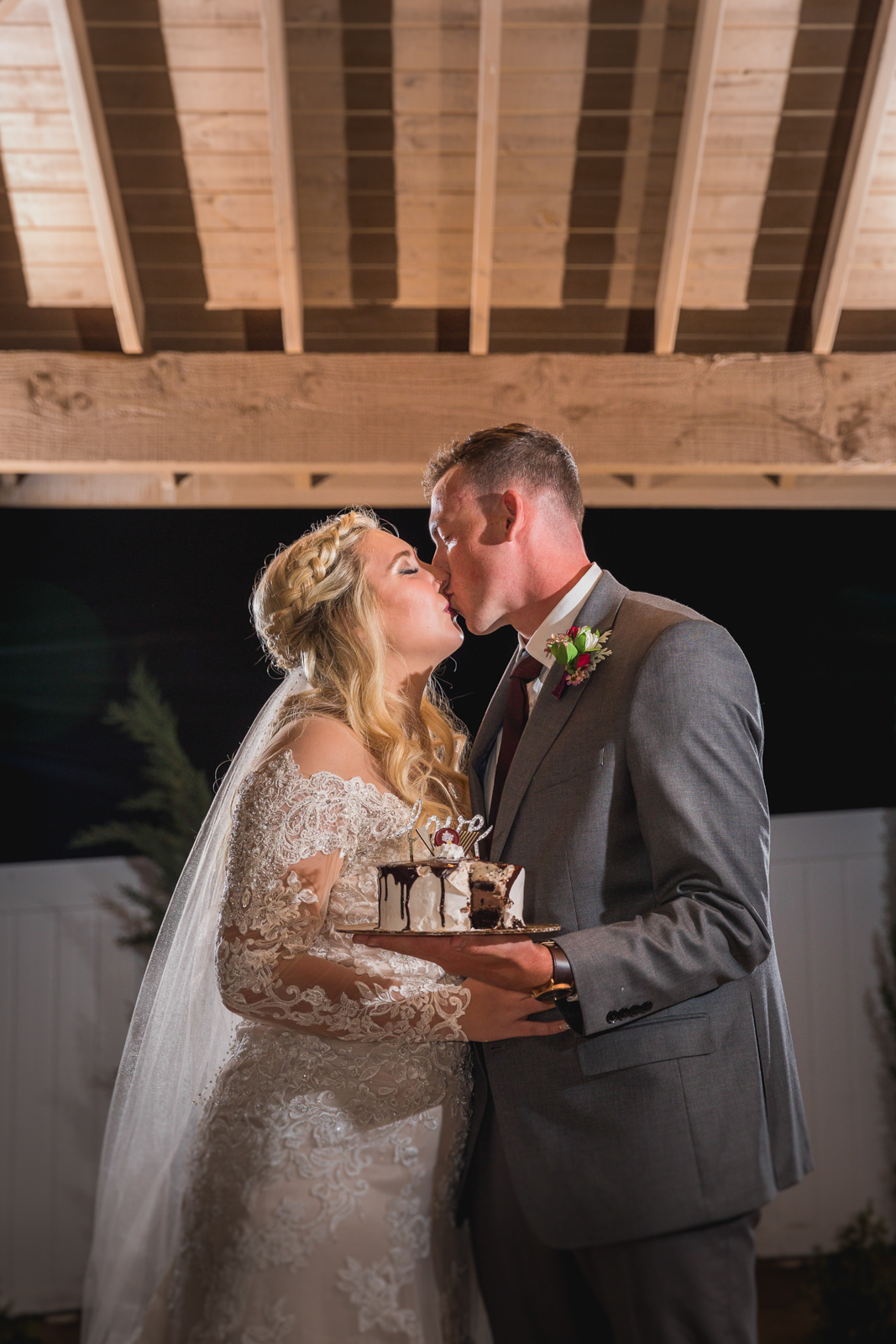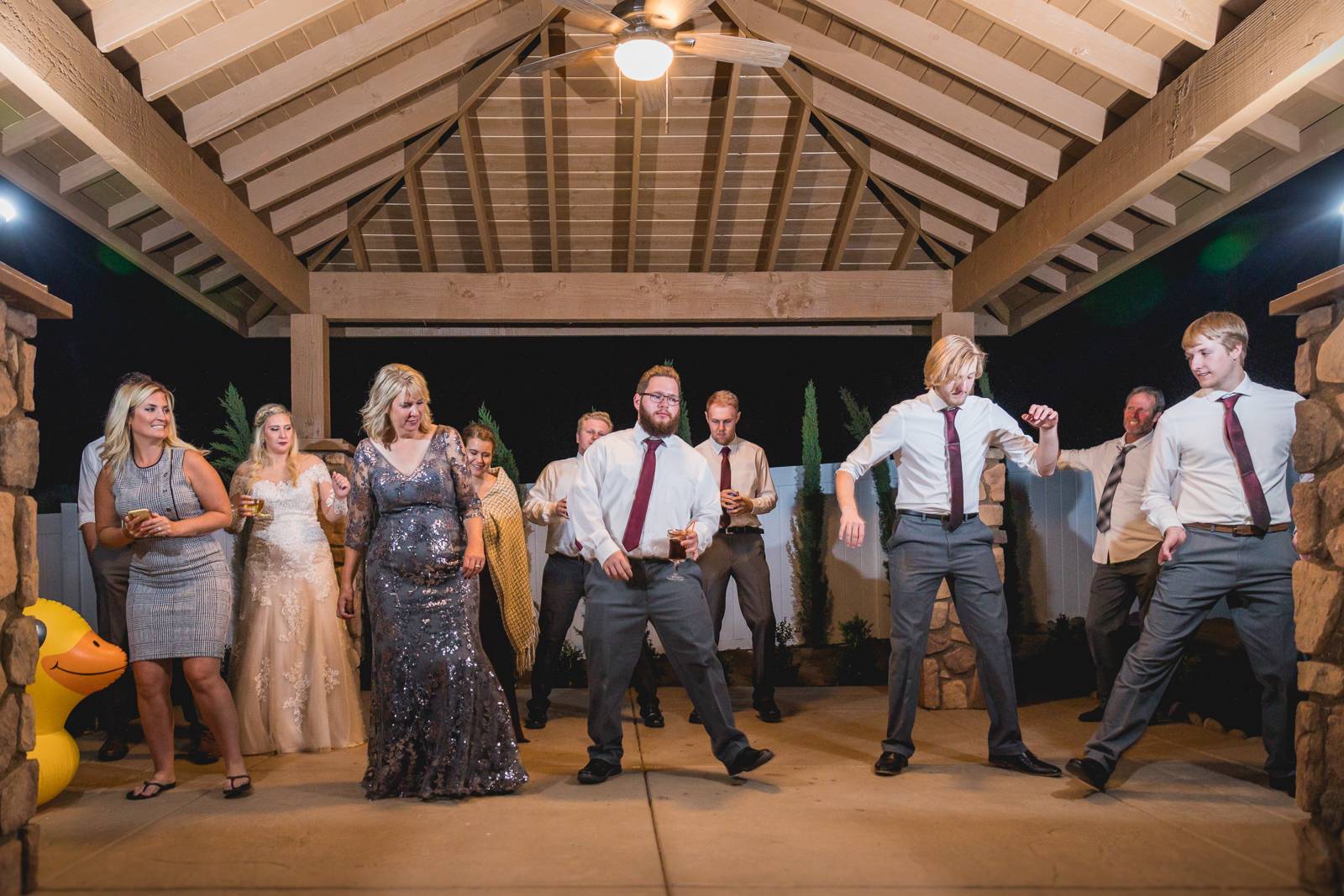 WHAT WAS YOUR FAVORITE MOMENT FROM YOUR WEDDING? The change to a smaller wedding allowed us to splurge on a hot air balloon ride with our family and friends. It was an amazing experience! And if I can pick a second favorite moment, it would be jumping into the pool at the end of the night with my groom and wedding party! It was a much needed COVID-19 stress reliever.
TELL US ABOUT YOUR HONEYMOON PLANS: Sam recently had an extended weekend leave, so we went back to Temecula, where we got married and stayed in a Resort & Spa as well as a wine tasting tour through wine country.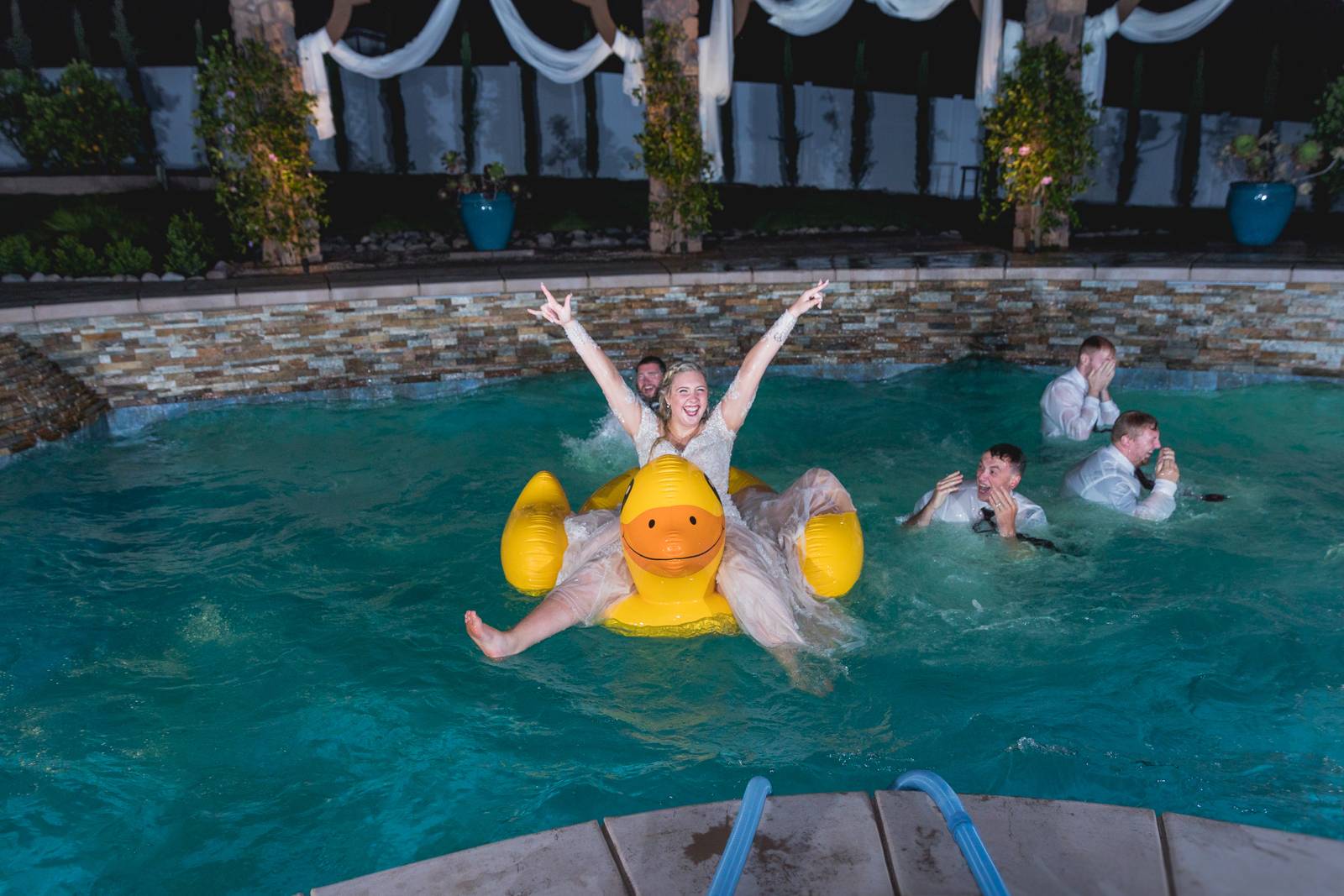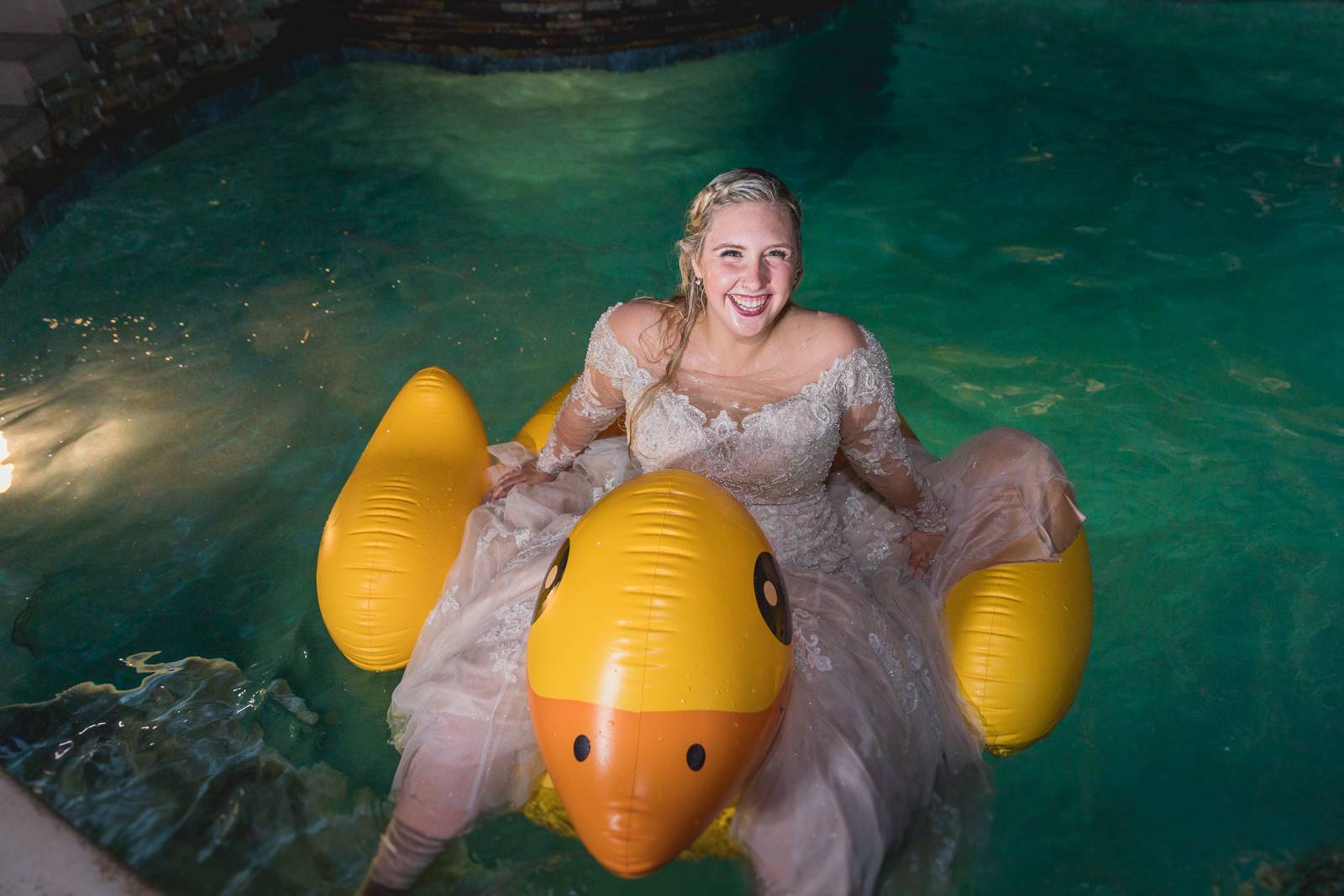 WHAT DOES LIFE LOOK LIKE AFTER THE WEDDING? We currently live in California, with plans of moving soon due to the military. We don't exactly know where the road will lead us, but we're together. In the end, it's almost the same, but I'm now married to my best friend.
ANY WEDDING PLANNING REGRETS OR SOMETHING YOU WOULD DO DIFFERENTLY? I wish we would've had a DJ. I thought because the wedding was so small we could do it ourselves. There was a little "oops" during the ceremony music, and after the reception, I was ready to dance, so I would have really loved someone with experience to run the music!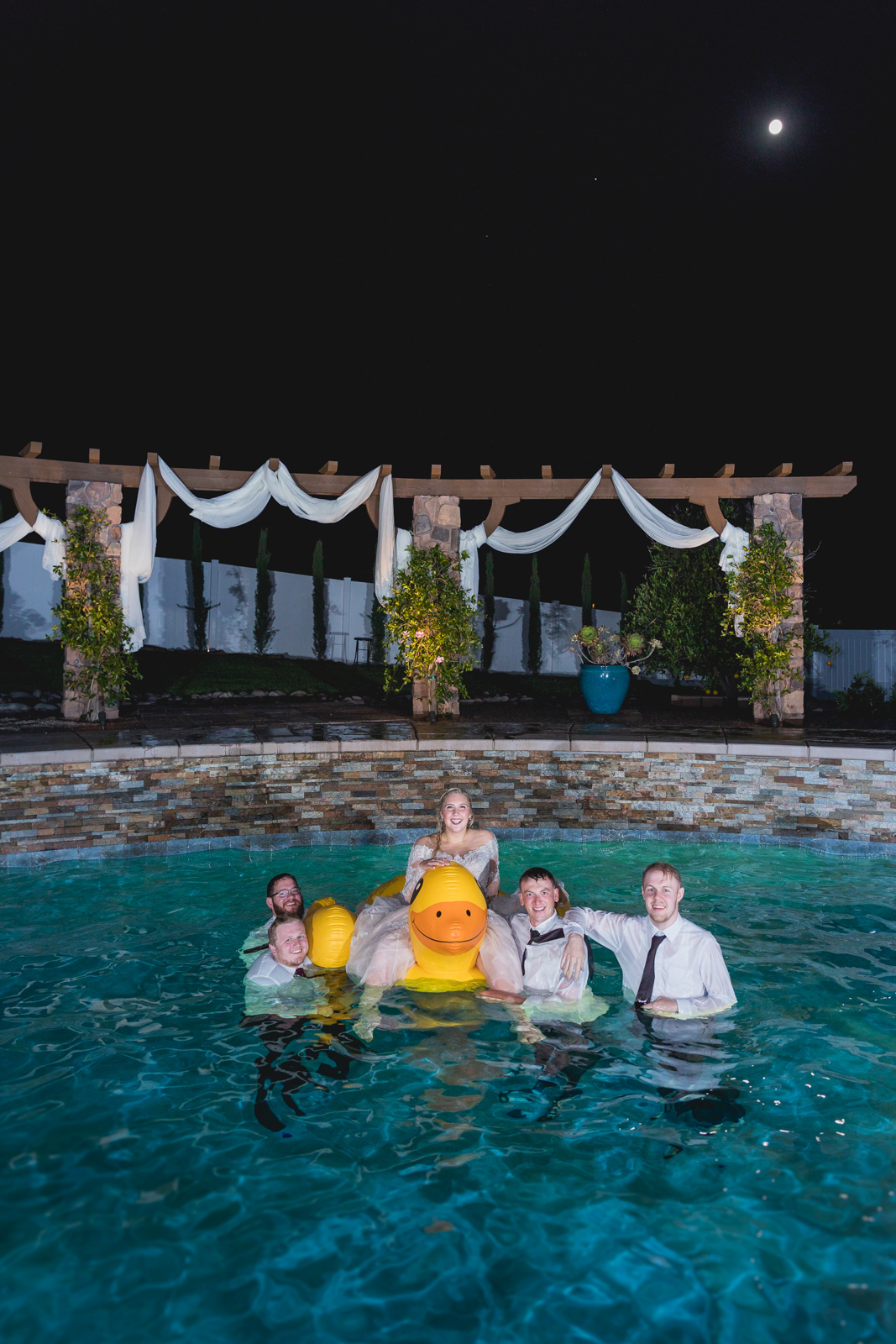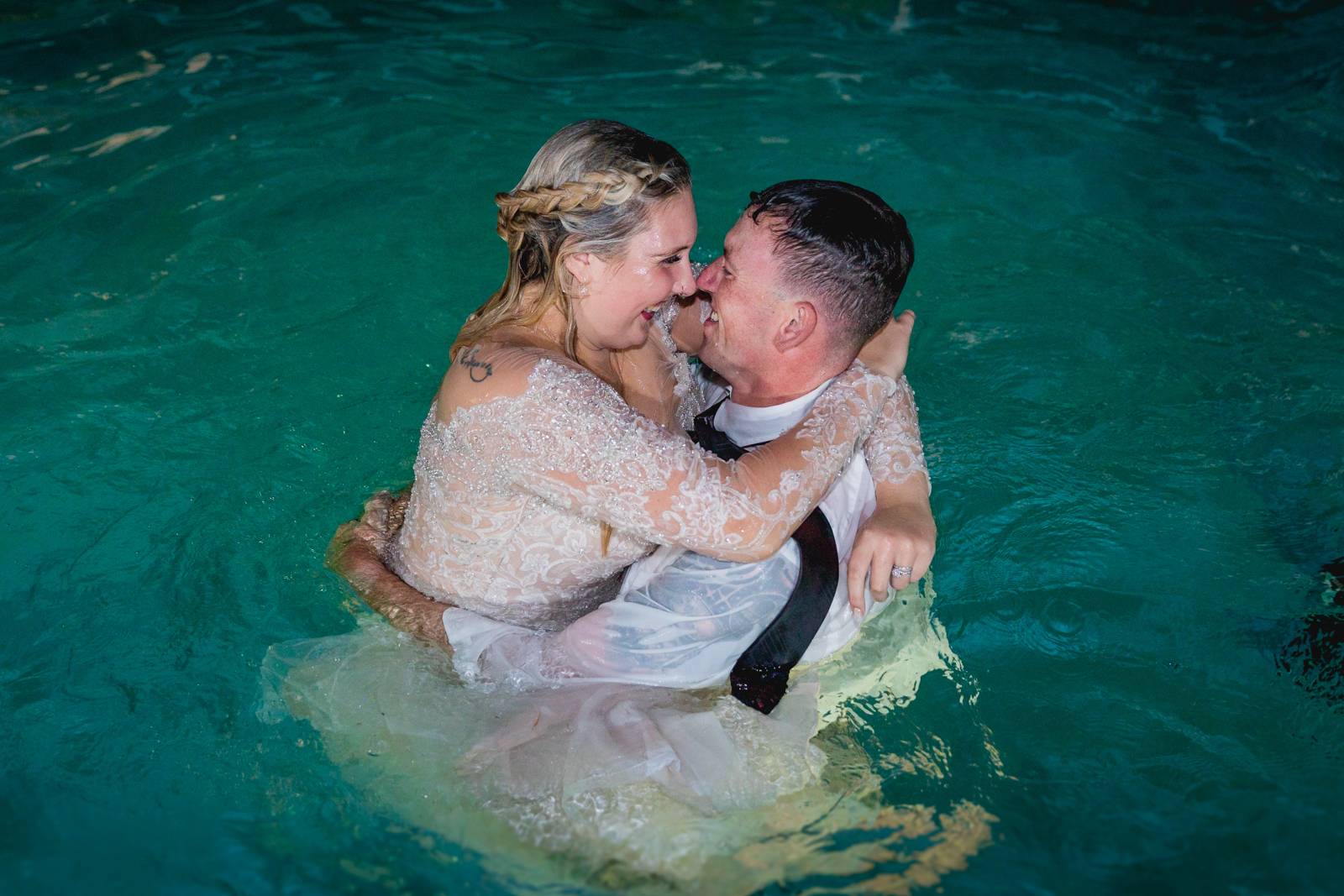 IS THERE ANY ADVICE YOU'D GIVE TO OTHER COUPLES PLANNING THEIR WEDDING? At first, I was heartbroken that my dream wedding was canceled due to travel restrictions for the groom related to COVID-19. In the end, though, we had an amazing week and wedding with a small group of family and friends, memories I'll never forget, and we're married!! Although it might not be what you originally planned, it will be magical! It's not always the big party that matters; it's being married to your person at the end of the day!