An elegant affair with metallic tones, this glam wedding from Abbots Lane is sure to inspire your upcoming affair. Metallics are just one of those trends I sure hope doesn't ever go out of style! From gorgeous chic blush and white blooms, gold chargers, and metallic bridesmaid dresses, we couldn't love this more. So bust out the bubbly and cheers to love and the weekend!
WEDDING DATE: October 1, 2016
HOW DID YOU MEET? It doesn't get any more romantic than this...we met at a funeral home. No, really. A funeral home in Madison. Luke was a newly licensed funeral director, and Emma was an apprentice funeral director. Talk about an attention-getting first chapter in a love story!
HOW DID YOU KNOW HE WAS "THE ONE?" Everyone talks about that feeling when you know someone is "the one," and to be honest, I had that feeling the day I met Luke. I felt an instant spark and remember having the thought cross my mind..."oh my gosh, I think I'm going to marry this man."
TELL US ABOUT YOUR PROPOSAL: It was a quick getaway to Madison during the week under the pretense of celebrating Emma's birthday on May 6, 2015. Luke insisted on walking to the rooftop of Monona Terrace. The view of Lake Monona was picture perfect. Luke stepped back, and as Emma turned to Luke, she realized that Luke had dropped to his knee. A ring appeared, and Luke posed the question, "Will you make me the happiest man and be my wife?" Between tears of joy and happiness, Emma answered, "Yes!" The rest is a blur for both of us. How fitting that we said our "I Do's" on that very rooftop, just steps away from where Luke proposed.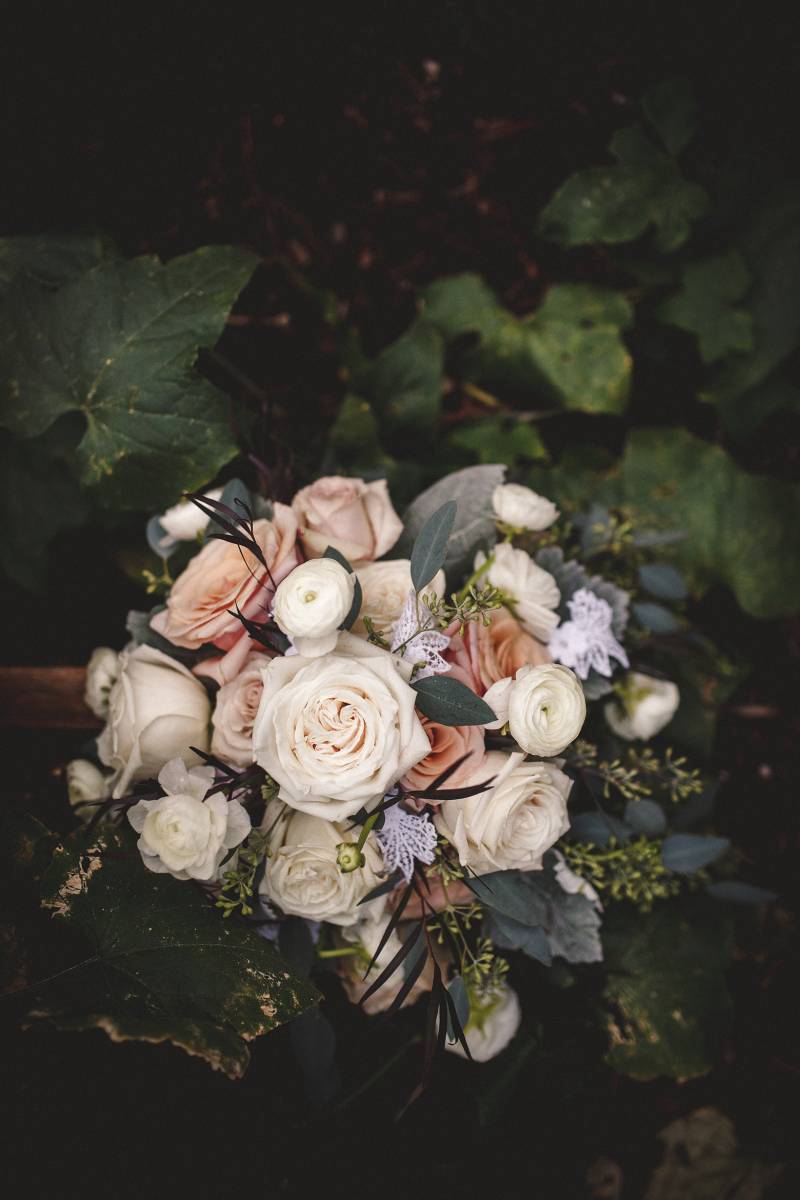 DESCRIBE YOUR WEDDING FLOWERS: The groom and his attendants had succulents in their boutonnieres, and my bridesmaids and I had a blend of blush and whites with cascading greens in our bouquets.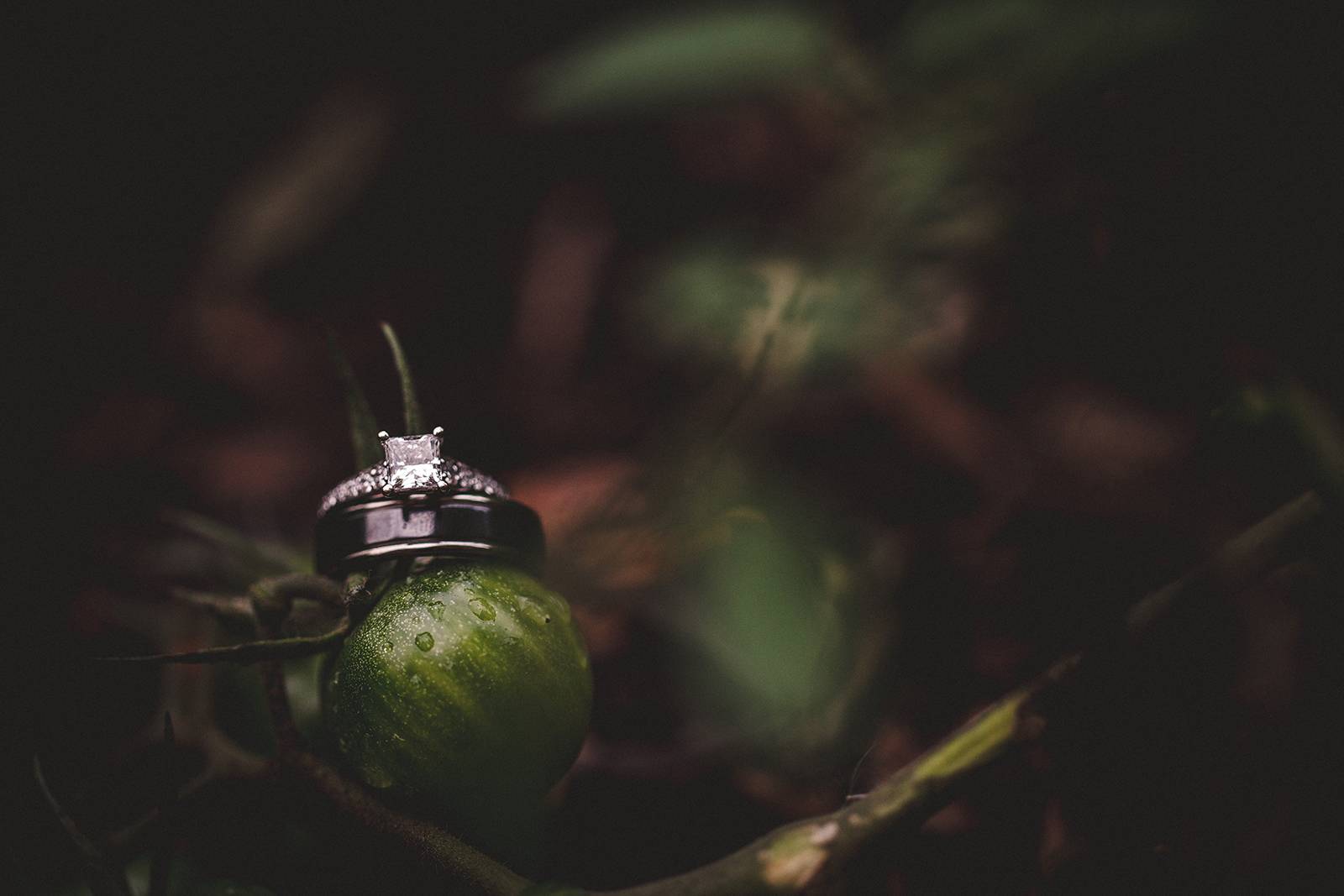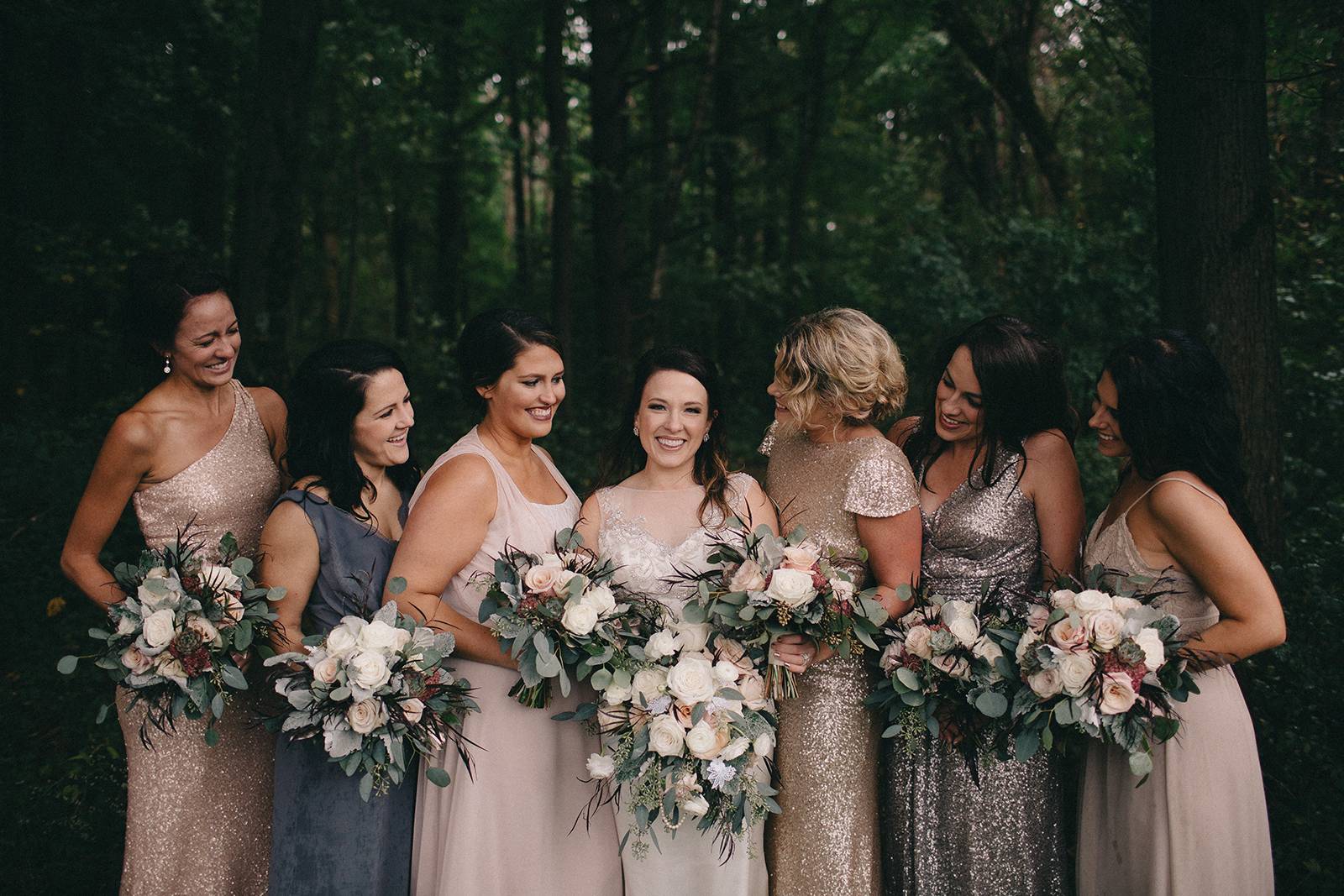 TELL US ABOUT YOUR DRESS: I'm short and petite, so my goal was to find a dress to help make me look taller, and stay petite! As soon as I tried on a bridal veil with THE dress at Vera's, I knew it was the one...cue the tears! A beautiful beaded top with a sheer overlay, and a silk bottom with a low-cut V-back and train. Simple and stunning!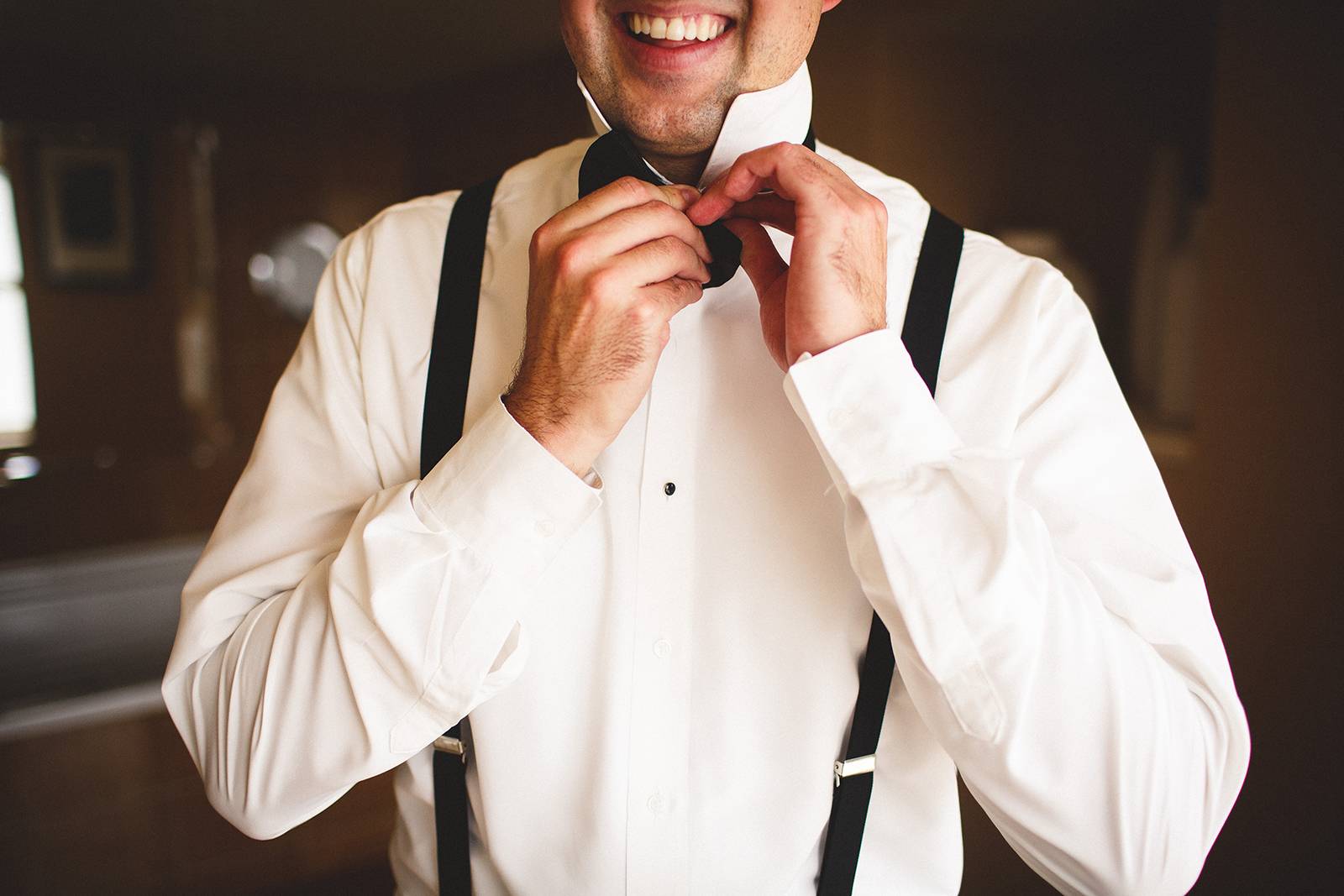 WERE THERE ANY PERSONAL TOUCHES OR DIY ELEMENTS? The groom and his attendants wore Badger socks, as Luke is a die-hard Badger fan. My bridal bouquet incorporated lace flowers from my mother's wedding veil, a pearl necklace from my grandmother, and a delicately beaded angel from my namesake, great grandmother Emma. We provided "selfie sticks" at the dinner tables to encourage our guests to add pictures and video memories to our hashtag #OhBoyShesaMcCoy on Instagram and Facebook. My childhood voice teacher sang "It is You (I Have Loved)" during our wedding ceremony, and Luke's uncle served as our officiant. We wrote love letters to each other, and our parents also wrote love letters to us. The letters were placed in a wooden box along with a bottle of wine during the ceremony, with instructions from our officiant to open the box, read the letters, and open the bottle of wine on our first wedding anniversary.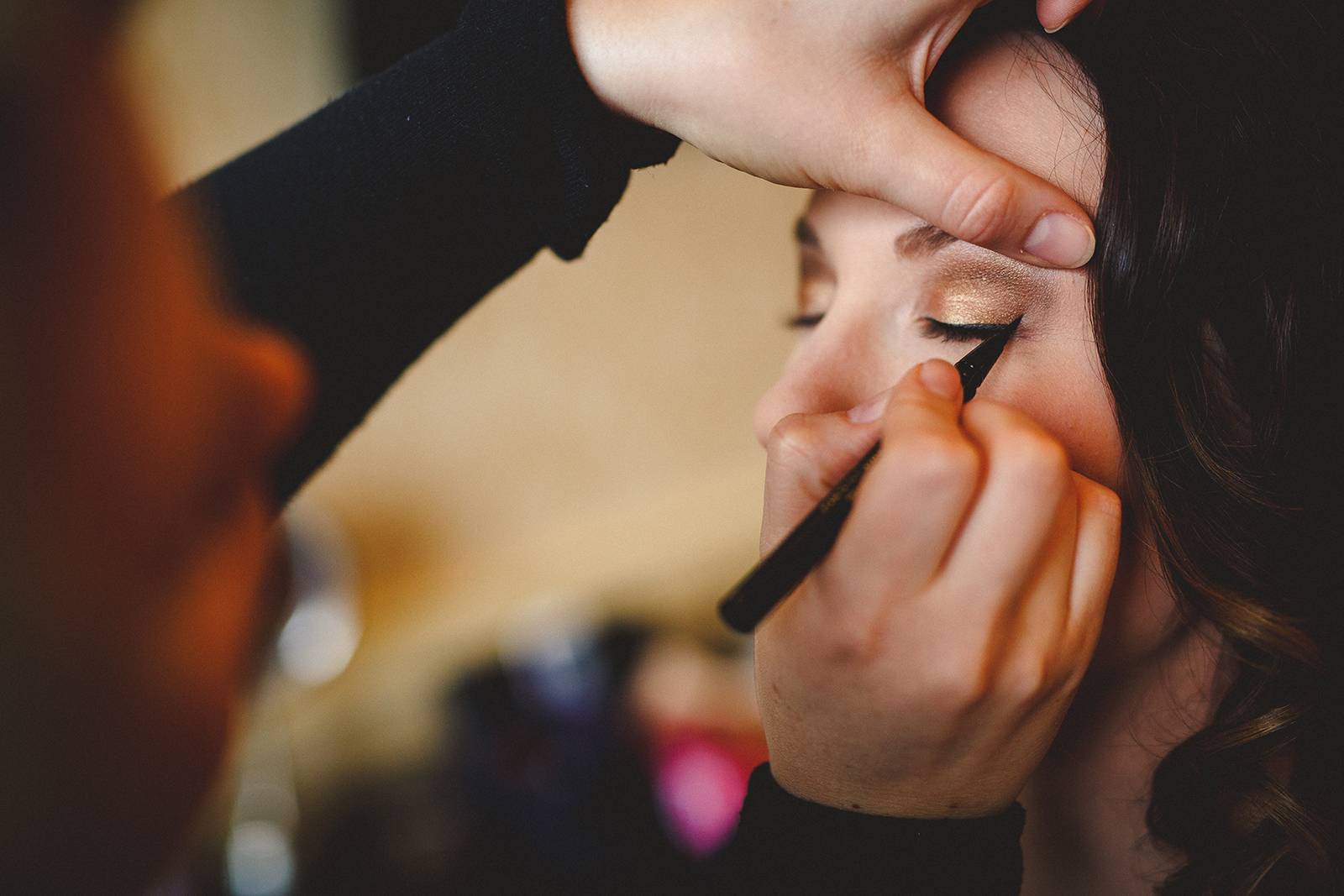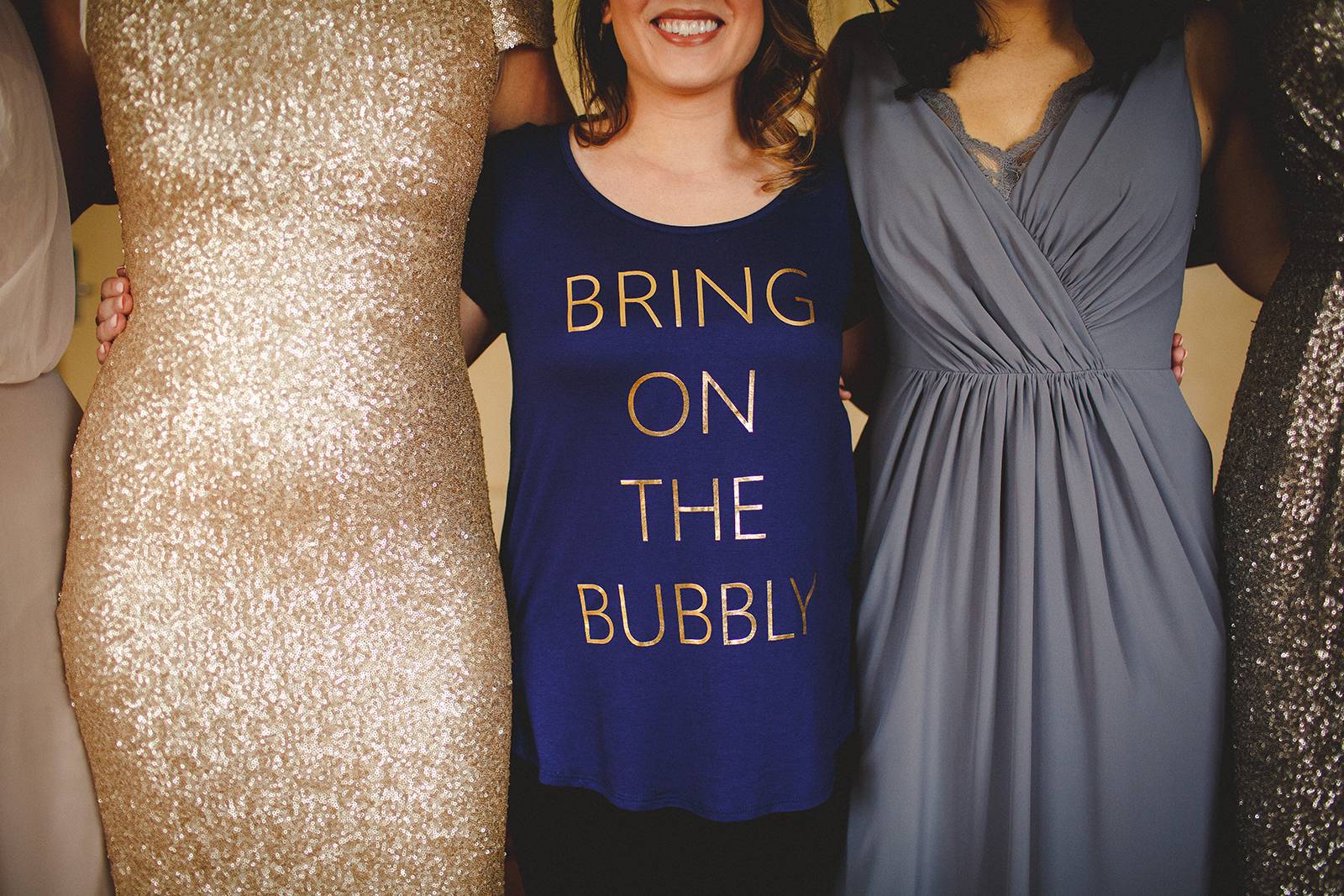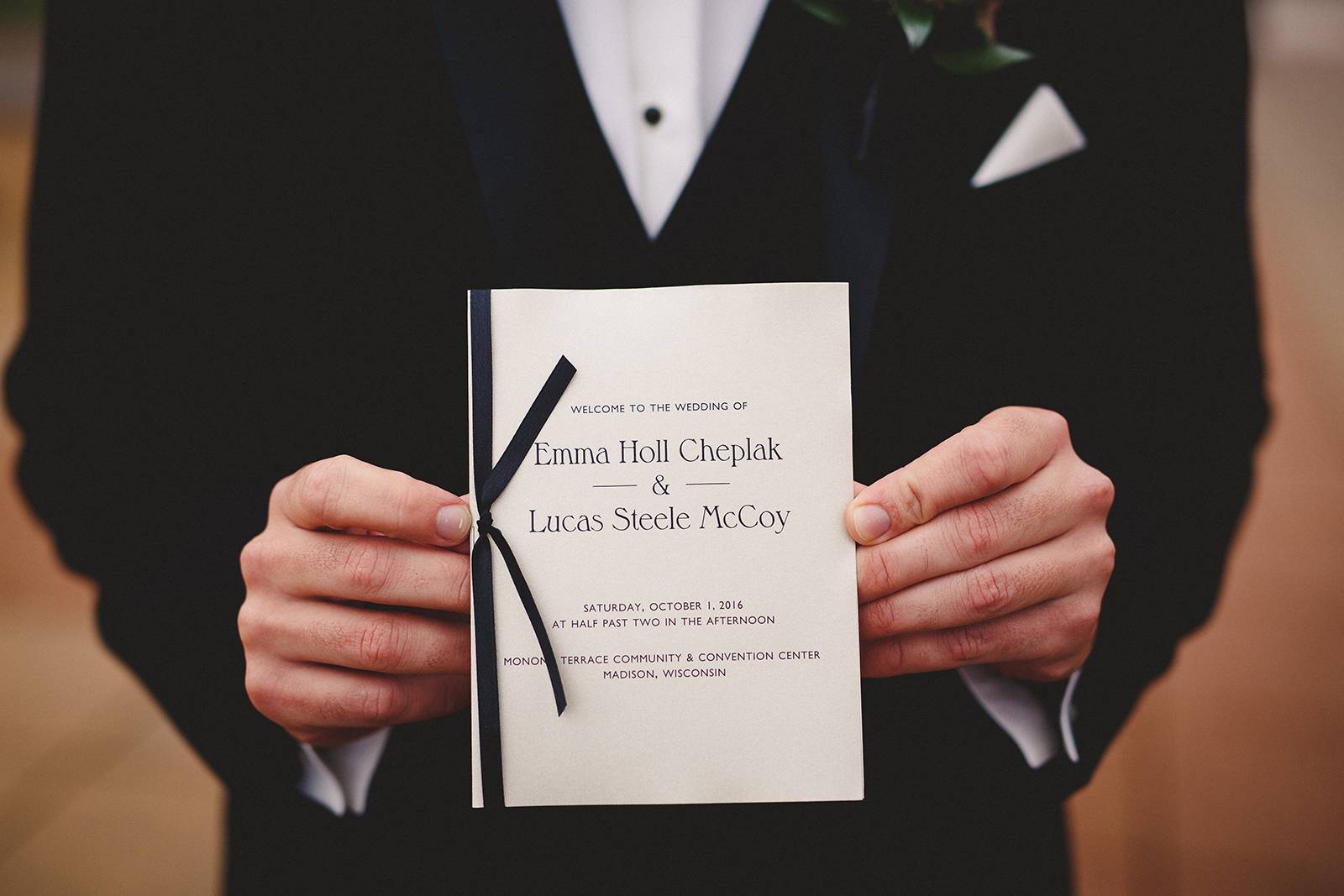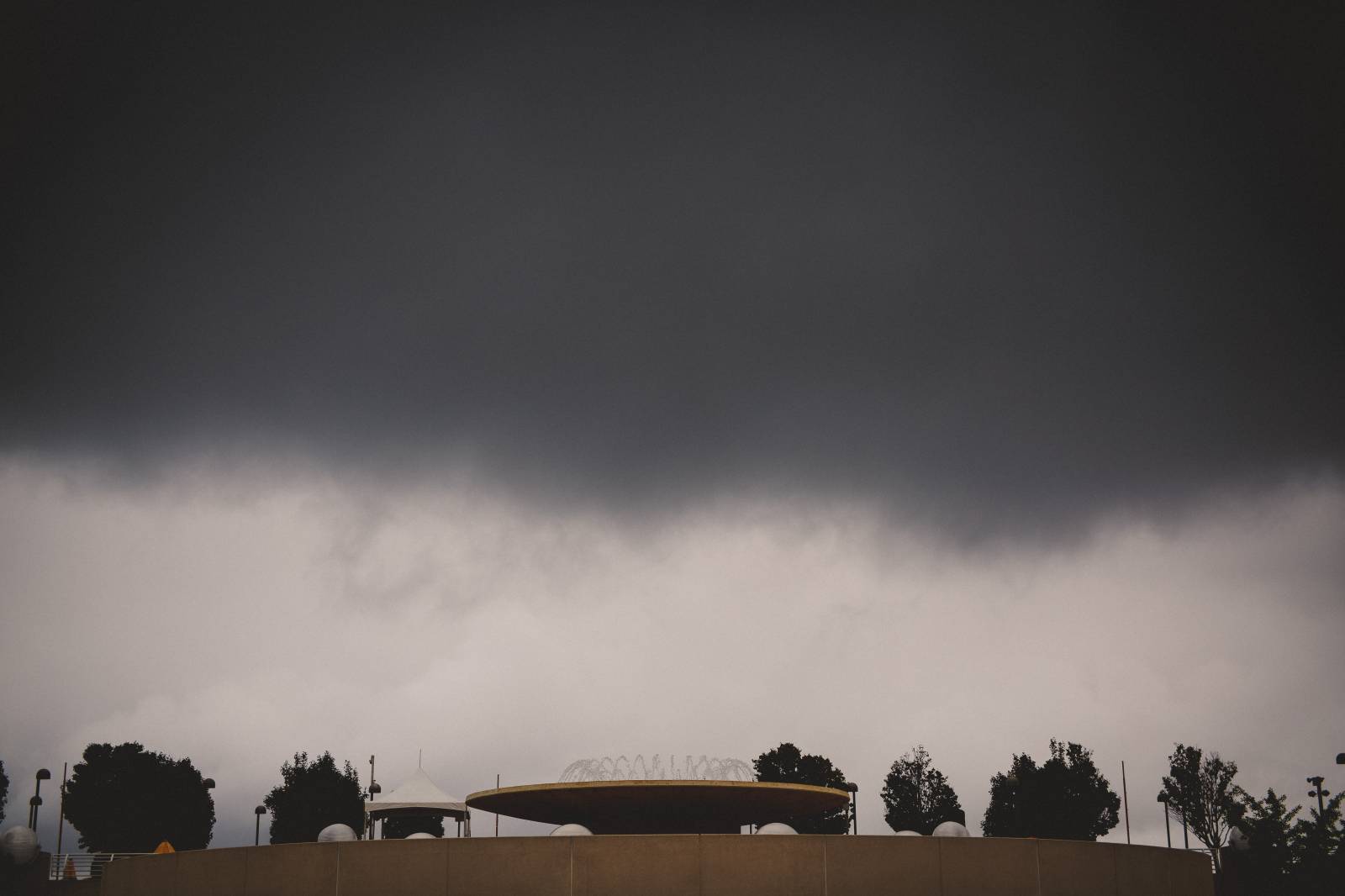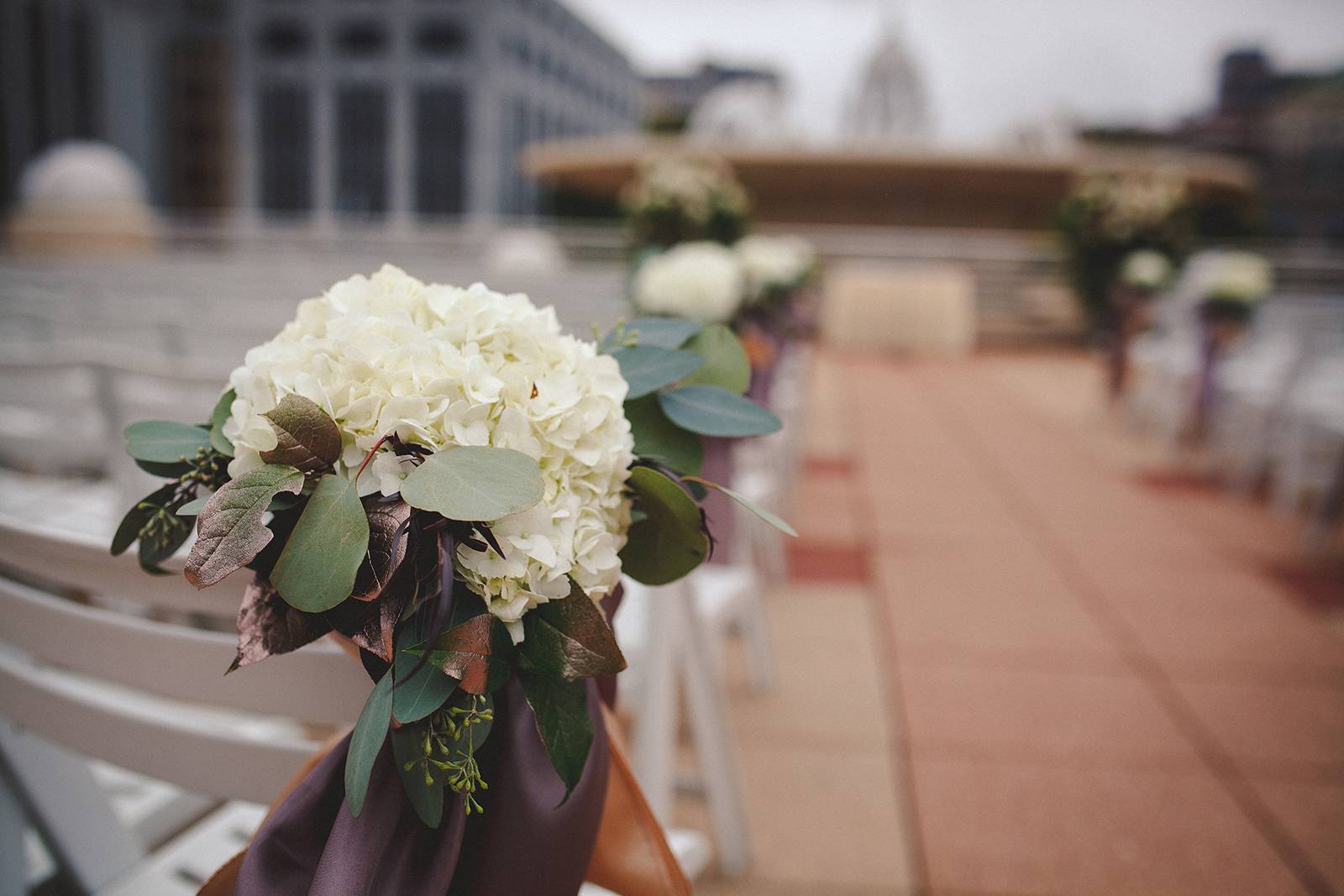 WHAT WAS YOUR FAVORITE MOMENT FROM YOUR WEDDING DAY? Oddly enough, the rain during our ceremony! As we exchanged vows of love to each other, it became clear that nothing would dampen our spirits. The rain during our ceremony made the day uniquely ours. It was a ceremony of happiness. Our recessional "Here Comes the Sun" by the Intermezzo String Quartet brought laughter and cheers from everyone. We chose a mix of classical and traditional music for the ceremony and reception and broke into a mix of contemporary and rock music with a live band called The Cheap Shots for the after-dinner dance. At one point, Luke and I took to the stage, and I sang with the band.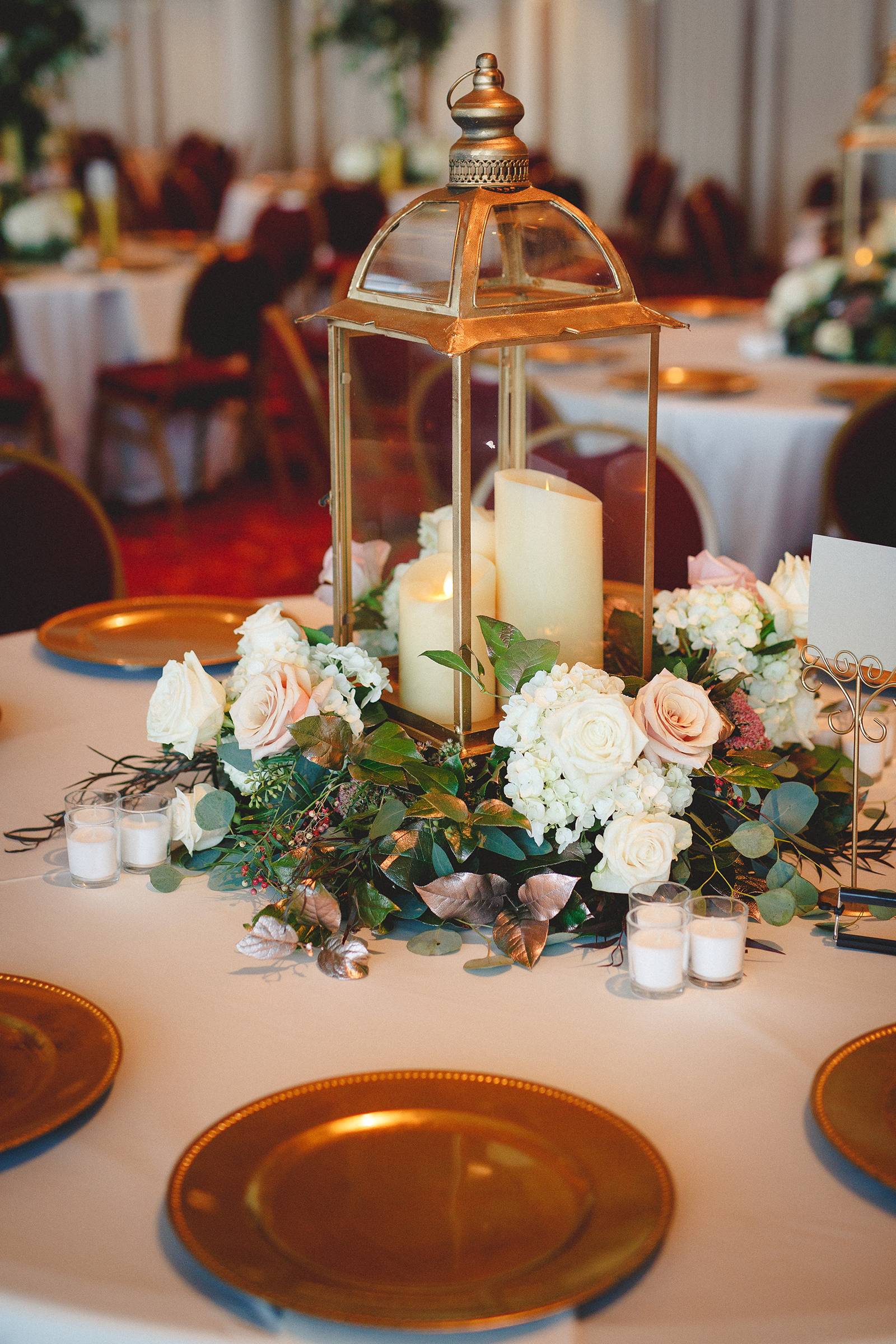 DID YOU USE ANY SPECIALTY TABLES, CHAIRS, LINENS, CHARGERS OR GLASSWARE? Gold chargers and gold table number stands tied in with the color theme of the day.