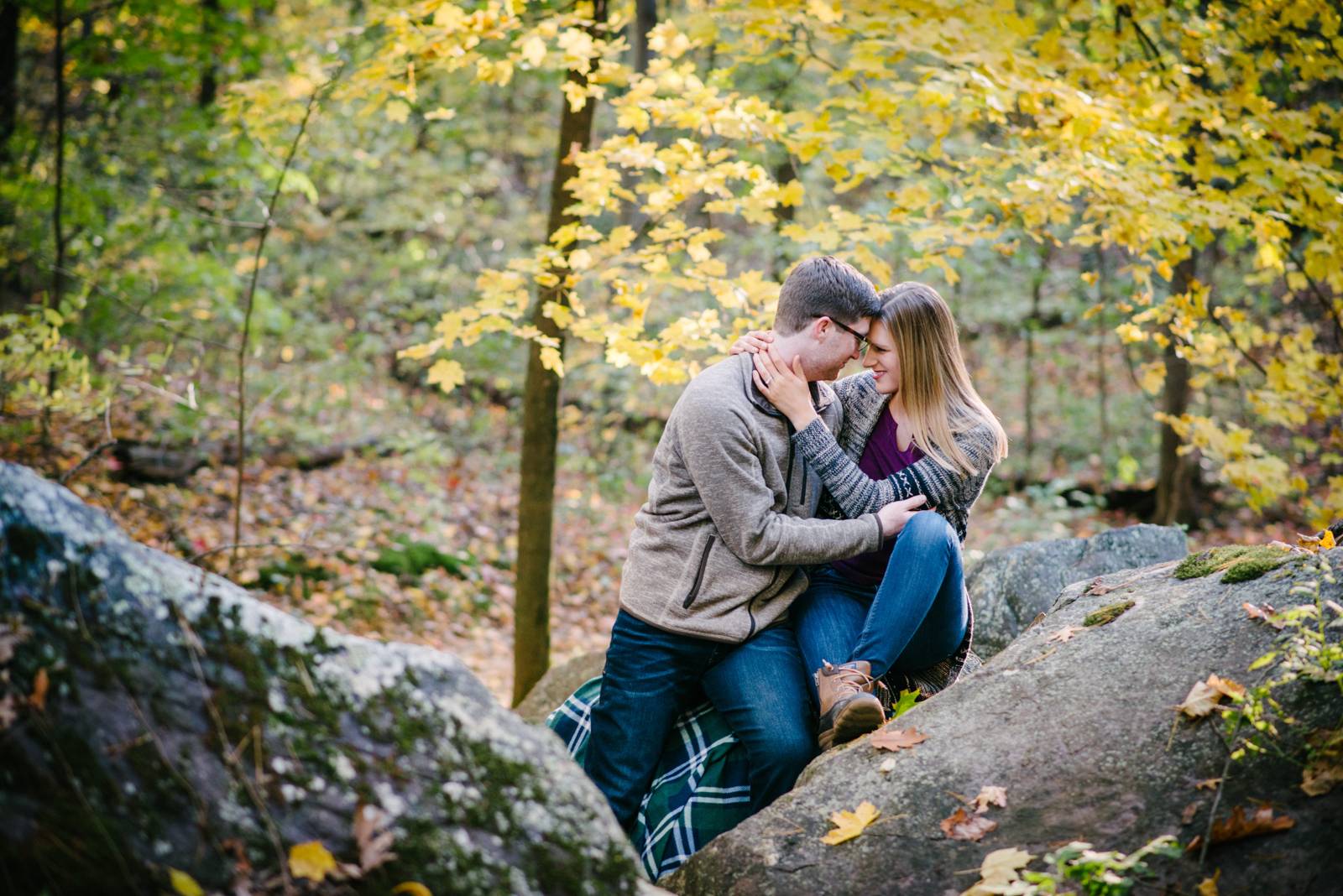 WEDDING DATE: 07/27/2019
HOW DID YOU MEET? Michael and I met on the very first day of college at the University of Wisconsin - Platteville. Michael was one of the first people I met during the freshmen Welcome Weekend Events, and never did I think that he would be the person I would end up spending the rest of my life with. After that weekend, Michael and I did not hang out much, but the following year we ended up living in the same dorm and even the same floor, which secured the idea that Michael was going to be a very important person in my life.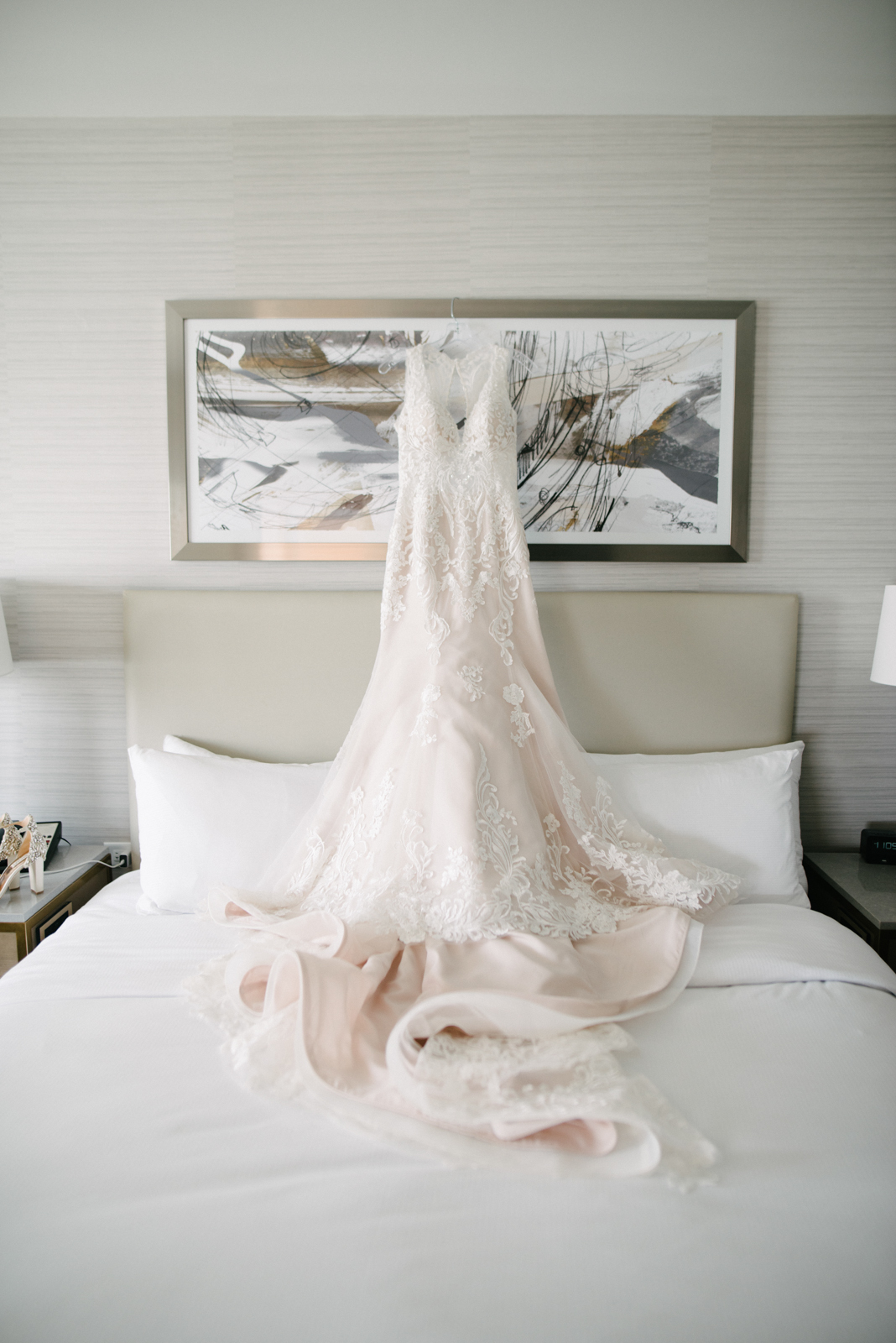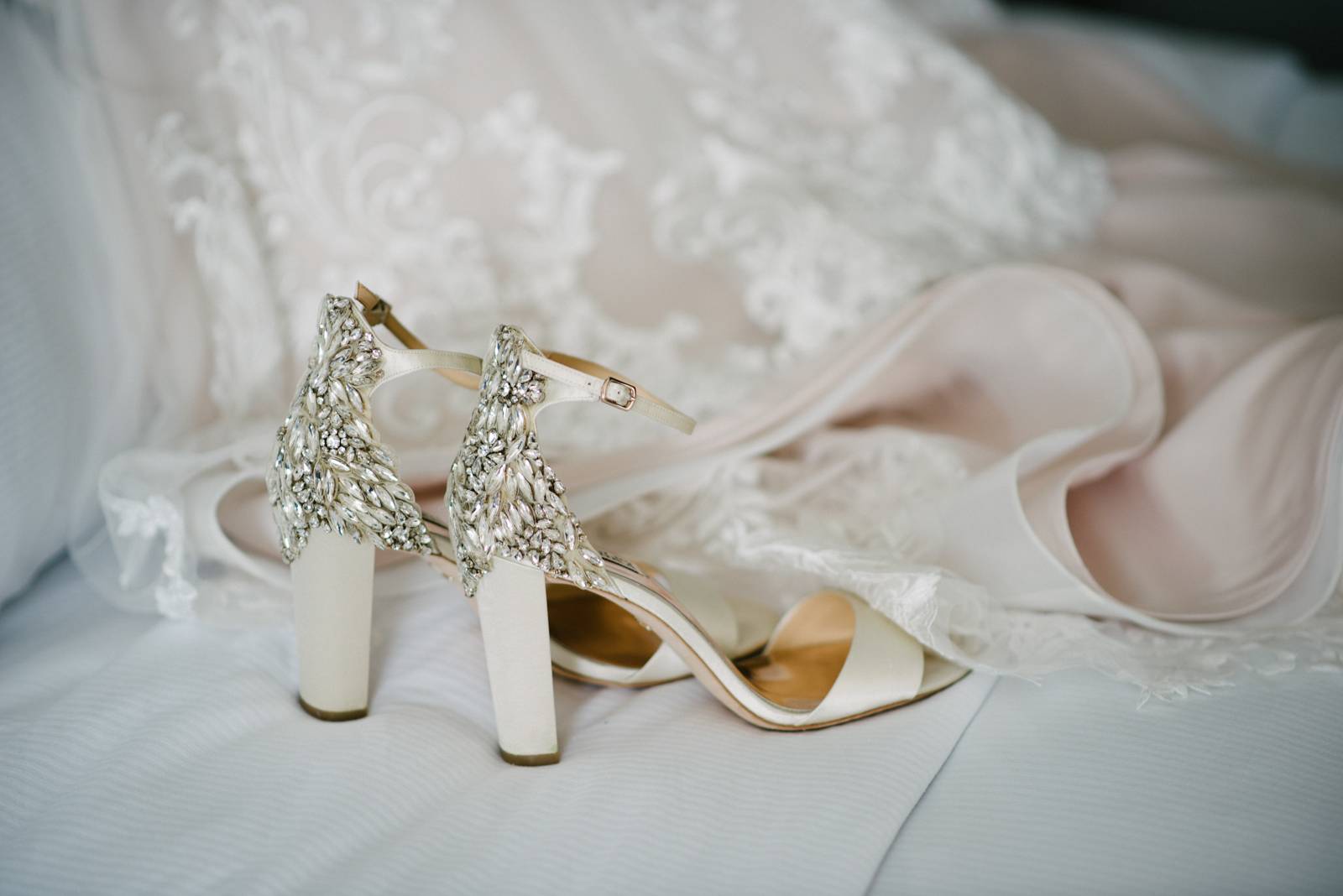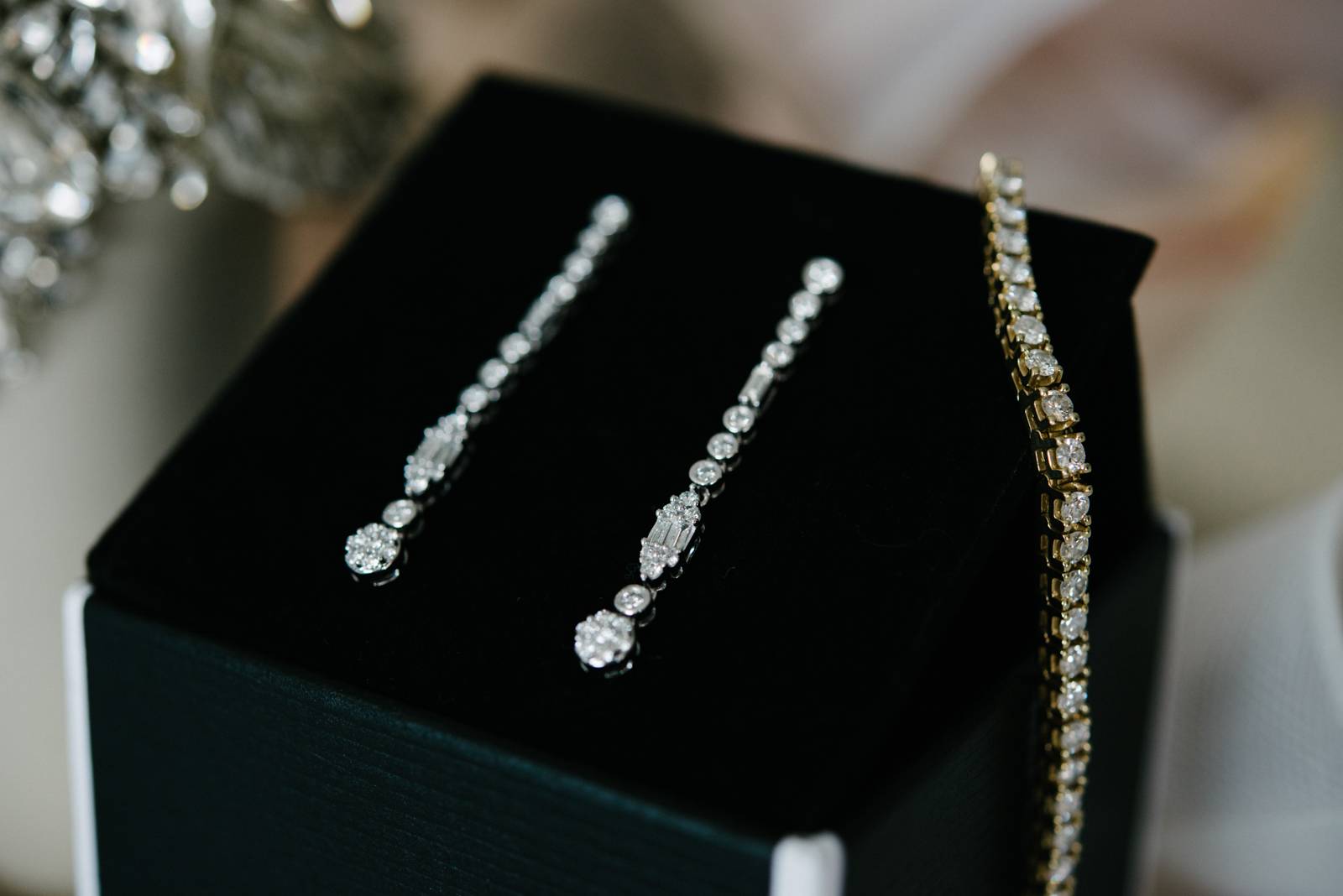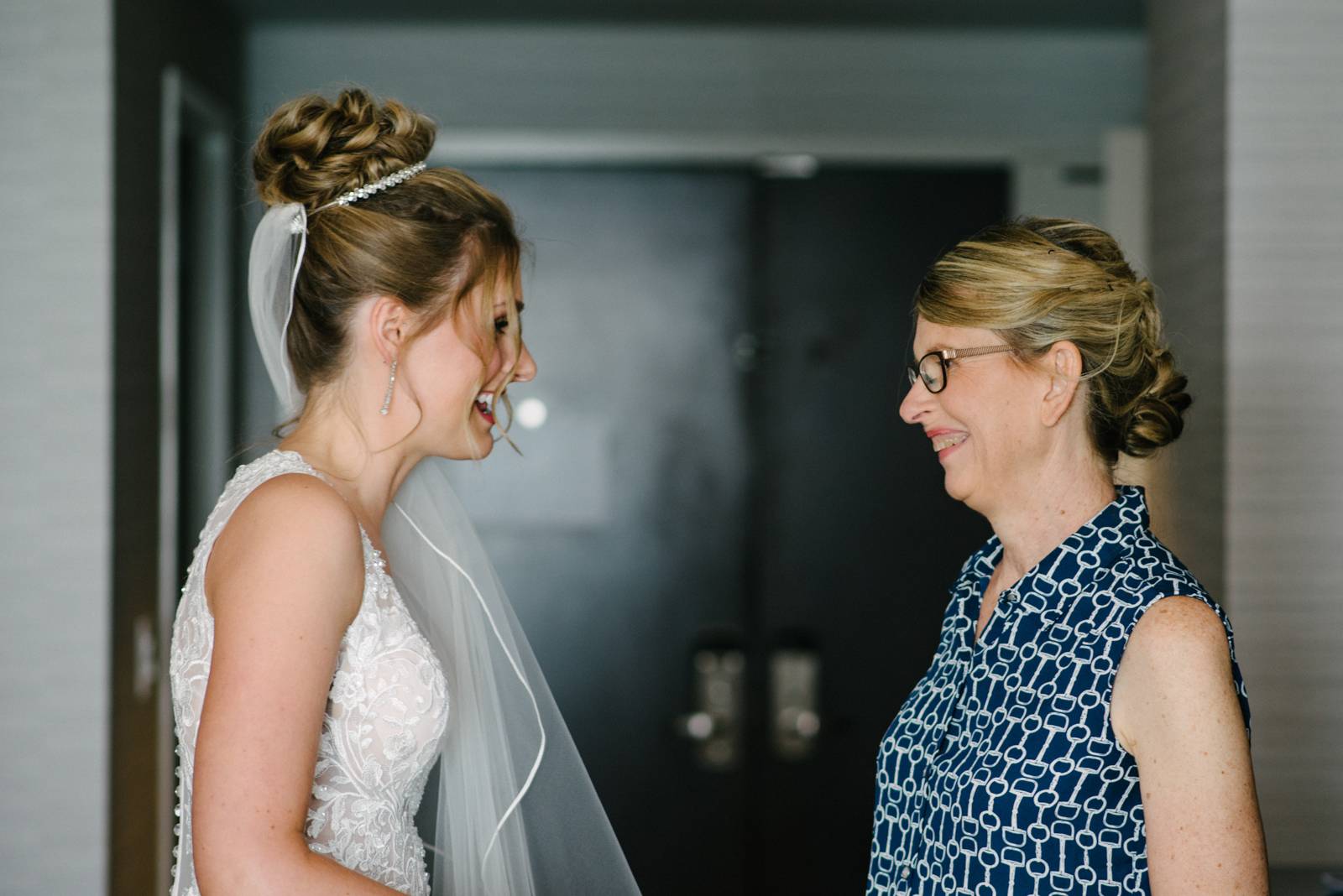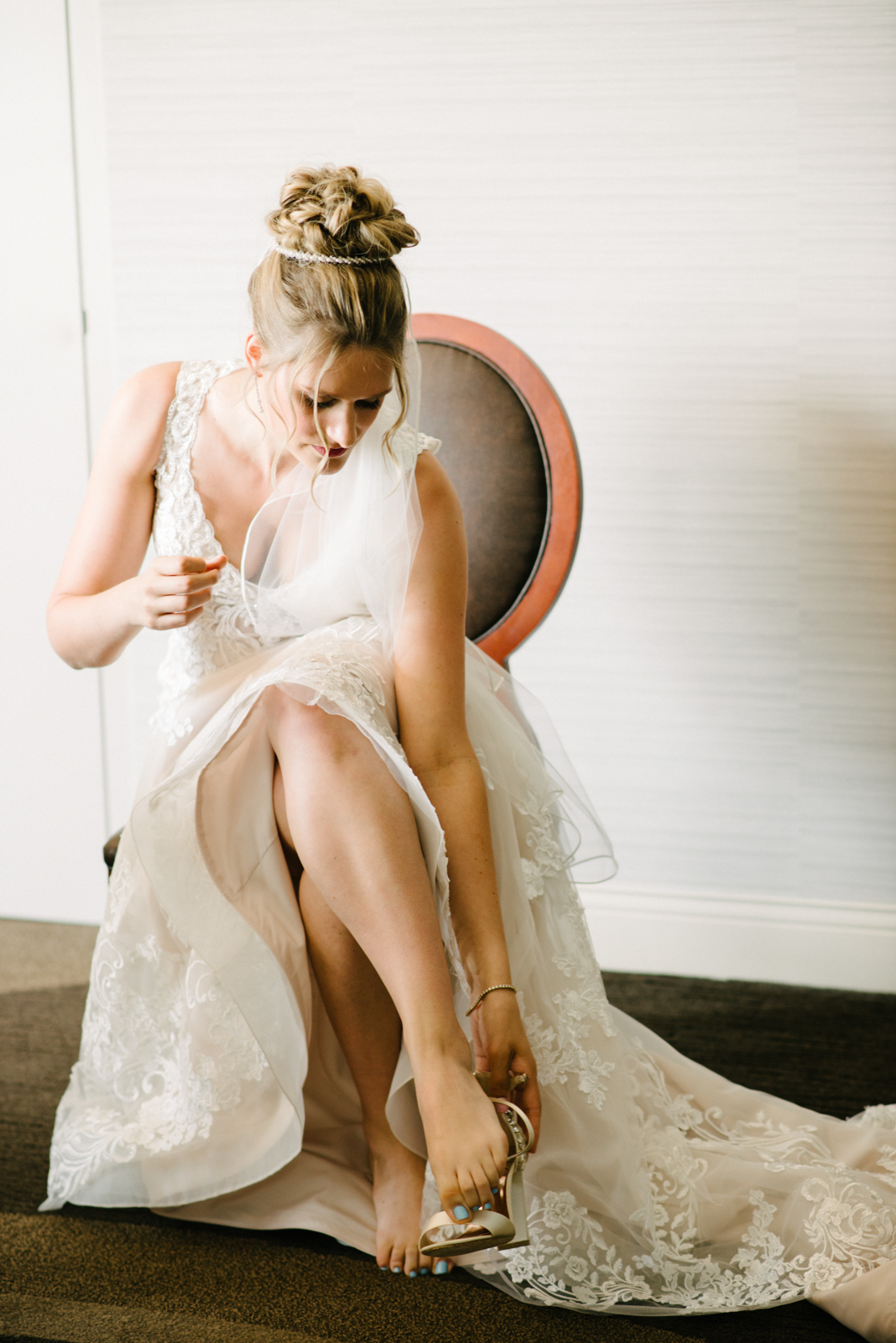 HOW DID YOU KNOW YOU HAD FOUND "THE ONE"? I think we both knew we were right for each other because of how well our personalities complimented each other. We couldn't be so far from different, and yet we get along so well.
TELL US ABOUT YOUR PROPOSAL: The proposal happened right before our 4th-anniversary date. Michael took me out on a river walk to see a half-frozen waterfall in Galena. While Michael was taking a picture of me in front of the waterfall, I turned around to see him down on one knee, asking me to marry him. It was such a special moment, and we didn't have to share it with anyone else, which made the proposal truly personal.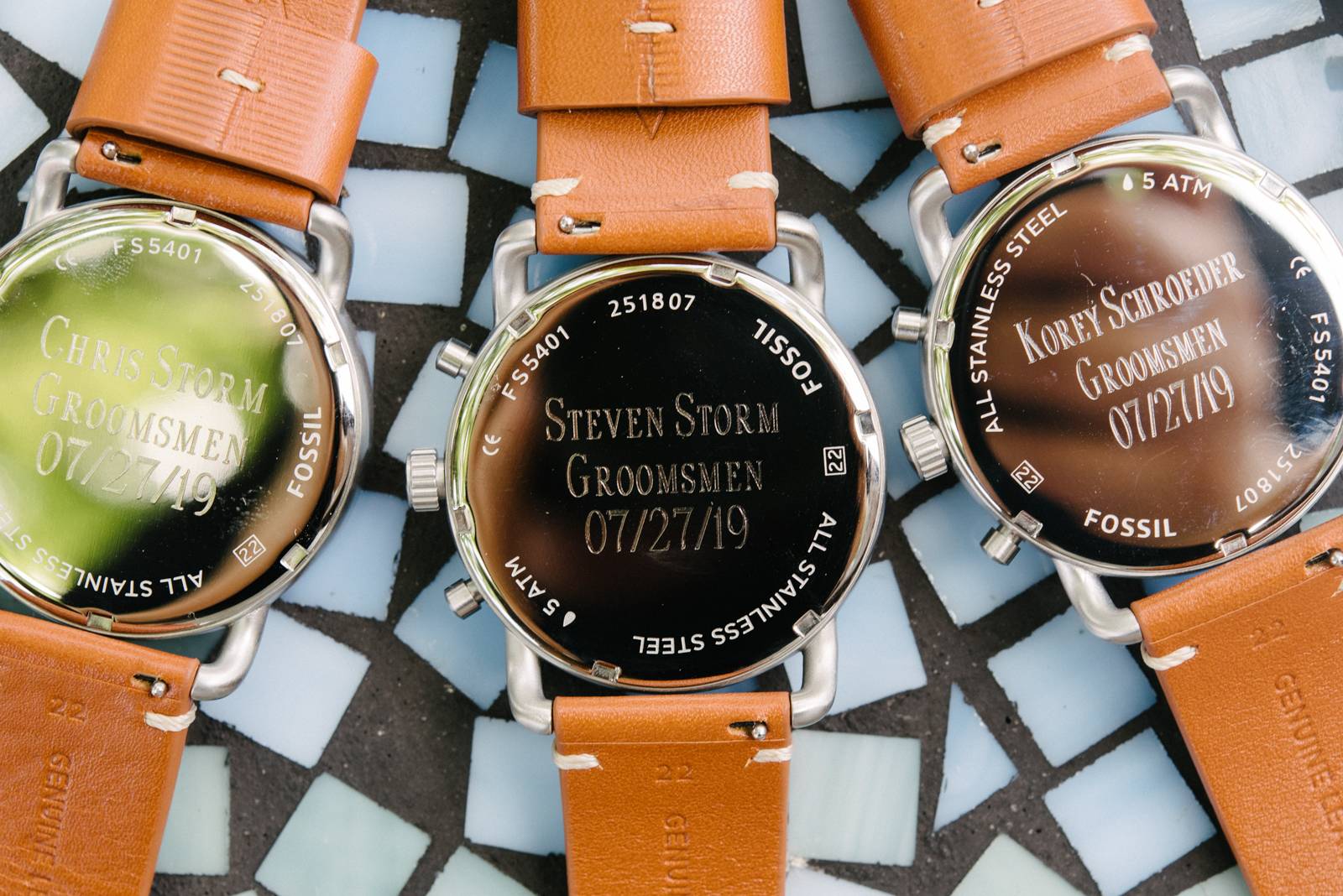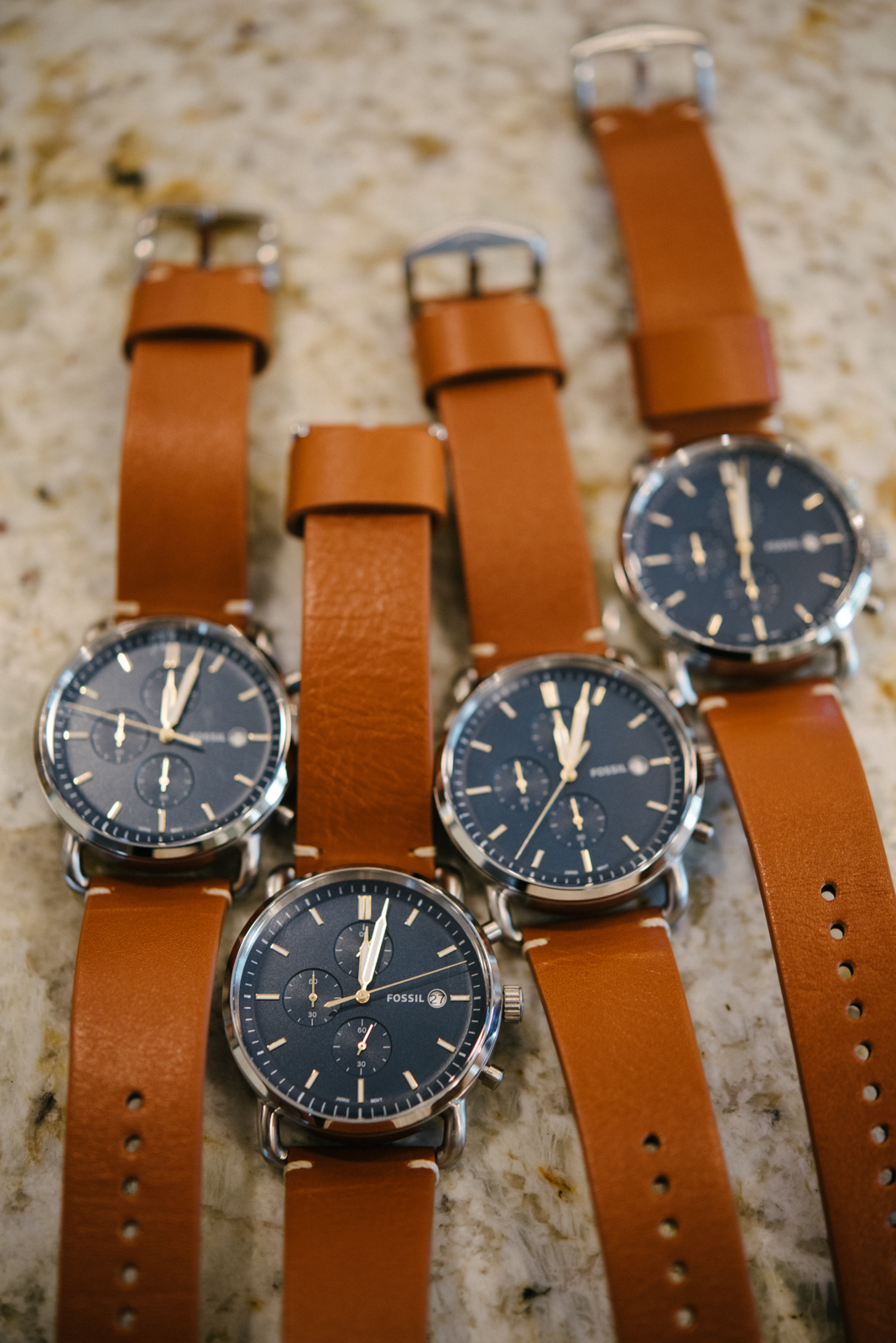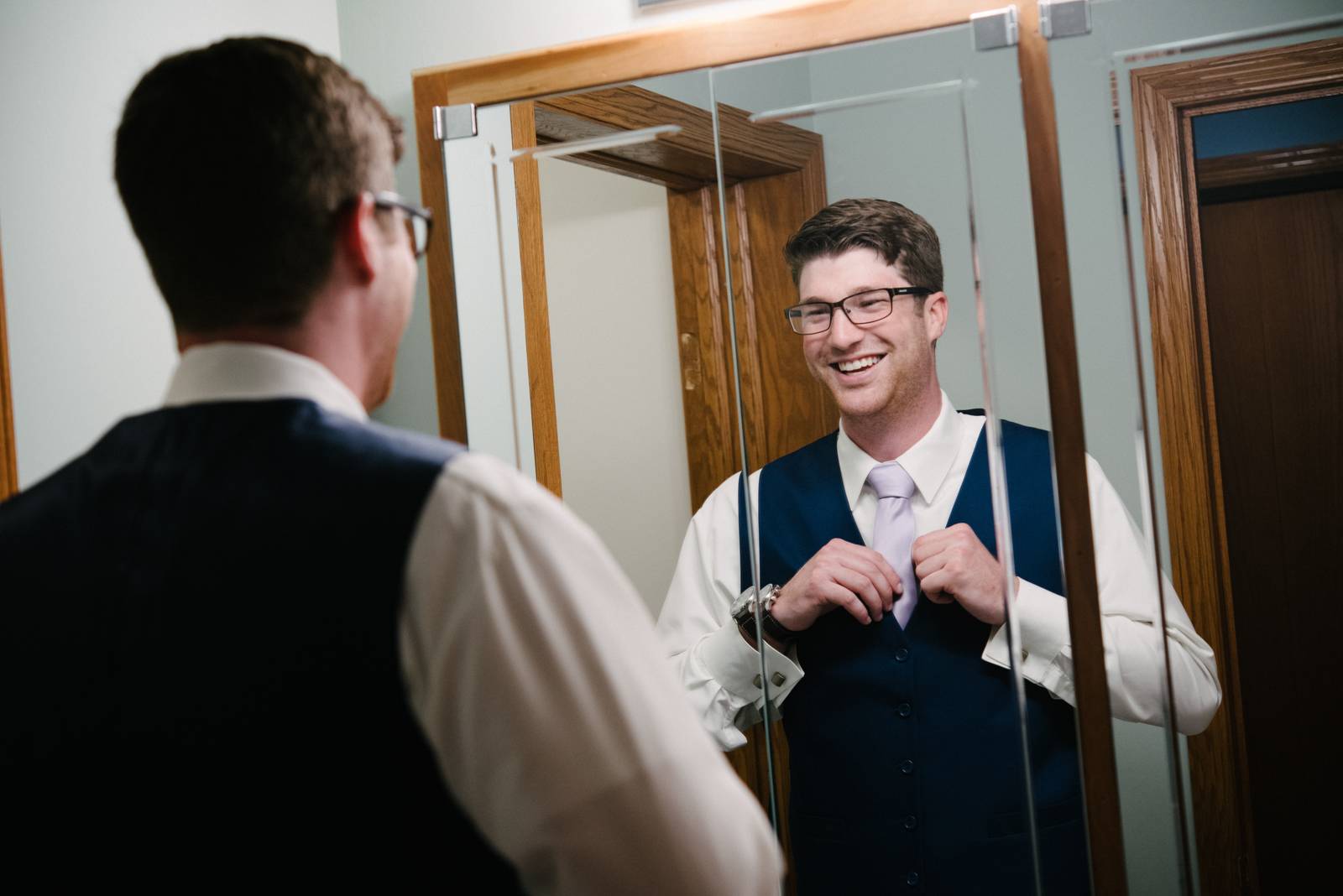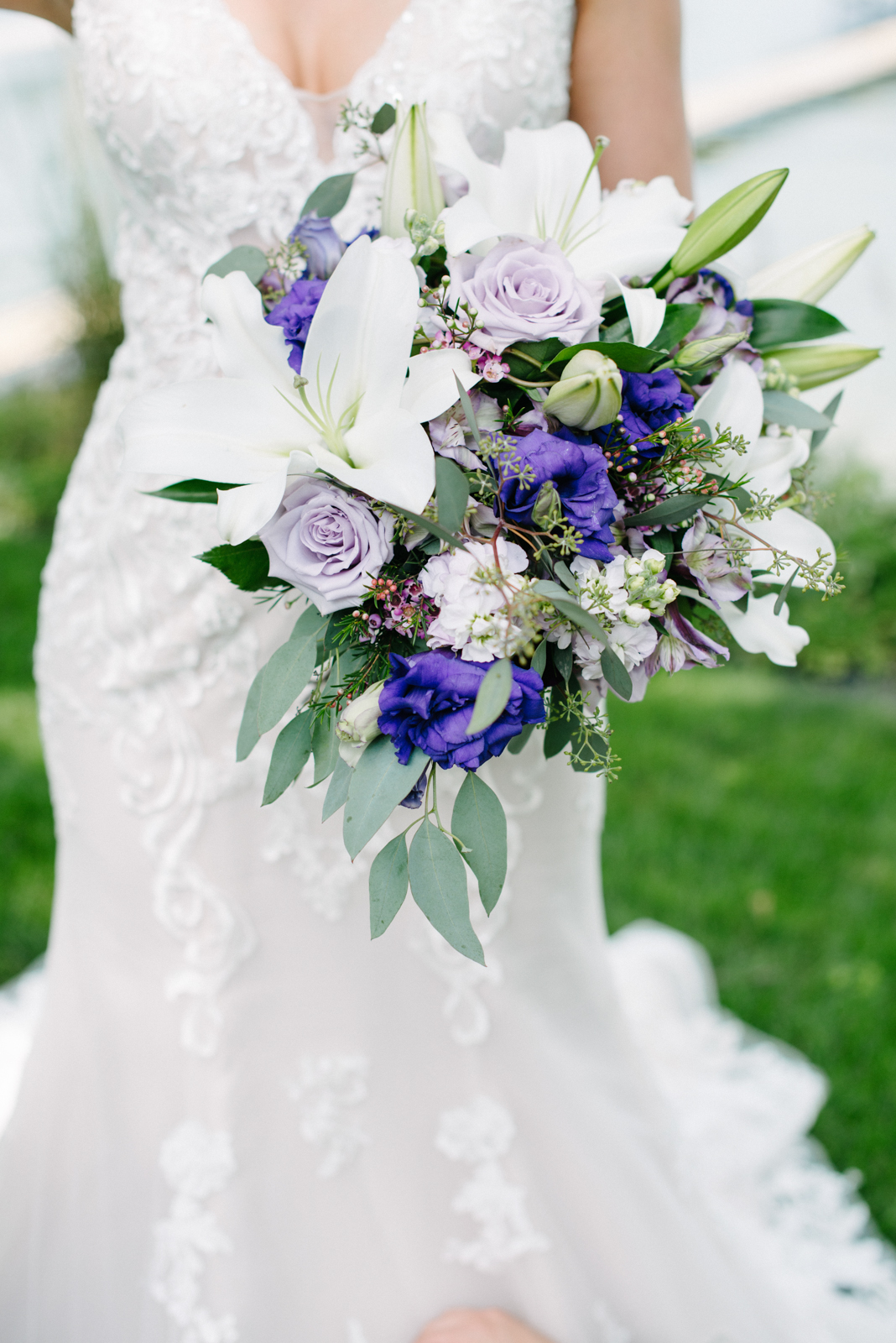 TELL US ABOUT FINDING YOUR DRESS: After visiting what seemed to be a thousand different wedding stores, I finally gave up looking and resorted back to looking at magazines. While looking through them, I came across a dress by Kenneth Winston that I absolutely loved. After finding this dress in the magazine, I called every store in Wisconsin that carried this designer. The only store I was able to find that had it available was Elaine's Wedding and Event Center. I knew I had to make a trip there to try the dress on. Once I was finally able to try it on, I absolutely loved it and knew I had found my perfect dress.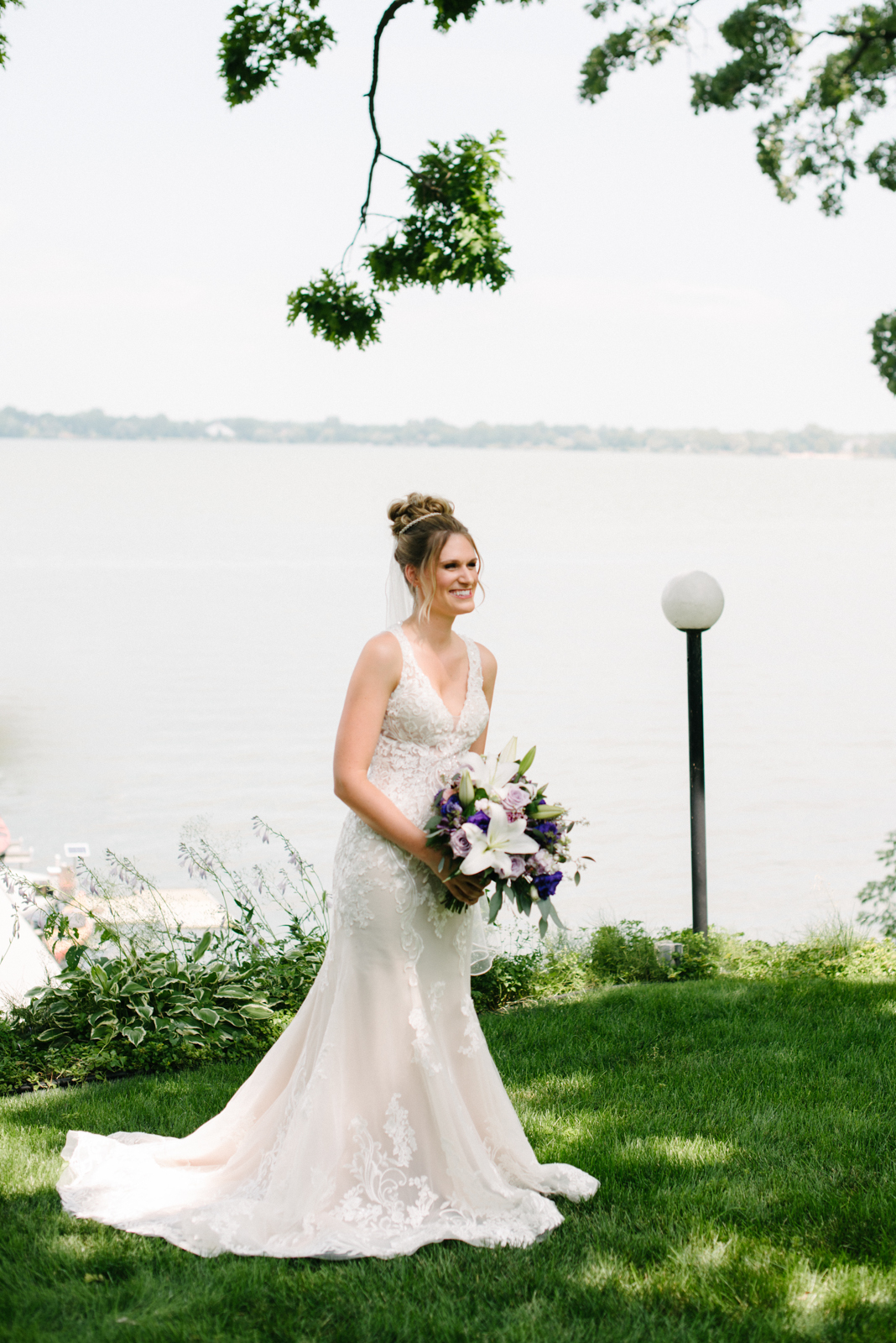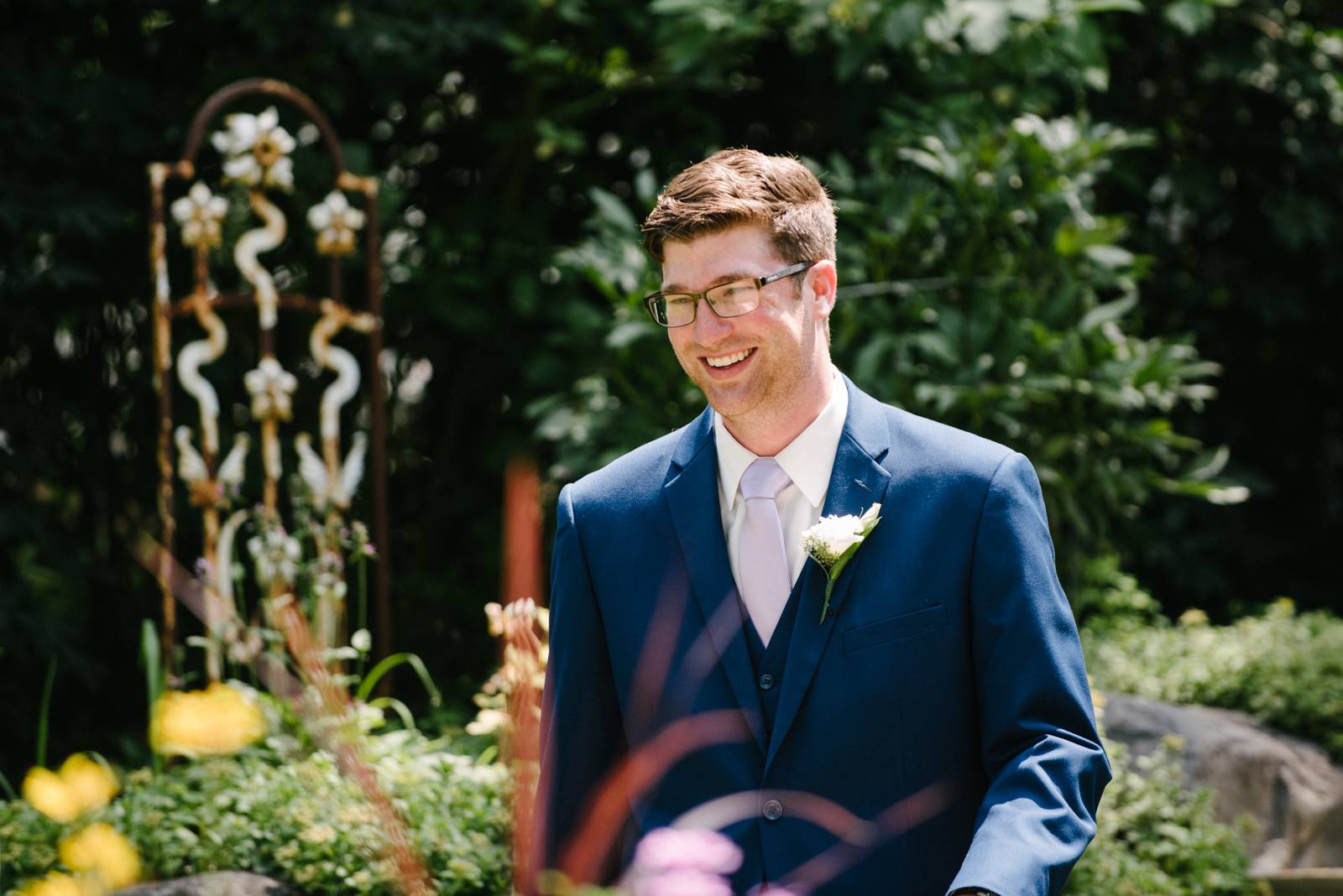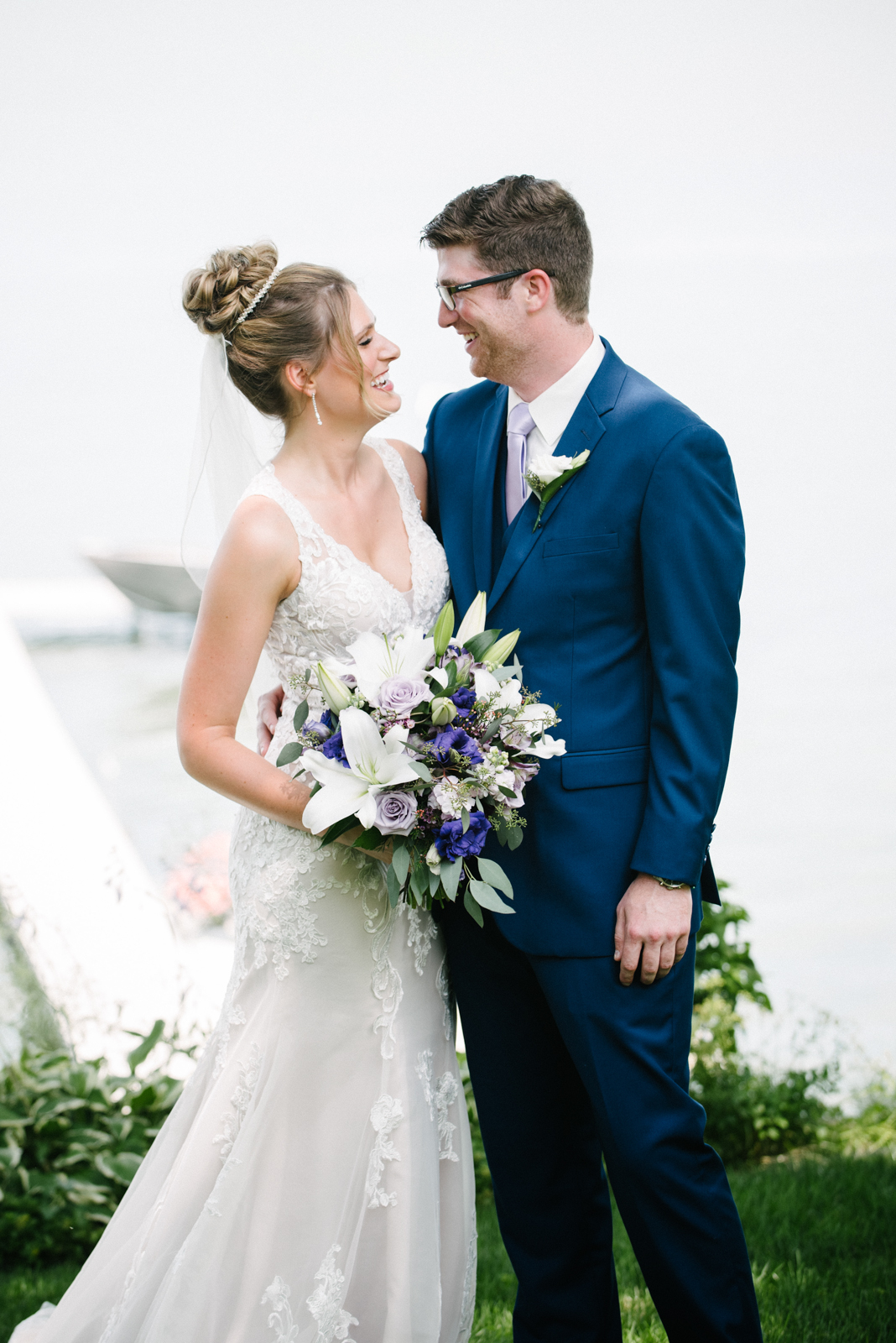 WERE THERE ANY PERSONAL TOUCHES OR DIY ELEMENTS? Our wedding invitations and designs were all created by a close friend and sorority sister of mine - Elizabeth Karlson. As a contemporary, abstract artist and a close friend, we knew from the start that we had to incorporate her artwork into our wedding.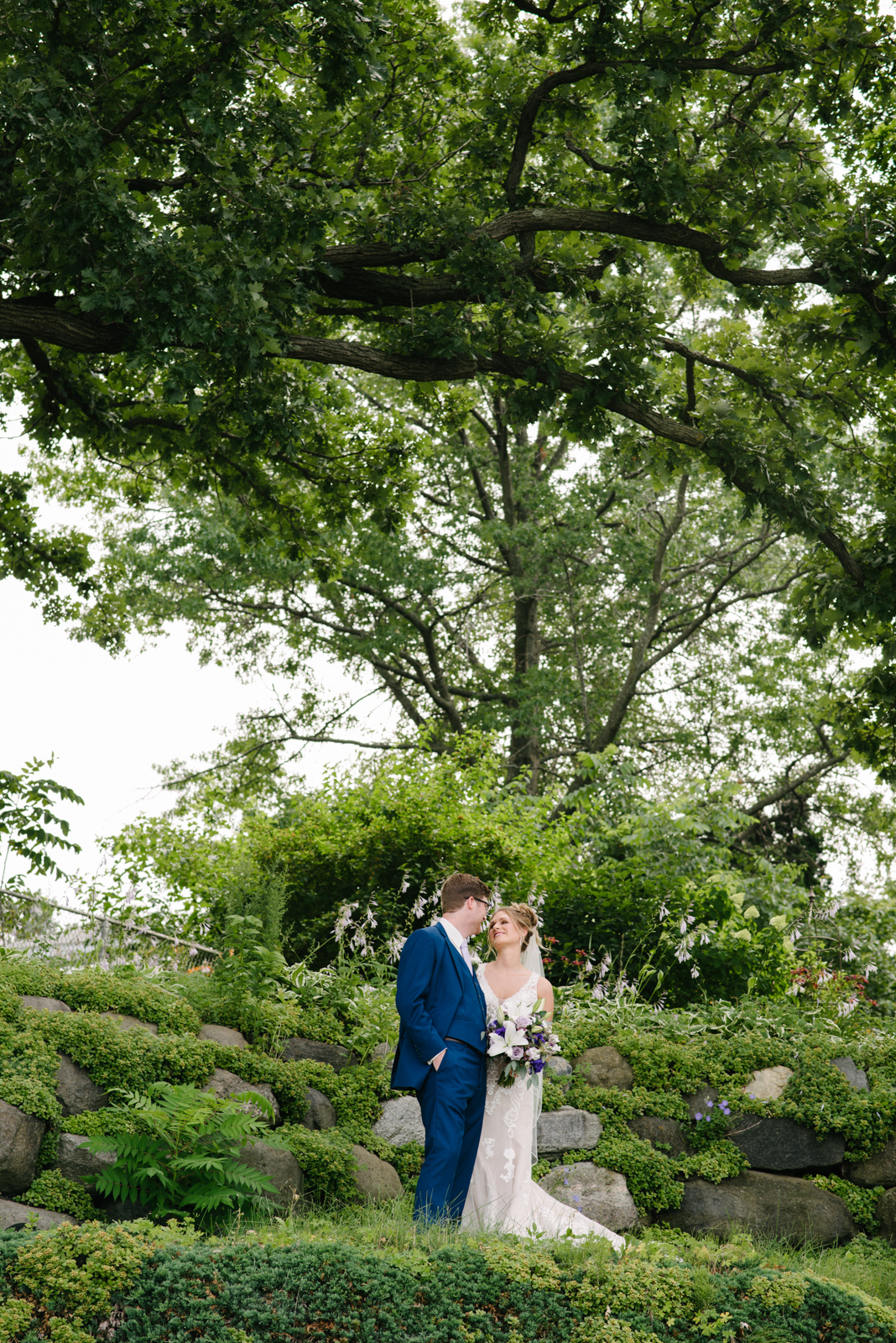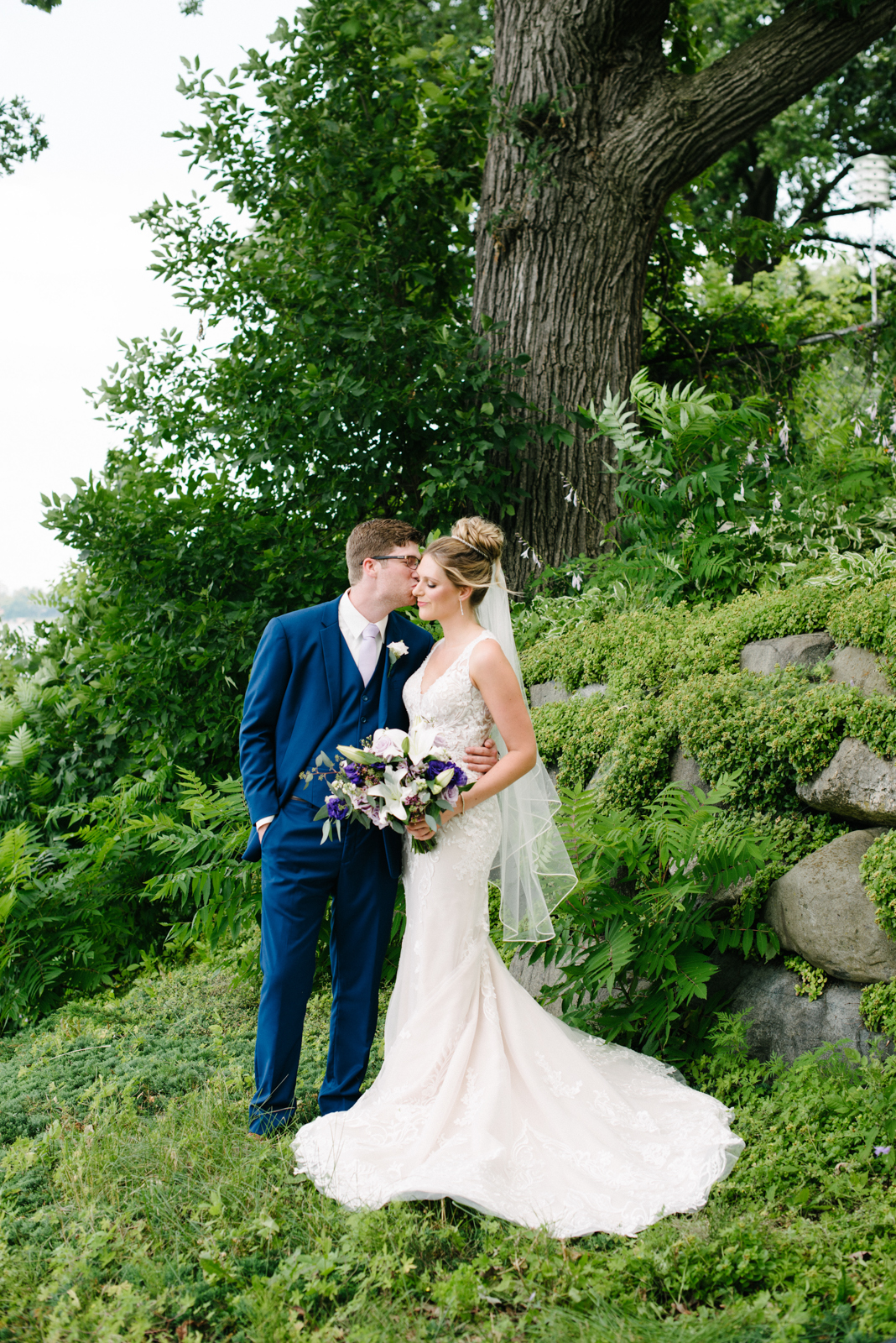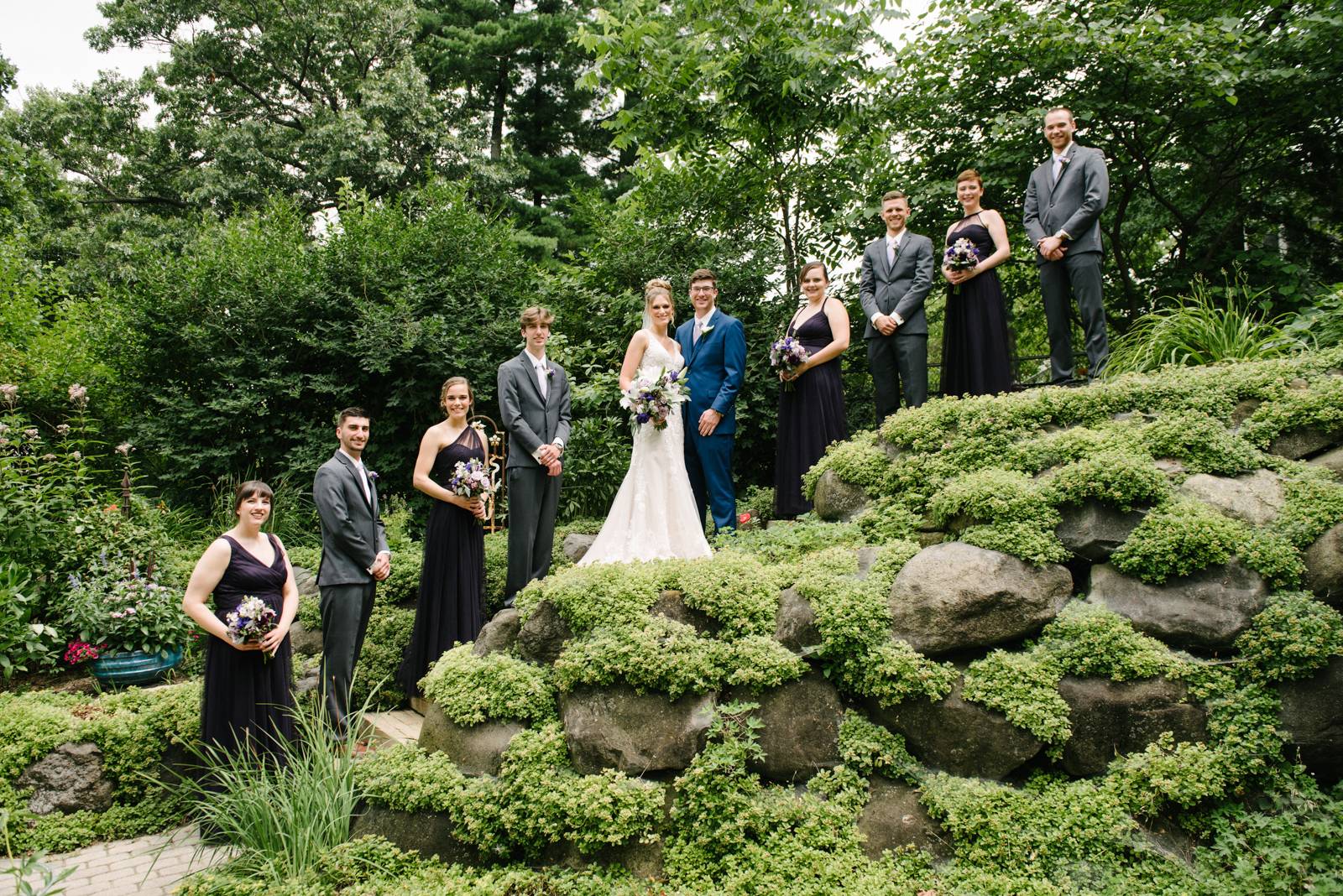 HOW WOULD YOU DESCRIBE YOUR WEDDING THEME/STYLE IN FIVE WORDS OR LESS? Elegant, natural, and floral!
WHAT WAS YOUR WEDDING COLOR PALETTE? Deep blues and light purples.
DESCRIBE YOUR WEDDING FLOWERS: The bridal bouquet was cascading bunches of fragrant lilies with other white and purple fillers, while the bridesmaids had a bundle of flowers that contained a range of purples and whites with a touch of greenery. Our centerpieces were low bunch flowers similar to the bridesmaid's bouquets placed in leaf-wrapped bowls on round mirrors and accented with tea light candles. We were also able to donate the centerpieces to a local hospice care center with the help of our florist, giving the flowers a chance to bright more people's day.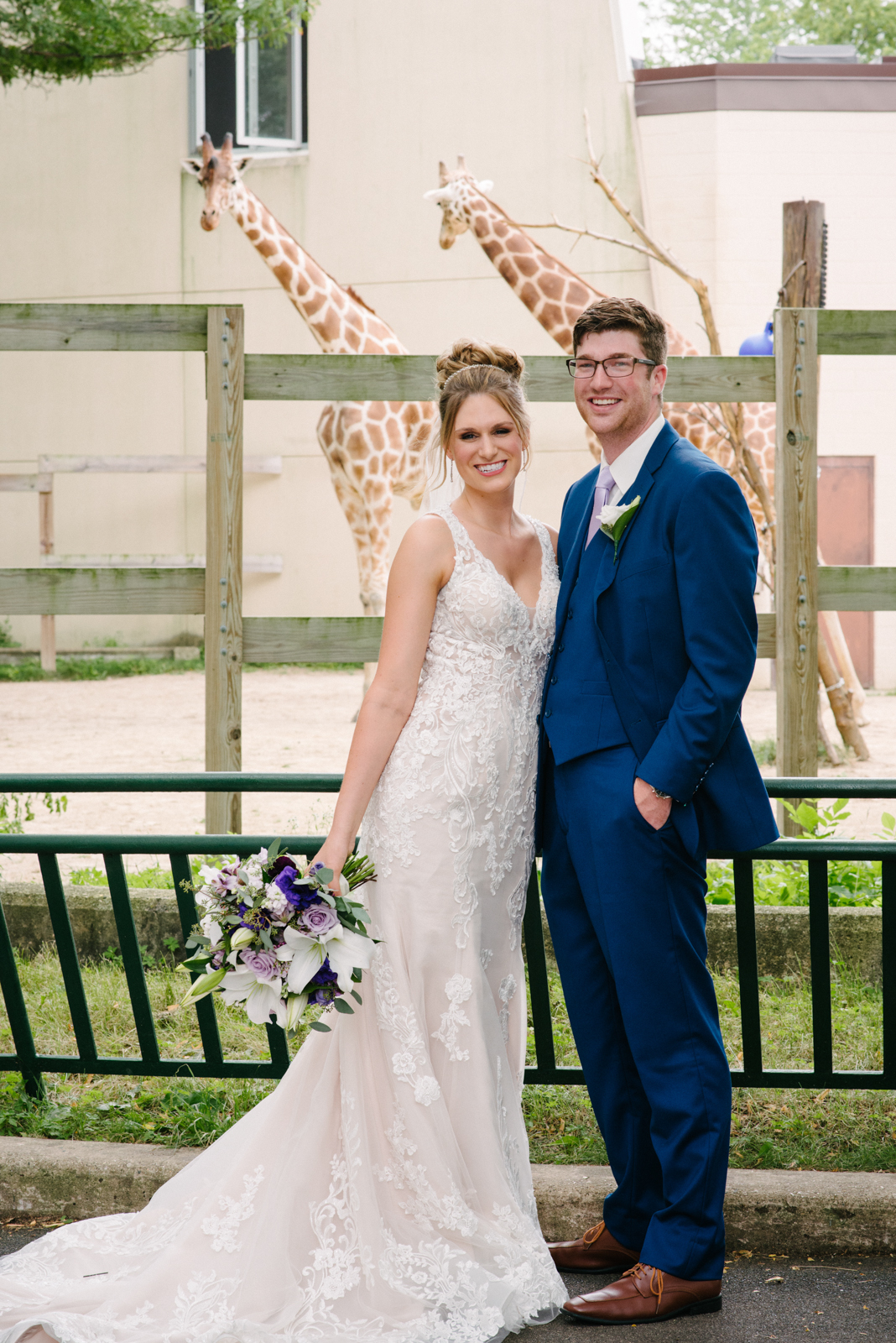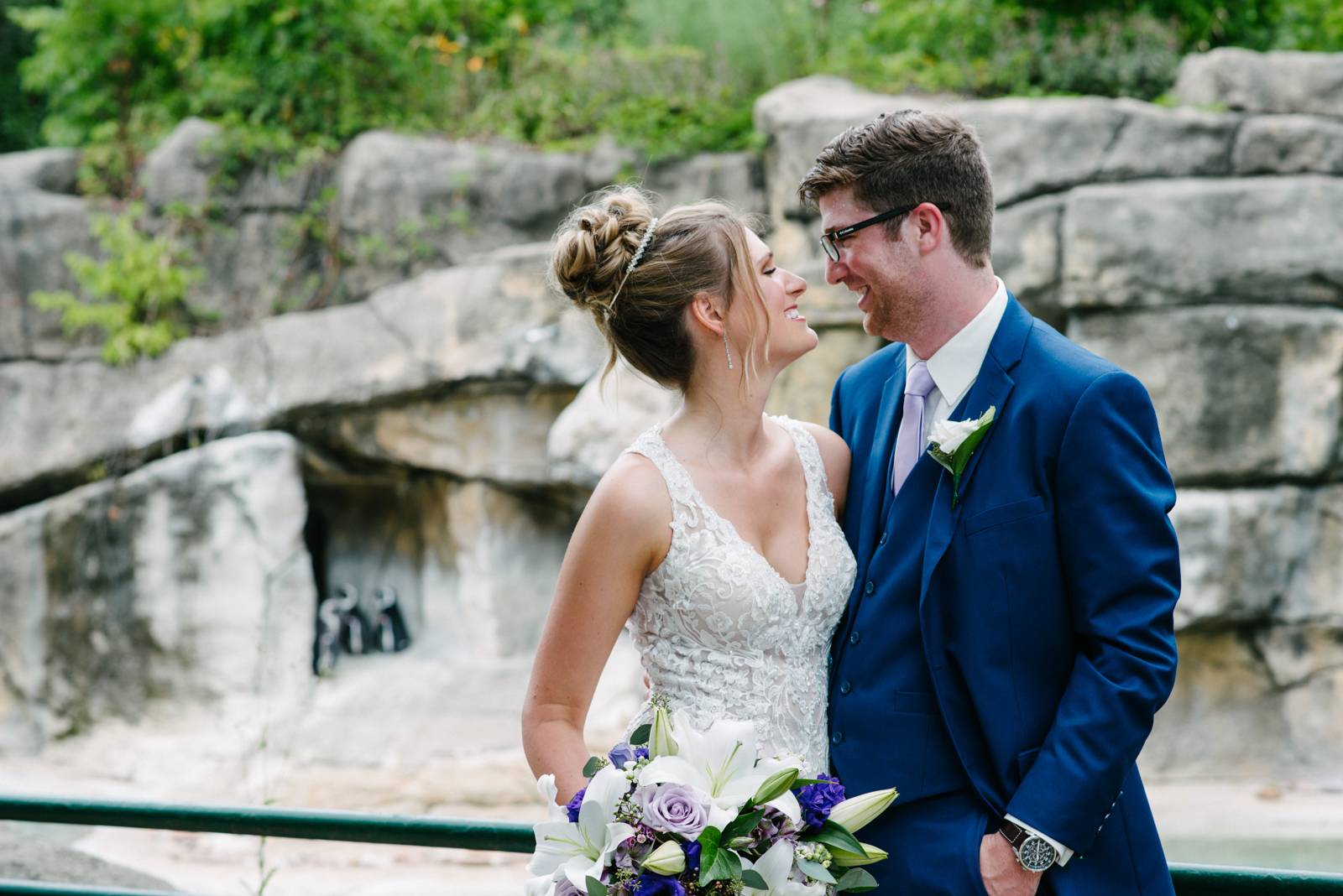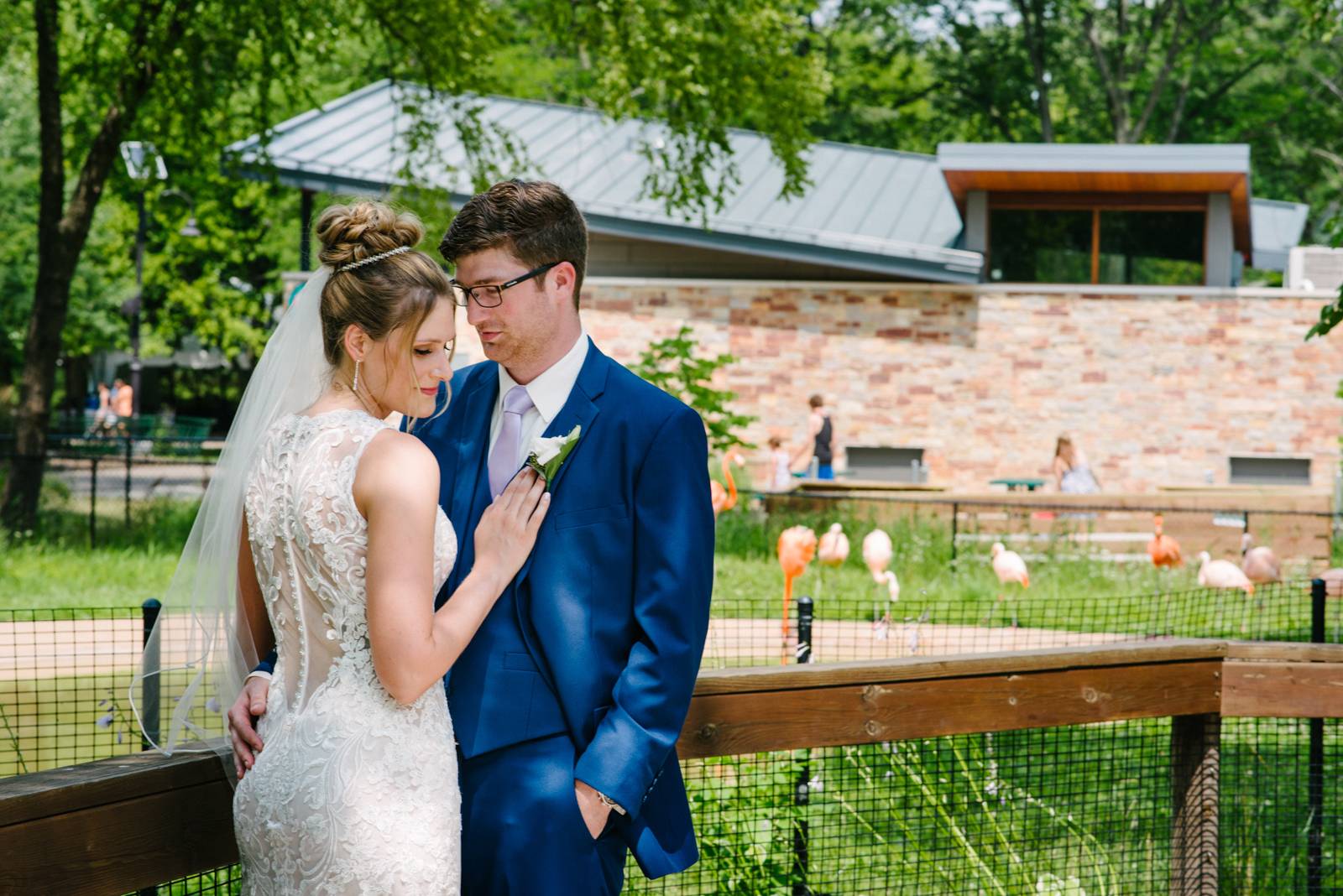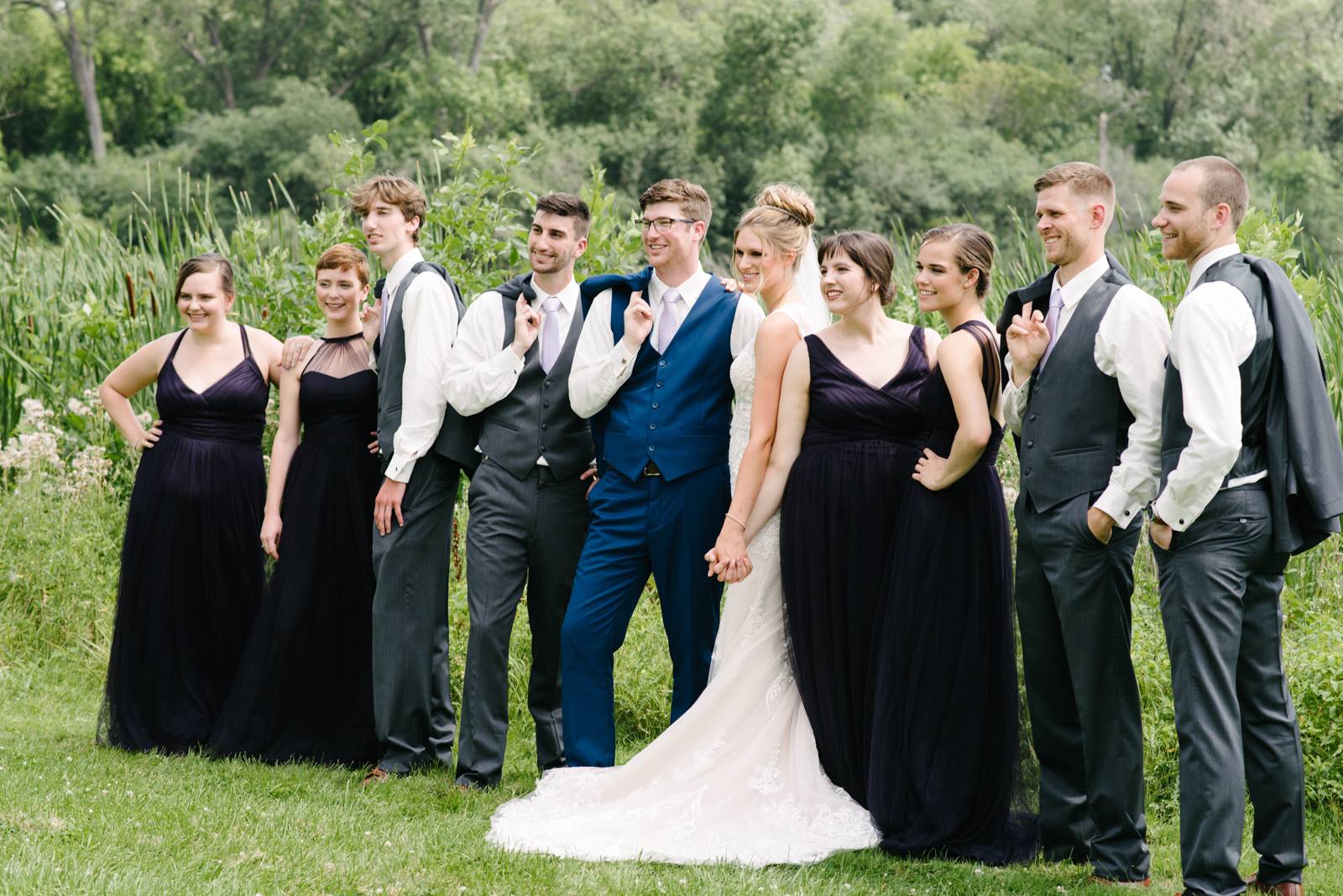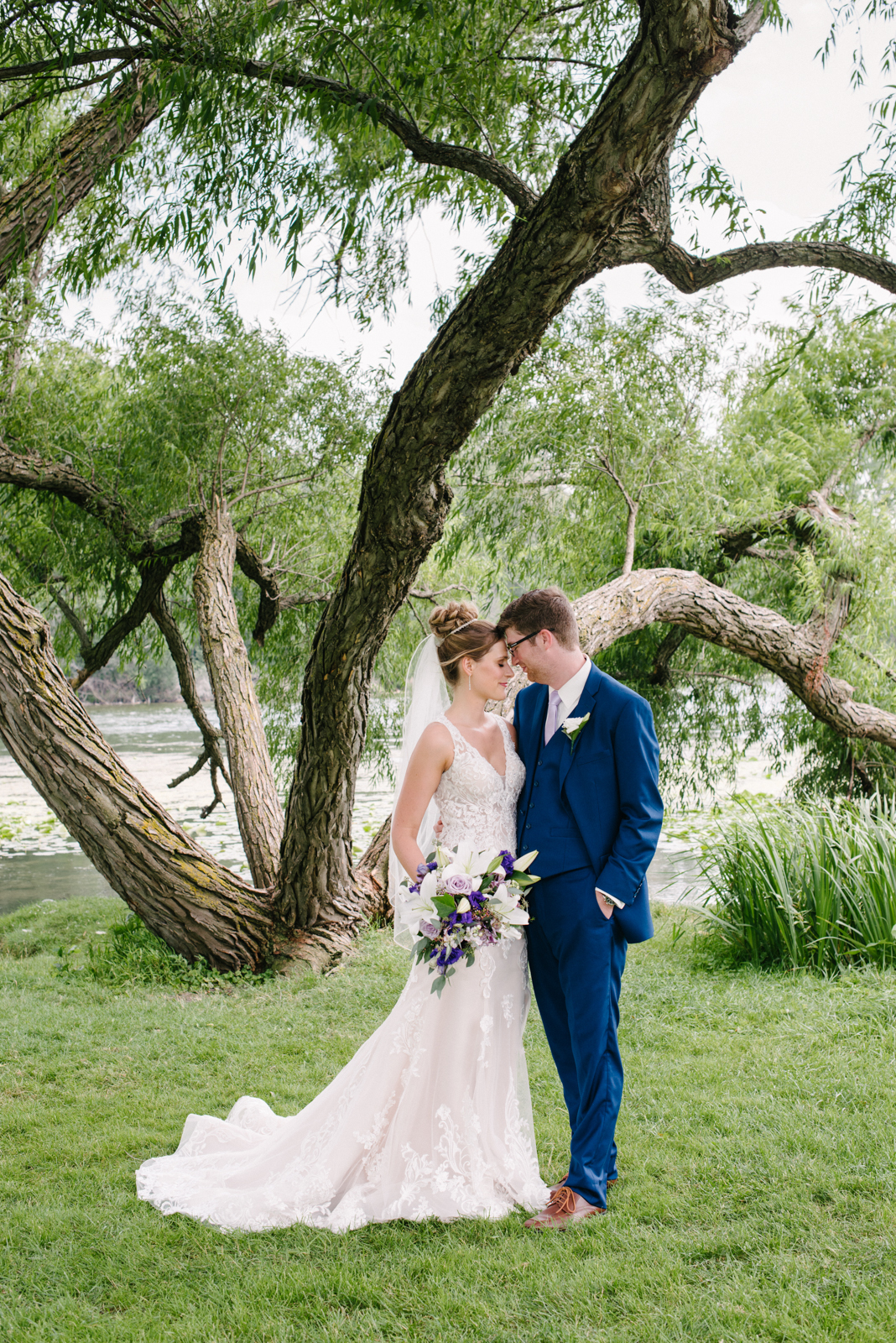 WHAT WAS YOUR INSPIRATION/DESIGN CONCEPT FOR YOUR OVERALL CEREMONY AND RECEPTION DECOR? Flowers were our main focal piece. Growing up, I was always around flowers, as they are my mom's passion. It was also very special to be able to work with the florist to donate the centerpieces. I have a passion for reducing waste, and this was one way the flowers would not be wasted but cherished by more people.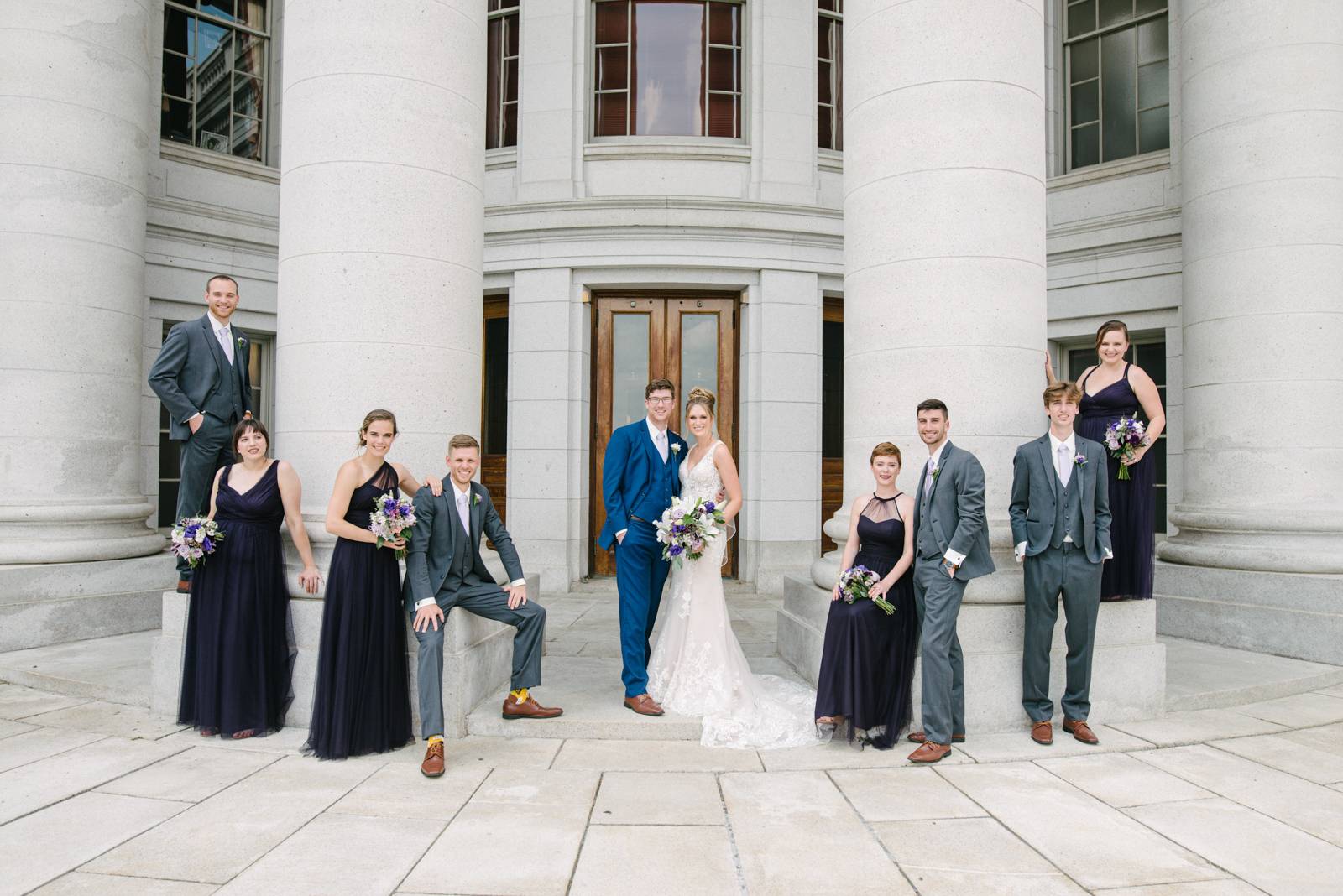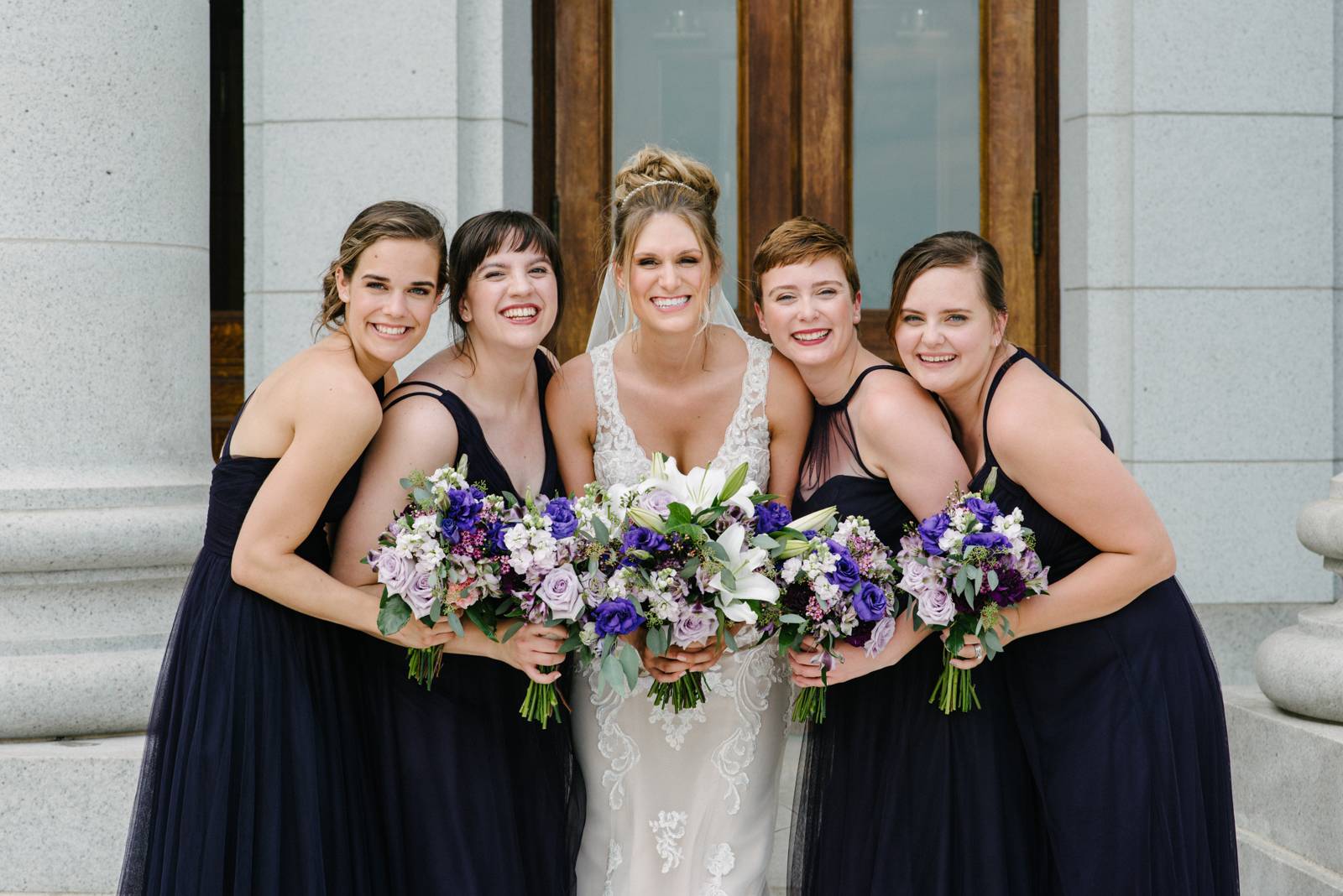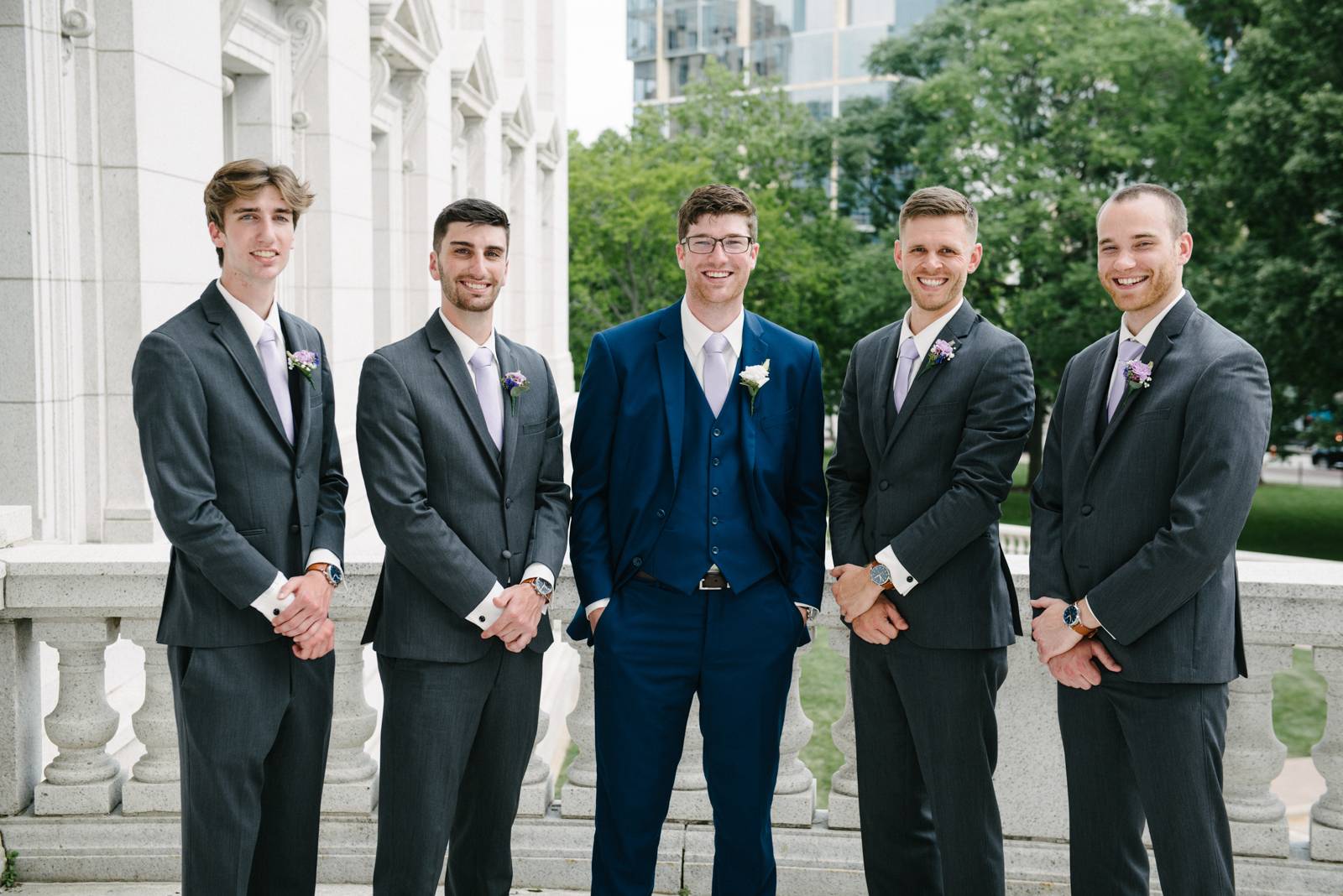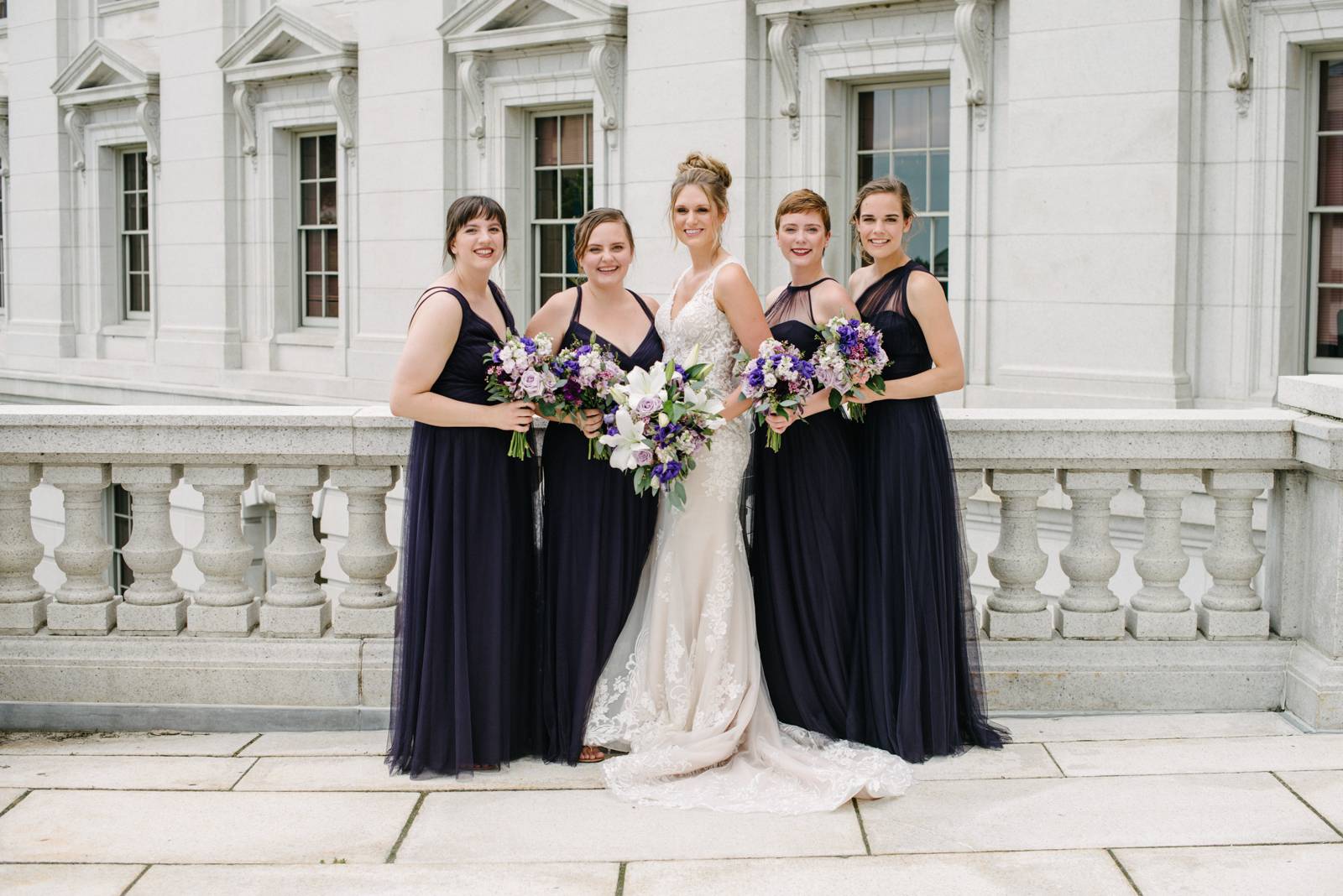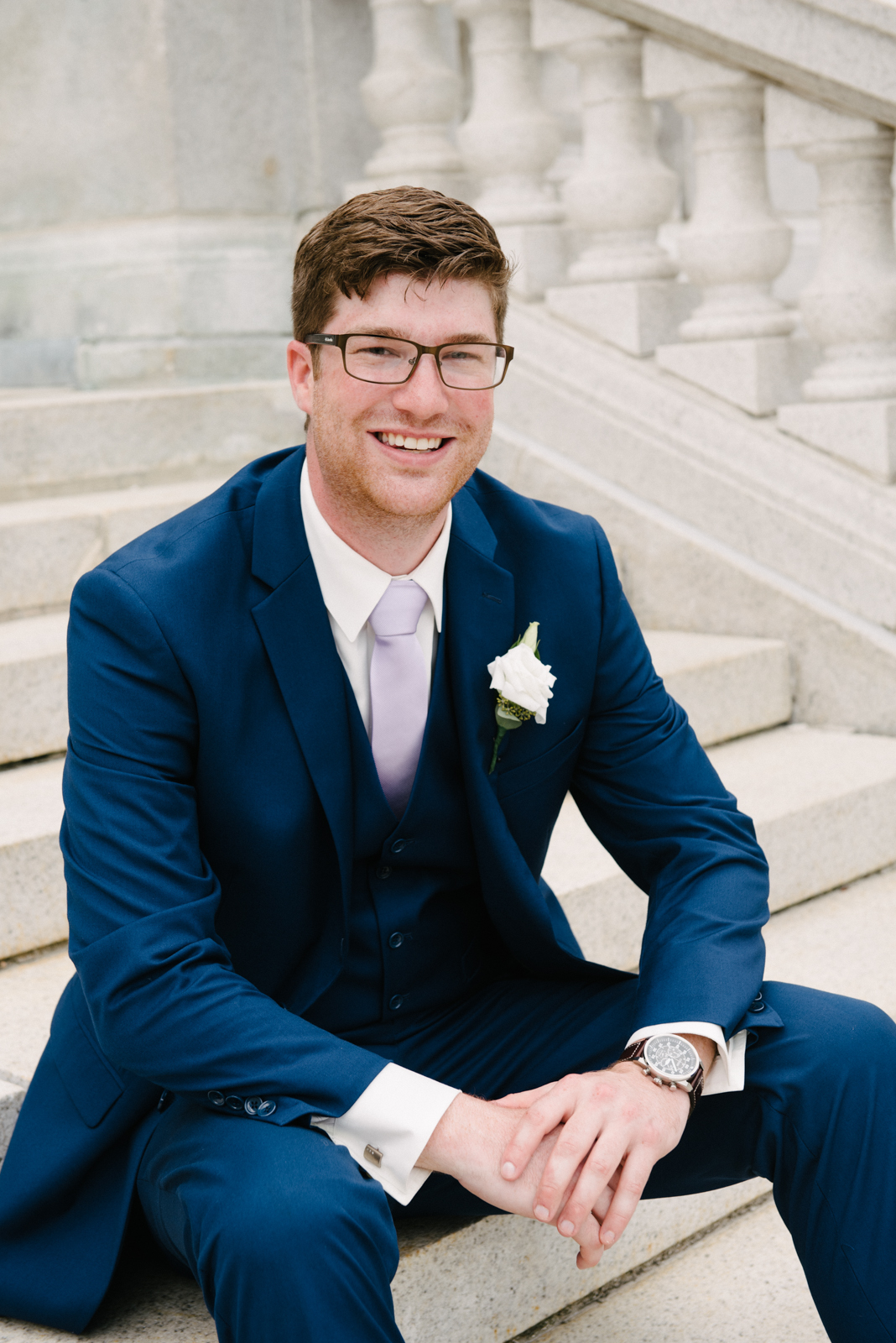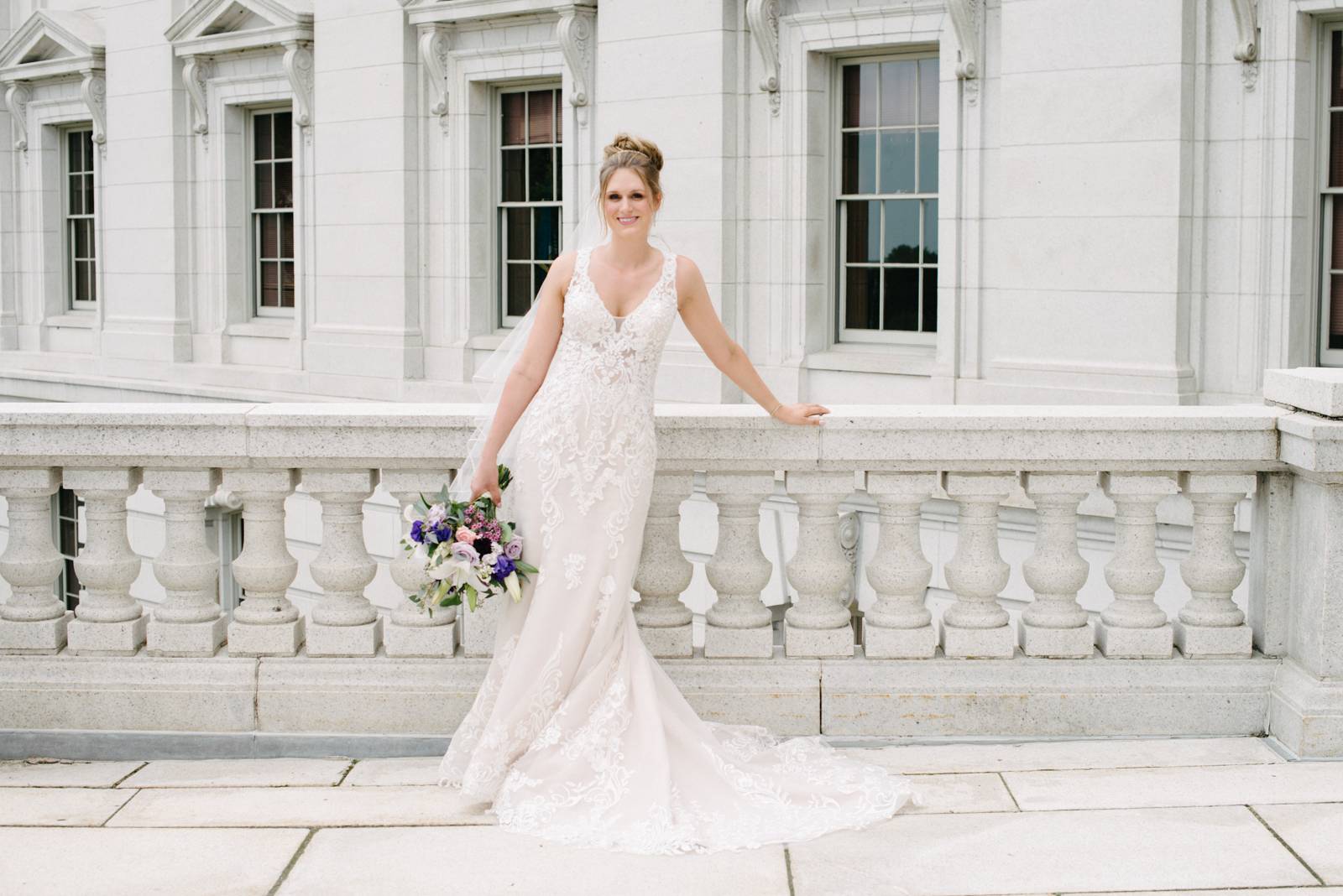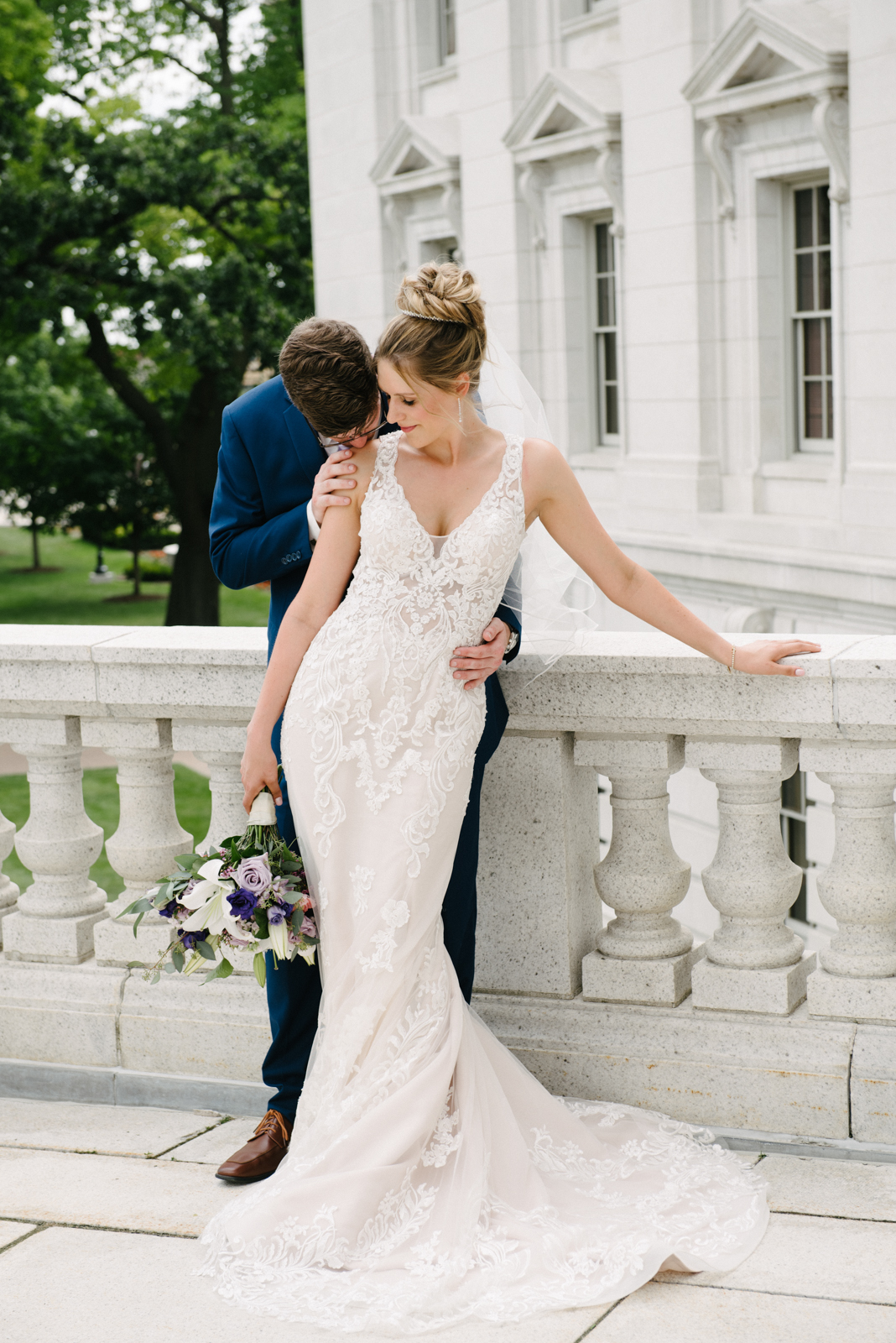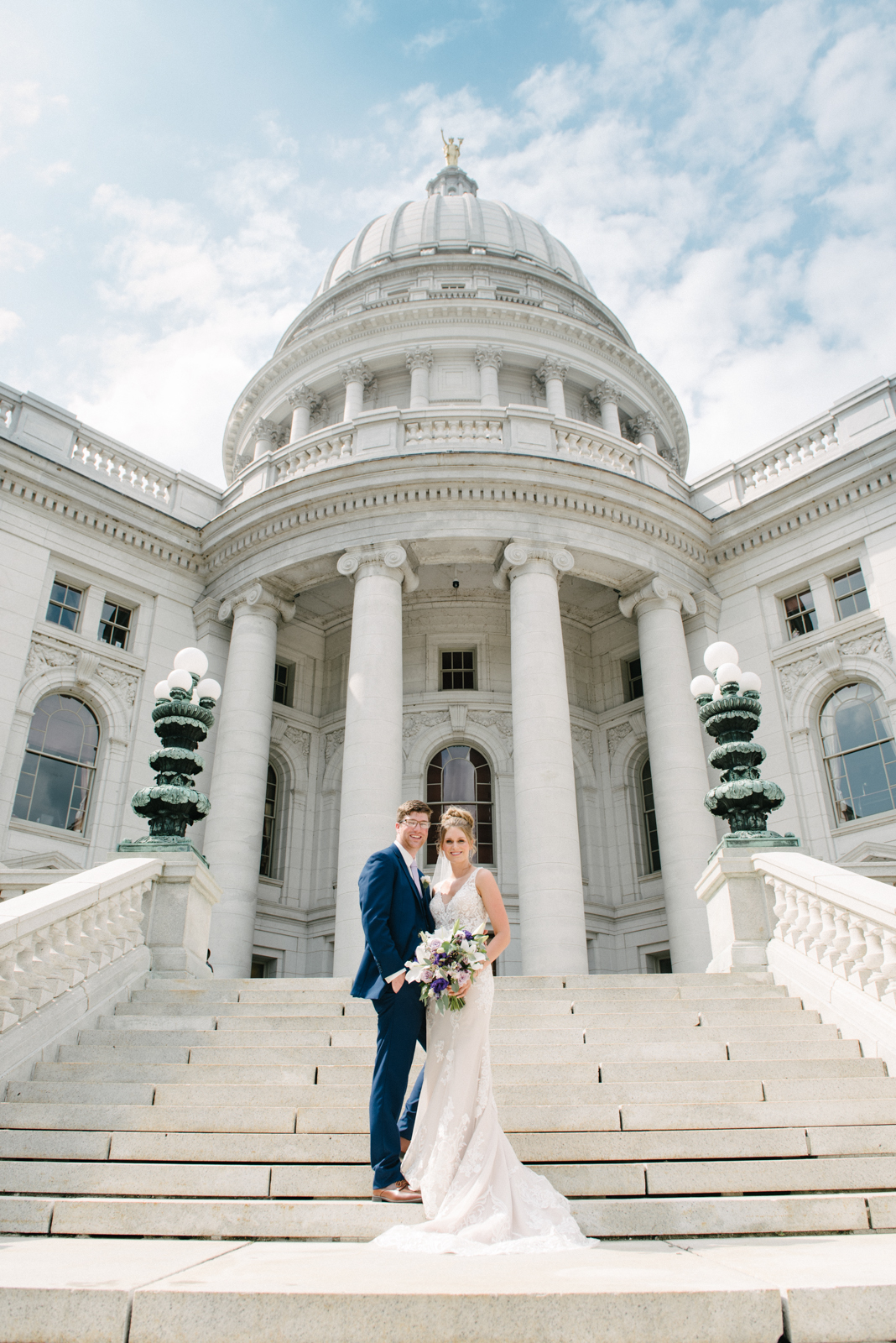 TELL US ABOUT THE FOOD, DESSERT, AND ANY SPECIALTY BEVERAGES ON THE MENU: We offered four different options for dinner, including a vegan option to accommodate many of our friends and family. In addition, we had a stunning 3-tier cake with the top vegan. Due to dairy and gluten allergies on Michael's side of the family, we wanted to provide a cake that would accommodate everyone. The Looking Glass Bakery provided us with the ability to do multiple flavors while staying allergy-friendly. They did a fantastic job providing a tasty yet allergy-friendly cake at an extremely affordable price. The Looking Glass Bakery also made two birthday cupcakes for two significant people at our wedding who had birthdays that weekend. We were so happy the bakery was able to do this, and we loved seeing the people's faces when we surprised them with the cupcakes.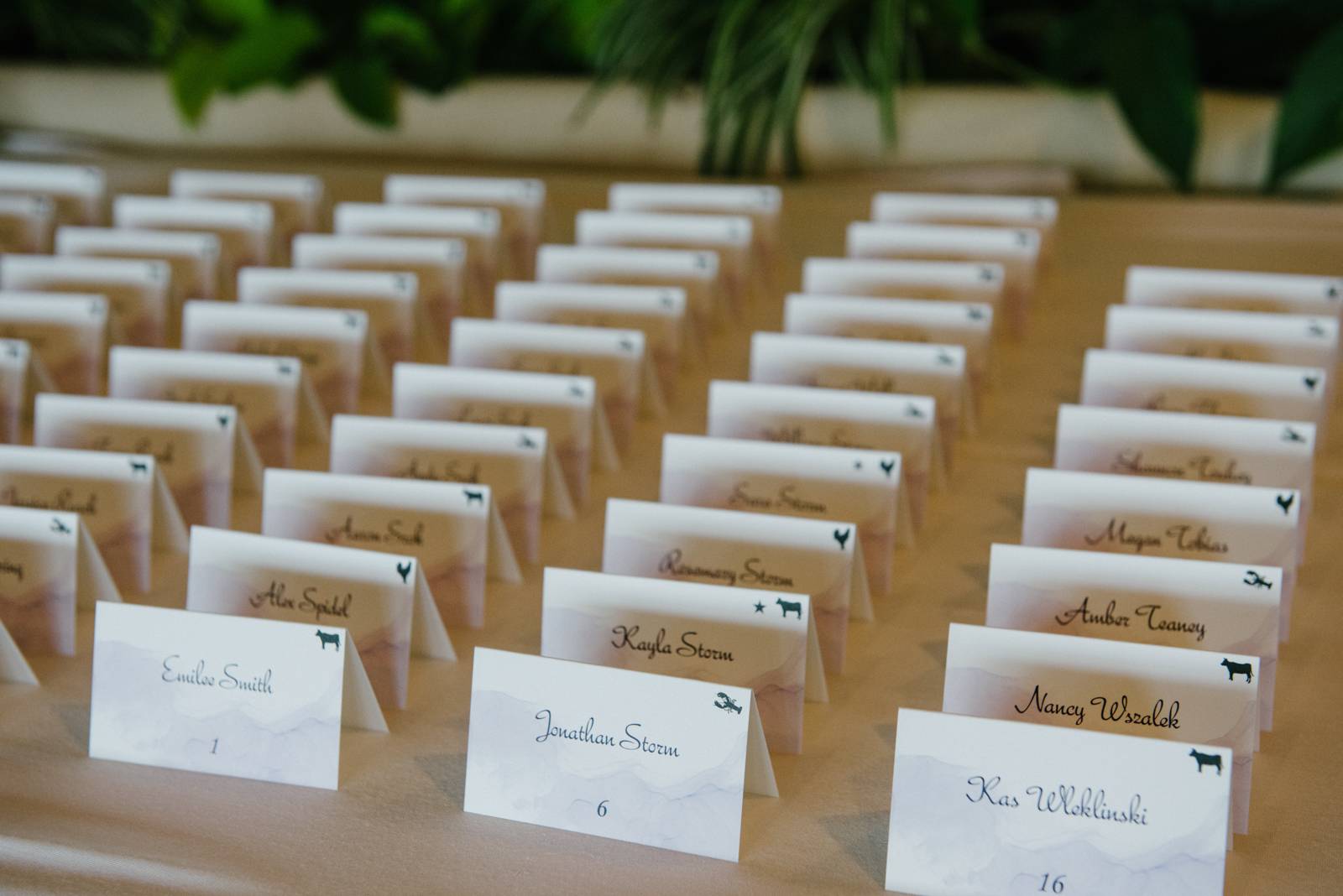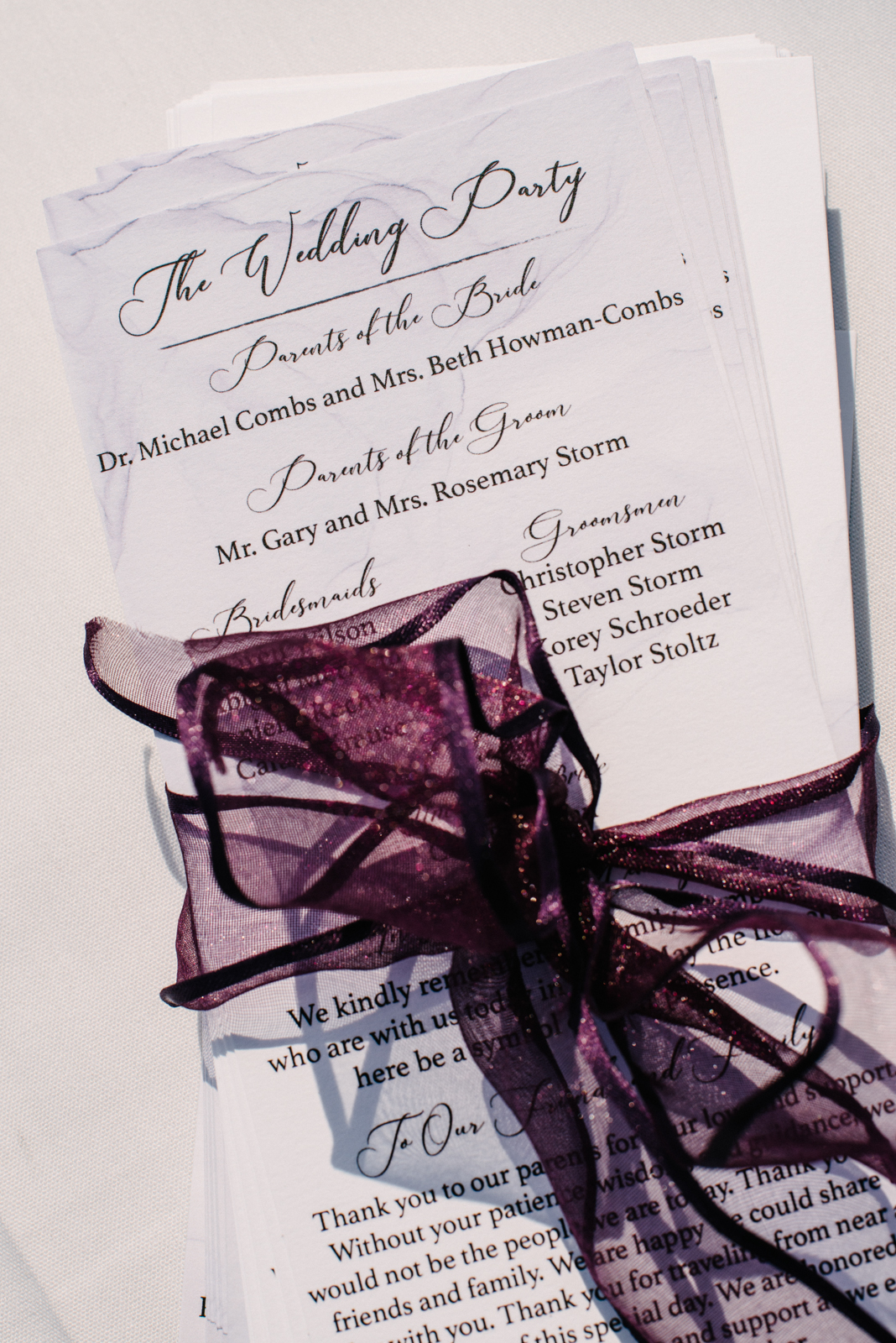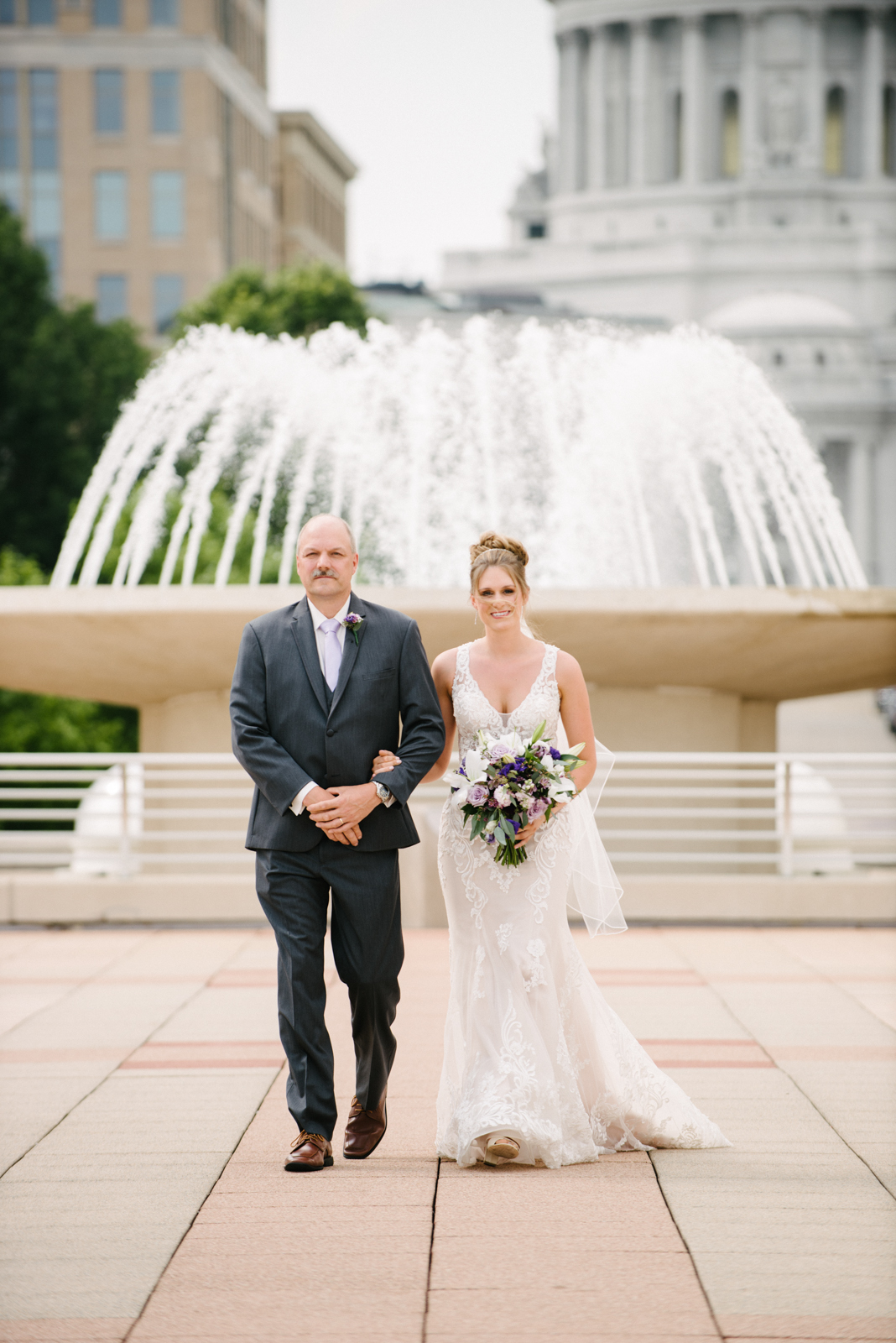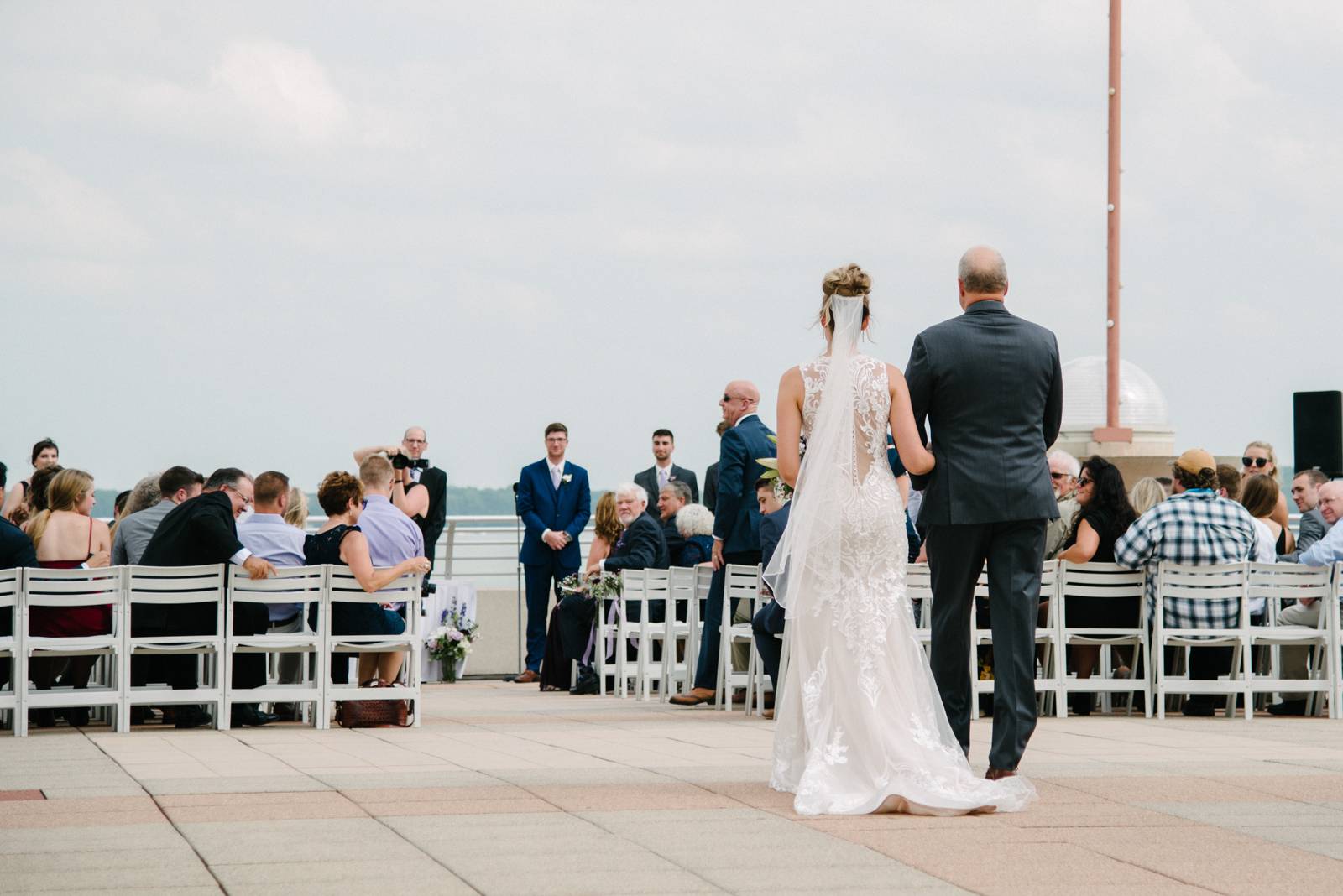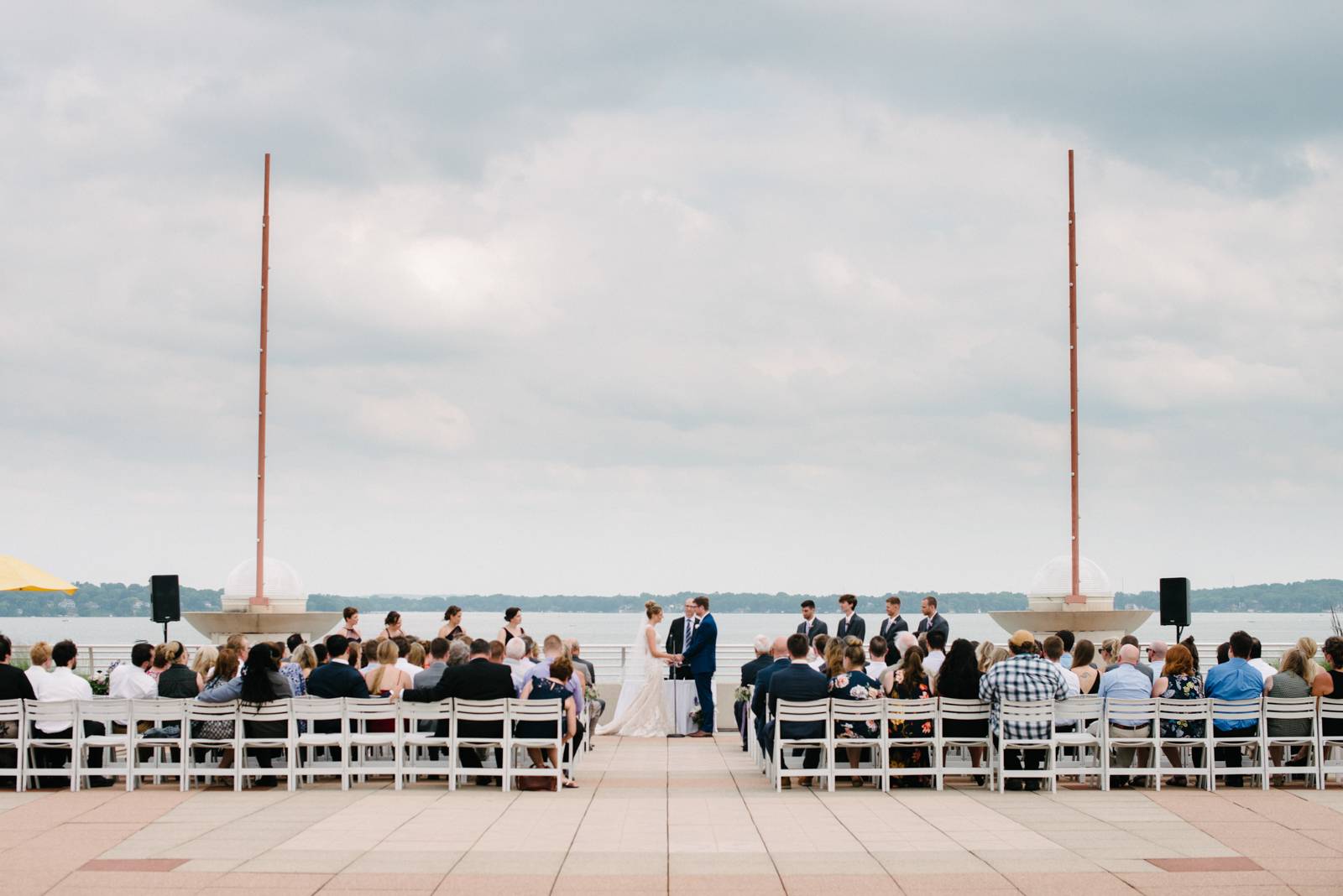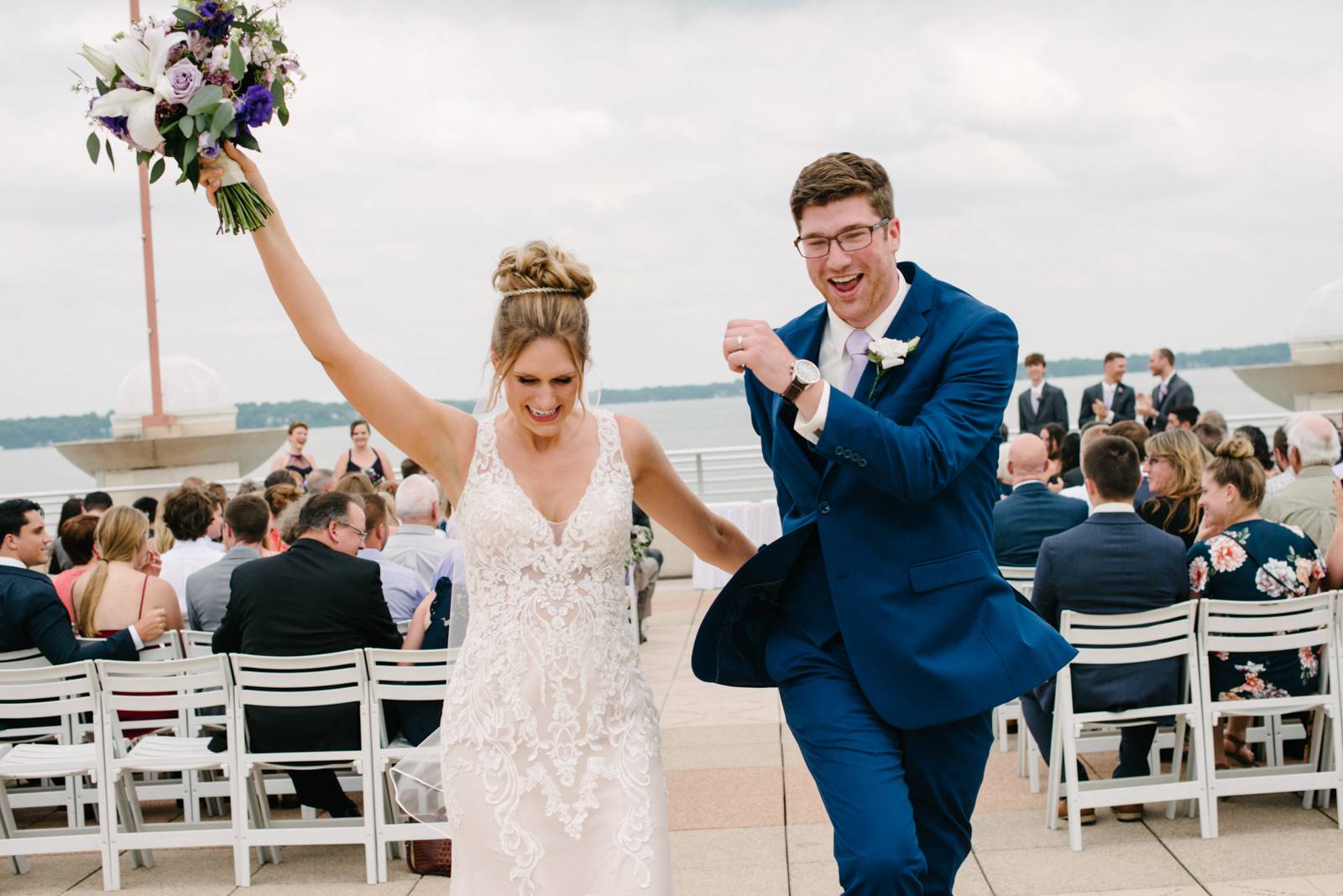 WHAT WAS YOUR FAVORITE MOMENT FROM YOUR WEDDING? My favorite moment was definitely the pictures and taking pictures at all the locations. Our photographers and bridal party were all troopers on the nearly 90-degree day, and we made it through all three locations before the wedding. We made many memories and had many laughs while traveling and taking pictures. Michael and I have always been a little camera shy, however, seeing all the beautiful photos afterward was so much fun and brought tears to our eyes to get to relive the day every time we see the pictures. Azena Photography captured many unique and significant moments that we weren't even aware were happening.
Another great moment was during our ceremony. Beforehand, a slight breeze started to pick up, which was such a welcome cooling breeze after hours of pictures. But as the breeze picked up more, it caused my bridal veil, which had been taken on and off multiple times for pictures, to fly off in the middle of the ceremony. Luckily, my maid of honor caught the veil before it flew into the lake and even put it back in place, where it stayed until the end of the ceremony. Azena Photography even captured these moments, and the pictures are too funny!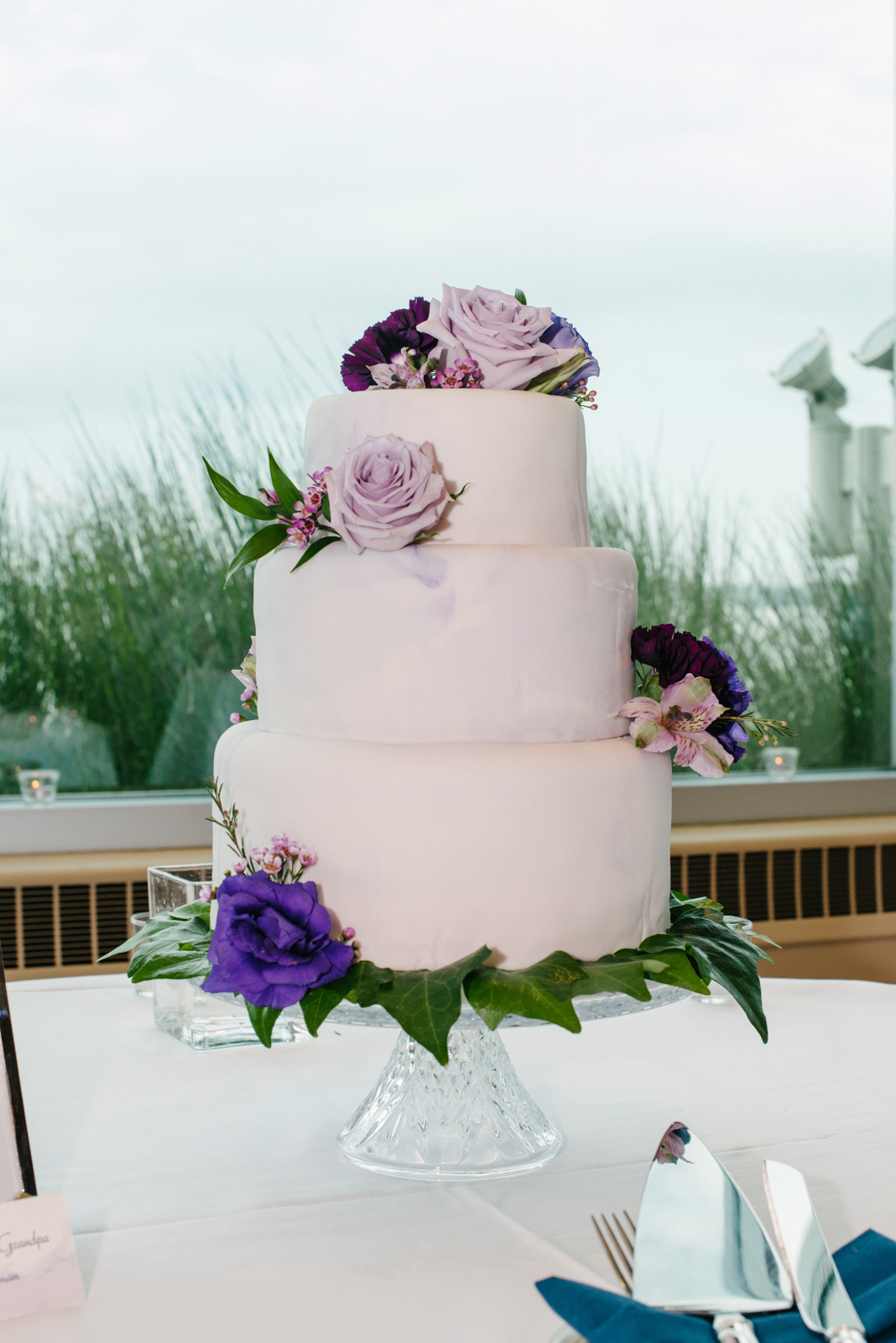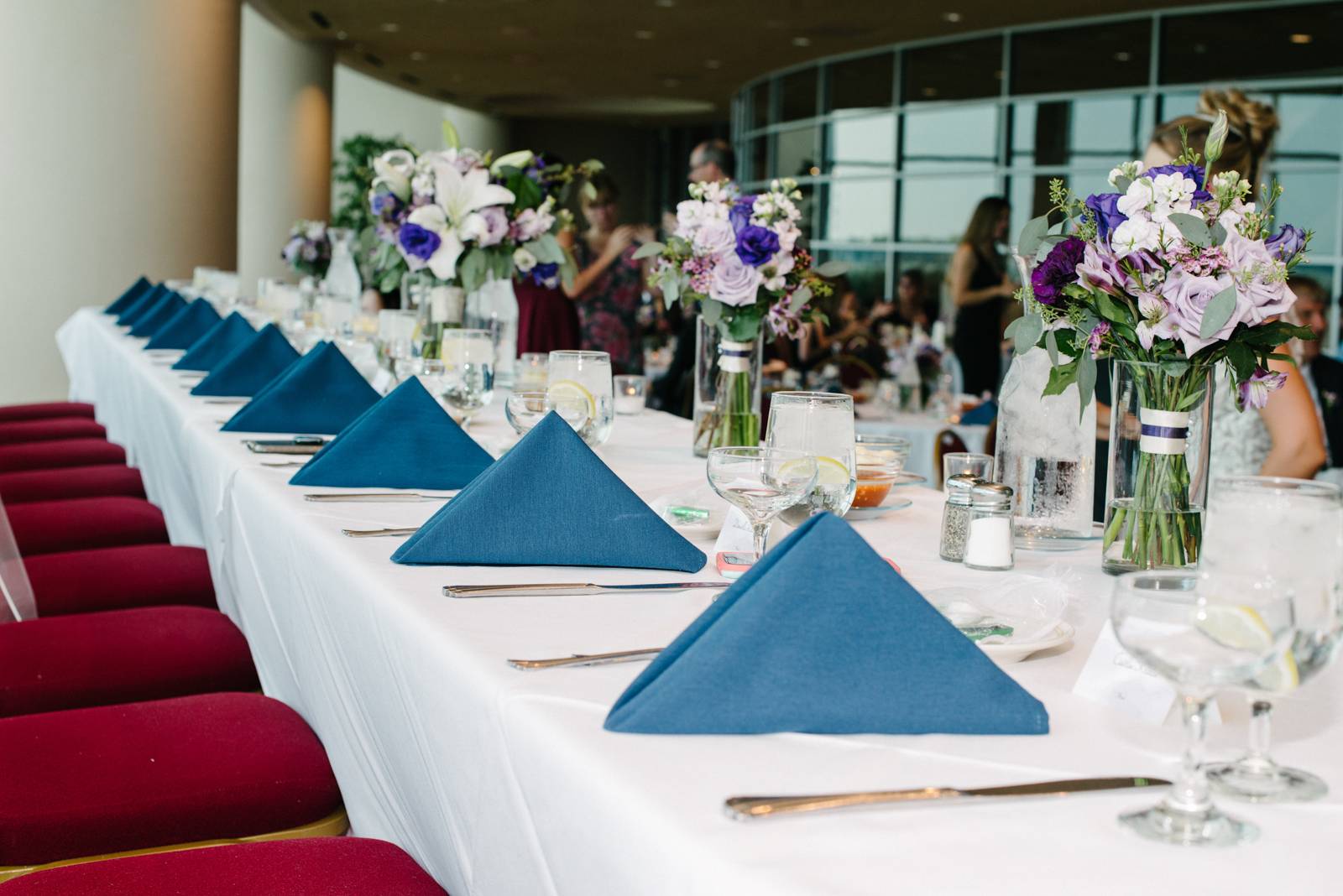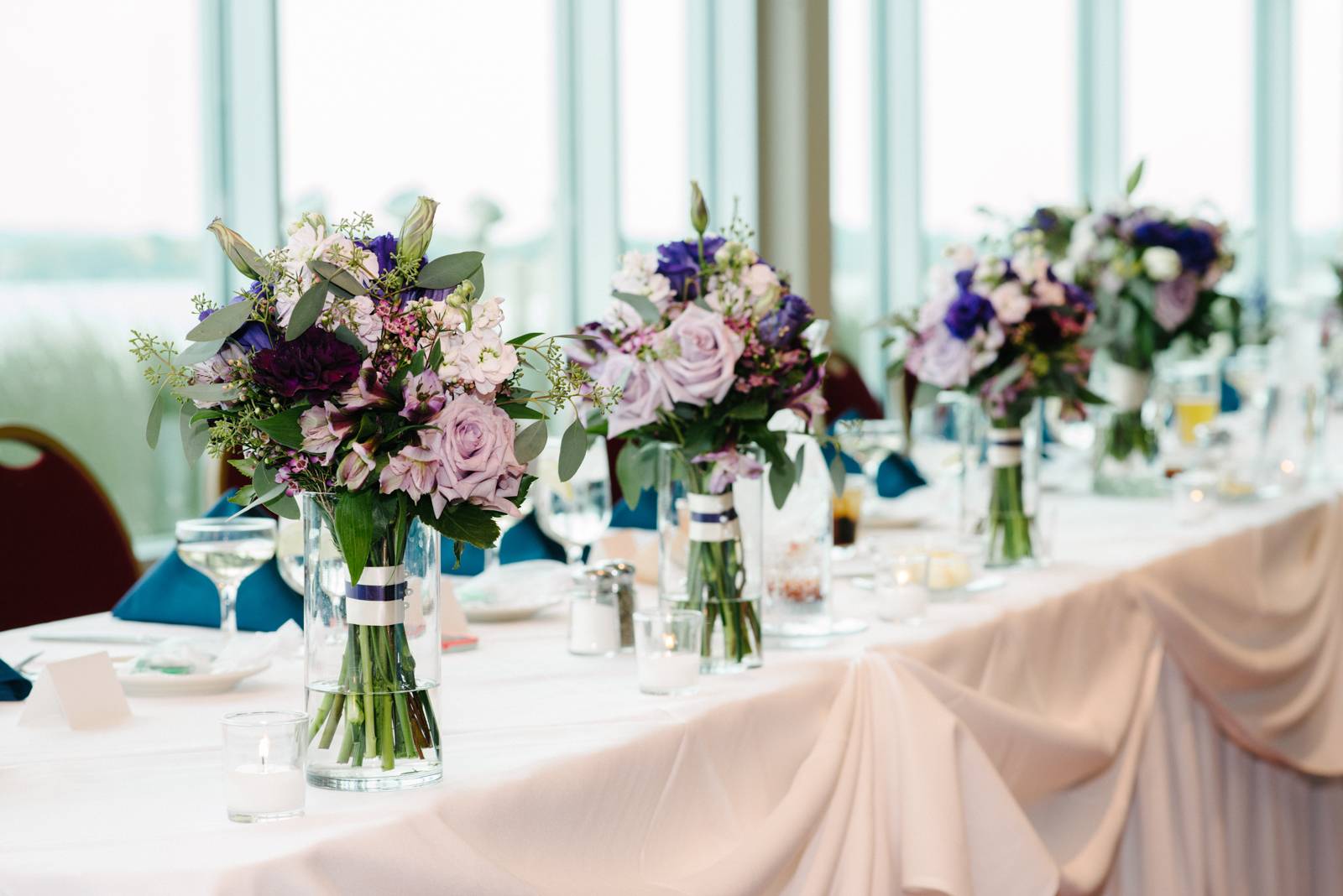 TELL US ABOUT YOUR HONEYMOON PLANS: Michael and I took a 7-day cruise up the New England coast. One big thing about us is we love seeing different places, so picking one place to go really didn't work for us. By taking a cruise, it allowed us to see three different locations that we probably would have never gone to! Our first stop was in Bar Harbor Maine, and let me tell you; we absolutely loved it. We took a tour into Acadia National Forest and hiked there for about half the day. After we got done hiking, we went to explore the town. Our next stop was Saint John, New Brunswick. Once again, we did more hiking this time of the coast on the Bay of Fundy. The coastline was breathtaking, and the most unique part was the tides. The Bay of Fundy has the biggest tidal change in the entire world, able to rise 50 feet over 6 hours! It was amazing to be able to be there and watch it change. Our final stop was in Halifax, Nova Scotia. Nova Scotia brought us sightseeing and winery tours, experiencing a beautiful and historic winery.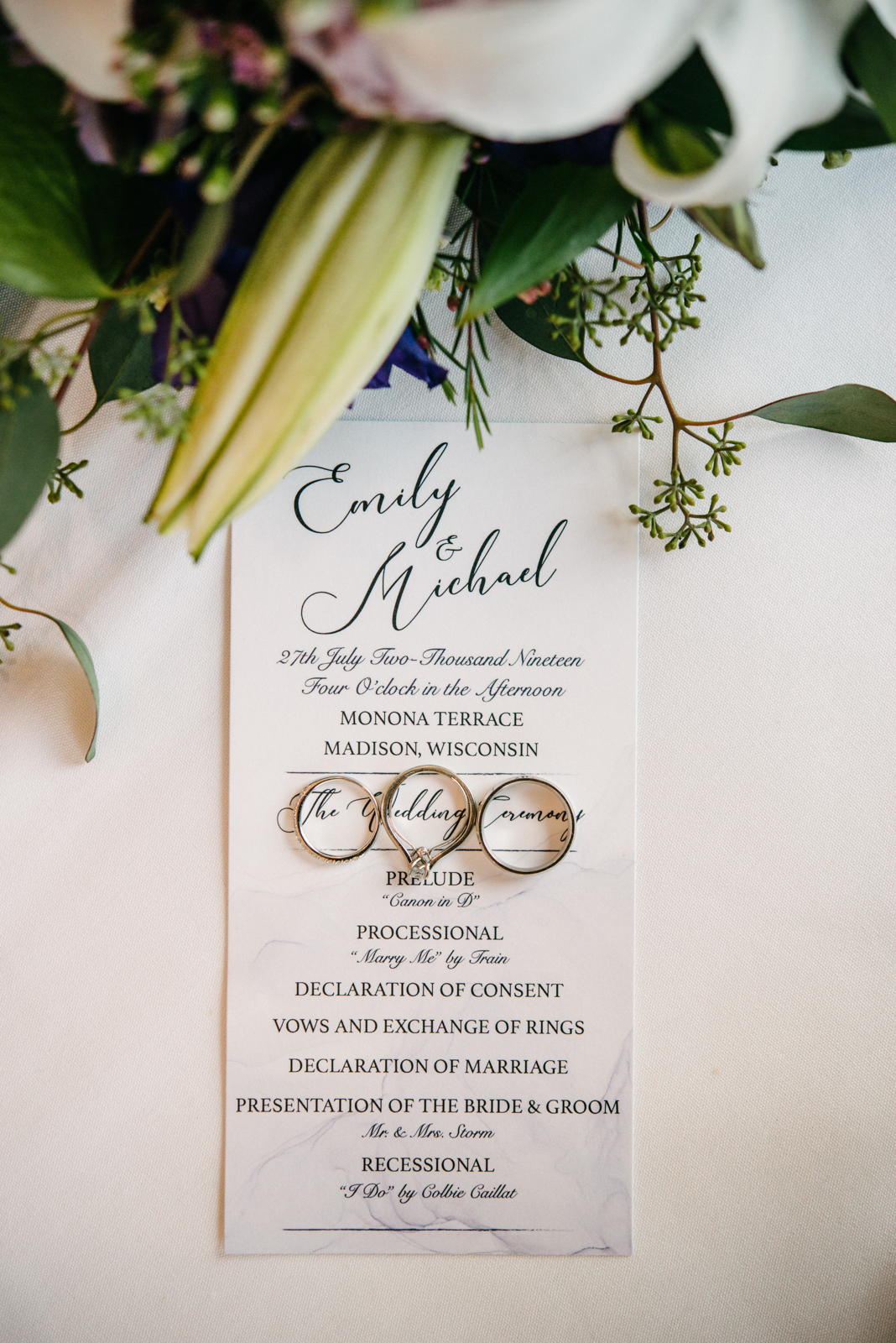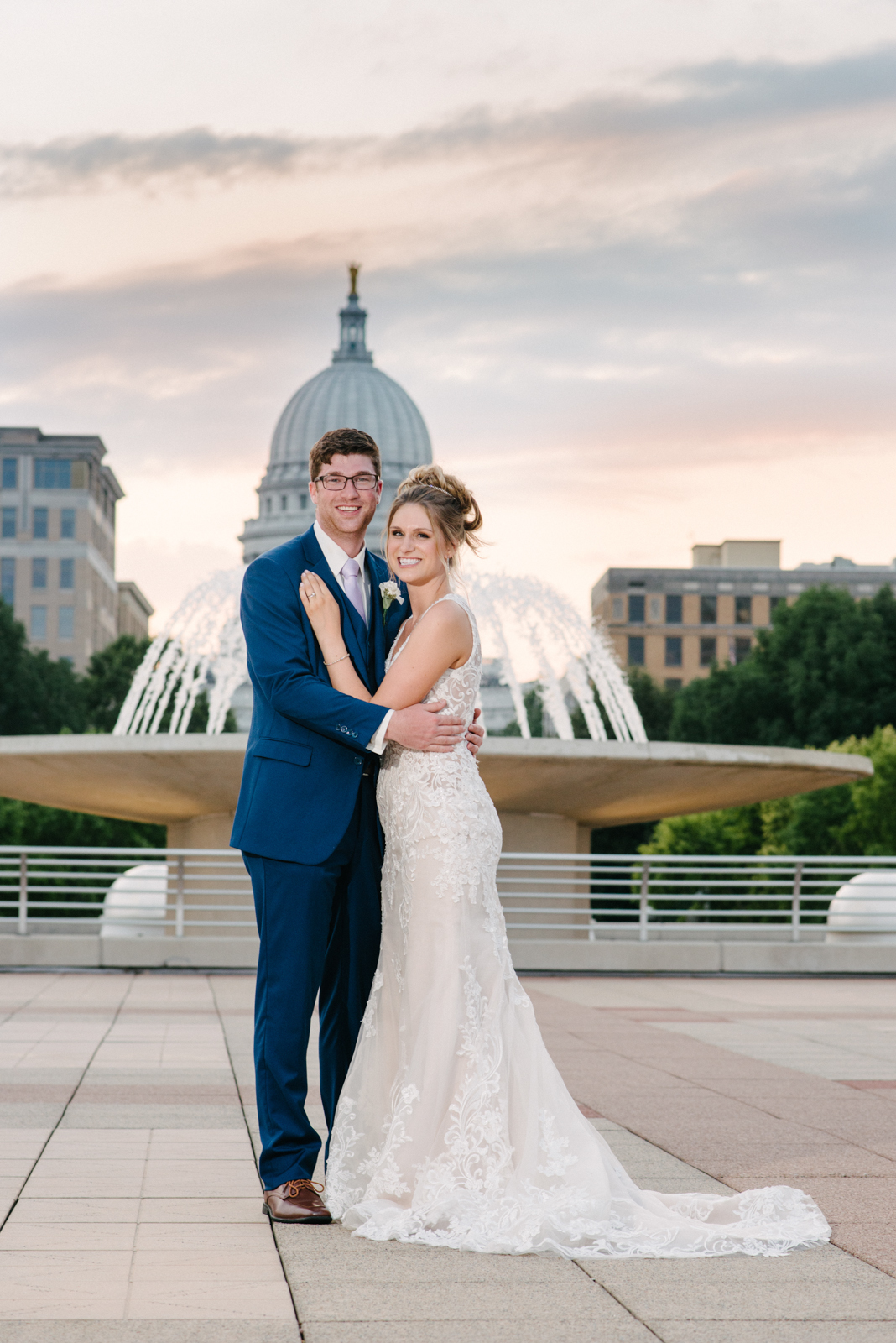 WHAT DOES LIFE LOOK LIKE AFTER THE WEDDING? Right before the wedding, we purchased a house, so now it's time to turn our house into a home! Buying our first house came with many new projects, including landscaping and a master bathroom remodel.
ANY WEDDING PLANNING REGRETS OR SOMETHING YOU WOULD DO DIFFERENTLY? Our only regret about the wedding was how much we stressed about details we could not control. In the end, everything came together perfectly, and we wouldn't have changed a thing.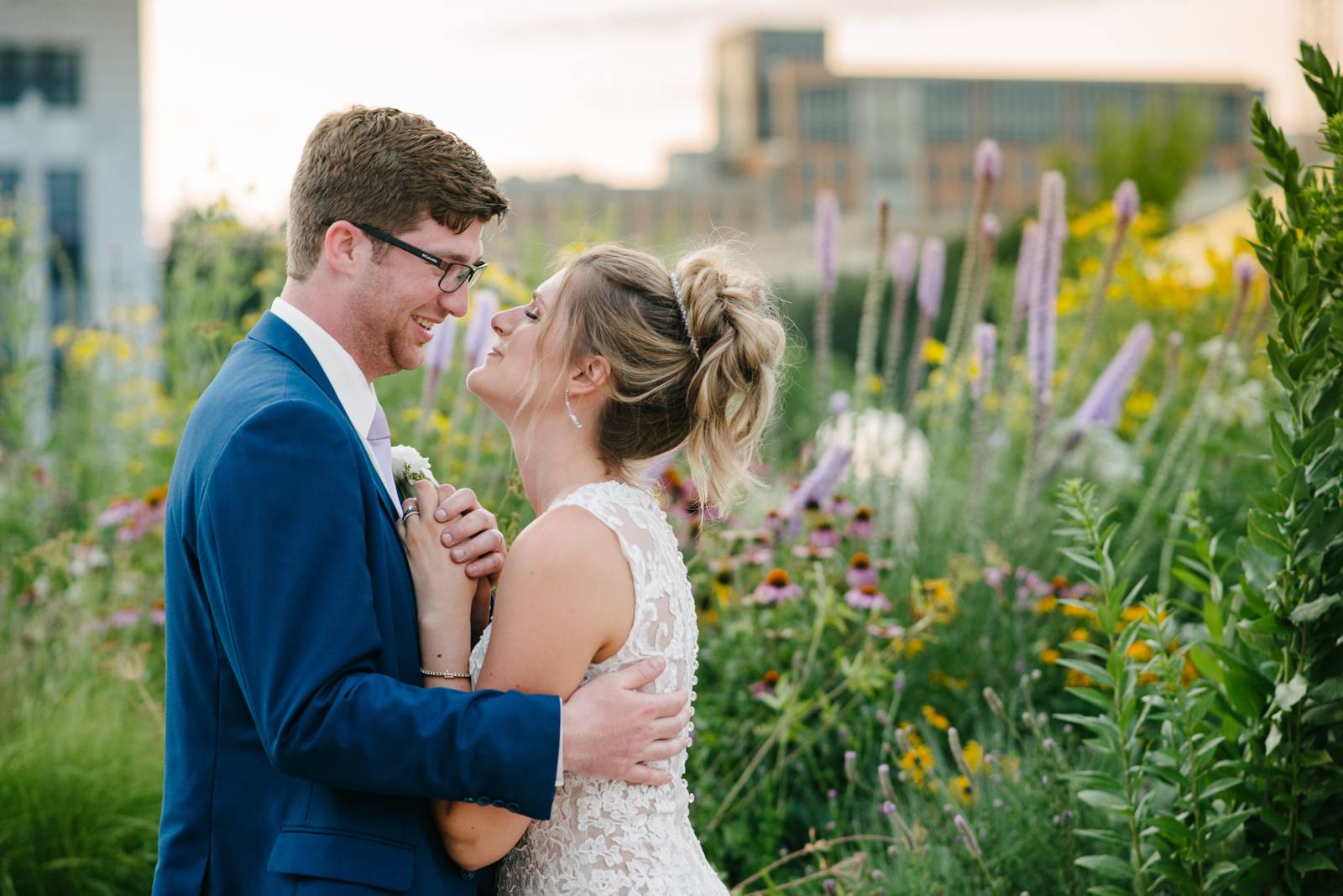 IS THERE ANY ADVICE YOU'D GIVE TO OTHER COUPLES PLANNING THEIR WEDDING? Don't stress about the things outside of your control. Everything happens for a reason, and if something doesn't go the right way, make the best of it. Your wedding only happens once in a lifetime, so don't waste time and effort worrying about things you have no power over.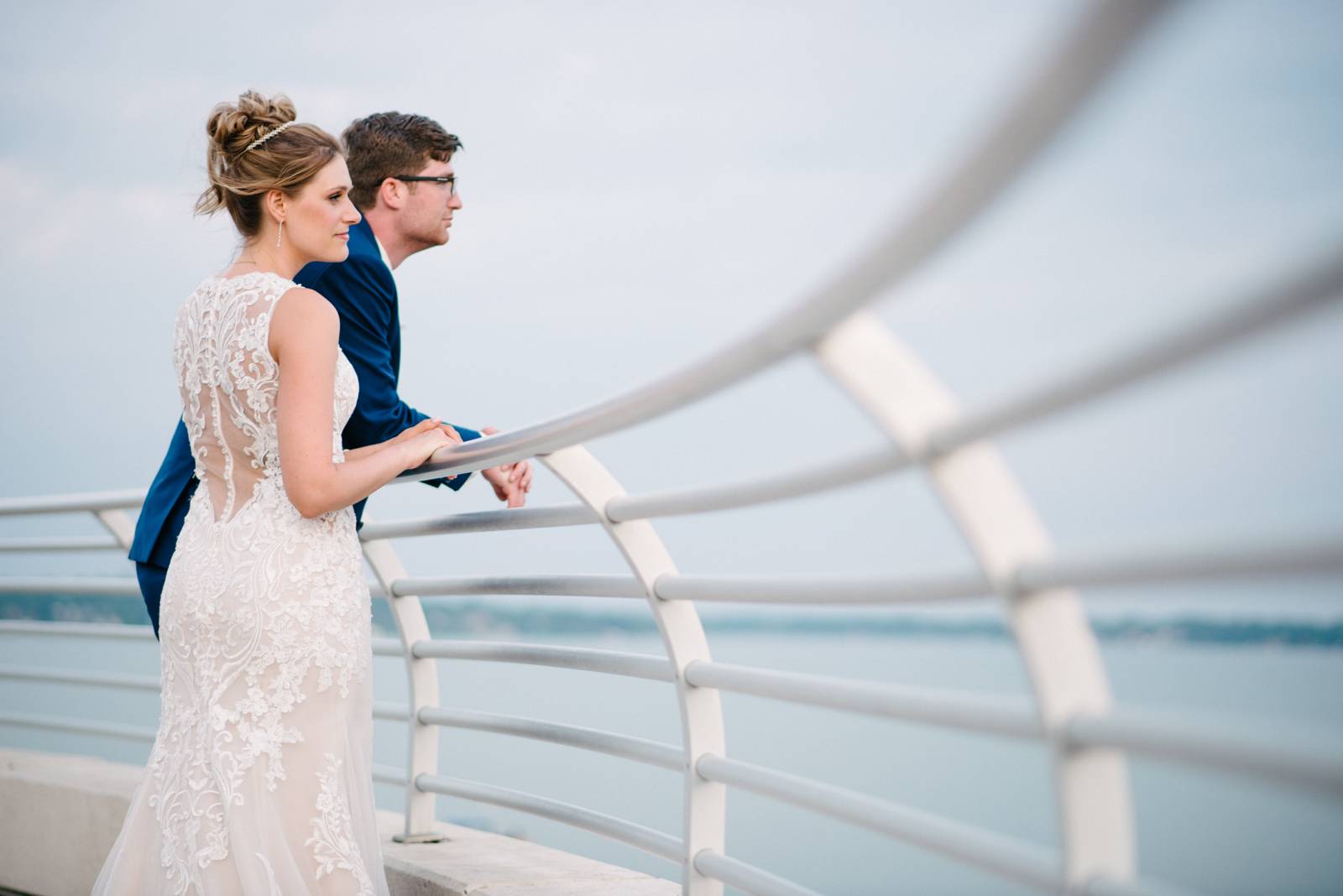 To see more real Wisconsin wedding inspiration, check out our other blog features!