Pamela and Christopher's Madison wedding day was full of love and fun! Quickly preparing for their big day, our couple decided to get married and planned their wedding in under a week! Azena Photography stunningly captured Pamela and Christopher's special day and all of its intimate details. Pamela was a light in the room in her perfect gown from Vera's House of Bridals. Read more about this incredible couple and their beautiful day below!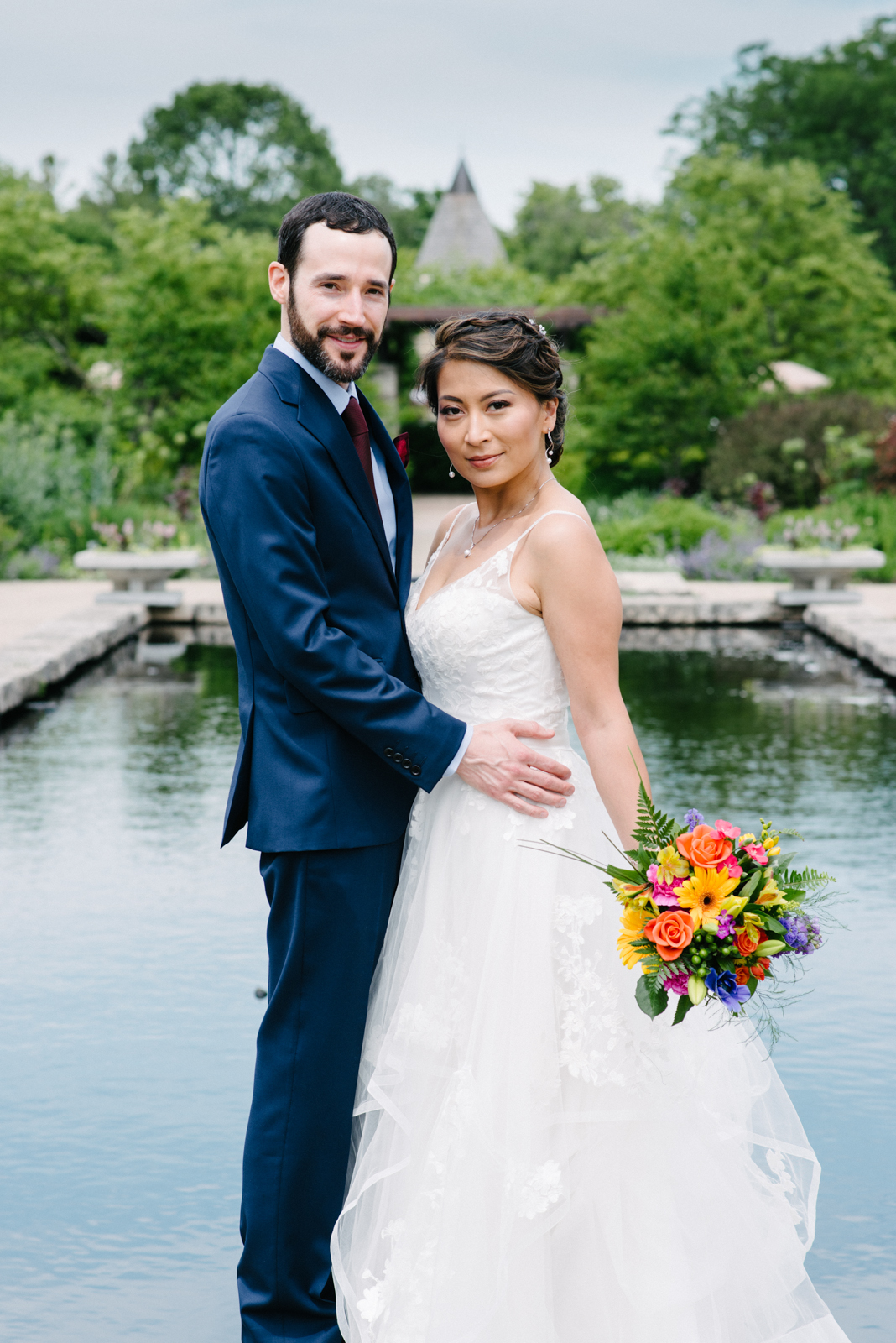 WEDDING DATE: 06/22/19
HOW DID YOU MEET? We met through a mutual friend during college just before Labor Day weekend in 2005. That's when our friendship began, though truthfully, I had a crush on Chris from the very start. It wasn't until our first official date on January 21, 2006, that we confessed our feelings and became a couple.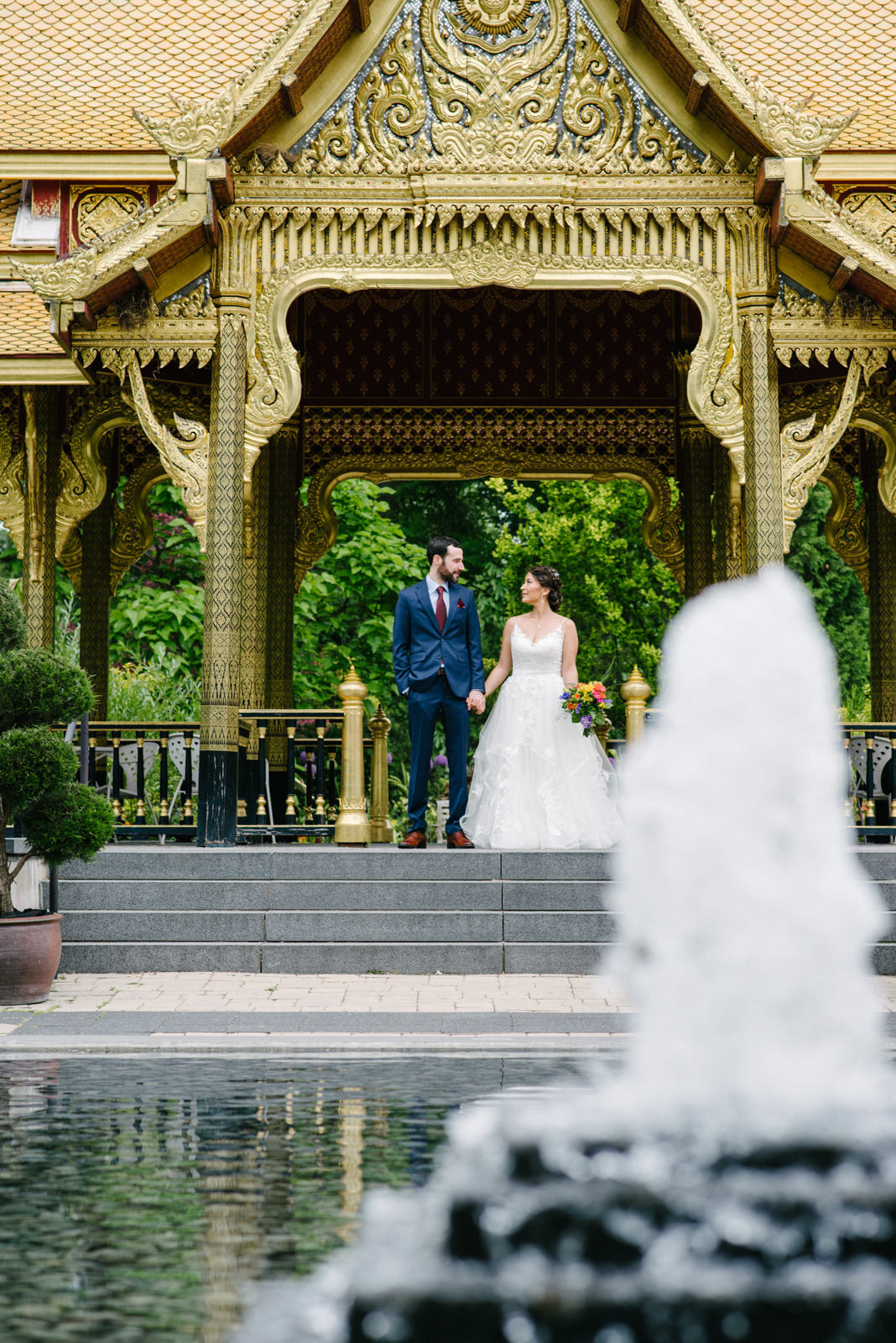 HOW DID YOU KNOW YOU HAD FOUND "THE ONE"? We can't pinpoint a moment when we realized we'd found "The One." We had been together for so many years, through ups and downs, and essentially grew up together. After 7+ years, we did become engaged but broke it off soon after. We realized getting married wasn't the next step; it was knowing ourselves as adult individuals. We maintained our close friendship during that time, even meeting weekly to catch-up over brunch. We chose to get back together, and our bond has never been stronger. We feel confident and complete in ourselves, and the love and belief we have in each other are the reasons why we got married.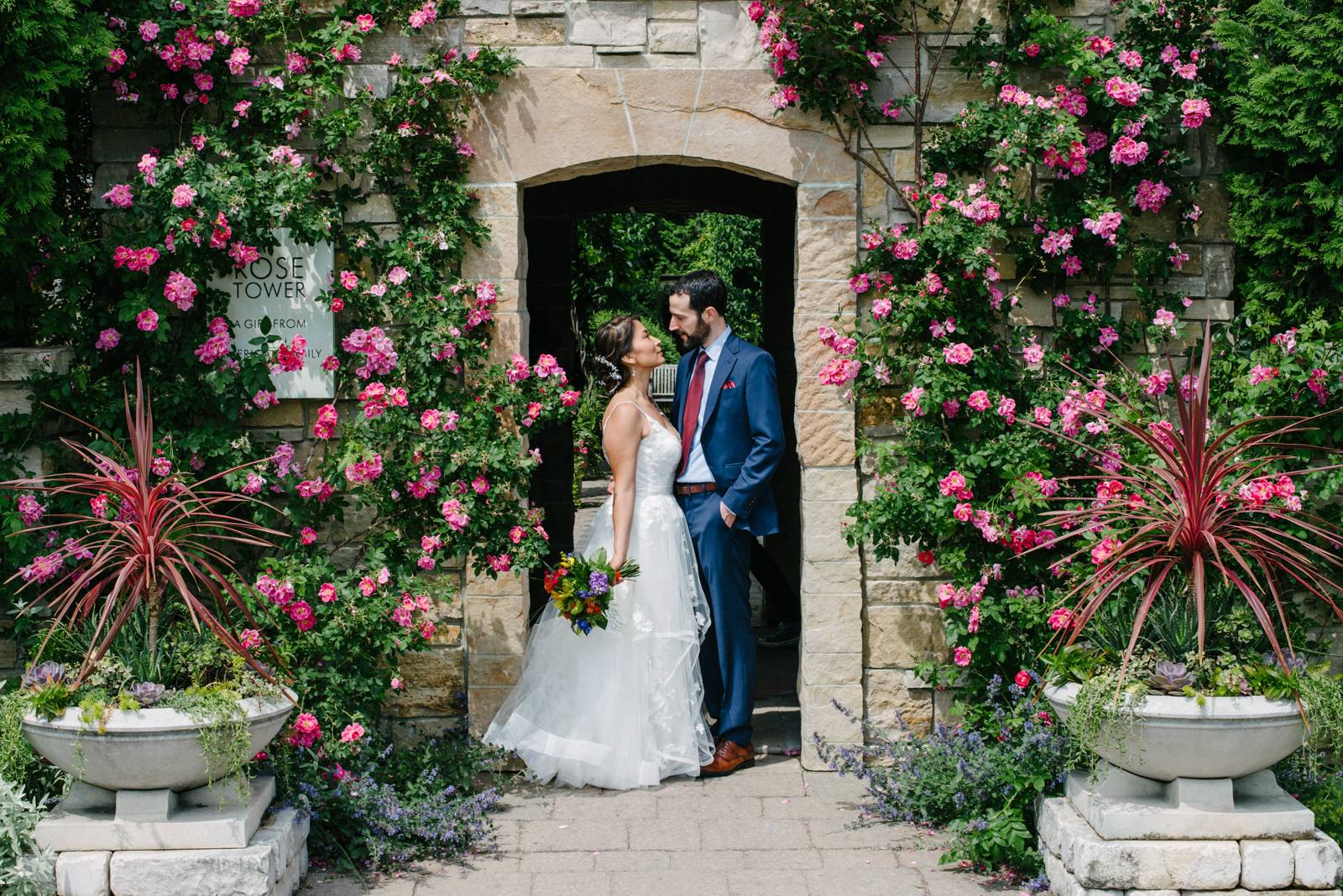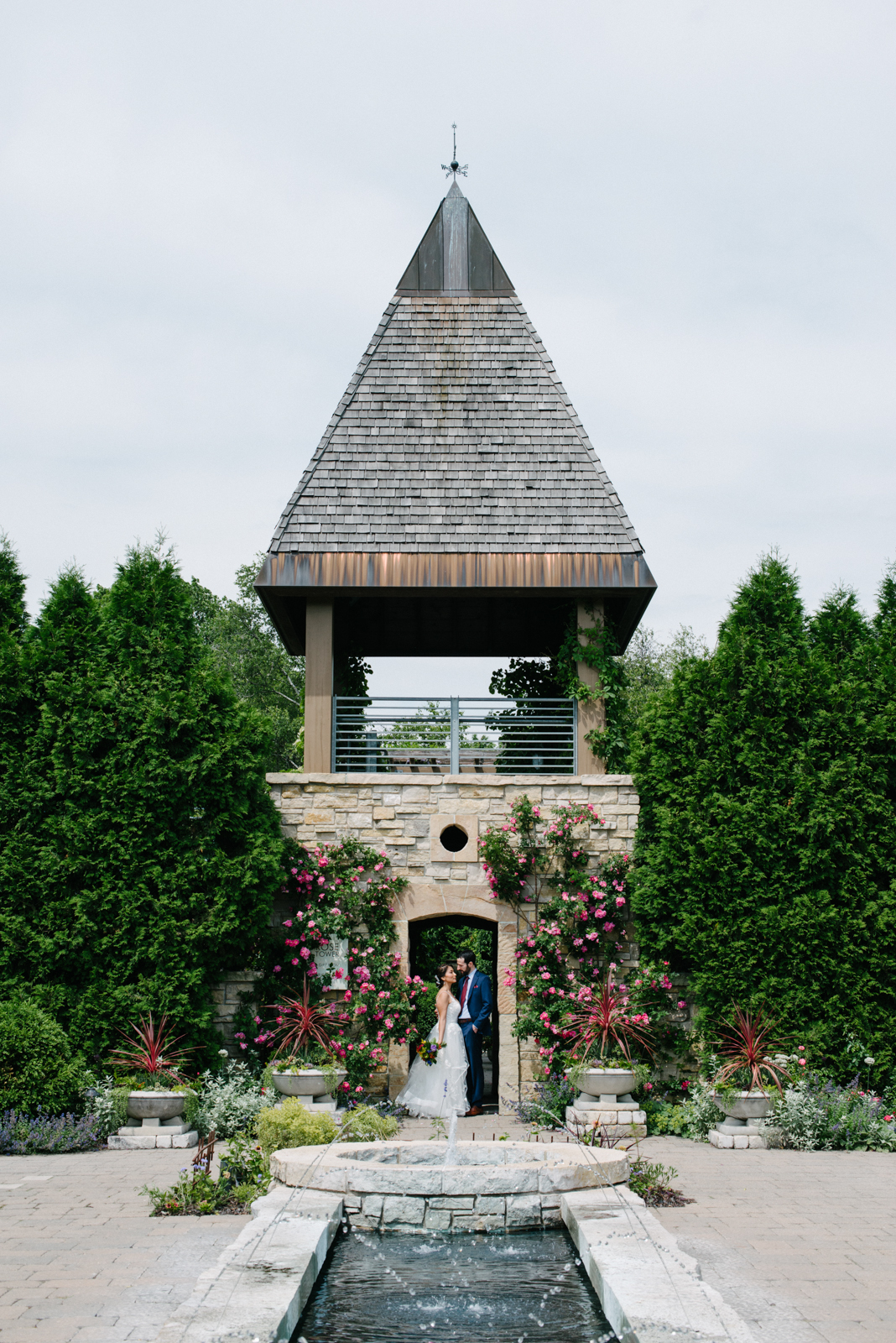 TELL US ABOUT YOUR PROPOSAL: It was probably a bit more unconventional than most, but that aligns with our personalities. We were sitting on the couch and joked how we should get married on our dating anniversary, which was in a couple of days, so we'd only have one date to remember. Then we began discussing it more seriously and thought, why not? We had already planned on being together for the rest of our lives and starting a family - like Goldie Hawn and Kurt Russell - so we might as well reap the tax benefits, make our families happy, and most of all celebrate our love with a party!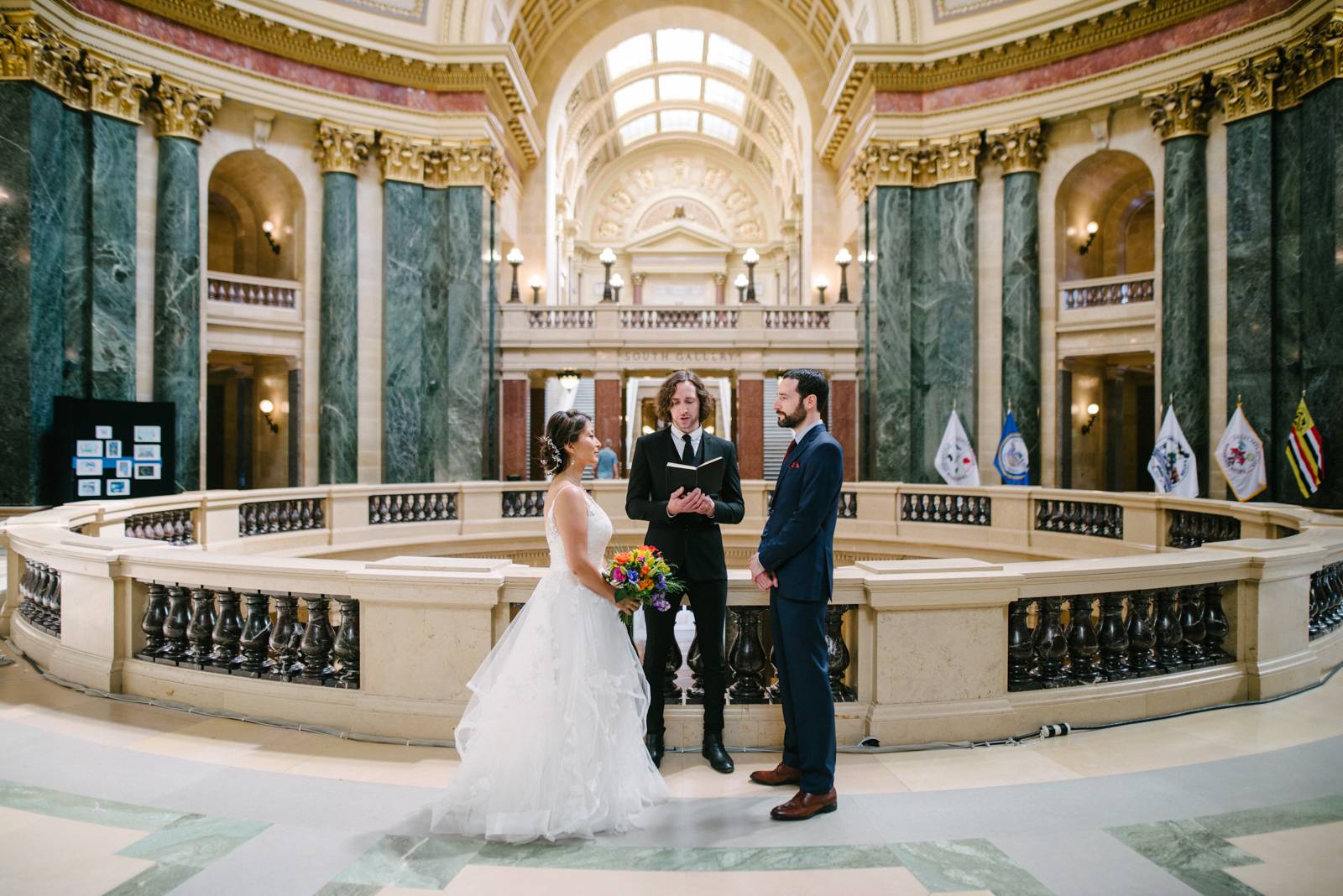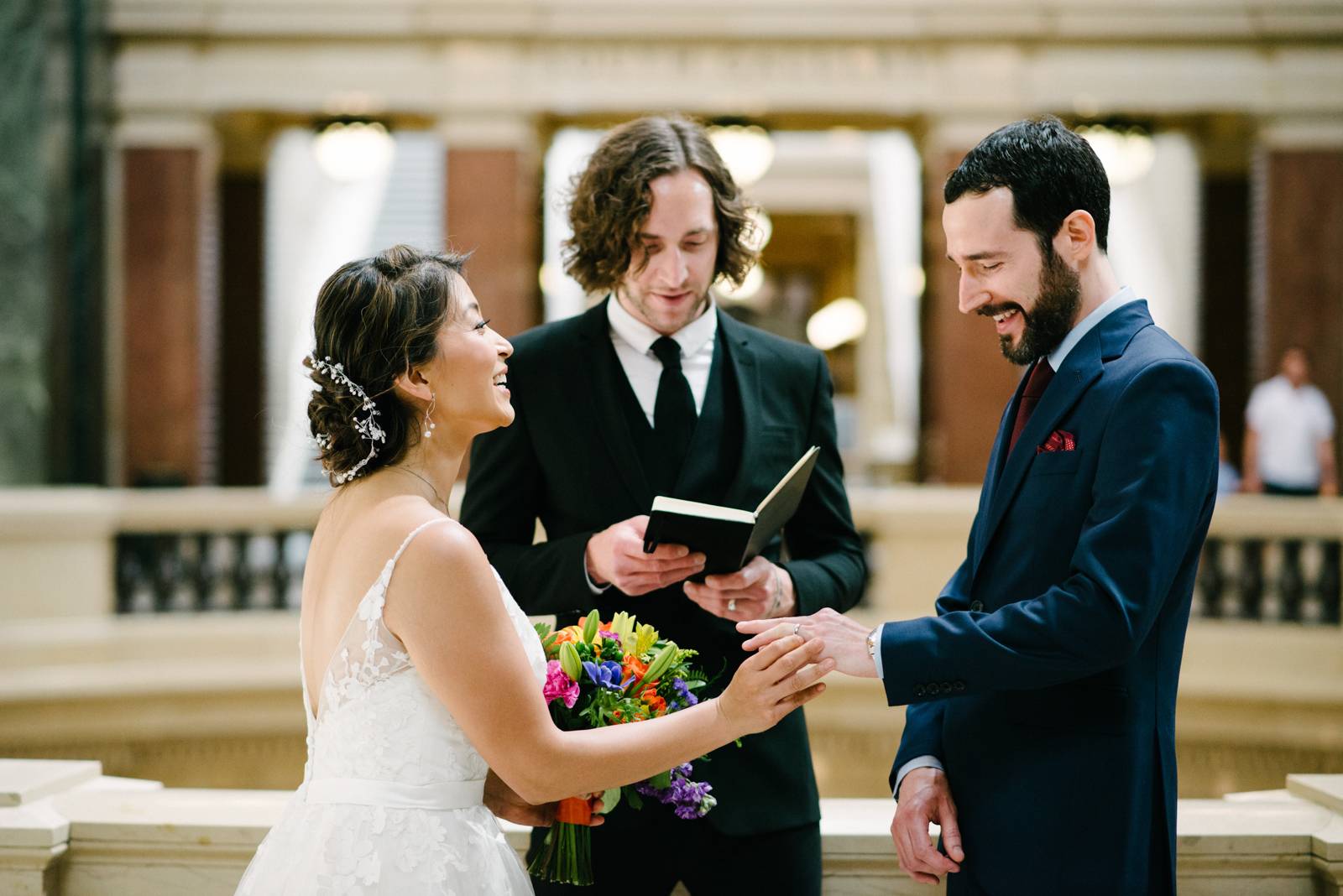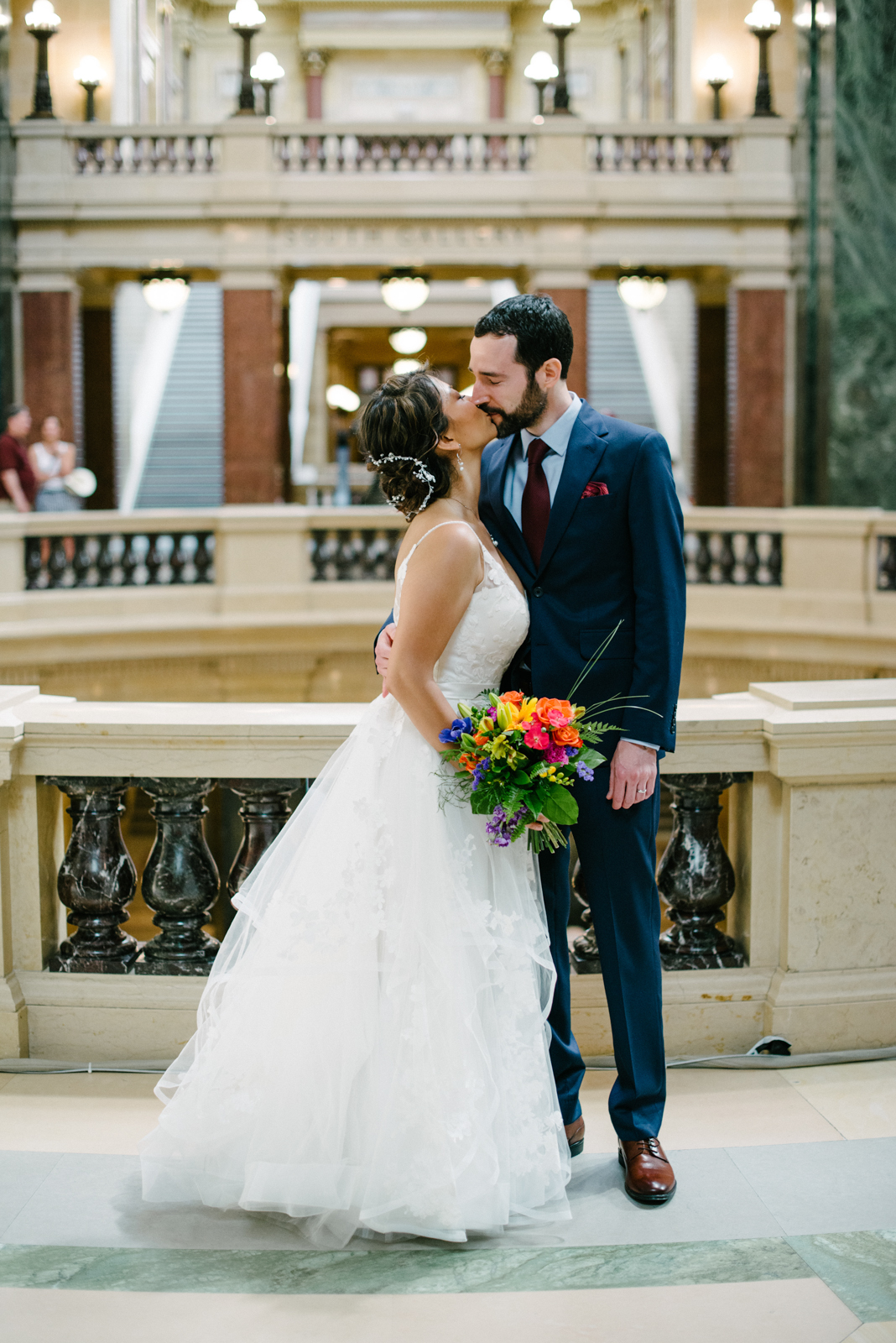 TELL US ABOUT FINDING YOUR DRESS: We had been living in Madison, Wisconsin, for only eight months, so I wasn't familiar with the area. Vera's House of Bridals was highly reviewed online and recommended by some coworkers. My family is on the East Coast, and most of my friends live in Chicago, so the only people I brought with me were Chris and his mother. I was instantly overwhelmed when we stepped into the store; there were so many dresses! Luckily, the stylist who helped me, Mary, was very understanding and suggested I stay in the dressing room while she grabbed items similar to the virtual lookbook I had created online. Meanwhile, Chris and his mom looked around as well. I tried on seven dresses that the stylist chose but wasn't "wowed" by them. Then Chris knocked on the door and said, "This one looks like a 'Pam' dress," and I loved it! I walked out of the store that day with the sample dress.
HOW WOULD YOU DESCRIBE YOUR WEDDING THEME/STYLE IN FIVE WORDS OR LESS? Simple, non-traditional, fun, and totally us!
DESCRIBE YOUR WEDDING FLOWERS: With less than a week before the wedding, we went to the florist for a bouquet. I told her my life had been influenced by a colorful array of people and experiences, so I'd love to have a bright variety. She looked down at my rainbow shoelaces and said, "You do like color." I picked up the bouquet on the morning of the wedding and was not disappointed!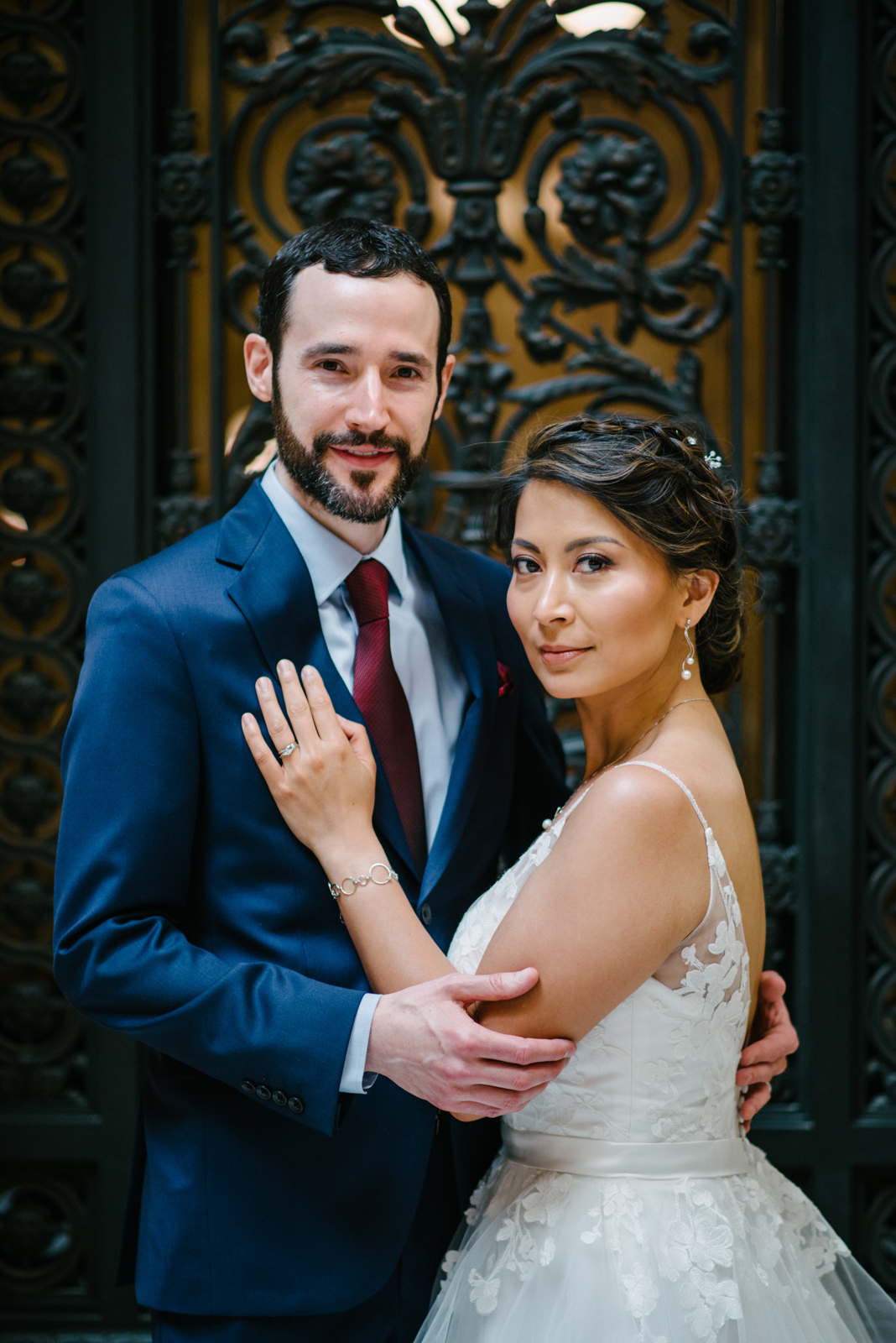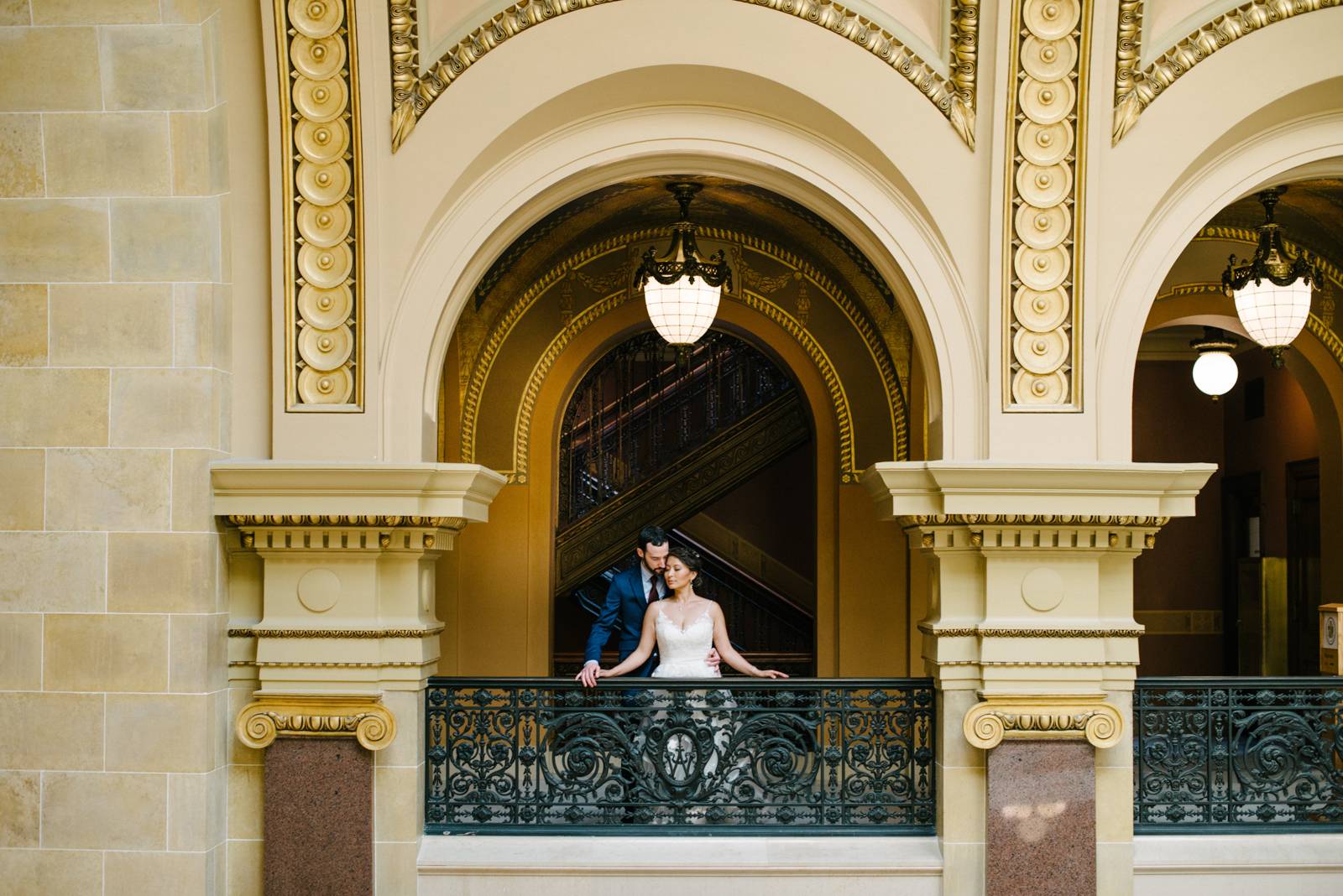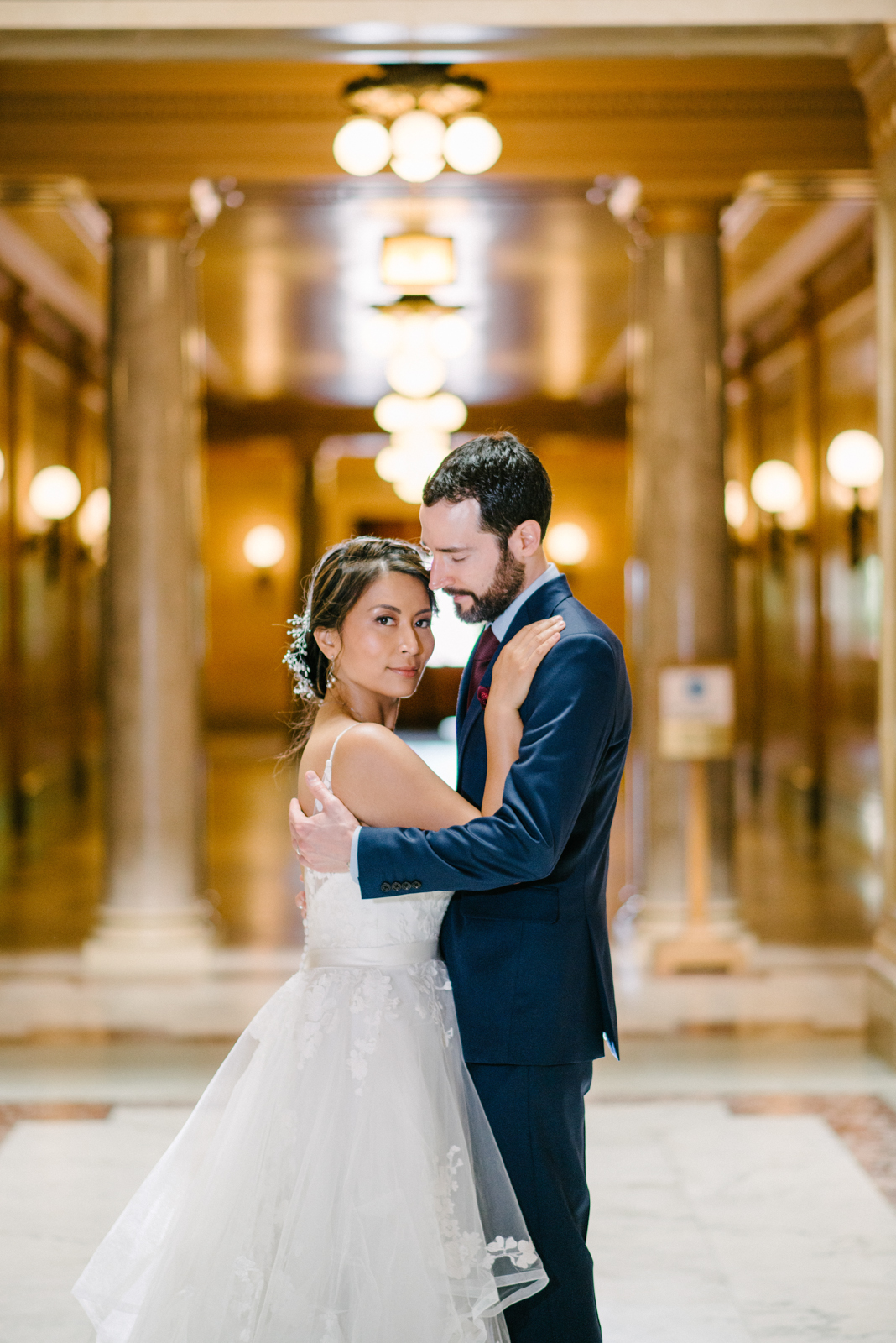 WHAT WAS YOUR INSPIRATION/DESIGN CONCEPT FOR YOUR CEREMONY AND RECEPTION? Our overall concept was to be ourselves and let our guests comfortably enjoy themselves. The ceremony was at the Wisconsin State Capitol on the second-floor rotunda. Of course, we didn't decorate there, but that wasn't even a thought in our minds. It's a gorgeous space with stunning architecture. Most importantly, we wanted to focus on the experience, so the added sparkle was brought by our immediate families in attendance. We are beer lovers and wanted to have the reception at a brewery. After looking at several options, we decided on the Ale Asylum in Madison. We had been there many times before and always enjoyed the food, drinks, and service. We worked with their event coordinator, Angie, who reserved the second-floor and outdoor patio for us. We made a playlist of our favorite songs and a slideshow with photos spanning the 13 years of our relationship.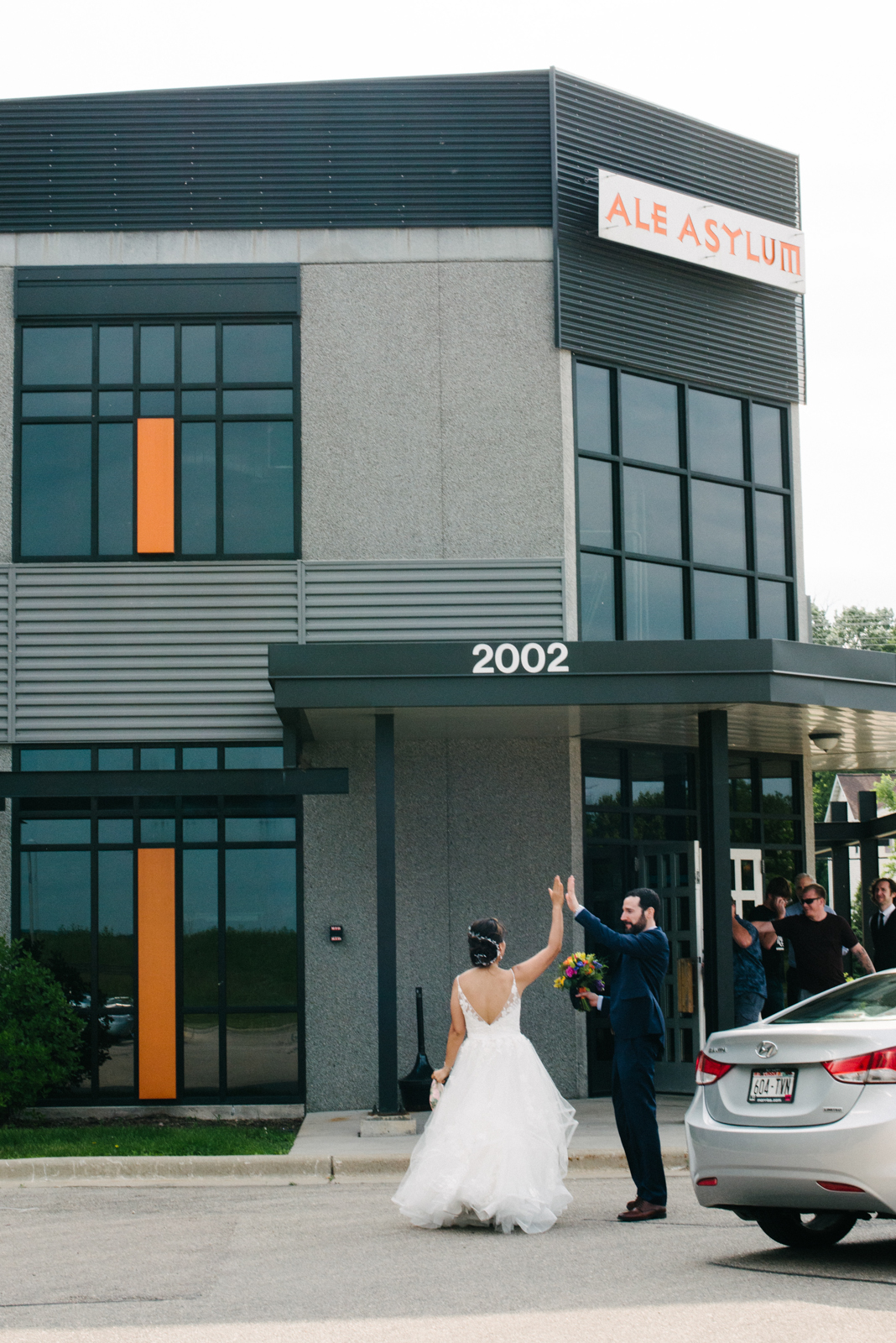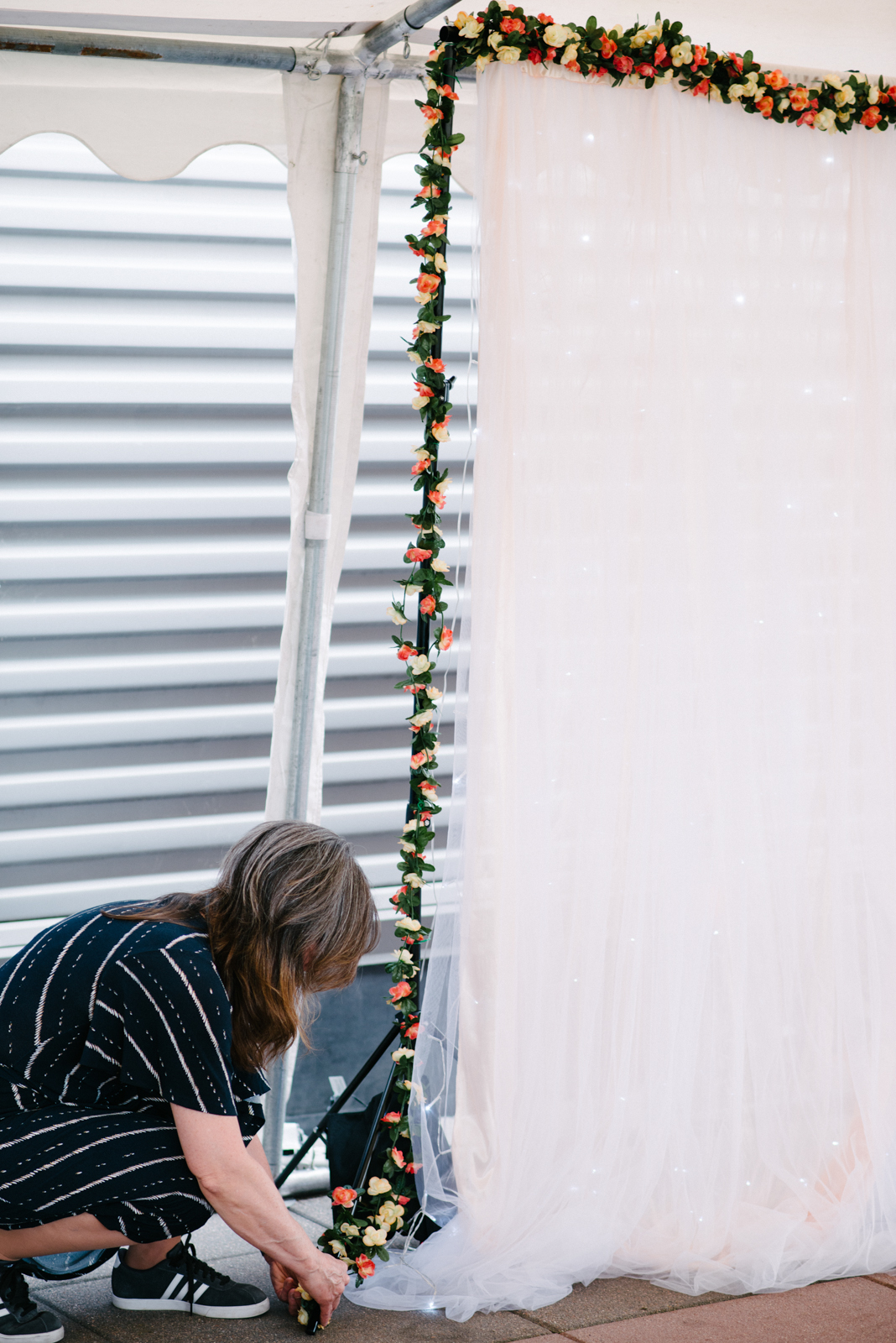 DID YOU USE ANY SPECIALTY CHAIRS, LINENS, CHARGERS, GLASSWARE OR DINNERWARE? Not during the wedding, but we included an Ale Asylum pint glass in each guest's gift bag that said, "Beer is dream flavored water."
TELL US ABOUT THE FOOD, DESSERT AND ANY SPECIALTY BEVERAGES ON THE MENU: The Madison eastside Hy-Vee provided our catering. Between our guests and us, we had several food allergies to consider, and Chef Renee Soper specializes in dietary restrictions. She gave amazing recommendations for buffet-style items that would keep well, and we felt assured everyone would be safe with the delicious food. We opted for broasted chicken, green beans, mac and cheese, and roasted red potatoes. For dessert, we had a variety of mini gourmet cupcakes and cookies. All of the leftovers were donated to Second Harvest Foodbank of Southern Wisconsin, a hunger-relief charity organization that strikes to make sure everyone in the area has enough of the right kinds of food to live a happy and healthy life. Finally, the beverages were the real star! We handpicked craft beers brewed by Ale Asylum, especially IPAs, as well as several kinds of liquor and wine to ensure there was something for everyone.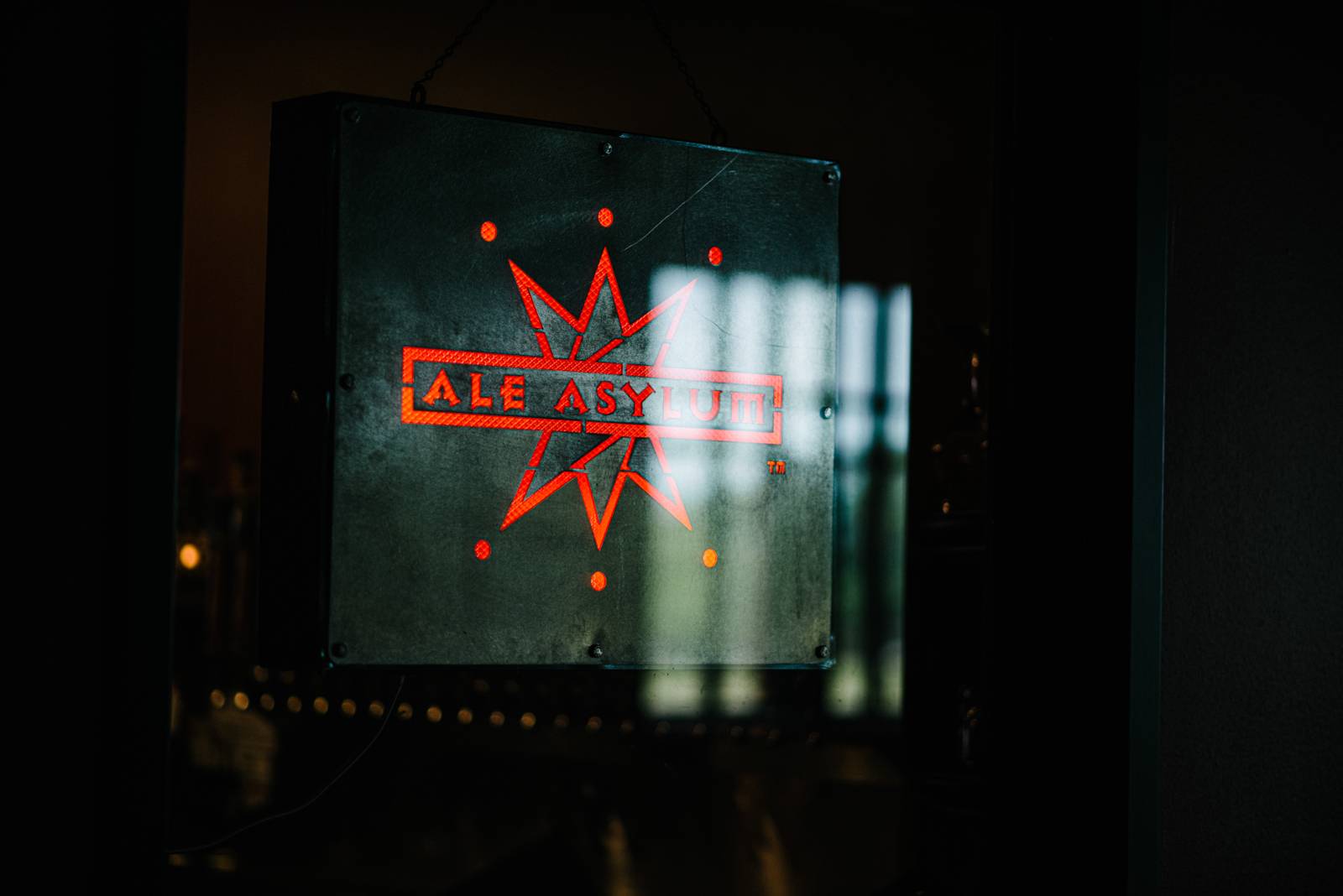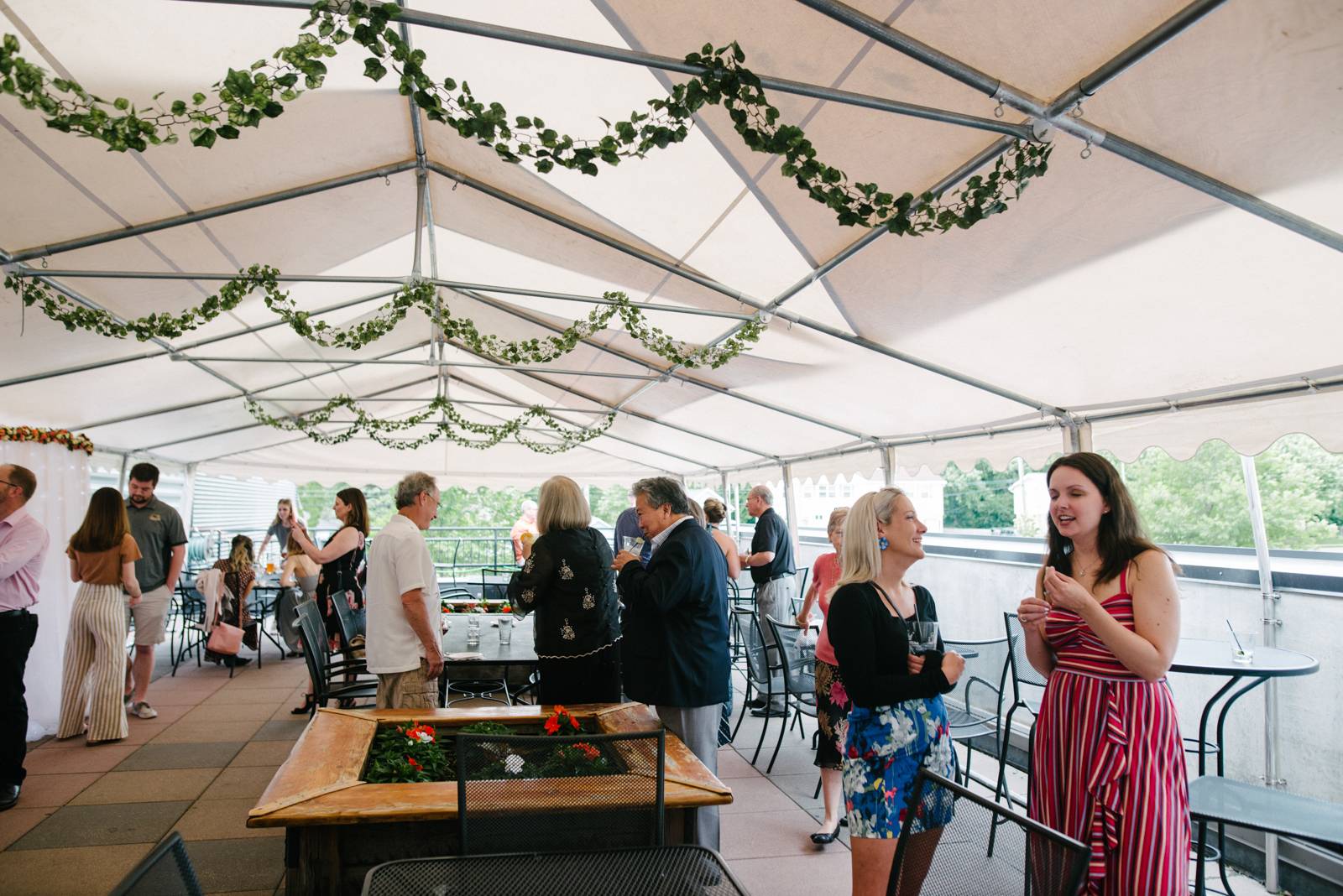 WHAT WAS YOUR FAVORITE MOMENT FROM YOUR WEDDING? We have several favorite moments but will limit our answer to the top two. First came the moment during the ceremony when our officiant, Chris' brother, asked me to repeat after him. We thought we were only going to say, "I do" but were pleasantly surprised with a personalized and more meaningful service. I couldn't remember everything he said and flubbed the lines in spectacular fashion, which caused all three of us to break out laughing. The next memorable moment came during dinner when we saw each other at the bar and decided to eat there. It was one of the few opportunities the two of us could just sit and talk, and it was great to take it all in together.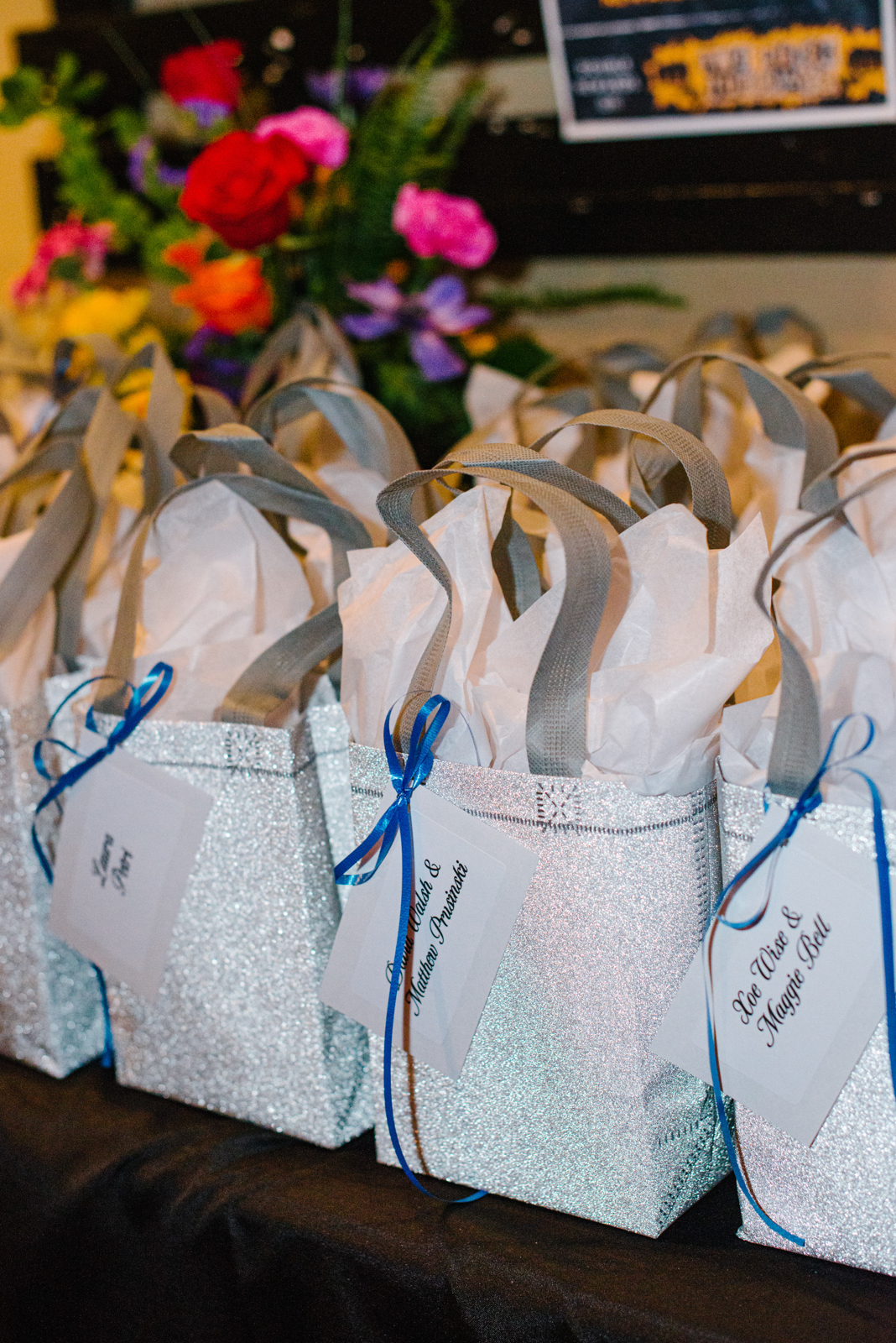 TELL US ABOUT YOUR HONEYMOON PLANS: We are heading to New Zealand and the Philippines in February 2020. We plan to swim with the world's smallest dolphins, witness nature's majesty at Milford Sound, Coromandel Peak, paddleboard through caves lit up by glow worms, and so much more. As filmmakers, we're particularly excited about visiting Hobbiton and Weta Workshop as well. Since we'll be on that side of the world, we will visit the Philippines, where my family is from. We will enjoy the Philippine International Pyromusical Competition in Manila and some of the most beautiful beaches in the world in Palawan.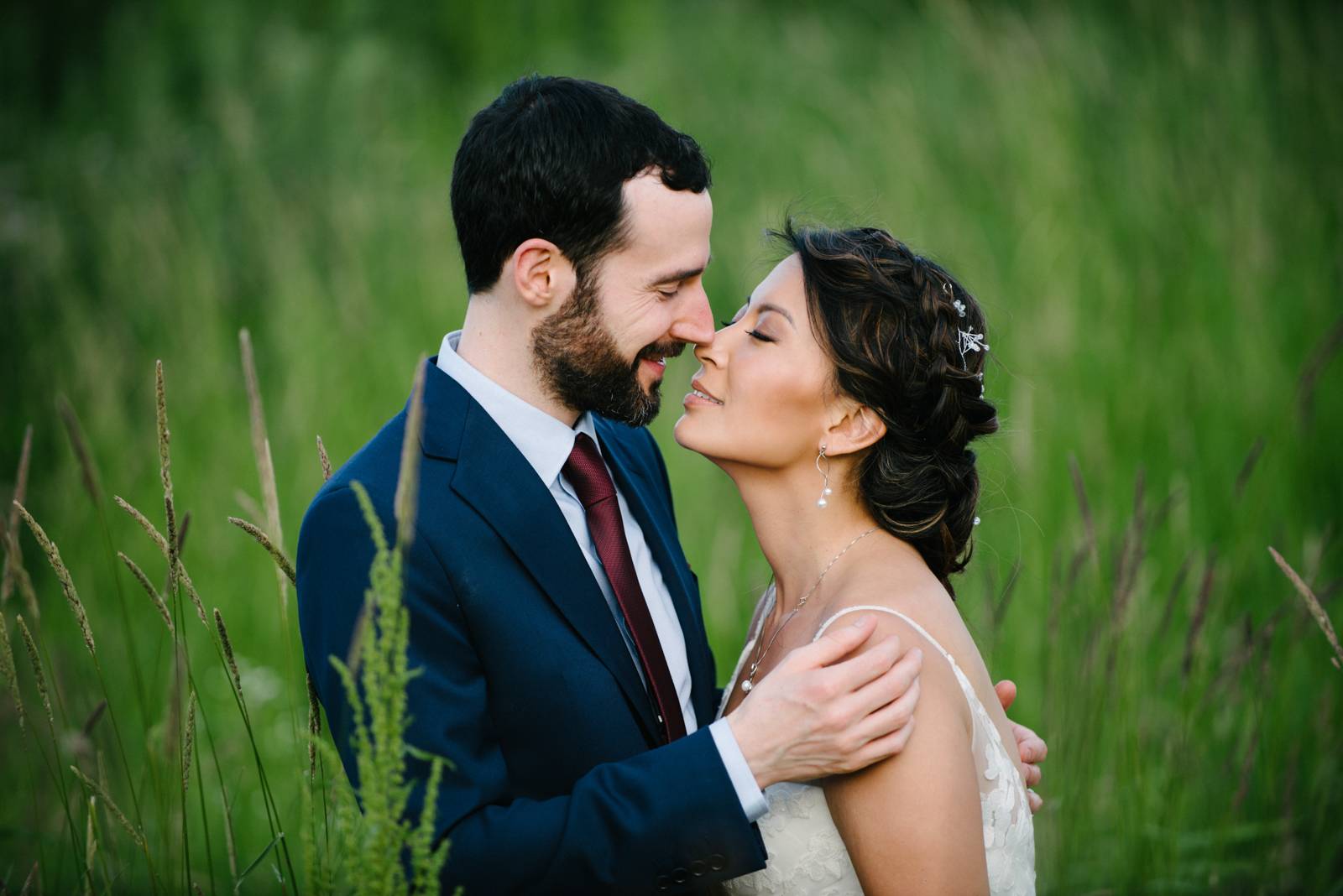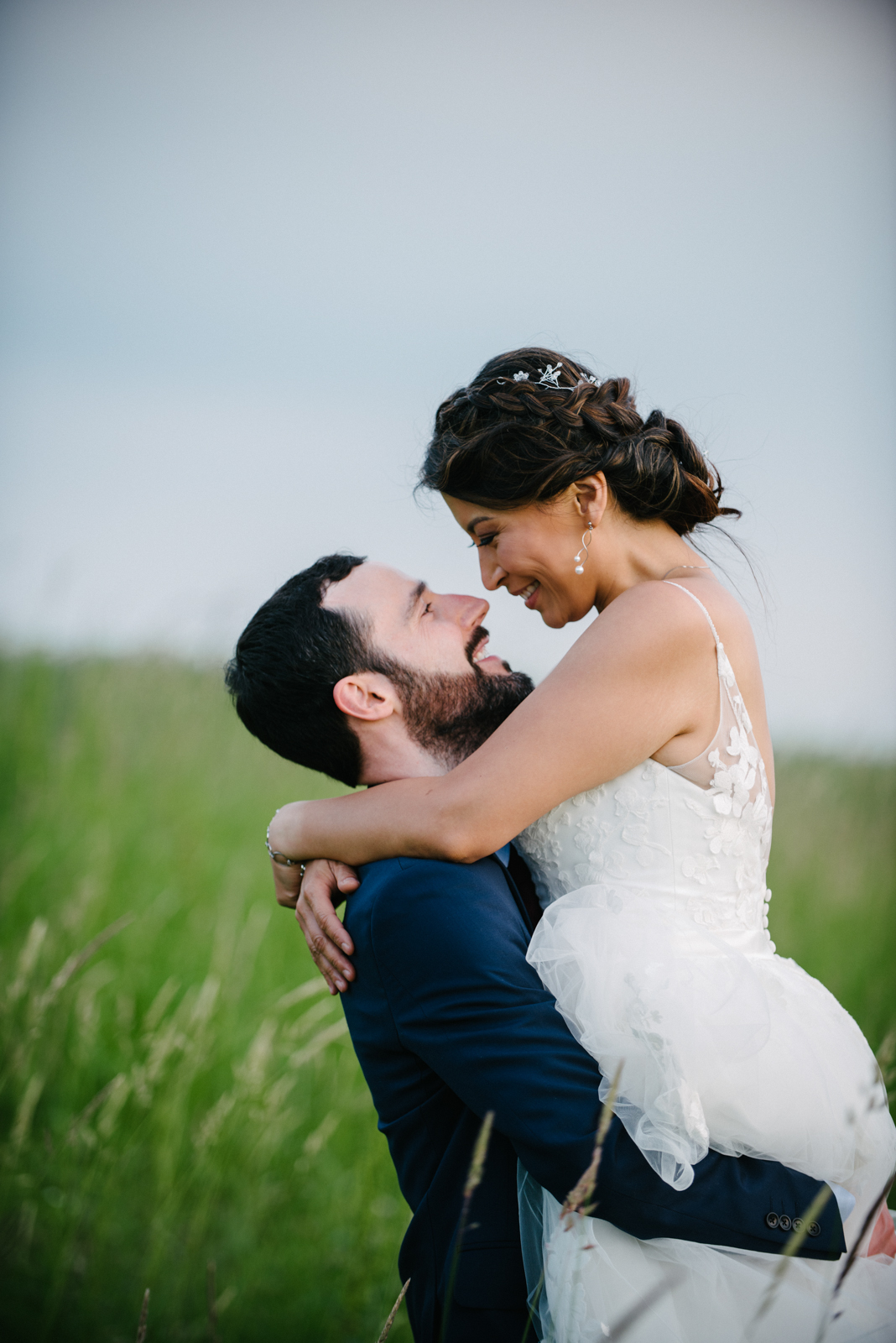 WHAT DOES LIFE LOOK LIKE AFTER THE WEDDING? Our relationship has mainly remained the same since the wedding, though we still get giddy when calling each other "husband" and "wife."
ANY WEDDING PLANNING REGRETS OR SOMETHING YOU WOULD DO DIFFERENTLY? Every laugh and smile was meaningful. We wouldn't change a thing!
IS THERE ANY ADVICE YOU'D GIVE TO OTHER COUPLES PLANNING THEIR WEDDING? Make it a wedding that YOU would want to attend. There are obligations and expectations that you will feel pressured into fulfilling, but this is your day! Make concessions in small ways, but remain steadfast for the things that are important to you. Also, the wedding goes by more quickly than you realize. Make sure to sneak away together several times throughout the day to relish in the experience.