Today on the blog, we're sharing elements of Victoria and Andrew's real Wisconsin wedding, stunningly captured by Dave Stremikis Photography. Highlighted by enjoyments of their relationship, this bride and groom's day included serving guests their favorite food, along with many DIY's incorporating travel-inspired decor. Read more about Victoria and Andrew's magical proposal and romantic wedding day below!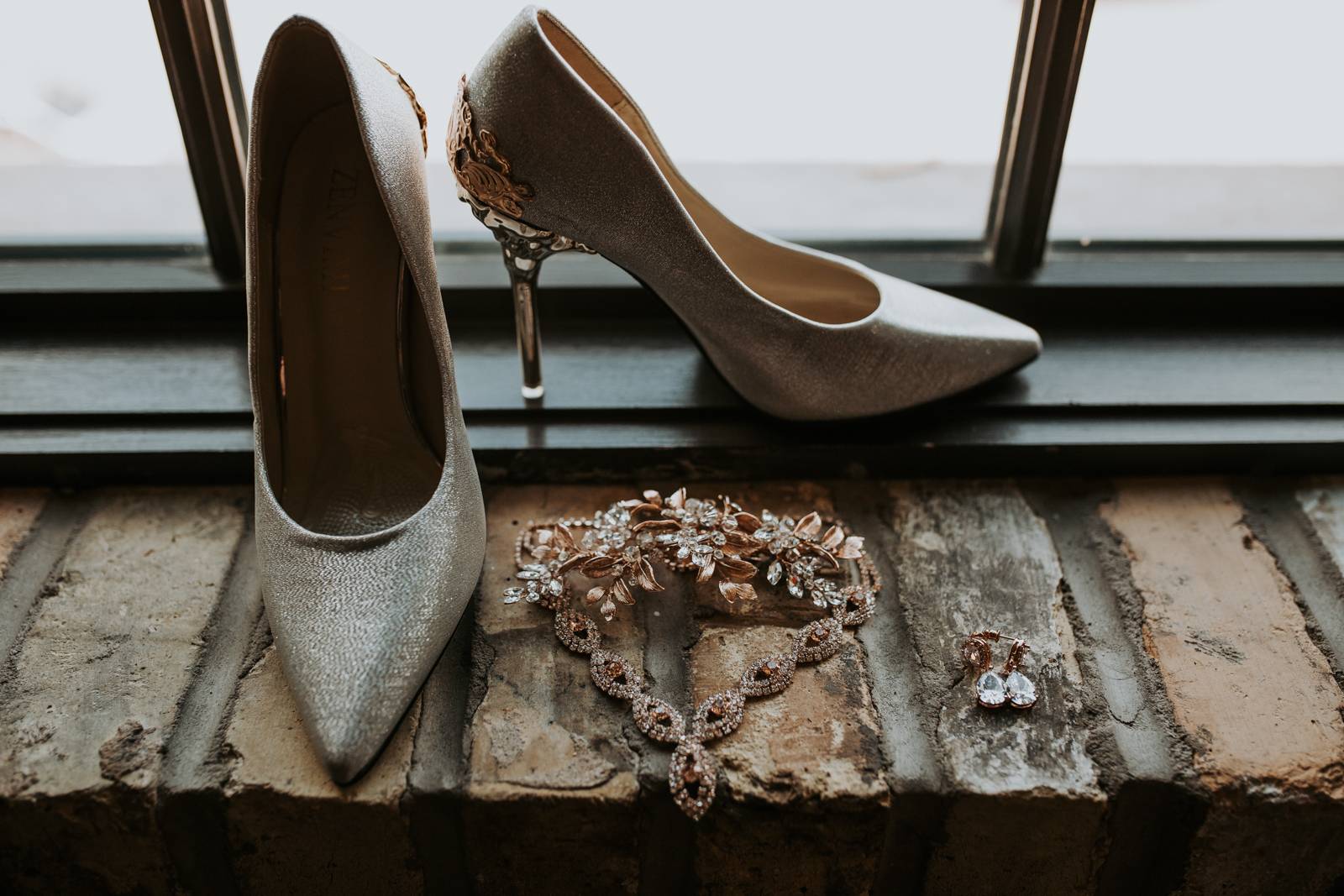 WEDDING DATE: 06/08/2019
HOW DID YOU MEET? We met at a car show since we are both car enthusiasts! A friendship quickly blossomed as we found ourselves spending more time together with our mutual friends from our respective car clubs. Eventually, Andrew asked me out on a real date. As in, a real hey-I-like-you-kind-of-date. The friendship blossomed into a romance. And just like that, right in the middle of ordinary life - love gives us a fairy tale.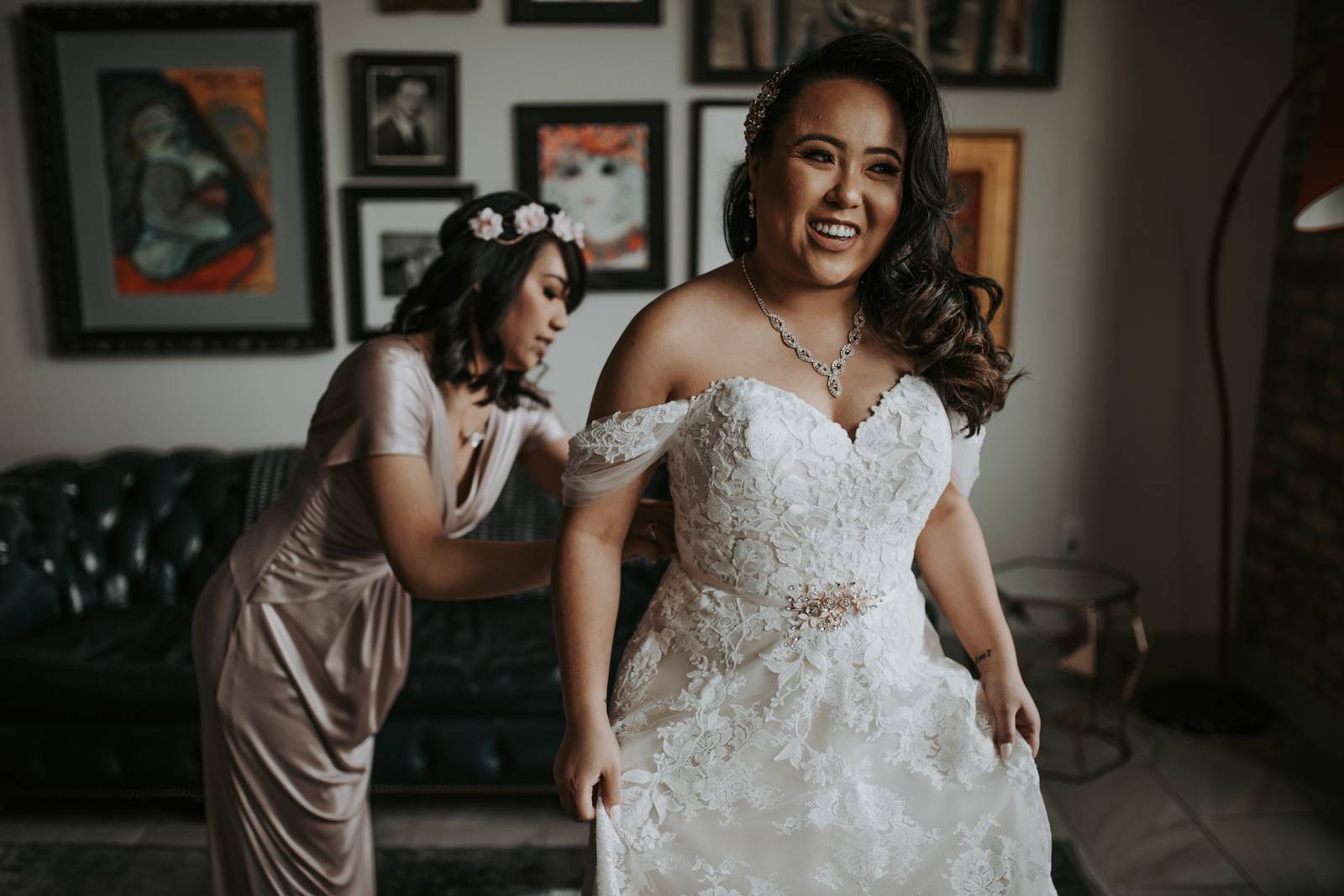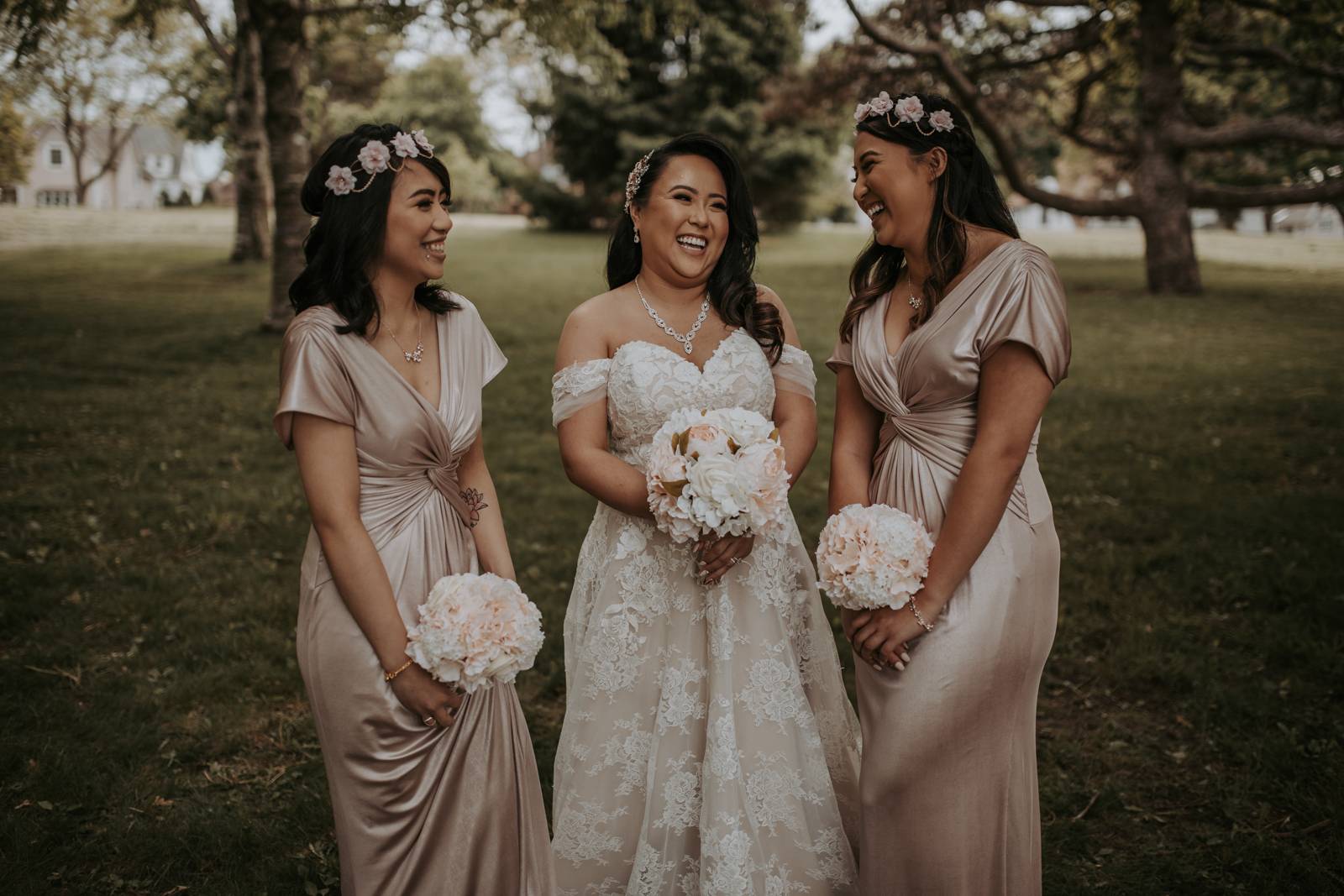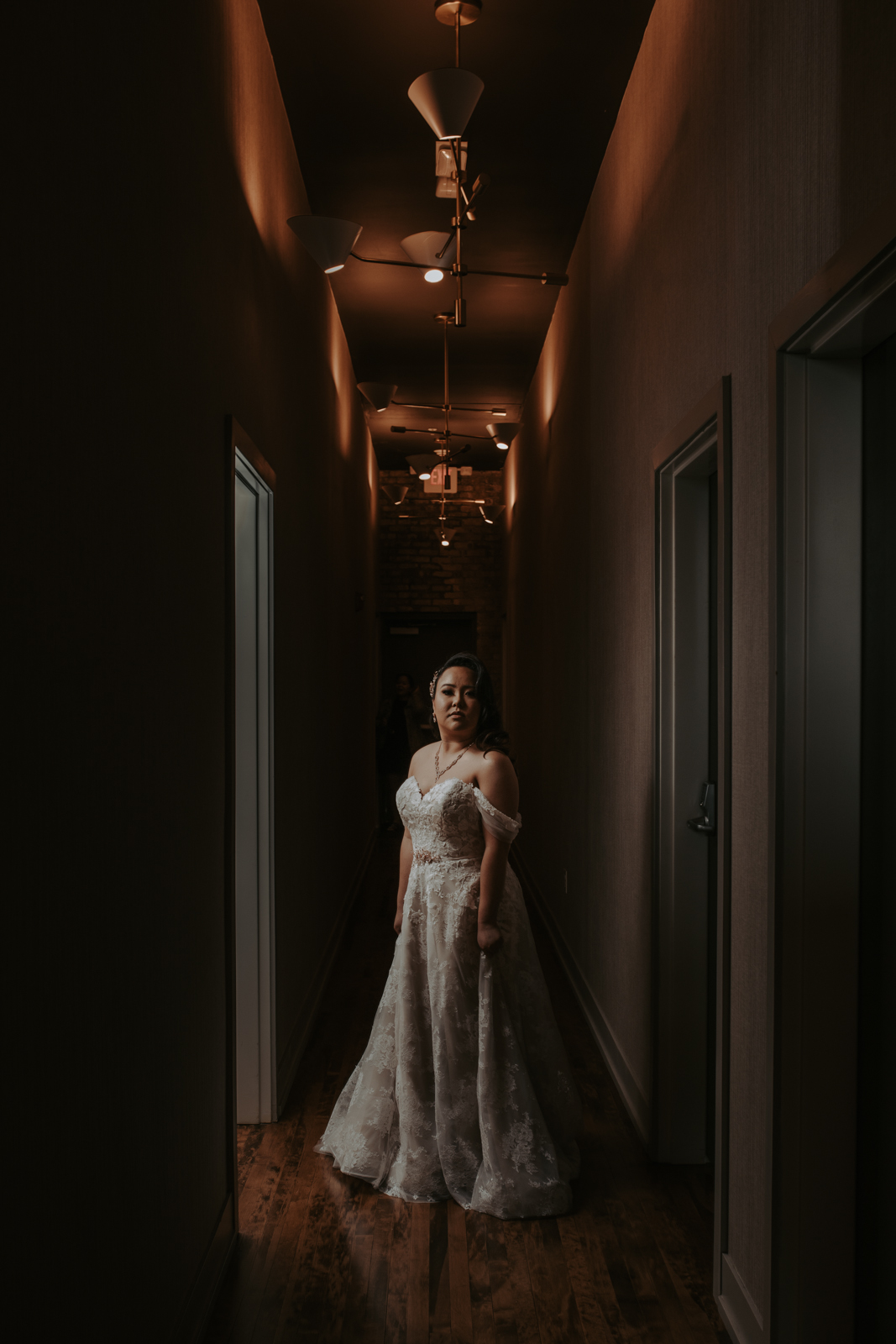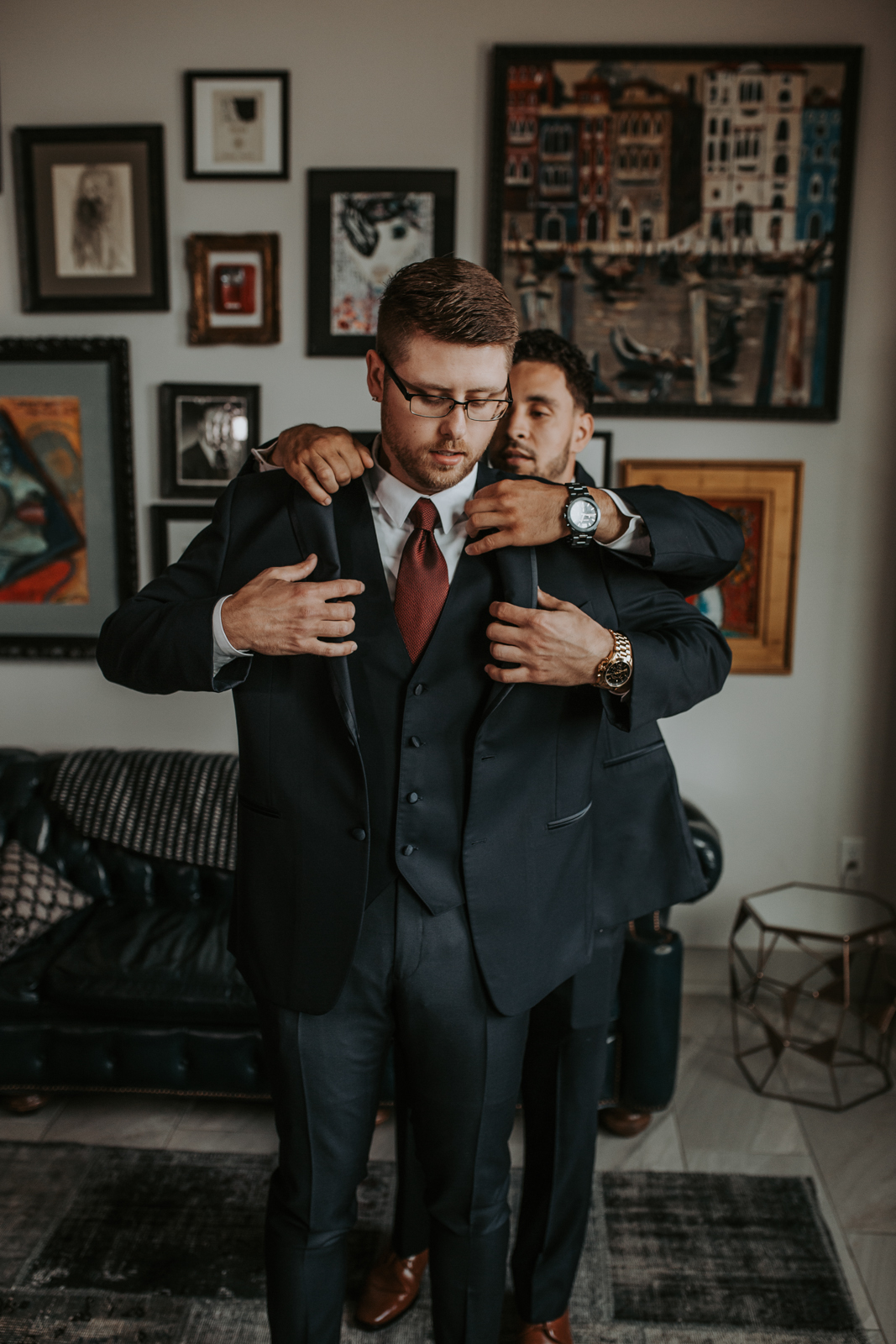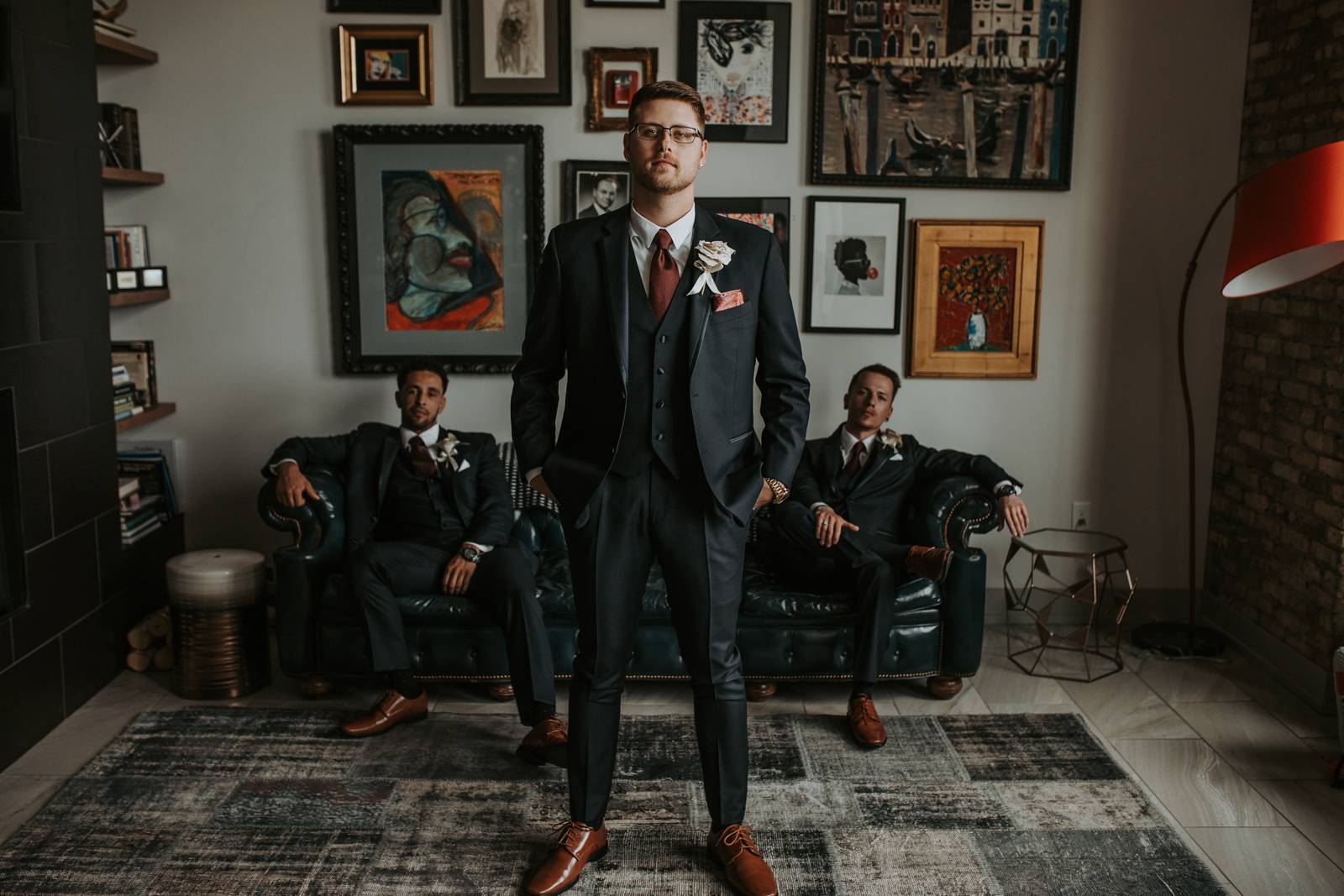 HOW DID YOU KNOW YOU HAD FOUND "THE ONE"? It's true when they say, "you just know." I think we both knew at different times in our relationship. Drew was a little later to the party than me, but eventually, it hit him. You argue less, you appreciate more, you don't have to think alike, but you have to think together, and once you can accomplish that level of understanding with one another, that's when you know it's meant to be.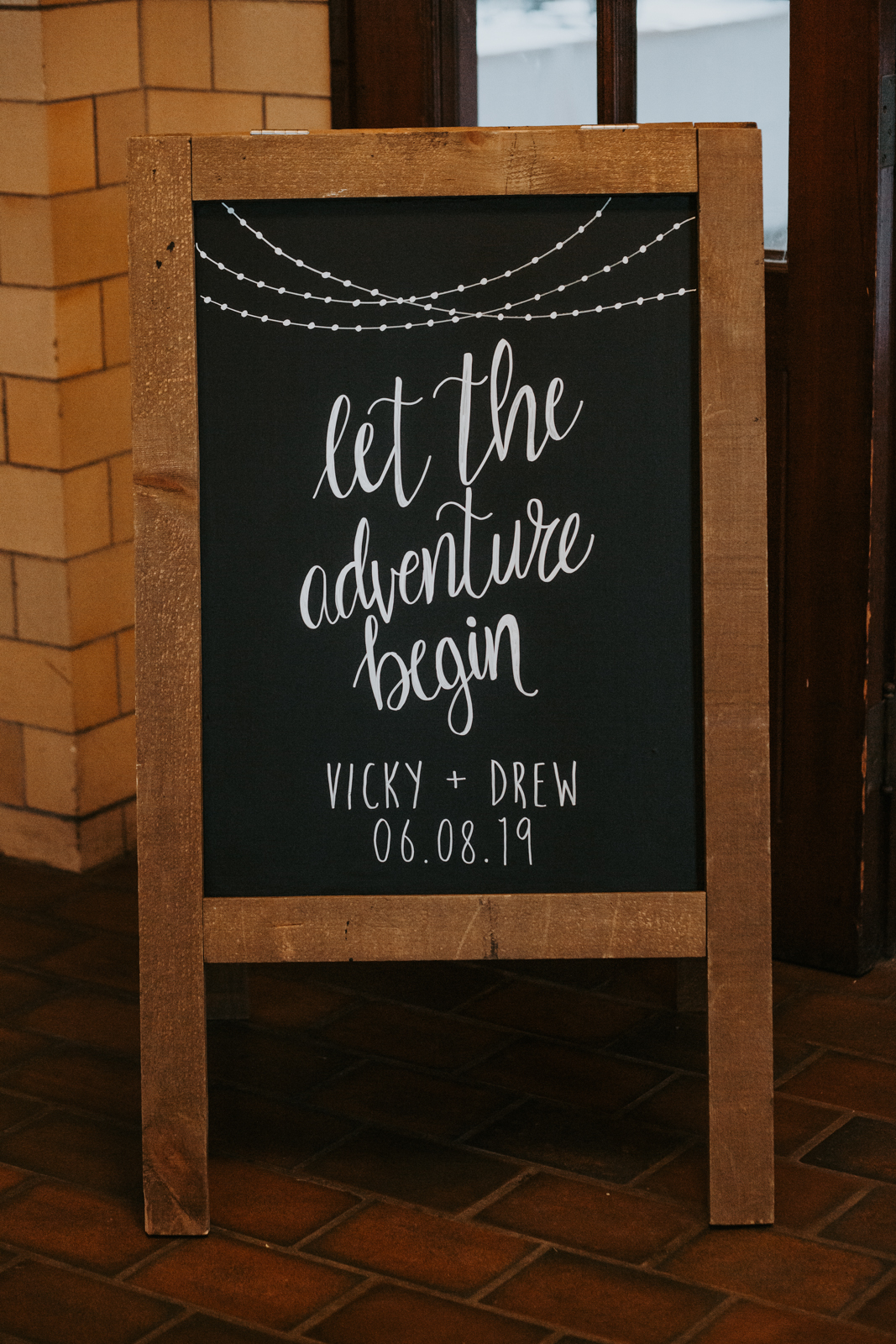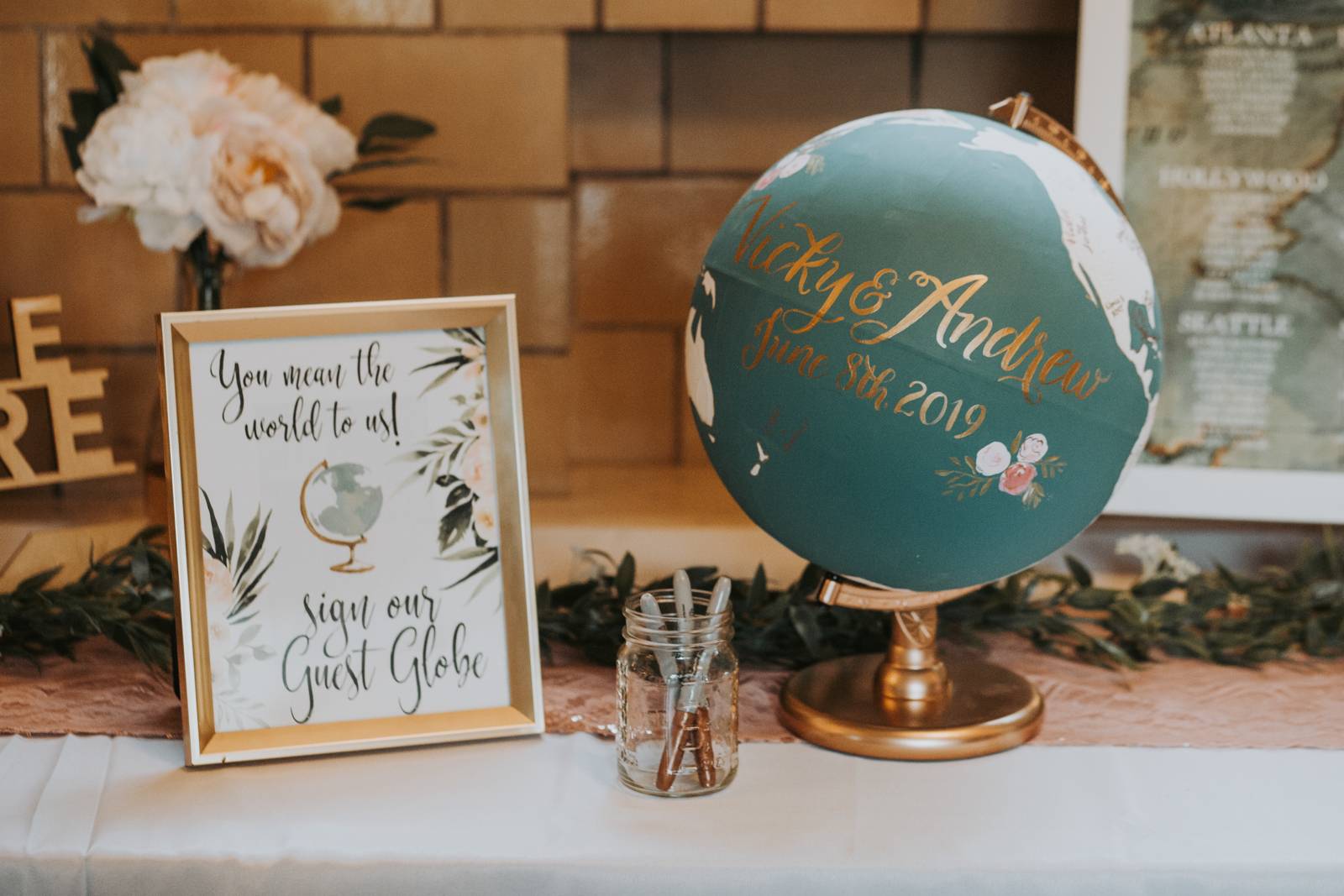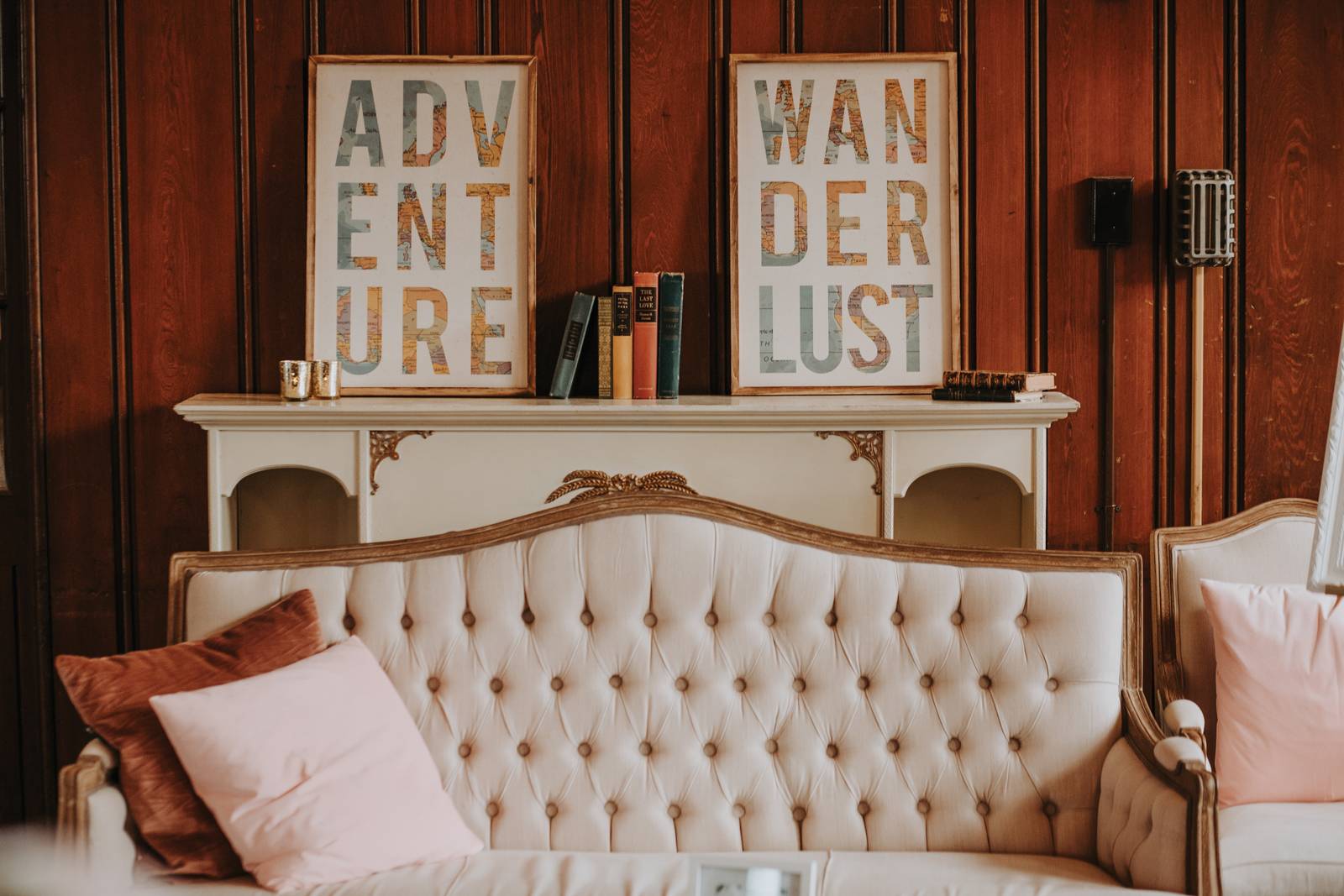 TELL US ABOUT YOUR PROPOSAL: For our anniversary, we planned to attend a concert in Chicago. We were going to spend the night in Chicago after the show, spend the day in the city, and then return home. While we were packing for Chicago, Andrew was also apparently secretly packing hot-weather clothing for both of us for a surprise trip. After the concert, Drew broke the news to me that we were going to Disney World! I was so confused, and even asked him if he was dying. He assured me he wasn't, but wanted to surprise me for our anniversary. He talked to my boss and took care of me not having to go back to work, and also figured out everything with the plane tickets.
Andrew proposed on Main Street in Disney World. I had been eyeing ice cream, but Andrew insisted we should take photos first. After a few photos, the Disney photographer told us to get creative and stand facing away from each other. Then they asked us to turn back around and face each other, and there was Andrew down on his knee with a gorgeous ring. The crowd cheered, clapped, whistled, and even two fireworks went off above the castle! Disney staff members then took tons of engagement photos for us, and even Snow White got in some of the pictures. It was truly magical!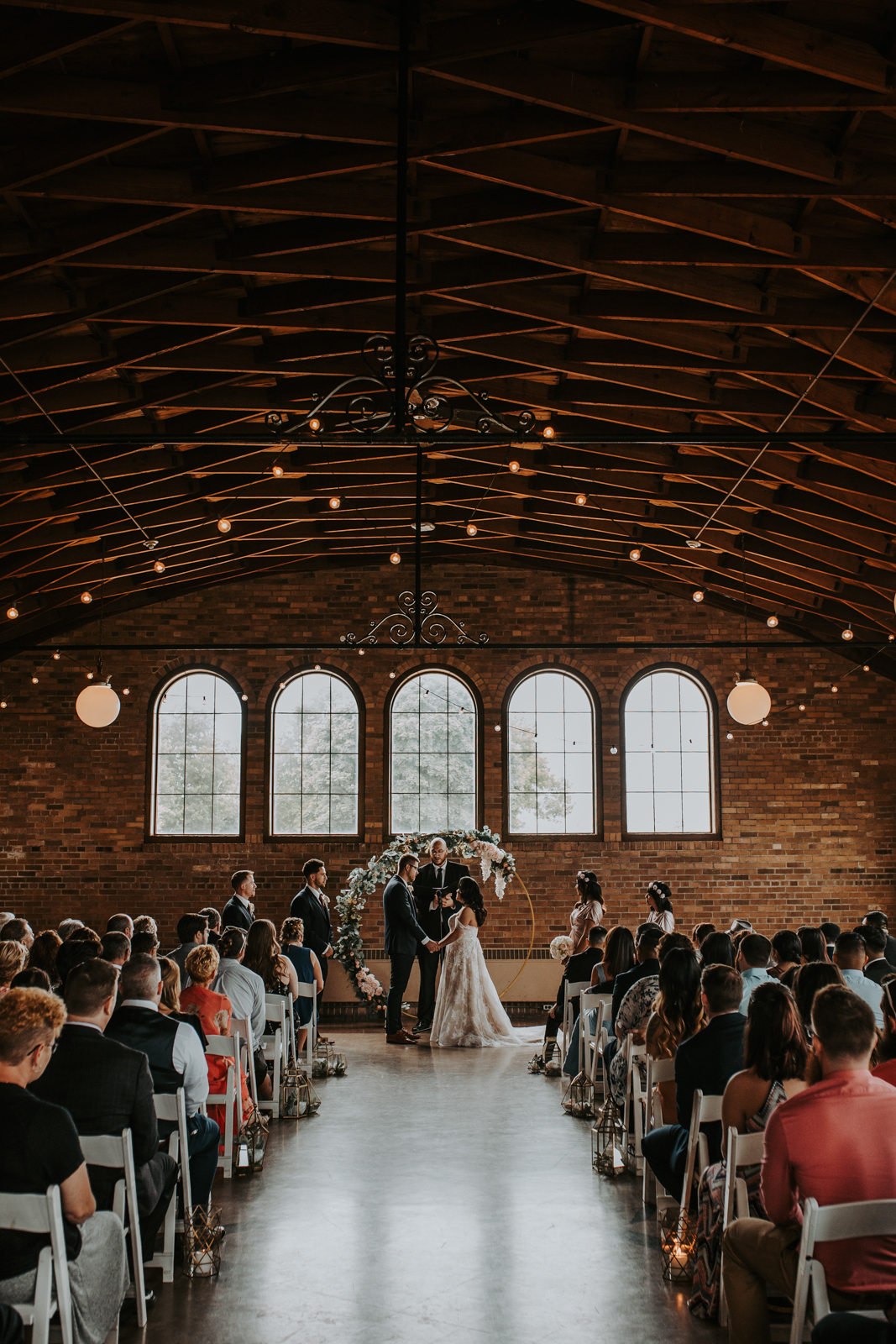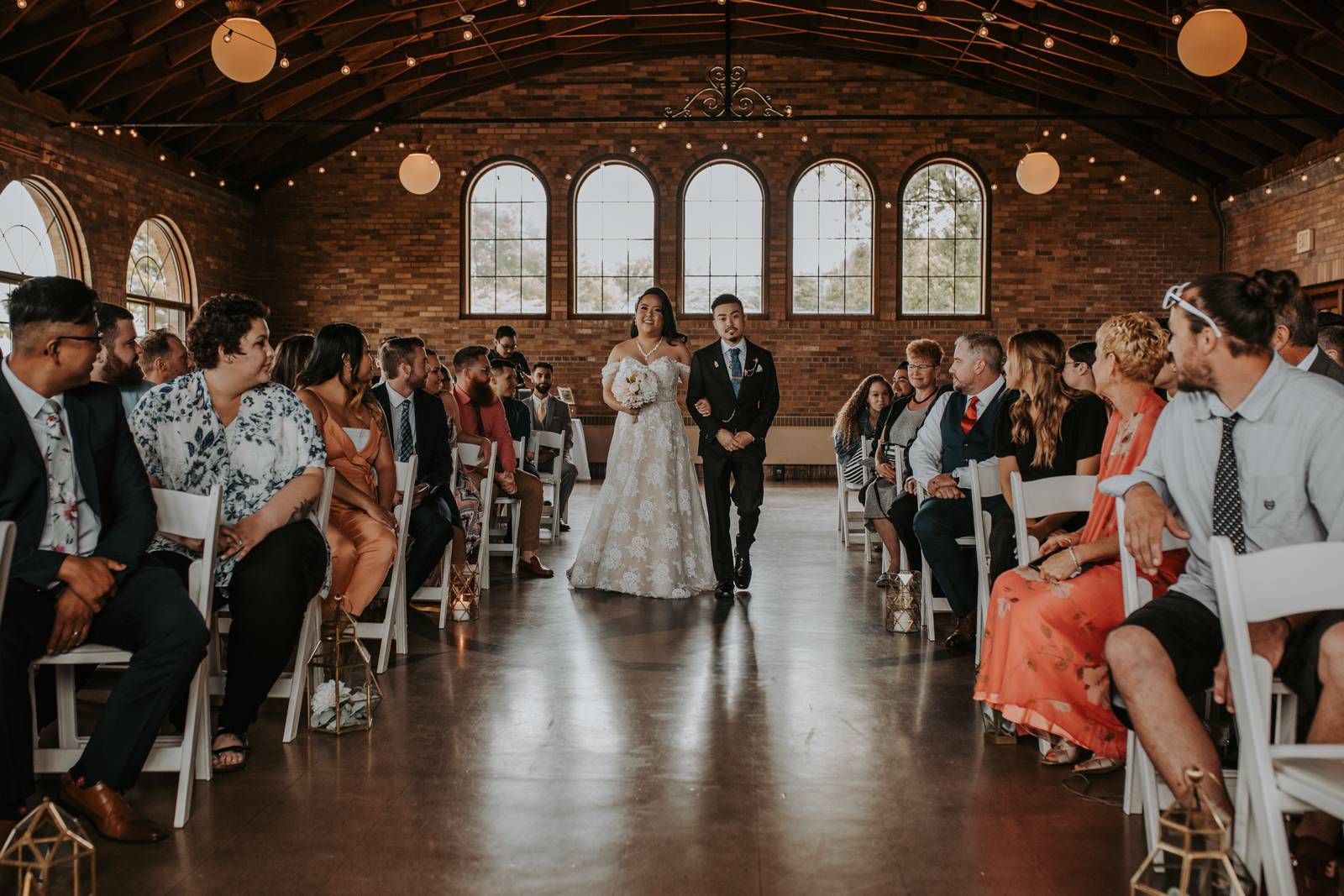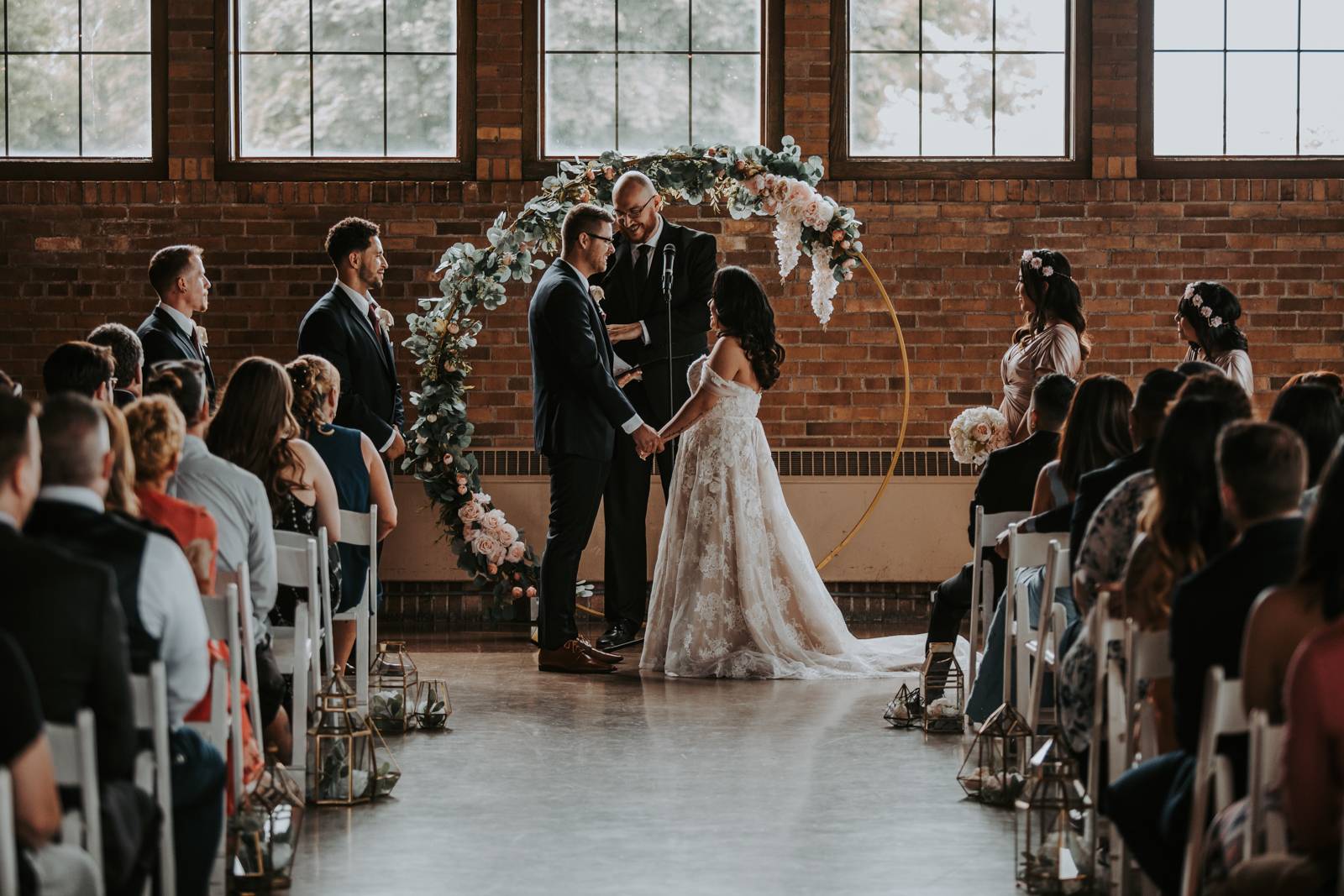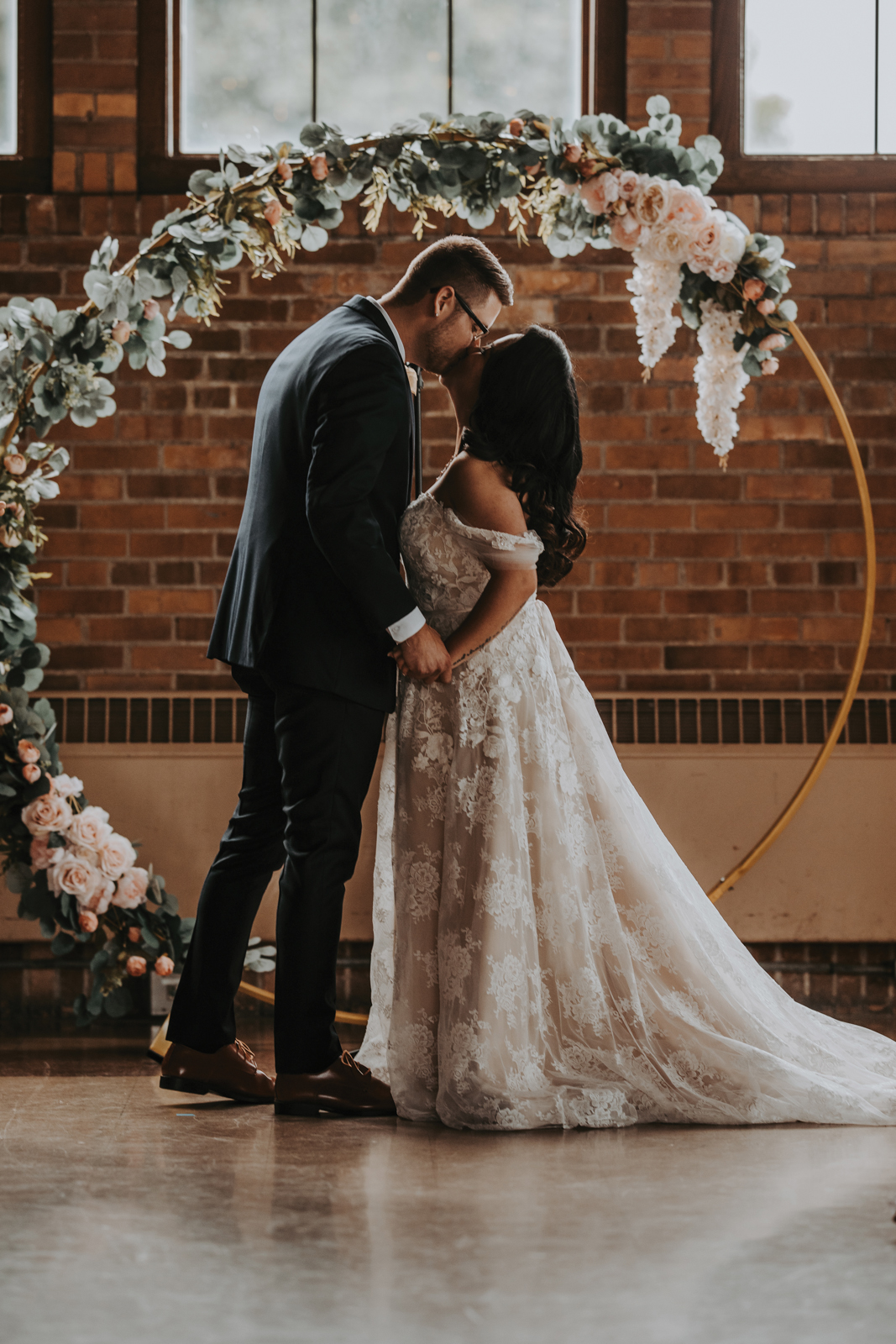 TELL US ABOUT FINDING YOUR DRESS: I actually went shopping for my wedding dress alone. I didn't have a huge entourage, I didn't bring any friends, I know, it sounds crazy, but I loved it! The gals at the bridal store were all I needed in narrowing down the dress I wanted. I was able to really think and weigh what I wanted without anyone else's opinions or differing thoughts. I tried on maybe 10 dresses, and we were able to decide on a Top 3. Then eventually, THE dress. I ordered the dress, and then when it finally came in months later, that's when I invited my mom, Andrew's mom, my sisters, and Andrew's sister to come with me. I tried on the dress for the first time with them there, and we still had our special moment.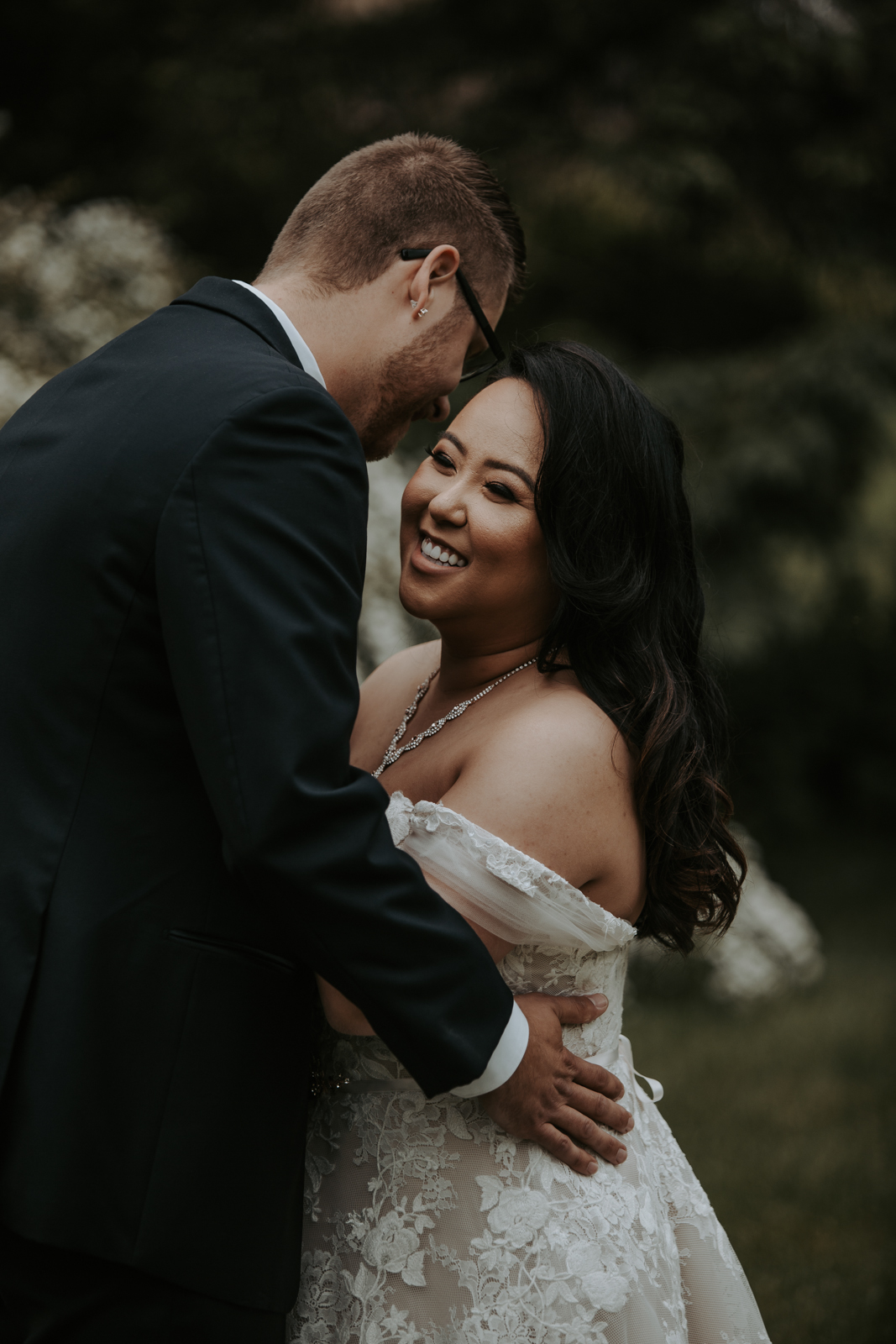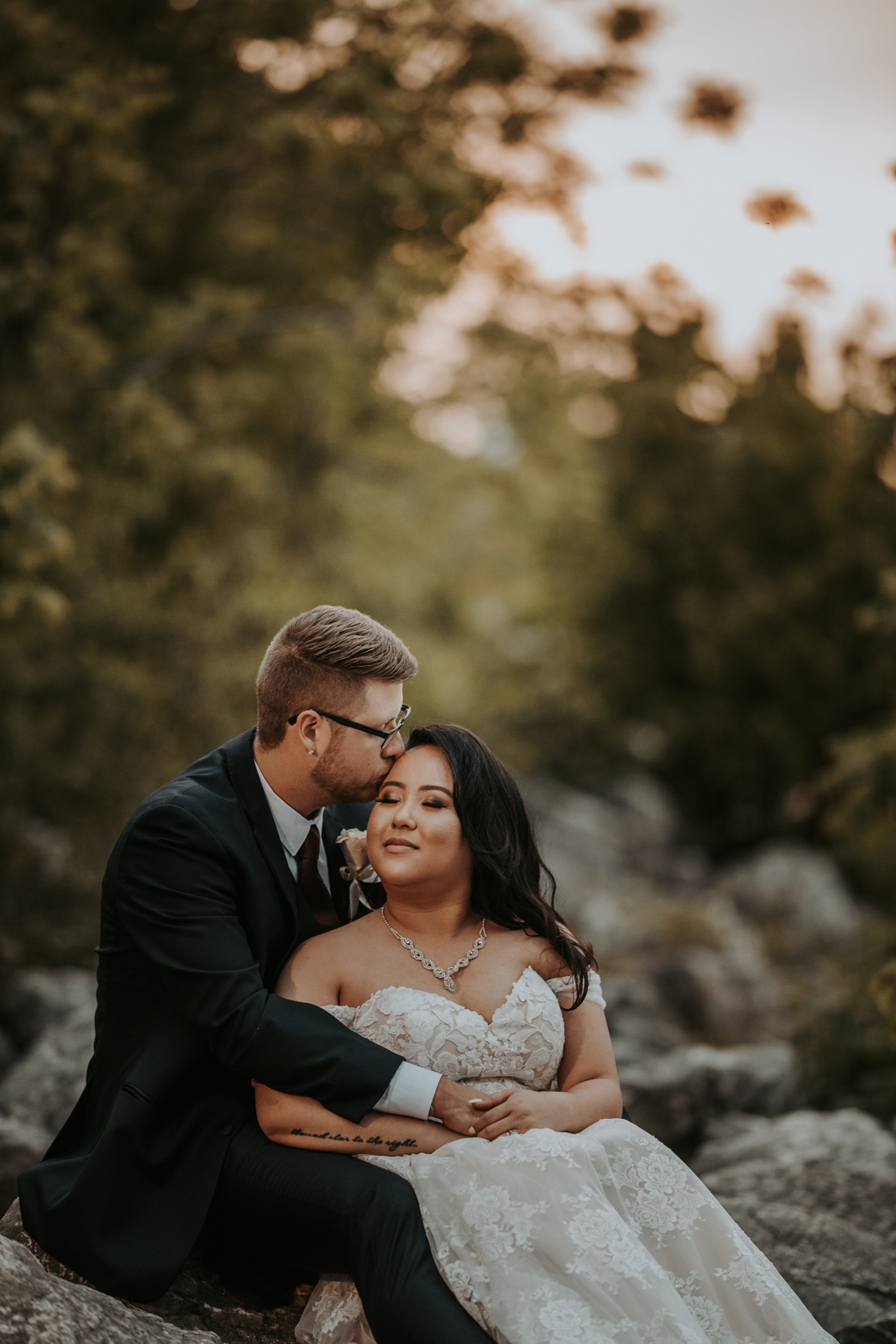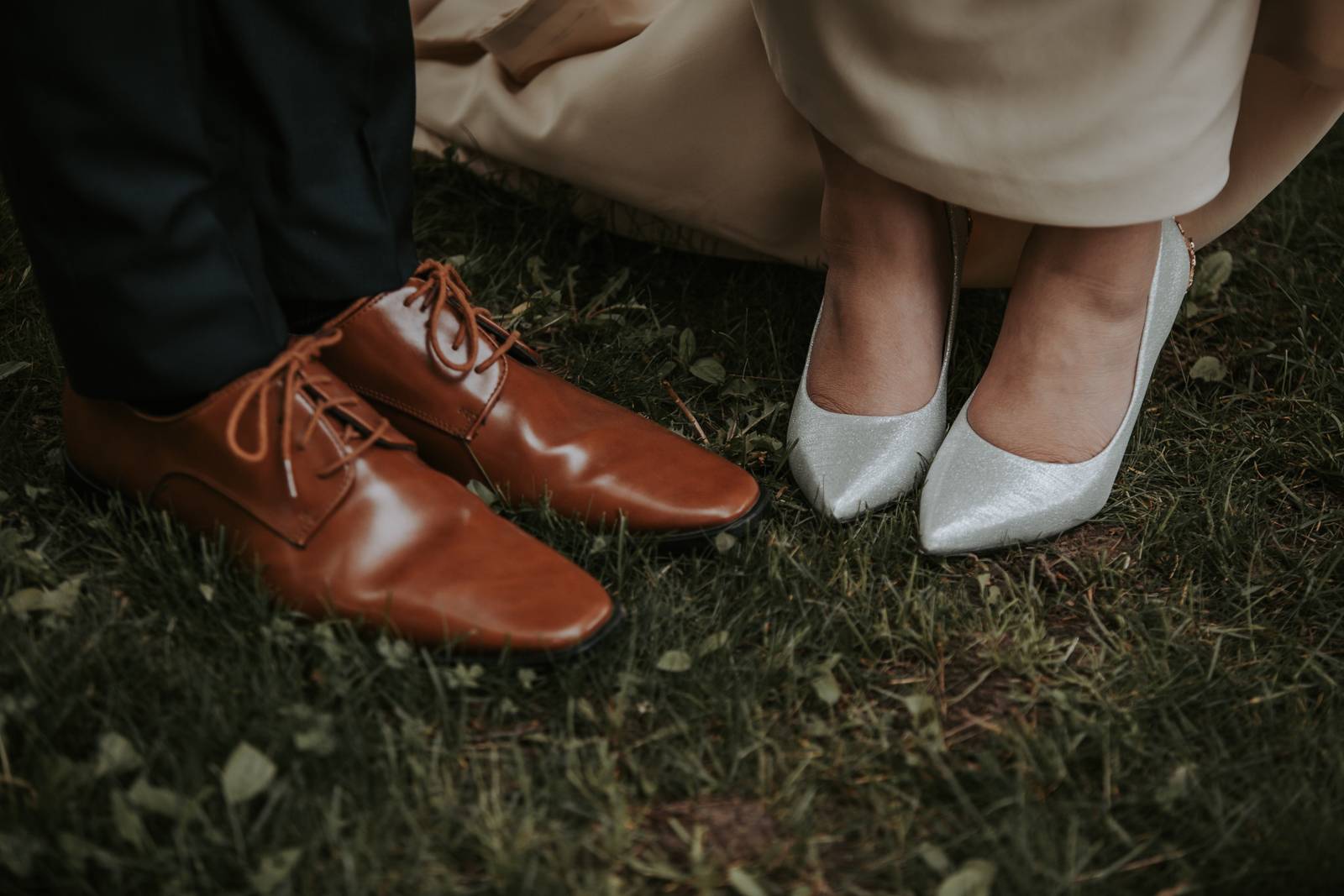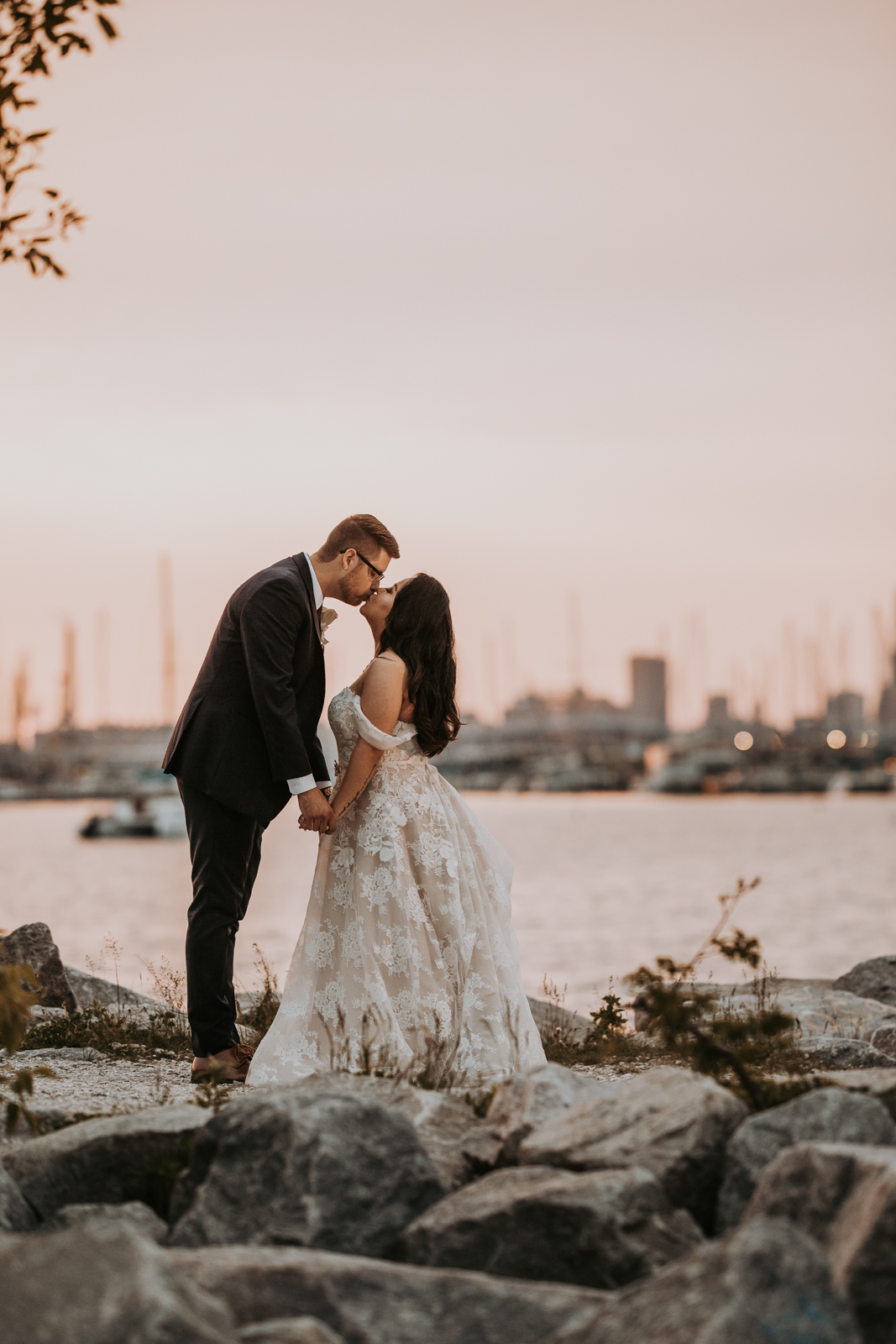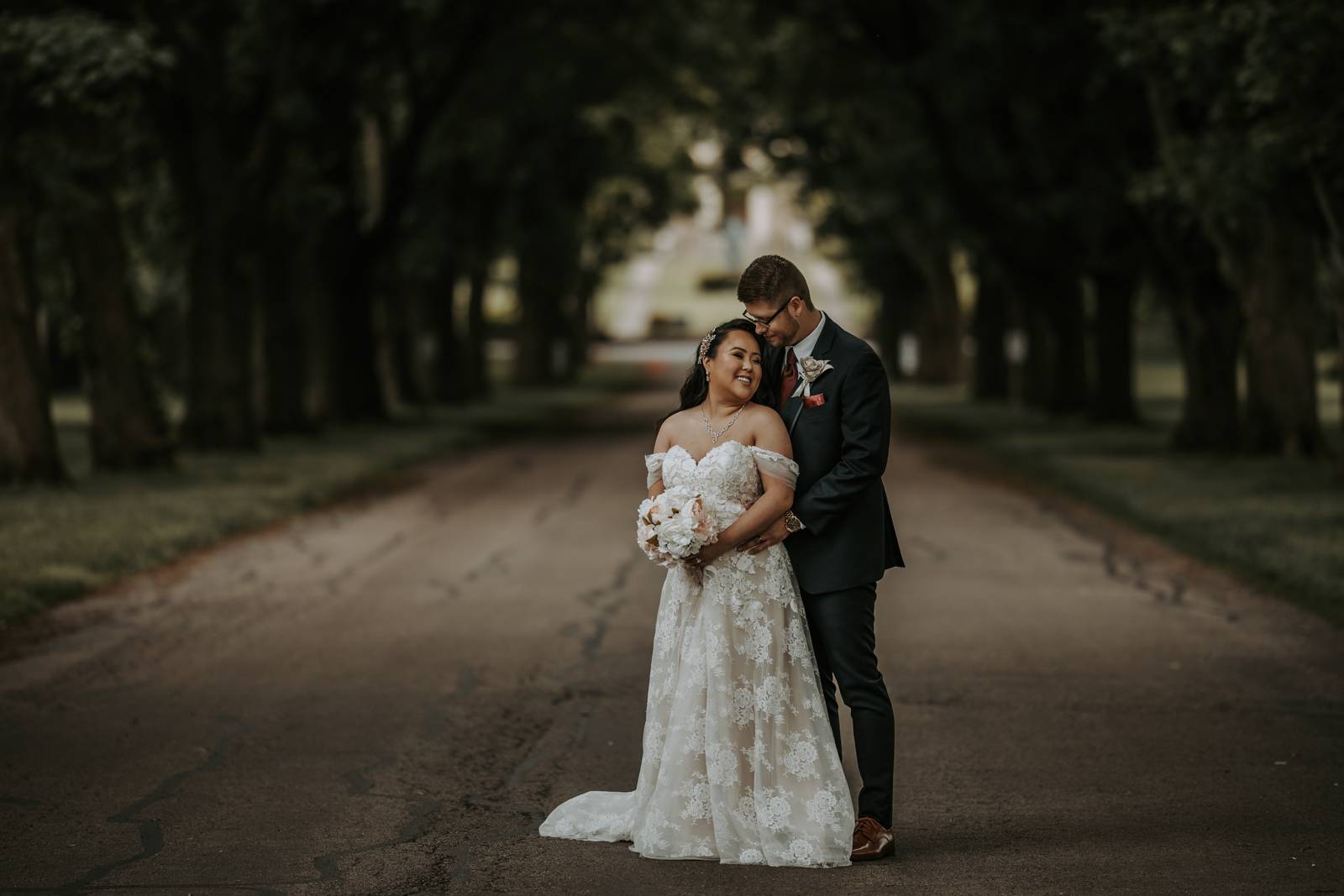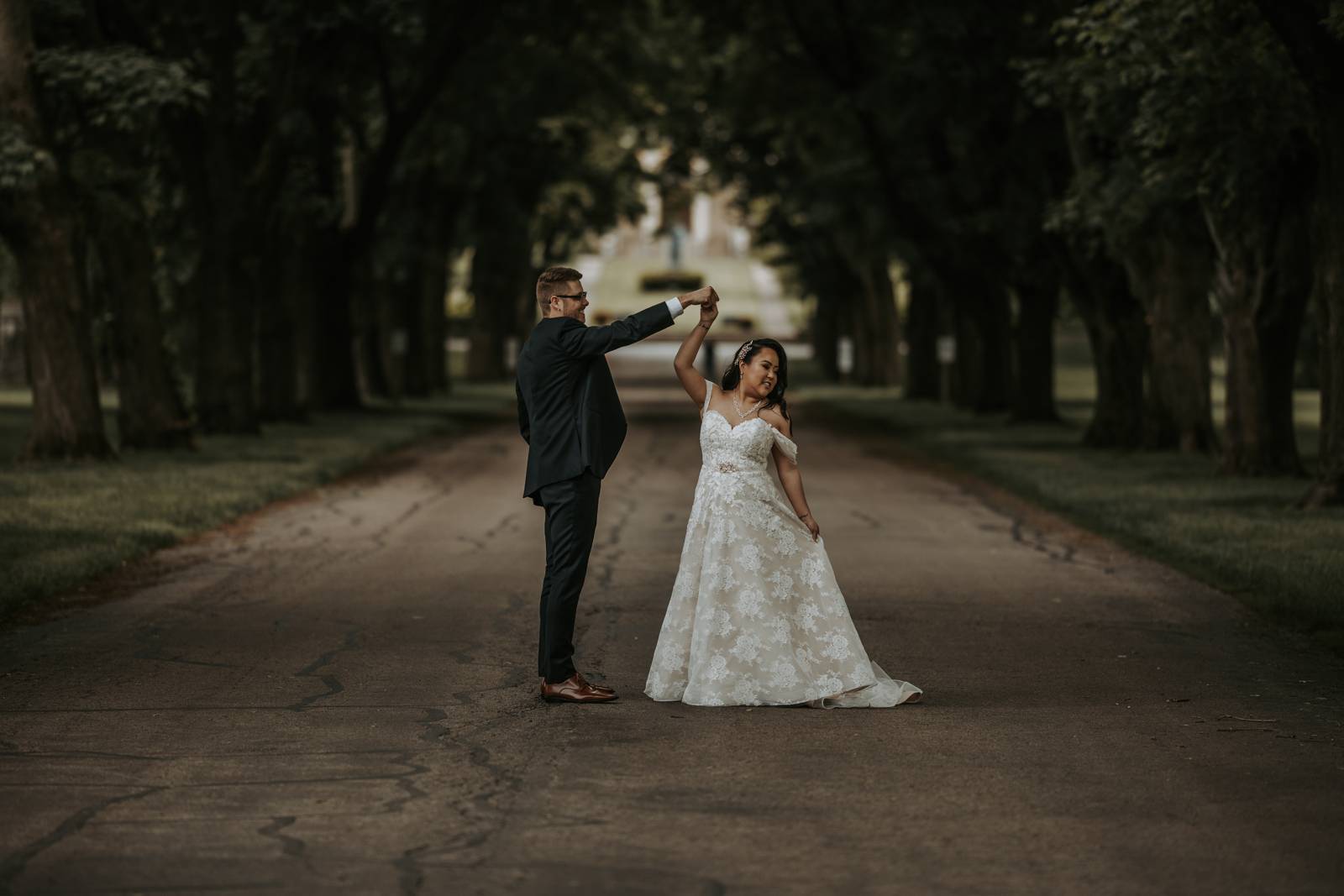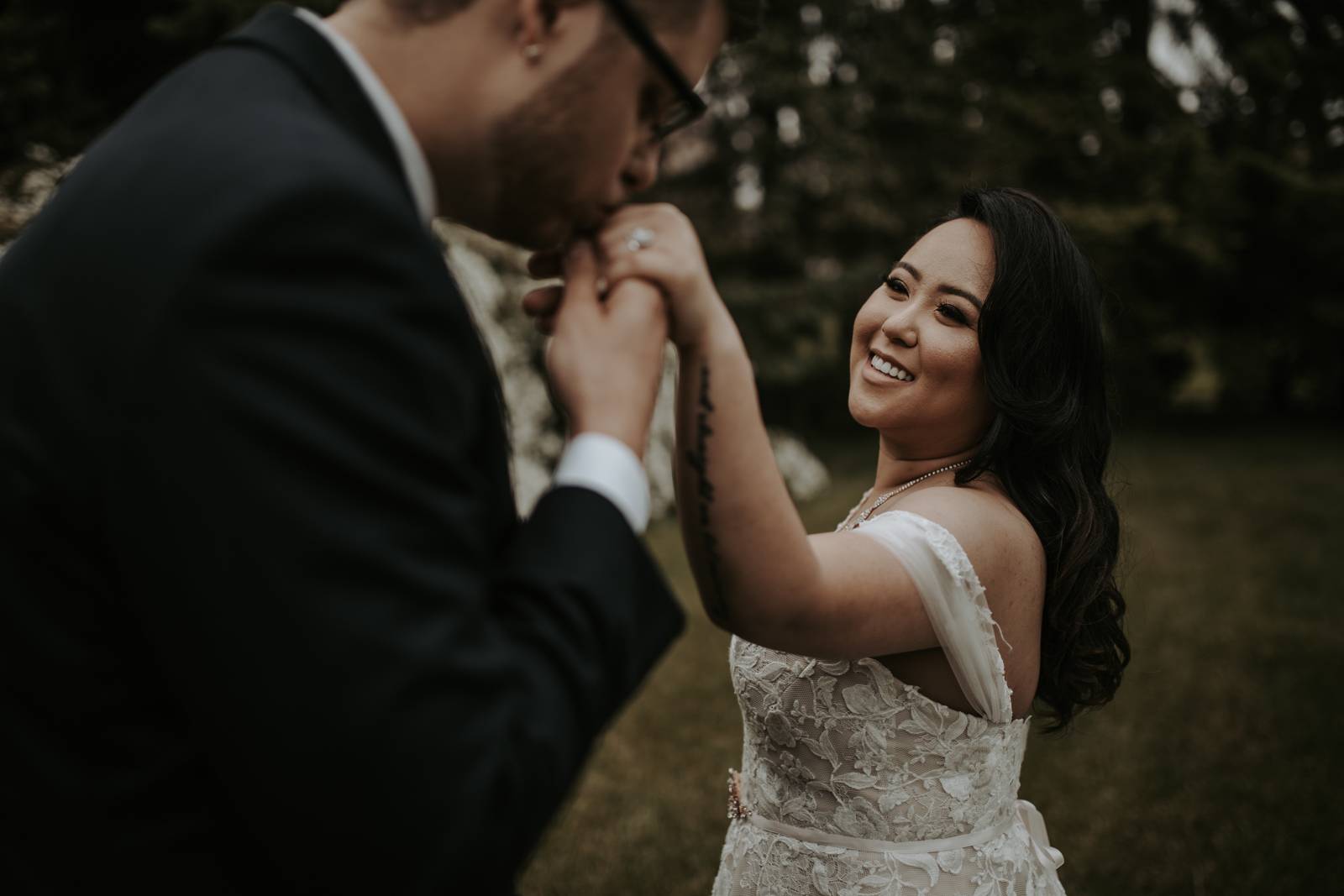 WERE THERE ANY PERSONAL TOUCHES OR DIY ELEMENTS? We set up a memorial table with photos of our close friends and family members who could not be with us on our wedding day. I would say 80% of our wedding was DIY! We used vintage-style postcards for our table numbers, which we made ourselves. Our invitations, ceremony programs, dinner menus, wedding favors, wedding arch, floral arrangements, tablescapes, wedding cake, seating chart, hashtag signs, and cocktail hour cheese and charcuterie board were all DIY'd!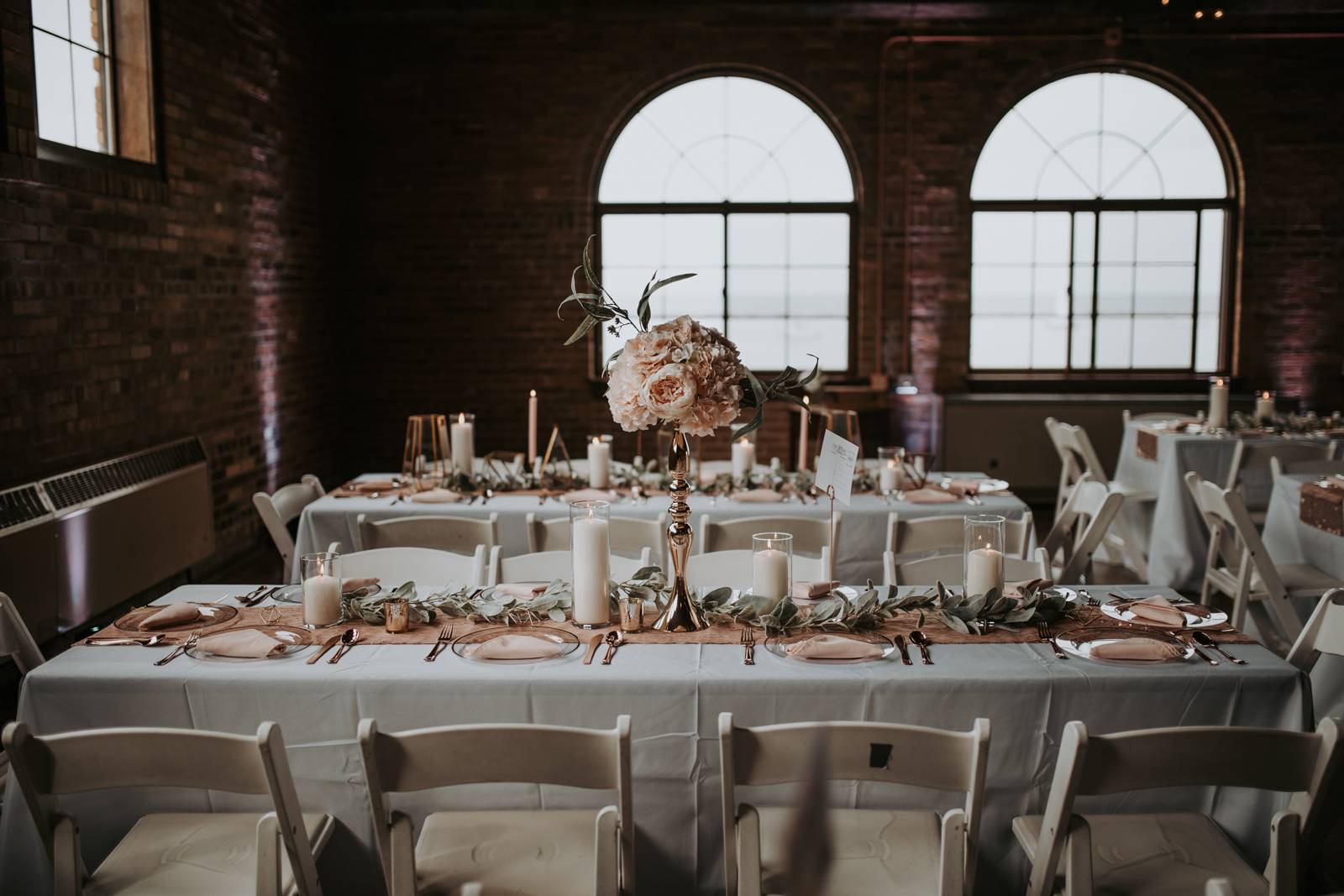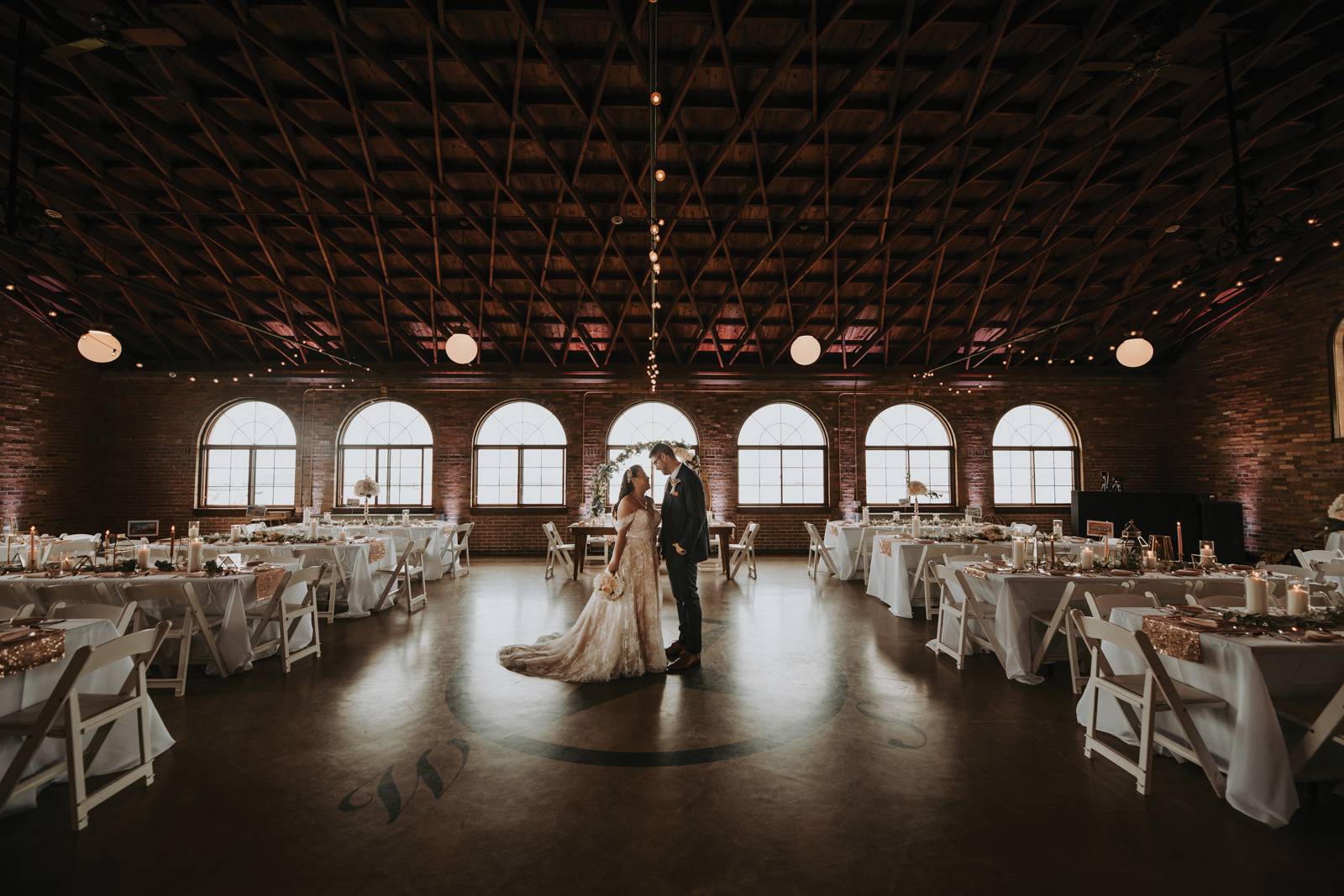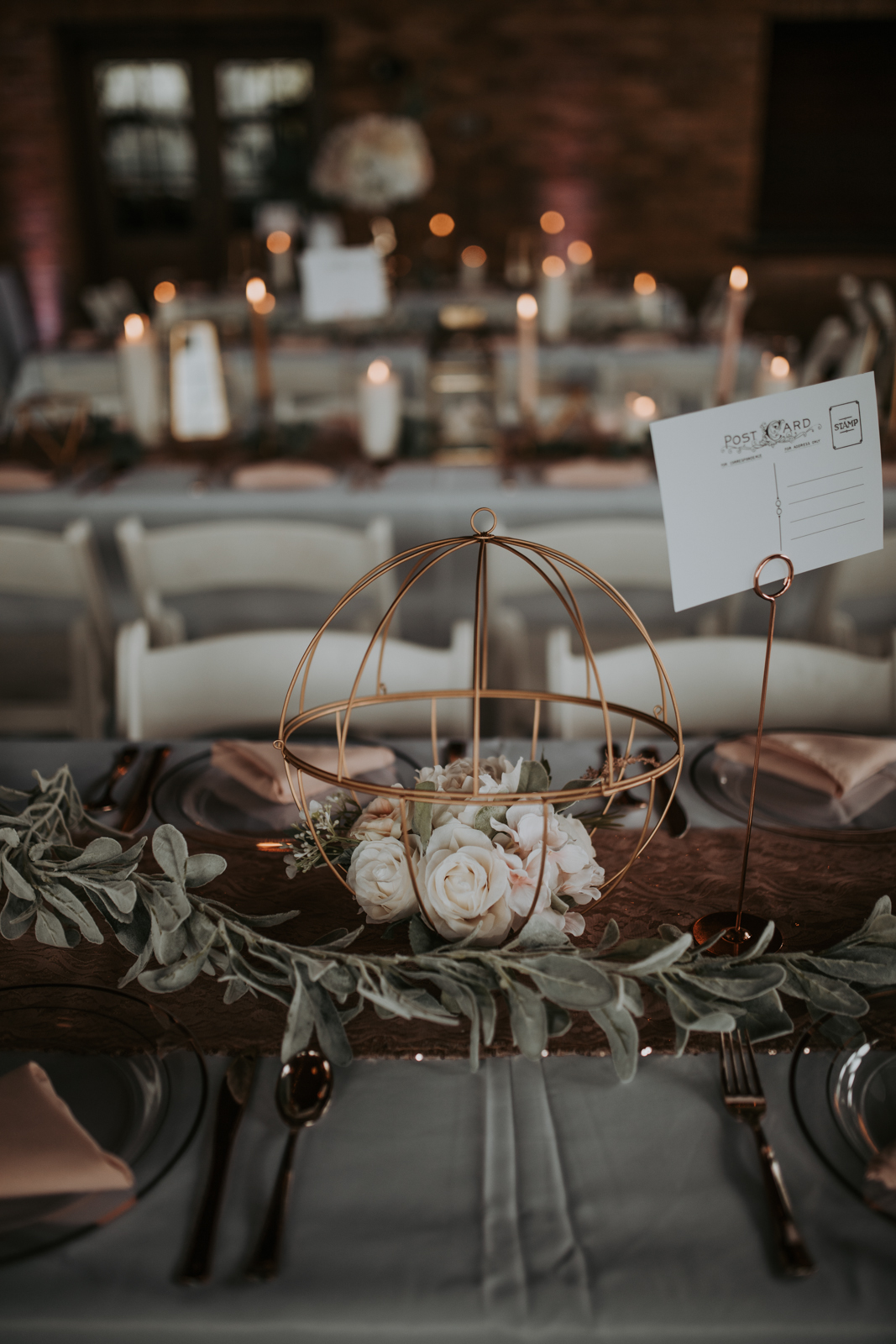 HOW WOULD YOU DESCRIBE YOUR WEDDING THEME/STYLE IN FIVE WORDS OR LESS? Romantic, vintage but modern, and travel-themed.
WHAT WAS YOUR WEDDING COLOR PALETTE? We used a lot of white, blush, and gold accents.
DESCRIBE YOUR WEDDING FLOWERS: Blush and white, with a gold sequin and lace handle on the bouquets. The flower arrangements on the tables, in the vases and geometric pieces, were made a few weeks before the wedding by me. We used fake flowers instead of real ones so we could save some money!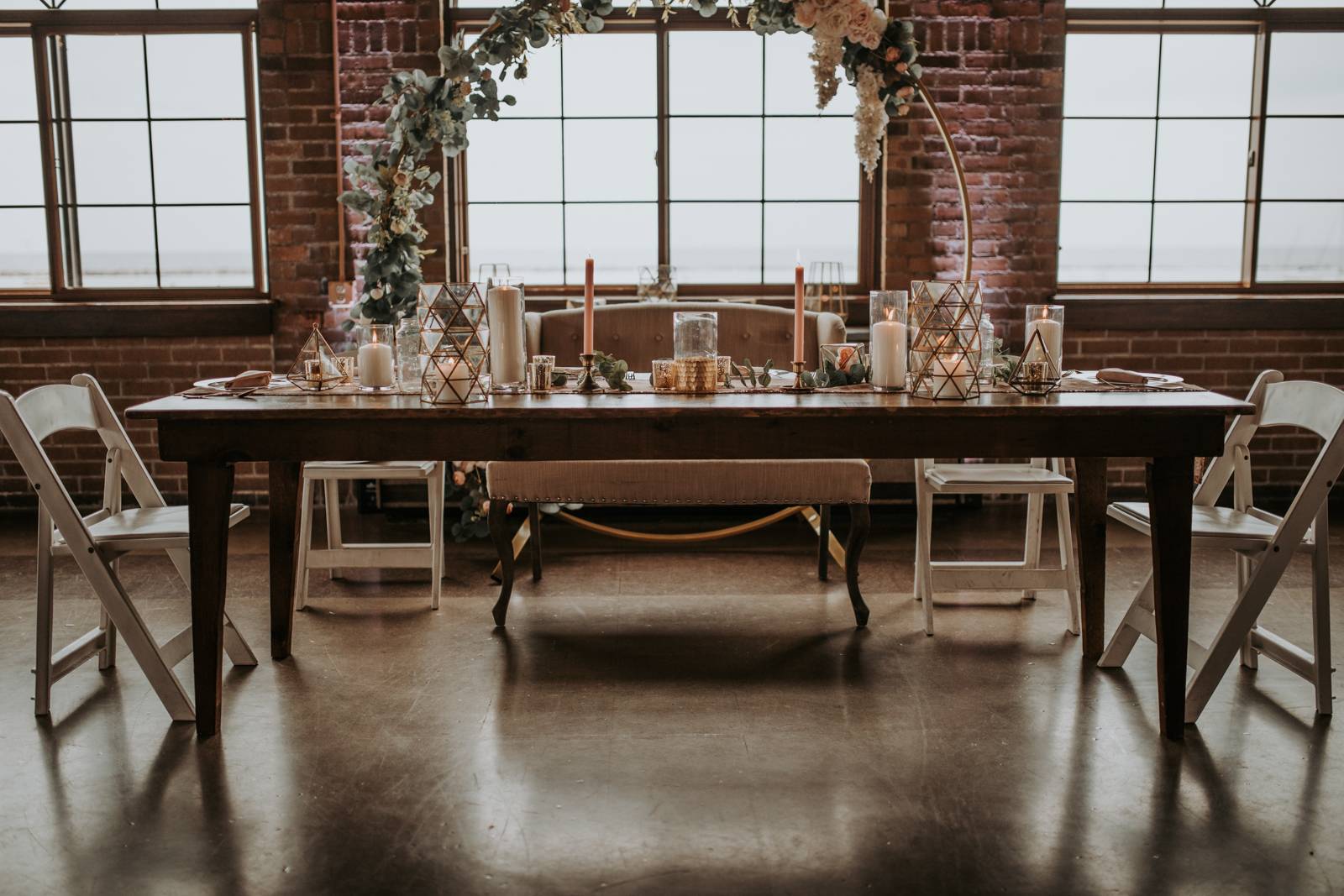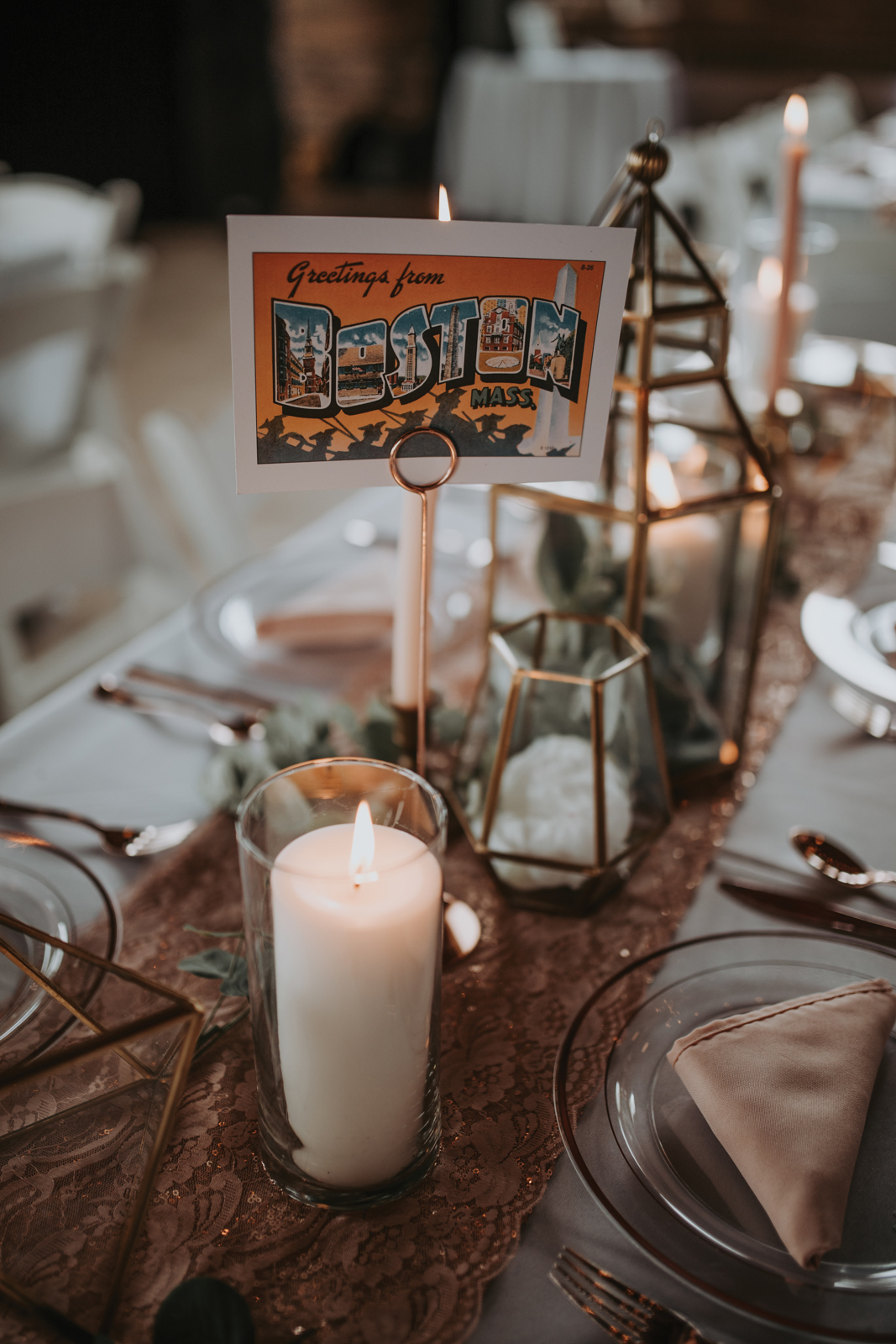 WHAT WAS YOUR INSPIRATION/DESIGN CONCEPT FOR YOUR OVERALL CEREMONY AND RECEPTION DECOR? We originally wanted a destination wedding in Hawaii, but a lot of our family members couldn't travel that far, especially our grandparents, and we knew they would be heartbroken if they couldn't be there. We wanted them to be included and decided to have a wedding in our hometown but with travel-themed touches throughout the wedding. We were able to infuse our love for travel in many different parts of the wedding from the photobooth to the gift table, to our guestbook (we did a guest globe instead of a book!), table numbers, seating chart, favors, and many other places. Even our vows included travel themes.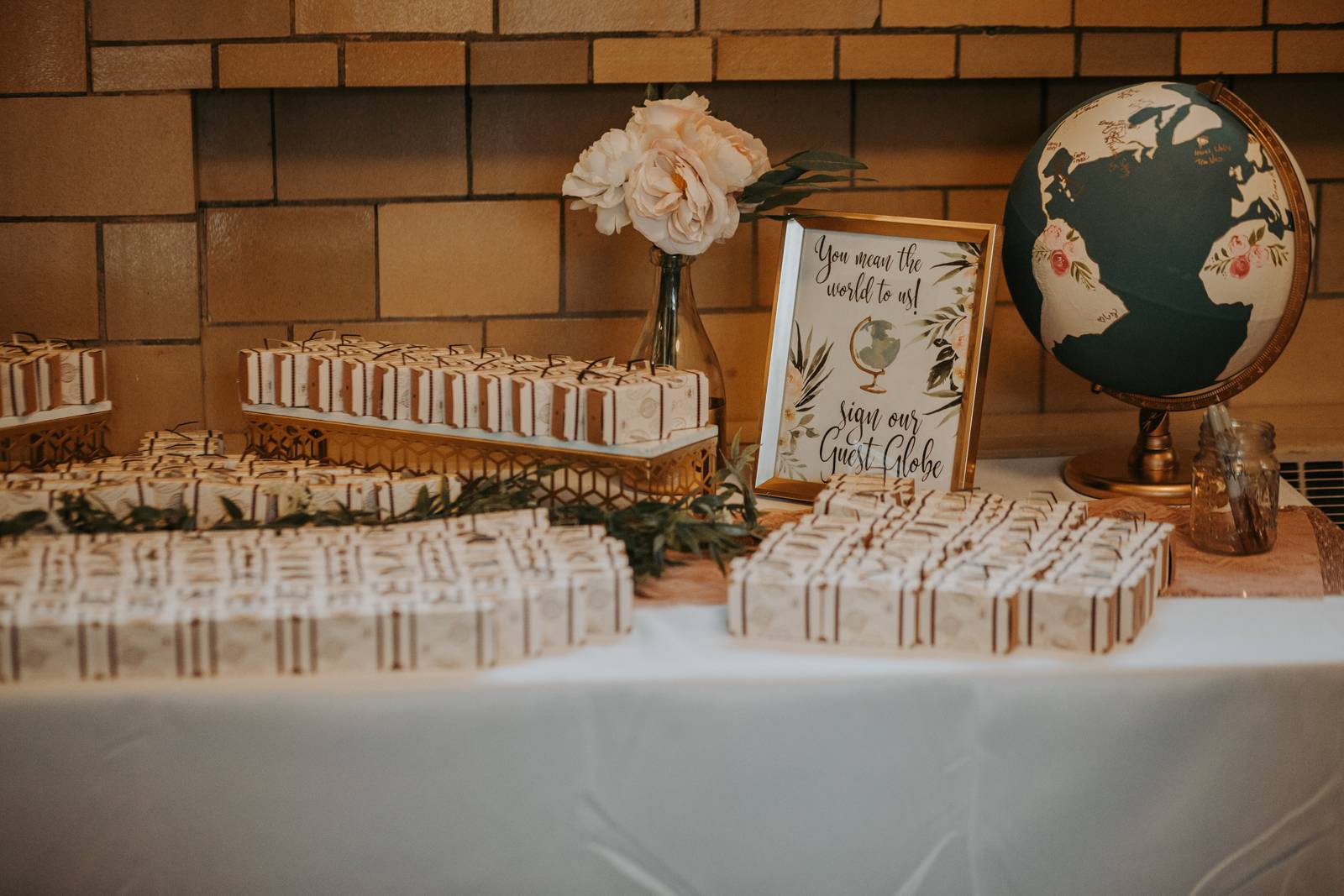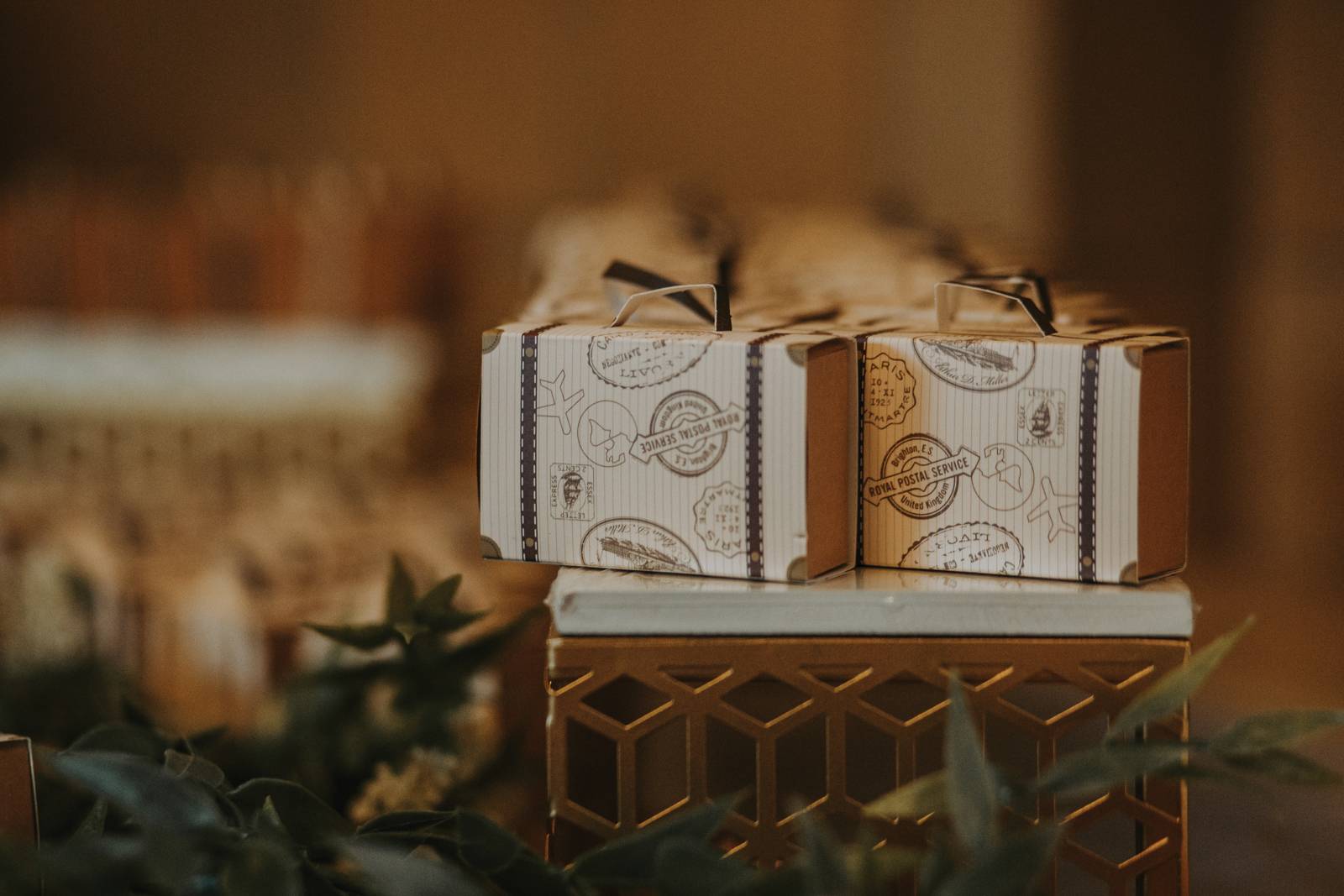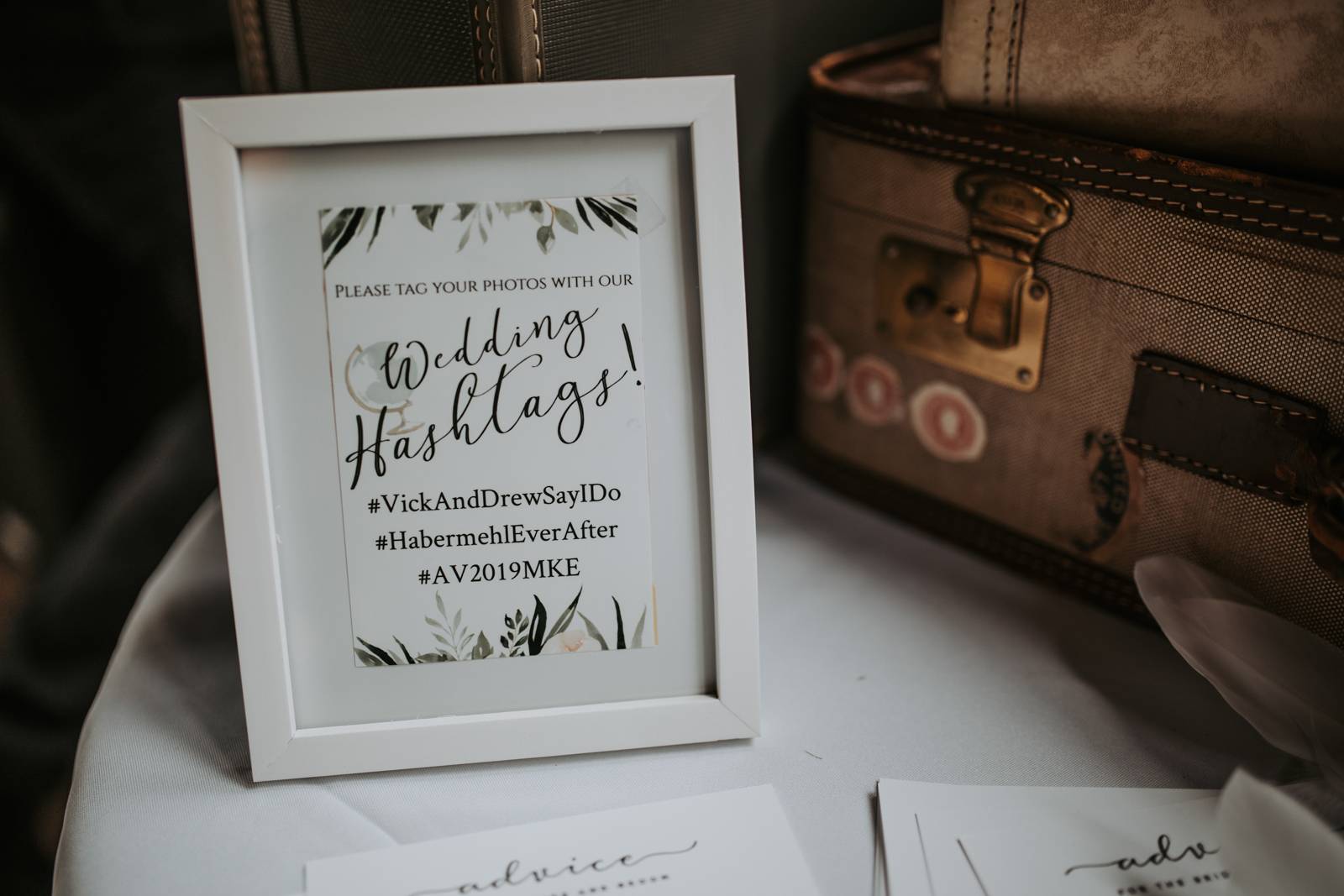 DID YOU USE ANY SPECIALTY CHAIRS, LINENS, CHARGERS, GLASSWARE OR DINNERWARE? We used vintage cake stands and vintage, glass serveware for our dessert table. We also used vintage serveware for our cheese and charcuterie board during cocktail hour.
TELL US ABOUT THE FOOD, DESSERT, AND ANY SPECIALTY BEVERAGES ON THE MENU: Brunch is our favorite type of meal and food. When we get a day off, nothing makes us happier than sleeping in and then enjoying a good brunch. We decided to share this with our guests and serve a brunch buffet for dinner! We served French toast, fruit, egg scrambles (including a Wisconsin-themed scramble with brats and caramelized onions), pastries, bacon, and sausage. We even carried the brunch theme over to the dessert table. We had three different kinds of cupcakes: Fruity Pebble, Peanut Butter Cap'n Crunch, and coffee! Along with other desserts like cookies, macarons, and chocolate-covered strawberries (all colored to match our theme!).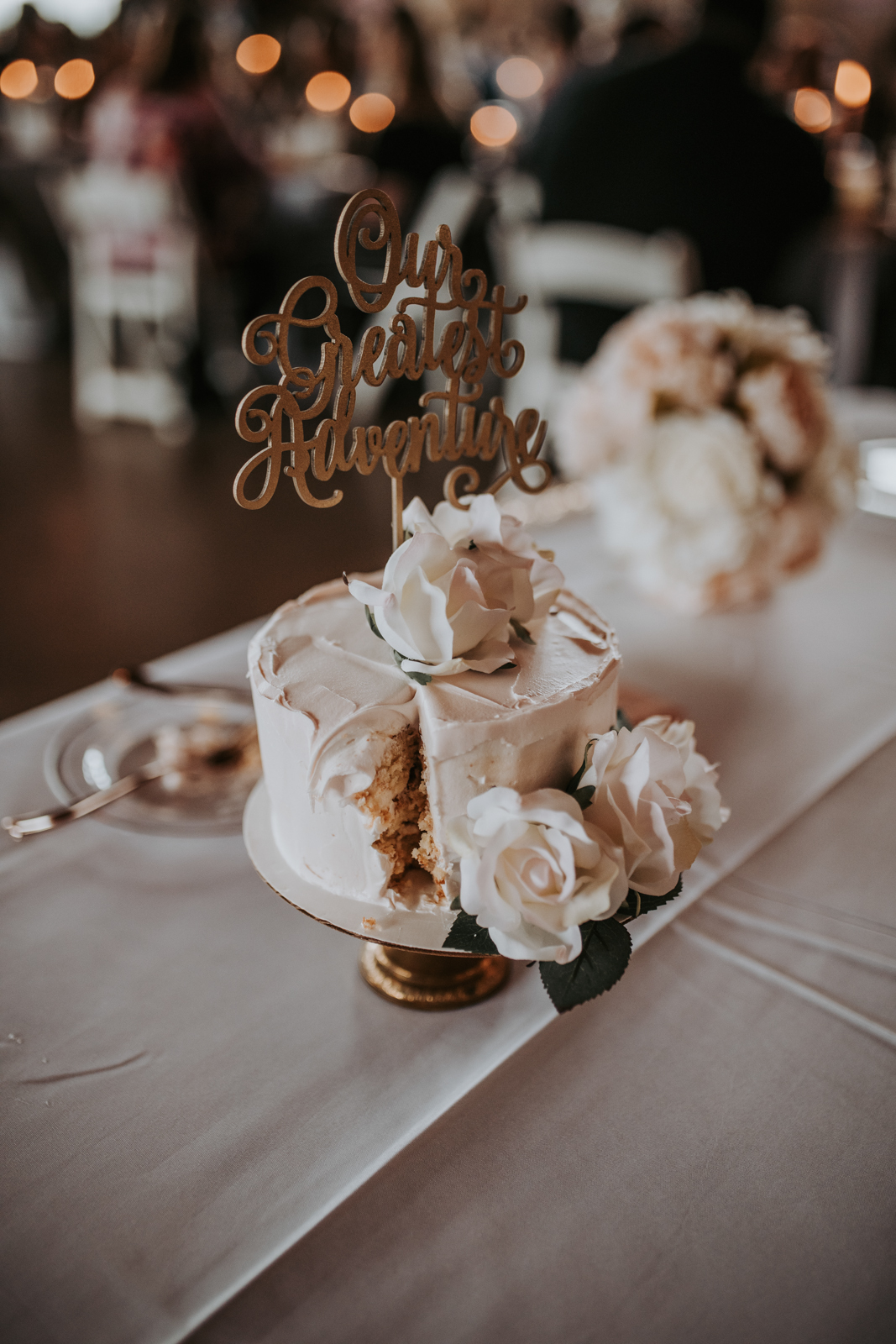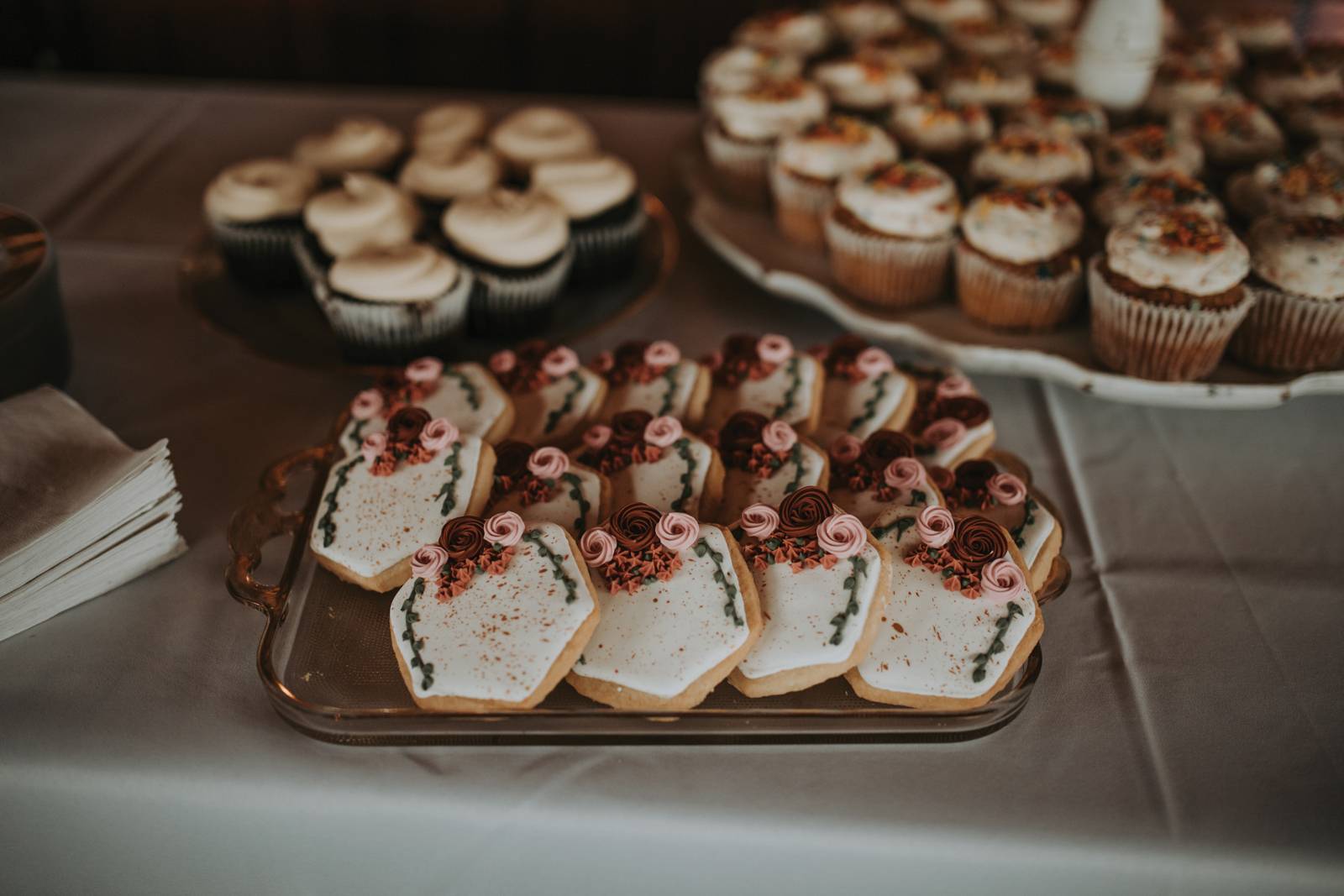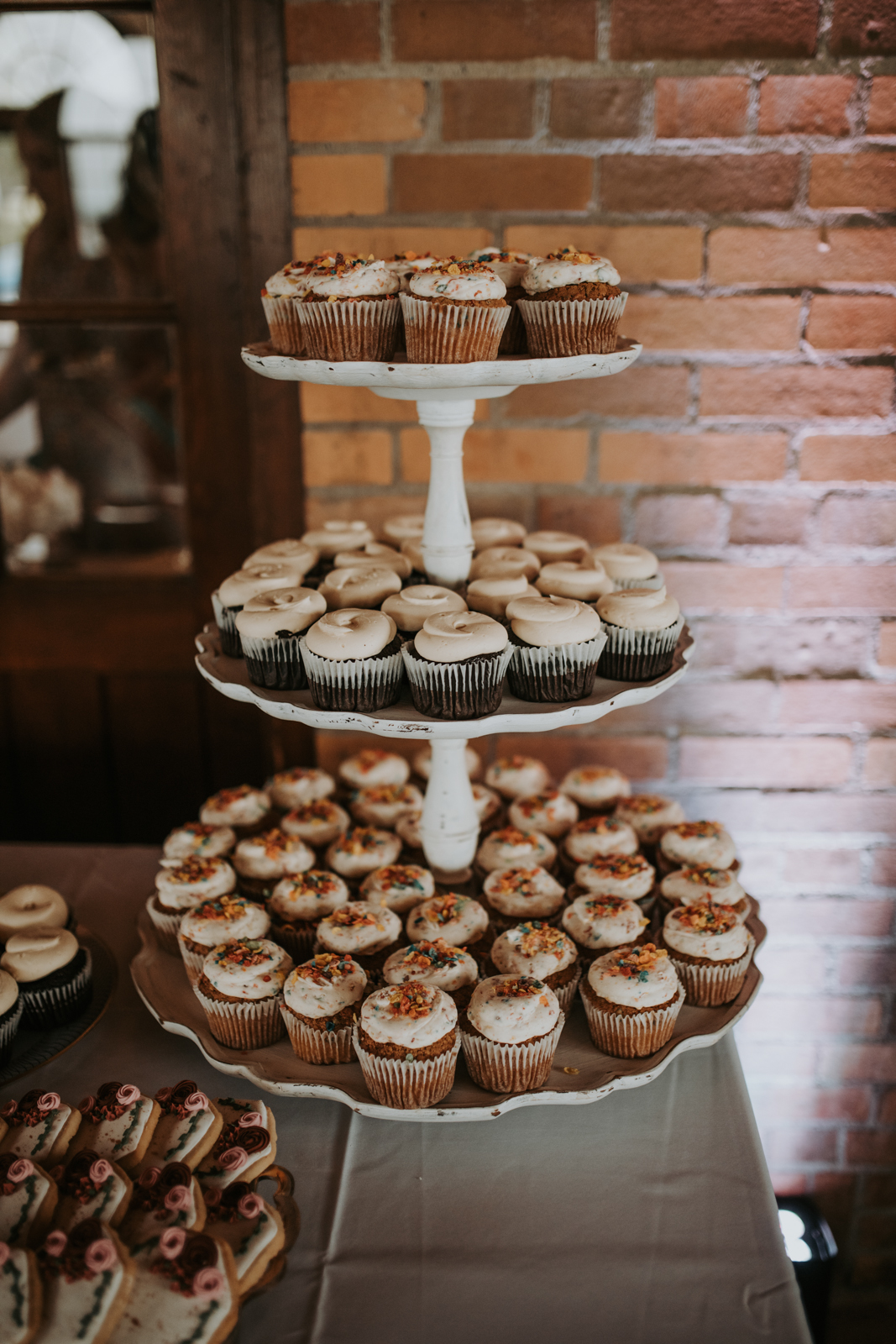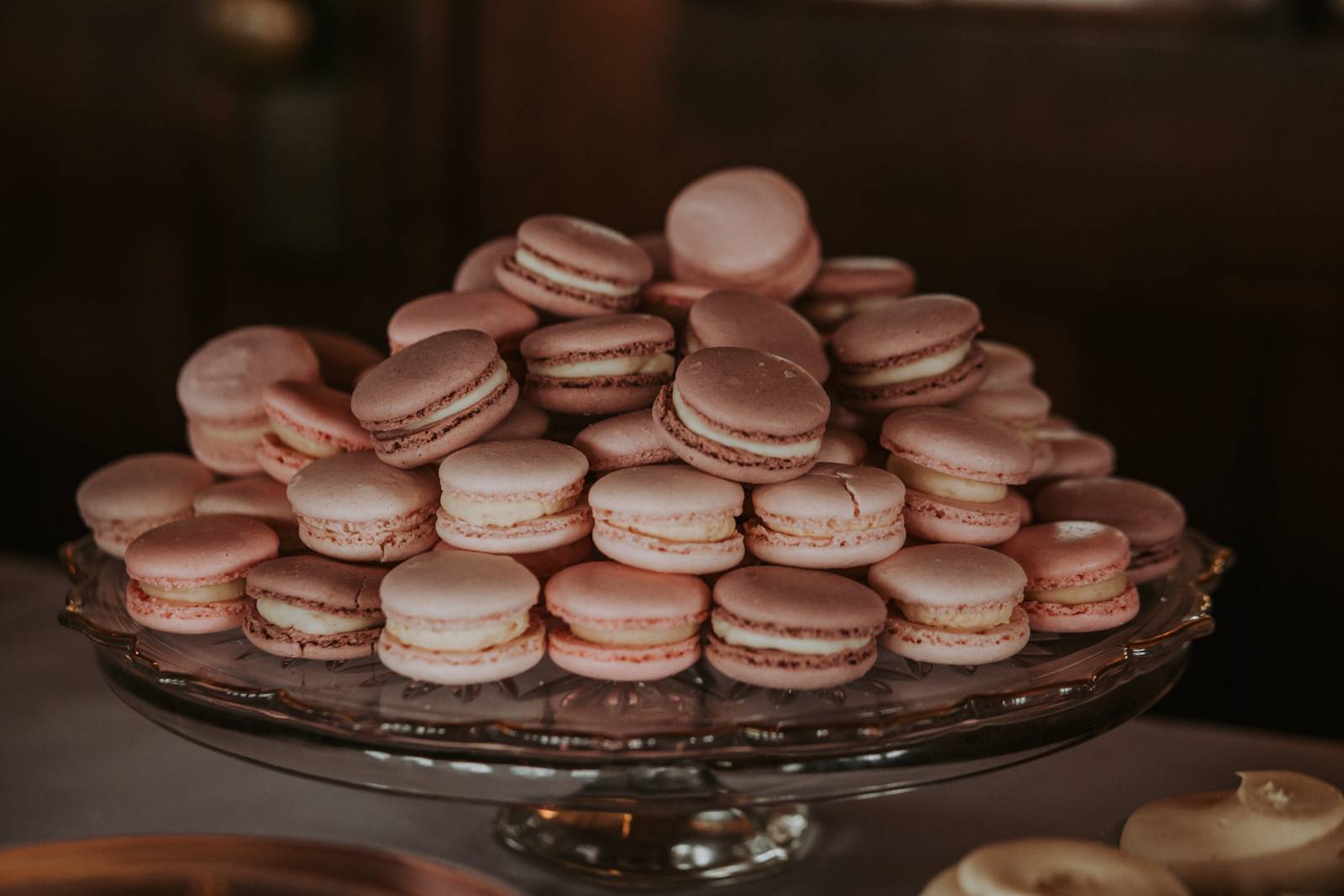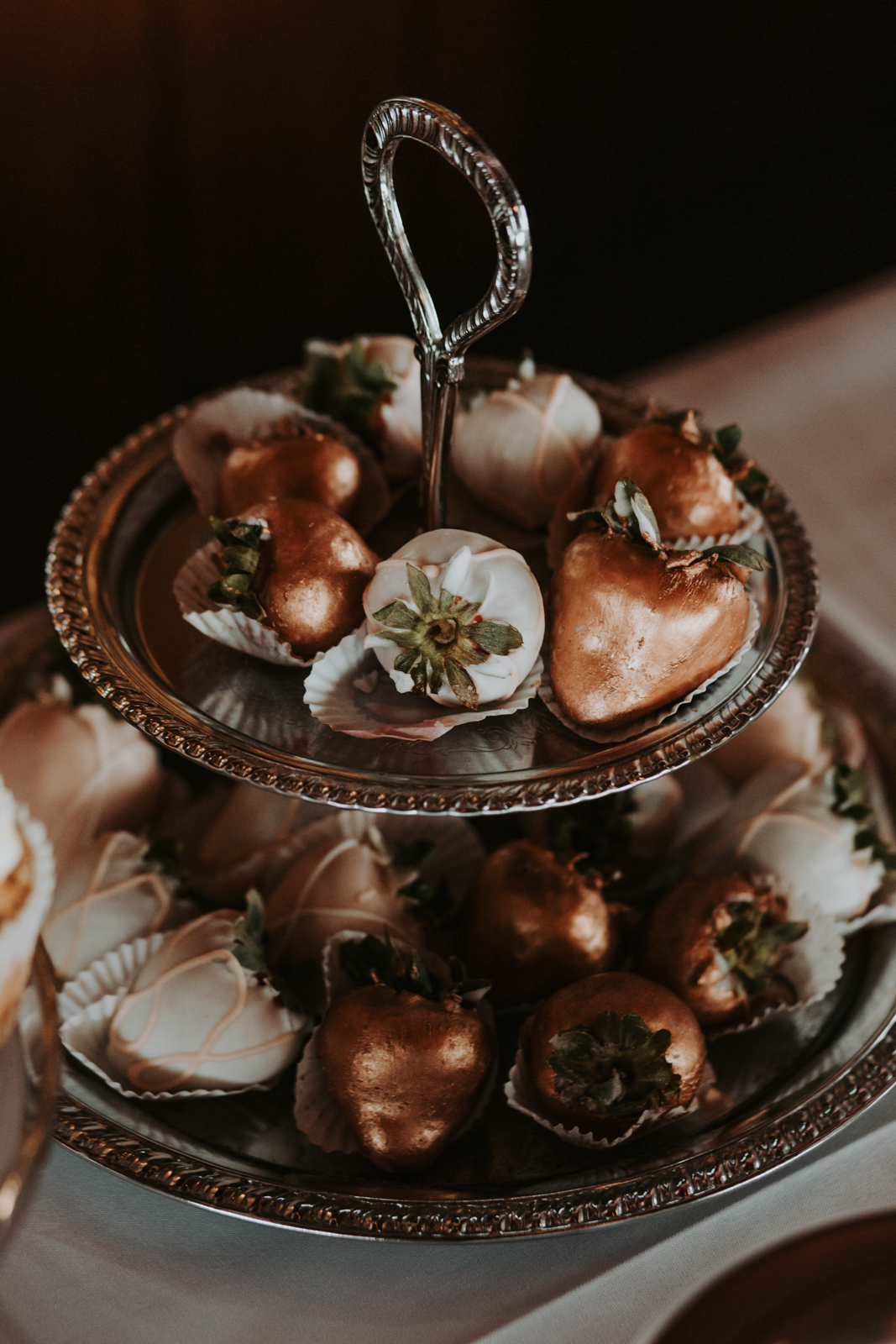 WHAT WAS YOUR FAVORITE MOMENT FROM YOUR WEDDING? One of my coworkers told us to take just 2 minutes during the wedding, where we pull each other aside and take a look at the room to soak it all in and remember the moment. She told us, "You'll never have all of your loved ones, friends, and coworkers in the same room like that again. So take it all in and appreciate it for just 2 minutes because the day will go by so fast." She was absolutely right, the whole day was a blur, but I do remember that moment. We stepped aside, held hands, and just looked over the room at everyone dancing, and all of the people and my heart exploded with happiness.
TELL US ABOUT YOUR HONEYMOON PLANS: We're going to Bali! It's our dream destination, and we're so pumped! Instead of setting up a regular wedding registry, we set up a honeymoon registry where our guests and loved ones were able to gift us with adventures such as temple tours in Bali or other honeymoon necessities like dinner, drinks, and transportation.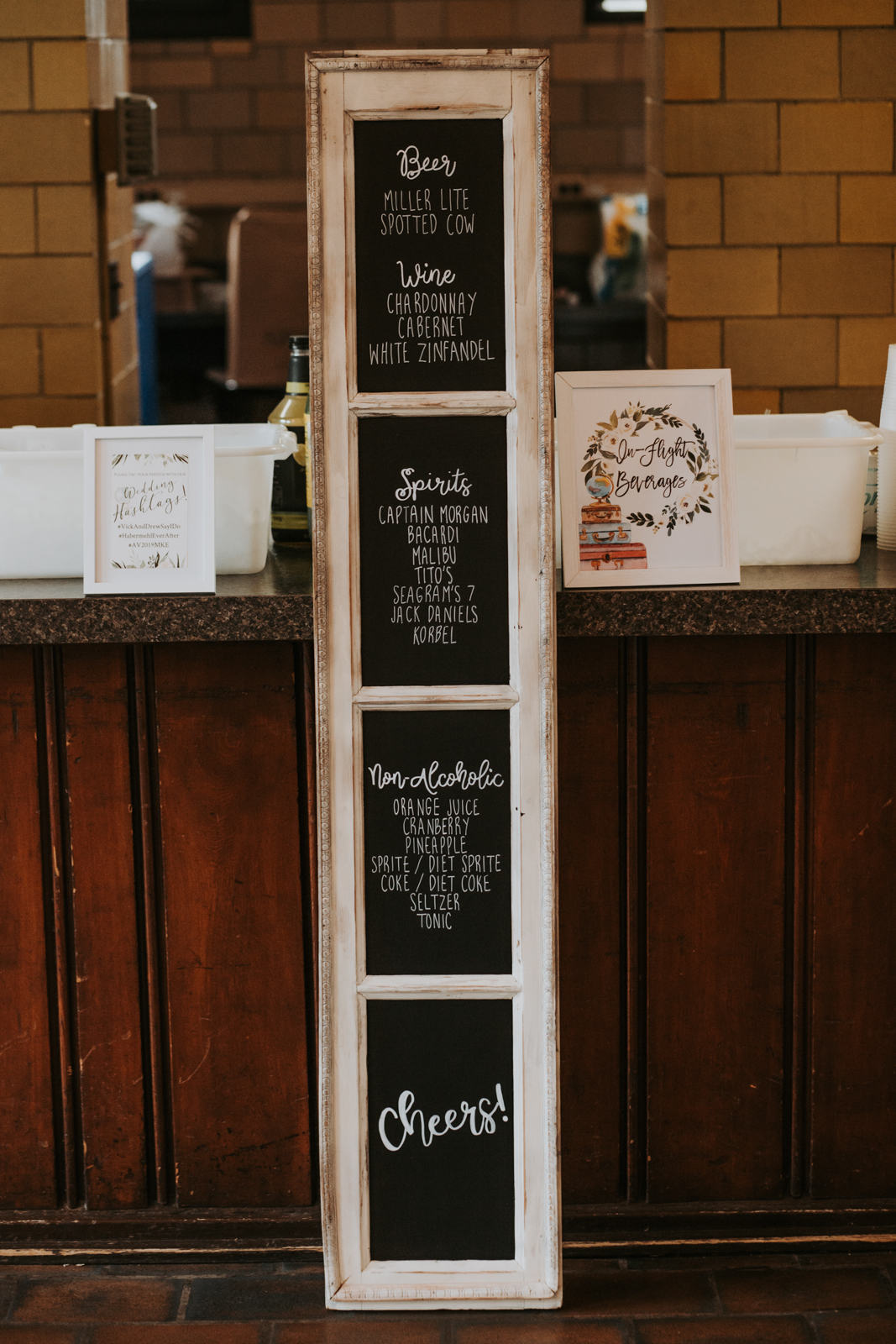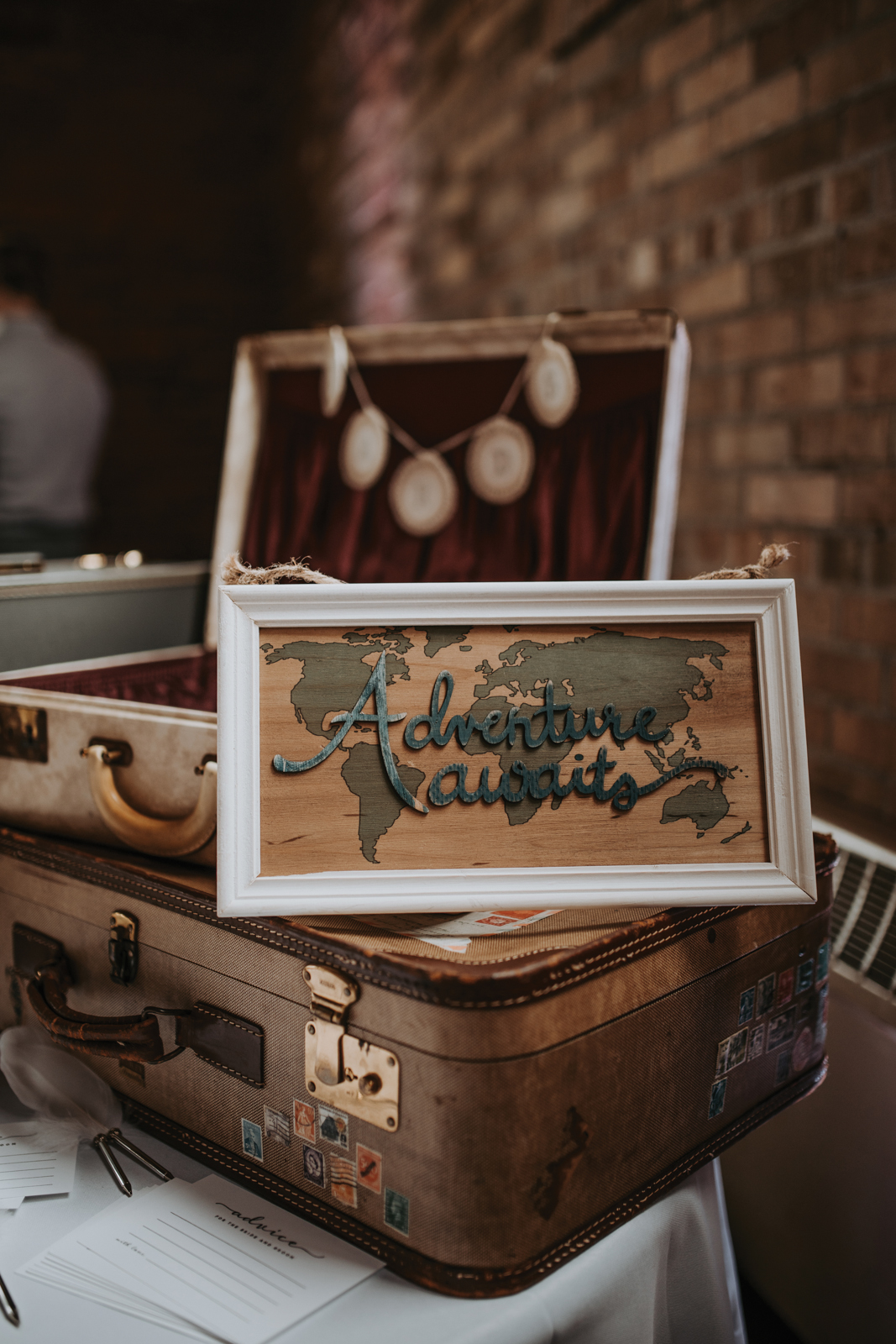 WHAT DOES LIFE LOOK LIKE AFTER THE WEDDING? Busy! I feel like there's so much that goes into the planning of the wedding itself and preparations before the wedding, that there's not much that goes into preparing yourselves for after the wedding. We found ourselves quite busy with thank you cards for our guests, thanking our vendors, wrapping up our registry, looking into how to change my last name, selling our wedding items and décor, and responding to everyone online as well. We didn't take our honeymoon right away due to work, but we are glad to have that to look forward to in 2020!
ANY WEDDING PLANNING REGRETS OR SOMETHING YOU WOULD DO DIFFERENTLY? Be prepared to follow through if you start a DIY project. I started so many DIY projects and was finishing them up until the last minute because I underestimated the amount of work it takes. I don't regret it because we saved a lot of money on those expenses, but I think I'd do it differently and get them done far earlier than I did.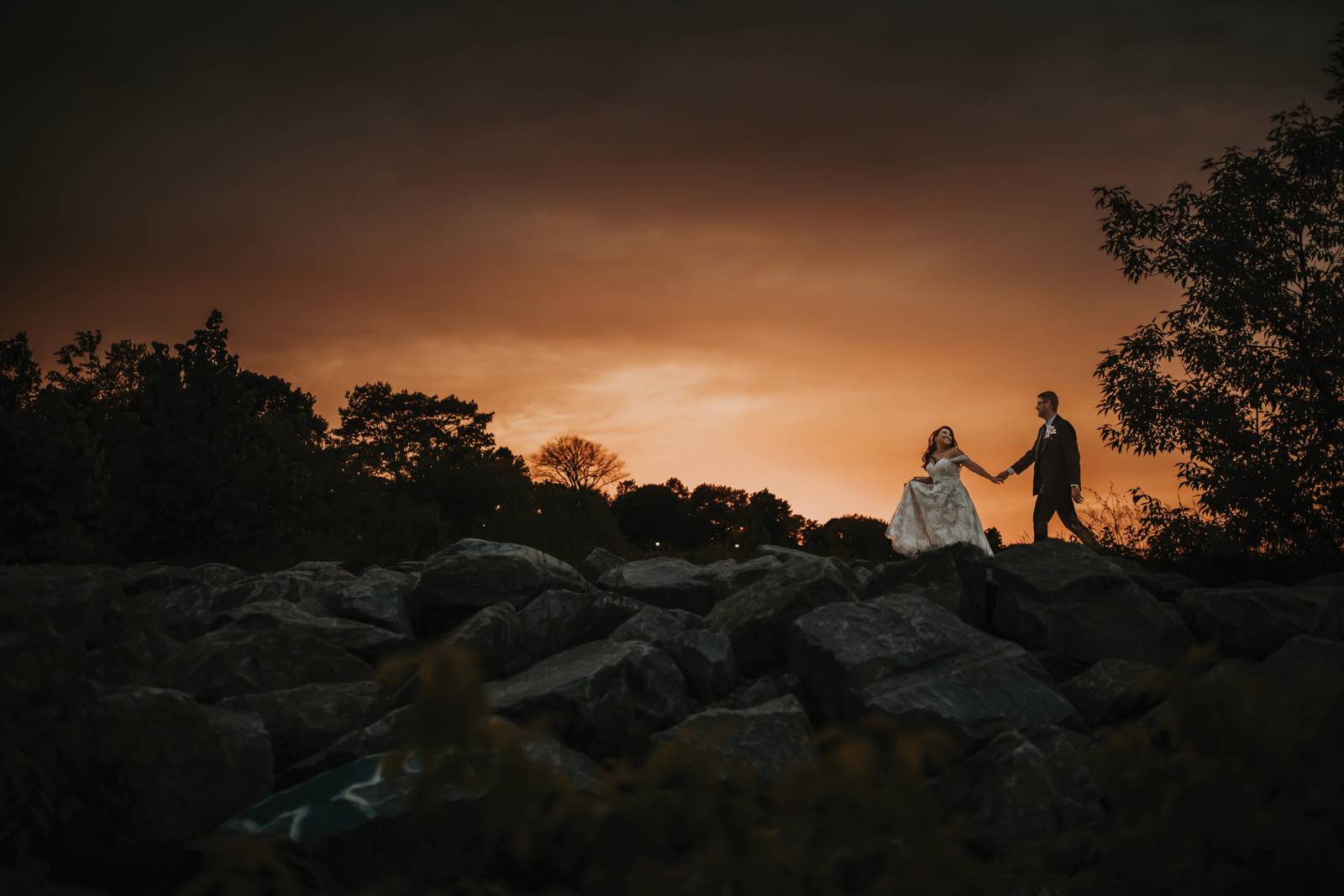 IS THERE ANY ADVICE YOU'D GIVE TO OTHER COUPLES PLANNING THEIR WEDDING? Take 2 minutes, just the two of you to soak in your day alone; this was the advice we were given on our special day. Also, there will be lots of opinions from other people, including close family members and friends. They do want what's best for you, but sometimes it can be overwhelming when you have a lot of differing opinions coming your way. Listen to them, thank them for their advice, and if it aligns with your vision - utilize it! If it doesn't, still thank them but stay true to your vision (and your budget). At the end of the day, it's your wedding day.