We love couples who aren't afraid to make a wedding day their own. And this duo? Well, they did just that with an environmentally friendly affair personalized down to the very last detail. We're talking upcycled old containers and cans used for vases, eco-conscious floral bouquets, freshly picked cut flowers from a local flower farm for handcrafted centerpieces, handmade yard games and a signature cocktail menu of beverages named after Jamie and Cory's pets. Of course, the day wouldn't be possible without amazing Madison wedding vendors like the Wedding Flashers, Brandi's Bridal Galleria, Etc. and Carl's Cakes by their side, and you can watch it all unfold right here.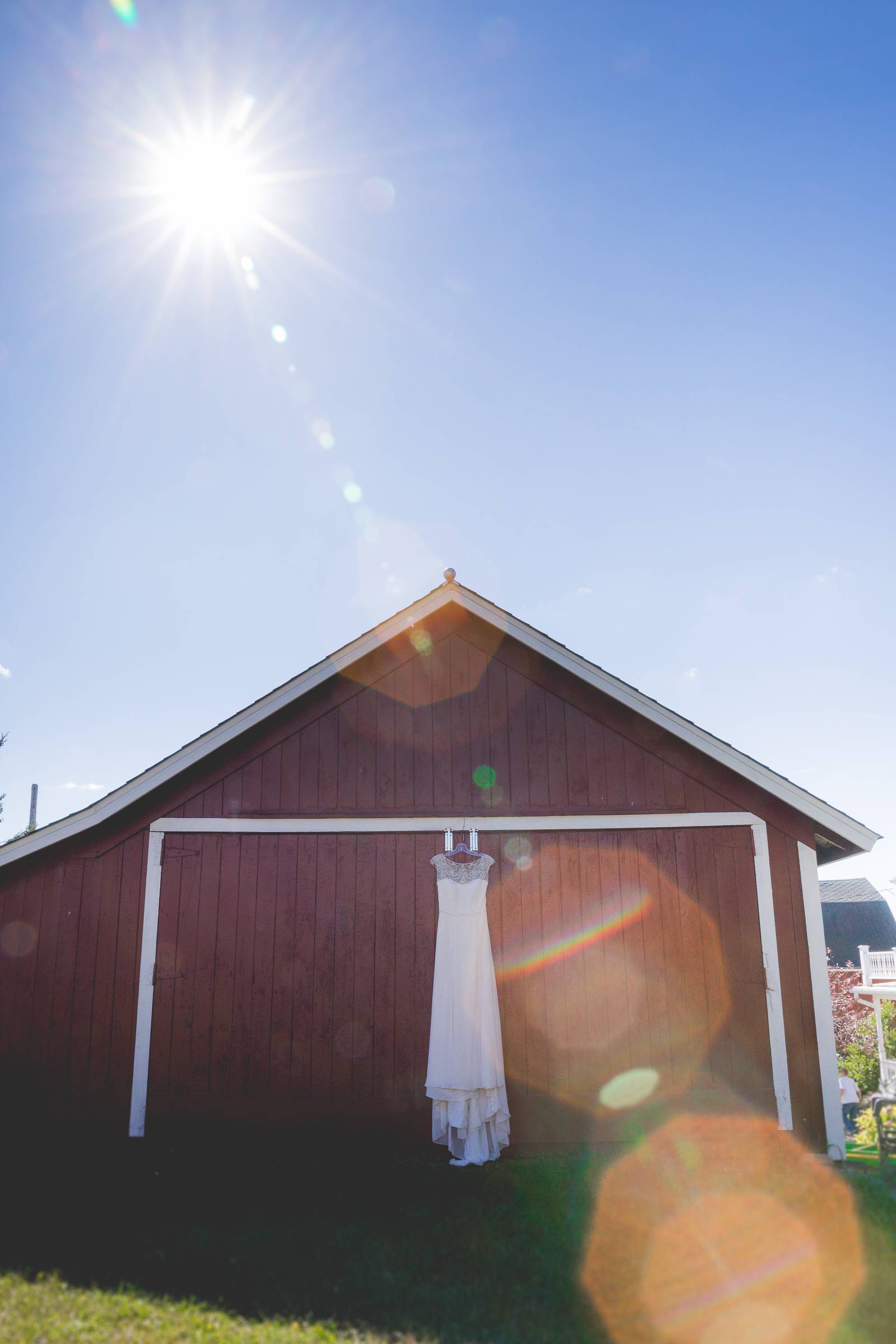 WEDDING DATE: 09/30/17

HOW DID YOU MEET?  
Jamie: We met through a mutual friend. We had casually talked for a few weeks before Cory asked me to go to dinner with him. I was incredibly nervous since we had never met in person before and it was just going to be the two of us. After 5 minutes in the car with him, I told him that I had a knife with me and that he shouldn't try anything. It was a 2-inch pocket knife. He laughed and said "Well mine is bigger. But I promise we won't need them." Definitely a great way to start the night. We had dinner and drinks, he used sugar packets to lay out his entire family tree so that I could keep track of who was who in the stories he told me. Later in the night, he spilled an entire drink on me. Little did I know, this was going to be THE most awkward, best and last first date ever.

Cory: Jamie had just gotten a tattoo done on her thigh, I used this as an excuse to start up our first conversation. She completely blew me off, she told me where she got her work done and that was it. A few days later, she started talking to me again and we talked almost every day before we finally met. For some reason, I was pretty nervous about meeting her, but we hit it off and two days after our first date, I introduced her to my mother.
HOW DID YOU KNOW HE/SHE WAS "THE ONE"?

Cory: Jamie makes the best homemade muffins. She made a fresh batch of homemade blueberry muffins and brought them to me at work. This was two weeks after we met. I knew right then that she was "the one."

Jamie: My mother has a small rescue dog who is fearful around men. When the time came for Cory to meet my mom, I warned him to be careful around the dog, since she hates every man she has ever met. It took all of 5 minutes for Cory to gain the trust of the dog and she was totally in love with him after about ten minutes. Watching the way Cory interacted with this tiny dog and realizing how important it was to him to earn her trust was the moment I knew he was "the one."
TELL US ABOUT YOUR PROPOSAL: We went on vacation to Kauai, Hawaii with Cory's parents. Cory had planned a hike for the two of us on the Awaawapuhi Trail which goes through rainforest and desert area. Cory setup the camera to take a photo of us at the edge of the cliffs overlooking the Napali Coast and the Pacific Ocean. After posing for our photo (which was actually taking video the whole time), he got down on one knee and asked me to marry him. We spent the next two weeks on vacation in paradise planning our dream wedding together.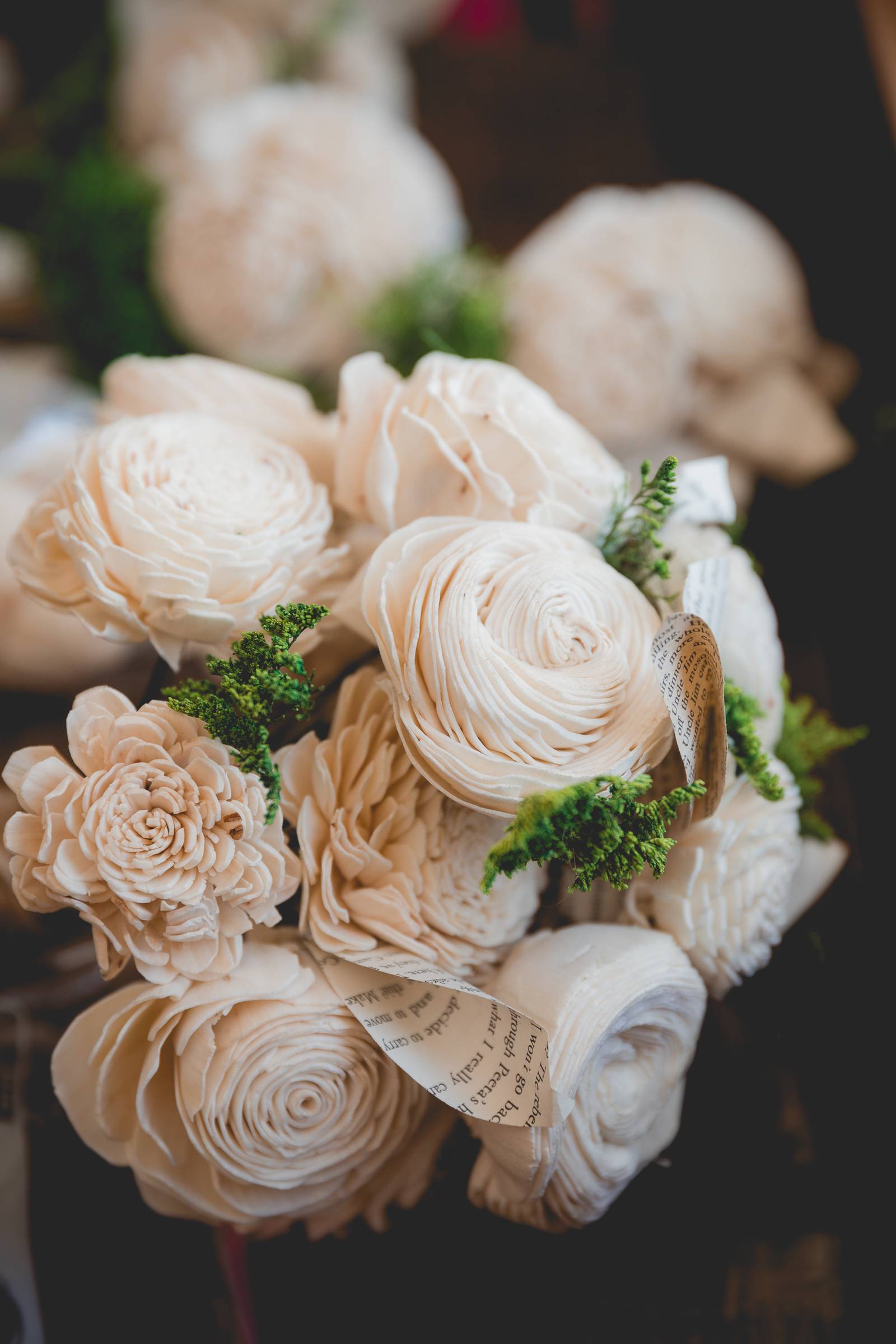 DESCRIBE YOUR WEDDING FLOWERS: We wanted to go with eco-friendly options. We went with EcoFlowers for the bouquets and boutonnieres for the wedding party. It was important to me that we avoid excessive waste, so the idea of having flowers that could be kept as a keepsake was ideal. For the floral decor, we wanted to find a locally sourced, organic option. While at the Madison Farmers Market we met the owners of Sun Born Gardens in Mount Horeb. We decided to go with their cut buckets of flowers and greenery so that we could DIY our own arrangements using the vases and containers we found at antique malls and thrift stores.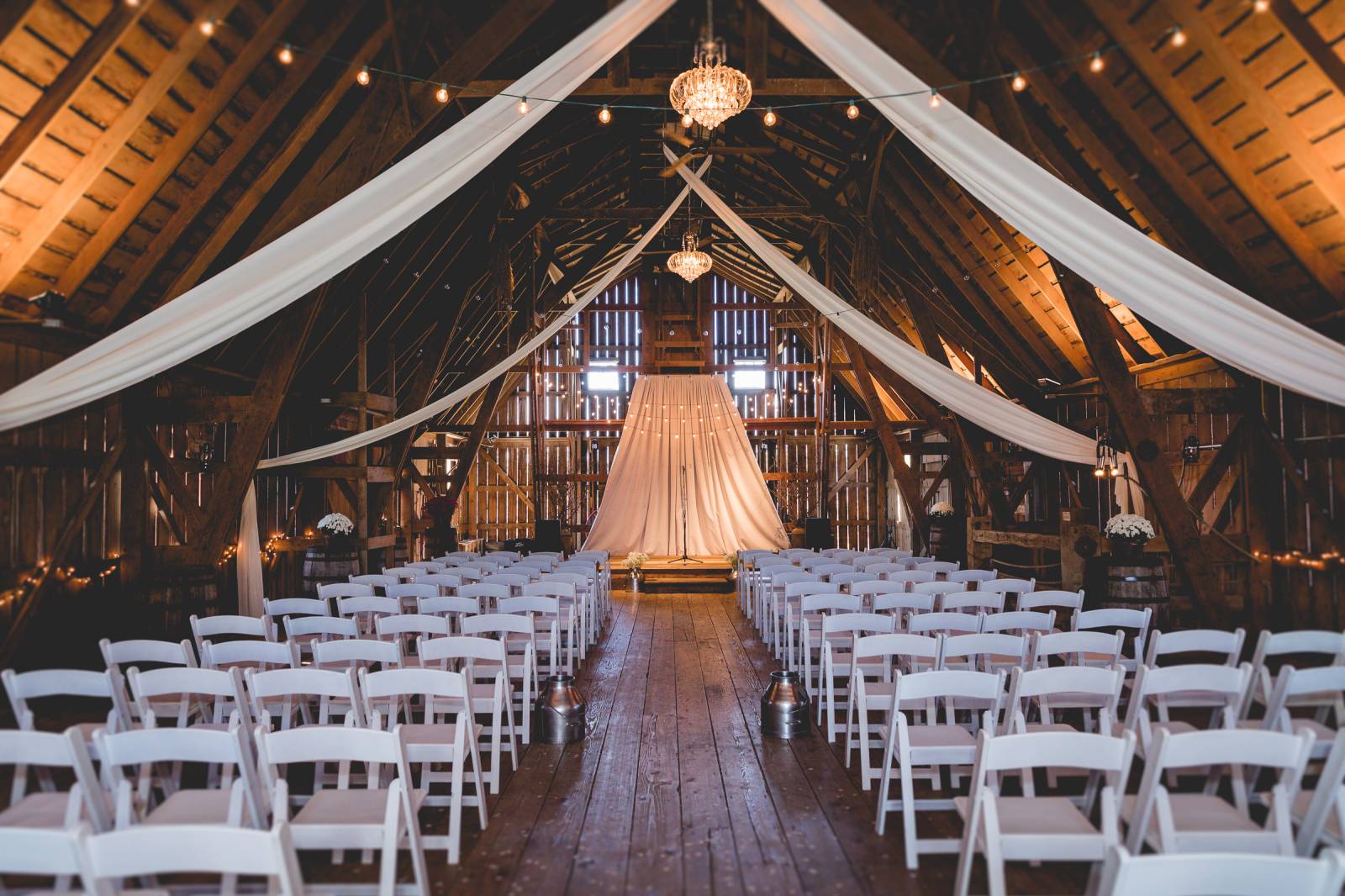 WERE THERE ANY PERSONAL TOUCHES OR DIY ELEMENTS: Our wedding was mostly made of up of DIY elements. We designed and printed our invitations and programs, created all of the signs and decorations and even hand punched out hundreds of heart-shaped cutouts from old books to use as confetti. We had help from our parents and sisters to create and make as much as we could ourselves. We even made custom outfits for our dogs who were in the wedding; a bow-tie for our "ring-bearer" and a flower collar for our flower girl. We collected and used antique bowls for our candy buffet, used antique books and upcycled old containers and cans to use for vases and decorations. My mother built us a wooden cake stand, bag-toss boards, which we painted our initials on, and we also had giant Jenga and giant Yahtzee dice made. We wanted to create a wedding made of things that we could keep and reuse after the wedding was over. We even created a menu of specialty drinks and named them after our pets. Cory and I really wanted to keep everything true to us as a couple, and it was important that we created a fun day for our loved ones to enjoy.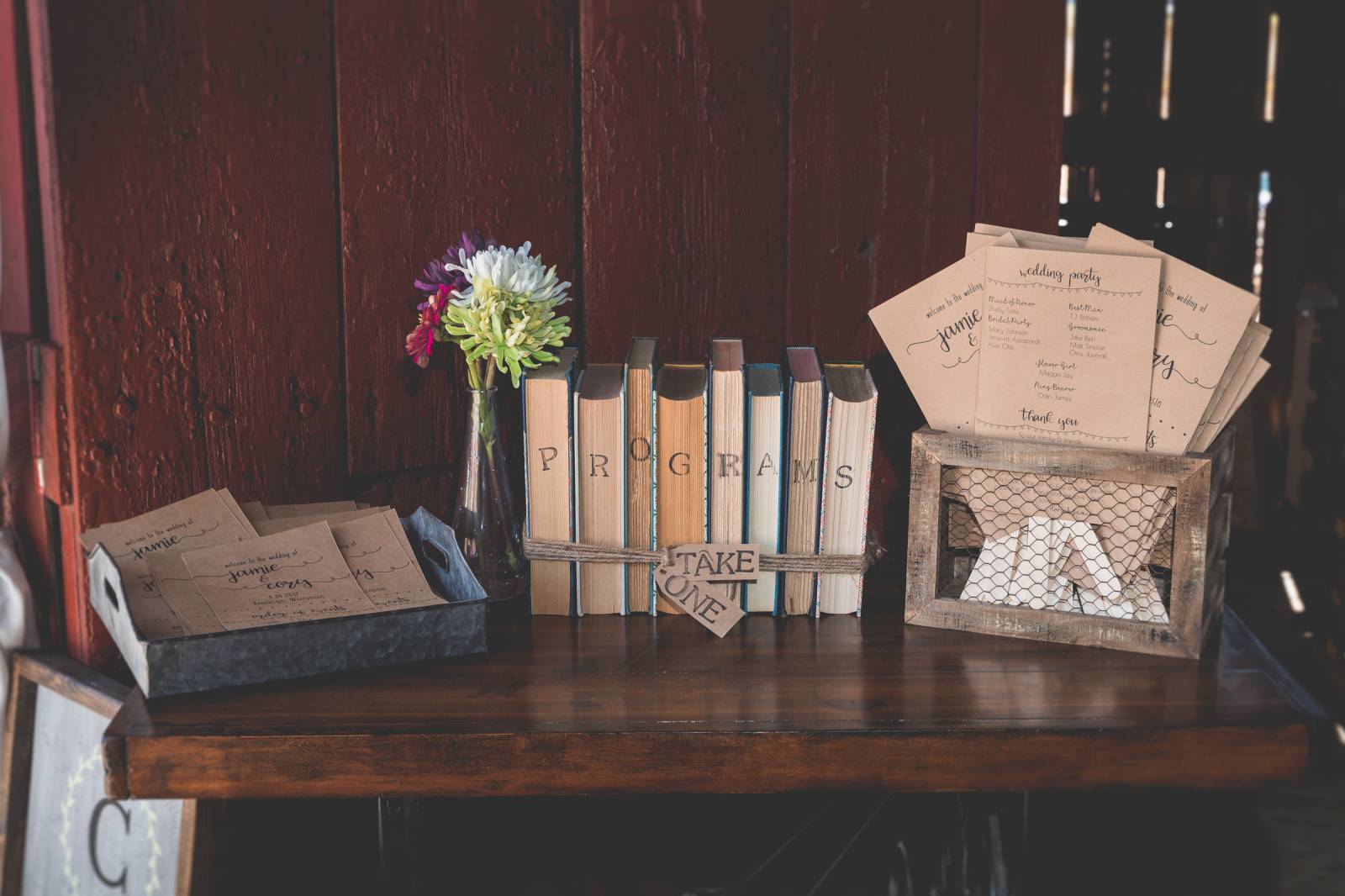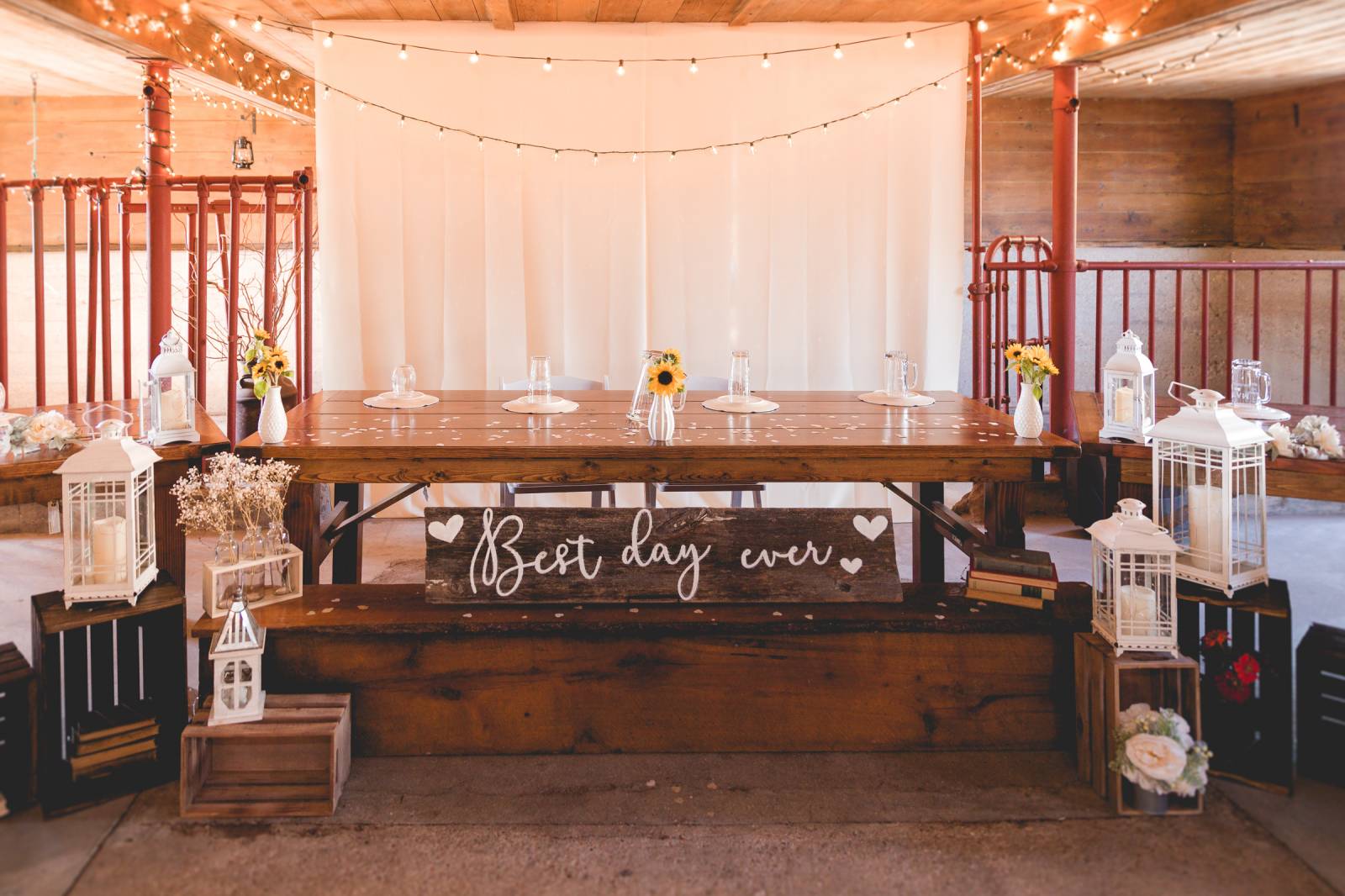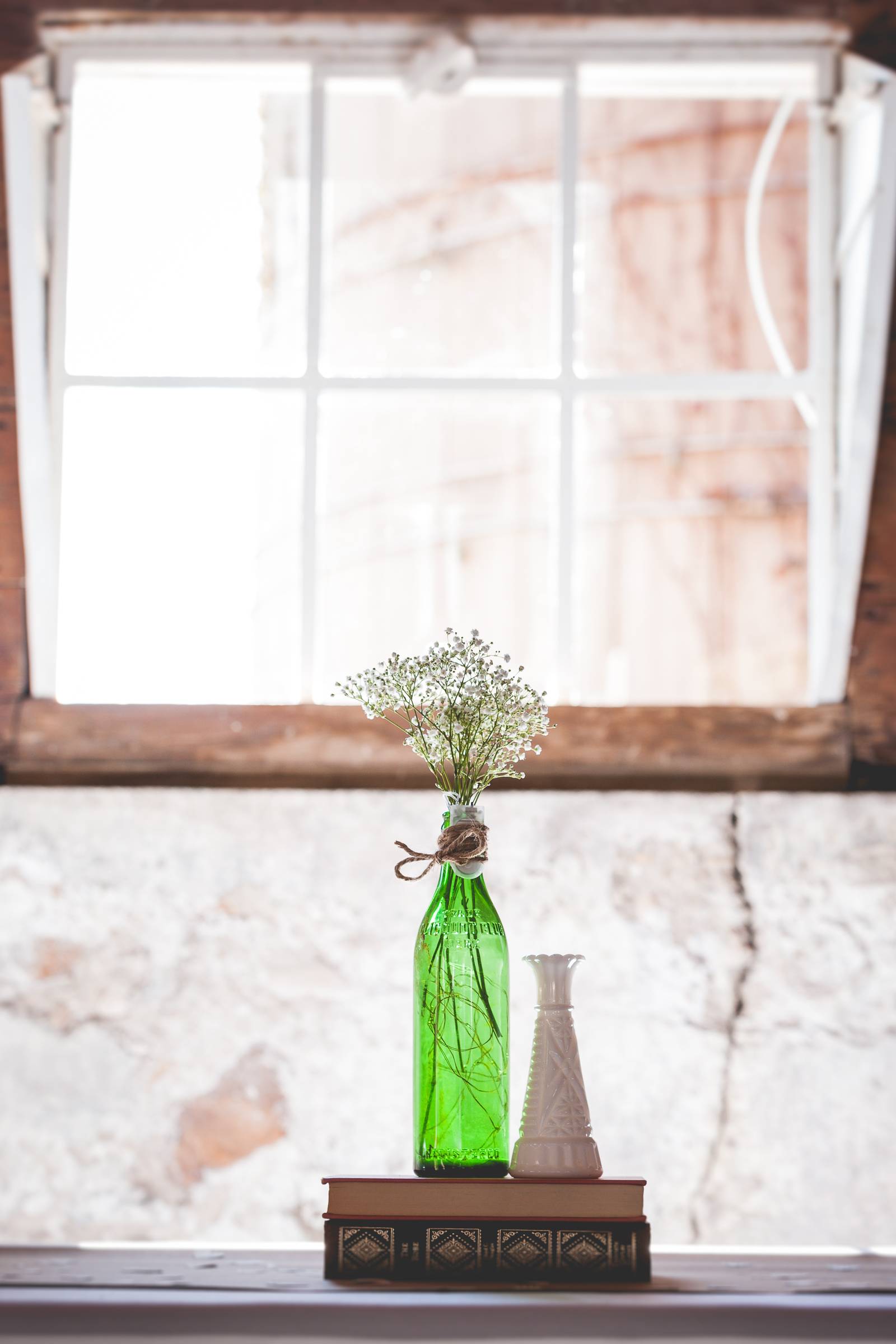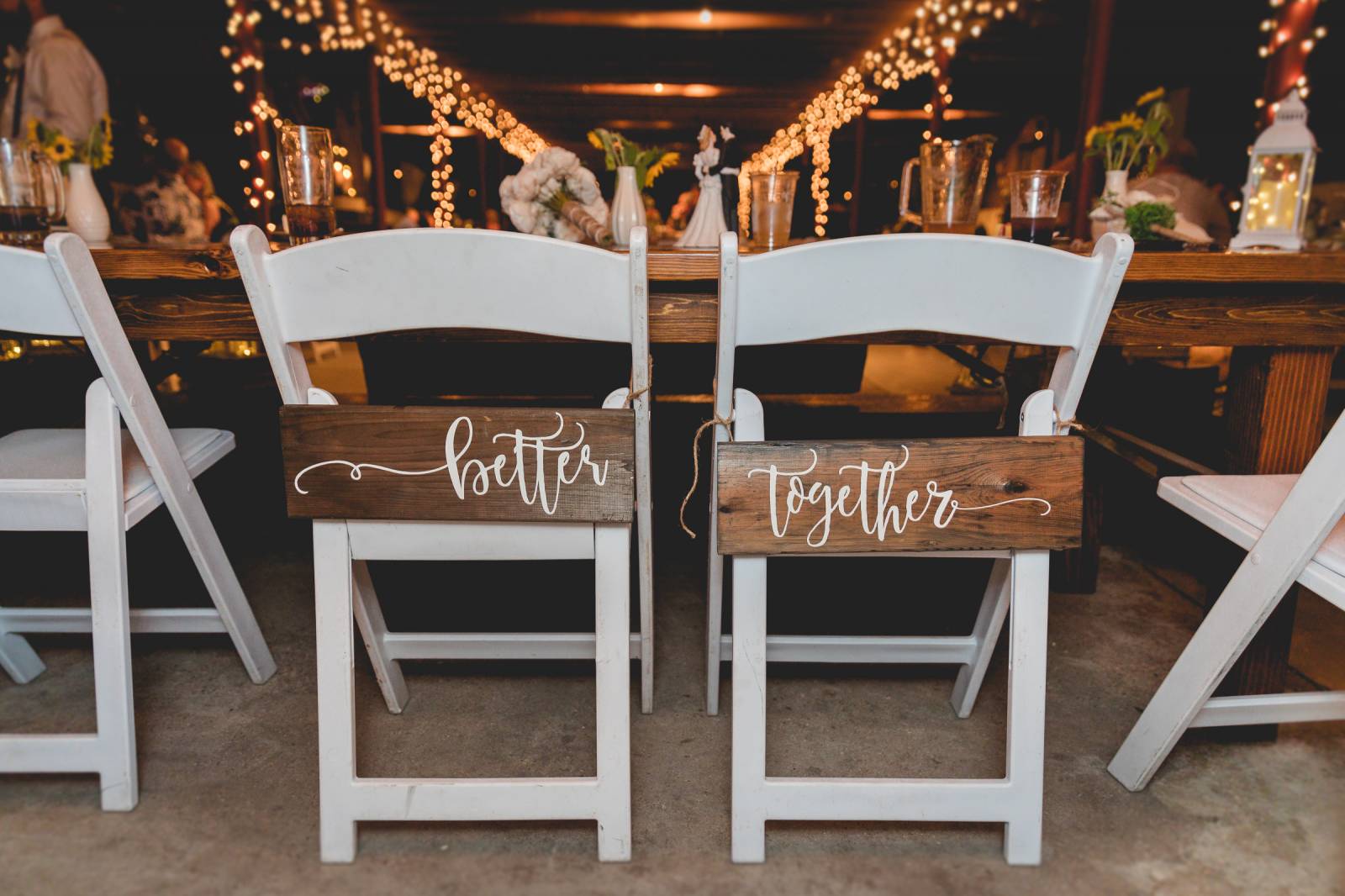 DID YOU USE ANY SPECIALTY LINENS, TABLES, CHAIRS OR DINNERWARE? The wedding party used antique dishes and we made them custom glasses - the groomsmen had beer mugs and the bridesmaids had wine glasses. We did the etching ourselves and also made customized glasses for the parents of the bride and groom. It was very important to us to reduce the amount of trash created at our wedding, so after doing some research, we used biodegradable dinner and cake plates made out of fallen palm leaves and compostable eating utensils made from cornstarch.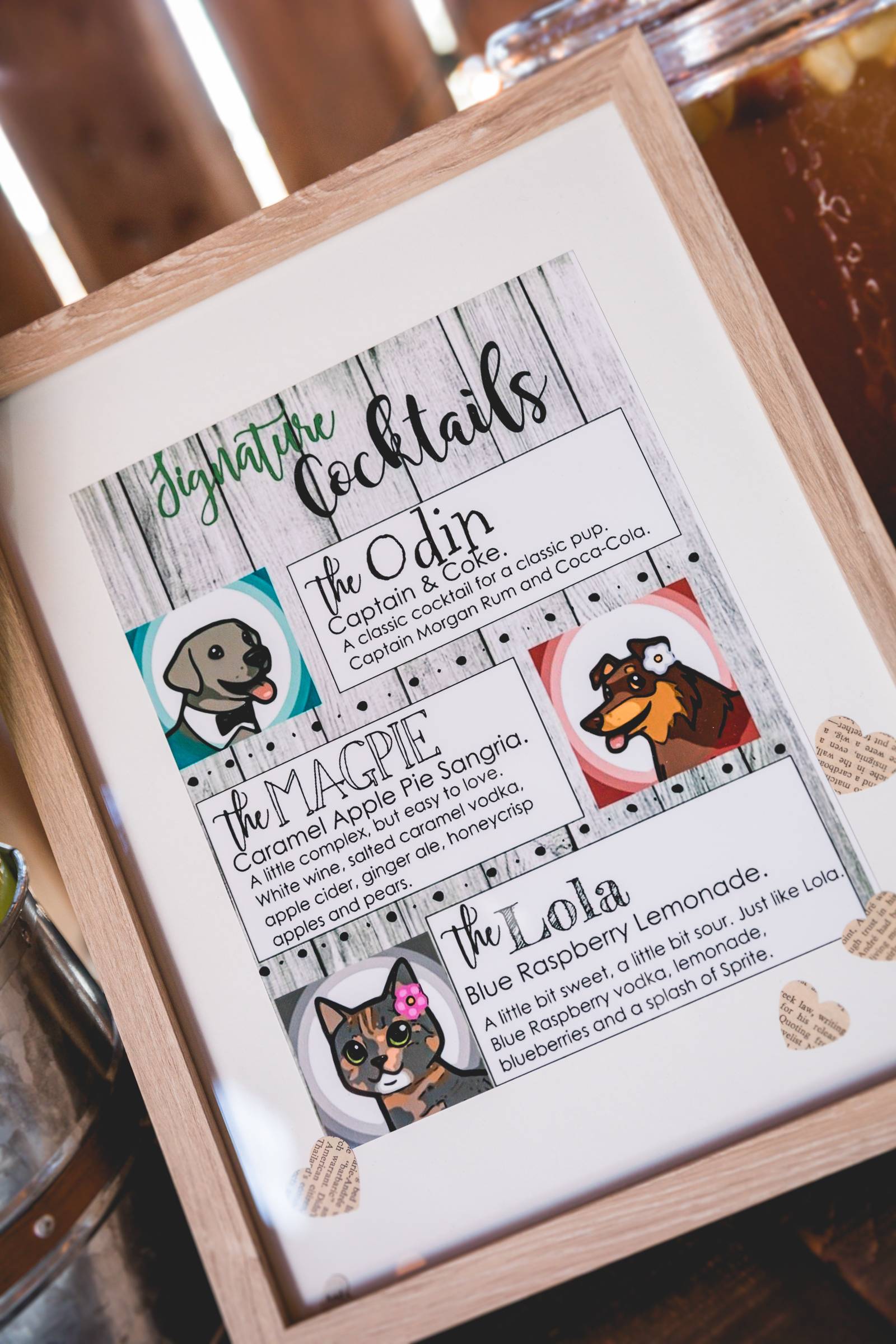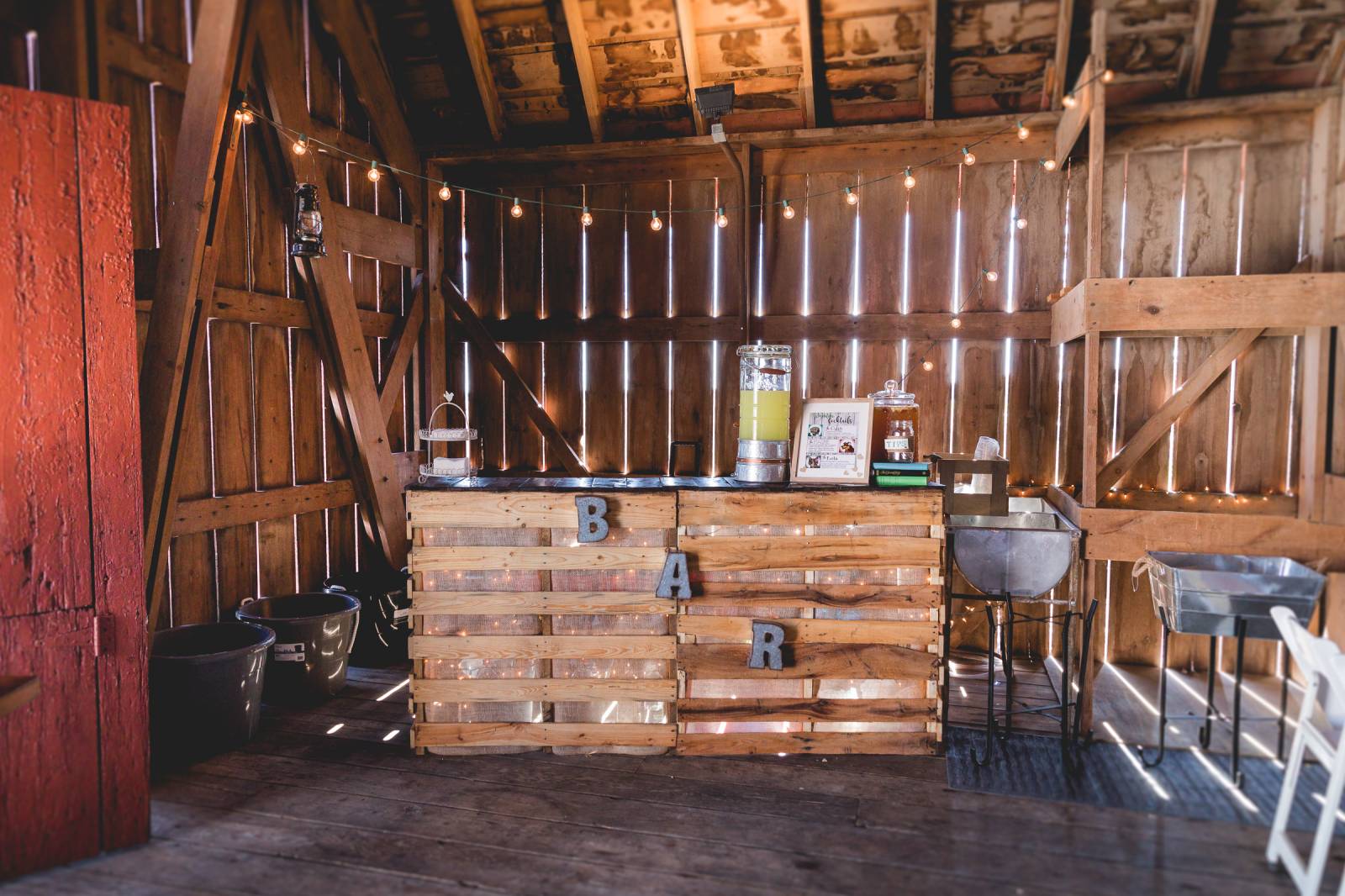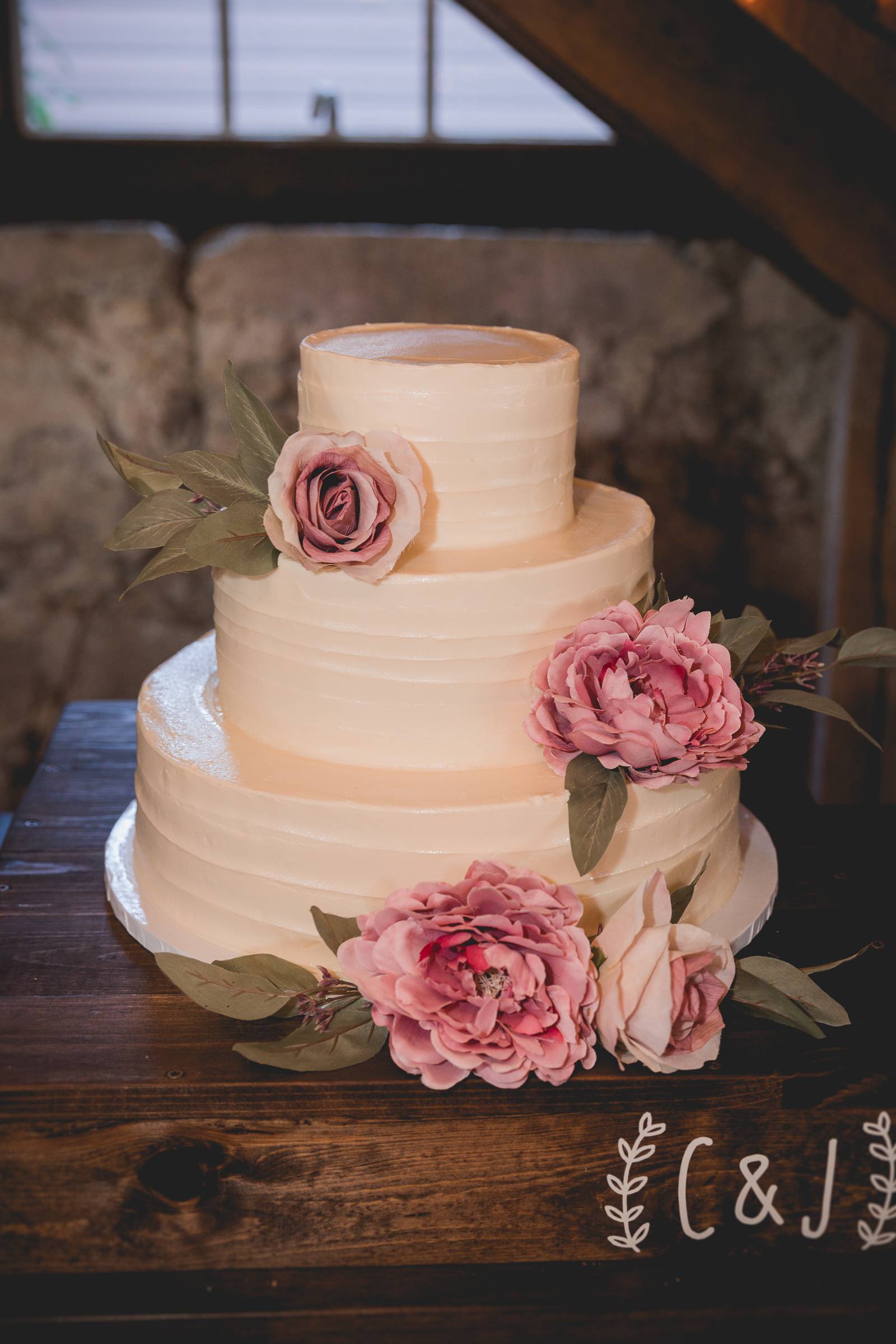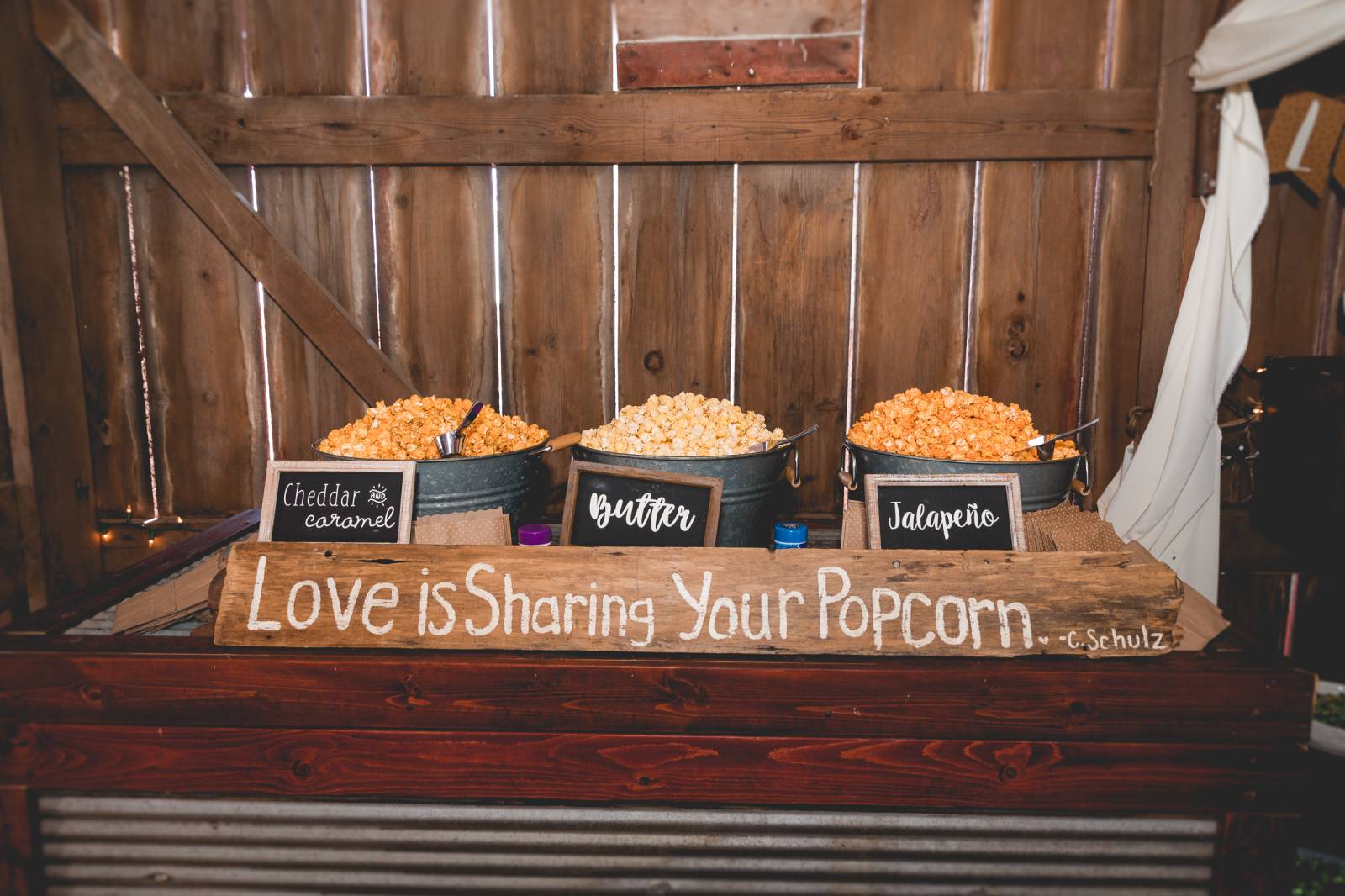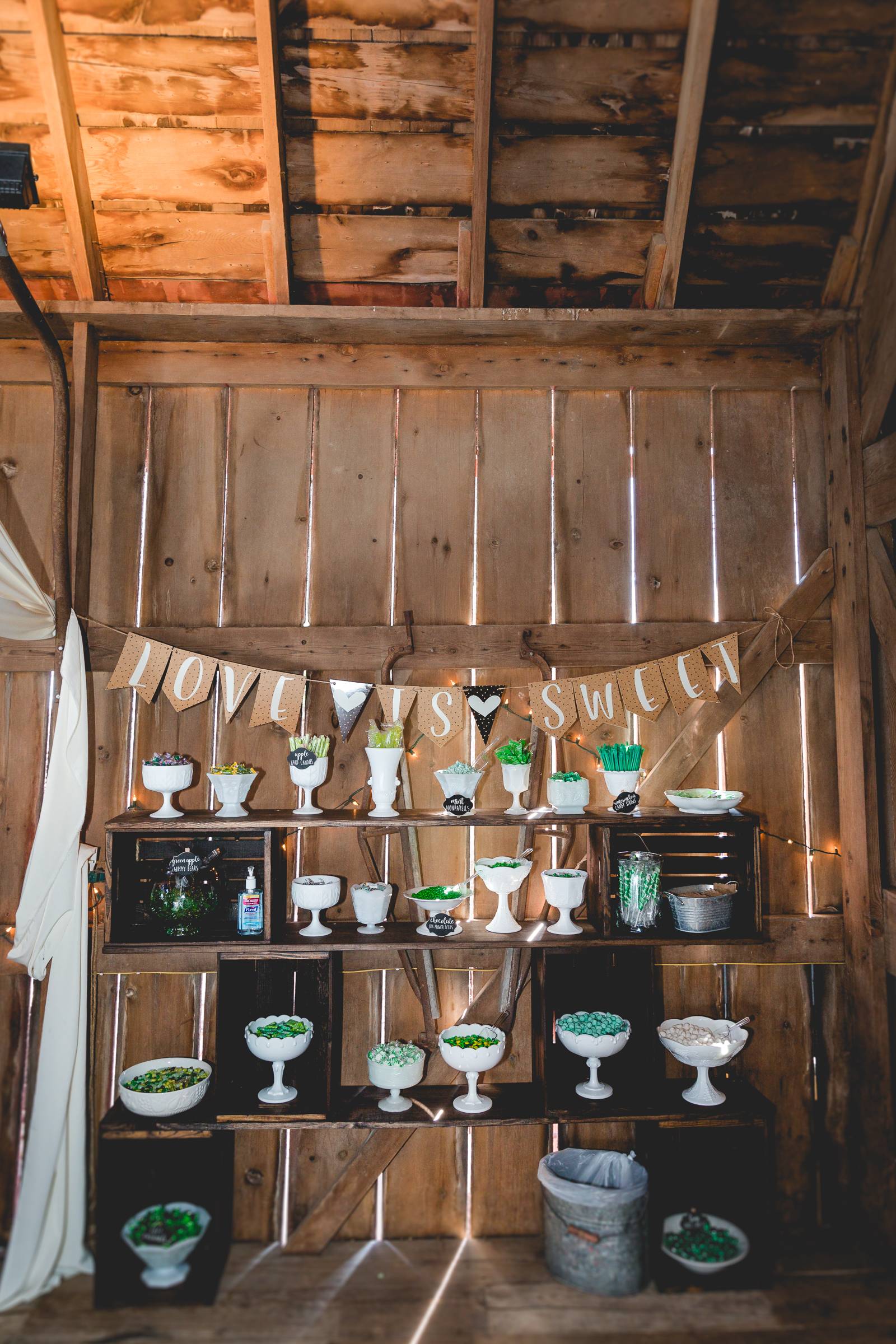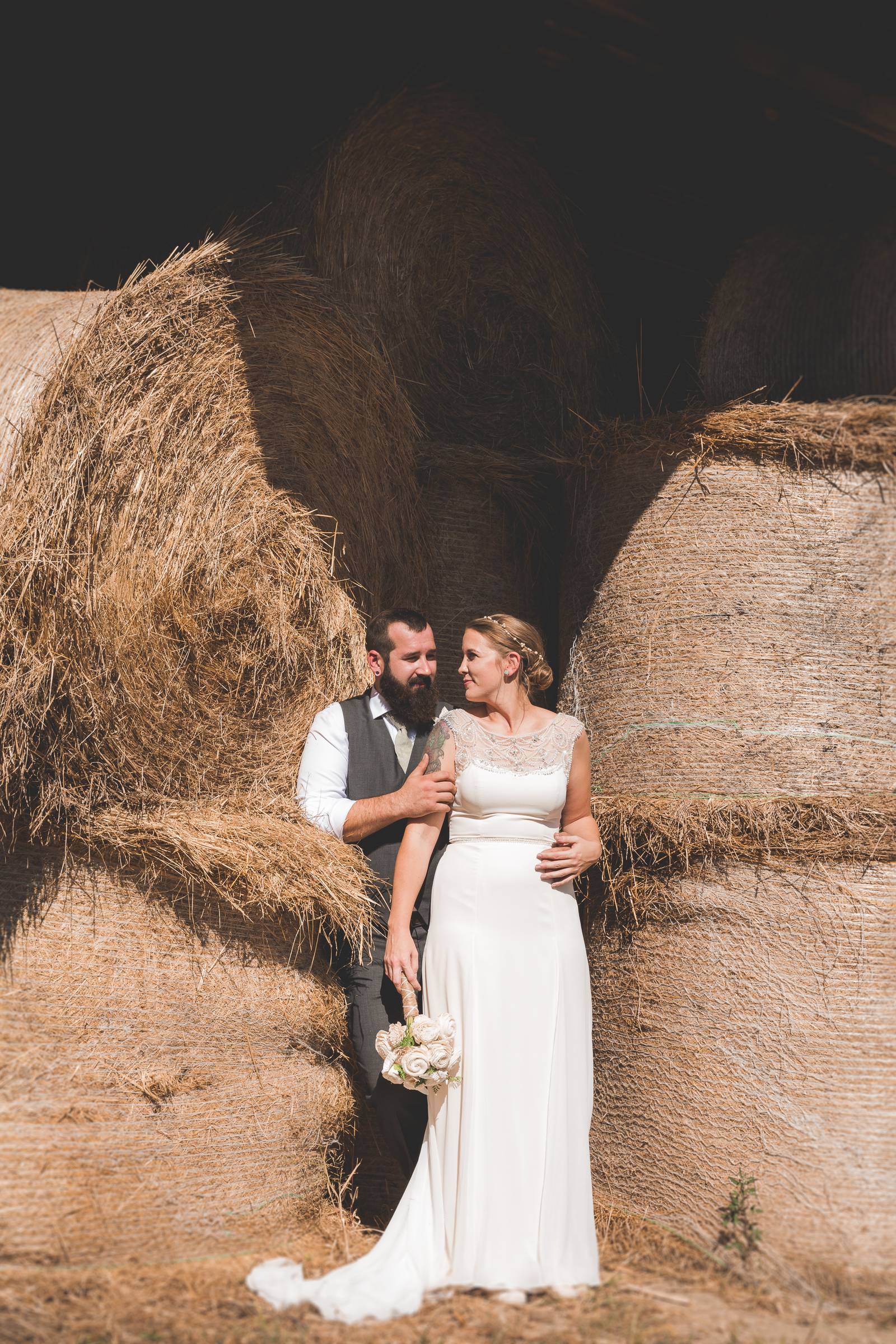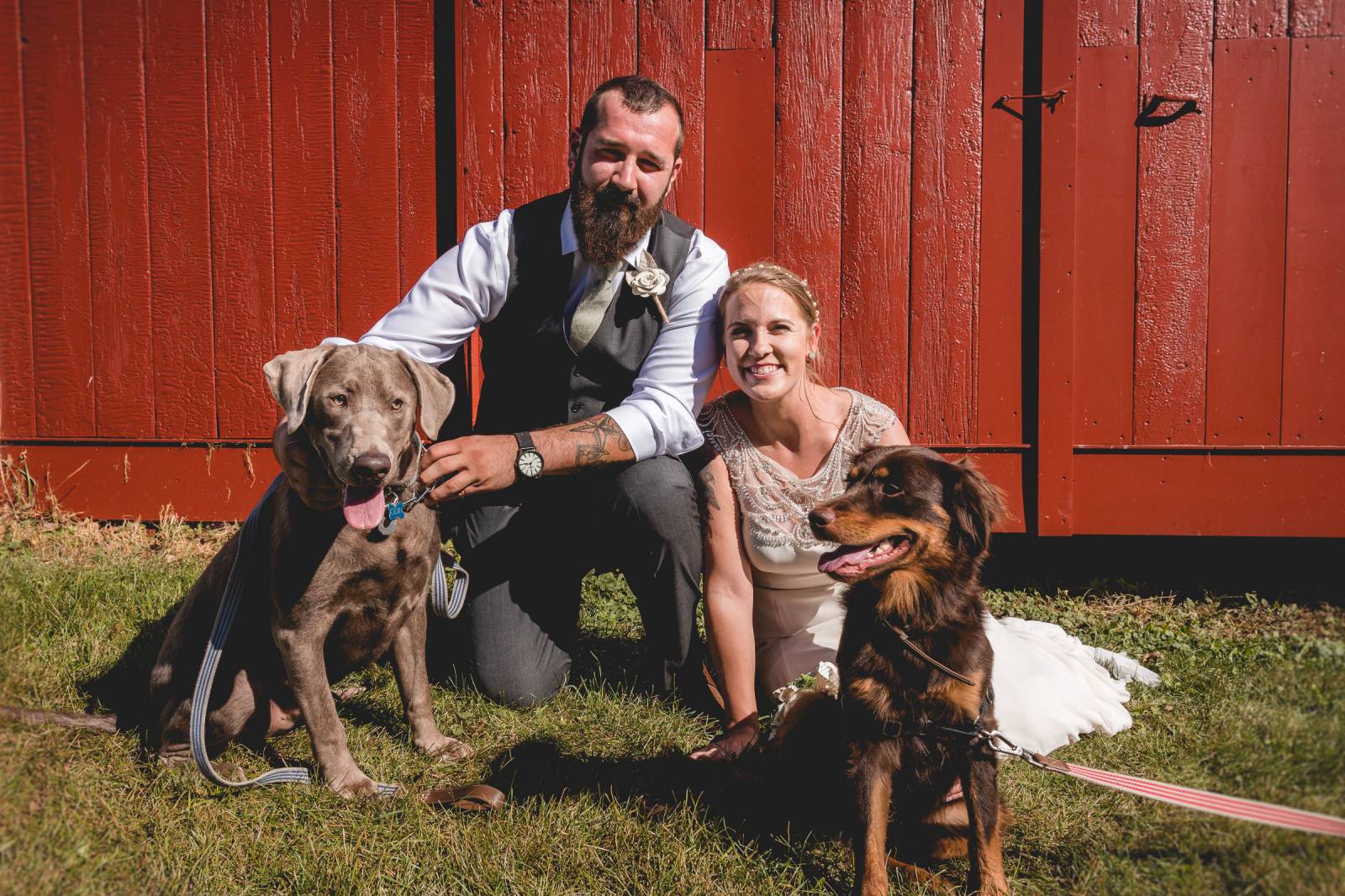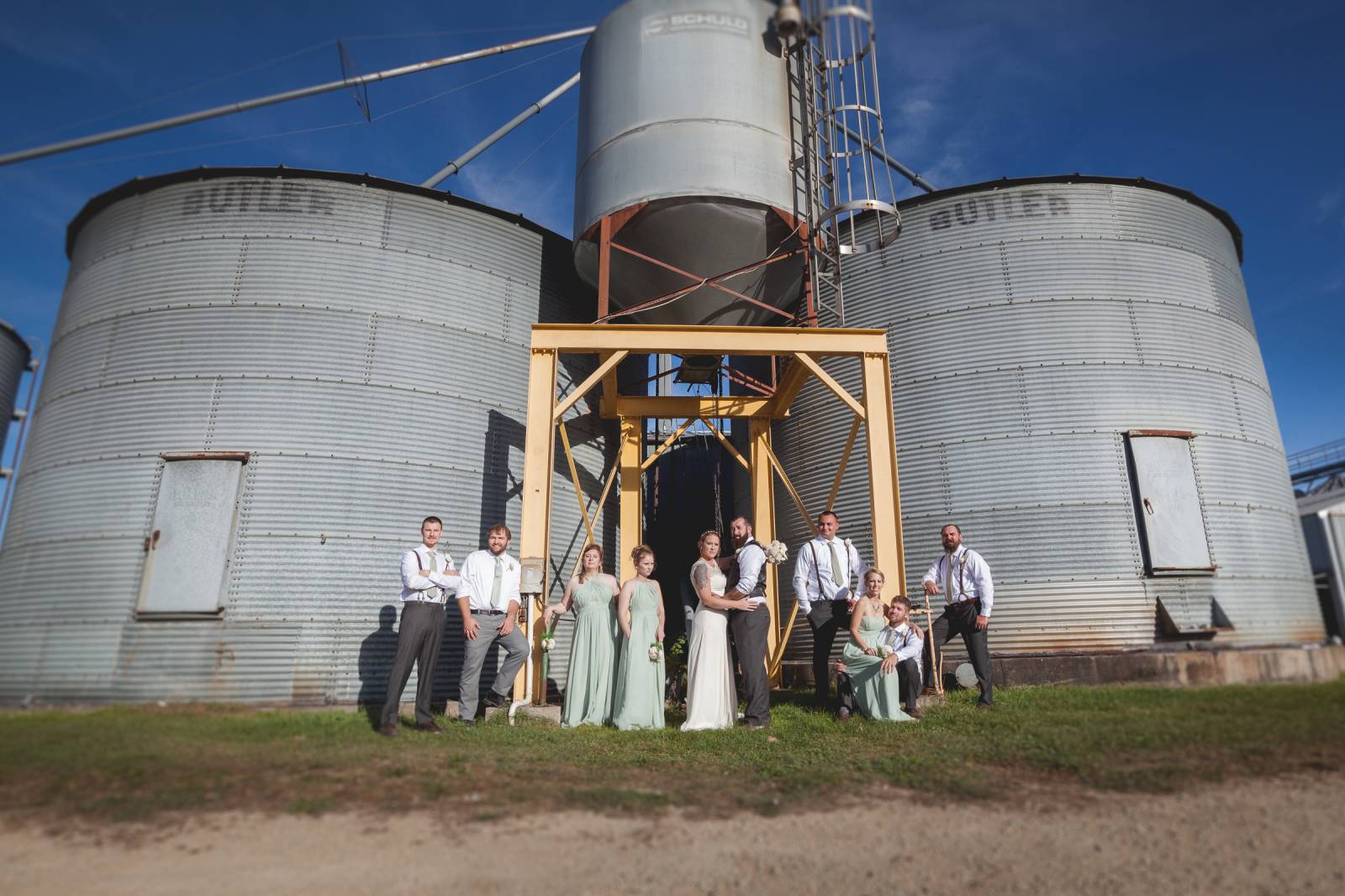 WHAT WAS YOUR FAVORITE MOMENT FROM YOUR WEDDING?
Cory: Late in our reception, we decided to bring our bag-toss boards inside the barn and have an indoor bag-toss tournament since it was a little chilly outside. We had spent so much time and energy getting everything ready for the wedding, and getting to relax and have fun with my wife at our reception was the best moment for me.

Jamie: Cory and I decided that we wanted to have our "first look" before the wedding ceremony. Having this moment, just the two us, was my favorite moment. All of the hard work and preparations were done, and just having a second for the two of us to take everything in and prepare for the rest of our wedding day was so important.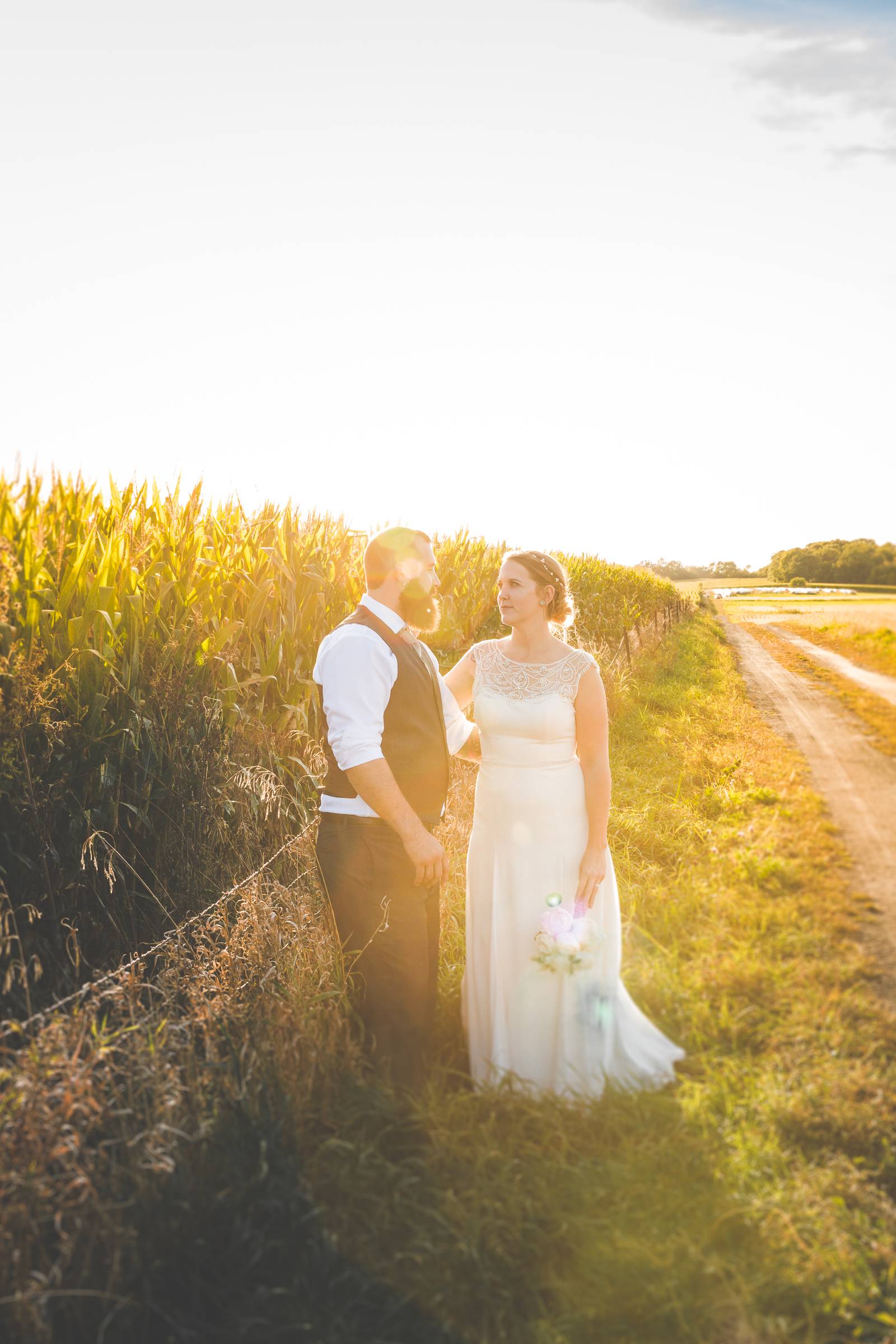 TELL US ABOUT FINDING YOUR DRESS: I was not looking forward to dress shopping. I am not big on being the center of attention and was really dreading the dress search. My mother and my two sisters were the only people who I took with me on my search. We went to Brandi's Bridal in New Glarus, it was a little overwhelming having so many beautiful options but the staff was so helpful and really helped me find the perfect dress for my style. They didn't try to put me in the big poofy dresses or on-trend styles that didn't fit my personal taste. The fifth dress I tried on, which was actually one that was hand-picked by the staff based on the vague description of what I was looking for, was "the one." All of the dresses I tried on were gorgeous, but this one, in particular, got all of us choked up, we knew instantly it was the perfect dress.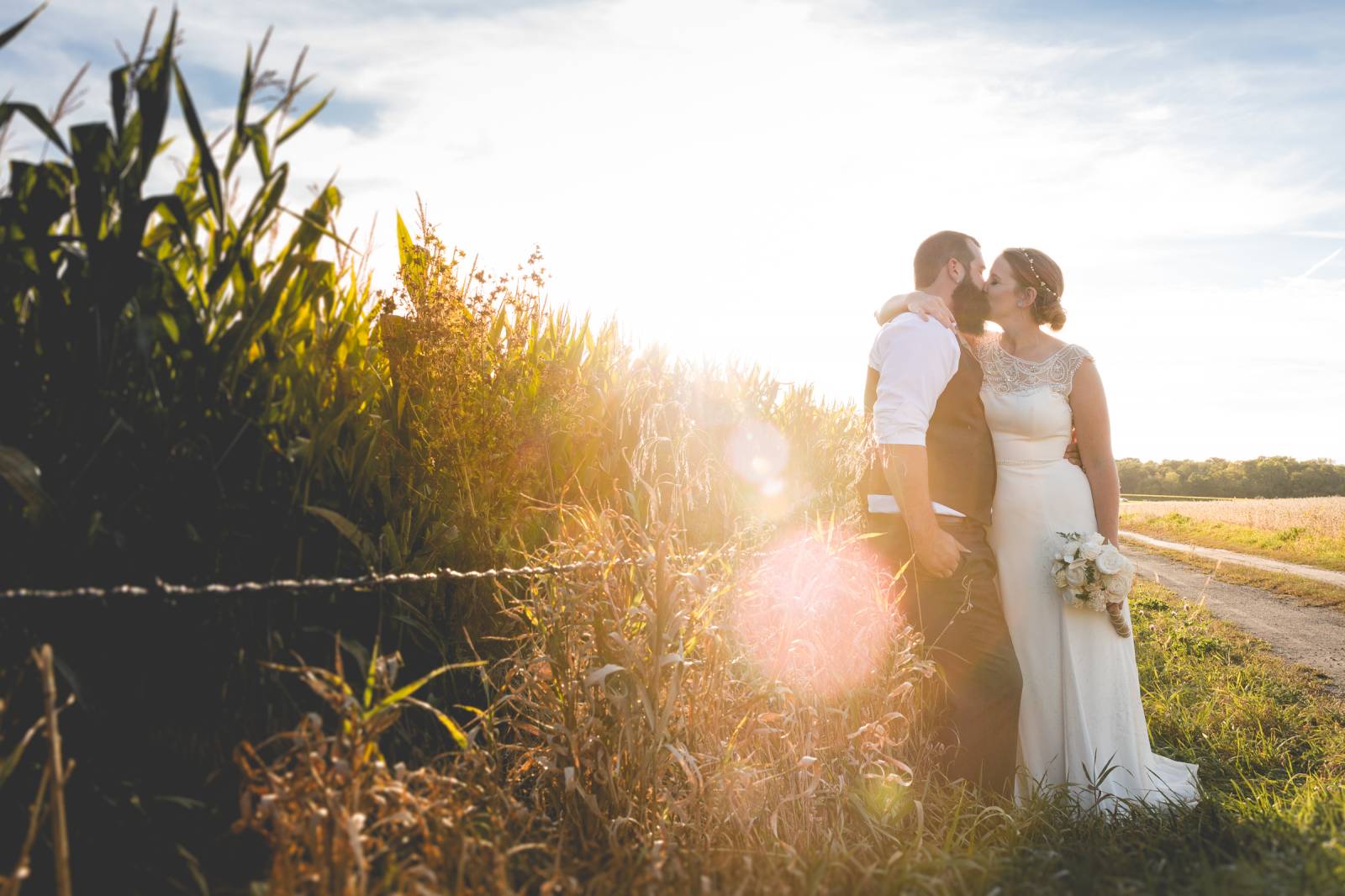 TELL US ABOUT YOUR HONEYMOON PLANS: We spent a week at an all-inclusive resort in the Dominican Republic.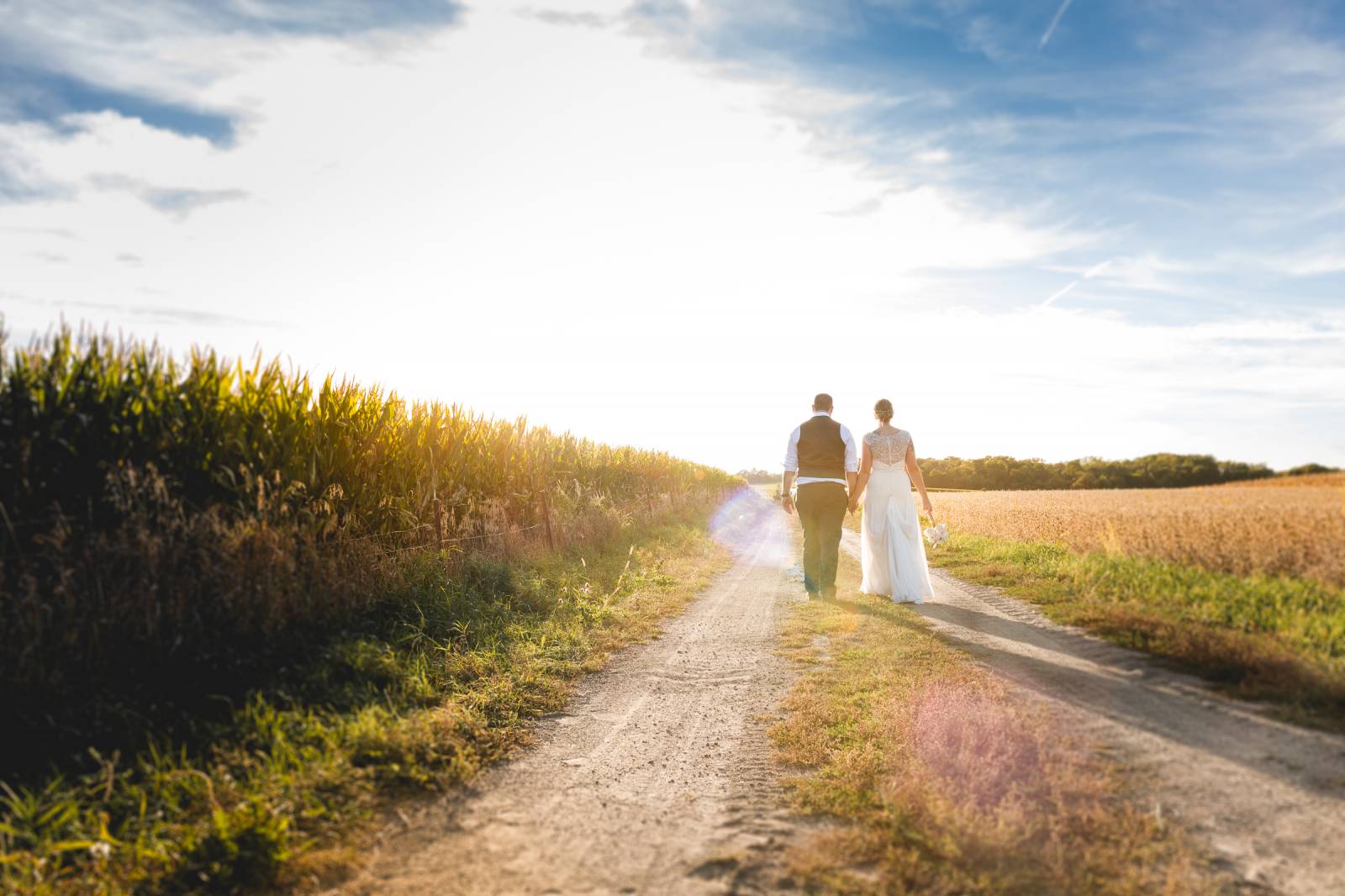 WHAT DOES LIFE LOOK LIKE AFTER THE WEDDING? We currently live in Janesville and are working on renovating our nearly 100-year-old house in the historic Courthouse Hill District. We are proud parents of our two dogs and one cat. People ask all the time if we plan on having kids and the answer is usually "well, we have room for one more dog in our house." I am in school working towards my teaching degree in secondary biology and working full time as well. Any spare time that we have is spent with our dogs, working on our house projects or out riding the Harley together.
IS THERE ANY ADVICE YOU'D GIVE TO OTHERS PLANNING THEIR WEDDING? Be true to yourself and your fiance. Your wedding day is just that: your day. It is very easy to be overwhelmed with all of the trendy ideas on Pinterest and get distracted from your own identity as a couple. Use Pinterest for inspiration but don't feel obligated to replicate styles and ideas that don't feel true to you as a couple.

Also, definitely create a new email account to use just for your wedding, but don't make it too long.  Cauleytoftewedding seems like the perfect email address to use but trust me, you will get sick of writing it out. Keep it short and simple!