Lauren and Ryan's wedding day was full of meaningful details and sweet moments with family and friends at The Fields Reserve near Madison, Wisconsin. With lawn games and sweet treats aplenty, we're kind of wishing we got to see this one in person! The bride glowed in a Vera's House of Bridals gown with a lace bodice on an A-line silhouette featuring a bateau neckline. Her groom sported a Men's Wearhouse Classic Fit suit in navy with a navy and mauve plaid tie. A classic mix of soft pink and dreamy florals styled by Simply Glamorous Designs at Oregon Floral. All of these lovely details were photographed beautifully by East Elm Photography.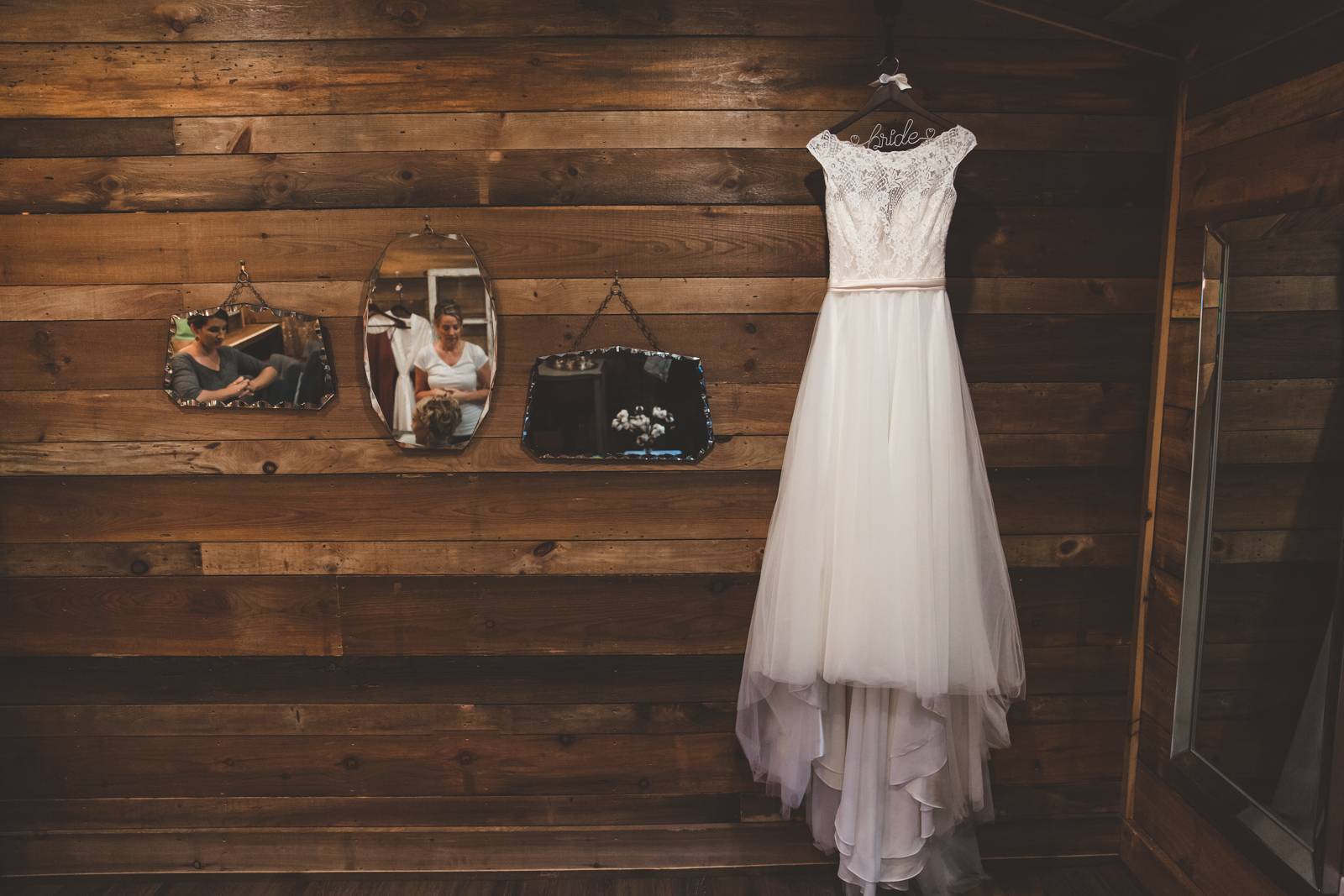 WEDDING DATE: 07/20/18

HOW DID YOU MEET?

LAUREN: We met online! We sent (very long!) messages back and forth for a few weeks before Ryan asked me to meet for coffee. We knew from our exchanges we had a lot in common and that we could make one another laugh. Neither of us was willing to commit to a dinner date just in case the other turned out to be a weirdo, so the coffee meet-up was a test. We passed! Our conversation was fun and easy, so we set up a real date later that week. We were hooked. :)

RYAN: Thank god the winter of early 2014 was terrible weather-wise. Work was called off for the weather the day I decided to play around on the internet and found Lauren. Then through the messages, the coffee date, a few real dates, it became "real" pretty quickly.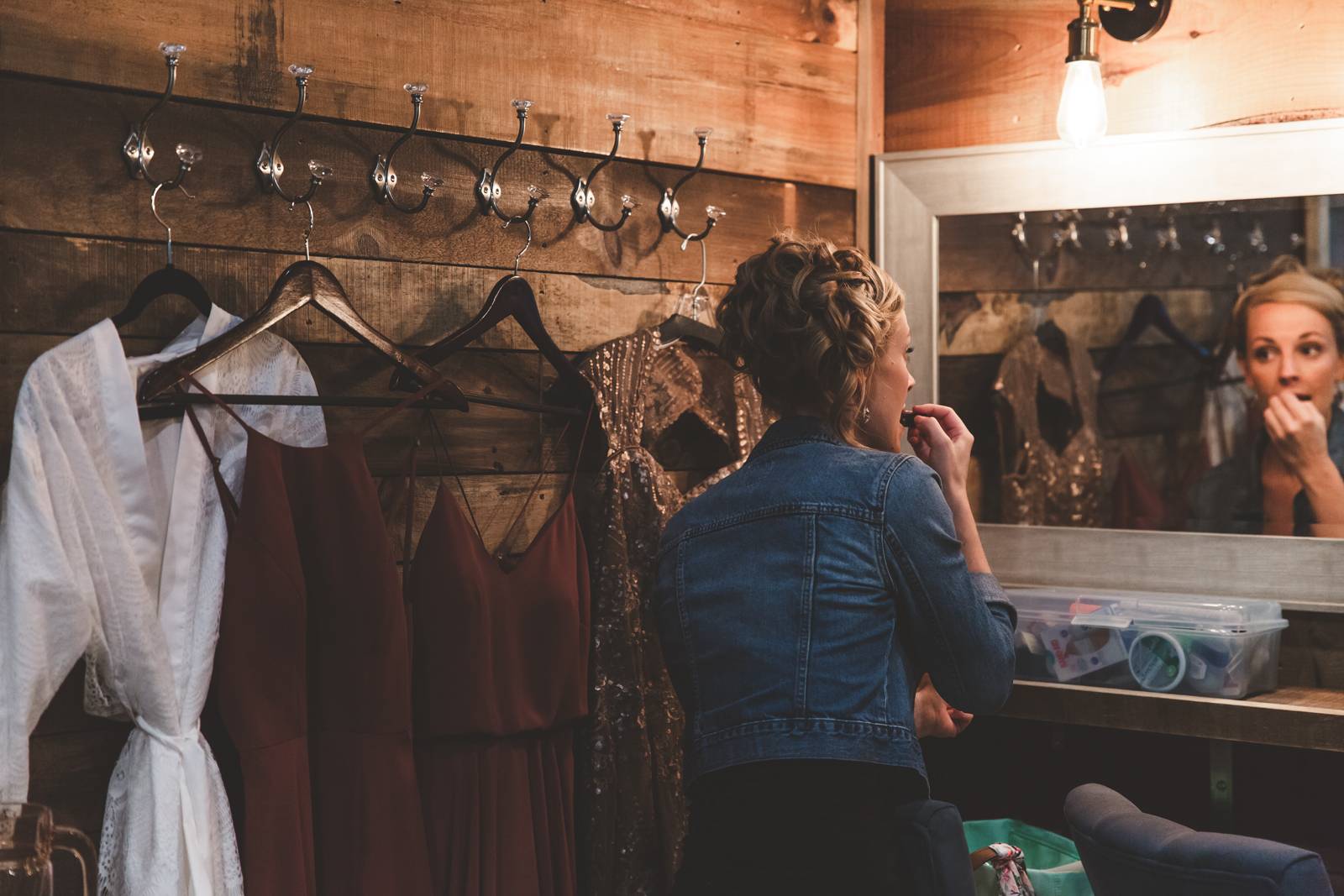 HOW DID YOU KNOW YOU'D FOUND "THE ONE"?

LAUREN: I knew very early on. I'm easily embarrassed and often uncomfortable in personal relationships, but Ryan always felt like a safe space -- I'm not self-conscious at all when I'm with him. Plus, he's smart, funny, and values kindness above all else. I had never before met someone who could be all of those things for me, so I knew I had to keep him!

RYAN: I can't think of a specific moment, but as Lauren mentioned, I just always felt like I was comfortable around her. I could make dumb jokes or be grumpy without worrying. When my parents said there was something special about her a couple of months after we met, that only confirmed what I already knew.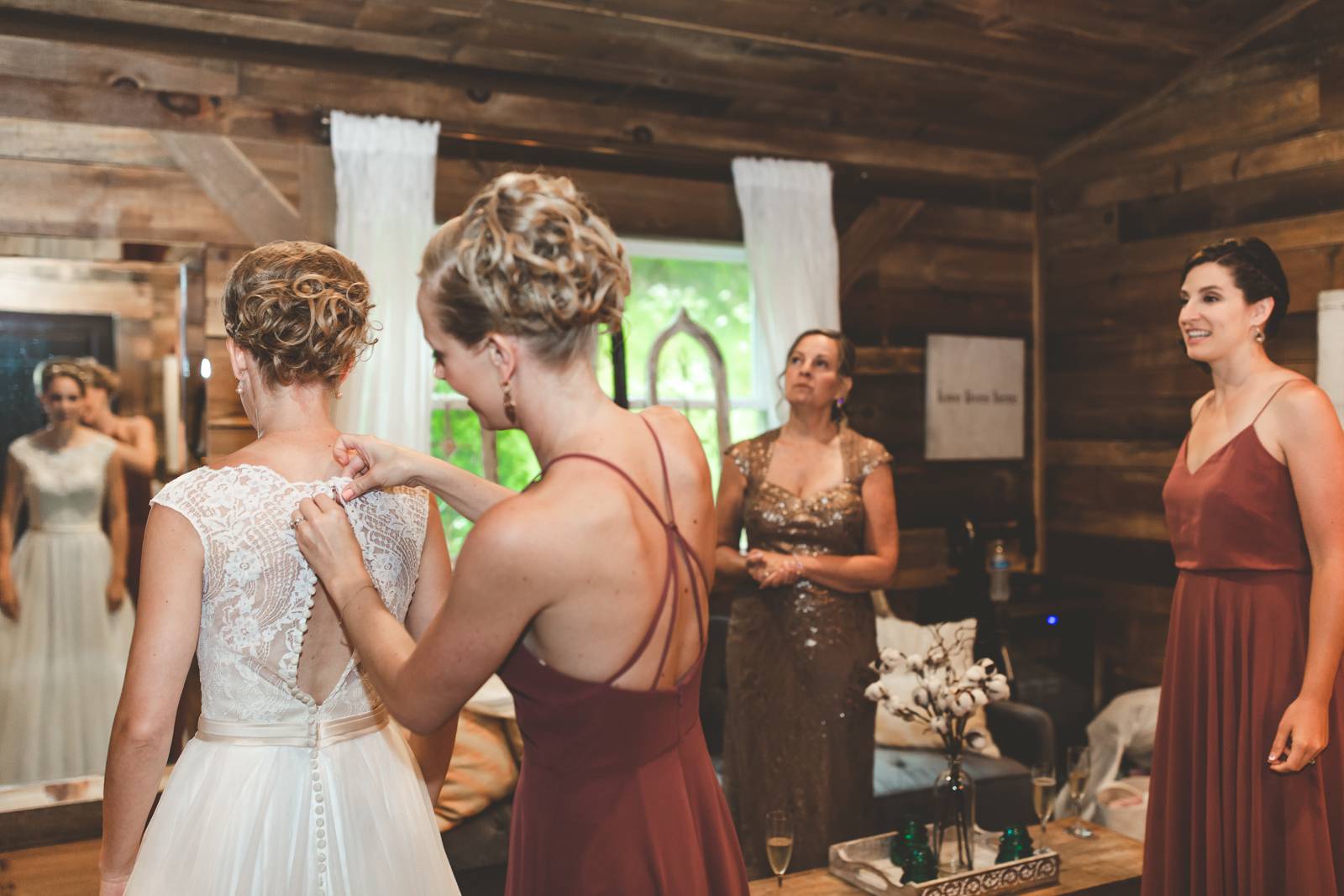 TELL US ABOUT FINDING YOUR DRESS: Vera's is a real 'Say Yes to the Dress' experience. All that attention isn't really my thing, but I found a beautiful dress with the help of my mom, a bridesmaid, and her mom.
TELL US ABOUT YOUR PROPOSAL:

LAUREN: I suspected it was coming. For my birthday, Ryan planned a weekend getaway to the small-town country surrounding the Mississippi River on the Wisconsin-Minnesota border. We found a small winery and bought glasses of wine to sip in a gazebo outside. Ryan made up some excuse to go back to the car, and my suspicions were confirmed when he returned with a box-shaped bulge in his pocket. I pretended not to notice, but I was shaking with anticipation. We took a walk through the vineyard, and he could barely get down on one knee before I said yes!

RYAN: Since I knew Lauren wasn't going to be shocked at being proposed to, I wanted the moment to be both memorable and authentic to what we love to do. Both of us love little trips and finding fun places to eat or to sample wine, and that's how I came up with our trip. The actual proposal was awkward because I wanted to be traditionally romantic, but I also knew Lauren would think it was cheesy (which she did). Still, it ended up being a great moment and afternoon.
WHAT WAS YOUR WEDDING COLOR PALETTE? Navy, blush pink, mauve with hints of gold made up our wedding colors.
WHAT WAS YOUR FAVORITE MOMENT FROM YOUR WEDDING?

LAUREN: I have two moments. First, I'll never forget the ceremony. I couldn't stop squeezing Ryan's hand and smiling. We were getting married! Second, after dancing like crazy people all night, Ryan held me and sung "Piano Man" at the top of his lungs, surrounded and accompanied by the friends and family that lasted as long as we did on the dance floor. I realize it's a cliche ending to a wedding, but it feels special when it's happening to you.

RYAN: My answer is very similar to Lauren's. The "Piano Man" ending was absolutely perfect. What perhaps topped that, though, was the moment of seeing Lauren and her dad walk down the aisle. I suppose that's about as cliche a moment as it gets, but seeing the woman you love framed by friends and family that span all parts of your life is just very overwhelming. A really good overwhelming.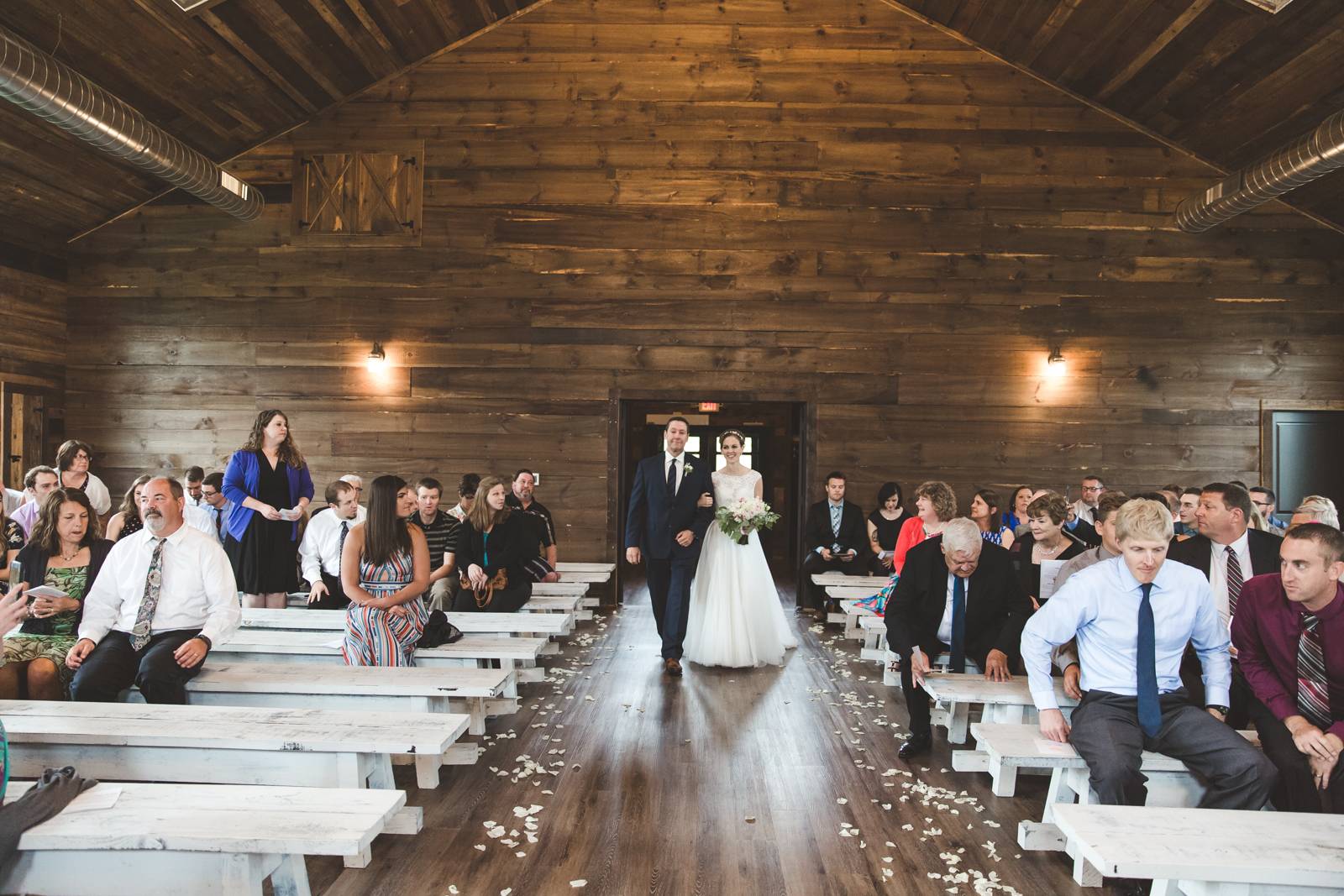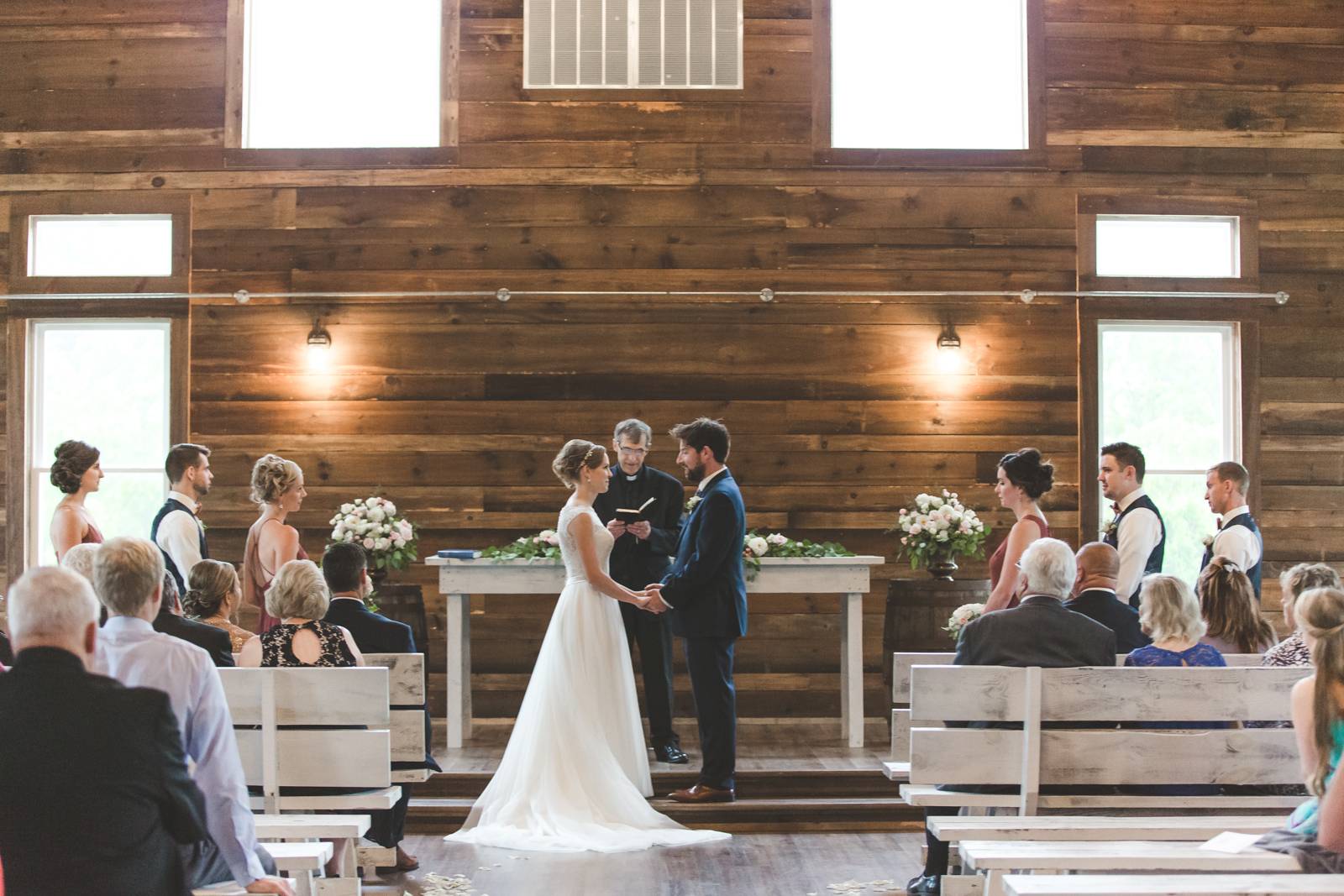 DESCRIBE YOUR WEDDING FLOWERS: We chose lush pink and white flowers with some deep greens to add contrast and texture.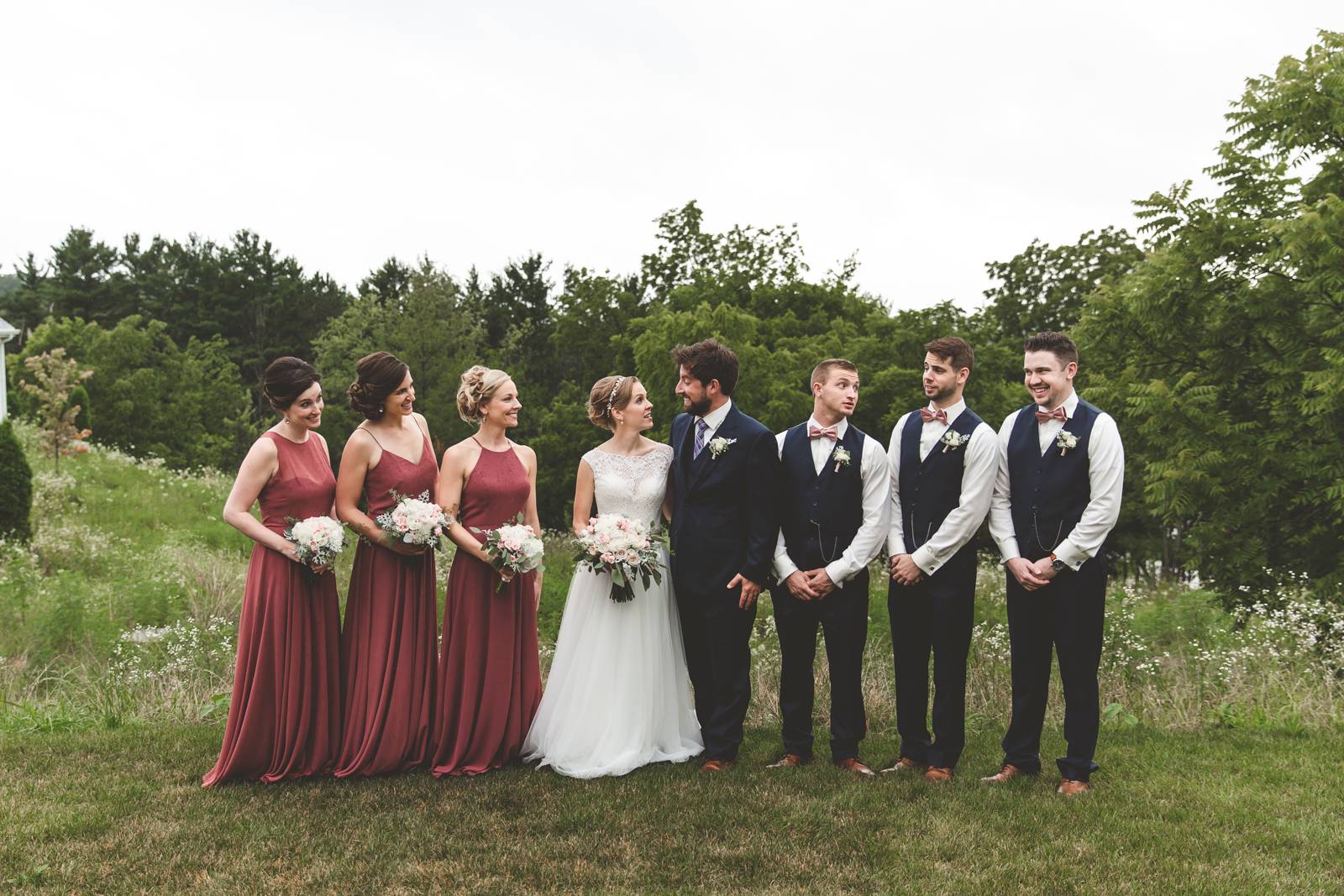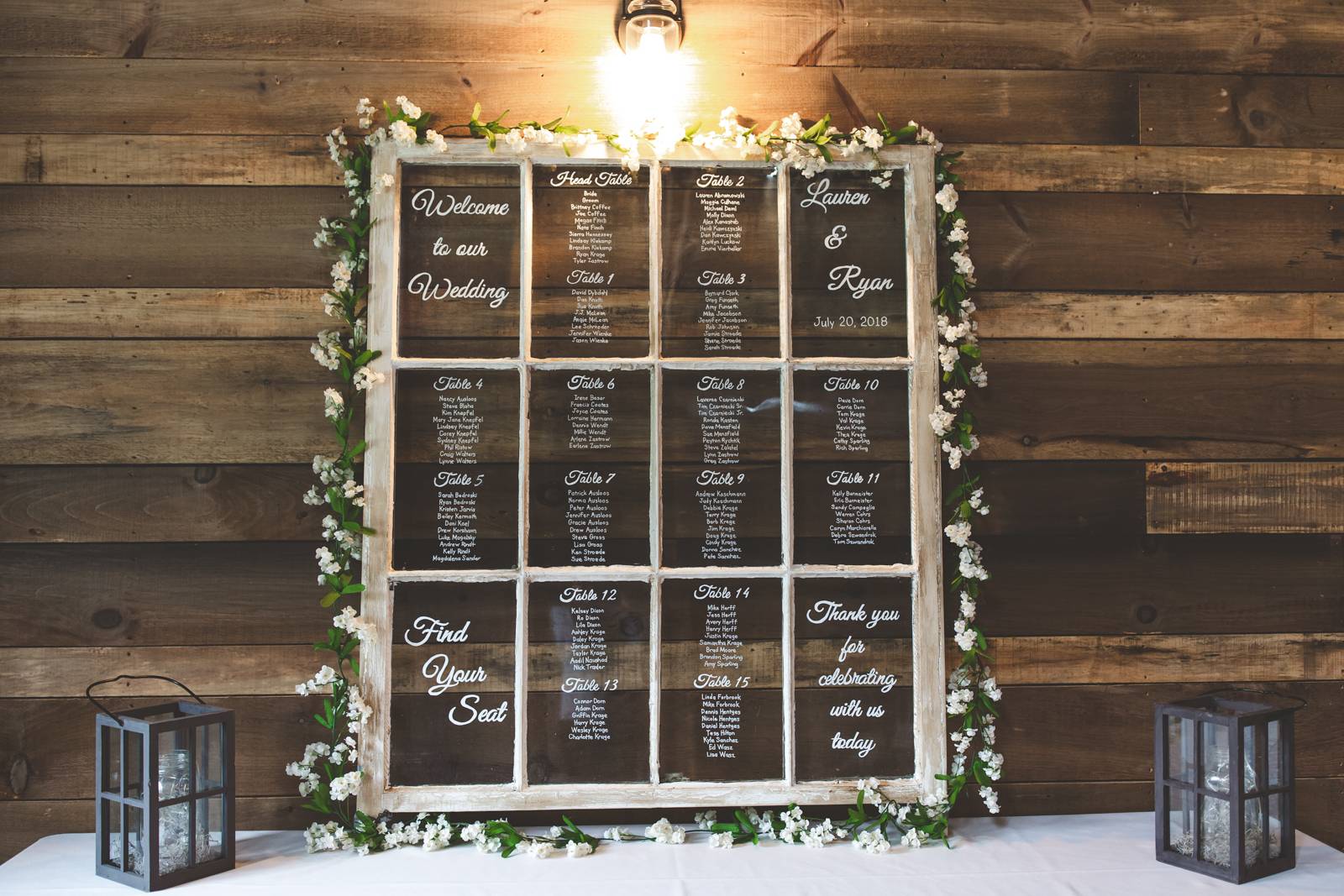 WERE THERE ANY PERSONAL TOUCHES OR DIY ELEMENTS? My mom and my sister are wonderful -- using supplies provided by my aunt, they made the seating chart from an old window my mom found at my grandparents' house. I also love the "Generations of Love" station my mom put together to display the wedding photos of our parents and grandparents. Ryan and I both have a strong sense of pride for the families who created and nurtured us, so it meant a lot to see our wedding in the context of those weddings that made ours possible.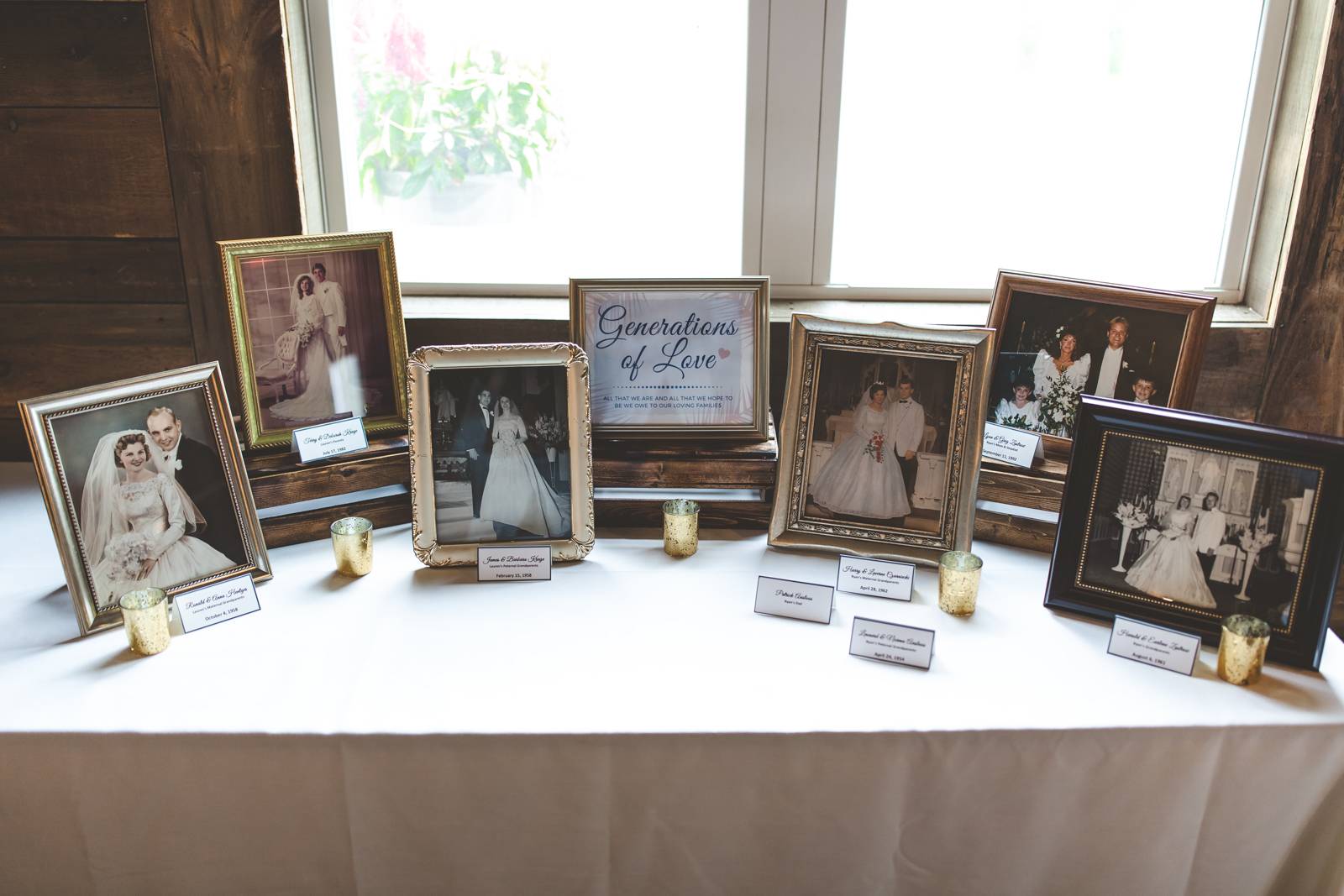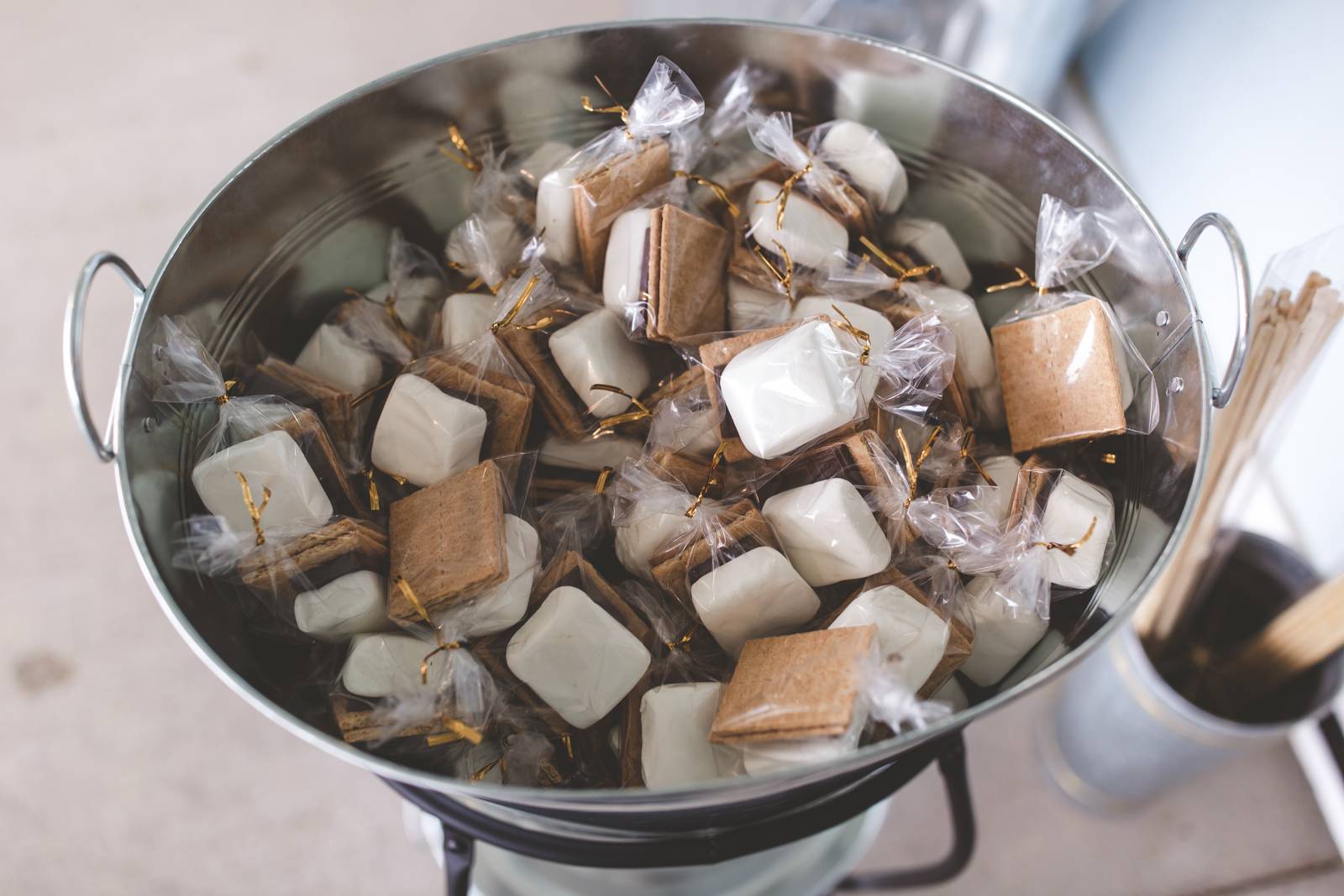 TELL US ABOUT YOUR HONEYMOON:

LAUREN: We spent a couple of days hiking the otherworldly terrain in Iceland and then flew to Paris for a whirlwind adventure in Eu. We did Paris in a day, drove to Normandy and back, took a train to Brussels, and traveled to Marseille where we drank all the wine and had a beach day on an island in the Mediterranean. Ryan and I have enjoyed taking road trips together for years, but we had never flown anywhere together, and I had never been to Europe. We decided to go big!

RYAN: It was a great trip. Iceland has some of the most unique nature I've ever seen-- just watch your budget when you go out! And getting to see three different areas of France while we could be both adventurous and lazy was just a perfect combination.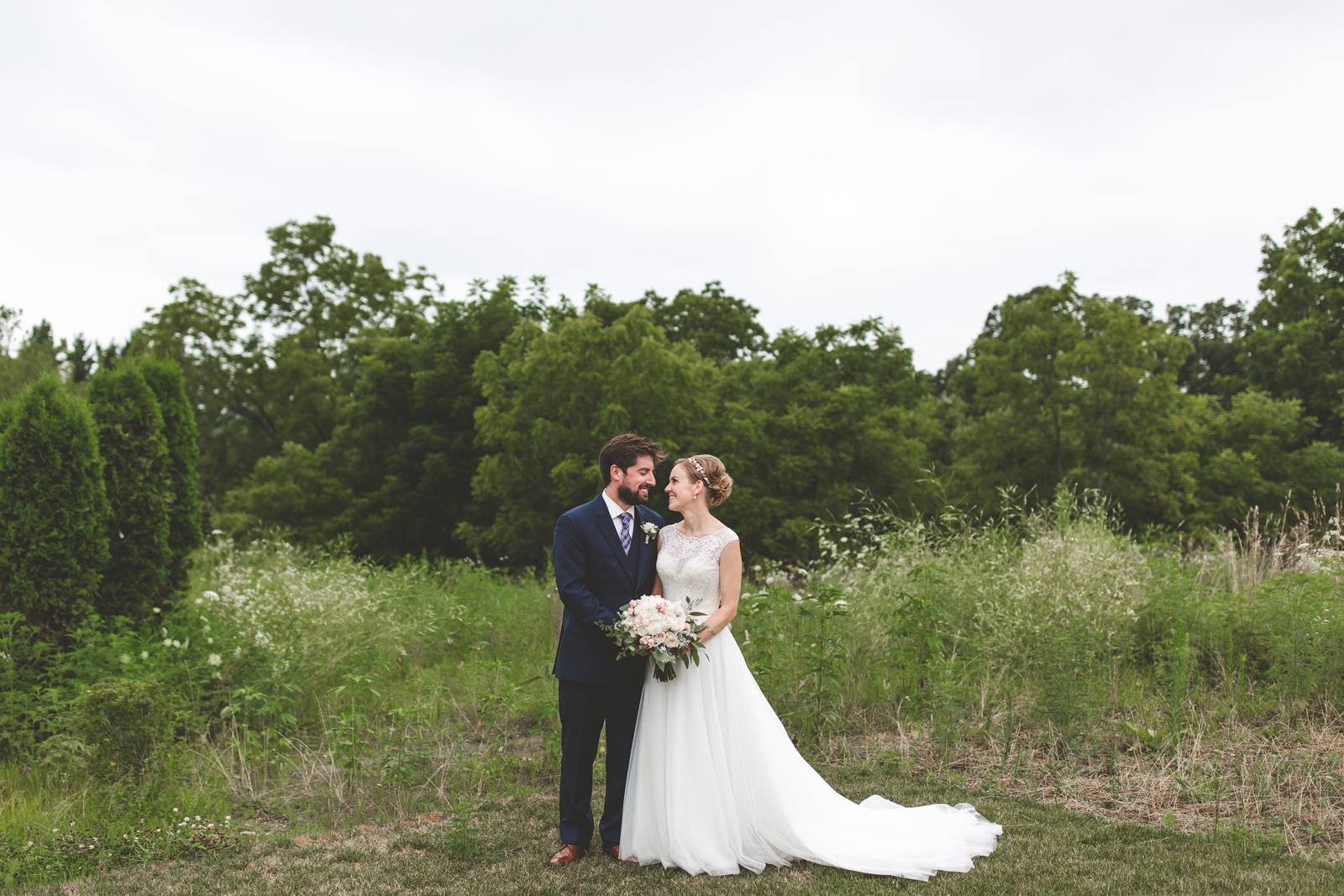 WHAT DOES LIFE LOOK LIKE AFTER THE WEDDING?

LAUREN: We're both teachers, so in preparation for the school year we enjoyed a relaxing month of August with our dog in the house we purchased last summer. Once school starts, it's back to early mornings and never-ending work, but we always make time to eat dinner together and to enjoy a mini-adventure or two at least one day of every weekend.

RYAN: The last weeks of summer just flew by, but I'm looking forward to our fun fall routine of driving the countryside on Saturdays in search of orchards, wineries, and supper clubs.
ANY WEDDING PLANNING REGRETS YOU'D DO DIFFERENTLY?

LAUREN: I originally wanted to elope, but the longer I thought about planning the wedding, the larger my vision for the day grew. I hate being the center of attention. I was nervous I wouldn't enjoy the day, but I had SO MUCH FUN, and I regret nothing!

RYAN: Honestly, I can't think of anything I'd want to happen differently.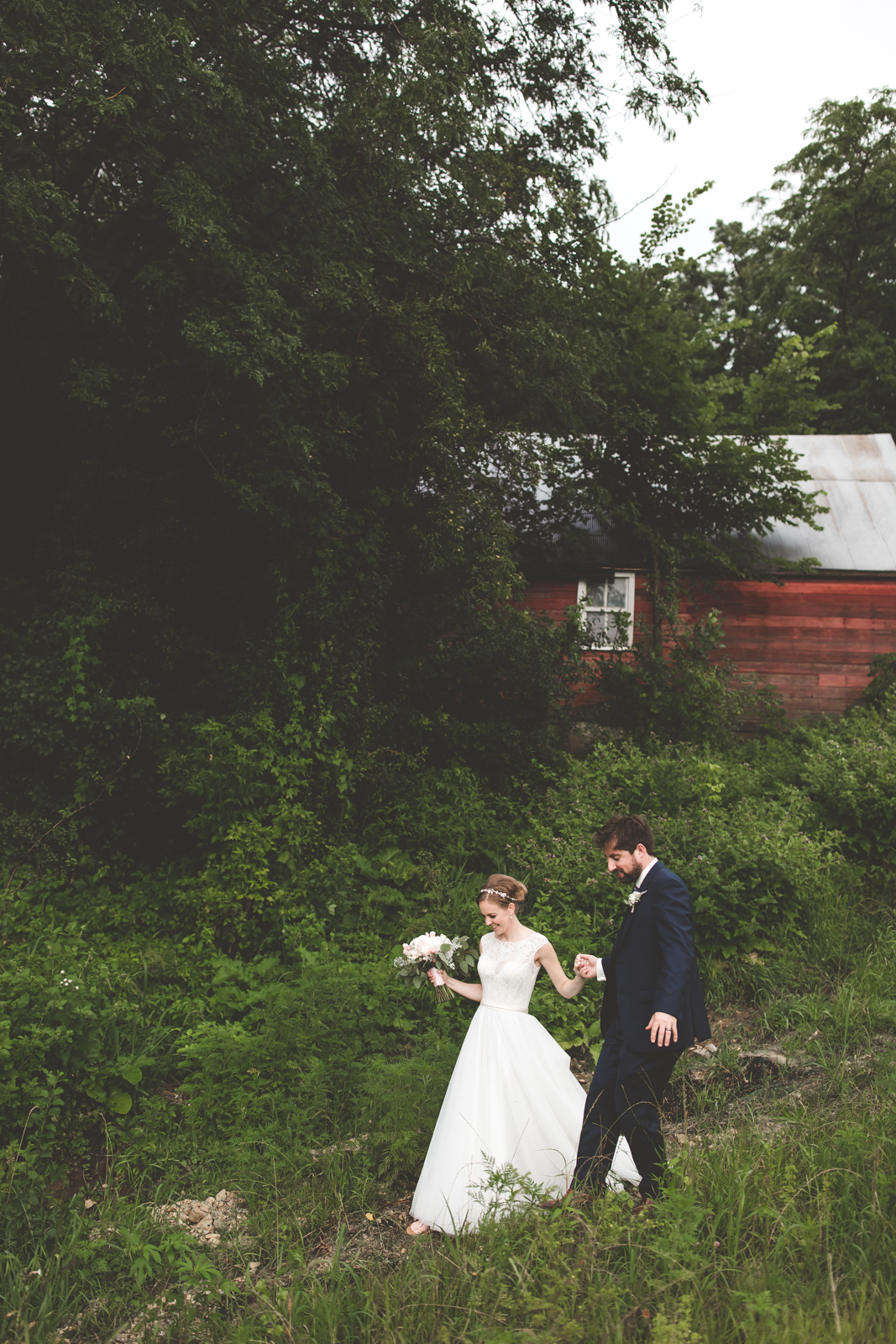 IS THERE ANY ADVICE YOU'D GIVE TO OTHER COUPLES PLANNING THEIR WEDDING?

LAUREN: Though barn weddings make for a laid back event, if you want a laid back wedding planning experience without hiring a wedding planner, a barn venue (or something similar) won't do it for you. Venues that don't have their own catering, their own bartenders/drinks, their own linens, their own dinnerware, etc. mean you have to seek out those essential elements yourself and figure out how to coordinate all those moving pieces the day of. Thus, be prepared for casual venues to make you feel the opposite of casual as you're doing the prep work.

RYAN: Marry someone whose mother is both willing and excited to do a lot of the things Lauren just mentioned.