New Year's Eve weddings? We couldn't think of a better way to celebrate and ring in the new year... and when that NYE affair is hosted at the beautiful, intimate Madison Club? Even better. Think old-fashioned dinner party with romantic candle-lit ambience, stunning florals from Daffodil Parker, champagne colored bridesmaid dresses, and pretty stationery with gold foil and calligraphy from Paper Piper Designs. All coming together for a timeless, and classic winter affair. Scroll below to soak in all of the dreamy details captured by Errin Hiltbrand Photography, and don't miss the incredibly beautiful highlight film.
WEDDING DATE: December 31, 2016

HOW DID YOU MEET? I moved to Madison, didn't know a soul and met Ryan one of the first few weeks I was there through my co-worker and Ryan's roommate. We didn't start dating until a year later when the timing worked out and Ryan saw me get into a heated argument about the 1990's Chicago Bulls - then he knew I was the one! ;)
HOW DID YOU KNOW HE WAS "THE ONE"? I had a feeling he was the one when I heard him talk about his family; his love for his family rivaled my own. I also learned he was the youngest of four kids (like me!), and when we talked about our families, it felt like we were saying, "I know, right?!" every five seconds. I knew for sure he was the one when we were driving somewhere one time, and I saw a car up ahead with some car trouble. I knew before it happened that Ryan was going to stop the car we were in and see if everything was okay: sure enough, he did. I knew then that I knew his character and the type of person he was, and that it was someone I really appreciated.
TELL US ABOUT YOUR PROPOSAL: We had run a "Tough Mudder" run that morning and then Ryan was very concerned when our car got stuck in the mud, throwing off his timeline! Eventually, we made it back into the city (Chicago) and we walked over to the lily ponds in Lincoln Park, where my cousin (and close friend of ours) were waiting to take pictures. We walked through the lily ponds, a quiet and peaceful place in the middle of the city, and Ryan got down on one knee! From there, we saw my cousin and then went for drinks, where I was surprised by our parents waiting for us with cocktails. We ended the night with a dinner cruise on Lake Michigan with our parents, complete with fireworks. It was awesome!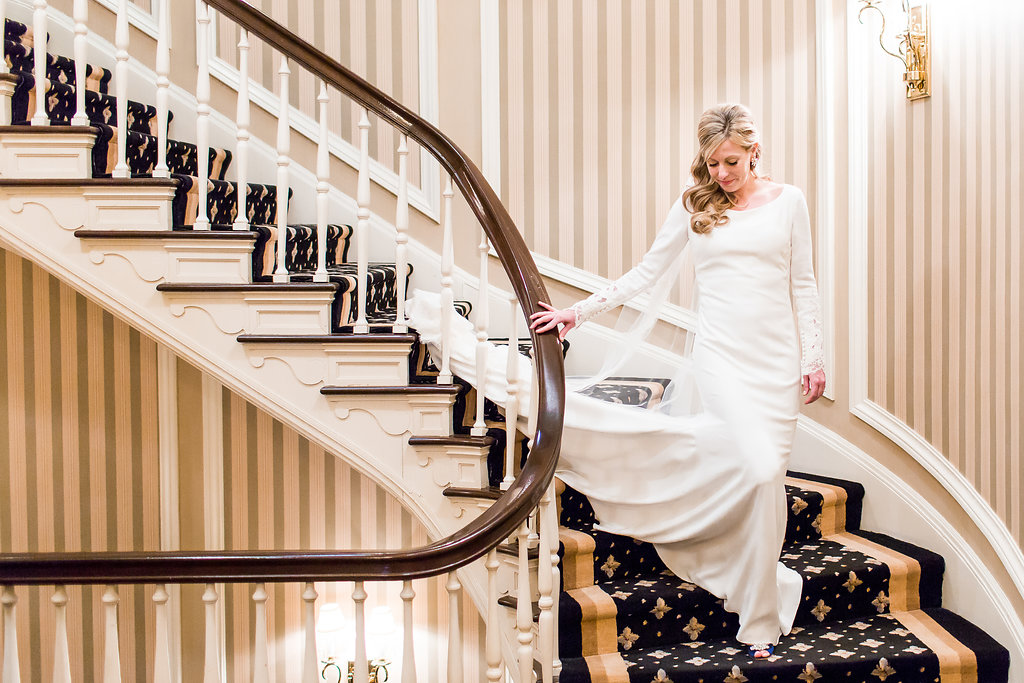 TELL US ABOUT YOUR DRESS: I was very drawn to long-sleeve dresses (luckily, we were getting married in the winter in Madison) and wanted something that I could look back on in twenty or thirty years and (hopefully!) not cringe. I had gone to several dress stores and when I put this one on, it felt exactly like I was going for: classic, timeless, and sophisticated. I loved it immediately.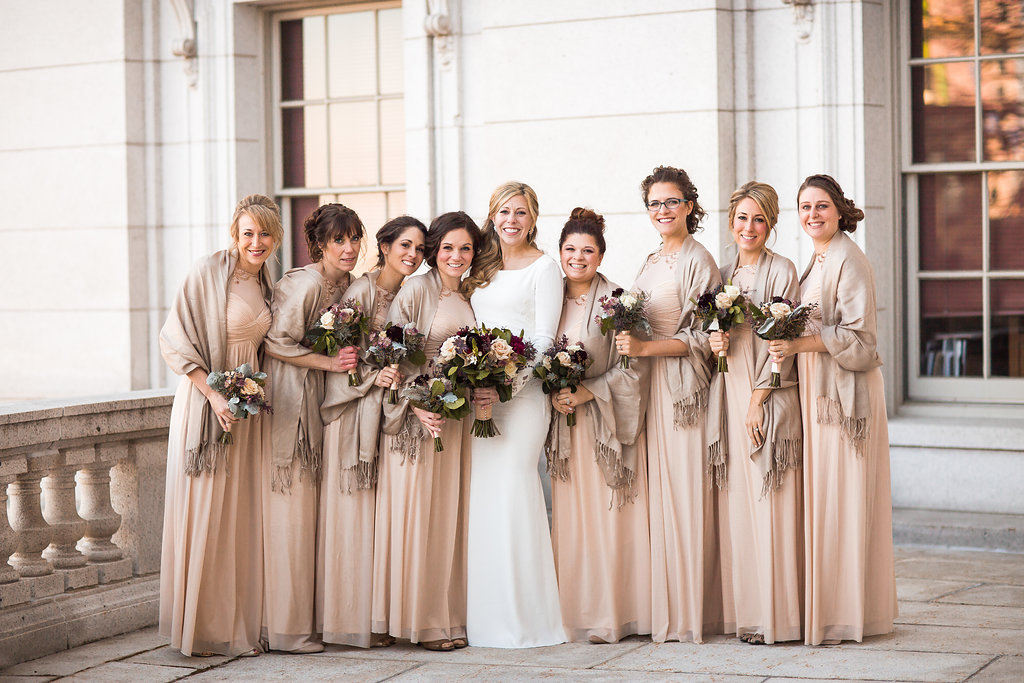 WHAT WAS YOUR COLOR PALETTE? Neutrals, gold, black, and navy, with touches of plum, blush and wine colors (like in the flowers).
I wanted a lot of neutrals: bridesmaid dresses were champagne-colored with a little NYE glam on the shoulders of the dress, and the tuxes were classic. The flower girl wore this amazing gold-sequin on top and white poofy skirt and gold shoes that I just loved.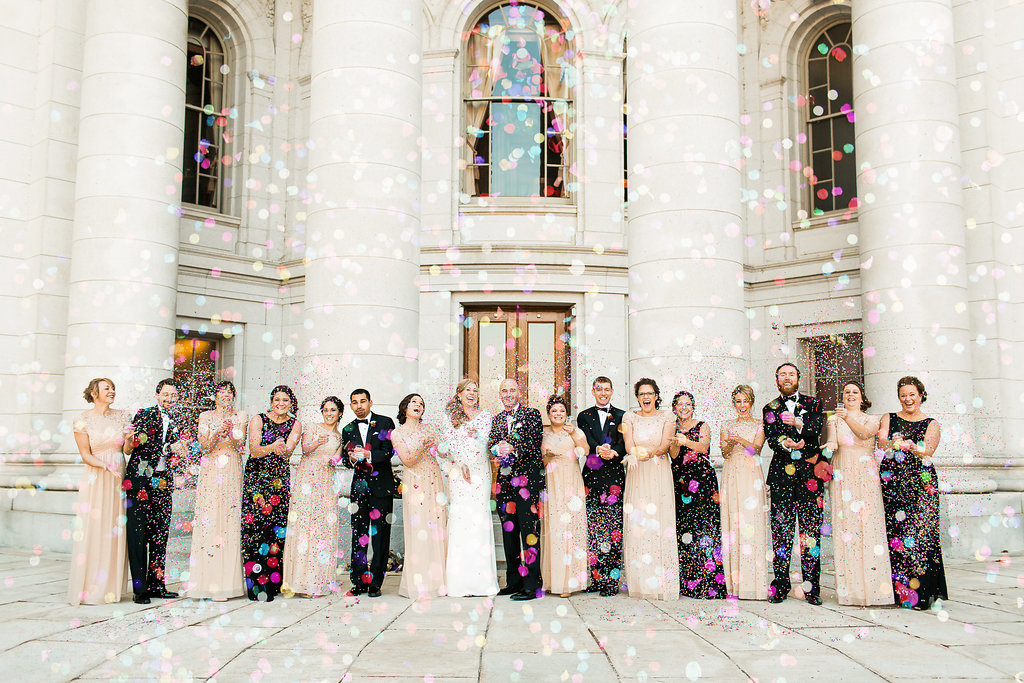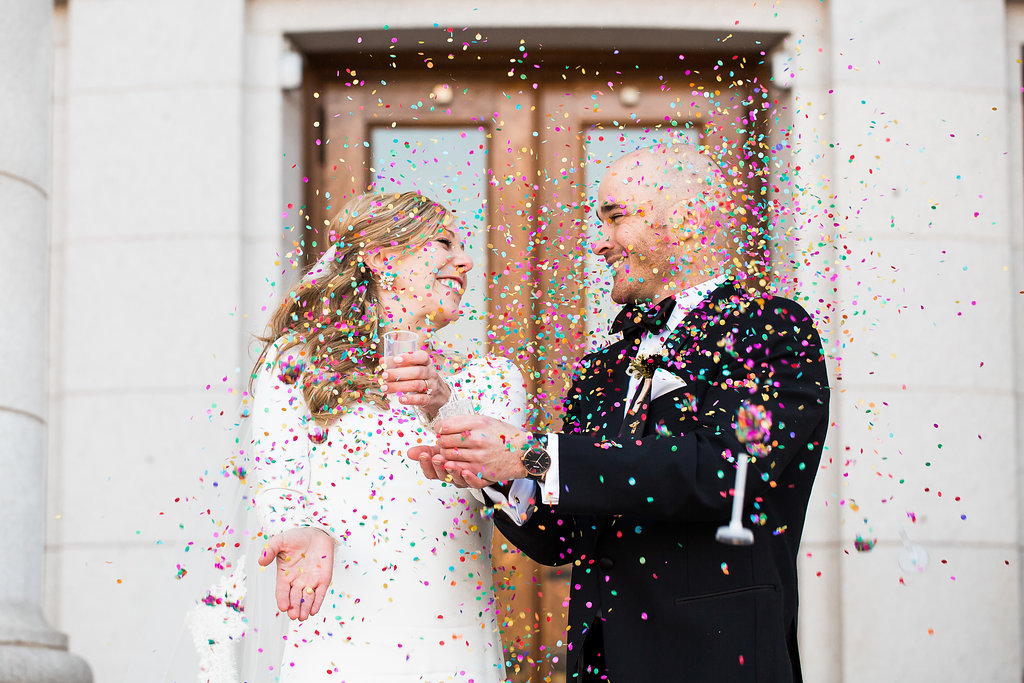 WERE THERE ANY PERSONAL TOUCHES OR DIY ELEMENTS? I wanted our guests to feel like they were at an old-fashioned dinner party for New Year's Eve, so the night revolved around that! We made sure to have a countdown at midnight, confetti passed around to throw at midnight, and we set out a table of New Year's Eve "attire" with things like beaded necklaces, hats, glasses and noisemakers that you have at a New Year's Eve party at someone's house. It was so fun to see everyone all decked out in their fancy clothes and NYE attire! The Madison Club is this old building with fireplaces everywhere, and it really does feel like you are at an old-fashioned dinner!
Personal touches were mostly family-related: I had the sash from my mom's wedding gown tied around my flowers. I was very close with both of my grandmothers so I wore a bracelet from one grandmother and had these amazing vintage flowers from a hat that my grandmother wore for her wedding in the 40's incorporated into my bouquet. We also loved incorporating parts of Wisconsin into our wedding, things like signature brandy old-fashioneds, family pictures in the Capitol building, and cheese curds as a late night snack.
It was also very important to us to write our own vows. That was one of the most fun parts of wedding planning for us. We sat down and talked about what we wanted to promise each other and why we loved each other, and then wrote them together.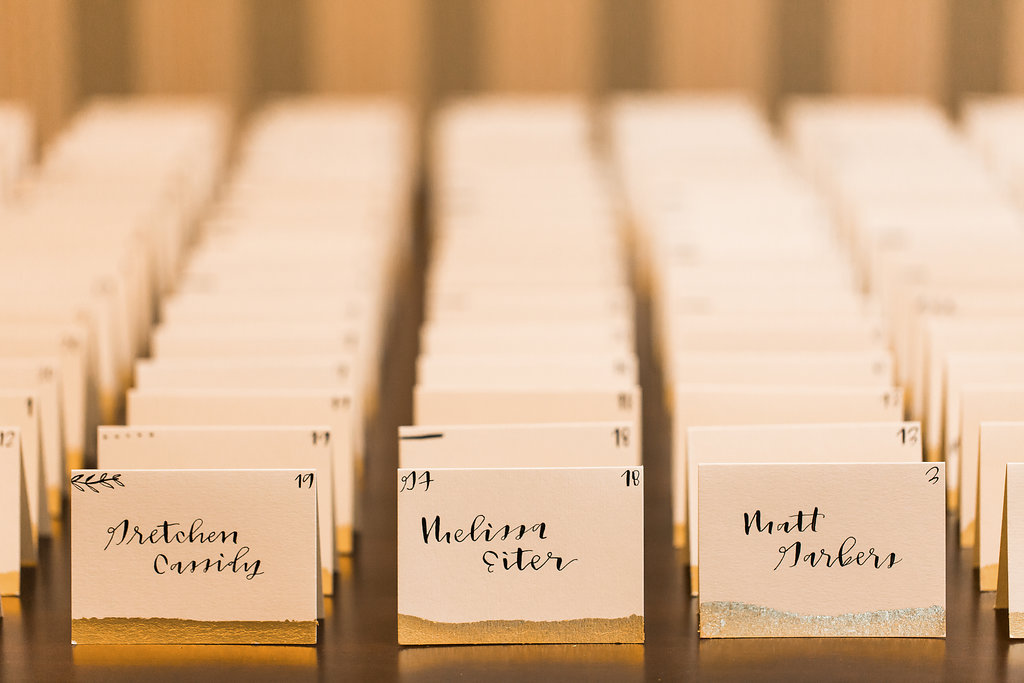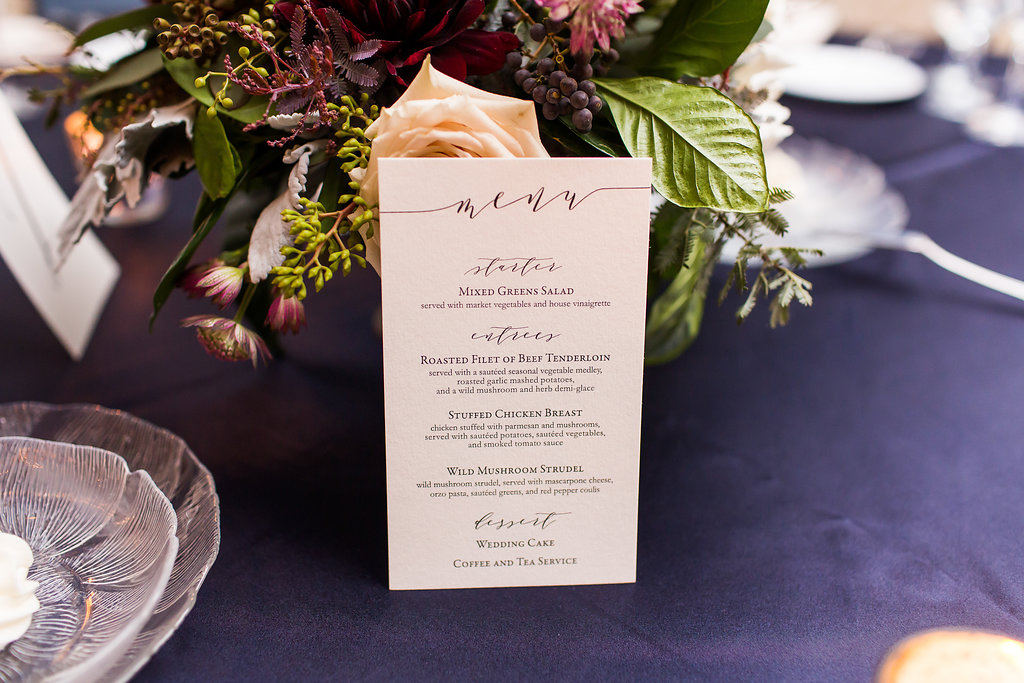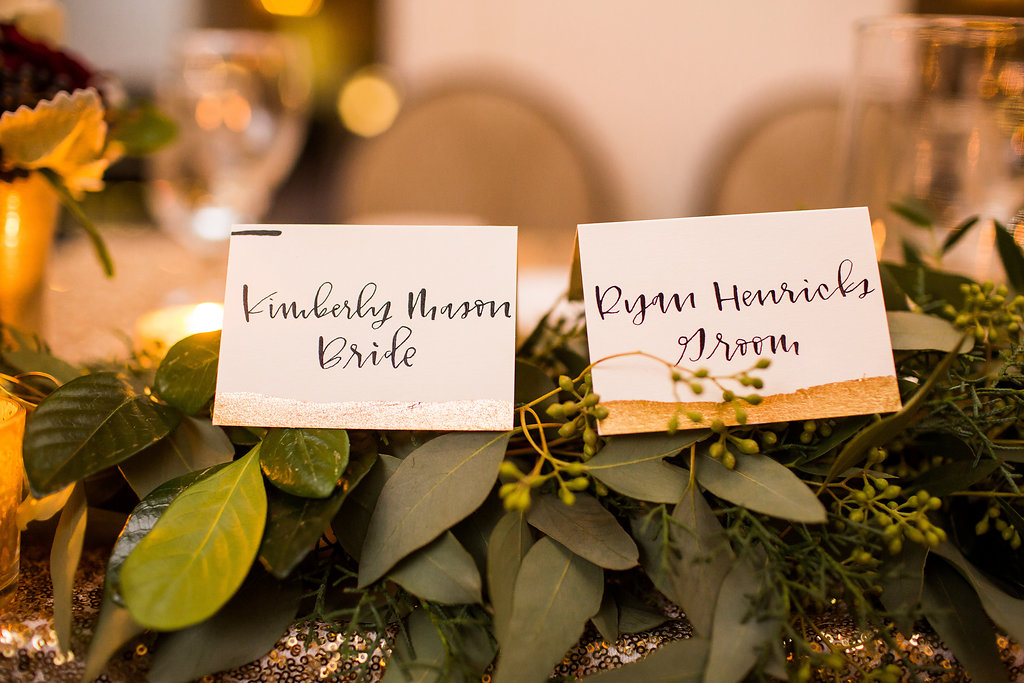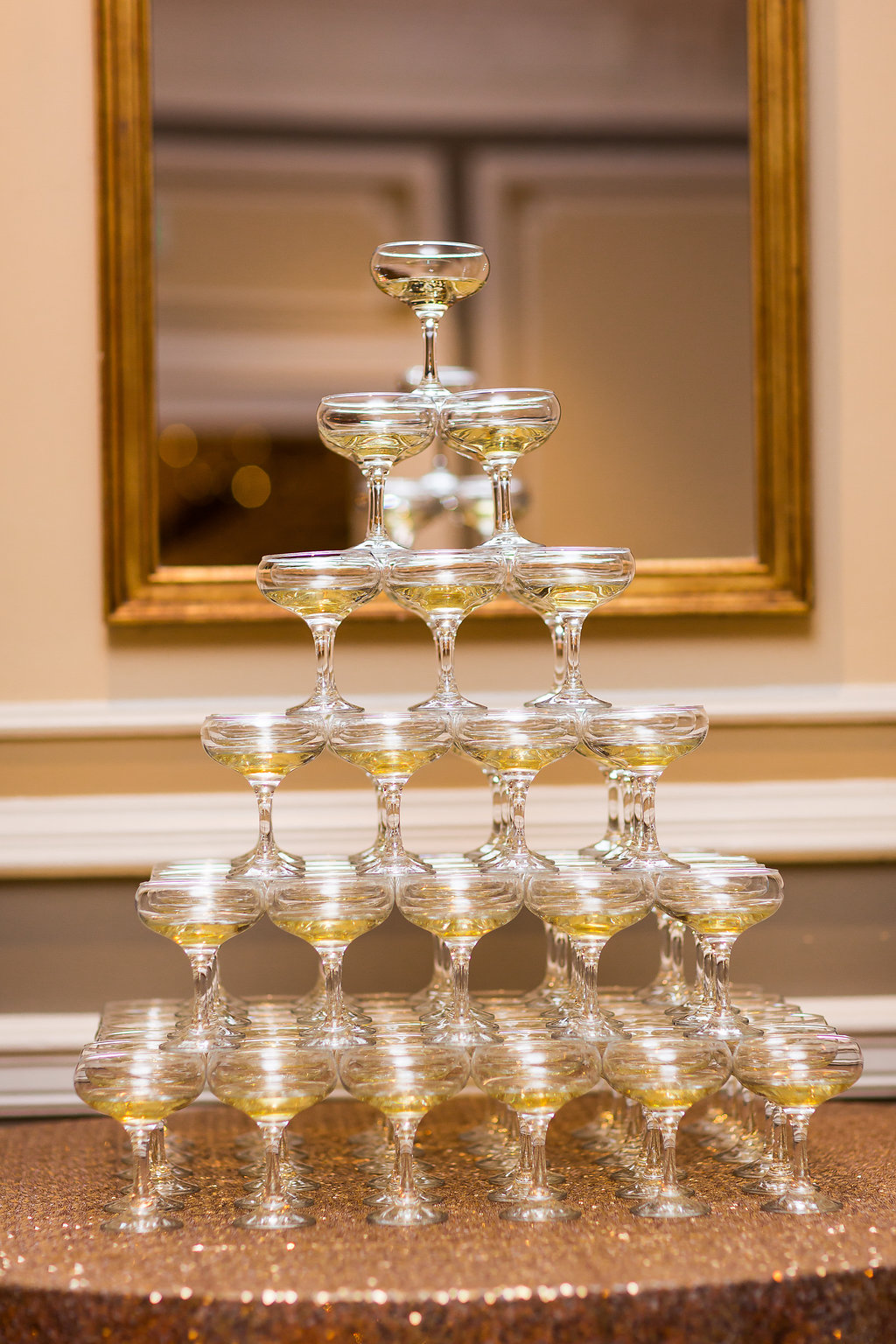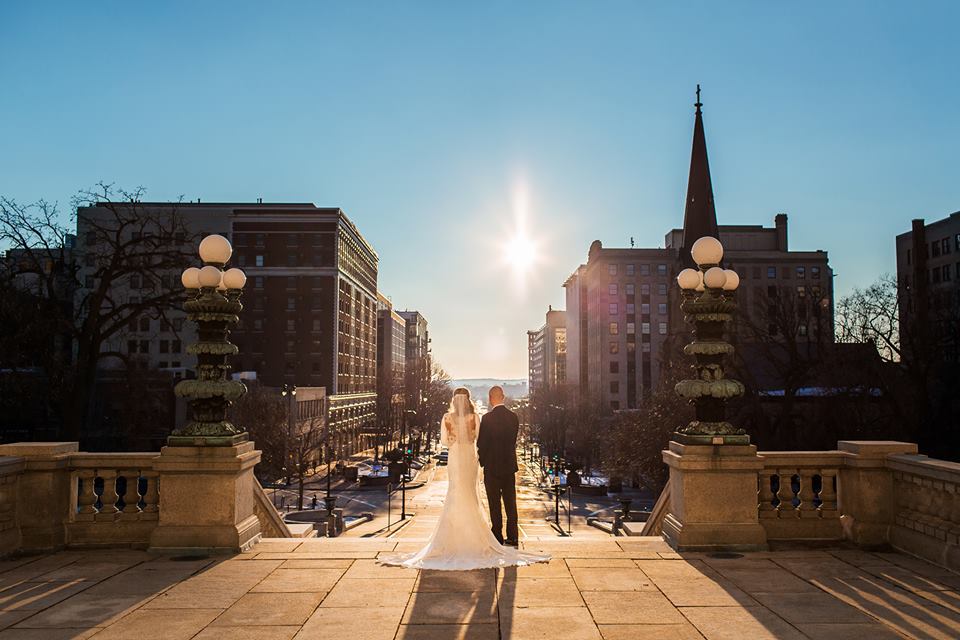 WHAT WAS YOUR FAVORITE MOMENT FROM YOUR WEDDING? There are three. It was so fun getting ready with all my girls; my friends live all over now so having them all in one room was like the best gift ever. I loved just getting dolled up with everyone! I also LOVED the ceremony. I vividly remember the candle lighting, being able to stand up with Ryan and look out at all of our favorite people in the world (even though super hot wax dripped on my hand during it!). It was a really cool moment.
The other is just dancing the night away with everyone! It was so fun once everything else was all set and there was nothing to worry about, all that mattered was having fun. The best feeling ever!